Chocolate Lasagna is a no-bake dessert that is layers of chocolate goodness. Oreo crust, chocolate pudding, whipped cream, and more in this layered chocolate dessert lasagna.
Try out one or more of these 15 s'mores recipes, easy s'mores brownie bars, or dive into my cast iron peach cobbler recipe. These are all decadent desserts to serve up any time of the day.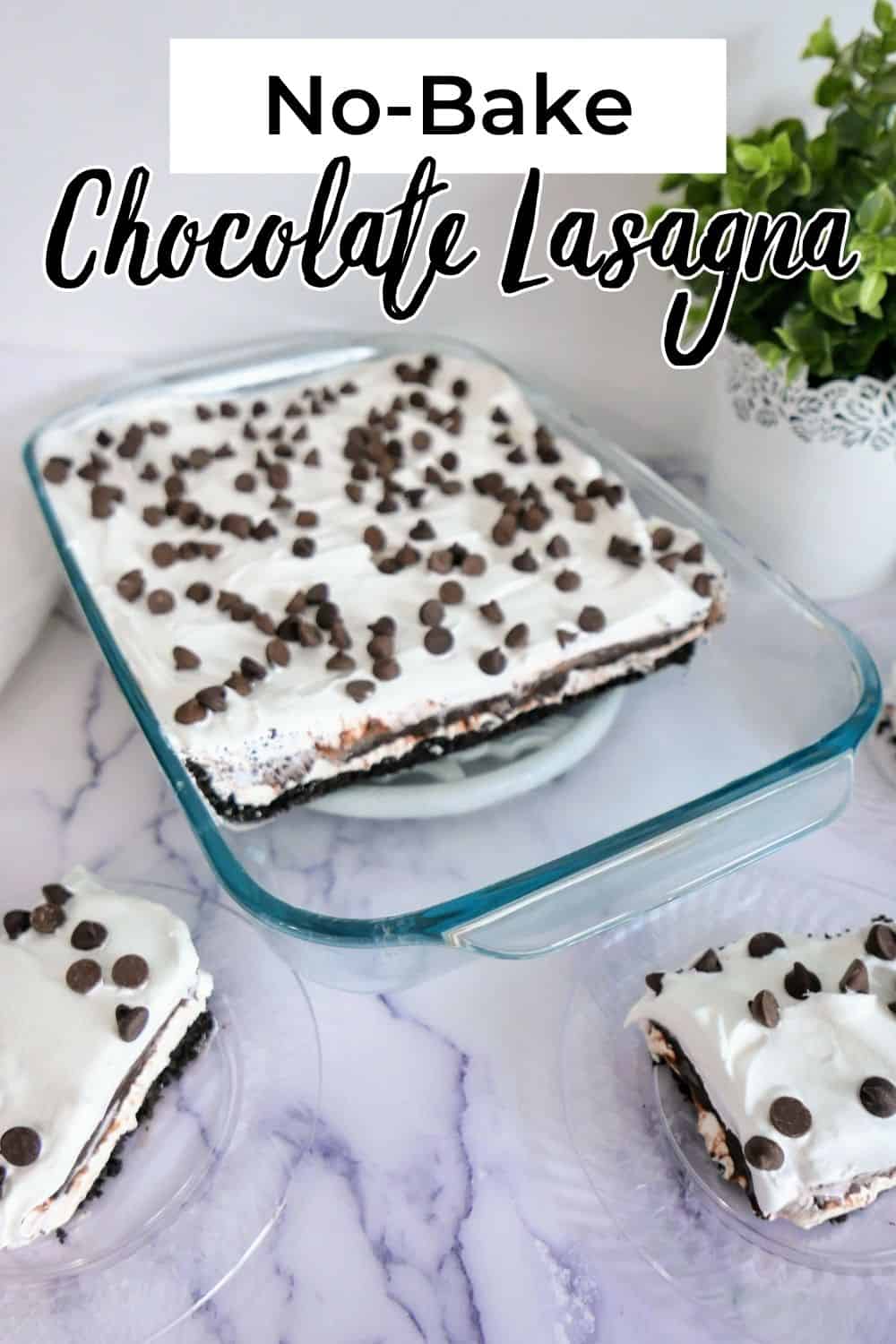 Chocolate Lasagna
I love no bake desserts, and dessert lasagna is always a popular potluck-style dessert. You can make it ahead of time and then just bring to the party and slice and serve one tasty chocolate lover's treat.
What Are The Layers To This Dessert
Oreo Crust | You will crumble up cookies and place them as the crust to this dessert. This allows the dessert to be sliced and served up, instead of just scooping into a bowl.
Cheesecake Layer | Now you will work on your cheesecake layer. This is a cream cheese layer that is no-bake. You will mix it up and then spread it evenly over the Oreo crust layer.
Chocolate Pudding Layer | Now you will whip up the instant chocolate pudding and pour it over the cheesecake layer.
Whipped Cream | The last layer is the whipped cream, this is one of my favorites. It helps bring all the layers together.
Then you can decorate your layered dessert with cookie crumbs, chocolate shavings, sprinkles, etc. Get creative or go simple, the choice is up to you.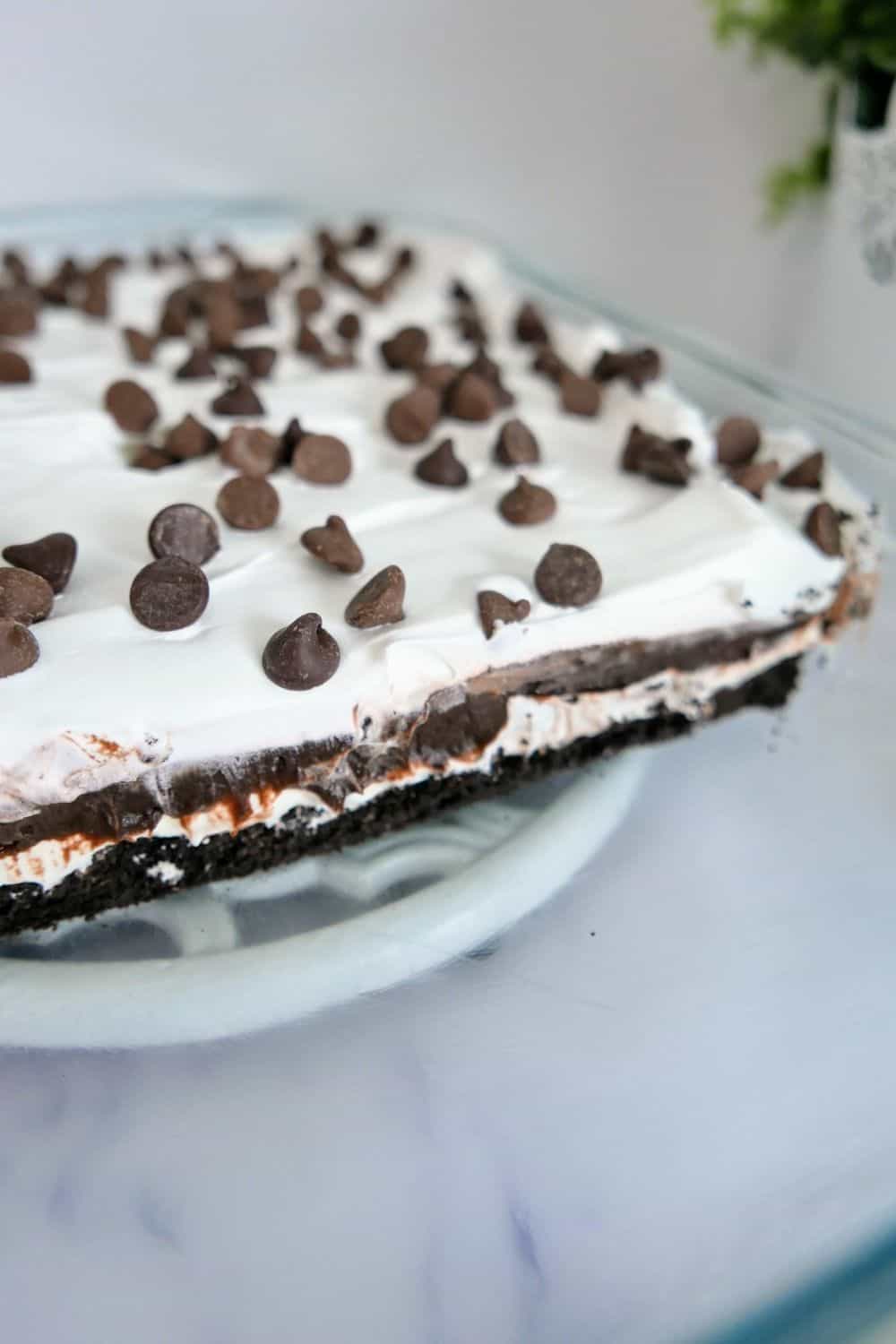 How Do You Store This Dessert
You will need to store your chocolate lasagna in the refrigerator covered. If you don't cover your dessert it will ruin it and also you run the risk of it soaking up odors that are lingering in your fridge.
This dessert can store for around 4-5 days in the fridge. If you make it in advance I recommend making it just a day ahead of time. That way when you serve it up it has optimal flavor.
Can I Use Gluten Free Chocolate Cookies For Crust
You are more than welcome to reach for a gluten-free cookie as the crust. If you can't have gluten you can very easily transform this into a gluten-free recipe.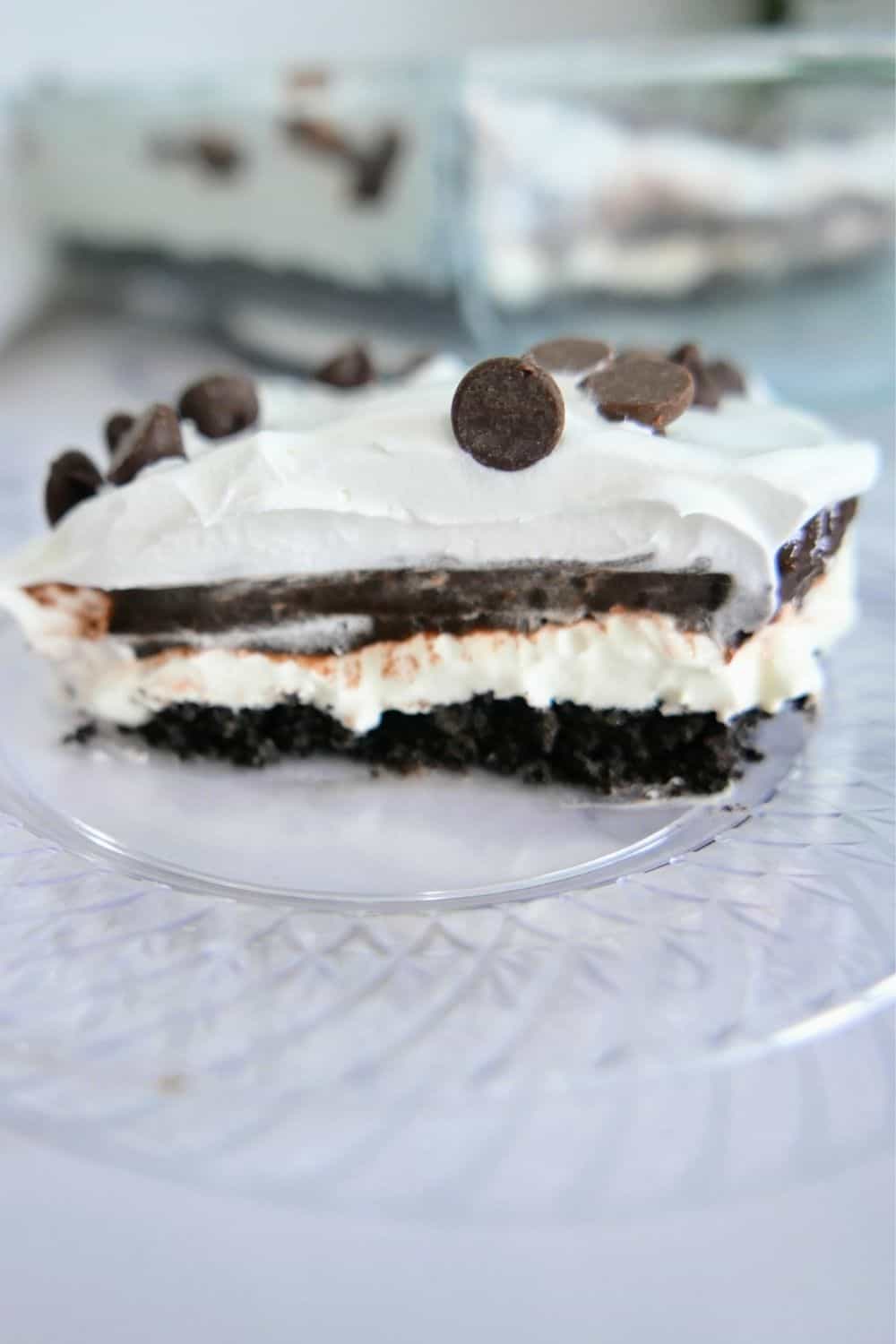 Can I Make This Dessert Into Single Servings
Grab some plastic cups or containers and go right ahead and make these into single-serve containers. You will just create the same layers you would in the casserole dish. Then just cover each container with plastic wrap or place in an airtight container.
You will need to store them in the fridge until you are ready to serve up. This is a great way to have an easy grab and go dessert for parties, summer cookouts, and more.
Tip #1
Do not remove the cream centers from the cookies. (Regular Oreos, not Double Creme)
Tip #2
If you have extra time, I recommend popping the dessert in the freezer after each step. This makes it much easier to spread each layer.
Tip #3
You can make this dessert up to 3 days in advance, keep it refrigerated.
WHAT'S NEXT?
You may also enjoy these desserts on A Crazy Family –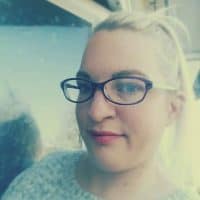 Vickie Louise is the Founder and Editor-in-Chief of A Crazy Family. She is a stay at home mom of a little boy with a big personality. After having her son, she realized how important it is for moms to take care of themselves, physically and mentally. Vickie believes in the power of using social media and her online presence for good and is thrilled to provide you with a space to celebrate all that is awesome (and a little crazy) in the world.