Some links in this post are affiliate links. If you buy from one of our links, we may earn a commission.
S'mores are a classic summer treat that everyone in the family can enjoy.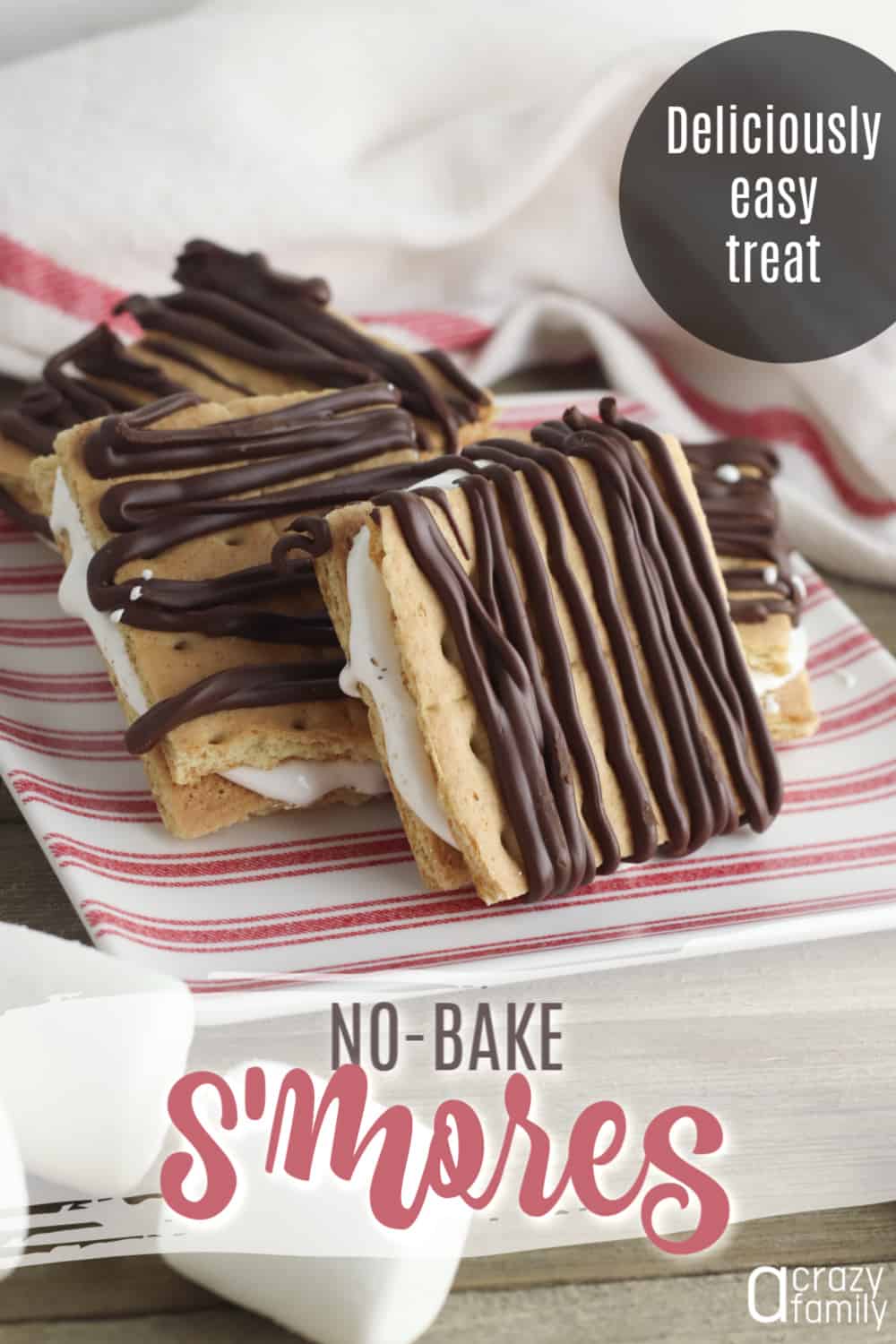 Whether you're sitting around a campfire or just enjoying some time together in the living room, you can always find a reason to make some s'mores.
But creating the classic summer dessert without a campfire can be a little difficult. The next time you're craving s'mores but aren't anywhere near a fire, try these no-bake s'mores instead.
No-Bake S'mores
Whether you're looking for an easy snack for your kids to enjoy on a summer afternoon or you want a quick dessert to bring to your next BBQ, these no-bake s'mores are a great choice!
While these simple sandwich cookies are made up of the same flavors as traditional s'mores, they're made in a way that doesn't require you to be anywhere near an open flame.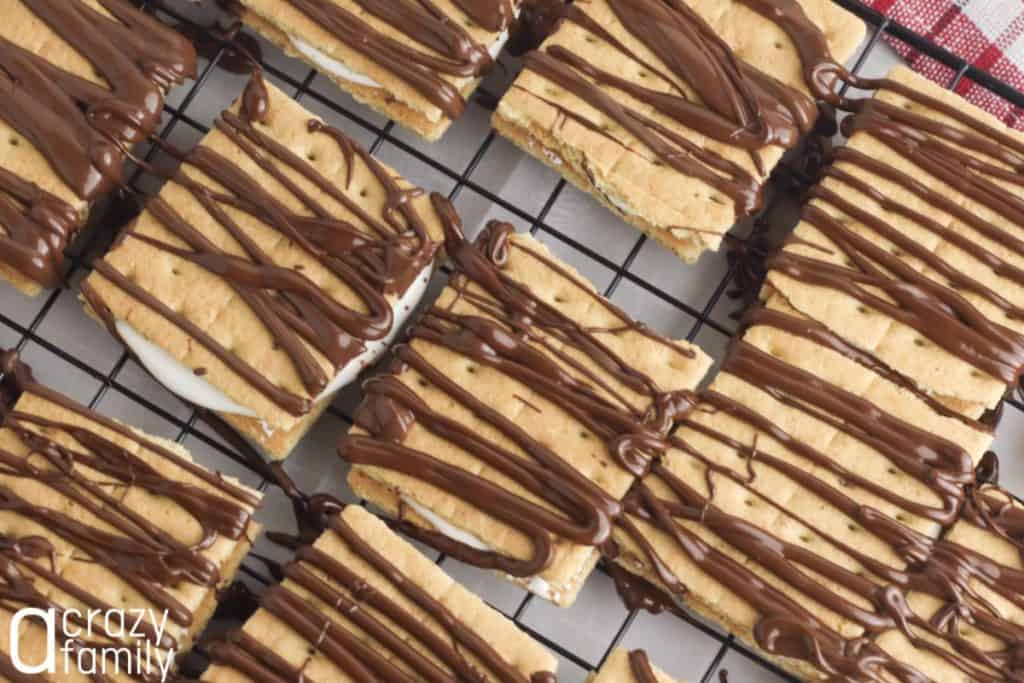 What are S'mores?
If you've never enjoyed this popular treat, you may be wondering what are s'mores. These delicious cookies are a campfire treat made up of graham crackers, marshmallows, and chocolate.
Typically, this fun dessert is made around a fire by roasting a marshmallow over an open flame until it begins to melt, then sandwiching the gooey marshmallow between two pieces of graham cracker and a piece of chocolate.
When the hot marshmallow comes in contact with the chocolate, the candy begins to melt to create a messy (and delicious) sandwich cookie.
S'mores get their name because you'll always want "some more" when you start eating them! And while making s'mores around the campfire is the most popular way to enjoy these treats, camping isn't the only time you can make yourself some s'mores.
What is in no-bake s'mores?
Graham crackers: There's no reason to change up this classic s'mores ingredient! The graham crackers will serve as the exterior of the sandwich, holding the gooey marshmallow crème in place.
Marshmallow crème: Since you won't be melting your marshmallows before adding them to the graham crackers, marshmallow crème is a great replacement for regular marshmallows. This spreadable topping provides the same flavor and consistency of a melted marshmallow without the need to warm it up before you use it.
Chocolate chips: Instead of letting the warm marshmallow melt the chocolate in this dessert, you'll need to melt the chocolate separately. But that means you can use your melted chocolate to add a pretty decoration to the top of your no-bake s'mores!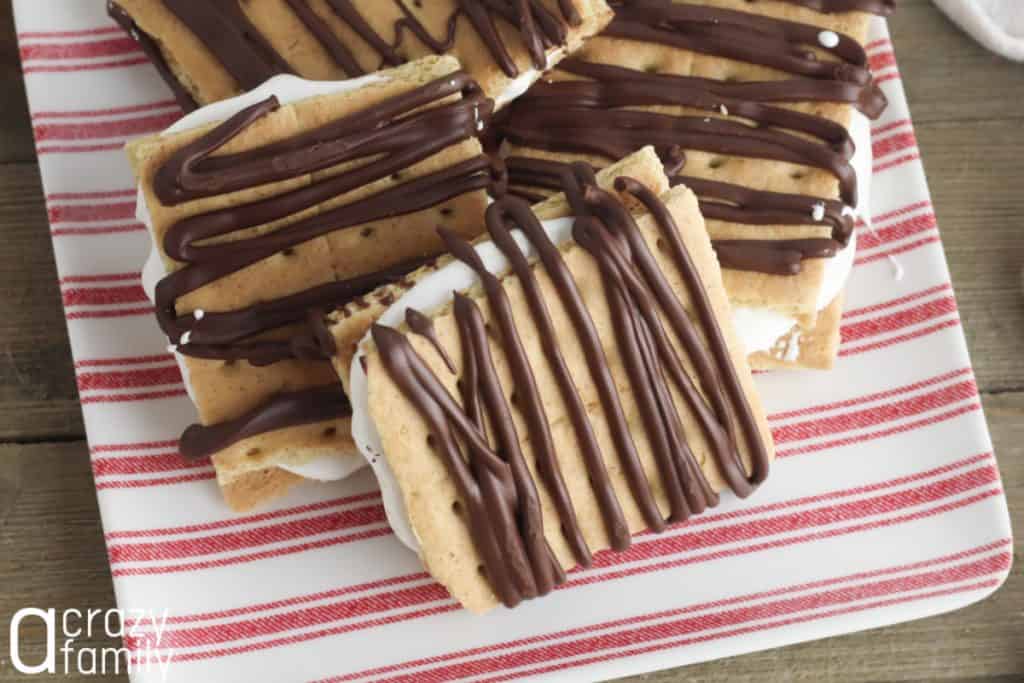 How to Make No-Bake S'mores
Now that you have all the ingredients you'll need to create your own no bake s'mores, it's time to put this simple dessert together.
Start by breaking each of your graham cracker sheets in half to create a top and bottom for your marshmallow sandwiches.
If you make the entire box of graham crackers, you'll end up with 27 sandwich cookies when you're finished. But if you want to make a smaller batch, just count out the number of sheets you'll need and brake apart only that many graham crackers.
Lay half your graham crackers out on a flat surface. I suggest placing them on a piece of parchment or waxed paper to keep the mess contained. Another simple way to decorate your no bake smores is to lay out the cookies on wire racks placed on top of a piece of parchment paper.
The racks will allow the extra chocolate to drip off the cookies and the parchment paper will catch those drips to make clean-up easier.
Use a knife or flat spatula to spread marshmallow crème over the top of each graham cracker half. Try not to over-fill the graham crackers because the crème may begin to drip out the edges of the s'mores after the top cracker is added.
When all your graham crackers have been covered in marshmallow crème, place the other half the graham crackers on top to create a sandwich. Continue adding the graham cracker halves until all the marshmallow crème has been covered.
This no-bake recipe changes up the construction of a s'more to put the chocolate on the outside of the cookie instead of on the inside. That means you'll need to melt your chocolate before you add it to the s'mores.
To melt your chocolate chips, place them all in a microwave-safe bowl, and heat them on high for 30 seconds. Take the bowl out and stir the chips, then place it back in the microwave and heat for 30 more seconds. Stir the chocolate chips again. If the chips aren't completely melted, heat them for another 30-second interval and give them another stir.
Then, drizzle the melted chocolate over the top of all the graham cracker sandwiches. Continue drizzling until all the chocolate has been used.
Allow the cookies to rest for 15 to 20 minutes to give the chocolate time to set. To speed up the setting process, place the cookies in the refrigerator for five minutes.
After the chocolate has set, it's time to enjoy these yummy no-bake s'mores!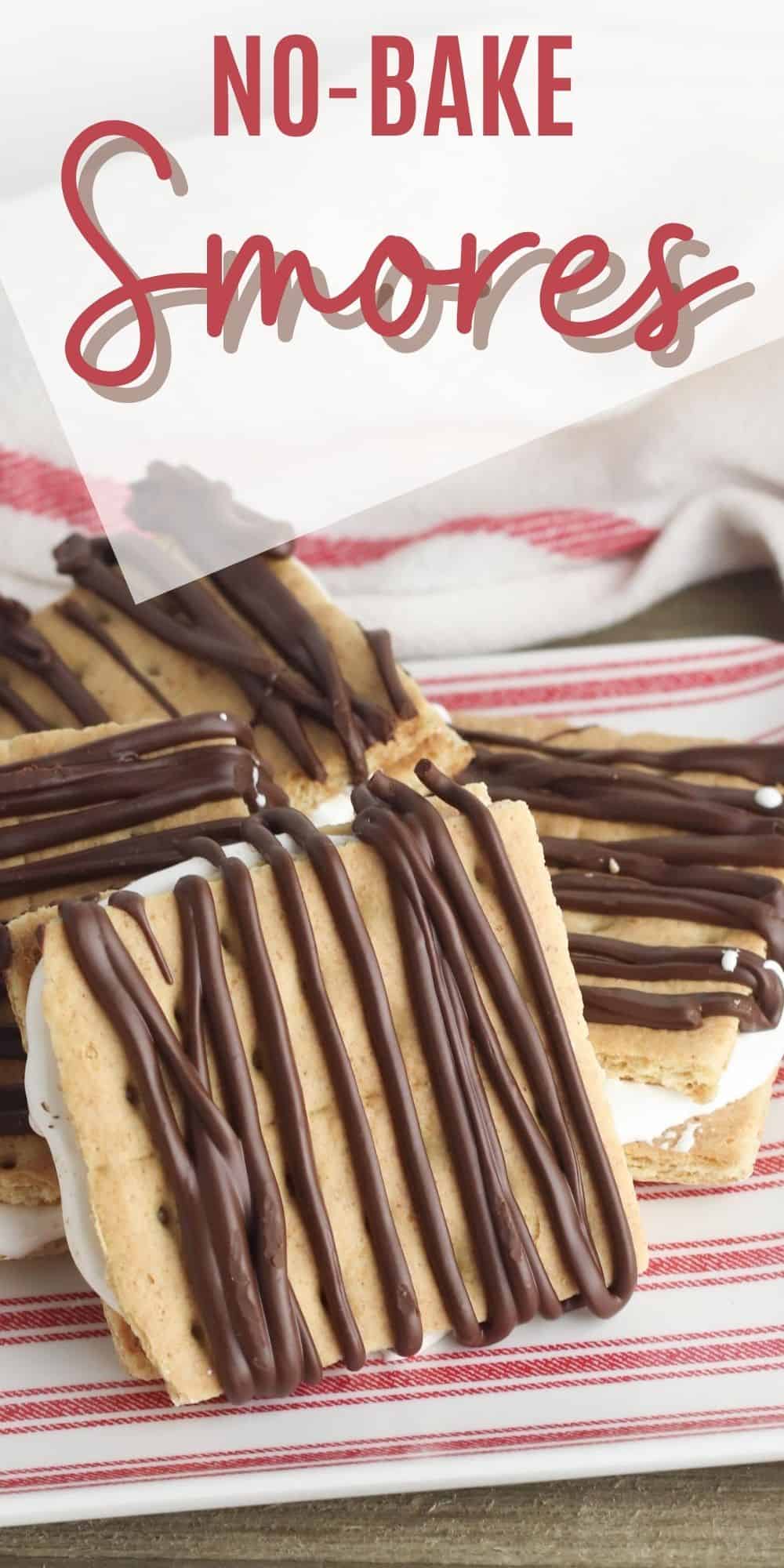 More S'mores Recipes