By: Vickie | Updated: 7th August 2023
Nothing beats a chocolate covered pretzel. Add in some red, white, and blue colors and boy are these almost too pretty to eat. Whip up these patriotic pretzels today.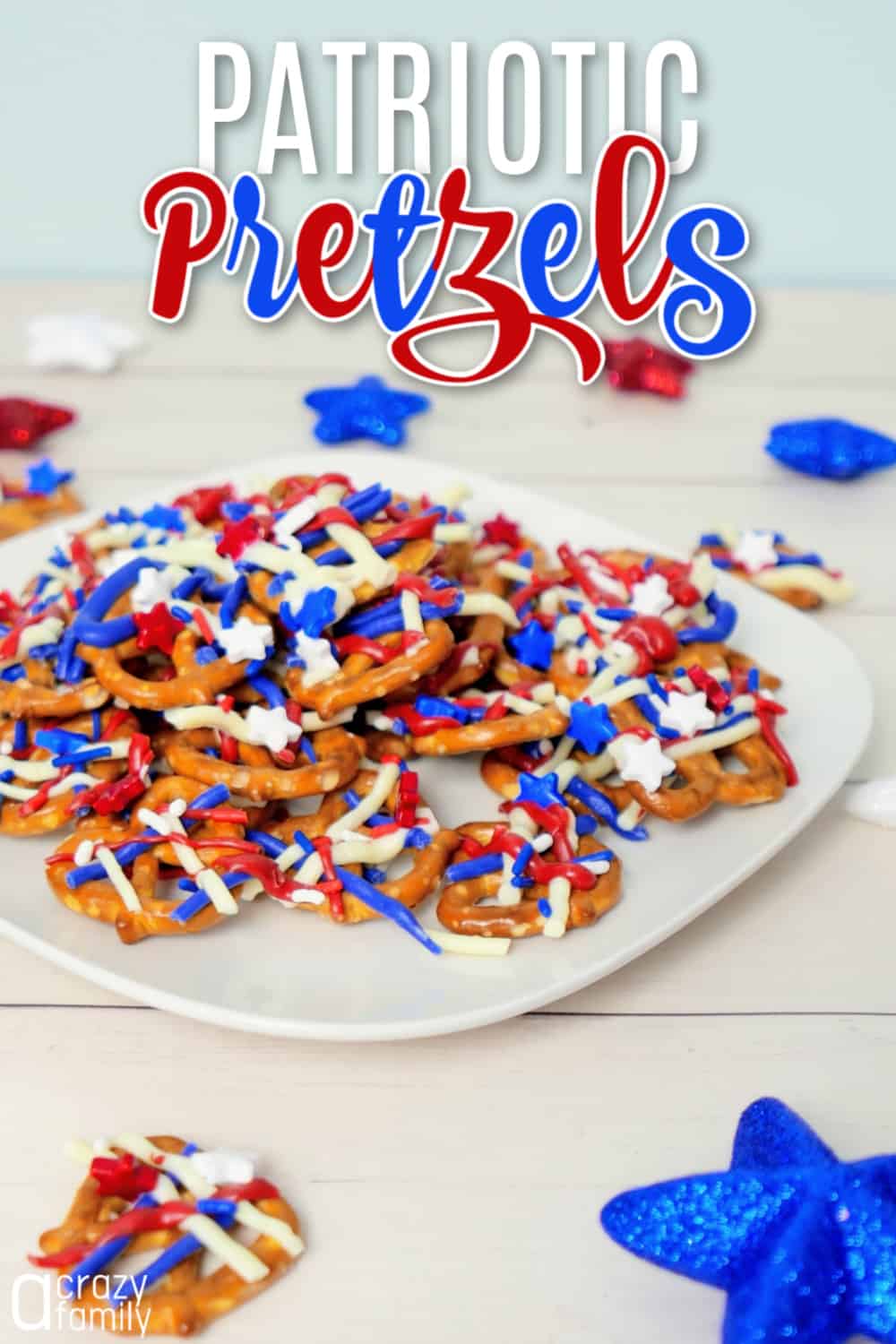 This is a no-bake dessert that can be whipped up in minutes. The hardest part is letting the chocolate set up. If you have kids let them join in and help and create one-of-a-kind 4th of July pretzels.
Patriotic Pretzels
Candy melts are the perfect way to get that hardened coating that is bold in color and sweet as can be. Add even more color by sprinkling on patriotic sprinkles on top.
Can I Change Up The Type Of Pretzels Used
Yes! Feel free to try different types of pretzels if you would like. I have used pretzel rods in the past, and those are so fun to use. But you can also use jumbo pretzels, twists, sticks, etc.
When I do the pretzel rods I leave one of the ends free of chocolate. But others like sticks or twists, I fully dip in chocolate. Feel free to play around with the looks of dipping and drizzling with chocolate.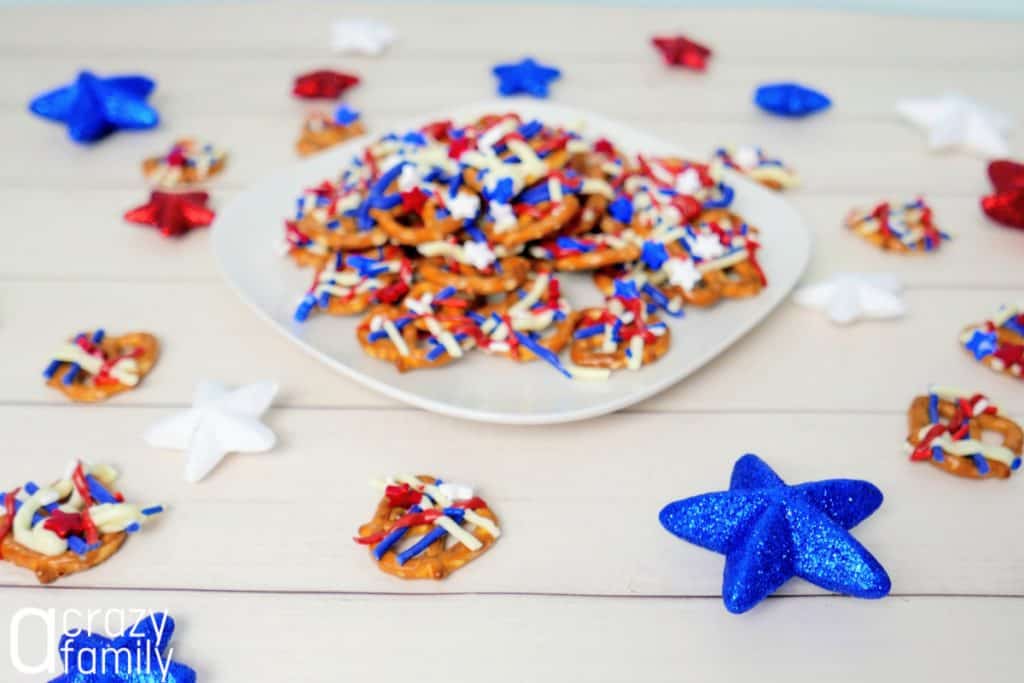 Can I Use Chocolate Chips Instead Of Candy Melts
Yes and no. If you want to use chocolate chips or even a bar in replace to candy melts you can. The one downfall is you can't use food coloring to color white chocolate chips. It will cause the chocolate to seize up and it will not mix in properly.
But if you want to use white chocolate chips in replace of white candy melts you can. Or you can use white chocolate chips for dipping and then just use sprinkles to get that patriotic feel.
More Summer Fun Recipes
10 Berry Ice Cream Recipes | You scream, I scream, we all scream for ice cream! Here are must make ice cream recipes that will make every day of your summer break feel epic!
Graham Cracker Smores Bars | Skip the open fire and make smores in a fun and easy bar recipe. This recipe is addictive and I guarantee you won't be able to eat just one.
Fresh Blackberry Strudel | Berry season is approaching so grab some fresh blackberries and create one dessert that will literally melt in your mouth.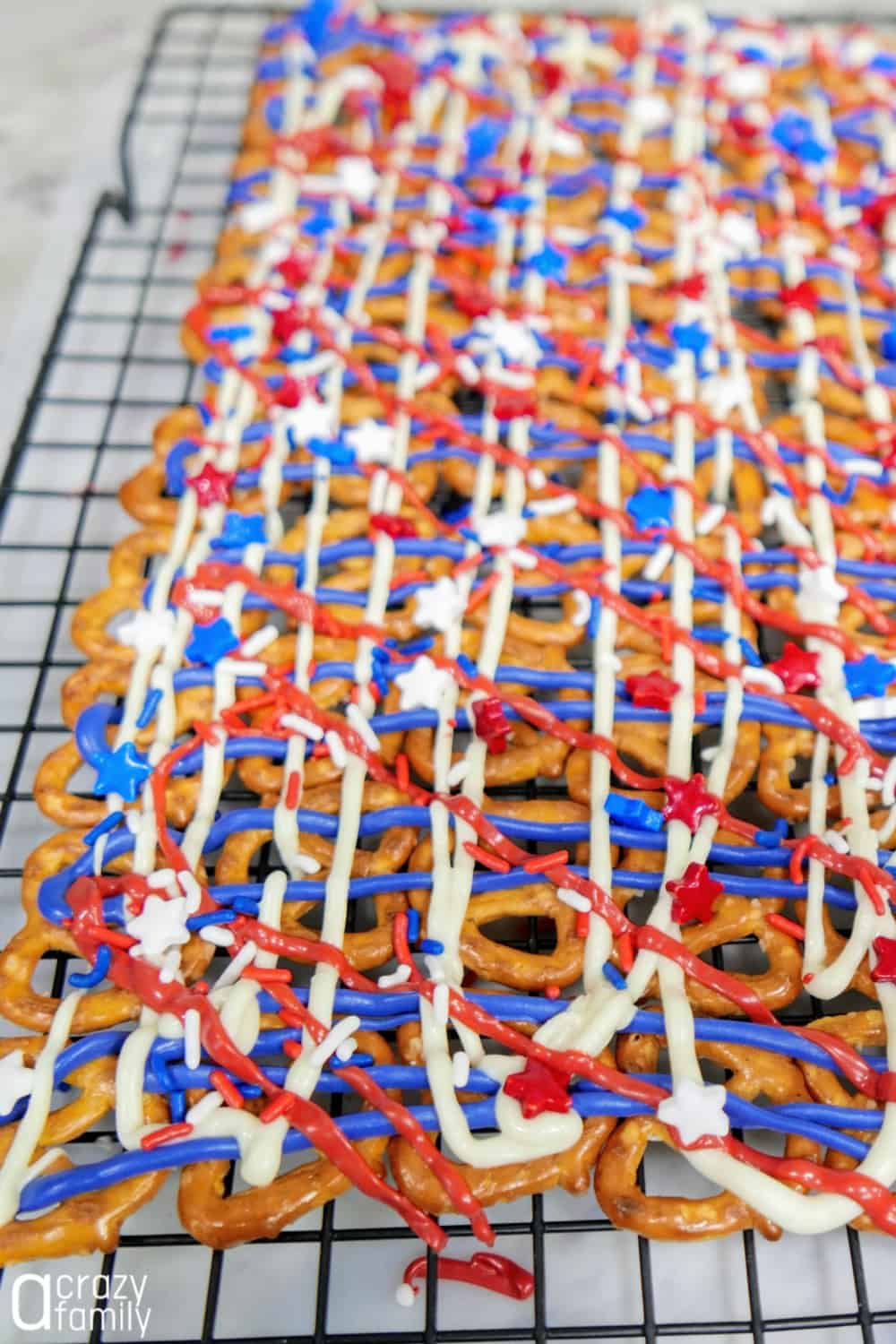 How To Store Chocolate Covered Pretzels
Storing these pretzels is rather easy. Once the pretzels have fully cooled and the chocolate is hardened, you can then place in an airtight bag or container. Then store for up to 10 days at room temperature. You just don't want your pretzels to get hot, as they will begin to melt the chocolate.
Can You Freeze Patriotic Pretzels
If you don't plan to eat all of the pretzels right away, you can freeze them. Simply store in a freezer bag or freezer container for up to three months. Then remove from the freezer and allow them to thaw out or eat them fully frozen. They are tasty and will hold on to the crunchy texture.
GET THE FULL PATRIOTIC PRETZEL RECIPE BELOW.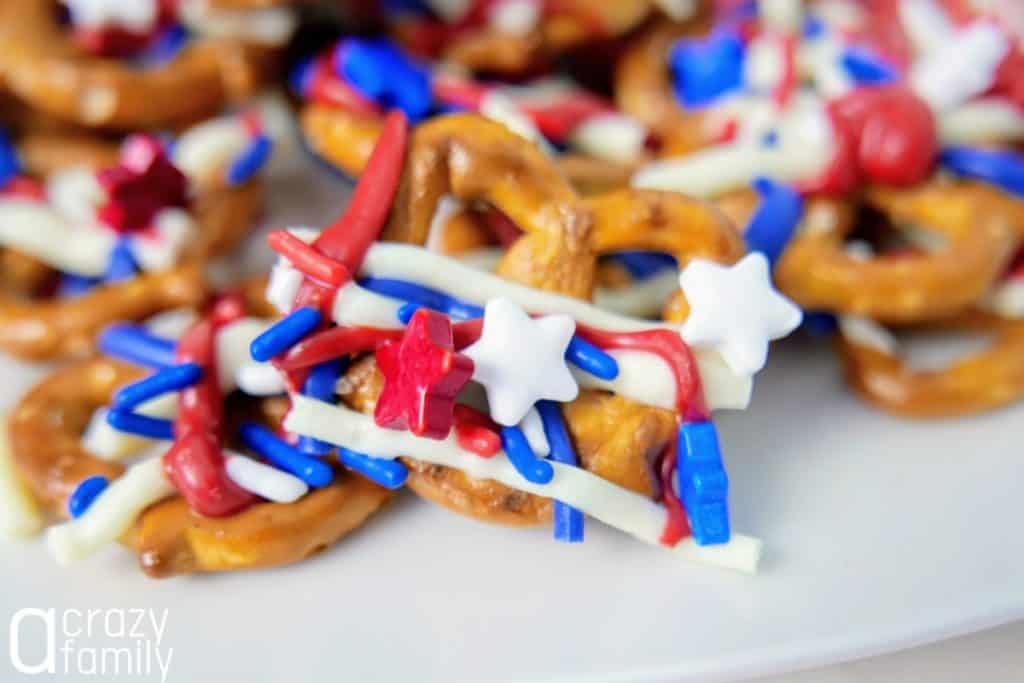 More Amazing 4th July Recipes
If you like this recipe, then you will love some of these other 4th July recipes.
This Firecracker Popcorn has just the right amount of sweet and salty, and with the fun of popping candy!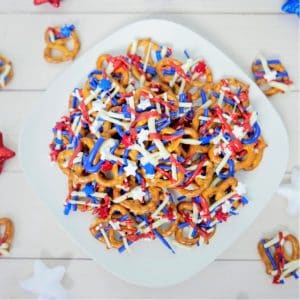 Ingredients
2

Cups

Twist Pretzels

½

Cup

White Chocolate Chips

½

Cup

Blue Candy Melting Wafers

¼

Cup

Red Candy Melting Wafers

Red

White, & Blue Sprinkles
Instructions
Begin by placing your cooling rack over the flexible cutting board. This will help catch the extra candy melts, white chocolate, and sprinkles that fall through the cooling rack when decorating.

Spread the pretzels across the cooling rack, placing them as close together as possible, while not overlapping.

In a glass bowl, melt the blue candy melting wafers in the microwave, heating in 15 seconds increments. After 15 seconds, take out and stir well with a silicone spatula. Return for an additional 15 seconds, until completely melted and smooth.

Allow the blue candy melting wafers to cool slightly, then holding one of the sandwich baggies open with the palm of your hand, put the blue candy into the bag. Make sure to add it into one of the bottom corners of the bag, so that it looks like a cone shape when you hold the baggie.

Cut a very small diagonal line across the bottom corner of the baggie. Begin piping the blue candy melts across the pretzels in a horizontal line, moving right to left.

Repeat steps 3, 4, and 5 with the white chocolate chips, but instead pipe the white chocolate in vertical lines, moving up and down the pretzels.

Next, repeat steps 3, 4, and 5 with the red candy melting wafers, but pipe the red wafers in a diagonal line across the pretzels.

While the candy melts and white chocolate are still warm, sprinkle the red, white, and blue sprinkles on top of the pretzels. The sprinkles will stick to the warm candy and chocolate to keep them from falling off.

Place the cooling rack in the refrigerator to set for approximately 1-2 minutes. Remove from the refrigerator, and break up the pretzels. Enjoy!

Nutrition information is automatically calculated, is intended to serve as an estimate only, and is provided for informational purposes. The accuracy of nutritional information is not guaranteed.
Click stars to rate now! Or leave a comment below.