Weight Watchers is a great way to lose weight. And with the Smart Points plan, you can have a variety of food to choose from that won't make a dent in your points balance. Whether you're out and about and need a quick bite or just enjoy snacking throughout the day, zero-point snacks are a must.
Sticking to your Weight Watcher's diet seriously doesn't get any easier with these 47 Guilt-Free Zero Point Weight Watchers Snacks! Don't forget to bookmark this post and pin it to Pinterest so you can come back to it again and again.
Click here to pin this post to your favorite Weight Watcher's Pinterest board right now.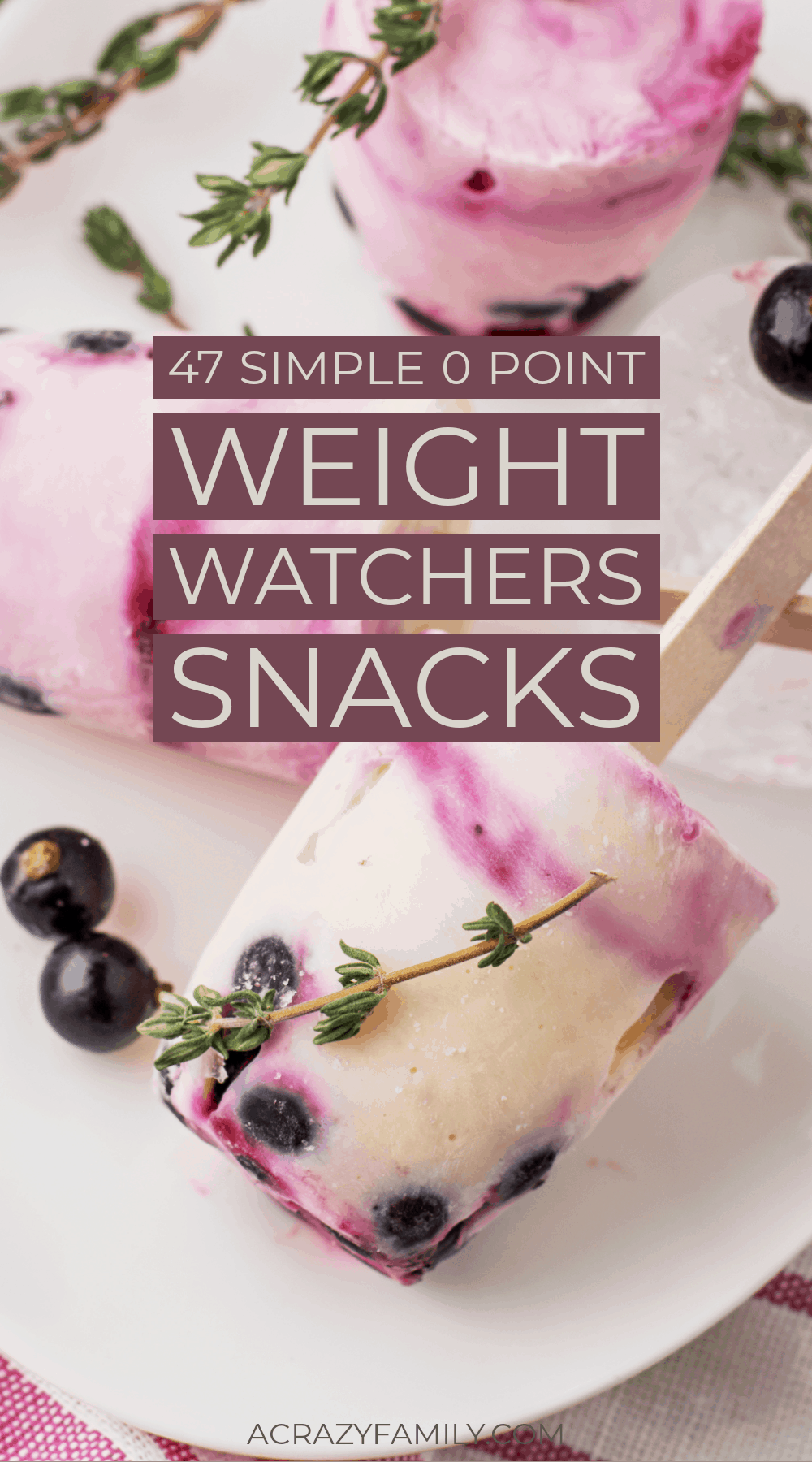 ---
See Also: Check out our collection of Weight Watcher's recipes and tips by clicking here.
---
These 47 simple zero-point Weight Watchers snacks will help keep you satisfied and on track each day.
The latest version of the popular diet plan gives users more than 200 zero-point food options, making snacking so much easier!
These zero-point foods are designed to help you build a healthy foundation of foods to choose from instead of grabbing those less-healthy options when you're hungry. Combining these zero-point food options with your favorite healthy recipes ensures you'll stay full and satisfied throughout the day – which means you'll be less likely to slip up and go over your allotted points.
But finding unique snacking options can be difficult, even when you have more than 200 choices to pick from!
If you're searching for a good snack to enjoy on Weight Watchers, you'll love one of these zero-point snack options.
Fruit and Vegetable Snacks
Most fruits and vegetables are zero-points on the Smart Points plan, which means you have a big selection of healthy snacking choices on Weight Watchers.
Whether you're searching for something to satisfy your sweet tooth or need a savory snack to get you through the afternoon, these fruit and veggie snack combos are sure to satisfy.
Here are a few healthy fruit and vegetable snack options:
Frozen grapes (toss them in sugar-free lime Jell-O before freezing for a tart snack)
Zucchini chips (spray thinly sliced zucchini with nonstick cooking spray and bake at 350 degrees until crisp)
Kale chips (spray pieces of kale with nonstick cooking spray and bake at 350 degrees until crisp)
Baby carrots, celery, and broccoli with zero-point ranch dip (mix two cups nonfat Greek yogurt with one packet ranch dressing mix)
Baked peaches topped with cinnamon
Melon balls
Sliced mango
Tropical fruit kabobs (diced mango, pineapple, passion fruit, and kiwi on a kabob stick)
A bowl of mixed berries
Sliced bell pepper with nonfat refried beans for dipping
Homemade fruit salad (chop your favorite fruits and mix them together in a bowl)
Baked apples with cinnamon
Orange slices
Cajun carrot chips (sprinkle thinly sliced carrots with Cajun seasoning and microwave for four to six minutes, or until chips are crispy)
Strawberries tossed with balsamic vinegar
Watermelon slices
No-sugar added applesauce with cinnamon
Sliced bell peppers
Unsweetened fruit cup
Sliced tomato sprinkled with salt and pepper
Sliced banana
Pickle spears
Fat-free salsa with sliced carrots for dipping
Sliced cantaloupe and honeydew melon
Banana ice cream (freeze a sliced banana until solid, then blend until smooth)
Clementine
Pumpkin pancakes (Whisk together three eggs, ¼ cup pumpkin puree, and one packet sugar-free sweetener. Pour into a hot skillet and cook evenly on both sides)
Banana pancakes (Whisk together three eggs, one mashed ripe banana, and one packet sugar-free sweetener. Pour into a hot skillet and cook evenly on both sides)
Dairy Snacks
While not all dairy is free on the Smart Points plan, there are a few delicious options to choose from – even some frozen treats to satisfy an ice cream craving!
Here are some great snack ideas from the dairy section:
Fat-free yogurt with added strawberries, raspberries or blueberries
Fat-free Greek yogurt with a spoonful of sugar-free jelly mixed in
Sliced apples topped with Greek yogurt and cinnamon
Frozen fat-free yogurt with sugar-free strawberry jelly
Greek yogurt popsicles (dice your favorite fruit and mix with nonfat Greek yogurt, then pour into popsicle mold and freeze)
Protein Snacks
Protein-packed snacks are a great way to fill up and sustain that full feeling longer. And luckily, there are a variety of delicious protein options to choose from on the list of zero-point Weight Watchers foods.
If you're looking for some protein-filled snack ideas that are zero points, you'll love these:
Hard-boiled egg with a sprinkle of salt and pepper
Nonfat sliced turkey rolled into bite-sized pieces
Lettuce cups with diced chicken breast and pico de gallo
Edamame
Deviled eggs (Mix the yolk of a boiled egg with one teaspoon nonfat Greek yogurt, a squirt of mustard, and salt and pepper to taste. Refill the egg white with the yolk mixture and enjoy)
Celery topped with tuna
Jerk chicken lettuce tacos (fold a leaf of lettuce in half to form a taco shell and fill with jerk chicken)
Diced chicken topped with nonfat salsa
Spinach omelet
Buffalo chicken stuffed celery (combine shredded chicken with nonfat Greek yogurt and buffalo sauce and use the mixture to fill celery stalks)
A packet of tuna mixed with Cajun seasoning
Scrambled eggs with nonfat salsa
Southwestern omelet made with fat-free salsa and shredded chicken