Nacho Cups: Easy Appetizer Idea for a Party
By: Vickie | Updated: 19th May 2022
Nachos are a popular appetizer idea for any occasion. But unless you enjoy sharing your food with everyone at the party, they're not the best idea for a big get-together.
What if you could enjoy the flavor of nachos in an easy-to-eat container? These delicious nacho cups are packed with flavor and much easier to eat than traditional nachos.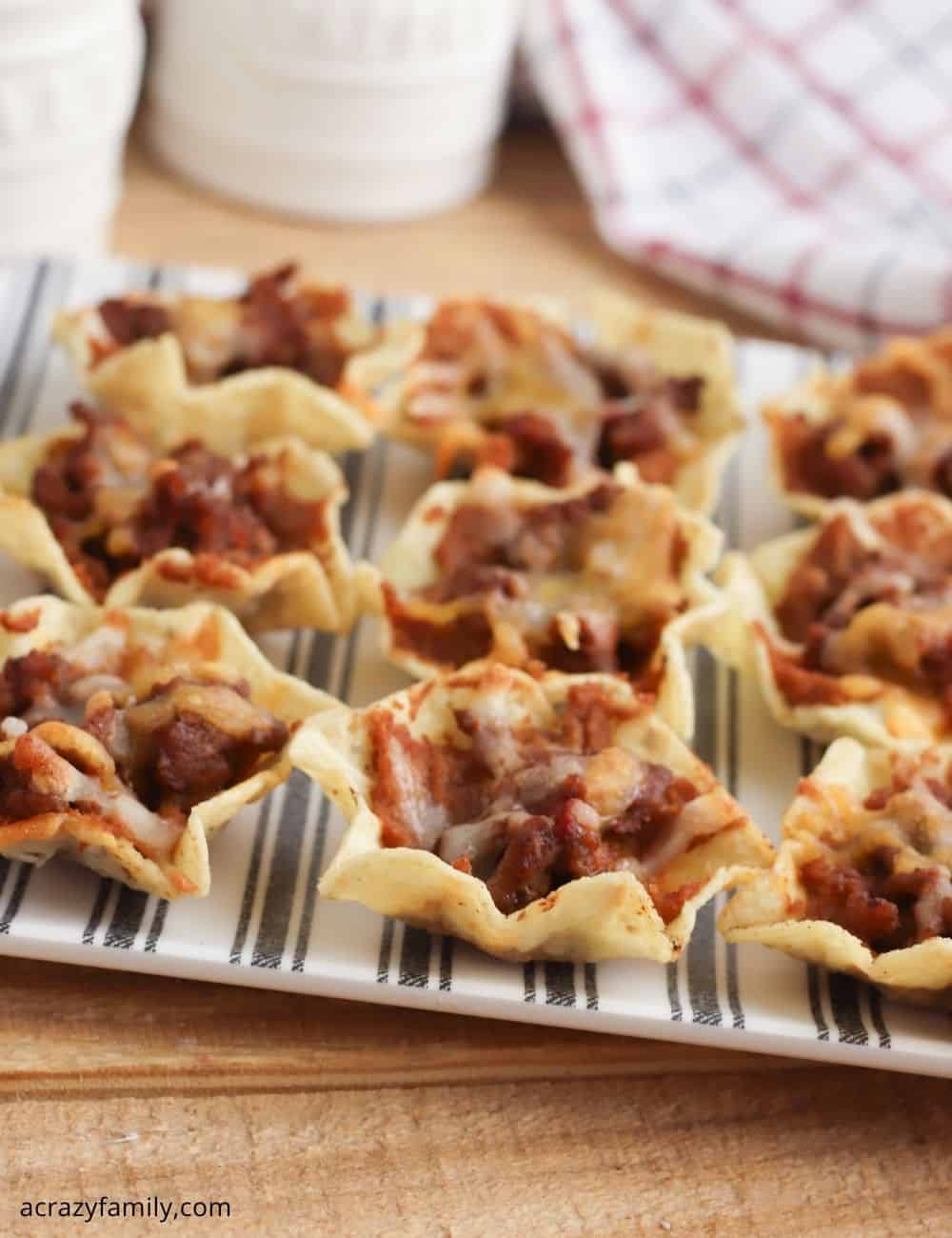 Finding individual appetizer ideas is a great way to serve guests at your party without worrying about other people's germs coming in contact with your food.
That's why these nacho cups are such a perfect option for your next get-together. They're filled with nacho flavor but perfect for bite-sized snacking.
Don't miss these appetizer recipes:
Serve these Teriyaki Chicken Bites at your next party because not only are they absolutely delicious, they are easy-to-make and can be made ahead. And with only a few ingredients, they are a tasty appetizer your party guests will love!
Meatballs are the perfect party food. They're savory and delicious and can easily be eaten in one bite. And these gluten-free party meatballs are a new take on a traditional party appetizer.
These quick and easy Greek Salad Skewers are a perfect no-cook appetizer recipe that is perfect for warmer weather, but it is substantial enough to enjoy year-round.
Nacho Cup Ingredients
To make your own nacho cups, you'll need:
Tostitos Scoops. The key to making these bite-sized appetizers is Scoops chips. The chips come in the shape of a cup, making them perfect for filling with nacho toppings.
Refried beans. Give your appetizer the taste of traditional nachos with the help of refried beans. Use your favorite bean recipe or open can of refried beans to add to your recipe.
Ground beef. You can't have nachos without some taco meat! Season your ground beef with taco seasoning, tomatoes with green chilies, and onions to create a delicious topping for your nacho cups.
Shredded cheese. Finish your nacho cups with cheese to create a gooey topping for the simple appetizers.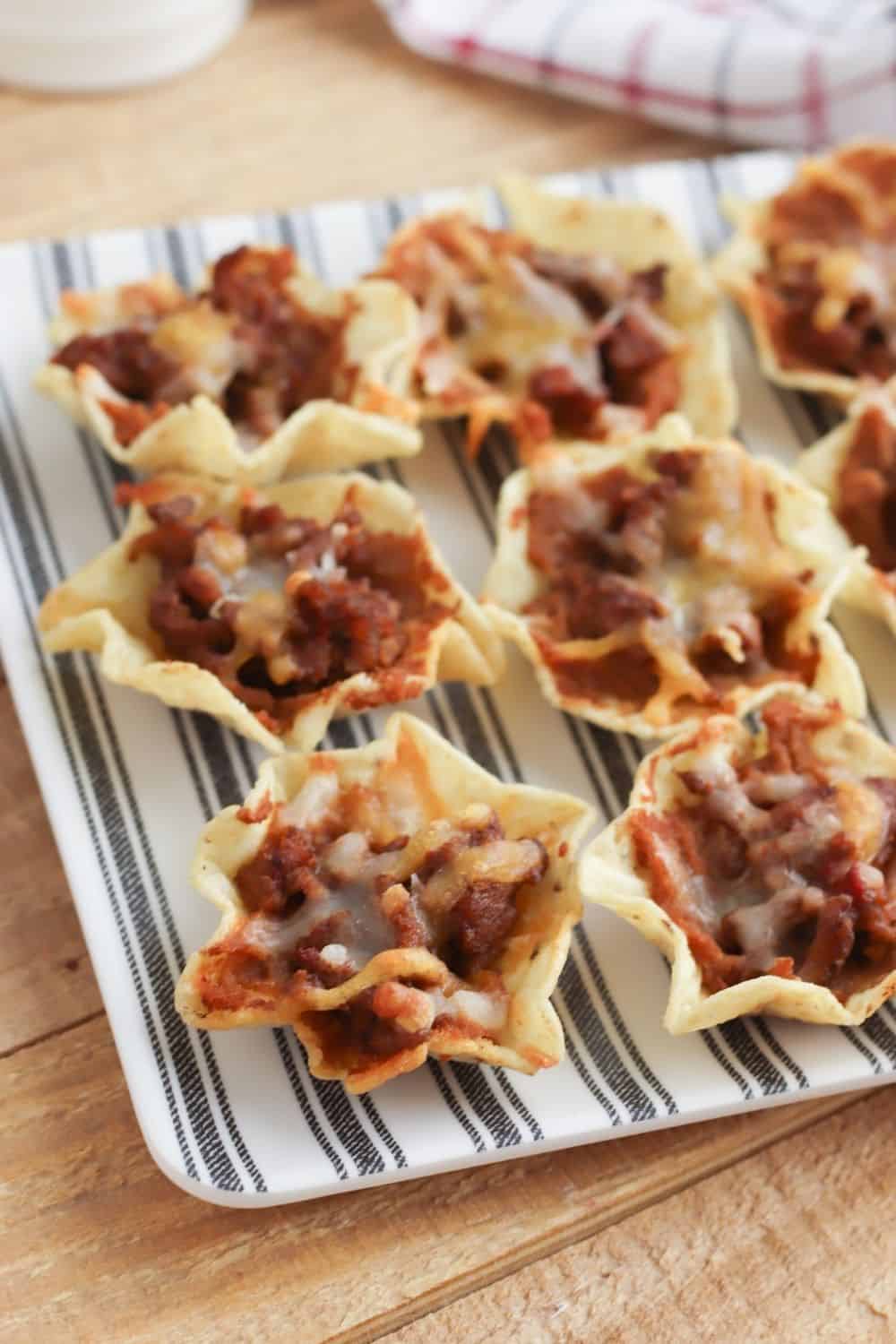 How to Make Nacho Cups
Once you have all your ingredients ready to go, it's time to start cooking! The first step to preparing your nacho cups is to get the meat ready. Place your ground beef in a large skillet with the chopped onions. Saute the meat until it's brown, then remove any excess grease from the pan.
Add the tomatoes with green chilies, water, and taco seasoning and stir to combine all the ingredients. Reduce the heat to low and simmer the ingredients until the sauce begins to thicken, stirring occasionally. When the sauce has finished thickening, remove the meat mixture from the stovetop and set it aside.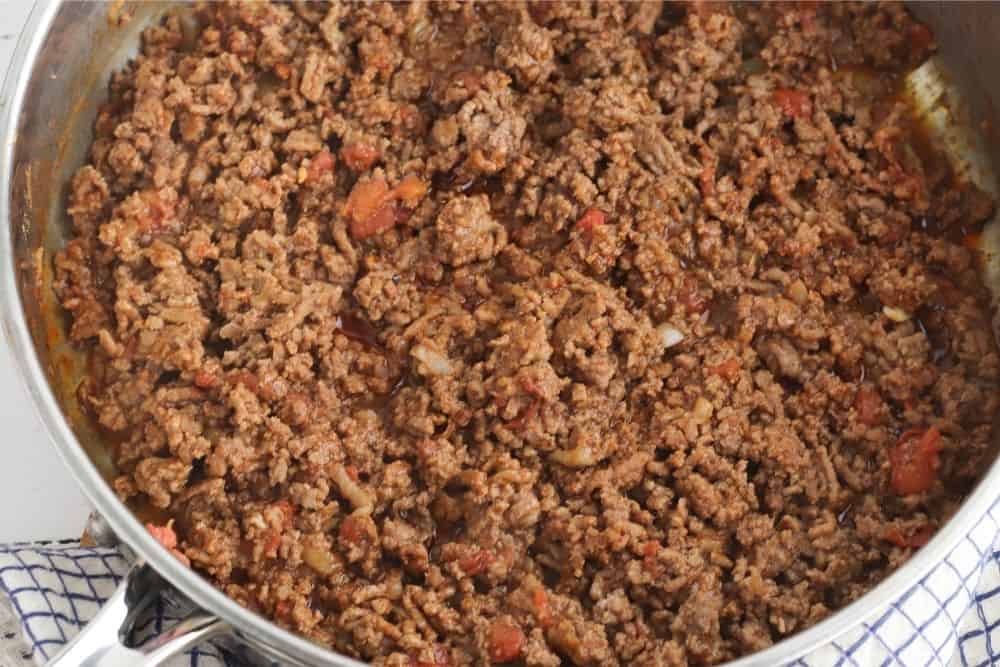 Open the chip bag and place the scoops in an even layer on an ungreased baking sheet. Discard all the broken chips and use only the chips that are still fully intact. Spread a small amount of refried beans along the bottom of each chip cup.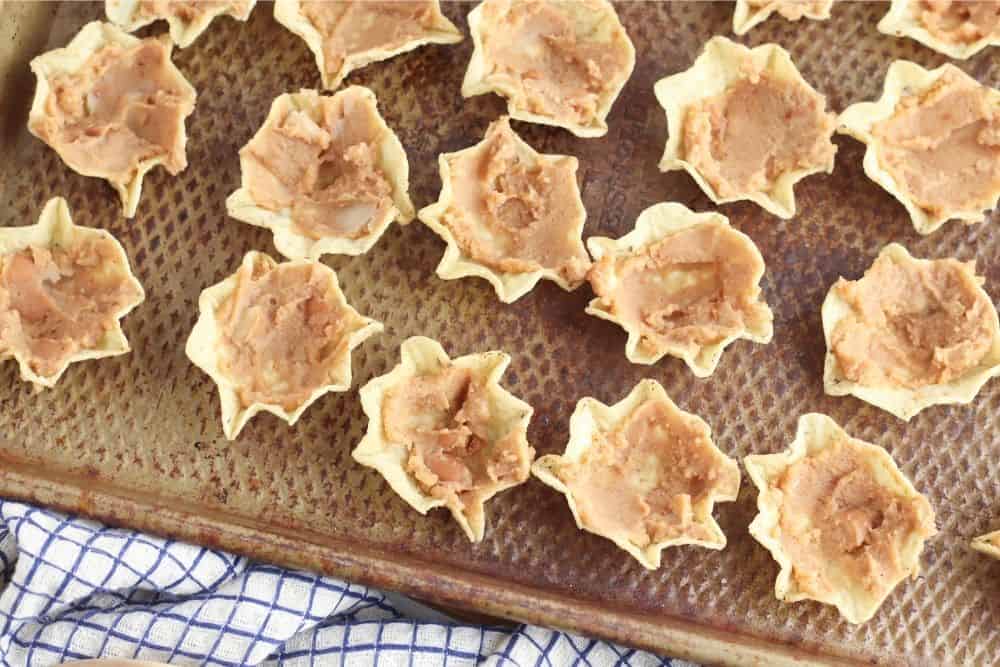 Top the refried beans with a small spoonful of beef mixture, then sprinkle some shredded cheese over the meat. Continue filling each scoop until all the chips are covered with toppings.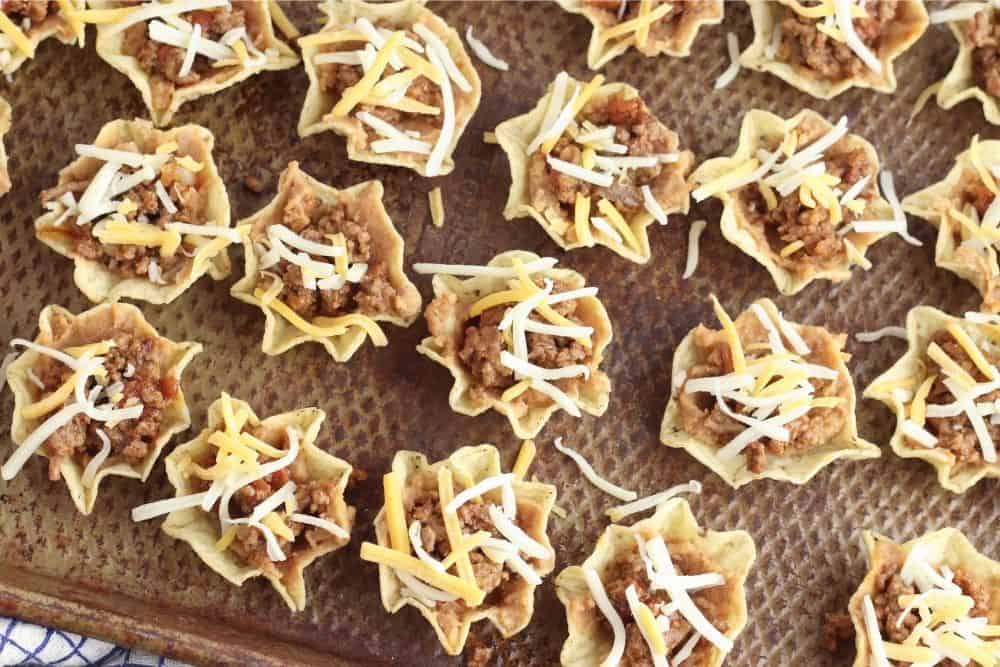 Place the chips in the oven to bake for around 10 minutes, giving the chips time to become crispy and the cheese time to melt. After the cooking time is up, you can serve your nacho cups immediately.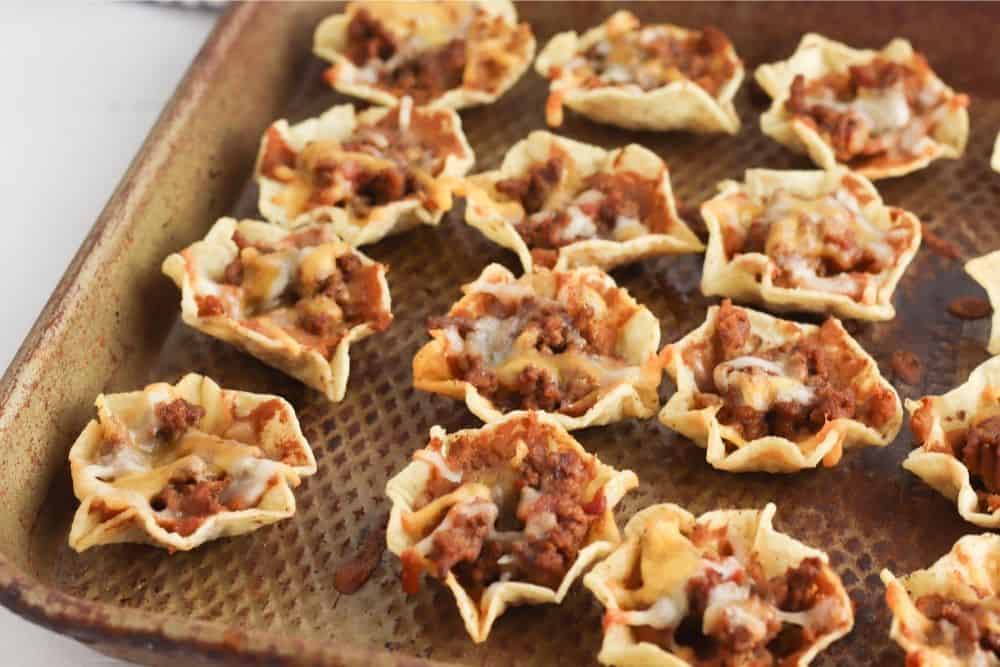 Nacho Cup Recipe Variations
This quick and easy appetizer is perfect for a party. And since the recipe is based on nachos, you can change it up to include all your favorite nacho toppings and variations!
Try these simple recipe ideas to make some delicious nacho appetizers for your next get-together:
After your nacho cups are finished baking, add some freshness to the snack with the help of chopped veggies. Top your scoops with diced tomato, chopped red onions, avocado slices, fresh pico de gallo, diced bell peppers, or shredded lettuce.
Another way to add some freshness to your nacho cup is with the help of fresh herbs. A sprig of cilantro can decorate the top of each nacho scoop and add some more flavor to each bite of the appetizer.
Ground beef isn't the only option for making nacho cups! You could try making appetizers with shredded chicken or pork carnitas for a delicious snack that's packed with flavor.
There are a variety of delicious sauces you could use to dress up your nacho cups. Try placing a scoop of guacamole or spicy salsa on top of each cup for more flavor. Or give your scoops a fresh topping with a spoonful of sour cream.
While traditional taco seasoning will add plenty of flavor to your nacho cups, you can easily increase the spiciness of your appetizers with the help of jalapeno. Chop up some fresh jalapeno and add it to the meat mixture as you're cooking your ground beef. Or top your nacho cups with sliced jalapeno for a spicy addition to the snack.
Try different flavor combinations.
Traditional Mexican flavors are a great option, but it's not the only way to serve your nacho cups. Try creating different nacho combinations for a unique treat each time you serve your nacho cups.
Create BBQ nacho cups by replacing the taco meat with pulled pork or chicken and replacing the refried beans with baked beans.
Or make chili cheese cups by filling each scoop with chili and topping it with shredded cheese before baking them in the oven.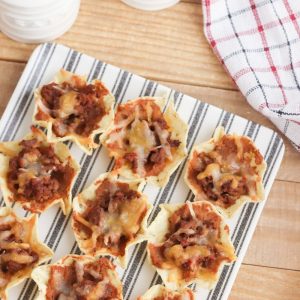 Ingredients
1

10-ounce bag Tostitos Scoops

1

16-ounce can refried beans

prepared

1

pound

ground beef

1

10-ounce can diced tomatoes with green chilies

1

small onion

chopped

1

packet taco seasoning

1/3

cup

water

2

cups

shredded taco blend cheese
Instructions
Preheat the oven to 375 degrees.

In a large skillet, brown the ground beef with tomatoes and onions. When the beef is cooked through, add the taco seasoning and water. Reduce heat and simmer until the sauce has thickened, around 5 minutes.

Spread a small amount of refried beans over the bottom of each chip. Top with a spoonful of ground beef and a small amount of cheese.

Place each filled chip on a baking sheet and bake for 10 minutes, until the cheese is melted.

Nutrition
Serving:
1
Serving
|
Calories:
425
kcal
|
Carbohydrates:
39
g
|
Protein:
22
g
|
Fat:
20
g
|
Saturated Fat:
7
g
|
Polyunsaturated Fat:
12
g
|
Trans Fat:
1
g
|
Cholesterol:
54
mg
|
Sodium:
894
mg
|
Fiber:
5
g
|
Sugar:
2
g
Nutrition information is automatically calculated, is intended to serve as an estimate only, and is provided for informational purposes. The accuracy of nutritional information is not guaranteed.
Click stars to rate now! Or leave a comment below.
Planning to make these nacho cups? Save the recipe to your favorite recipe board on Pinterest so you can come back to it again.