How to Save Money on Diapers and Baby Essentials
By: Vickie | Updated: 24th November 2021
Everyone knows that a baby goes through a lot of diapers, wipes, and if you are using it formula during their first couple of years.
What many people don't know is that there are lots of ways to save a significant amount of money on essential baby items. Let's talk about some ways that you can save on these necessary items.
You may find our preparing for a baby on a budget post helpful too.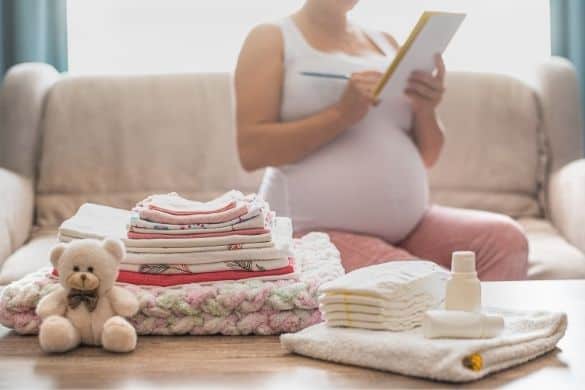 You will find ways that you can prepare for your new baby without breaking the bank. As we all know having a baby can be expensive, with diapers, car seats, cribs, clothes, the list goes on.
Save Money on Diapers and Baby Essentials
Start a Baby Registry
When planning for your baby, make sure to make a registry at Walmart, Amazon, and Target.
Why register at all three you ask?
For one, they will give you some amazing free products, samples, and coupons as a new mom gift. They will also give you a coupon to finish buying the items on your registry after your baby shower date has passed.
Sign Up for Coupons
All of the major diaper and formula brands will mail you coupons if you just sign up for them. These coupons can represent significant savings to you, especially if you pair them with good sales at your local retailers.
You should also sign up for rewards and savings programs at your local retailers like grocery stores, big-box retailers like Target, pharmacies, and Dollar General.
These programs will reward you with coupons specifically for items that you purchase regularly.
You should sign up for the formula coupons even if you plan to breastfeed your baby. Sometimes things don't go as planned, or you may need to supplement your milk with formula if you struggle with supply issues.
If you don't need the formula coupons down the road you can give them to a friend who does use them or simply leave them on the formula aisle for a local lucky mother to find. If you have formula samples that you don't need, your local women's shelter or food bank will be happy to take them off of your hands.
Consider Store Brand Products
Did you know that many, not all, but many store brand products are made by one of the brand name sellers and packaged under the store brand name?
This is true of diapers, formula, and wipes and you can save a lot of money by choosing the store brand products over the name brand.
Membership warehouse retailers like Costco and Sam's have their own brands of diapers, wipes, formula, and other baby essentials. You can get large quantities of these items at significant savings and they are all high-quality products. These retailers will also send you great coupons on baby products and you can even have them delivered to your door.
Amazon Subscribe and Save
Consider signing up for Amazon's Subscribe and Save program to save a minimum of 15% on your purchase. Subscribe and Save allows you to have items delivered to your door in the quantity and time frame that you require.
For example, you can have a box of wipes delivered to your door every two weeks, once a month, or once every 3 months.
As long as you have a minimum of 5 subscribe and save items delivered on the same day you will save 15% on your purchase.
If you are an Amazon Prime member, your savings go up to 20% off your total purchase. Subscribe and Save is available for thousands of baby, grocery, and household products so finding 5 to have delivered shouldn't be a problem, and bonus you don't have to leave the house to get it.
Skip the Newborn Clothes
Babies grow really, really fast, and chances are they will only get to wear their newborn and 0 to 3 months clothes once or twice before they have outgrown them. Skip the smaller sizes and stock up on 3 to 6-month clothes and 6 to 9-month clothes and watch in amazement as your baby grows to fill them out.
Honestly, it's easier to keep your baby in baby gowns for the first few months. They keep babies warm and toasty, have built-in mittens for their hands so they can't scratch their faces, and make it easy to change them without having to completely undress them.
Buy Reusable Breast Pads
Instead of having to constantly spend money on disposable breast pads try reusable ones instead.
The reusable pads work just as well, are softer, and you can use them again and again. Just throw them in the wash and they will be ready when you need them.
Skip the Breastmilk Storage Bags
Storage bags for your breast milk can be another unnecessary expense especially if your baby is not in childcare. Some childcare facilities will require that breast milk be brought in frozen in storage bags.
However, if you are not using childcare or are mostly staying home with your baby you can freeze the breast milk in ice cube trays. Once the milk is frozen place the cubes in a glass jar or zip-top freezer bag.
Measure with water how many ounces are in each cube, usually, each cube in the tray will hold between 0.5 and 1 fluid ounce.
Make your Own Baby Food
Commercially prepared baby food may be convenient but it can also be expensive and unnecessary.
You don't need any of the fancy equipment on the market to make your own baby food either. All that you need are some vegetables that have been washed and peeled and then boiled until they are soft.
If you have a blender great, you can blend the veggies, if you don't you can use a fork or a mashed potato masher.
Freeze the prepared foods in ice cube trays and then place them in marked freezer bags so that you know what is in them and when it was prepared. Set what you need in the refrigerator the night before and you have thawed homemade baby food.
Need the baby food to be able to travel? Place your cubes in a small plastic container with a tight-fitting lid like you might use for salad dressing on the go.
These are just a few tips and tricks that you can use to help you save on diapers and other baby essentials during their first years of life.
One final tip is that you should never, ever pay full price for diapers, they are on sale entirely too often for that, just make sure to stock up when you see a good deal. Do you have any tips for saving on essentials for babies?