What Do Expecting Moms Need in Their Hospital Bags
By: Vickie | Updated: 21st December 2021
It's almost time for your new bundle of joy to arrive, and you may be wondering what to pack in your hospital bag, and when you should have it ready.
Not to worry, keep reading to find out what you need to pack for you, your partner, and your baby, and when you should have it ready to go.
Unless you are having a high-risk pregnancy you probably don't need to pack your hospital bag until around the 36th week of your pregnancy.
If you are a high-risk pregnancy, or expecting twins, you may want to prepare your bag a little earlier around the 34th week of your pregnancy.
So now that you know when to pack your bag, what should you put inside it?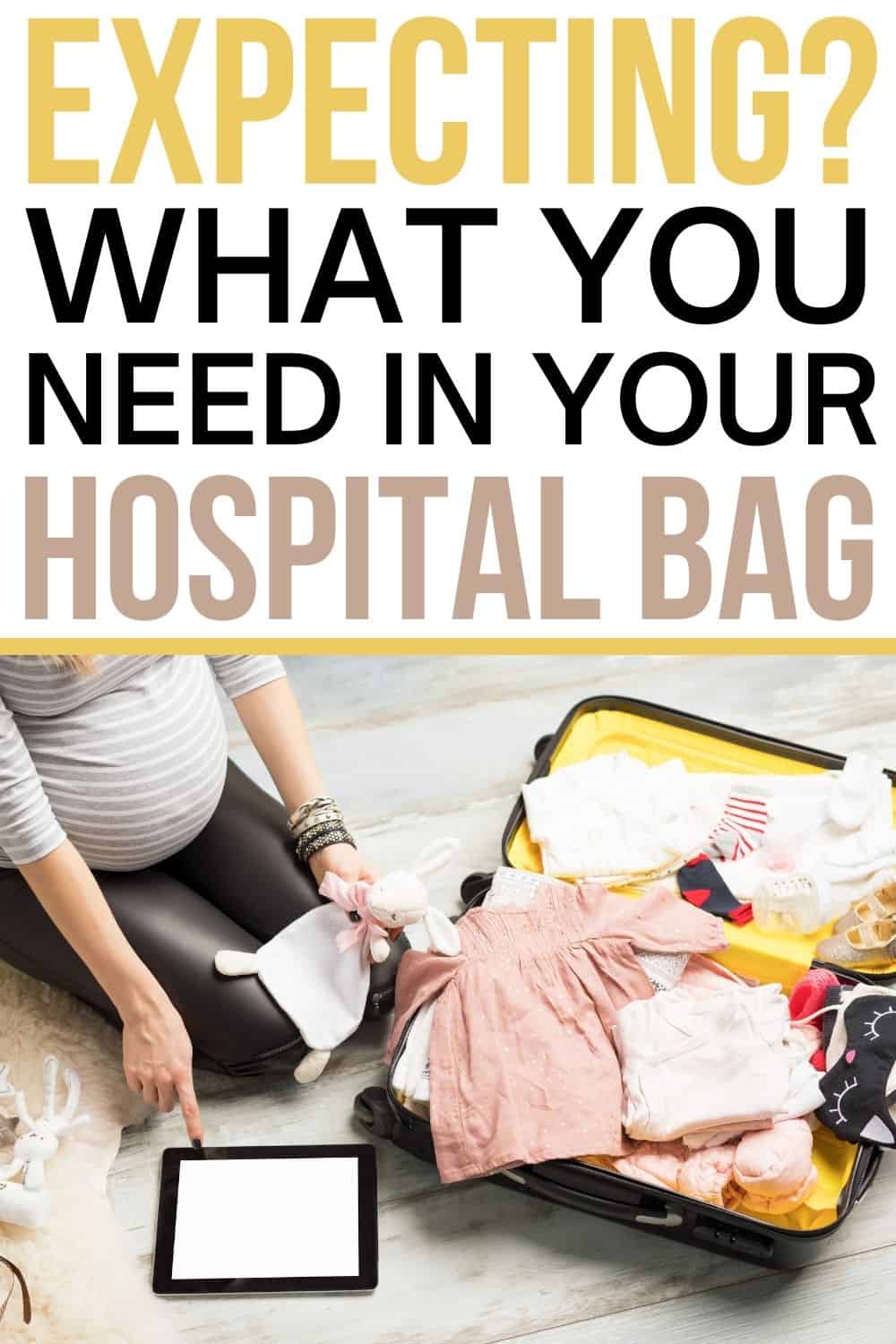 What You Need to Pack in Your Hospital Bag
Toiletries
The hospital will provide basic toiletries like shampoo and conditioner, but it is perfectly fine if you would like to pack some travel-sized bottles of your favorite brands.
You will need your toothbrush, make-up (if you plan to wear any), deodorant, brush, comb, and hair ties.
Glasses or Contact Supplies
Don't forget to pack your eyeglasses if you wear them and pack your contact solution and lens case if you wear contacts. Make sure that you have your case and solution because if you wind up needing a c-section your contacts will have to be removed.
Comfy Robe
Labor can take a while for some mom's so you may find yourself pacing up and down the hall or your room a lot.
A comfortable robe that fits you well is easy to slip on over your hospital gown so that you can walk up and down the halls modestly.
Slippers
Comfortable slippers are also a must-have for laboring moms. You don't want to be walking around on the cold hospital floor barefoot or in your sneakers do you?
Comfortable Nightgowns or Sleep Wear
Make sure that you pack a couple of nightgowns or sleepwear sets for after you give birth. If you are planning to nurse your new baby you may want to choose sleepwear designed for nursing.
Having more than one pair means that you are all set if you end up staying at the hospital longer than expected or if your first set gets messy. There is considerable bleeding after giving birth.
Nursing Bras
Pack a couple of nursing bras in your hospital bag as well, even if you don't plan on nursing. You will want the support and leak protection of a nursing bra with nursing pads whether you are breastfeeding or not.
Lip Balm and Sugar-free candy for Labor
The air in hospitals can be quite dry and this can make you uncomfortable during labor. Have some lip balm to keep your lips moisturized.
Sugar-free candy can also help to keep your mouth moist during labor and delivery. Candies that contain sugar can actually make your mouth feel drier.
Cell Phone, Charger, and a Battery Bank
You will definitely want your cell phone to stay in contact with friends and family and so that you can take pictures of your new arrival.
Make sure that you pack your charger so that you can keep a full battery, and consider packing a battery bank as well.
Not all hospital rooms are set up where you can easily plug in a charger. Having a spare battery bank means that you don't have to worry about that.
Snacks, Change, and More Snacks
The hospital will feed you of course, but having a baby is hungry work and hospital vending machines can get expensive.
Make sure that you pack some of you and your partner's favorite snacks and drinks so that you don't have to spend a small fortune at the vending machines.
It is also a good idea to have some change with you in case you find yourself craving something you didn't bring with you.
Going Home Outfit for Baby
Pack one outfit in your hospital bag for the baby to come home in. We know you have a closet full of adorable new baby clothes, but you really don't need to bring them with you.
The hospital will have gowns for your baby to wear for the duration of their stay that make it super easy to change them, and they are adorable and comfy too.
Car Seat for Baby
This of course won't fit in your hospital bag but you do need to have your infant carrier and base properly installed in your car. When it is time to check out, your partner can bring the carrier up to the room to bring your new baby home in.
If you are not sure how to properly install your infant car seat, most police stations and fire stations will check it for you and show you how to do it correctly.
What NOT to Pack
Let's talk for just a moment about what not to pack in your hospital bag, especially for first-time moms who have no idea about all of the free stuff they will have sent home with them.
You don't need to pack any diapers, wipes, or rash cream. The hospital has that covered and they will send you home with some too.
You also don't need to pack bottles or formula the hospital nursery will provide all that your baby needs for their stay and send some home as well. Anything that your baby needs during their stay will be provided with extras sent home, so don't feel like you need to pack a full diaper bag.
On that note, especially for you first-time moms, take ALL the things from your hospital room. The extra mesh panties and giant pads, the pads they put on your bed, and the extra peri-bottles. You can use them at home and you will be glad that you have them, plus they already charged you for them.
Ultimately, what you pack in your hospital bag is up to you, and what you think will bring you the most comfort during your delivery.
Talk to your mom friends and see what other items that they might suggest. Do you have any must-have hospital bag items for expectant moms to share?
WHAT'S NEXT?
You may also enjoy these pregnancy posts –