Preparing For a Baby On A Budget
This post and its photos may contain affiliate links. As an Amazon associate, I earn from qualifying purchases.
There is no getting around it. Having a baby is expensive; diapers, car seats, cribs, and clothes all cost money. There are some ways that you can prepare for your new baby without breaking the bank, though.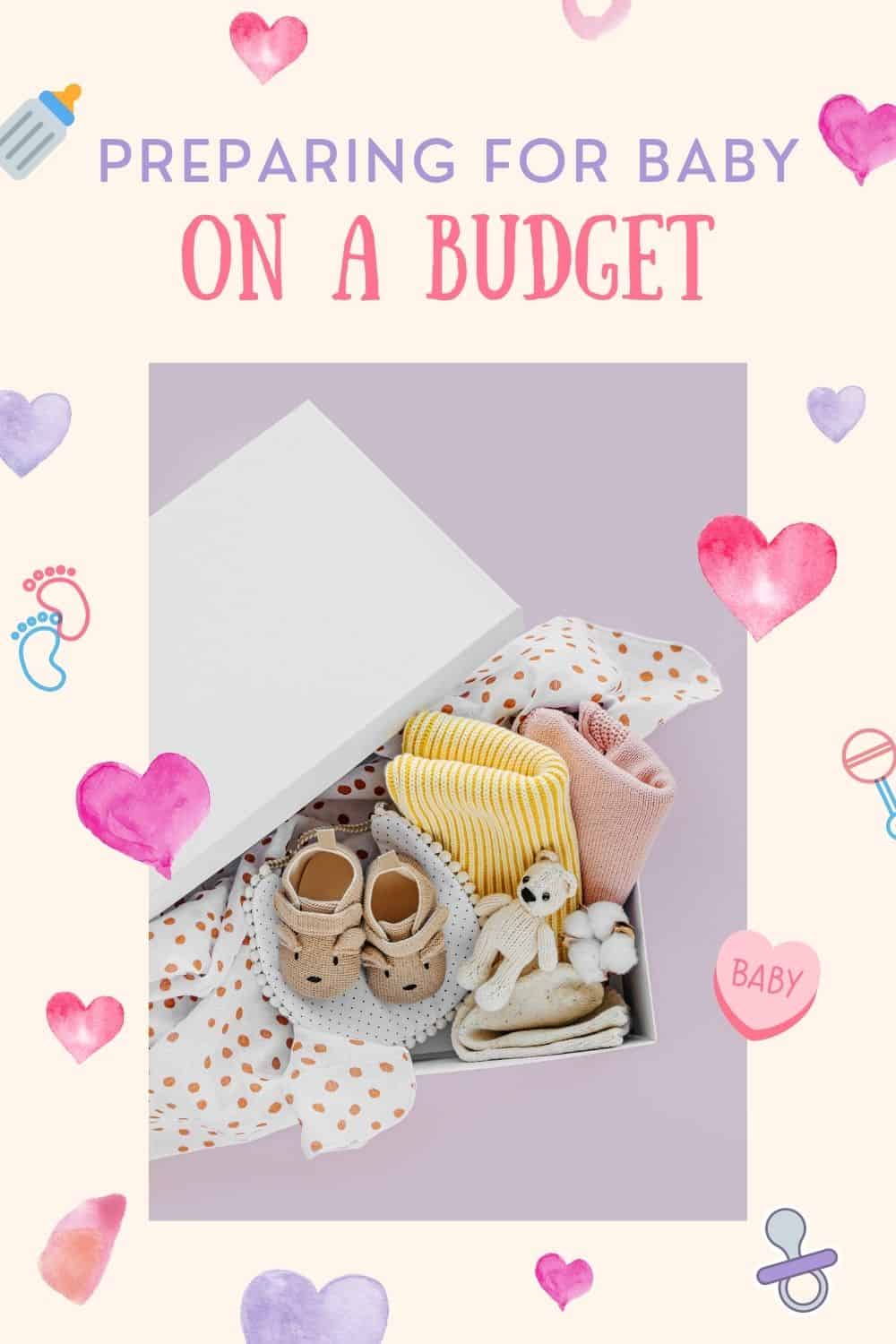 Prepare for A new baby without breaking the bank
Preparing for a baby on a budget might seem like a challenge, but it can be done. Here are some of the best ways that you can prepare for your new baby without blowing your budget.
Start a Registry
Make sure that you start a baby registry and let your friends and family know about it. You can start a registry in more than one place, and be sure to include the items that you really need or want on it.
Many stores offer moms-to-be some amazing discounts and a gift bag or welcome box full of free baby goodies and coupons as a thank-you for registering with them.
Second-Hand Stores & Consignment Sales
You do not have to have brand new everything for your baby, there is a lot of high-quality baby gear out there with plenty of life left in it. Babies really aren't that rough on their things, and they tend to outgrow certain items quickly.
Examples of items that you can find for less than half of their original retail price at yard sales, consignment sales, and thrift stores are:
bounce seats,
bumbo seats,
bassinets,
maternity clothes,
cribs,
car seats,
baby swings,
high chairs,
strollers,
baby carriers,
diaper bags,
clothes,
playmats,
activity centers,
and even breast pumps.
Buying these items second-hand represents significant savings for you.
Breast Pumps
Even if you are planning to breastfeed most of the time, there may be times when you need to pump. Your insurance company is required to provide you with a free breast pump through the affordable care act. Your obstetrician's office should be able to help you with this.
If you are on state-sponsored insurance such as Medicaid, there are still programs that will provide you with a free breast pump.
Accept Hand Me Downs if Offered
You very likely have friends or family members that have maternity clothes, baby clothes, or baby gear that they no longer need. If they offer you some of these items, accept them gracefully.
If it turns out to be something that you don't need or you have multiples of some items, pass them on to another expecting friend or donate them to a women's shelter. They will make sure that the items end up with someone who needs them.
Don't Worry About the Changing Table or the Baby Bath Tub
If you are gifted with a changing table or baby tub, that's great, but you don't NEED them. You will find that you change your baby wherever you are in the house, and babies only fit in those cute little bathtubs for a couple of months plus they take up a lot of space.
You can easily bathe your baby in the sink, and as we mentioned, you will be changing so many diapers it will just happen anywhere; you don't need a designated space just for that.
Freezer Meals
Did you know that one of the biggest expenses that new parents have is takeout in the first few months after the baby is born? It's true. You are exhausted, sleep-deprived, forgot to go to the store, and the next thing you know, the phone is in your hand, and takeout is on the way.
It doesn't have to be that way, though, if you plan ahead before the baby arrives. Prepare some freezer meals before the baby gets here so that all you have to do is throw them in the oven or crockpot, and dinner is done.
Freezer meals don't have to be elaborate or time-consuming, simply make a double batch of your favorite meals when you are already cooking and then eat one and freeze one.
Doing this two to three times a week for a month or two will leave you with a bunch of meals waiting for you in the freezer. You will be glad to have meals already prepared, and your budget will thank you too.
Samples
Expectant mothers spend a lot of money, so many companies will offer them free samples, free products, and coupons to get them to spend some of that money on their products.
Finding free baby samples is not hard, and many companies even offer free products like nursing covers, nursing pillows, belly bands, and more.
All you need to do is search for free baby samples and products, and you will find more than you need. Plus, it makes it fun to go to the mailbox and get free items that you can use to care for your baby.
You may be wondering what you should do with all of these free samples and travel-size products. That's simple, put them in your diaper bag, in your glove box, and in your purse. That way, if you forget something when you leave the house with your little one, you have a backup in place.
Plan to Breastfeed if Possible
Babies eat a LOT, and formula is expensive. If it is at all possible for you to do so, plan to breastfeed or pump breast milk for your baby.
If you aren't able to breastfeed, or you just really don't want to, see if you qualify for the Special Supplemental Nutrition Program for Women, Infants, and Children, also known as WIC.
This program gives grants to the states to help provide formula and healthy foods to low-income women and their children. WIC can also be used by pregnant women to help provide healthy foods for them.
Having a baby is expensive, but you can use some of these tips to help mitigate some of these costs. Keep in mind that babies don't need all that much stuff, even though there are tons and tons of products being marketed to make you think differently.
Before you spend your life's savings on baby gear, take the time to think about whether you really need it or not. What are some of your tips for having a baby on a budget?
More pre-baby tips? Check out these: