Five Ways To Make Cooking Easy (Even If You Work And Have Kids!)
By: Pages, Places and Plates | Updated: 4th April 2022
There's nothing worse than coming home after a long day of work to a laborious hour of slaving over a hot stove in the kitchen – no one looks forward to it, and if you have kids then knowing you've got to make all that food for them (and that it has to be healthy and to everyone's tastes) is pretty grim.
It's easy to reach for the takeaways and ready meals but we all know how unhealthy that can be, so ideally you really want to be making your own food.
To make it less of a chore, here are five ways to making cooking dinner easy – even if you work long hours, have kids, or hate making food!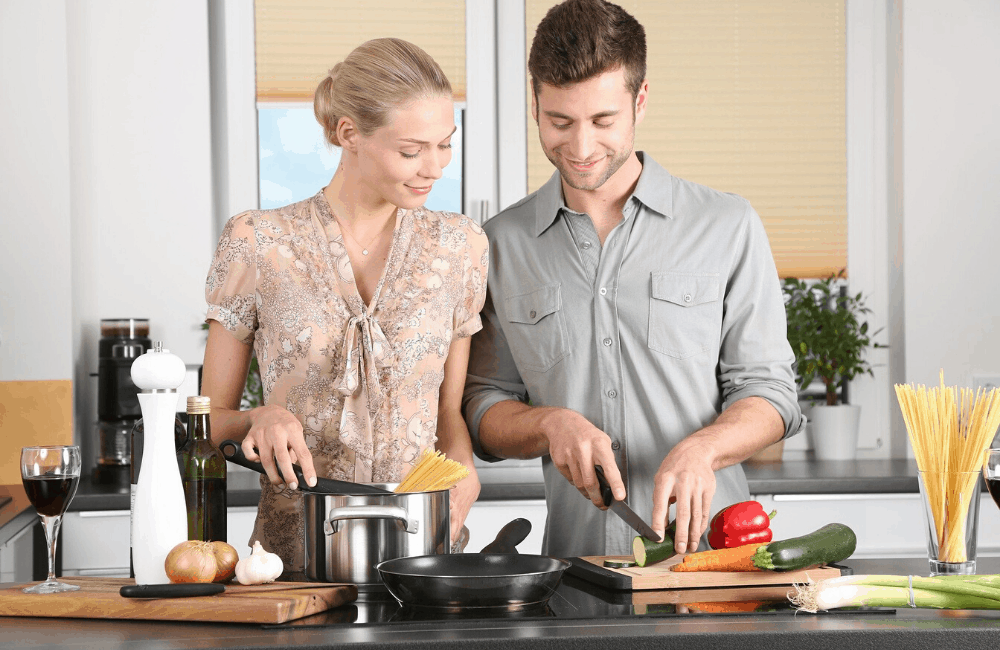 Write up a meal plan
Deciding to commit to a meal plan each week saved my life. Okay, maybe not literally, but my life is undoubtedly so much simpler.
Before I did this there was so much stress over wondering what to cook. Often I'd get inspired during the day, only to discover later on that we didn't have half of the ingredients needed.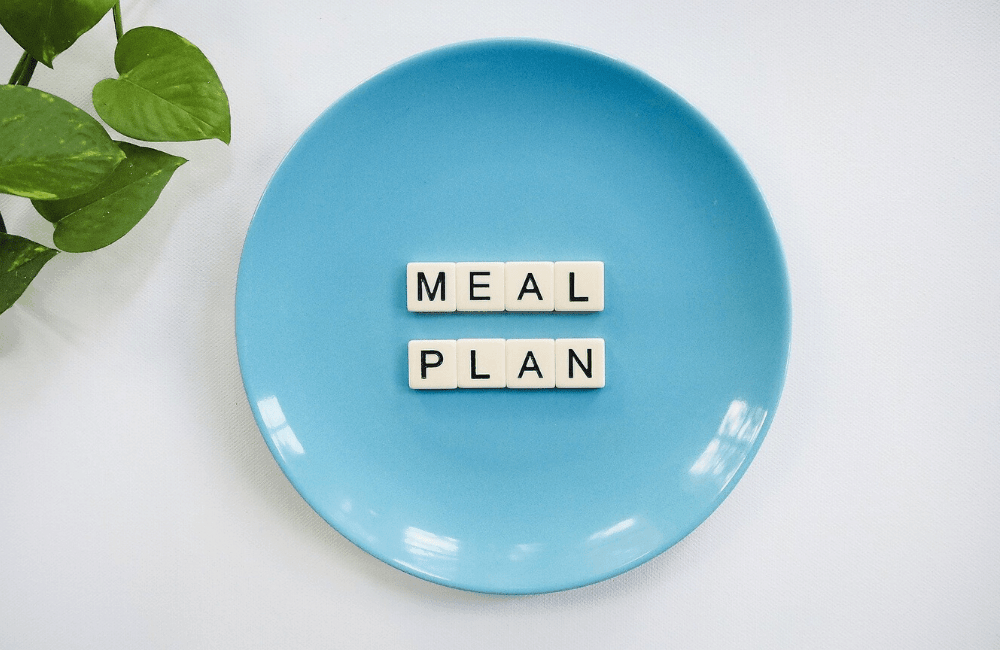 Now I spend a short amount of time every Friday night preparing a meal plan, as we do our weekly shop on a Saturday. I plan it with my partner (get your kids involved too if you have them) and plan breakfasts, lunches, dinners, and even snacks for each day.
We choose meals we like and plan them around other things that are happening – for example, going for simple meals when we know we're both working late, or perhaps choosing something a bit more adventurous on a free weekend. We get excited about what we're going to eat but it also ensures the week will be relatively stress-free.
Plus, it makes the shopping list so much easier and reduces food waste at the same time!
Use Pinterest to organise your recipes
Pinterest is my bible when it comes to recipes – I love recipe books, too, but find many culinary ideas online. Pinterest makes it really easy to organise your recipes as you can create boards with sections.
I have one main board, entitled "Food", and then sections within, including "Pasta dishes", "Breakfasts", "Pizzas", and "Traybakes". It makes it really easy to find what you're looking for, and a few quick browsing sessions soon adds up to a whole range of recipes.
This method works particularly well with meal planning – if you're stuck on what to make for a day then just open up your Pinterest app.
Try and get the family involved with this one too so you can make sure everyone likes the meal options you have.
Keep the information you need regularly to hand in your kitchen
I enjoy cooking lots of different cuisines, meaning that sometimes I need very specific information. A lot of the recipes I use have American recipes (Pinterest has loads of American recipe bloggers on it) and that means one dreaded thing… Conversions. Off the top of my head I can never remember how much one cup of a specific item is in grams, or how to convert Fahrenheit to Celsius, and looking it up each time is so frustrating and takes extra time that I just don't have.
To combat this issue I stick useful information like this up in my kitchen, usually on cupboard doors and sides. It makes it so easy to double-check measurements, but also works for things like portion sizes and ingredient substitutes.
We even have a poster for coffee styles which is so helpful! What you include will depend on what you regularly use so take note each time you cook and get that info printed out for next time.
Stock up your store cupboard
It took me a while to realise that store cupboard staples aren't just rice, pepper, and mixed herbs, but any ingredients that you use frequently whilst cooking. I have a tendency of avoiding recipes with ingredients I don't have, meaning I can end up making the same meals all the time. Getting bored or stressed out, which is definitely not the definition of easy cooking!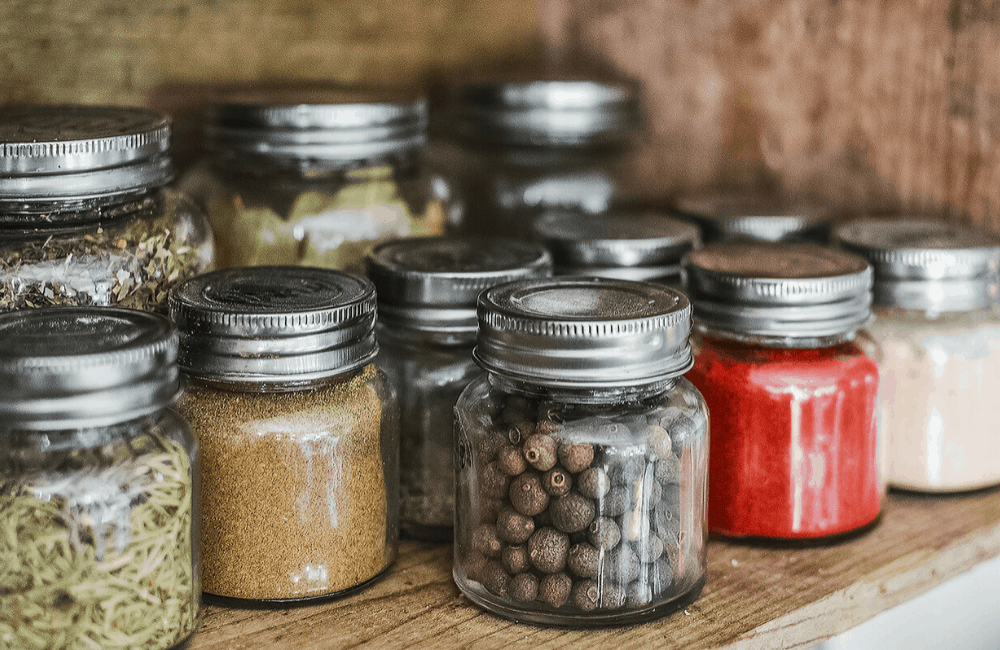 As we make a lot of Asian food, I looked for ingredient patterns and then went out and bought them. Some of our staples include rice vinegar, soy sauce, and sesame oil – all common in Asian recipes.
We try and have a range of varied staples that work with lots of different meals and cuisines too, like balsamic vinegar, tahini, and ground flax seed – things that last for ages and are so versatile. This helps to prevent your meals from becoming mundane and also makes it cheaper in the long run.
If you ever have a sudden culinary change of plan then your store cupboard will have your back!
Batch cook your meals
Batch cooking is honestly the way forward for those that are busy, and really helps people who work long hours or have lots of other commitments.
If you know you've got a hectic week ahead then spend a couple of hours on a Sunday cooking the meals you will need in advance. These can then be portioned into containers and frozen as well, ready to take out and heat up as you need them.
This doesn't just have to be for dinners, either… If I have a particularly early start then I've been known to make overnight oats the night before, or even freeze pancakes over the weekend that I can heat up in the toaster quickly. It saves lots of time, and it's great not having to worry about cooking when too busy to think.
What methods do you use in the kitchen to make cooking easy? And which of these techniques do you reckon you could utilise more? Let me know in the comments below, and also like and pin if you enjoyed this post!
You might also want to check out 10 Stylish Ways To Organise Your Kitchen – organisation is another great way to make cooking easy!