Sweet Treat Mothers Day Gift Idea (Free Printable Gift Tags)
By: Vickie | Updated: 19th April 2023
Finding an easy Mother's Day gift that the kids can help make is a great way for your little ones to show Mom how much they care. And while kid's crafts are fun, they're not the most useful gift idea. Instead, why not help your kids make a cute gift that mom is sure to love?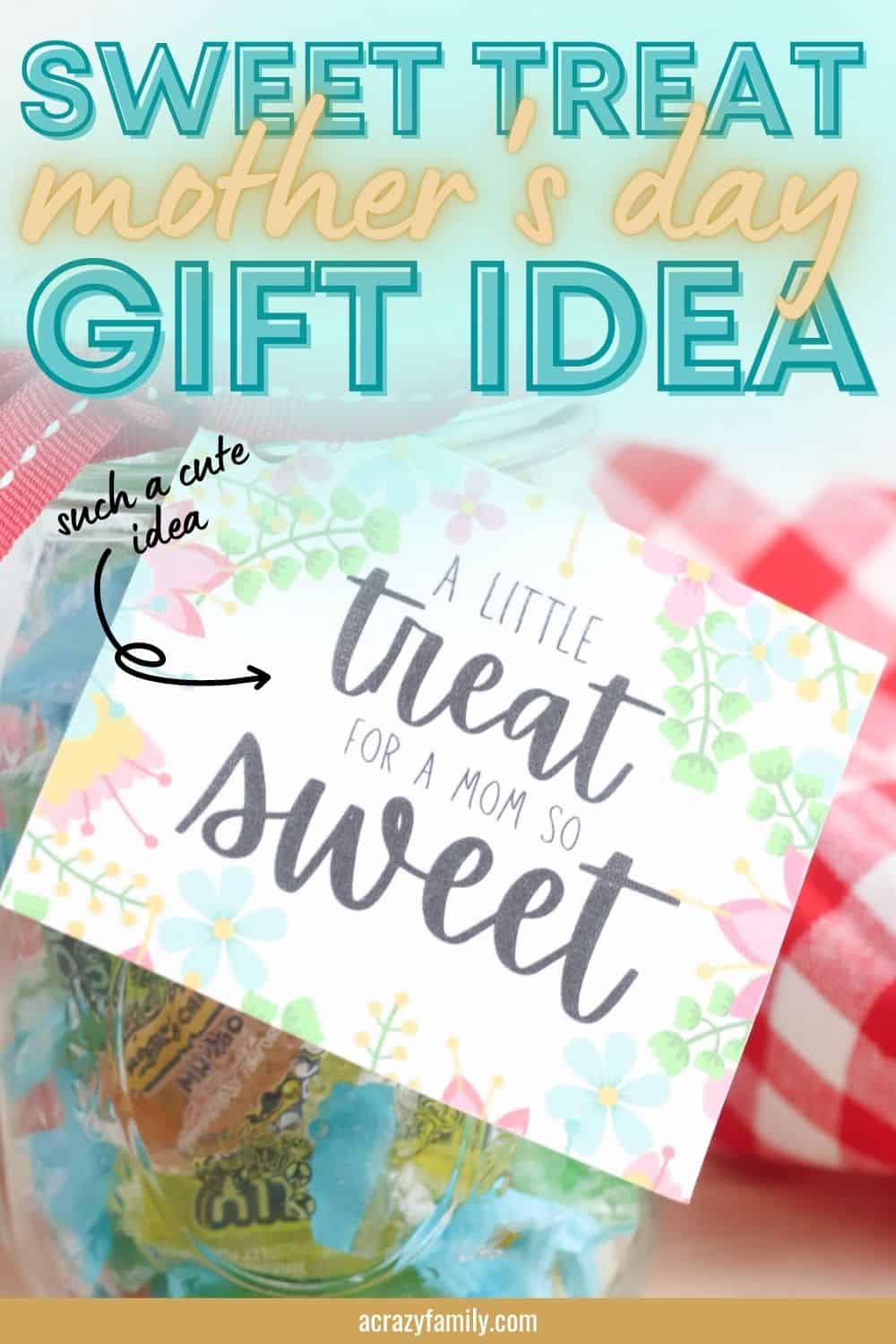 This simple Mother's Day sweet treat gift is a quick and easy present your kids can put together all on their own.

Looking for more Mother's Day ideas? Check out our fun & free Print & Color Mother's Day Cards or this collection of DIY Mother's Day Cards For Kids To Make
Mother's Day Gift Supplies
The best part about this simple gift idea is that you can customize it to suit your favorite mom's tastes. All you need are a few simple supplies to create a thoughtful gift that any mom would love to receive. To put this adorable gift together, you'll need:
Printable gift tag. The key to making this beautiful gift is the printable tag. I suggest printing the tag on cardstock so it looks amazing on your gift.
Ribbon. Attach the card with a ribbon to add a pop of color and decorate the gift.
Sweet treat. Fill your gift with mom's favorite sweet treat to ensure she enjoys the present you create.
Container. Dress up your Mother's Day gift by placing the treat in a cute container, like a jar or gift box.
Mother's Day Sweet Treat Gift
Once you have your supplies gathered, your kids can get in on the fun of putting this simple gift together! The first step to creating this DIY Mother's Day gift is to print out the gift tag.
Download the free printable and print it out on white cardstock. Then, use a pair of sharp scissors to cut the card out around the outer edge. Your kids can write a message to mom on the back and sign their names before you attach it to the gift.
After you have the gift tag ready to go, you and your kids can start putting this sweet treat together. First, you'll need to decide on the perfect sweet treat to give mom.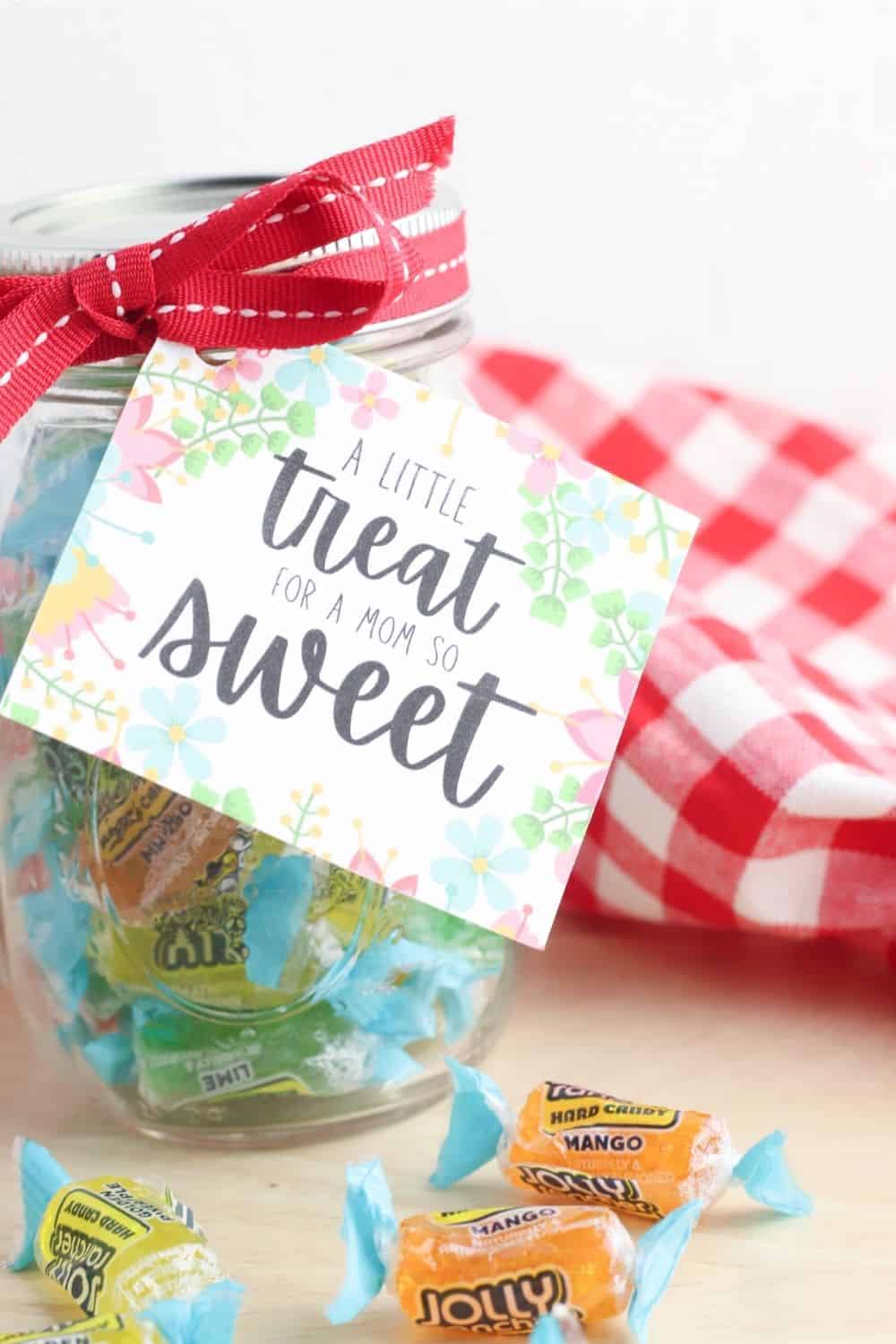 Think about some of her favorite snacks to come up with a good treat to give her on Mother's Day. Try adding some of these sweet treats to your DIY gift:
Homemade baked goods. Head to the kitchen with your kids and whip up one of mom's favorite desserts. You can make a batch of cookies, a pan of brownies, decorate some cupcakes, make some fudge, or bake a pie to give mom on her special day.
Store-bought treats. Another simple way to create a delicious gift for mom is to head to the snack aisle of your grocery store. You can pick out some of her favorite cookies or other sweet treats and repackage them in a cute container.
Bakery goodies. Make a visit to mom's favorite bakery to get her a freshly baked treat. Order some cookies, cupcakes, or donuts from the bakery, then attach the gift tag to the bakery box for a quick and easy gift.
Candy. You can't go wrong by giving mom some chocolate! Grab some of your mom's favorite candy and package it in a fun container with the gift tag attached.
Sweet and salty treats. Satisfy all of mom's cravings by giving her a sweet and salty treat for Mother's Day. Chocolate-covered pretzels, sweet snack mix, or chocolate-covered peanuts are great options for a sweet and salty snack idea for mom.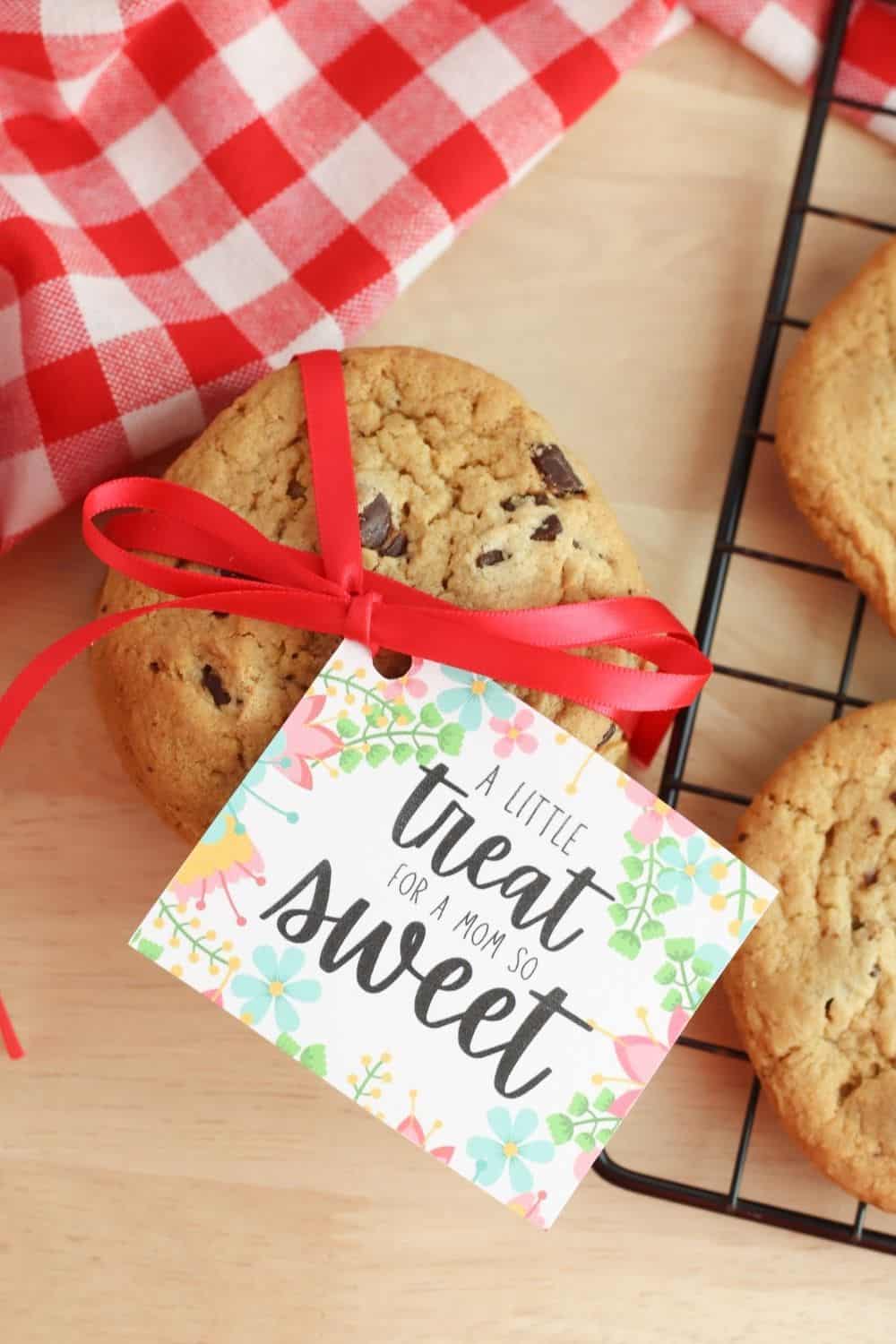 Once you have your snacks picked out, you can pick a container to package your gift. The type of container you choose will vary depending on the type of sweet treat you pick for your mom. Try one of these cute gift containers to dress up your DIY gift:
Mason jar. For small gift items, like candy or snack mix, a mason jar is a great choice! You can fill the jar with the treat, then use a piece of ribbon to tie the card to the top.
Treat box. When giving baked goods, a treat box is a good option. A treat box with a window on top will allow your mom to see what's inside. After filling the box with baked goods, tie a ribbon around the box and attach the card.
Treat bag. Clear treat bags are a simple way to wrap up your treats for your Mother's Day gift. After you package the sweet treats, tie the top of the bag closed with a piece of ribbon and attach the gift tag with a bow.
Small basket. Fill a small basket with a variety of sweet treats to give mom a chance to indulge. Add the treats to the basket, then attach your printable gift tag with a bow.
Boxed candy. For a quick and easy gift option, purchase a box of mom's favorite candy at the store. Print out the tag and attach it to the box to easily dress up a prepackaged treat.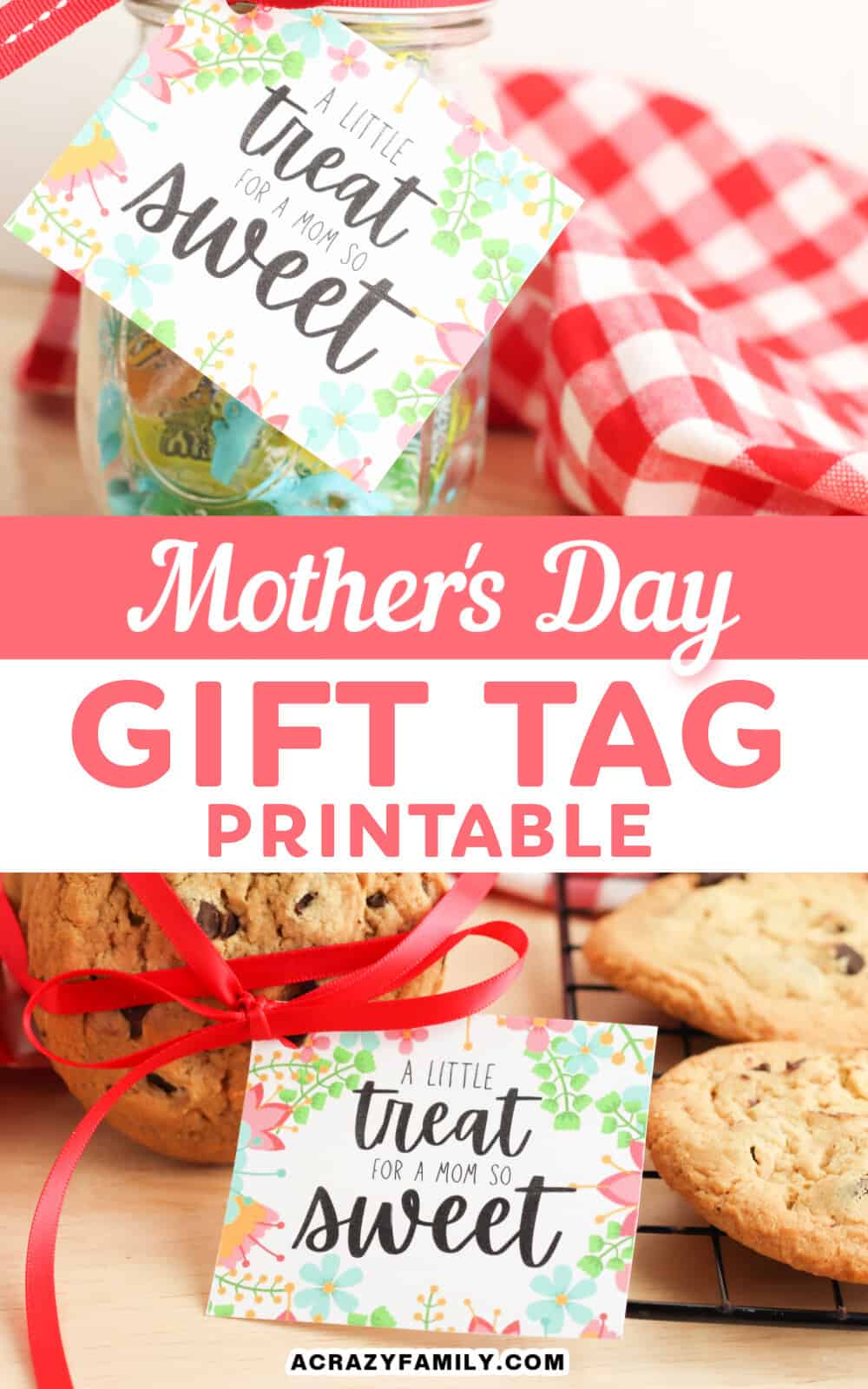 I hope you enjoy putting this together for your mom this Mother's Day. Please leave a star ★★★★★ rating and follow along on Pinterest, Facebook, or Twitter for more!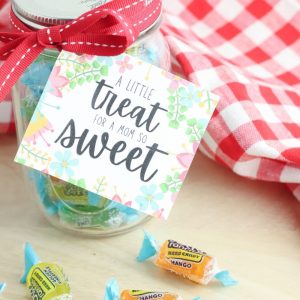 A Little Treat for a Mom so Sweet – Gift Tag Printable
Supplies
Printable gift tag

Cardstock

Scissors

Hole punch

Ribbon

Jar or gift box

Sweet treat

see suggestions above
Instructions
Print the gift tag on cardstock and cut it out around the outer edge. Use a hole punch to punch a hole in the corner of the tag.

Fill the jar with a sweet treat and place the lid on top. Tie the tag on the jar with a piece of ribbon.

Click stars to rate now! Or leave a comment below.