Honey Mustard Ham & Swiss Handwiches are a super fast and easy weekday lunch or dinner idea. Puff pastry transforms into the bread of this ham and swiss cheese sandwich.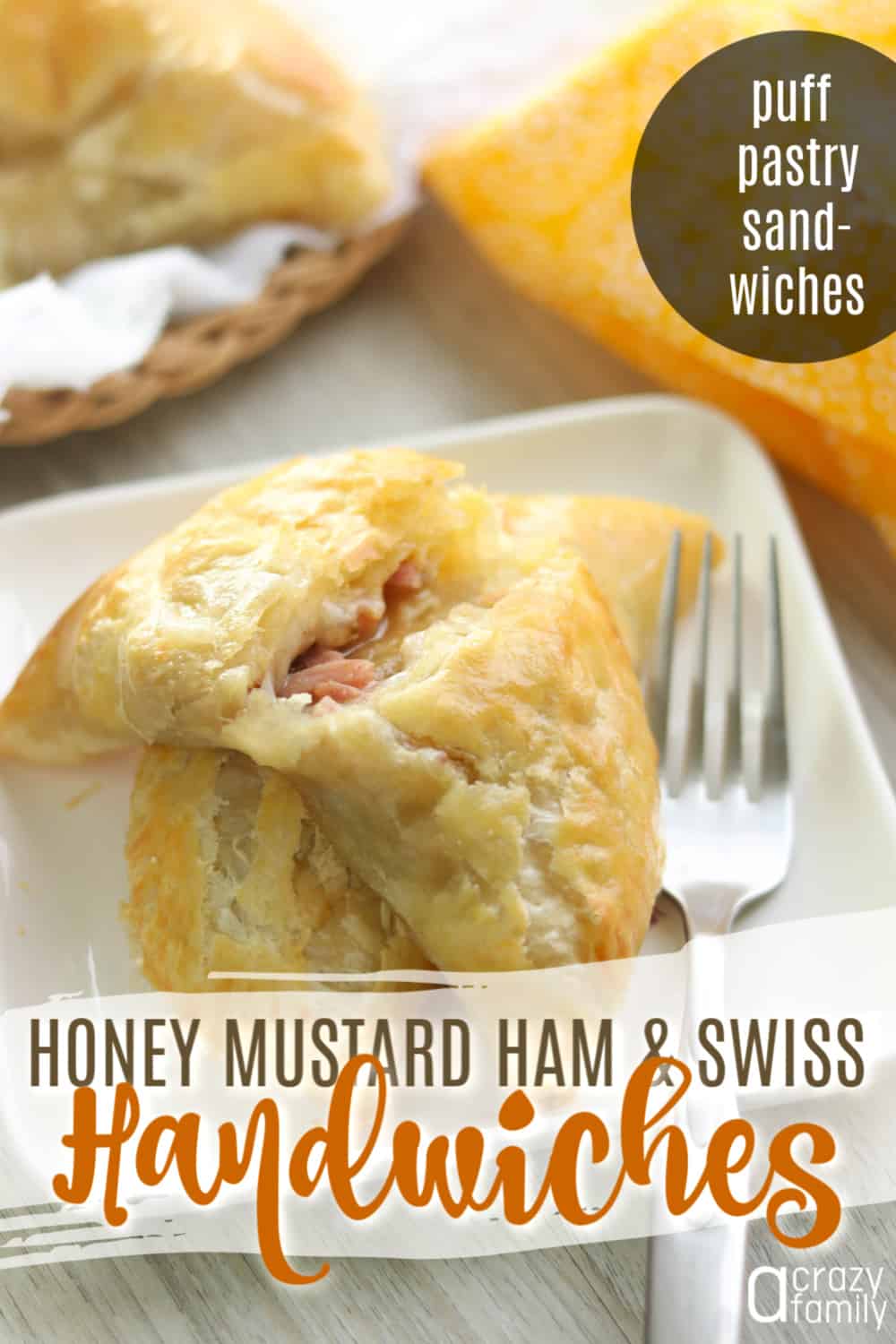 If you are craving something a bit more than a classic sandwich this honey mustard ham and cheese will hit the spot. Pair with your favorite sides and dive in.
Honey Mustard Ham & Swiss Puff Pastry Handwiches
You can use lunch meat or if you have leftover ham from the holidays to use in this recipe. My family loves it with shaved ham from the deli. But I have saved back holiday ham and sliced thin and no one complained, so I took that as a win.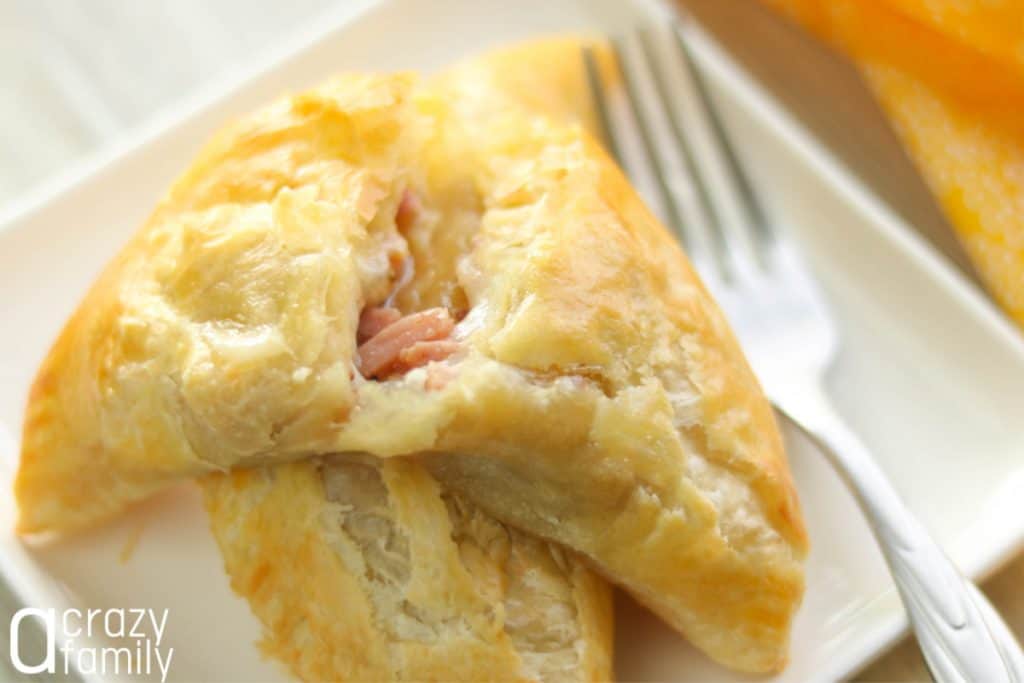 Where To Buy Puff Pastry
If you have never used puff pastry you can buy it in the freezer section at your store. It will be in a box by your freezer. Or if you are a fan of making homemade puff pastry feel free to whip up a batch to use for this recipe.
I find that the frozen puff pastry works great and does have a similar taste to freshly made puff pastry, so I cut the corner and just buy it.
Can I Change Up The Meat Used In This Recipe
Yes, you are welcome to use other meat. Turkey would be good and even roast beef if you have some on hand. Or do a duo of meat like ham and salami or turkey and ham.
Feel free to get creative with the meat and what you put in the sandwich. You can also swap out the cheese if you prefer.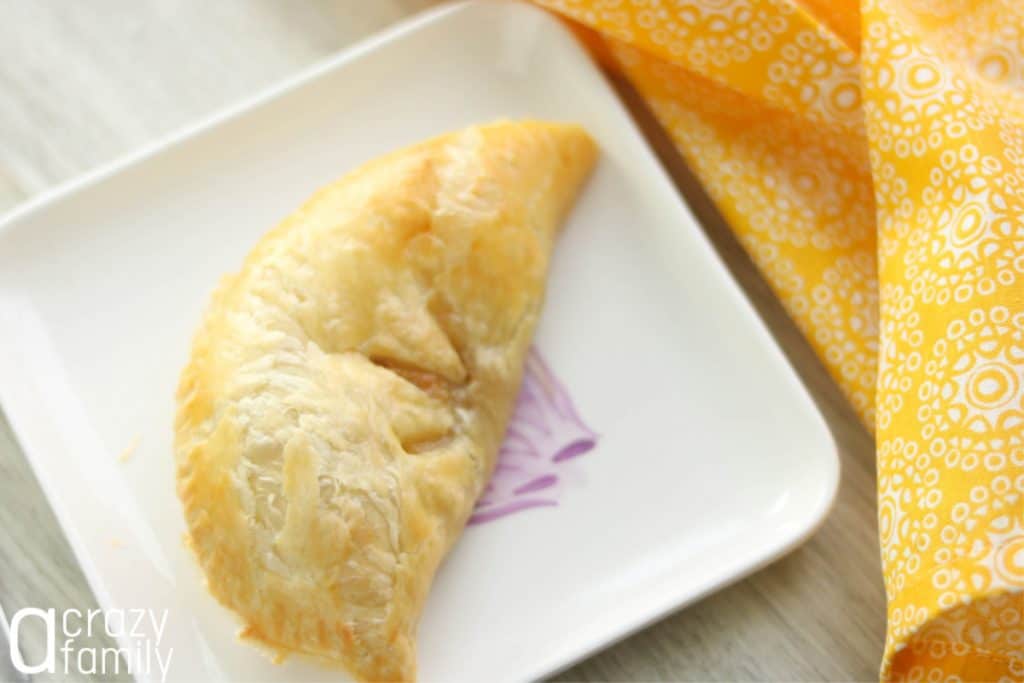 Interested In More Easy Recipes To Whip Up
Baked Cheddar Ranch Chicken | If you enjoy making chicken you might want to try this bacon and cheddar chicken. Toss in the oven and let it handle all the work!
One-Pot Old Fashioned Beef Stew | One pot is all you need for this hearty and satisfying dinner recipe. Whip this up when you are craving comfort food.
Strawberry Fennel Salad | Here is an incredible salad that is so tasty and within minutes you can whip up a salad. This is perfect for berry season.
Variations To Puff Pastry Sandwiches
Here are some different ideas to change up the puff pastry sandwiches to change up the flavor.
Swap out the meat or add multiple meats in the sandwich. Just make sure to not overstuff.
Reach for sharp cheddar or even pepper jack to add some spice.
Instead of making individual sandwiches keep the puff pastry whole and make a slap pie sandwich. Then slice into wedges and serve.
Now serve with some dipping sauce like extra honey mustard or serve plain.
No matter what I hope you enjoy these easy and satisfying ham and cheese handwiches.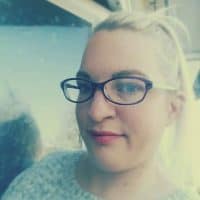 Vickie Louise is the Founder and Editor-in-Chief of A Crazy Family. She is a stay at home mom of a little boy with a big personality. After having her son, she realized how important it is for moms to take care of themselves, physically and mentally. Vickie believes in the power of using social media and her online presence for good and is thrilled to provide you with a space to celebrate all that is awesome (and a little crazy) in the world.