This combination of ranch, cheddar, and bacon in this baked chicken dish will have your family coming back for seconds!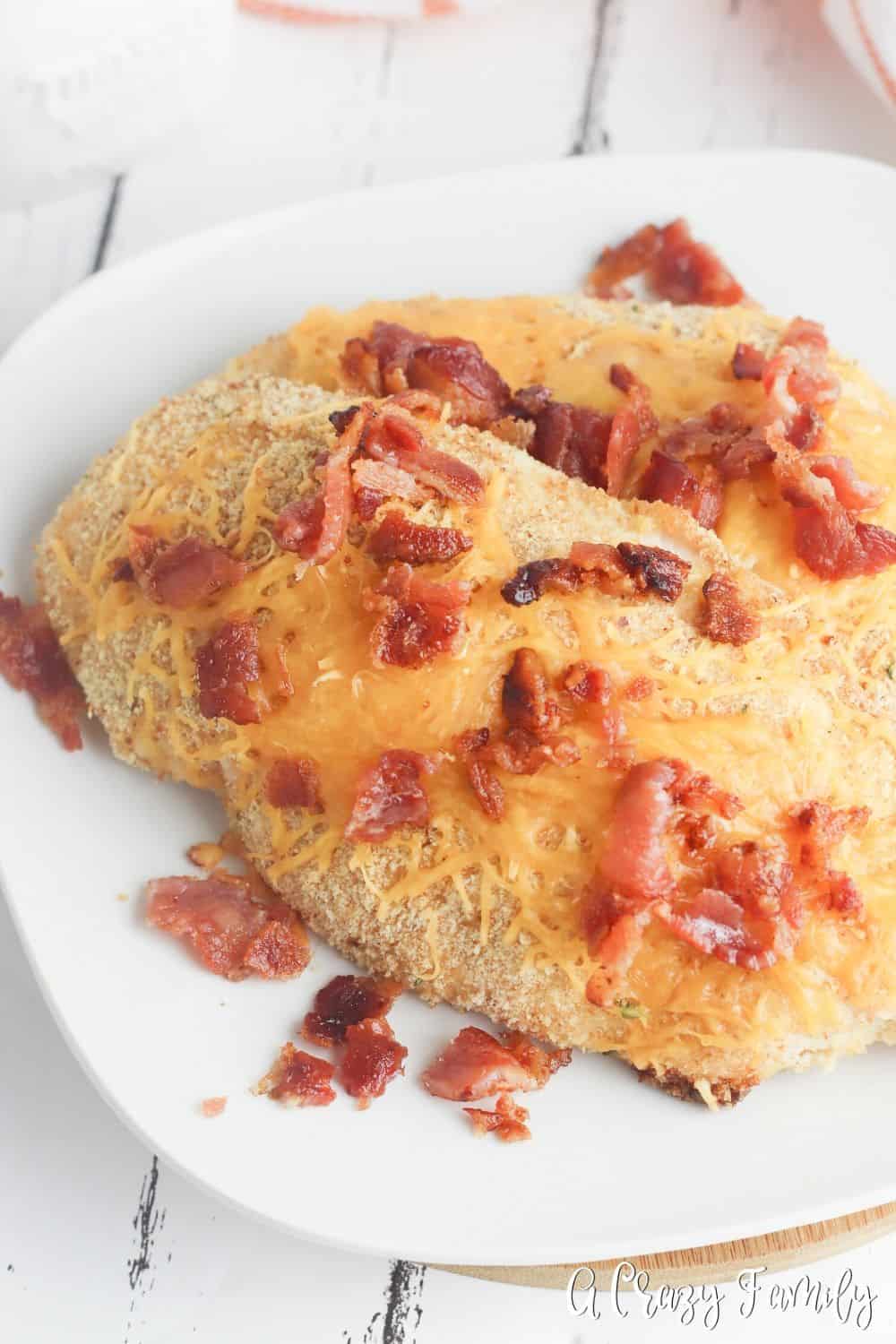 After a long day, the last thing you want to do is slave over a hot oven making a complicated recipe. That's why I love coming up with easy dishes everyone in the family will love.
If you're searching for a quick and flavorful dinner to serve your family tonight, you're going to love this easy recipe! In addition to having dinner ready in under 40 minutes, the combination of ranch, cheddar, and bacon in this baked chicken dish will have your family coming back for seconds!
Full printable recipe available at bottom of the post.
Cheddar Ranch Chicken Ingredients
One thing I love about this easy recipe is that it's made with just a handful of simple ingredients. To make baked cheddar ranch chicken for your family tonight, you'll need:
Boneless skinless chicken breasts
Egg
Milk
Breadcrumbs
Ranch dressing mix
Cheddar cheese
Bacon
That's it! With those basic ingredients, you can turn plain chicken breasts into a delicious and flavorful meal in no time.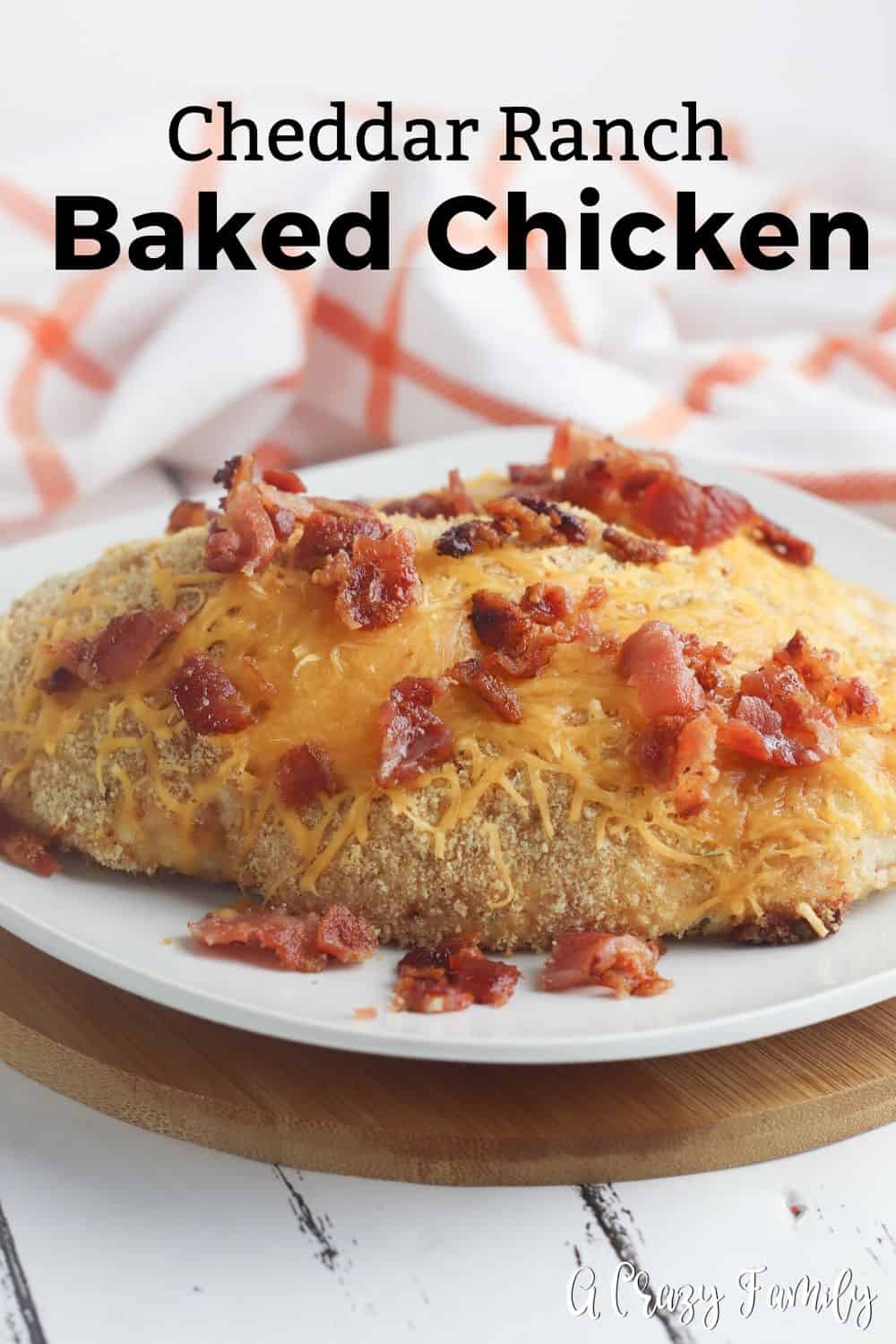 How to Make Cheddar Ranch Chicken
This really is one of the easiest recipes to make! The hardest part about making these cheddar ranch chicken breasts is prepping everything before you even start making them.
The first step is to get everything prepared and ready to go before you're ready to start baking. That means:
Preheat your oven. Make sure your oven is already hot when you put your chicken breasts in to ensure your cook time doesn't go longer than expected.
Spray your pan. To ensure your chicken breasts are nice and crispy, you need to take a second to prepare your pan for baking. Spray a nice coat of nonstick cooking spray over the pan before placing the chicken on top to toast the breadcrumb coating as it cooks.
Filet the chicken breasts. Cut the cooking time down significantly on these baked chicken breasts by fileting them before you coat them in bread crumbs. To filet your chicken breasts, simply cut the breasts in half lengthwise. This will result in a thinner chicken breast that takes much less time to cook through, which means you can have dinner on the table in a flash!
Make the egg wash. To make sure your breadcrumbs and ranch seasoning stay put as your chicken bakes, you'll need to start with an egg wash. Making the egg wash for this recipe is as simple as whisking a little bit of egg and milk together until they're well combined.
Season the breadcrumbs. After your egg wash is ready to go, it's time to pay attention to the breadcrumbs. Luckily, flavoring the breadcrumbs for your baked chicken is so easy thanks to this recipe's secret ingredient – ranch dressing mix. Just sprinkle the dressing mix over the breadcrumbs, then use a fork to mix it into the crumbs until they're well combined.
Coat the chicken. The final step to preparing your chicken for baking is to add the breadcrumb coating. Start by dipping the chicken breast in the egg wash mixture until it's coated. Then dip the breast into the breadcrumb mixture, pressing the breadcrumbs into the chicken so they stick.
Now that your chicken breasts are prepared, it's time to bake! Place the coated chicken breasts on the prepared baking sheet and spray the tops of each breast with another coat of nonstick cooking spray. Then, pop them in your preheated oven. Let the chicken cook for around 25 minutes.
When the breadcrumbs begin to brown, remove the chicken from the oven and top each chicken breast with shredded cheddar cheese. Place the chicken back into the oven to finish baking, giving the cheese plenty of time to melt as the chicken bakes. When the cheese is nice and gooey, remove the chicken from the oven and top each chicken breast with crumbled bacon before serving.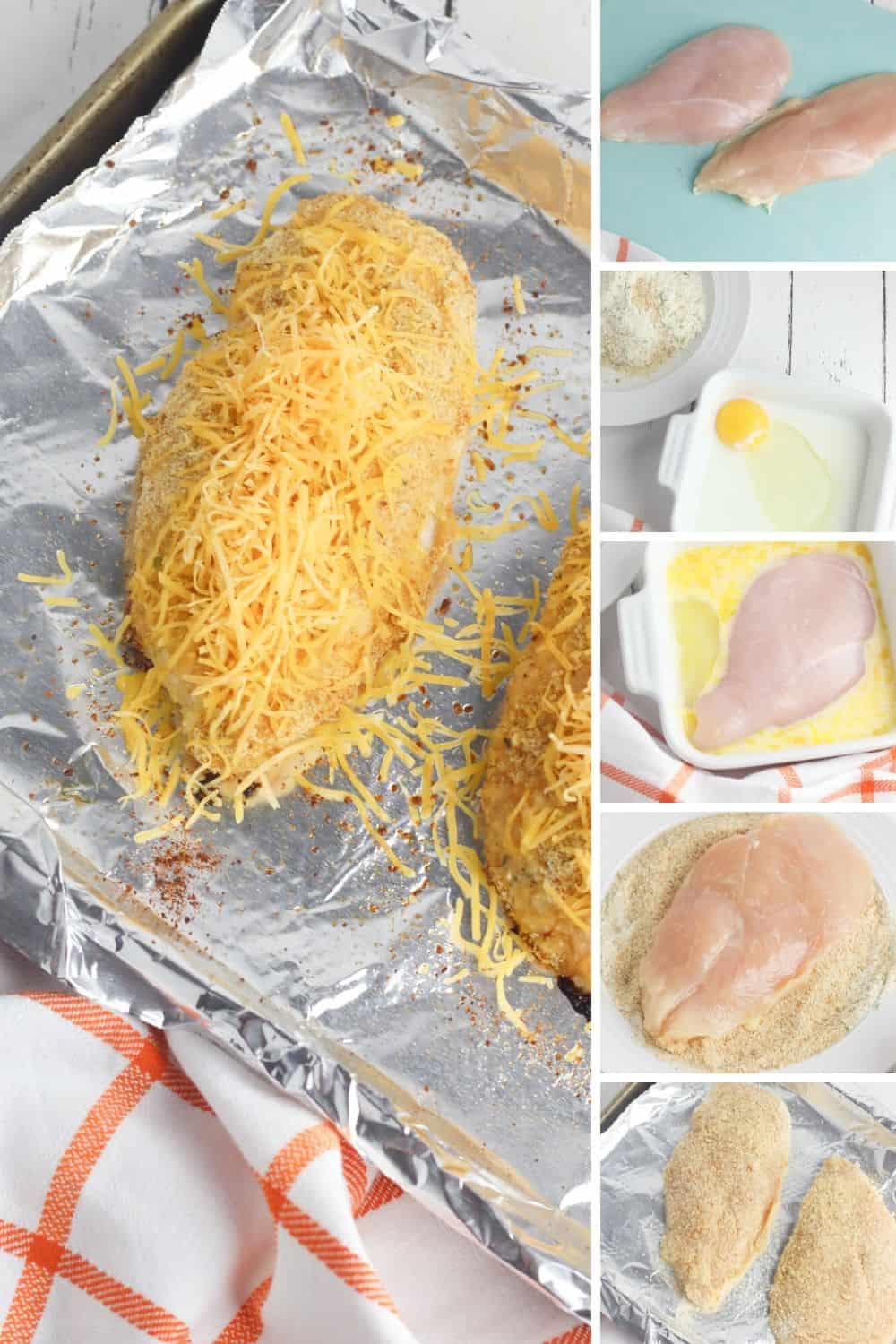 Bacon Cheddar Chicken Tips
While this recipe is so easy to make, I'm here to help you! With these easy tips, this simple recipe for bacon cheddar chicken is foolproof.
Don't skip the nonstick cooking spray. Adding cooking spray to your chicken is essential to making the breadcrumbs nice and crispy as the chicken bakes. Without it, the breadcrumbs will get mushy. If you don't like the taste of nonstick cooking spray, try using an oil mister instead.
Use bacon bits instead of crumbled bacon for a quicker dinner. If you don't have cooked bacon available, swap out bacon bits for crumbled bacon to skip cooking the bacon before making your chicken dish.
Increase cook time if you don't filet the chicken breasts. If you prefer a larger chicken breast for dinner, there's no need to filet your chicken breasts before cooking. Just be sure to increase the cooking time to allow for the thicker chicken breasts. Chicken should reach an internal temperature of 165 degrees on a meat thermometer when it is safe to eat.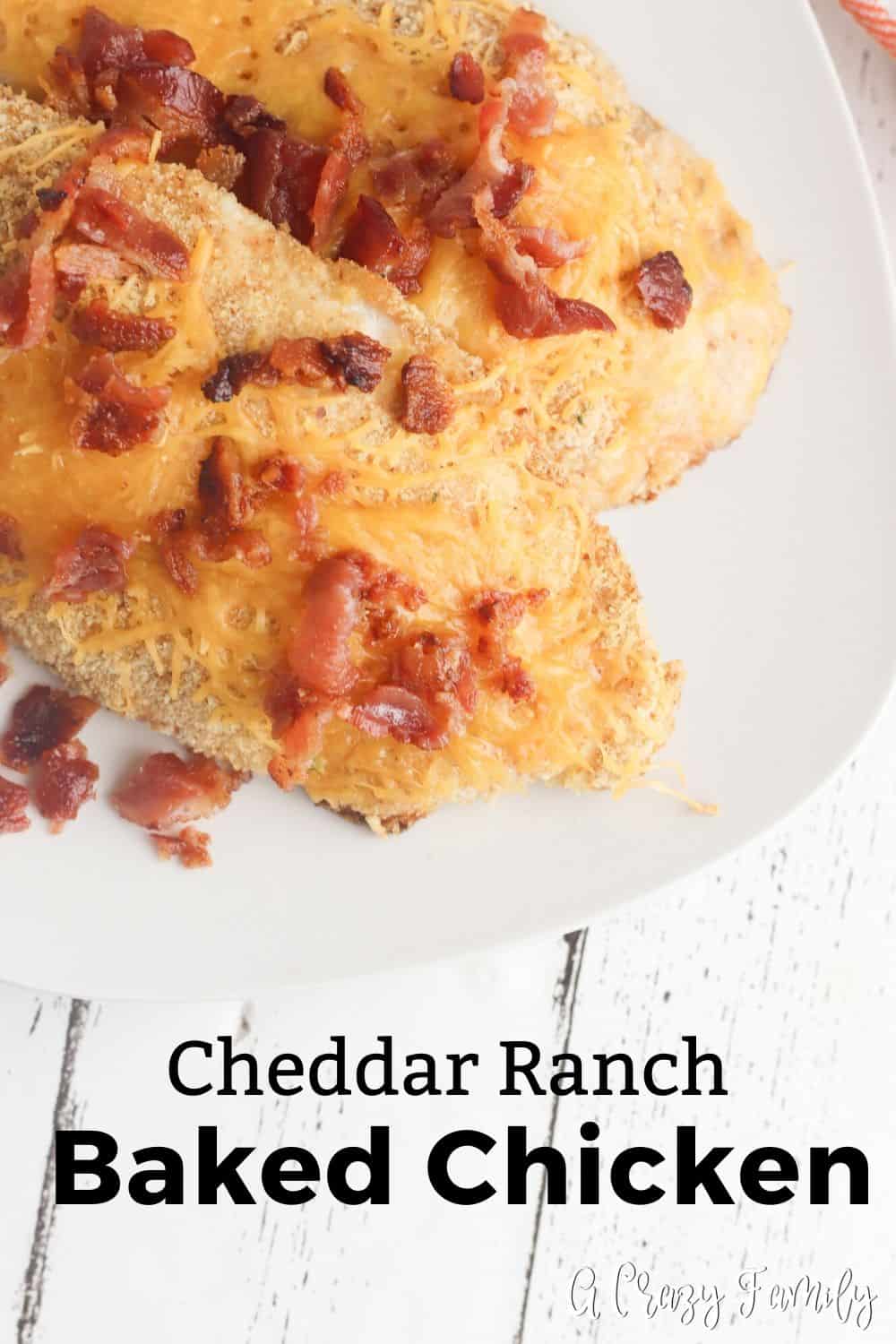 What else can you serve with baked chicken?
This baked chicken dish would pair well with salad, veggies, chips, or even mashed potatoes.
Here's our favourites:
PIN FOR LATER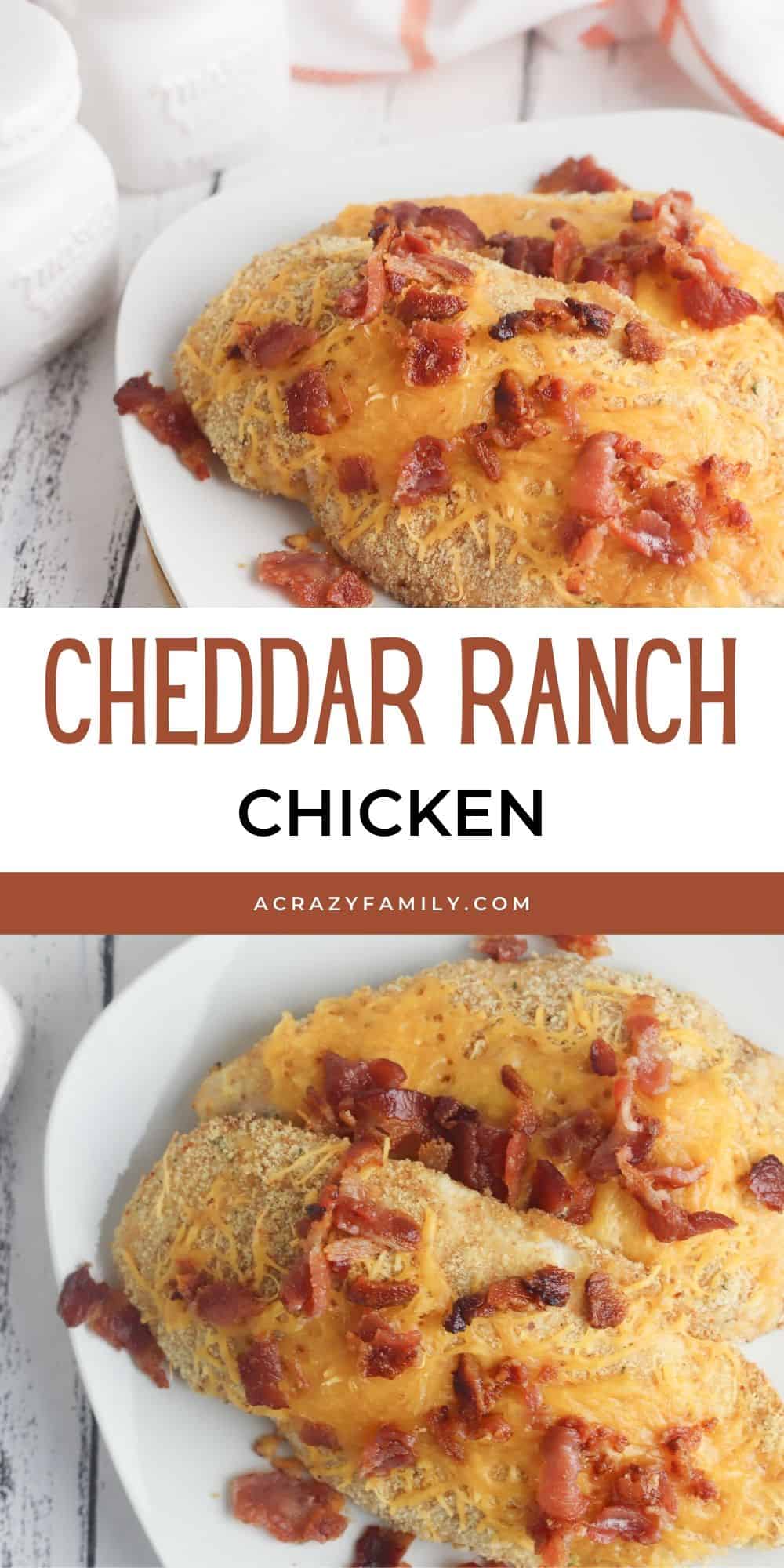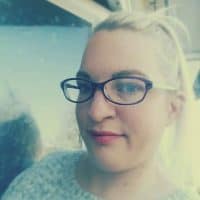 Vickie Louise is the Founder and Editor-in-Chief of A Crazy Family. She is a stay at home mom of a little boy with a big personality. After having her son, she realized how important it is for moms to take care of themselves, physically and mentally. Vickie believes in the power of using social media and her online presence for good and is thrilled to provide you with a space to celebrate all that is awesome (and a little crazy) in the world.