30+ Easy Summertime Sheet Pan Dinners
This post and its photos may contain affiliate links. As an Amazon associate, I earn from qualifying purchases.
Say goodbye to slaving over a hot stove for dinner this summer, because we've got the perfect solution – more than 30 delicious and easy sheet pan dinners!
Whether you're looking for something quick and easy after a busy day or you want to try something new in the kitchen, these recipes offer something simple yet tasty that anyone can make.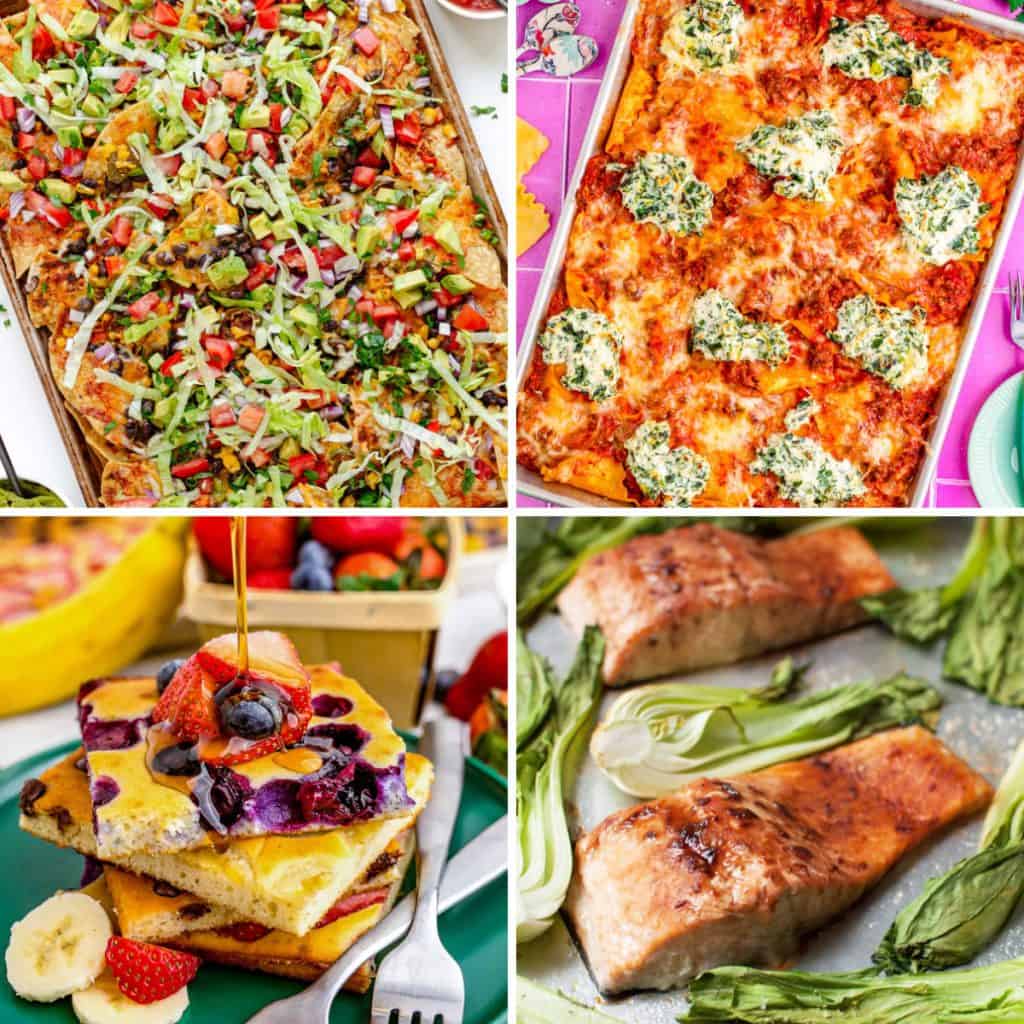 Summertime is here, and the days are longer than ever, giving you those extra hours of sunshine to spend with your family. With that said, it's time to start thinking about dinner ideas that make meal prep a breeze so you can focus on all the summer fun instead!
Sheet pan dinners make for an easy way to get supper cooked without having to put much effort into meal prepping – and these delicious sheet pan meals will help take the guesswork out of what's for dinner.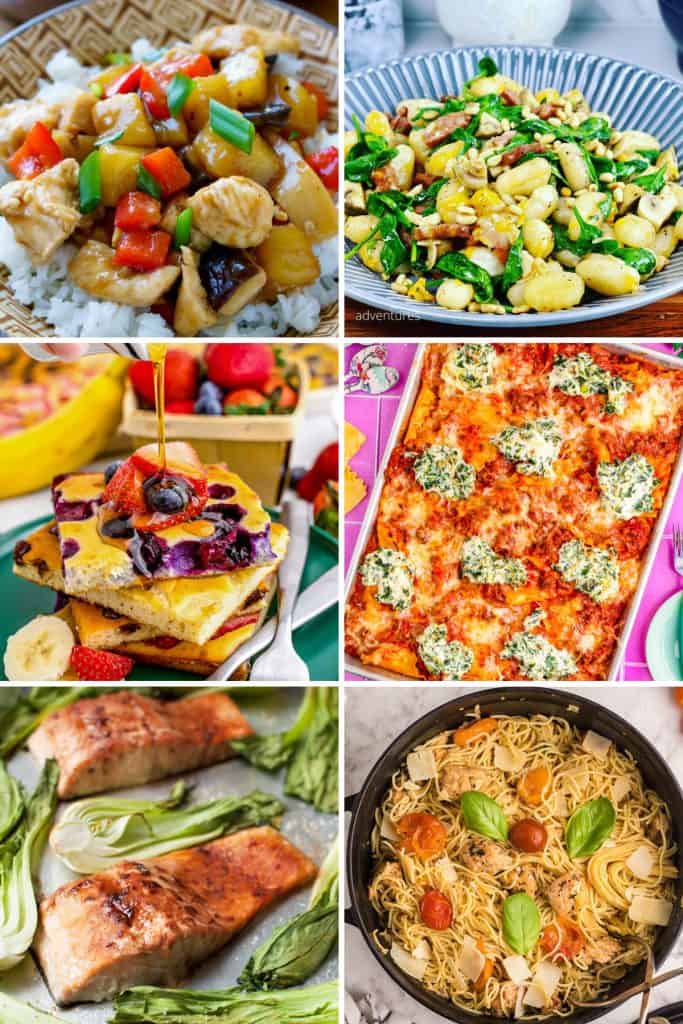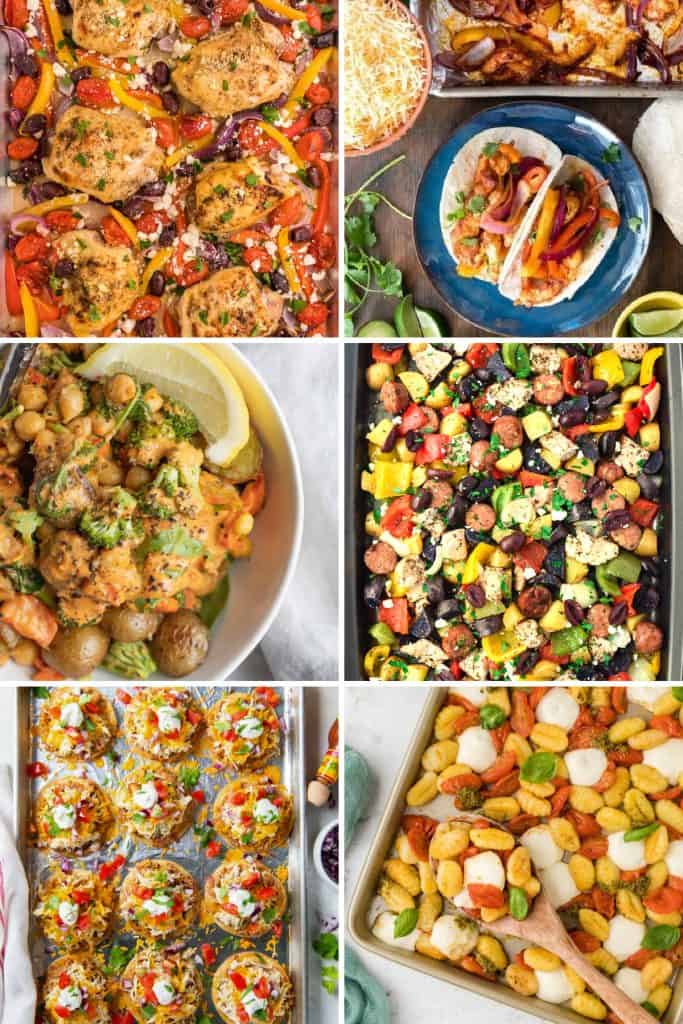 What are some of the Best meats To Cook in a sheet pan?
Chicken, beef, pork, and seafood are all great options. Feel free to mix up the ingredients to make each dish unique – think about adding seasonal vegetables, roasting potatoes, or trying out new marinades for a flavor kick.
See also: Summer Appetizer Recipes, Summer Picnic Recipes, and Summer Sandwiches
Sheet Pan Dinners for Summer
Get creative in the kitchen this summer with these quick and easy sheet pan dinners. Whip up healthy meals for the whole family without spending too much time prepping or cooking.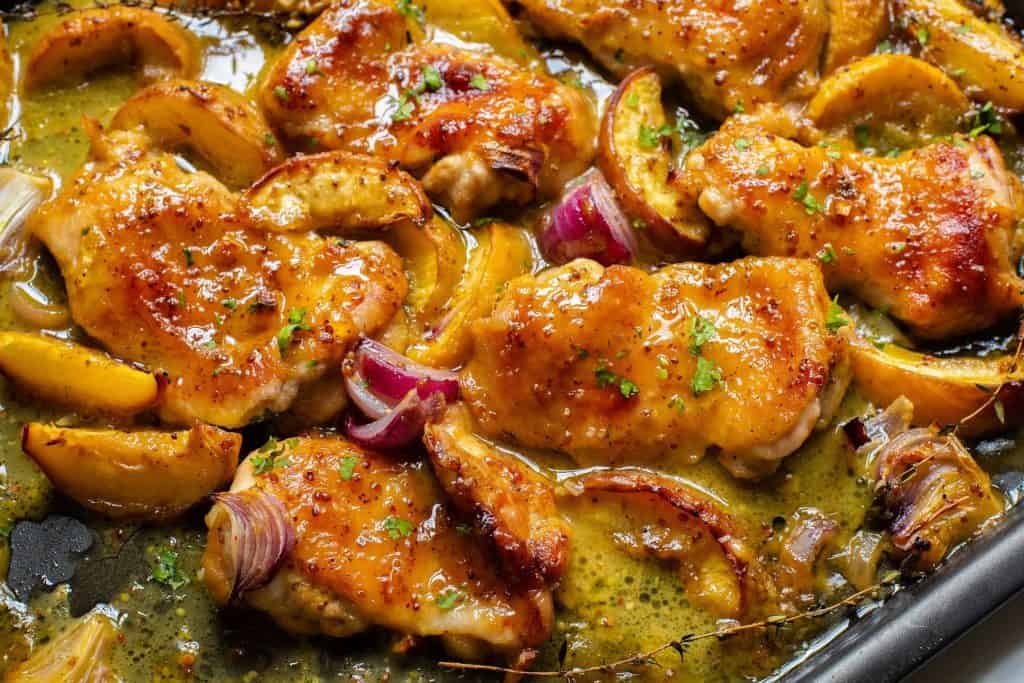 This sheet pan honey mustard chicken thighs with peaches is a delicious and easy weeknight meal that the whole family will love! Made in one pan, packed with flavor, and ready in under 30 minutes, this is everything you want in a family dinner recipe!
Our sheet pan BBQ chicken with pineapple recipe is delicious, convenient, and practically foolproof – all you need to do is combine the ingredients and pop them in the oven!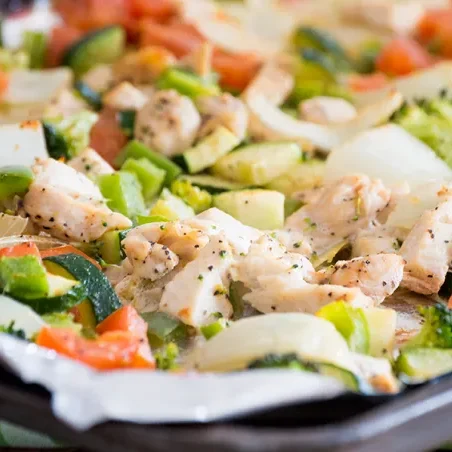 Chicken and Veggies Sheet Pan Dinner is a simple base recipe that works with whatever you've got in the fridge. With juicy chicken and perfect veggies, this is an easy addition to your dinner repertoire.
Say goodbye to boring old nachos and hello to these loaded veggie nachos! With layers upon layers of colorful veggies and ooey-gooey cheese, these vegetarian sheet pan nachos are guaranteed to be a crowd-pleaser.
Italian Tray Bake is a delicious one-pan meal that can be made in minutes and is as versatile as it gets.
Looking for a healthy vegan sheet pan dinner recipe? Then you've gotta try this one! Roasted broccoli, potatoes, and chickpeas with spinach and a spicy harissa sauce on top.
Get dinner on the table in a flash with this sheet pan of lemon chicken with brussels sprouts! Not only is this recipe easy and delicious, but clean-up is a breeze too.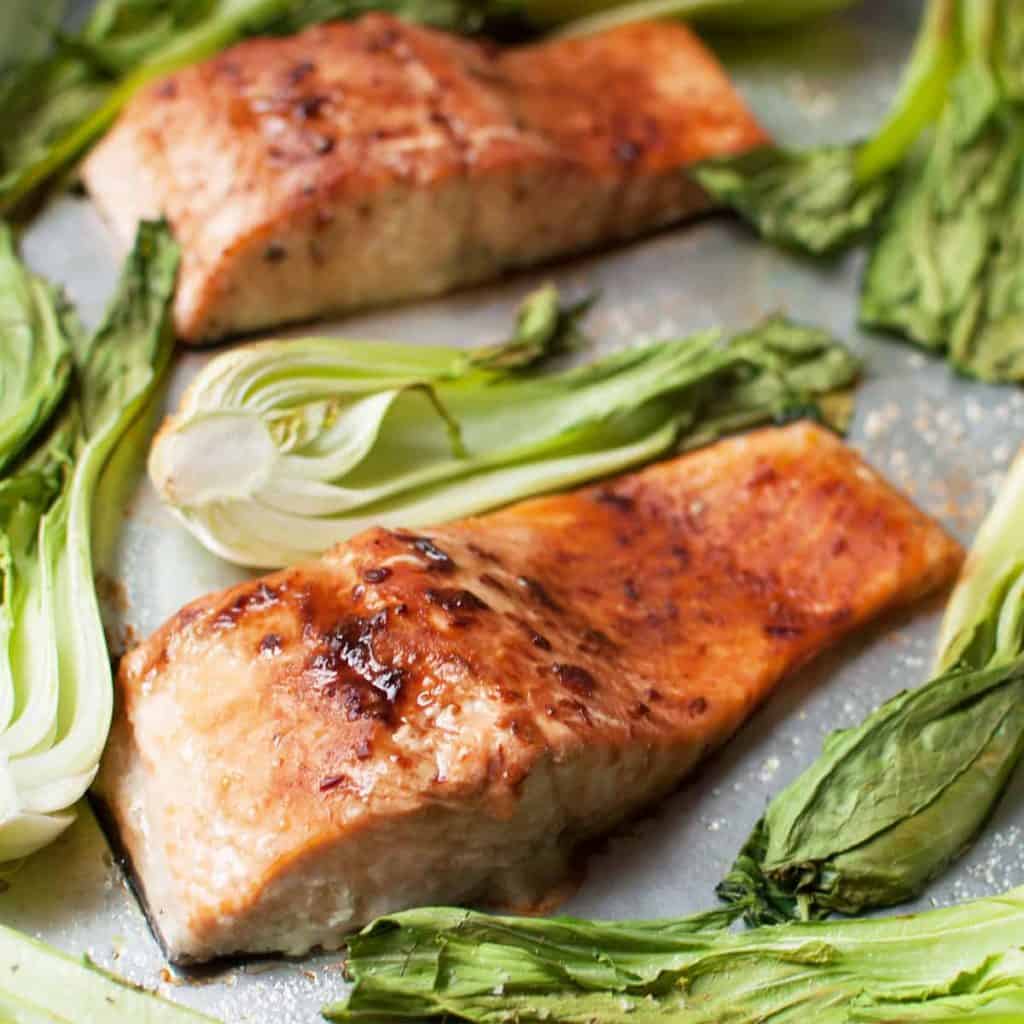 This easy-to-make salmon and bok choy sheet pan recipe is fast and delicious. It is the perfect weeknight meal and bonus; it is also a super healthy sheet pan meal!
Take your weeknight suppers to a new level by making our easy Greek Chicken Sheet Pan Dinner. You'll love the fresh and delicious Mediterranean ingredients.
With this super easy Sheet Pan Gnocchi, you'll be eating dinner in 30 minutes! Made with smokey chorizo and mushrooms, tossed with baby spinach, pine nuts, and parmesan cheese. Comfort food that's a healthy sheet pan dinner!
Easy Sheet Pan Shrimp Fajitas is a delicious and easy dinner ready in under 15 minutes. Tasty, healthy, and family-friendly! Also, Paleo, Whole30, and Keto.
This Sheet Pan Mediterranean Chicken & Veggies meal is Gluten Free, super simple to make, and bursting with flavor! Chicken, chicken sausage, plenty of veggies, and a homemade Mediterranean blend come together for a nutritious and delicious meal!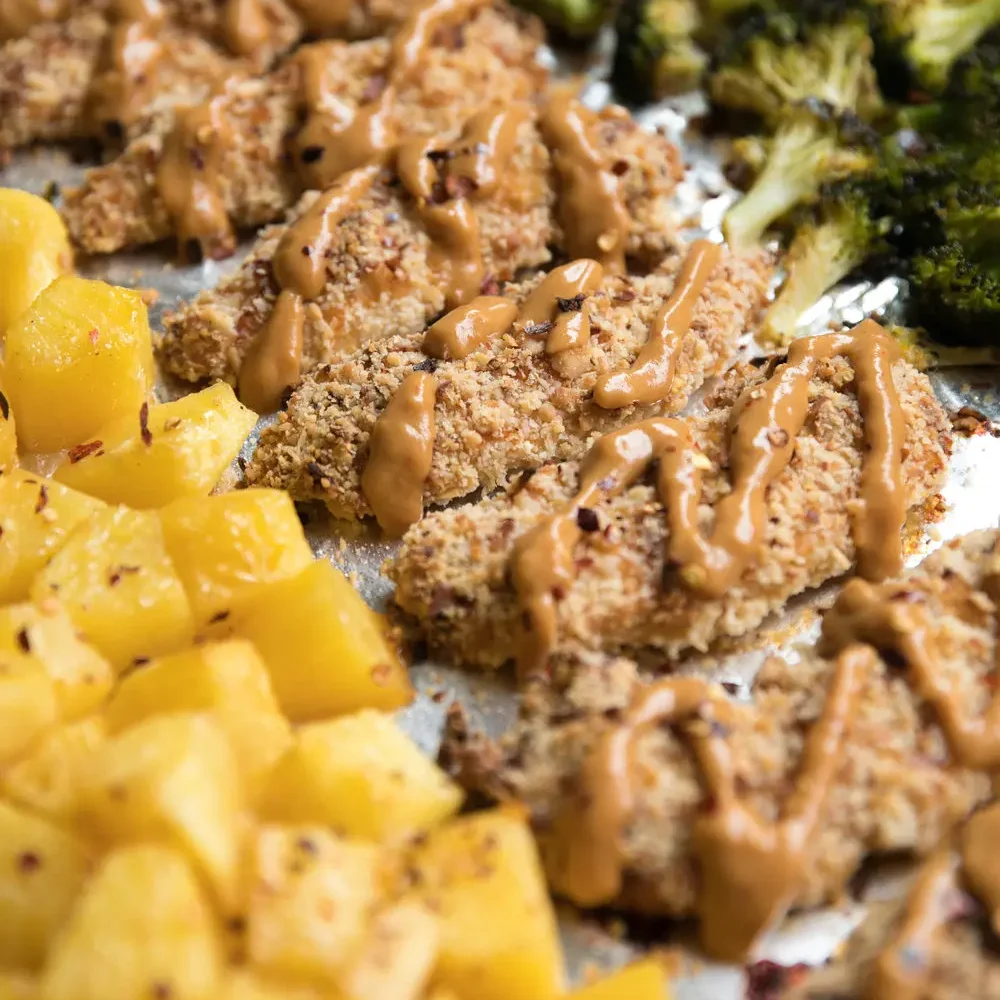 Indulge in a taste of the tropics this summer with Sheet Pan Macadamia Coconut Crusted Chicken Tenders with Peanut Sauce. This enticing dish combines tender chicken with crunchy macadamia and coconut crust, all perfectly complemented by a rich, creamy peanut sauce for a meal that's a sunny delight in every bite.
Sheet pan recipes are quick, easy, and all the rage. This Sheet Pan Stir-Fried Chicken Teriyaki with Pineapple is so flavorful, and just the thing for busy weeknights!
This Sheet Pan Chicken Dinner is made with chicken thighs, broccoli, squash, bell pepper, carrots, and a delicious marinade. It's easy to make, and all made on a sheet pan.
This quick & easy Sheet Pan Chicken and Green Beans comes together in only 30 minutes. Finished with an herby feta sauce, it is light, fresh, and perfect for summer.
A fast oven-baked Shrimp Boil is an easy weeknight family dinner ready in 35 minutes. Get all the deep delicious taste of this low country classic dish without the fuss.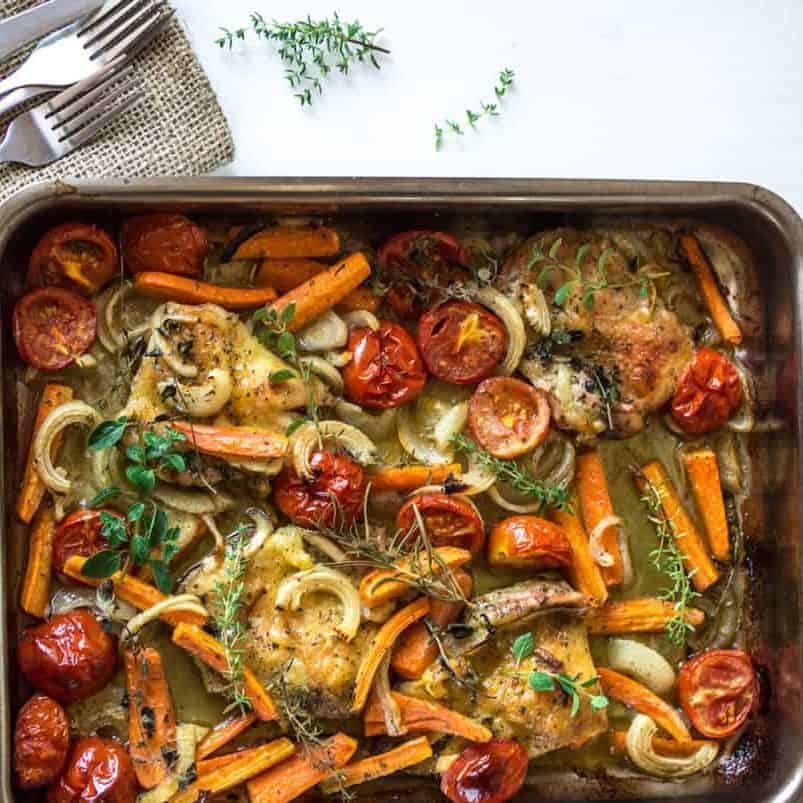 Indulge in the ultimate healthy, delicious, and fulfilling meal with this herb-roasted chicken and veggies sheet pan dinner. Crafted with care, this recipe effortlessly delivers succulent chicken with irresistibly crispy, flavorful skin. Complemented by tender vegetables infused with aromatic herbs, every bite is a taste sensation that will leave you fully satisfied.
Sheet Pan Chicken with croutons and small potatoes takes 20 minutes to prep, and this entire chicken sheet pan dinner bakes in 50 minutes. Beautiful to serve for an easy family weeknight dinner or a fun meal prep idea sheet pan meals make cooking so easy!
Sheet pan chicken thighs and vegetables is great. An easy meal that is inexpensive and everyone loves.
This sheet-pan chicken caprese pasta is made with chicken tenderloins and packs in plenty of authentic Italian flavors.
Bake a sheet pan full of these mini chicken tostadas in about 30 minutes for an easy dinner or fun party snack. Crispy baked street taco tortillas are loaded with beans, chicken, cheese, and your favorite toppings.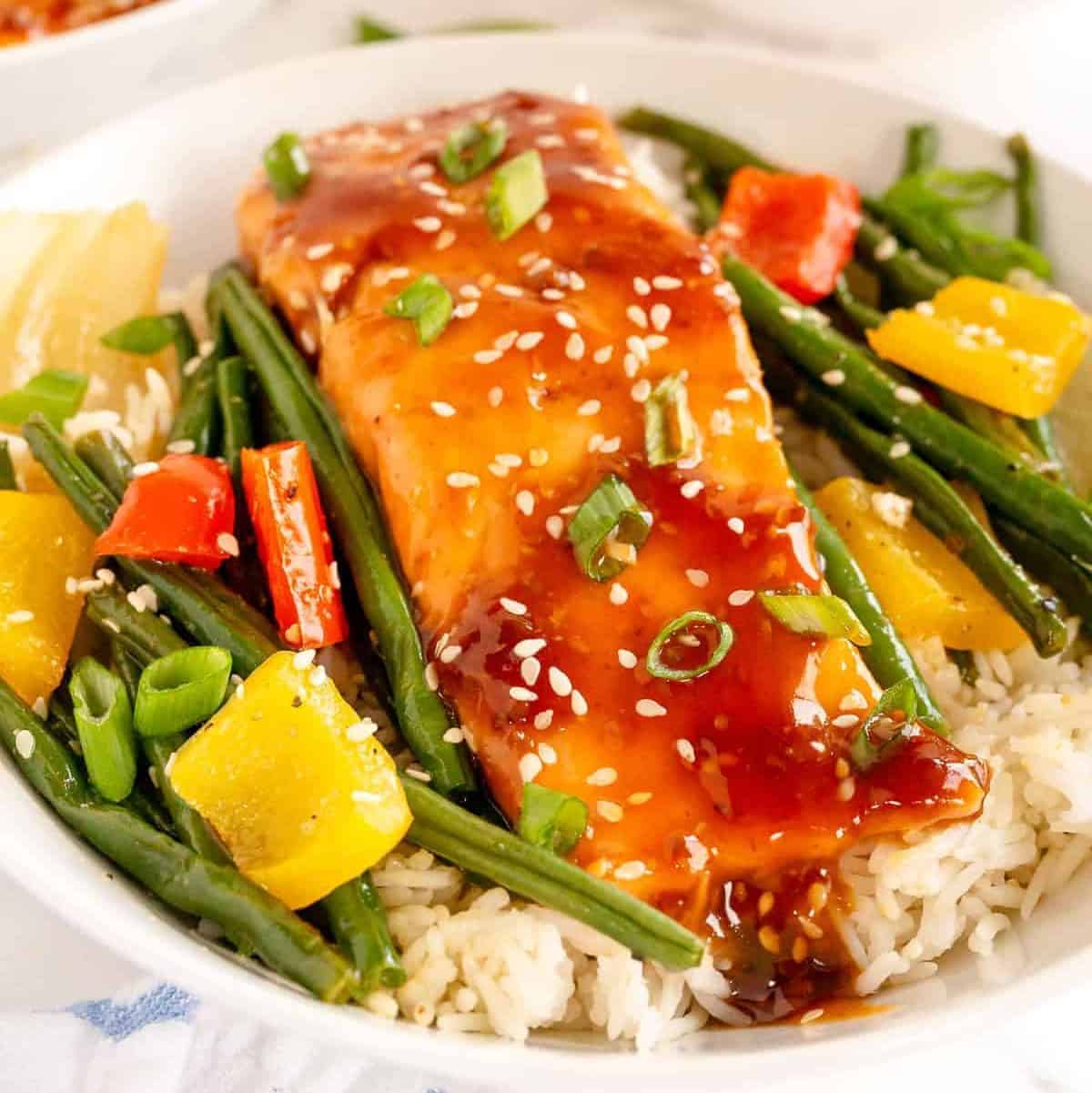 Serve this Easy Sheet Pan Teriyaki Salmon and Vegetables over rice to create delicious teriyaki salmon bowls. A healthy busy day recipe!
A super simple chicken apple sausage sheet pan meal that's easy to customize! With precooked sausage and fresh veggies, this makes an easy weeknight dinner.
Sheet Pan Lasagna might just be the easiest and most delicious way to make that layered pasta dish you know and love. Inspired by the recipe from Giada De Laurentiis, these flawlessly prepared noodles are combined with a savory and cheesy lasagna sauce, and baked to perfection.
Sheet Pan Pancakes make pancake breakfasts a cinch! These buttermilk pancakes are baked in a sheet pan so you can serve a homemade breakfast to the whole family without spending your morning bent over a griddle pan.
This easy Caprese gnocchi sheet pan dinner recipe is the perfect meal for summer. It's a simple and delicious way to feed a big family and dress up your weeknight dinner with minimal effort.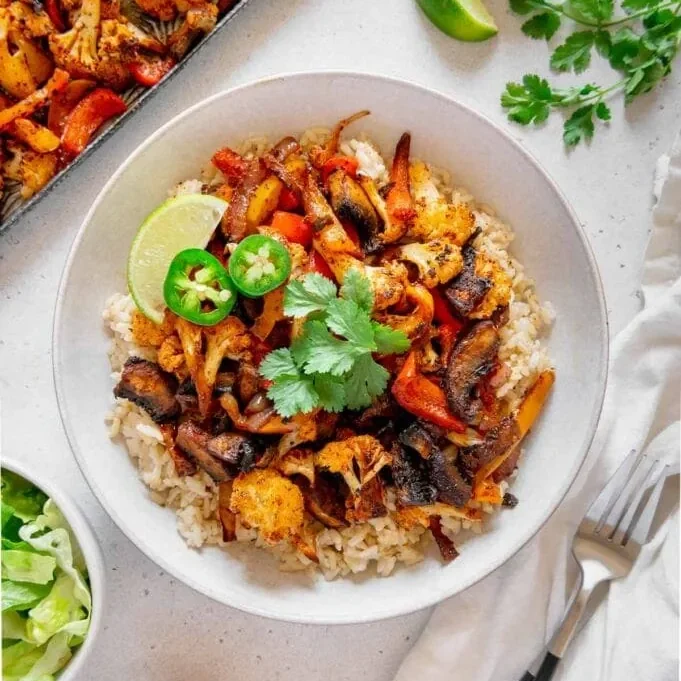 Spice up your Taco Tuesday routine with this simple recipe for a Vegan Fajita Bowl! With a satisfying mix of meaty portobello mushrooms, nutty cauliflower, sweet peppers, and onions, and a homemade vegan fajita seasoning blend, this quick & easy sheet pan veggie fajitas recipe is sure to please.
Crunchy, salty, spicy, and deeply satisfying, this easy recipe for Vegan Sheet Pan Nachos is loaded up with all your favorite fixings. They're perfect for a Game Day, or anytime you're in the mood for some plant-based pub grub. These delectable vegan nachos are sure to satisfy even the beastliest hunger.
These easy Baked Lemon Chicken Tenders are super moist, bright, & delicious! Chicken tenderloin is marinaded in olive oil, honey, lemon zest, & spices for ultimate flavor. It's then oven baked with tomatoes & zucchini for a healthy sheet tray dinner.
Lemon Rosemary Sheet Pan Chicken Thighs with vegetables is super easy to prepare and bursting with homey flavors. Cooks in 30 minutes with no pre-marinating!
Sheet Pan Fajitas are a fast, easy dinner option. These chicken fajitas arrive sizzling hot at the dinner table after 20 minutes of cooking time!