One-Pot Old-Fashioned Beef Stew (Goulash)
By: Vickie | Updated: 10th December 2021
Goulash is a delicious beef stew (or soup) with a rich paprika seasoned broth. This delicious dish is warm and comforting, perfect for a cold winter's day.
Click to PIN One-Pot Old-Fashioned Goulash!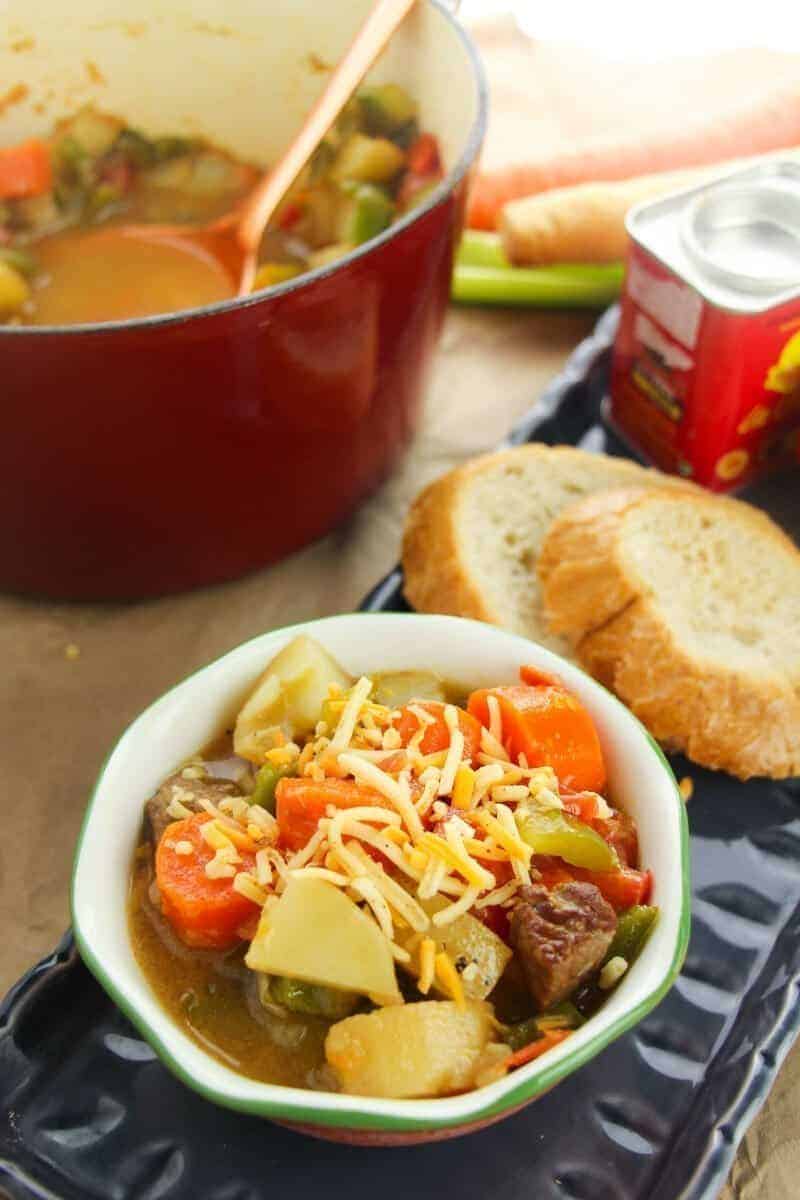 Goulash is incredibly adaptable – it can be made without potatoes or noodles to be a delicious keto Hungarian goulash – or served with egg noodles, topped with sour cream, or made a little extra salty and rich with some caraway seeds – it is very adaptable to the ingredients you have on hand, and to your own preferences!
Serve this with a side of bread or Biscuits to sop up any of the broth left in your bowl.
WHAT IS GOULASH?
Well, it is one of the most delicious comfort food ever! A traditional Goulash is a soup or stew that is usually filled with tender beef and onions and spiced with paprika.
It dates back centuries and is one of those recipes handed down through families.
Goulash freezes perfectly, making it ideal to make in batches for the winter. I love quickly warming up a single serving of this goulash recipe for a quick lunch or dinner!
This Goulash is…
One of the most delicious comfort foods ever
incredibly adaptable
One pot, so limited mess to clean-up
And here's what you're going to need to make this delicious goulash…
1 lb beef, cubed
Salt and pepper, to taste
2 Tablespoon olive oil
2 onions, sliced
2 Tablespoons paprika
4 garlic cloves, sliced
2 bay leaves
2 carrots, chopped
1 parsnip, chopped
2 celery stalks, chopped
4 potatoes, chopped
3 tomatoes, chopped
2 bell peppers, chopped
Make this delicious Beef Stew…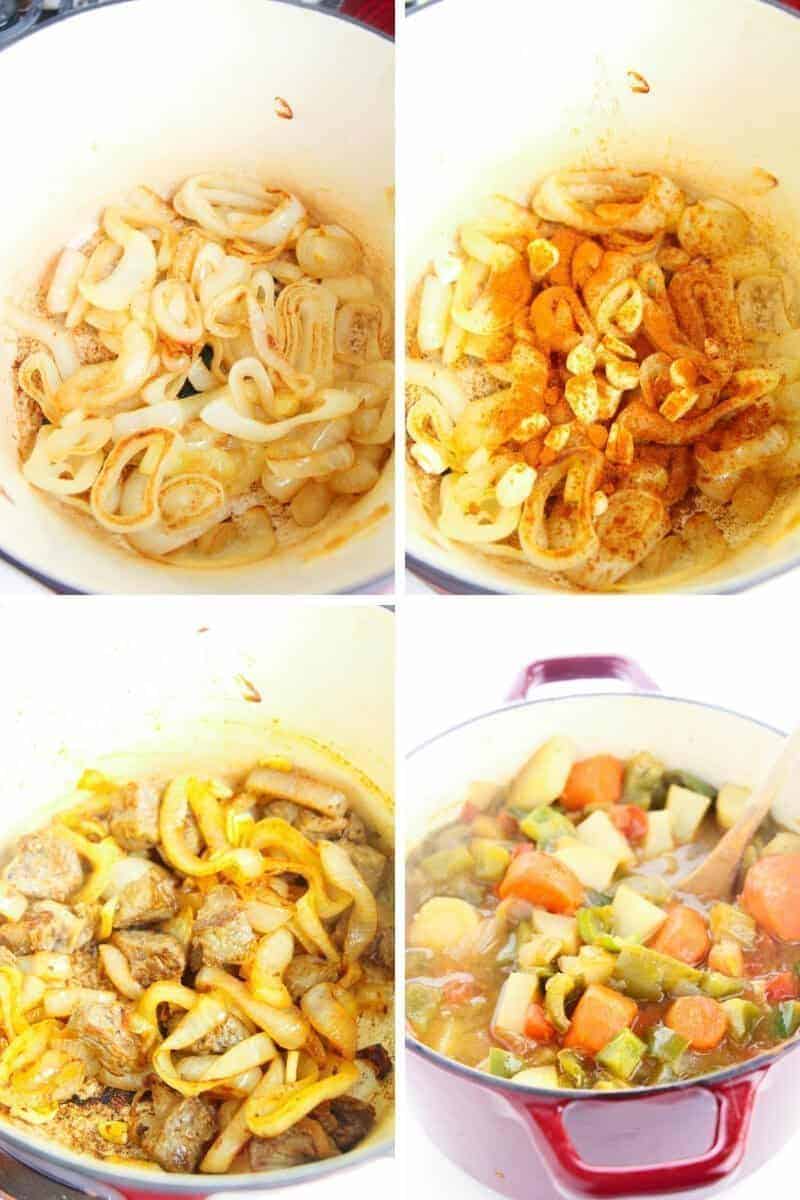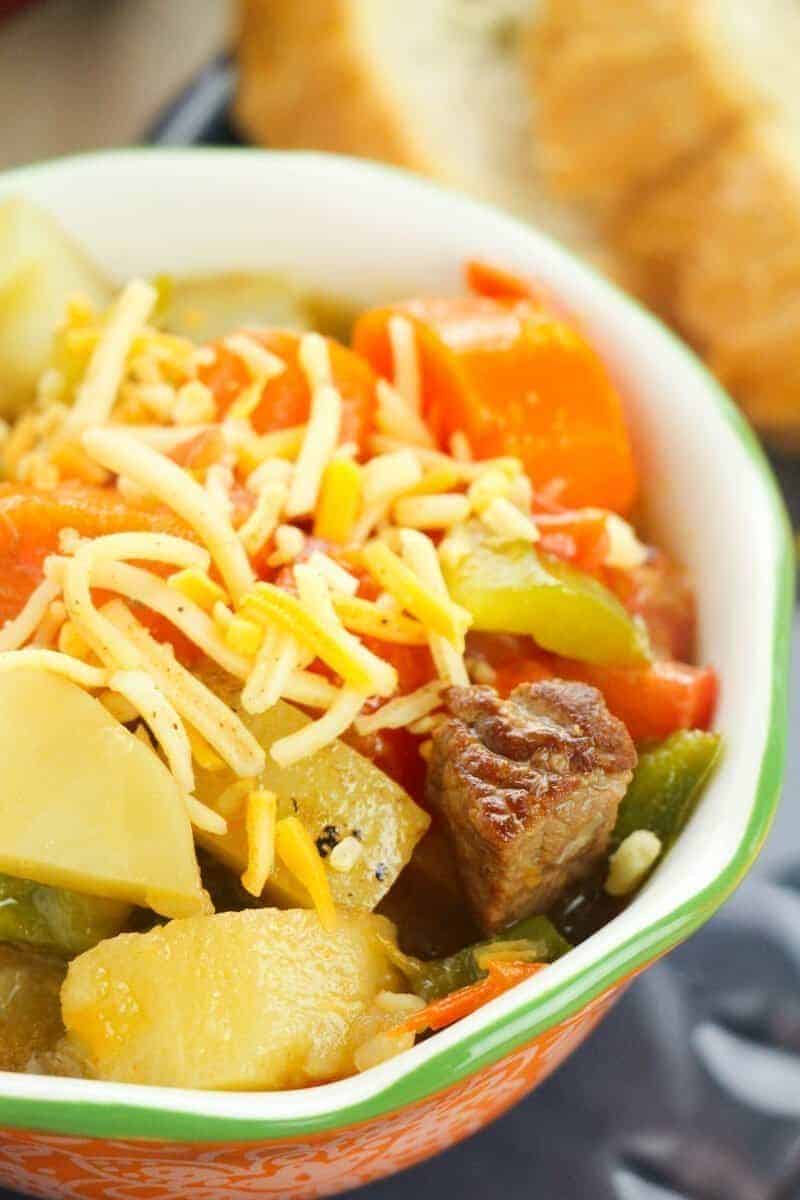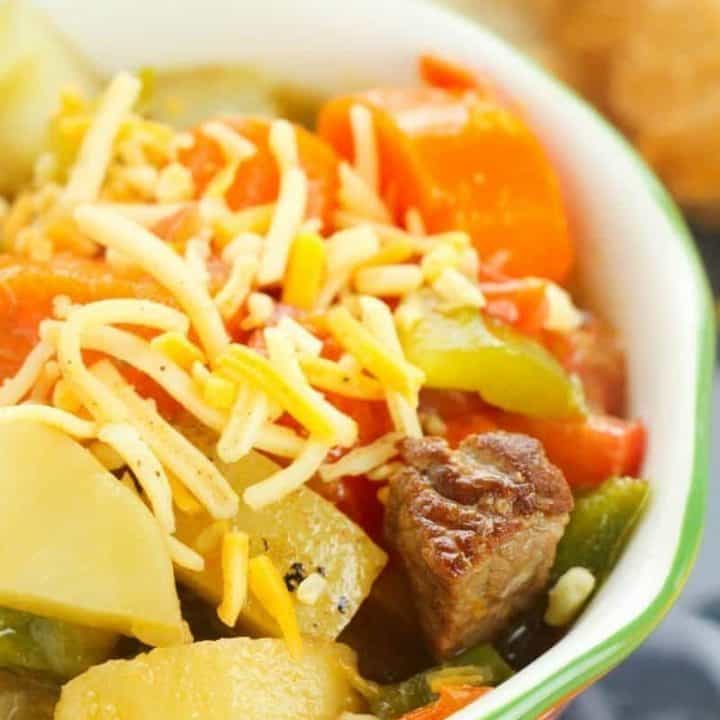 One Pot Old-Fashioned Beef Stew (Goulash)
Ingredients
1

lb

beef

cubed

Salt and pepper

to taste

2

Tablespoon

olive oil

2

onions

sliced

2

Tablespoons

paprika

4

garlic cloves

sliced

2

bay leaves

2

carrots

chopped

1

parsnip

chopped

2

celery stalks

chopped

4

potatoes

chopped

3 to

matoes

chopped

2

bell peppers

chopped
Instructions
Add the olive oil to a heavy-bottomed pan and heat over medium heat.

Season the beef with salt and pepper and add to the hot oil.

Sear on all sides, about 3-4 minutes, then remove and add the onions.

Cook the onions until golden brown, about 10 minutes. Do not rush this step as it builds incredible flavor.

Add the garlic, paprika, and return the beef to the pan and cook for 2 minutes.

Add the bay leaves, carrots, parsnip, celery and add enough water to cover the mixture.

Bring to a boil and then reduce to a simmer and cover for 45 minutes.

Remove any grease that has accumulated on top and then add the potatoes, cooking another 20 minutes.

Remove grease, add tomatoes and peppers, cook for 5 minutes.

Season again with additional salt, pepper, and paprika as needed.
Nutrition information is automatically calculated, is intended to serve as an estimate only, and is provided for informational purposes. The accuracy of nutritional information is not guaranteed.
Click stars to rate now! Or leave a comment below.
Hello! All photos and content are copyright protected. Please do not use our photos without prior written permission. Thank you!
Nutritional Information?
If you want the nutritional information for a recipe, I recommend entering the recipe into this nutrition analyzer, which will calculate it for you.