25 Best Grilled Cheese Recipes You Have To Try
Grilled Cheese Sandwiches are a classic. They are easy to make and loved by everyone! Whether you want a gourmet version of the classic grilled cheese, or you want to completely switch things up, you'll find a recipe here for you.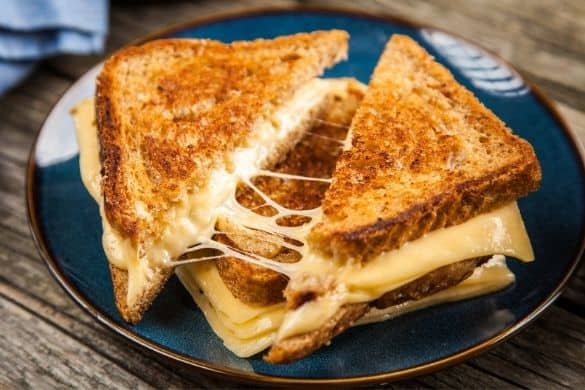 How to Make The Best Grilled Cheese?
There are a few key things to remember when making the perfect grilled cheese. First, make sure your cheese is well-sliced and at room temperature – this will help it melt evenly.
Second, use good quality bread – a thicker sliced loaf works best so that the sandwich doesn't fall apart when you grill it. Third, butter the outside of the bread generously – this will give you a nice golden brown crust.
Fourth, use a low heat so that the cheese has time to melt before the bread gets too crispy. And finally, don't be afraid to experiment with different cheeses and fillings – there are endless possibilities!
Looking for more delicious recipes? Check out these: Incredible Homemade Donut Recipes, Delicious Bread Recipes Without Yeast, and Best Nutella Recipes You Gotta Try
25 Absolutely Delicious Grilled Cheese Recipes
Air Fryer Pepperoni Grilled Cheese
This air fryer pepperoni grilled cheese is a simple, easy, adult, and kid-approved loaded grilled cheese sandwich. Try it with a side of pizza sauce for dipping.
Buffalo Chicken Grilled Cheese
No need for deli meat or chicken wings when you can make the most amazing buffalo chicken grilled cheese.
Air Fryer Ham & Cheese Sandwich
Loaded with melted cheese, this is the perfect use of leftover ham. Make your own homemade cheese and ham sandwich in the air fryer.
Grilled Cheese with Figs and Hot Honey
Sharp cheddar, fresh sweet figs, and spicy hot honey make this an easy gourmet grilled cheese recipe that you just have to try.
Curried Beef Grilled Cheese Sandwich
A spicy, flavorful beef curry paired with gooey, melted cheese – this simple Curried Beef Grilled Cheese Sandwich is the ultimate comfort food.
Grilled Cheese & Tomato Naan with Sun-Dried Tomato Pesto
Just five simple ingredients and about 15 minutes to make one or two of these Grilled Cheese & Tomato Naan with Sun-Dried Tomato Pesto. Perfect for a filling quick lunch.
Ultimate Grilled Cheese Sandwich
This Ultimate Grilled Cheese Sandwich recipe is very easy to follow, ready in under 30 minutes, and Kid-friendly. You know they won't say no to cheese.
Breakfast Grilled Cheese Sandwich with Ham, Egg & Apple Butter
You will love the mix of flavors in this breakfast sandwich, which melds together and every bite gives you gooey cheese, sweet raisin bread, salty ham, egg, and apple butter.
Chicken Pesto Grilled Cheese
Pairing pesto and chicken in a grilled cheese sandwich is a great combination and so delicious.
Grilled Triple Cheese Bacon Guacamole Sandwich
Comfort food has never been better than this gooey grilled cheese with bacon and guacamole from Boulder Locavore! It's quick and easy to make.
Jalapeno Popper Grilled Cheese Sandwich
This Jalapeno Popper Grilled Cheese Sandwich from Simply Stacie will take your lunch to a whole new spicy level!
Ham, Bacon & Roasted Apple Grilled Cheese Sandwich
This ham, bacon and roasted apple grilled cheese sandwich from This Mama Loves may just change the way you look at grilled cheese.
Strawberry Moscato Gourmet Grilled Cheese
This Strawberry Moscato sandwich elevates grilled cheese from Food Meanderings to an entirely new level, with strawberries, bacon, tamed jalapenos sautéed in Moscato, 2 kinds of cheese, and a delicious peach aioli.
Monte Cristo Grilled Cheese Sandwich Recipe (with Jam!)
The Monte Cristo Grilled Cheese with Jam from Dinner Mom is the ultimate sandwich, ready in minutes and perfect for breakfast, lunch, or dinner!
Garlic Bread Grilled Cheese Sandwiches
These garlic bread grilled cheese sandwiches from Healthy Life Trainer really take the ordinary grilled cheese sandwich to the next level and will be a hit with everyone!
Bacon Grilled Cheese Sandwich Casserole
Slices of soft brioche bread, filled with bacon and American cheese, soaked in an egg custard, and baked until brown and crunchy on top. This Bacon Grilled Cheese Sandwich Casserole from The Flavor Bender is perfect for a weekend brunch.
Grilled Turkey Cranberry Cream Cheese Sandwich
This Grilled Turkey Cranberry Cream Cheese Sandwich from Delicious on a Dime is the perfect light meal after a decadent Thanksgiving or Christmas dinner. Also uses up some of the leftovers!
Kimchi Grilled Cheese Sandwich
Kimchi Grilled Cheese Sandwich is the perfect lunch to use up any kimchi in your fridge. Made with only 4 ingredients, and ready in under 10 minutes.
Grilled Caprese panini sandwiches
Grilled caprese panini sandwiches are a delicious, easy-to-make meal. Mozzarella cheese, basil pesto, and tomatoes are tucked between 2 slices of sourdough, then grilled on a panini press.
Rainbow Grilled Cheese
Whether you have a unicorn lover in your house or you're just looking for a fun lunch, this rainbow grilled cheese is for you.
Bacon Cheddar Ranch Grilled Cheese
Bacon Cheddar Ranch Grilled Cheese is the perfect combination of ranch, cheddar, and bacon, sandwiched between crisp, seared bread.
Taco Stuffed Grilled Cheese Sandwich
Taco Grilled Cheese is a grilled cheese sandwich grilled to golden perfection, along with all of your favorite zingy taco components.
Grilled Cheese With Tomato and Onion
Grilled Cheese With Tomato and Onion – a delicious twist on your favorite classic comfort food, and the perfect easy lunch or dinner for adults and kids alike.
Pimento Grilled Cheese
Pimento Grilled Cheese Sandwiches take the deliciousness of southern-style pimento cheese and mash it with an all-American favorite, grilled cheese.
Grilled cheese waffle sticks
No bread….No worries make these grilled cheese waffles that everyone loves including the kids.
So there you have it! 25 of the best grilled cheese recipes that you and your family will enjoy. Don't forget to share your favorite recipe in the comments below.
You might also like: