Skillet Bacon Mac & Cheese
By: Vickie | Updated: 13th April 2023
There is something very comforting about a macaroni dish. Pasta and cheese is just a winning combination, am I right? There are so many variations to the classic dish, and I have got the ultimate one to share with you.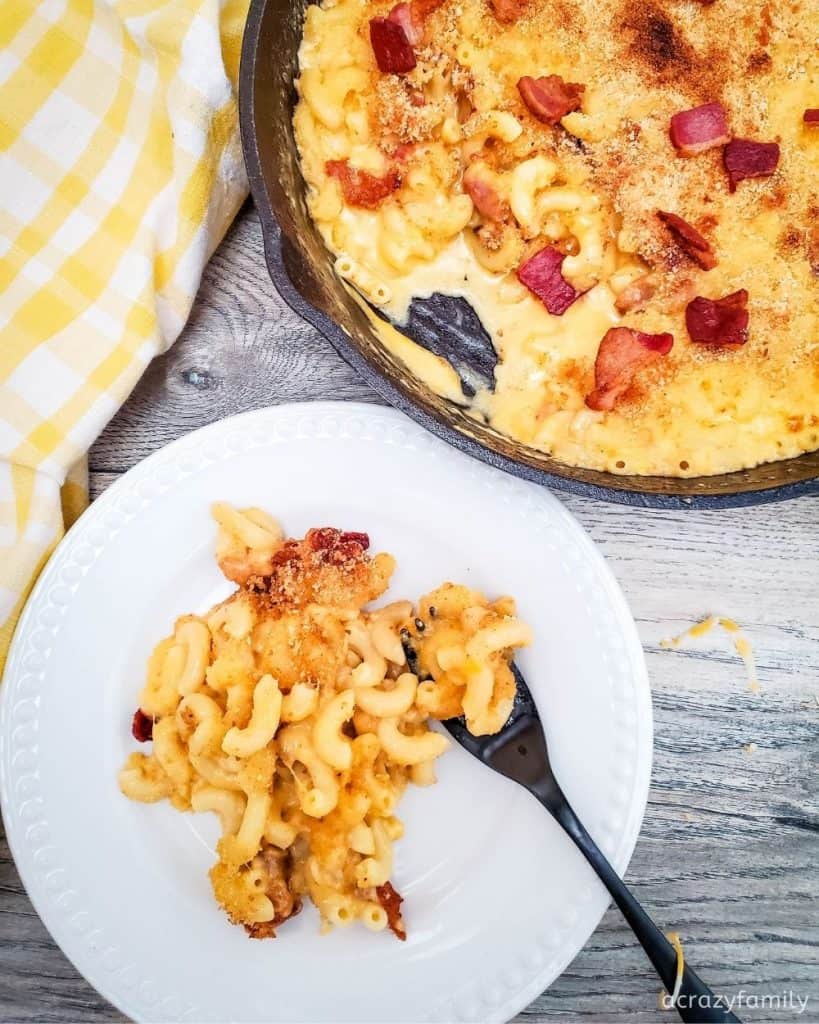 Not only do you have the comfort of pasta and the indulgence of cheese, but let's add the salty, crispy texture of bacon into the mix, and I think we are on to a winner. Not to mention that it is all cooked on a skillet. What's not to like?

Mac and cheese is often a "go-to" dish that many of us love. Parents often choose it because their kids won't say no to it. Adults will pick it as a reminder of their childhood or when they want something quick, simple, and full of flavor.
Too busy to make this right away? Pin this post to your favorite board on Pinterest for when you're ready!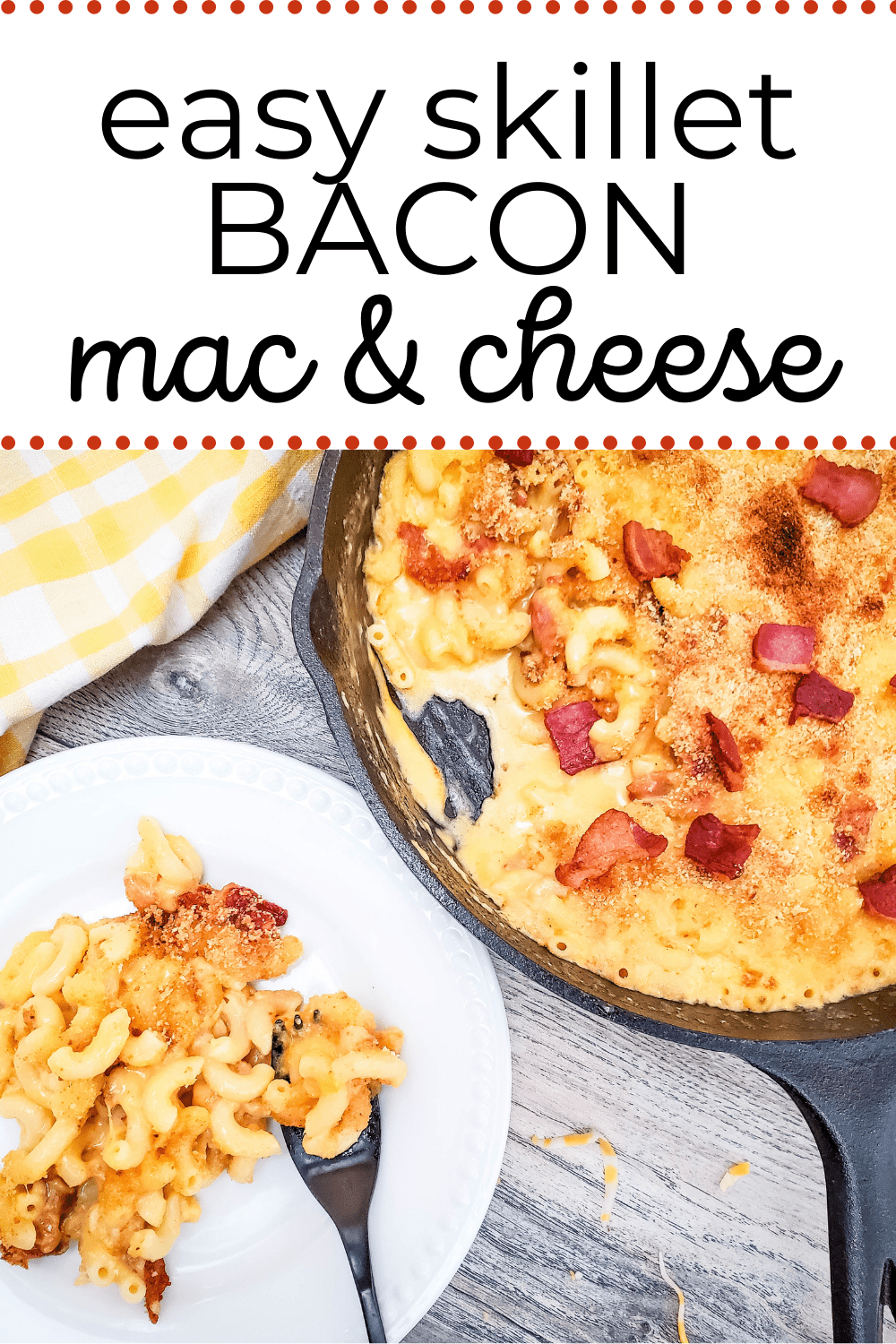 And, for more delicious, family-friendly recipes, be sure to check these out!

Cast Iron Skillet Cheesy Tater Tot Casserole
Another deliciously cheesy family dinner cooked in a cast iron skillet that your family will love. With a few ingredients and a little time, you'll have a kid-approved home-cooked meal.

Homemade Mac And Cheese Recipes For Easy Midweek Meals
Macaroni and cheese is the ultimate comfort food. It is perfect for weeknight dinners or family gatherings, and all of these mac and cheese recipes are full of flavor and will have your taste buds asking for more.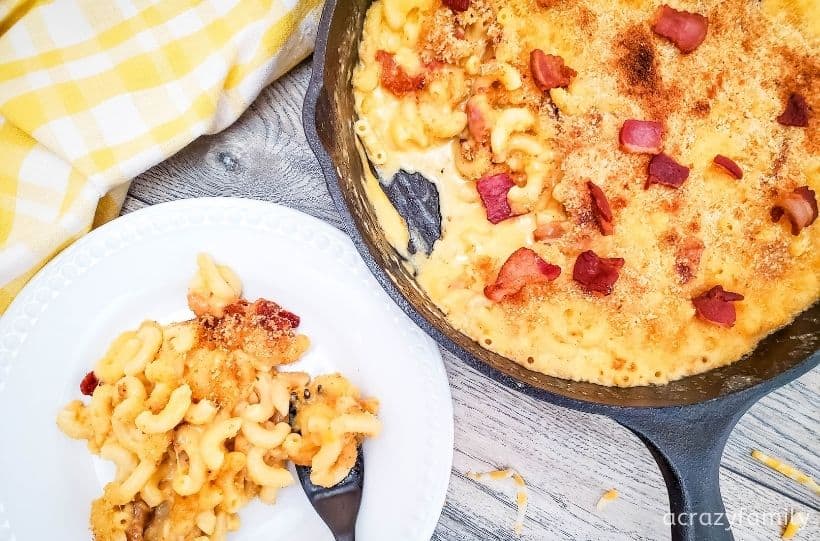 So if you are interested in creating this skillet bacon mac cheese, then here is everything you need to know.
Skillet Bacon Mac & Cheese Recipe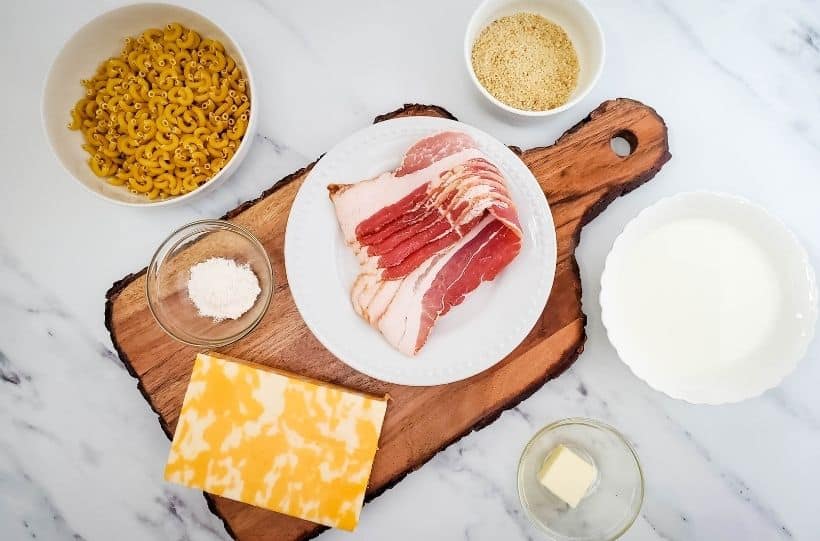 Ingredients:
It is very helpful to have everything to hand before you get started. Here are the ingredients you need to create the Skillet Bacon Mac Cheese.
1 tbsp butter
1 tsp flour
1 cup milk
2 cups Colby jack cheese block, shredded
8 oz pasta, cooked al dente
1/2 lb bacon
1/4 cup bread crumbs
How to make Skillet Bacon Mac and Cheese
The first thing that you need to do is cook the pasta. You can follow the packet instructions but make sure the pasta is cooked al dente. Once this is done, set your pasta aside.
Next up is the flavor and filling. Chop the bacon into 1-inch pieces and cook until done. This is more to your liking, so if you do like your bacon crispy, just cook it a little longer. Then drain the grease. Leave this to one side as you carry on with the rest of the recipe.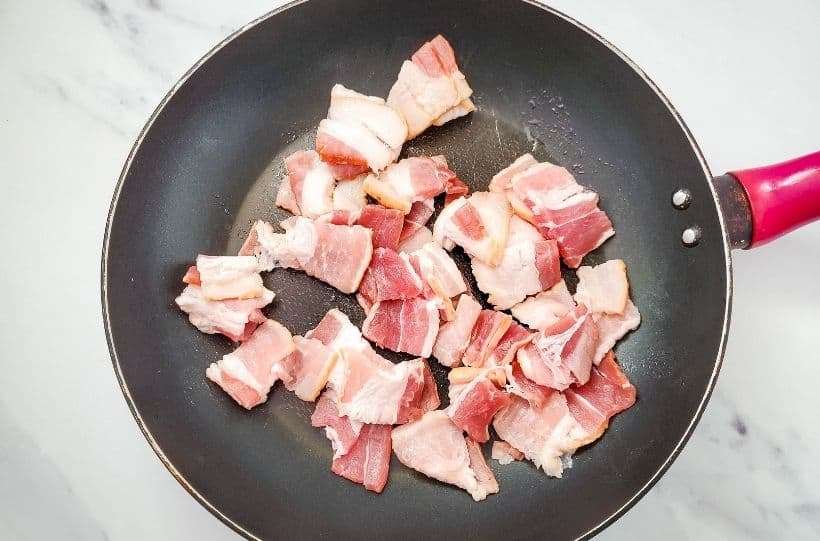 Grab your cheese and grate it. This is so it melts easily into the sauce.
As most of the ingredients are cooked, you only want to turn your oven broiler on low.
Get your cast-iron skillet and add the butter to it. Put the cast-iron skillet onto medium-high heat so that the butter will melt and start to bubble.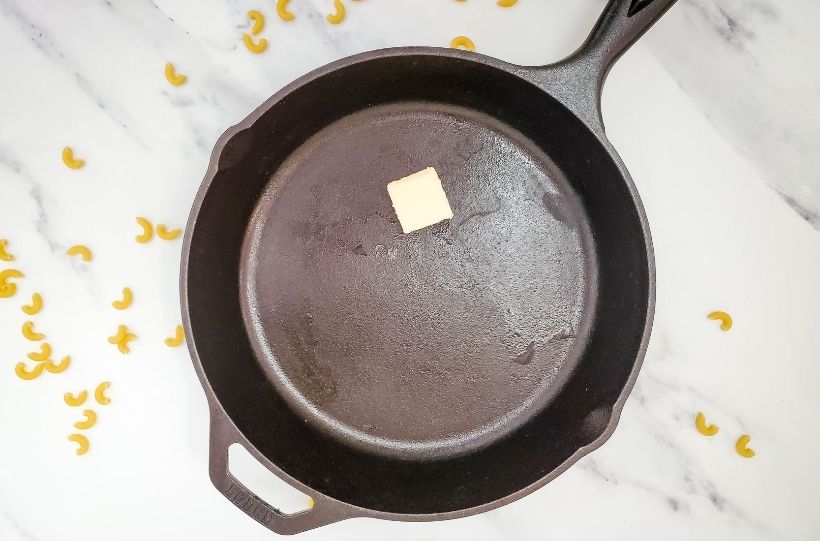 Grab your flour and add this to the butter. Whisk the flour, and cook for about 1 minute, then add milk. Make sure you keep stirring and whisking to avoid any lumps appearing. Do this until your sauce is smooth and is a consistency of thickness that you like.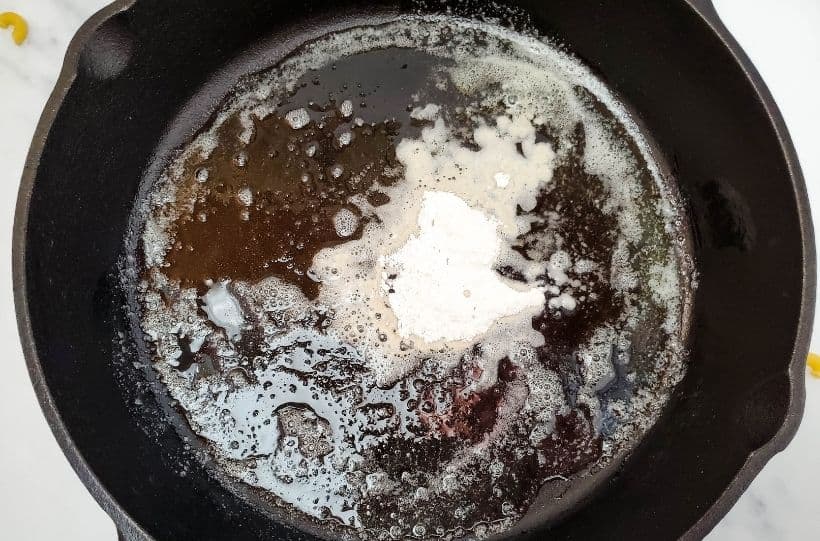 Remove from heat, then stir in a handful of cheese at a time until melted and combined.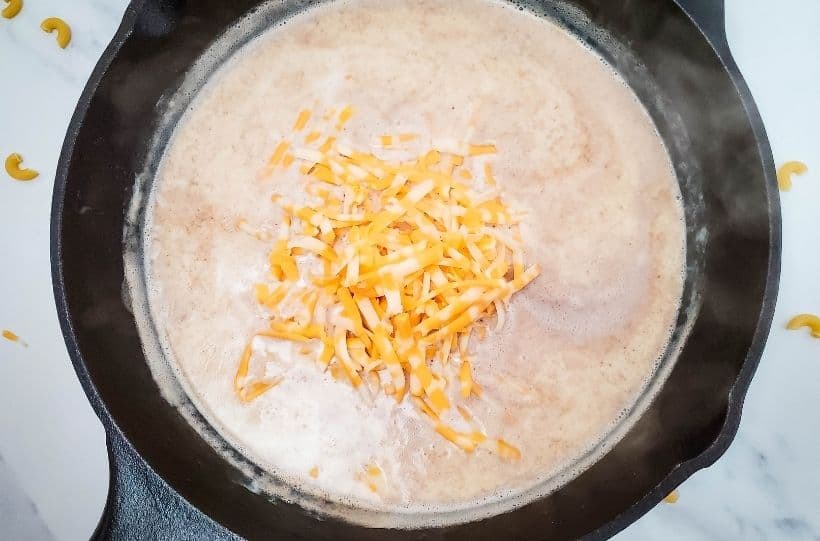 Now all that is left to do is add your pasta and bacon to the cheese sauce. Stir until all the ingredients are combined.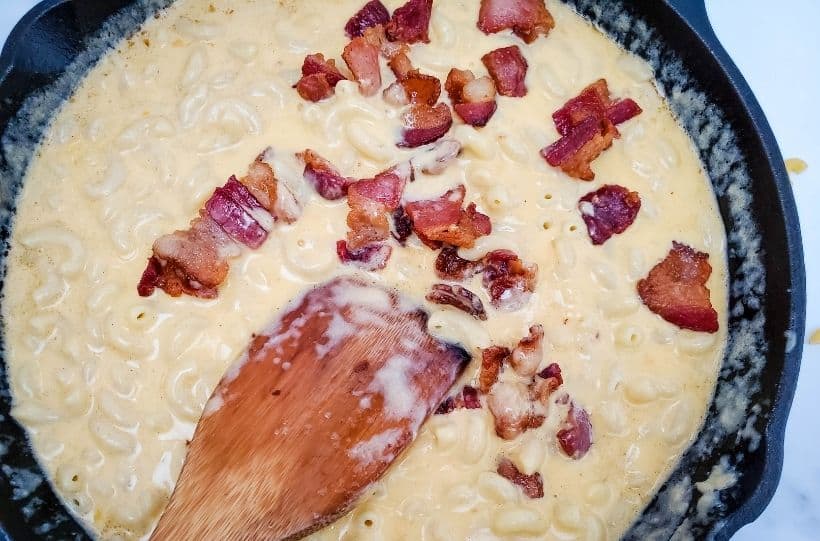 Sprinkle the breadcrumbs over the top and place in your oven to broil on low for about 6 minutes.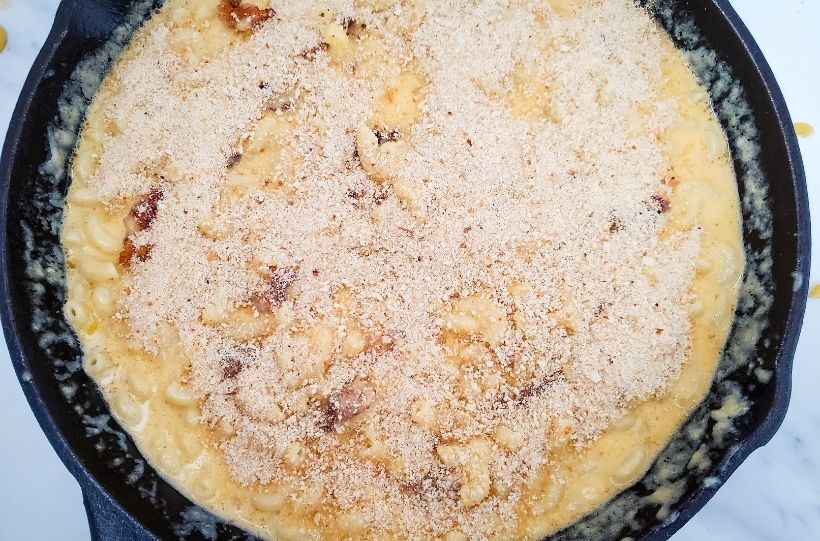 Serve warm and with your choice of side dishes. Garlic bread would go great with this, but also, a side salad is a lovely alternative option.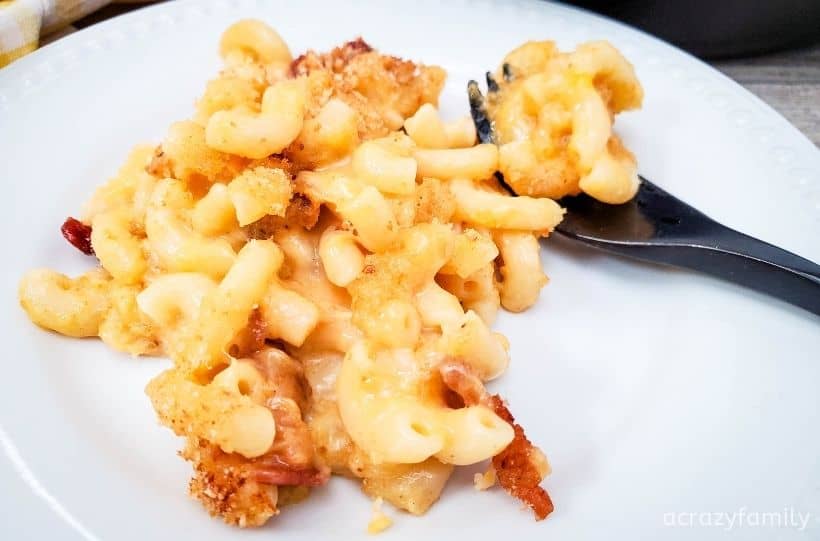 Tips and Tricks:
This is a great recipe to make ahead of time. Get to the stage where you add the breadcrumbs and leave the dish to cool. You can then store it in your fridge and broil it later when you need it. Just make sure you broil it for a little longer so that the pasta is warm all the way through.
This is a great recipe for any leftover cold pasta you have, or if you want to cook the pasta and then do the rest of the dish just before you need it. The sauce and broiling will heat the pasta back up. You may need to add a little extra time in the oven for it.
Make sure you have all your ingredients to hand. You can even measure and prep each one before you begin cooking so that you can reduce the time it takes to create the dish. This is a relatively speedy meal to prepare, but if you are cooking for your family or young children, then speed matters.
Variations:
If you want to make this vegetarian, you can choose to add different vegetables instead of bacon. Courgettes, mushrooms, peppers, broccoli, and cauliflower all work well with a cheese sauce. Just cook the vegetables at the same time you would cook the bacon in the recipe method. Or, if you want to add vegetables to the skillet bacon mac and cheese, then cook them at the same time as the bacon.
You could give this a bit of a kick by adding some seasonings to the cheese sauce. Nutmeg works well in a cheese sauce as well as chili. You could even add some curry powder for a different twist.
Maybe add chicken chunks to this dish alongside the bacon. Just make sure the chicken is cooked completely before adding it to the dish.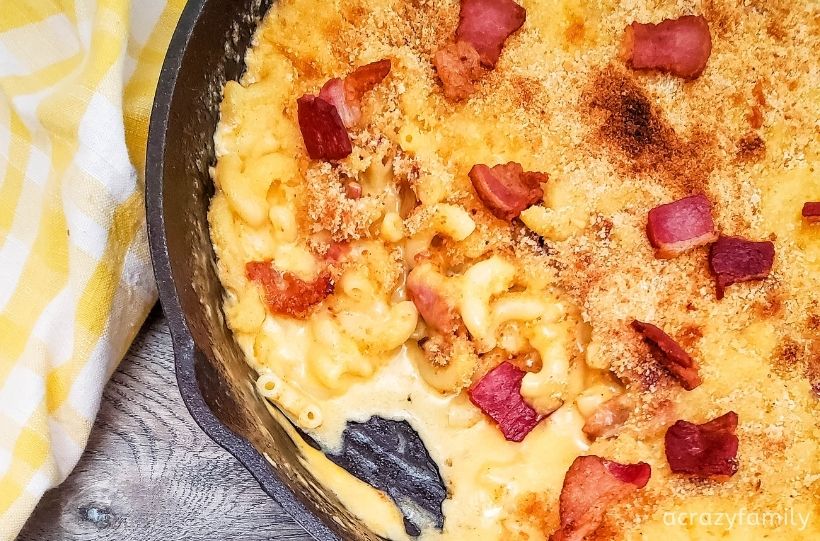 Frequently Asked Questions
Can it be made ahead of time?
The answer is yes! You can get right up to the stage of broiling and then leave it in the fridge until you need it. You could even make it a day ahead if you wish. This is a relatively speedy dish but a great one if you want to make it ahead for the following day if you are short on time.
How do I store leftovers?
Pop any leftovers into an airtight container and then store them in the fridge for around 2 days.
Can it be frozen?
You can freeze the leftovers. Pop it into an airtight container, and then place it in your freezer.
How can I reheat the Skillet Bacon Mac Cheese?
It is always a good idea to heat on low heat in the oven when reheating your leftovers.
More Cozy Comfort Food Recipes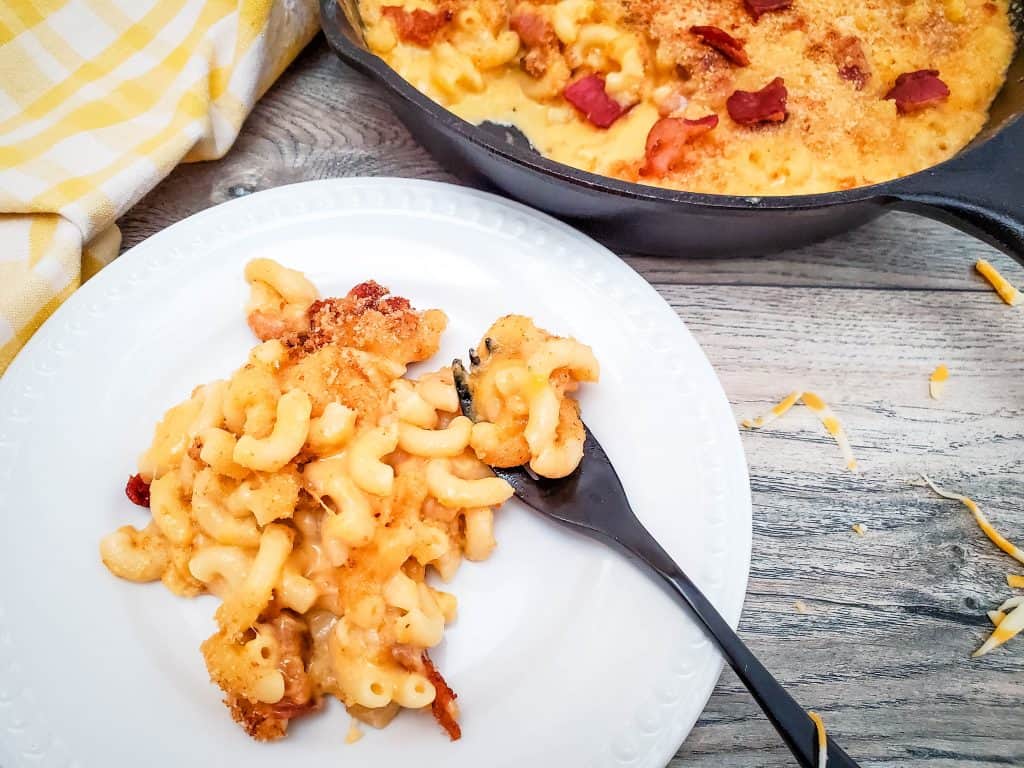 I hope you enjoy your Skillet Bacon Mac & Cheese. If so, please leave a star ★★★★★ rating and a comment below! Follow along on Pinterest, Facebook, or Twitter for more delicious recipes!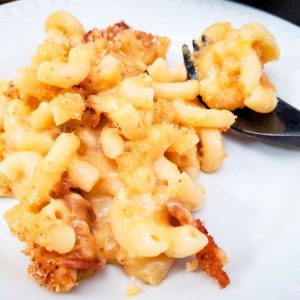 Skillet Bacon Mac & Cheese
Ingredients
1

tbsp

butter

1

tsp

flour

1

cup

milk

2

cups

colby jack cheese block

shredded

8

oz

pasta

cooked al dente

1/2

lb

bacon

1/4

cup

bread crumbs
Instructions
Cook pasta until al dente. Set aside.

Chop bacon into 1 inch pieces and cook until done, then drain the grease. Set aside.

Shred the cheese.

Turn the oven broiler to low.

Add butter to a cast iron skillet, and heat over medium-high heat, until it melts and bubbles..

Whisk in flour, and cook for about 1 minute, then add milk, and bring to a boil.

Remove from heat, then stir in a handful of cheese at a time, until melted.

Add pasta and bacon. Stir until combined.

Sprinkle the breadcrumbs over the top and broil on low for about 6 minutes.

Serve warm.
Nutrition
Calories:
582
kcal
|
Carbohydrates:
9
g
|
Protein:
13
g
|
Fat:
55
g
|
Saturated Fat:
26
g
|
Polyunsaturated Fat:
5
g
|
Monounsaturated Fat:
22
g
|
Trans Fat:
1
g
|
Sodium:
565
mg
|
Fiber:
1
g
|
Sugar:
4
g
Nutrition information is automatically calculated, is intended to serve as an estimate only, and is provided for informational purposes. The accuracy of nutritional information is not guaranteed.
Click stars to rate now! Or leave a comment below.
The skillet bacon mac and cheese recipe is such a versatile dish. It has incredible flavor and is one of those meals that you know the family will love.
Check Out These Other Skillet Recipes!
Don't Forget to Pin This Skillet Bacon Mac & Cheese Recipe for Later!