Air Fryer Breakfast Pizza
By: A Crazy Family | Updated: 29th January 2023
This easy Air Fryer Breakfast Pizza is a delicious breakfast to get your day started any day of the week – topped with eggs, cheese, and bacon, and best of all, you make it in your air fryer!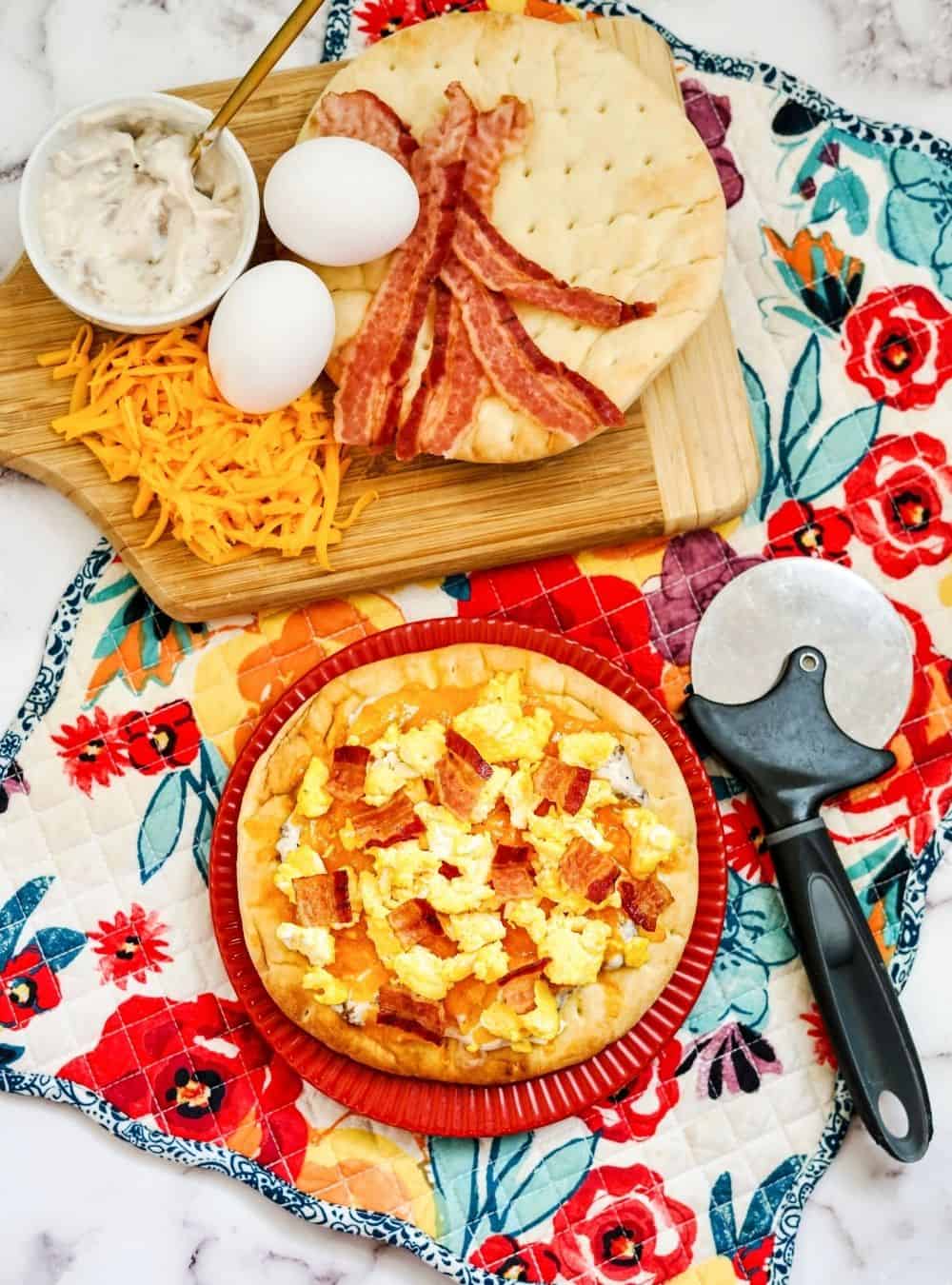 The latest kitchen gadget everyone wants in their lives is an air fryer right now. They are fantastic at making delicious meals and cooking up some incredible ingredients. The best part is that it can be very cost-effective to use the air fryer instead of the oven.

However, while many people want an air fryer, the main things they tend to cook in them are chips and freezer tapas. The problem is that they haven't had their eyes opened to how incredible the air fryer can be. I have so many air fryer recipes, but today I wanted to share with you how you can make pizza in the air fryer, but not just any pizza, an Air Fryer Breakfast Pizza.
Air Fryer Breakfast Pizza
This easy breakfast air fryer recipe is the perfect way to start your day. Topped with everything we all love at breakfast time, including eggs and bacon. Super simple to prepare, and the air fryer does the hard work for you in minutes.

Many people love pizza, especially children, so eating pizza for breakfast will feel like a bit of a novelty, but yet filling and a satisfying way to start your day. So if you are interested in giving the Air Fryer Breakfast Pizza a try, then here is everything you need to know to make it.
Too busy to make this right away? Pin this post to your favorite board on Pinterest for when you're ready!
Ingredients:
Pizza Crust
Sausage Gravy
Cheddar Cheese
Bacon (Cooked)
Scrambled Eggs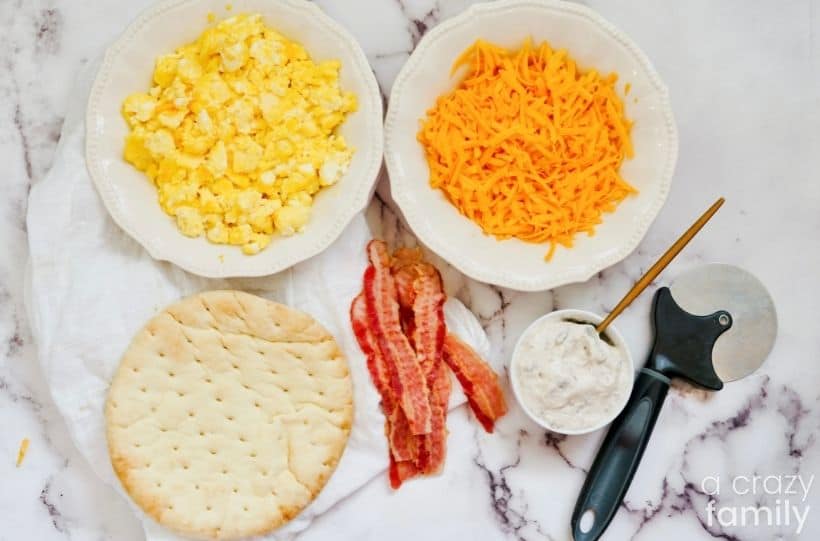 How to Make Air Fryer Breakfast Pizza
One of the first things you need to do is preheat your air fryer to 350 degrees.
Get your pizza crust and start by adding a layer of sausage gravy to it. This will act as your pizza sauce.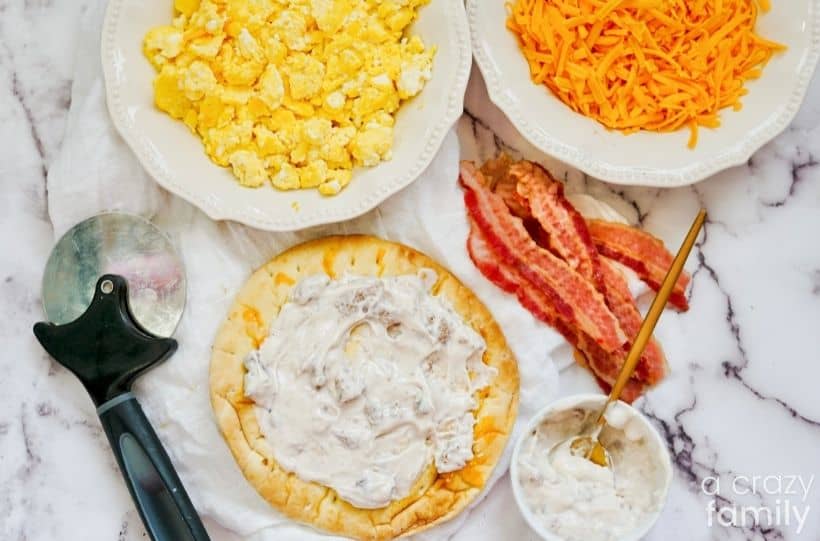 Next up, get your cheddar cheese and sprinkle it evenly across it.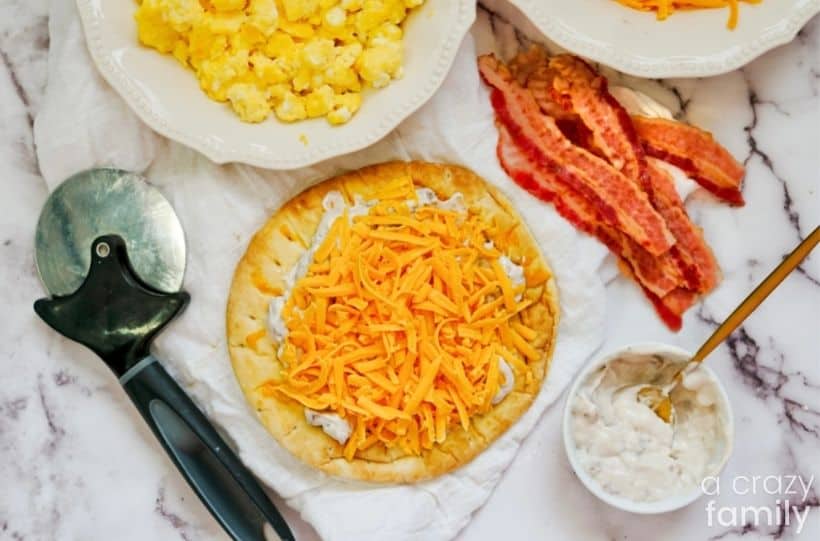 Top with scrambled eggs & bacon.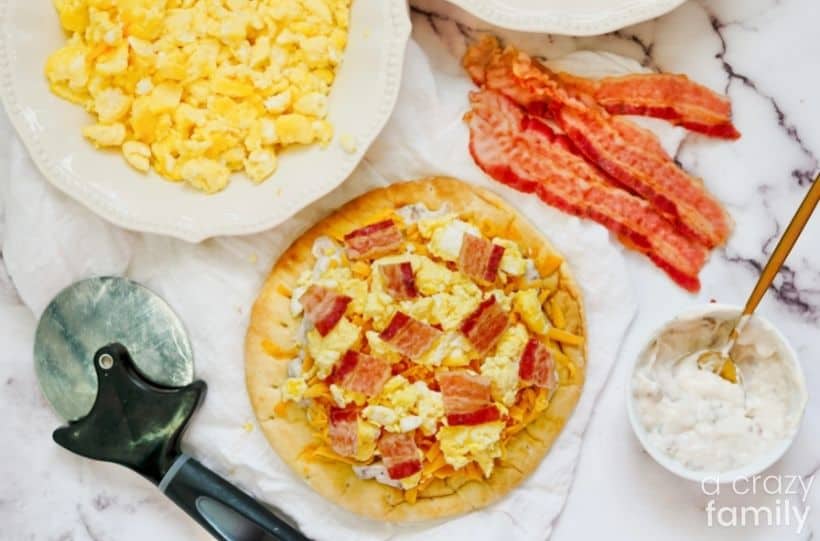 Air fry for 5 minutes or until cheese has fully melted.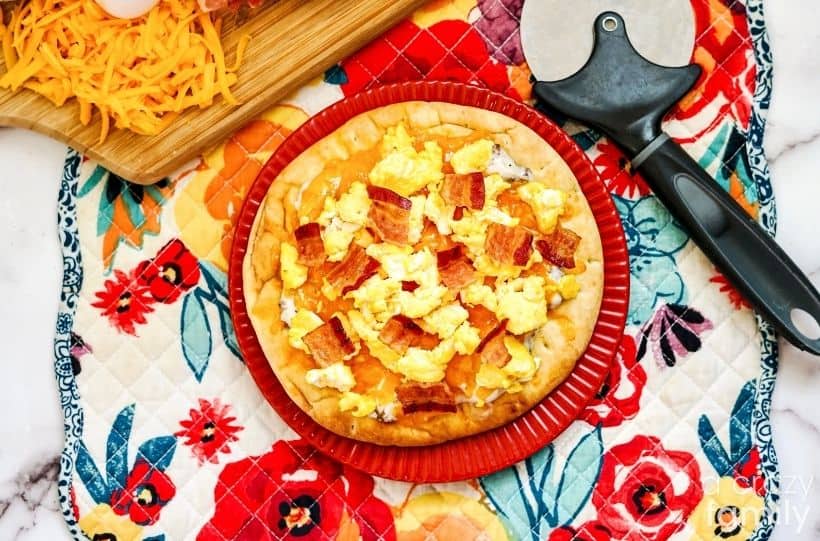 Tips & Tricks
Preheating the air fryer means that when you put the breakfast pizza into it, then it will spend time cooking everything rather than wasting time heating up. It will have heated up by the time you have prepped the pizza.
Be careful when pulling the pizza out of the air fryer. It gets very hot.
If you are using an air fryer that has different shelves, then you could cook more than one pizza. You may need to extend the cooking time by a minute or two and switch them over halfway so that they each get some time on the top shelf.
Variations
Why not add more cheese? You can use all sorts of cheese for this recipe. Mozzarella, feta, or flavored cheeses will all work well.
Add some spice to it. You can really experiment with flavors here, and sprinkling some chili flakes, black pepper, salt, or even onion and garlic powder can make a big difference to the flavors.
Want to add vegetables? This recipe lends itself well to adding things like mushrooms, peppers, or onions. You could add anything you fancy and just use up what you have in the fridge.
Make a different pizza altogether. Who says you need to stick with a breakfast pizza? This is a great process to follow for all sorts of pizzas. You could use tomato or pizza sauce as the base and then add on your favorite toppings. A quick lunch and evening meal idea right there.
More breakfast inspiration. You could add cooked sausages and use tomato sauce as a base instead. You could also add some baked beans as a twist on the pizza sauce and then continue with the breakfast staples. Yum!
Make smaller ones. You could make smaller portions which is an ideal breakfast on the go.
Instead of scrambled eggs, add whatever breakfast ingredients you like. While the pizza is cooking, poach an egg, and then when it is ready, add it to the pizza before serving. Enjoy a runny yolk all over that breakfast pizza goodness.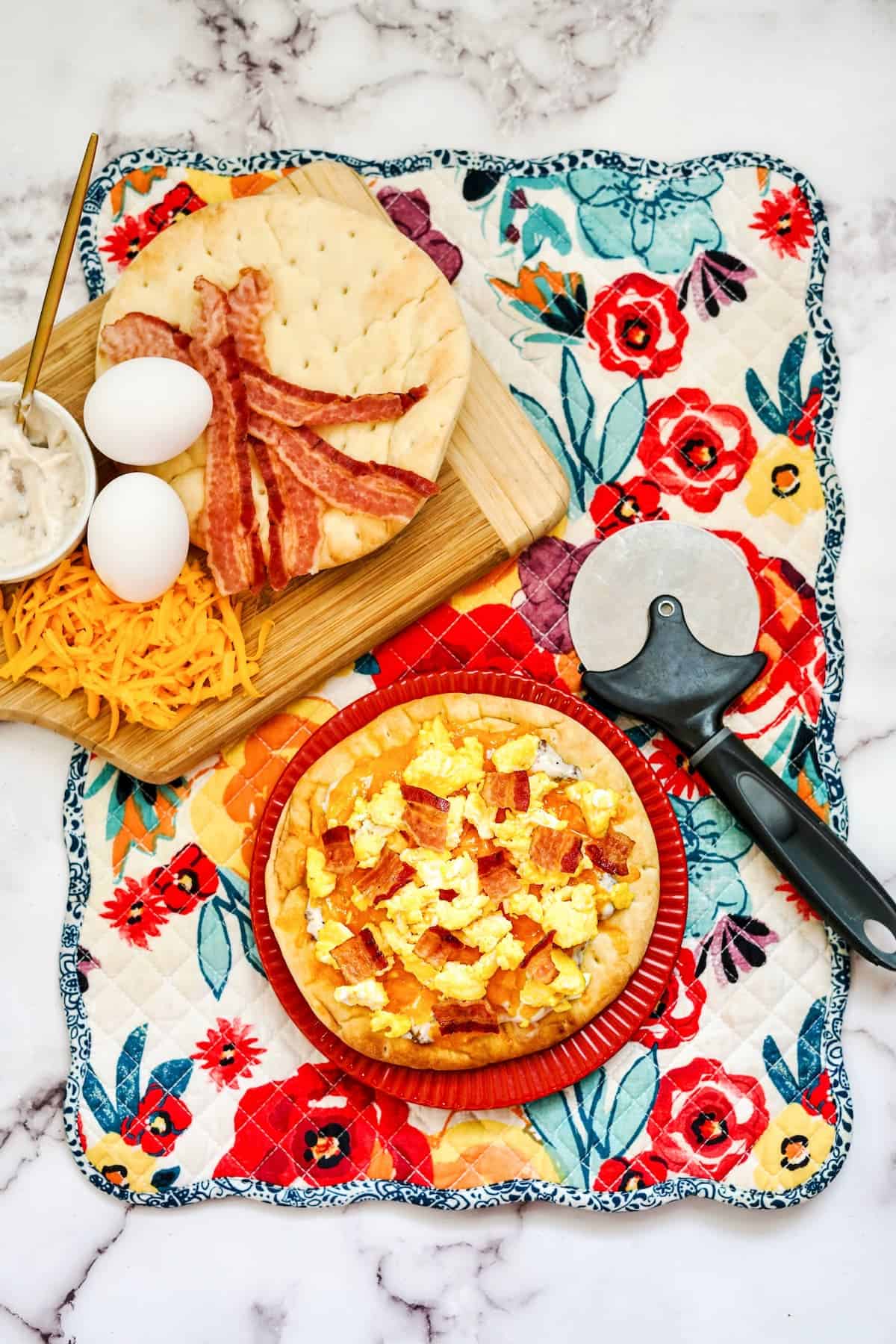 How should I serve the Air Fryer Breakfast Pizza?
I think this is the perfect breakfast to enjoy on any day, but you can serve this Breakfast Pizza for a special occasion. It will also make the perfect recipe for Sunday brunch with your family.

Make a delectable breakfast spread with fresh fruit on the side and serve with a pot of coffee or tea. I also think some smashed avocado would work well applied to this.
How do I store the Air Fryer Breakfast Pizza?
If you decide to make this ahead of time, then make sure it cools completely and then store it in the fridge in an airtight container. You can reheat it in the air fryer, or even enjoy this cold. That is if you are a cold pizza lover. We will let you be the decider on that.
Can you make this Vegan?
Yes, you definitely can make this vegan. You can make a vegan pizza dough crust or buy one, especially from the supermarket. Then use vegan cheese and add in some plant-based ingredients. A simple way to enjoy a nice vegan breakfast. Yummy!
More Delicious Breakfast Recipes:
I hope you enjoy your Air Fryer Breakfast Pizza. If so, please leave a star ★★★★★ rating and a comment below! Follow along on Pinterest, Facebook, or Twitter for more delicious recipes!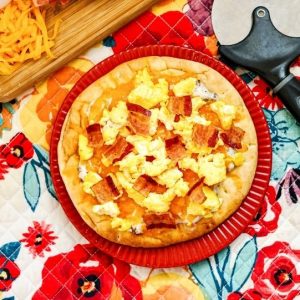 Air Fryer Breakfast Pizza
Pizza crust, sausage gravy, cheddar cheese, bacon & scrambled eggs make this breakfast pizza a great way to get your day started–best of all, you make it in your air fryer!
Ingredients
Pizza Crust

Sausage Gravy

Cheddar Cheese

Bacon

Cooked

Scrambled Eggs
Instructions
Pre-heat air fryer to 350 degrees.

Add a layer of sausage gravy onto the pizza crust for a "sauce".

Sprinkle cheddar cheese.

Top with scrambled eggs & bacon.

Air fry for 5 minutes or until cheese has fully melted.
Click stars to rate now! Or leave a comment below.