Some links in this post are affiliate links. If you buy from one of our links, we may earn a commission.
Incredible easy pumpkin oat pancakes: quick, delicious, and healthy, top them up with these caramelized bananas for the ultimate delicious breakfast that will be a huge hit with kids.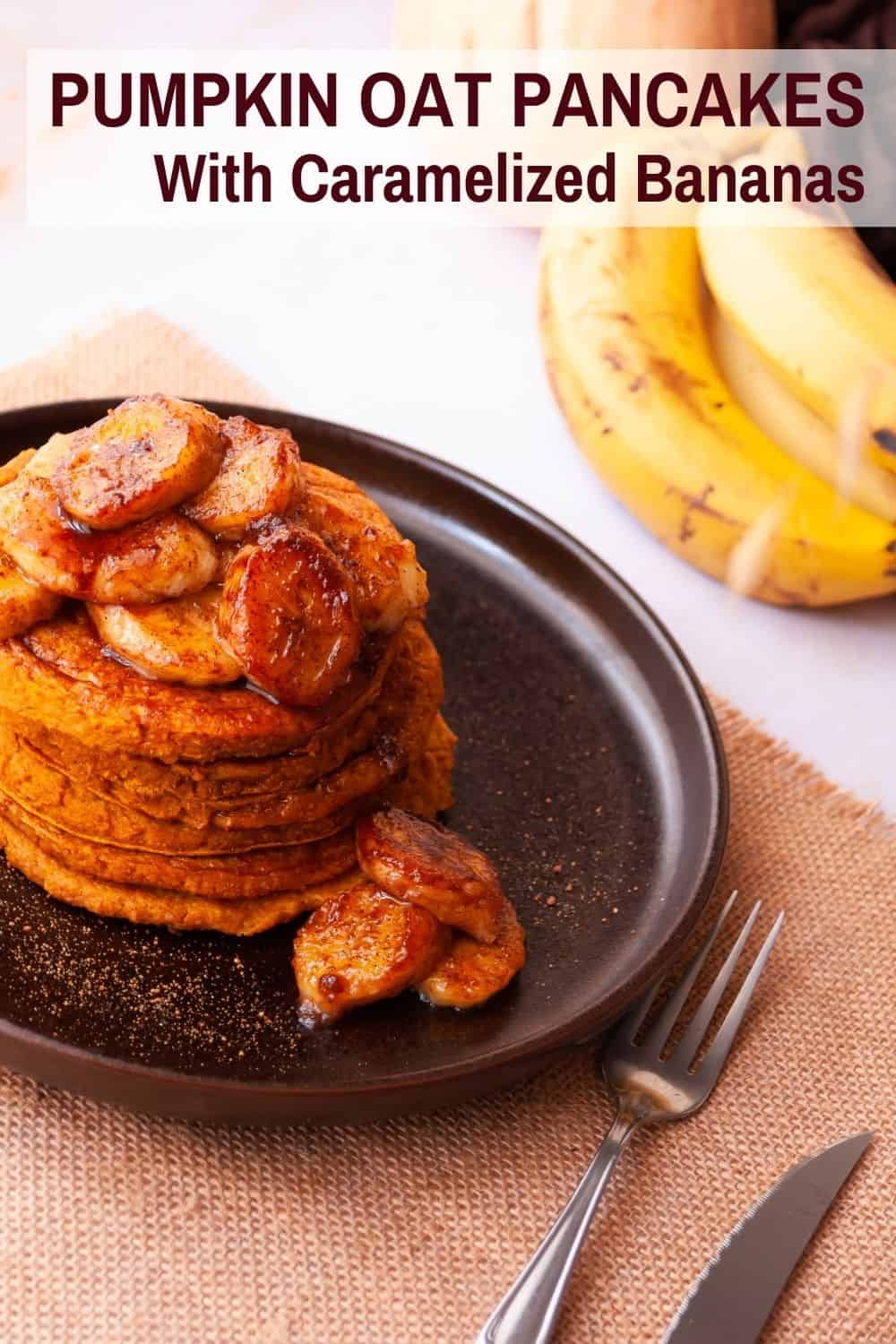 One of the things I love about the Fall is the delicious amount of pumpkin-related recipes.
Fall is pumpkin season and undoubtfully it's a flavor I love. It is one of my favorite ingredients to use when the air starts to crisp and the leaves start to decorate the floors in all kinds of beautiful colors.
Another thing I love is a healthy breakfast, and in my pursuit to find different types of pancakes I came up with these delicious pumpkin oat pancakes. To top it up I caramelized some bananas and the result is absolutely to die for.
For sure these pumpkin oat pancakes are a special breakfast to make on a Saturday or Sunday morning, best combined with a slow cup of coffee and a good read.
One of the interesting things about this pancake batter is the usage of pumpkin puree, which is naturally sweet so you don't need to add a ton of sugar to it. You can use store-bought pumpkin puree or make it yourself, which is oh so easy and way cheaper.
I use oat flour since I like the flavor and also because it's a very healthy option, but you can use all-purpose flour or the flour of your liking.
These delicious pancakes are THE perfect breakfast for enjoying during fall!
More fun & easy fall recipes:
Need another fun AND super easy pumpkin breakfast to make for your family? This delicious breakfast skillet recipe is perfect for busy weekends. A tasty spin on the classic french toast recipe, this baked pumpkin french toast skillet is perfect for fall.
Are you a cinnamon fan? These Cinnamon Sugar Scones are homemade scones that are light, tender, and speckled with sweet cinnamon and sugar in every single bite.
Now, let me share with you how easy these are to make!
Pumpkin Oat Pancakes With Caramelized Bananas
Ingredients needed: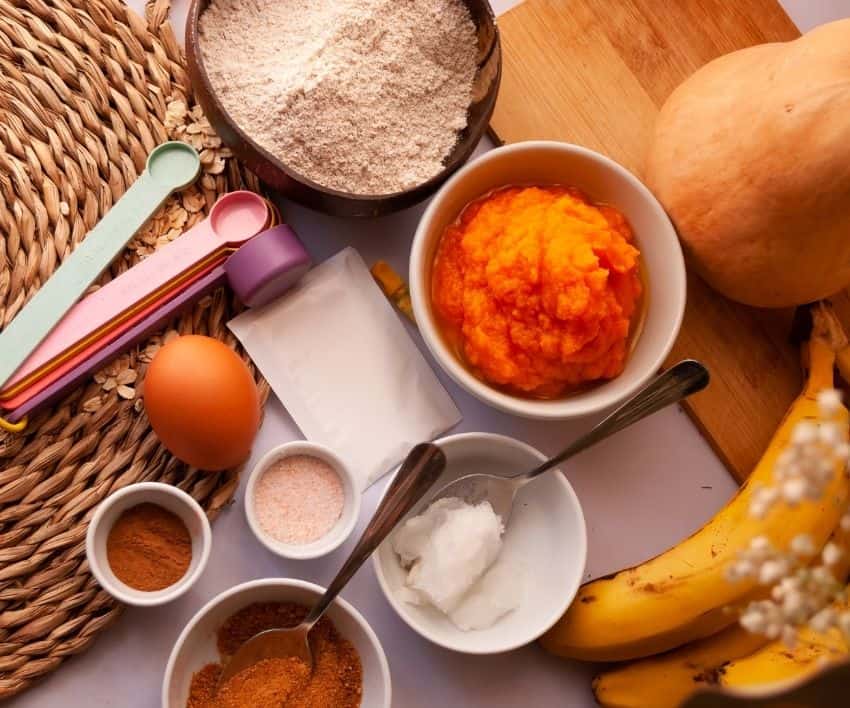 For the Pancakes
1 egg
1 cup oat flour
1 cup pumpkin puree
2 teaspoons coconut oil or butter to grease the pan
1 teaspoon vanilla essence
2 teaspoons brown sugar (or white)
1 teaspoon cinnamon
¼ teaspoon salt
1 teaspoon baking powder
a dash of plant milk of your liking or regular milk (just in case the batter is too thick)
For the caramelized bananas
1 big banana or 2 small
2 teaspoons sugar
2 tablespoon coconut oil or butter
1 teaspoon cinnamon
How to make these Pumpkin Oat Pancakes With Caramelized Bananas: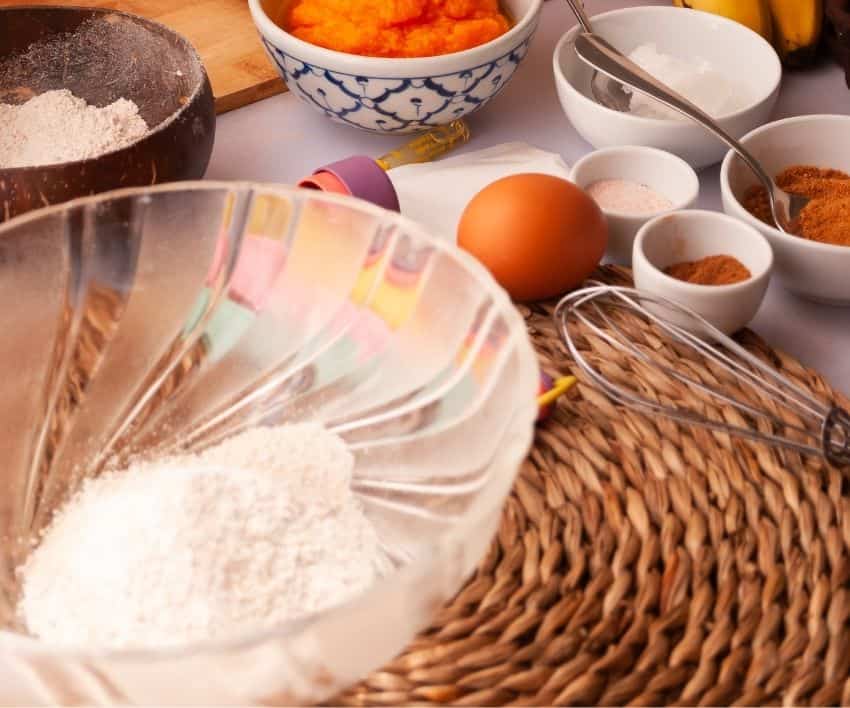 If you don't have oat flour, just process 1 ½ cups oats in a food processor until you reach a smooth powder.
In a medium bowl, add the pumpkin puree and the egg and mix everything until well combined. You can use a fork or a whisk.
Add the oat flour using a fine mesh colander to avoid any possible lumps.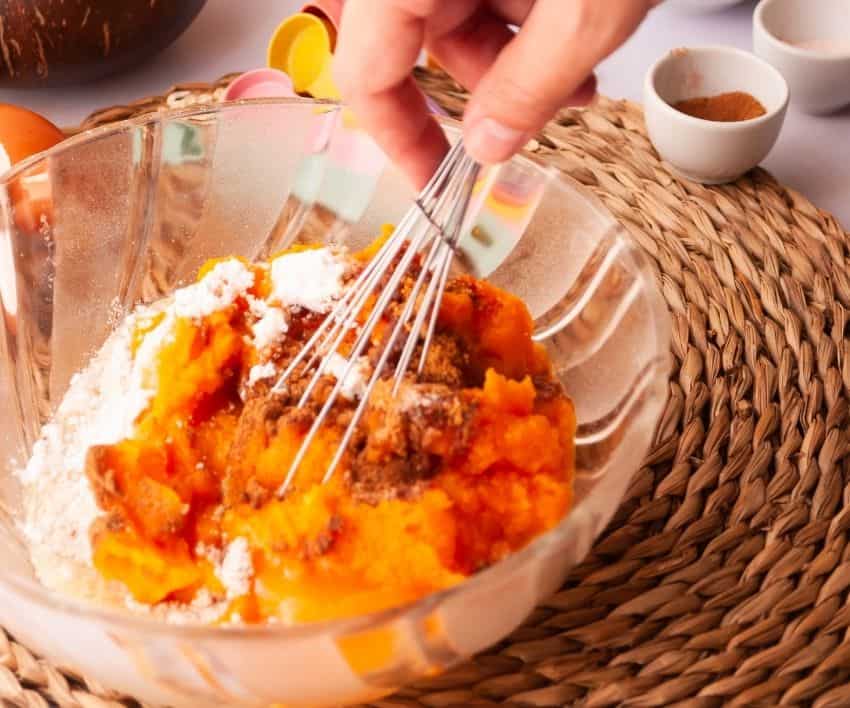 Add the sugar, vanilla essence, baking powder, and salt and mix well until everything is well combined.
In a small pan, put a knob of coconut oil or butter and grease it evenly.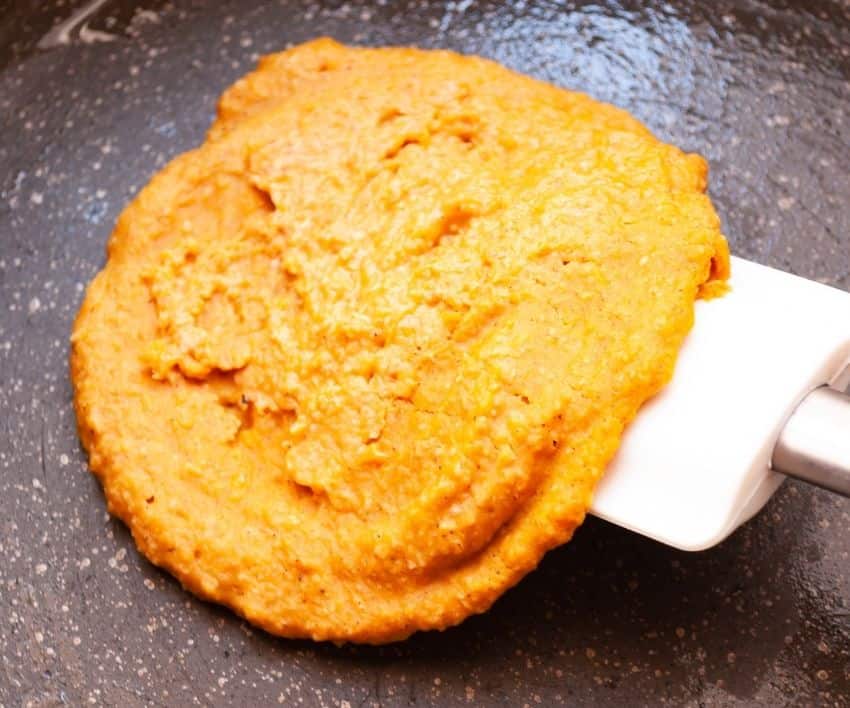 With the pan in medium heat, pour a big spoonful of the batter, form a round shape, and let it cook until you see the top gets dry. You can also use a circle mold to get perfectly round-shaped pancakes, in this case, you'll need to run a knife inside the borders to separate the batter from the mold.
Once one side is done flip it to cook the other side.
Make one by one and set aside until all of them are done.
To make the caramelized bananas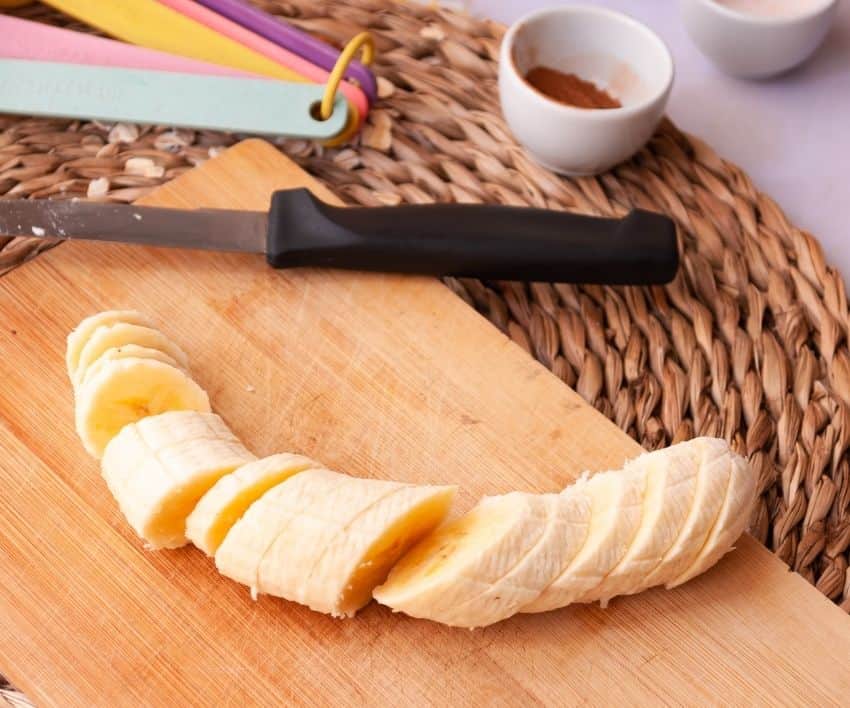 Peel and chop the bananas into thick rings
In a small pan, put two spoons of coconut oil or butter on low heat.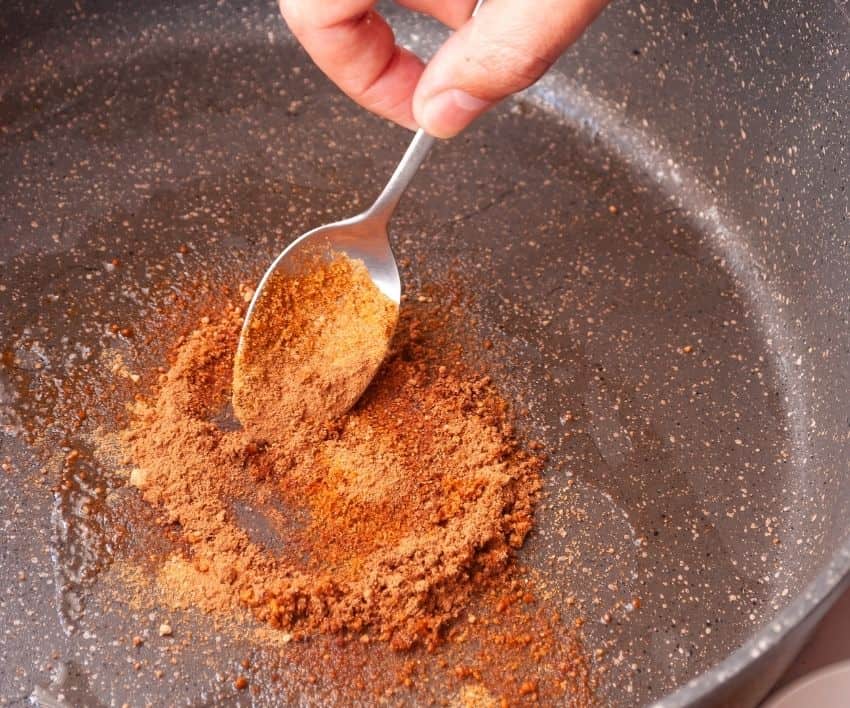 Add two spoons of sugar and one teaspoon of cinnamon and mix well with the melted coconut oil.
Once the syrup is formed put the banana slices and let them cook for about 1 minute.
Flip on to the other side and let cook for another minute.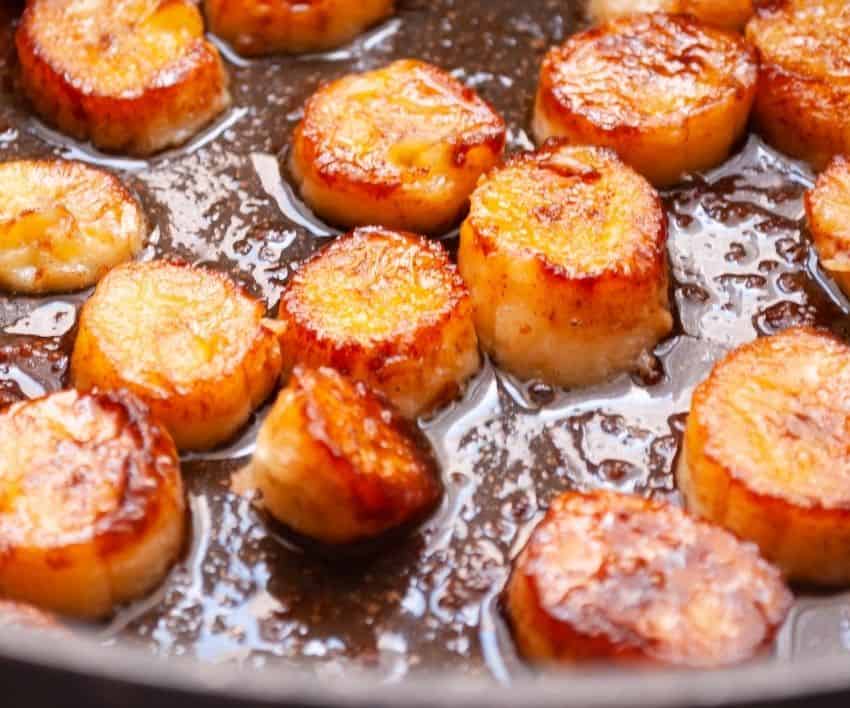 Once cooked set aside in a bowl or small plate, handle with care since they can get mushy very easily.
Serve the pancakes with some caramelized bananas on top, caramel syrup, and some sprinkled cinnamon, and enjoy!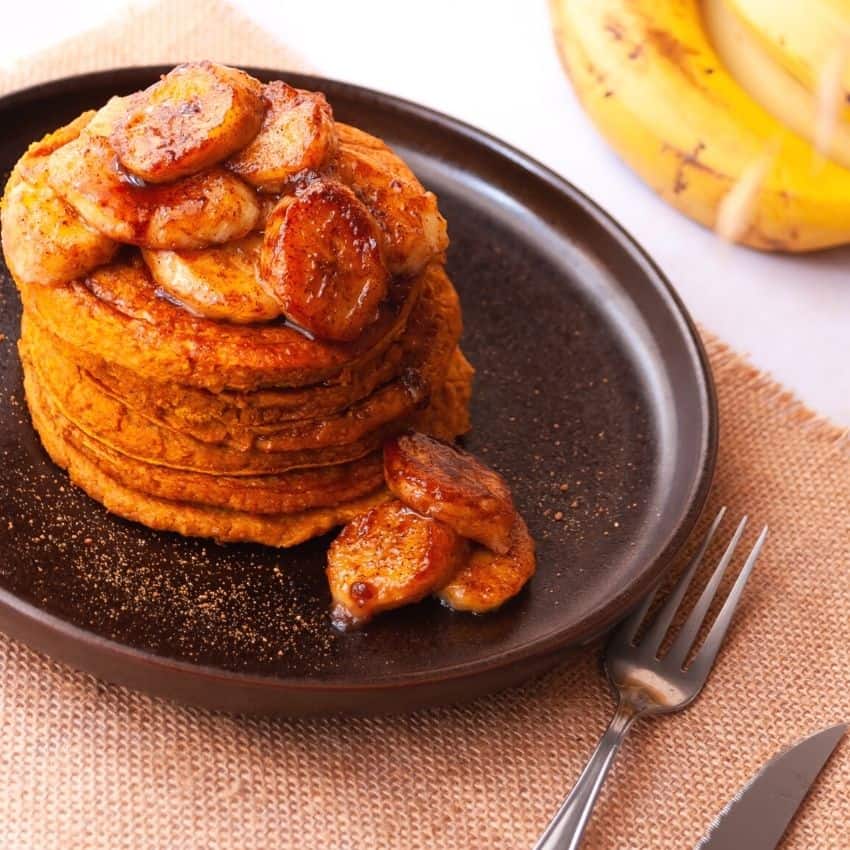 Print this Pumpkin Pancakes recipe!
Pin it for later!