15 Cozy Autumn Soup Recipes You Have to Try This Season
By: Vickie | Updated: 13th April 2023
Nothing says autumn like a warm bowl of soup. Check out these 15 recipes that will keep you cozy all season long. From vegetable to chicken, these soups will hit the spot and fill you up.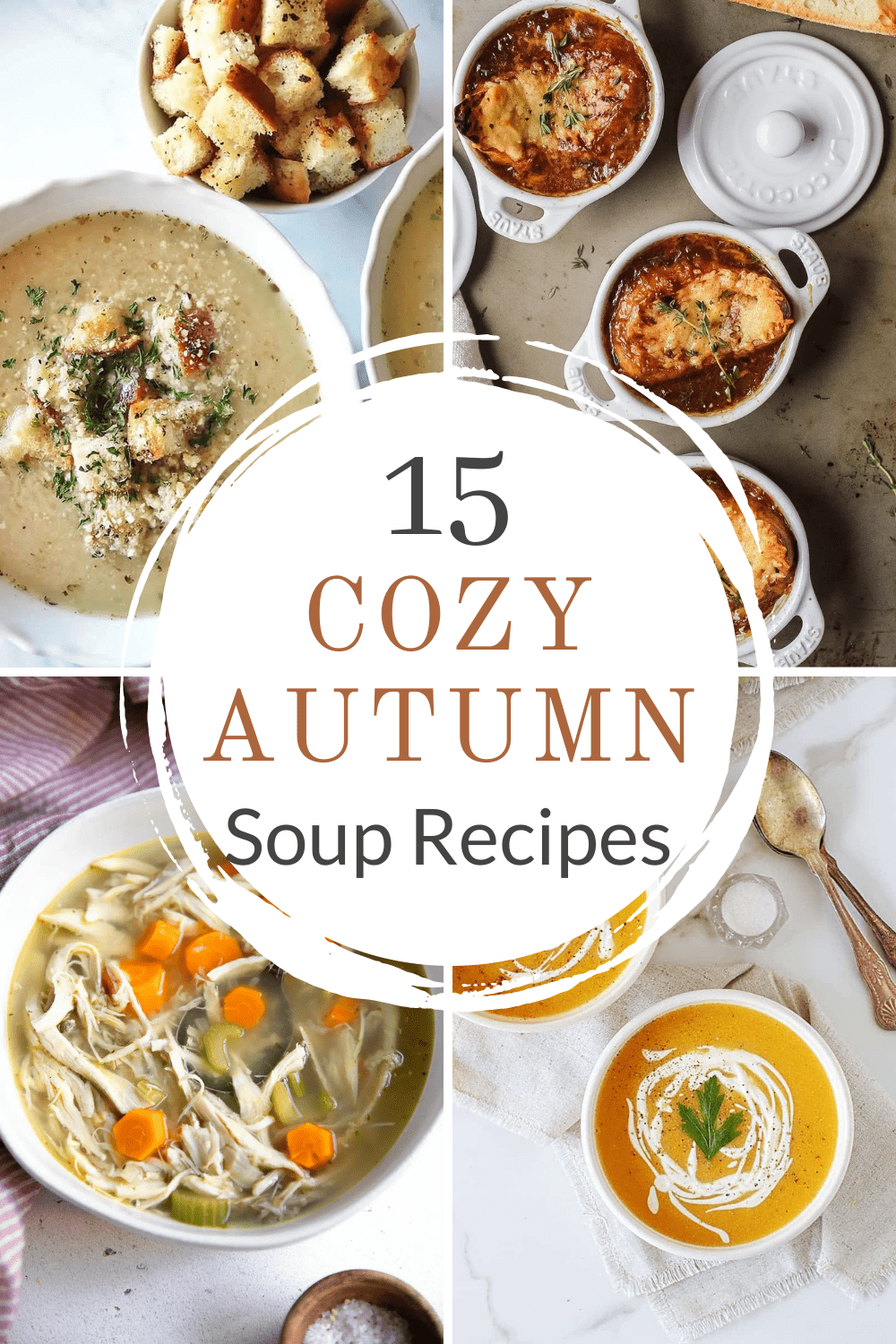 Fall is a great time to enjoy all the best that soup has to offer. From heartwarming classics to the more unique, there's a delicious soup recipe out there for everyone.
These cozy autumn soup recipes are perfect for those rainy and cold fall days when you just need something to warm you up.
And as all these easy hearty fall soups are delicious and can easily be made ahead of time and then frozen, it makes weeknight meals a breeze. Soups are usually a hit with kids too, making these fall soups a great choice for families.
Whether you are looking for something easy to throw in the slow cooker or something savory to smell on the stove all day, you will find the recipe you are craving here. We hope you enjoy them!
Next: 12 Healthy Soups That Your Child Will Love
Get Cozy With These 15 Amazing Autumn Soups
With so many options to choose from, there's sure to be something on this delicious list that the whole family will enjoy! So pick a yummy soup recipe, or two, throw on your favorite fall sweater and get in a cozy autumn mood.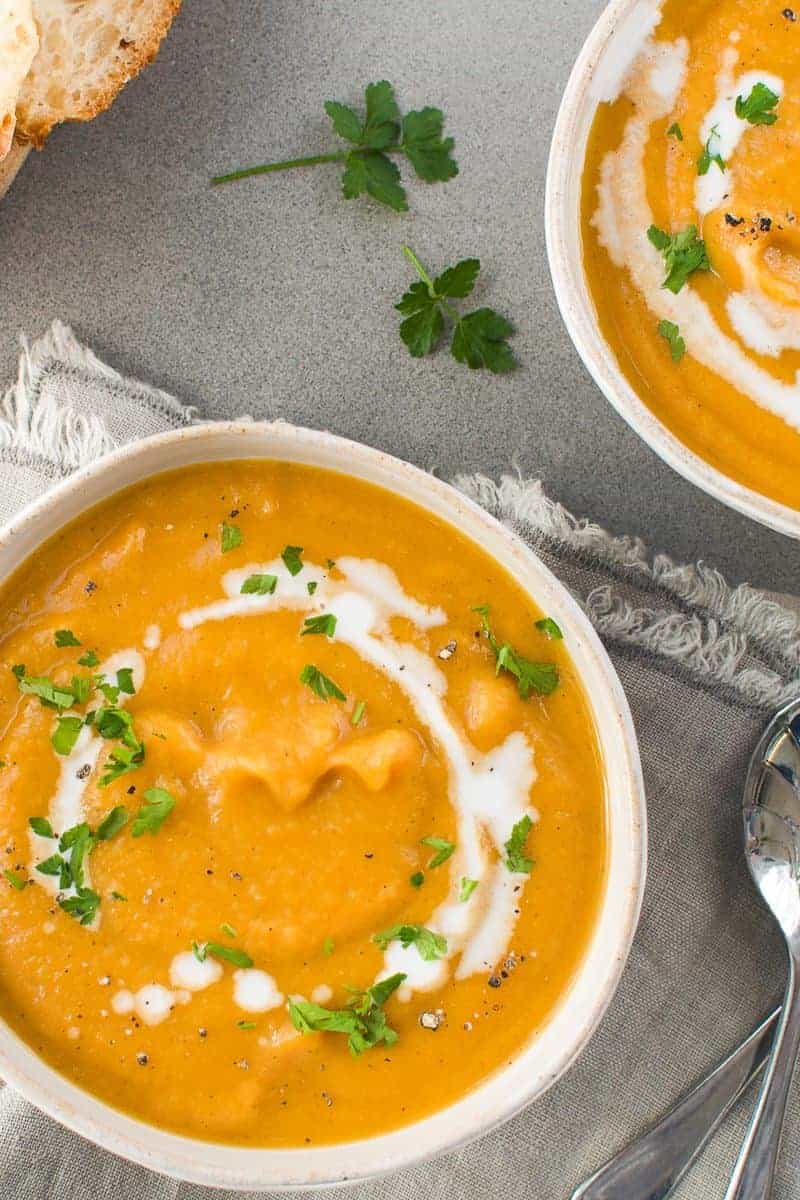 Spiced Pumpkin and Sweet Potato Soup is a golden bowl of goodness that is sure to delight! It is healthy, tasty, easy to prepare, and is guaranteed to brighten any day. The gentle spices add warmth and depth of flavor.

Get the recipe: Pumpkin and Sweet Potato Soup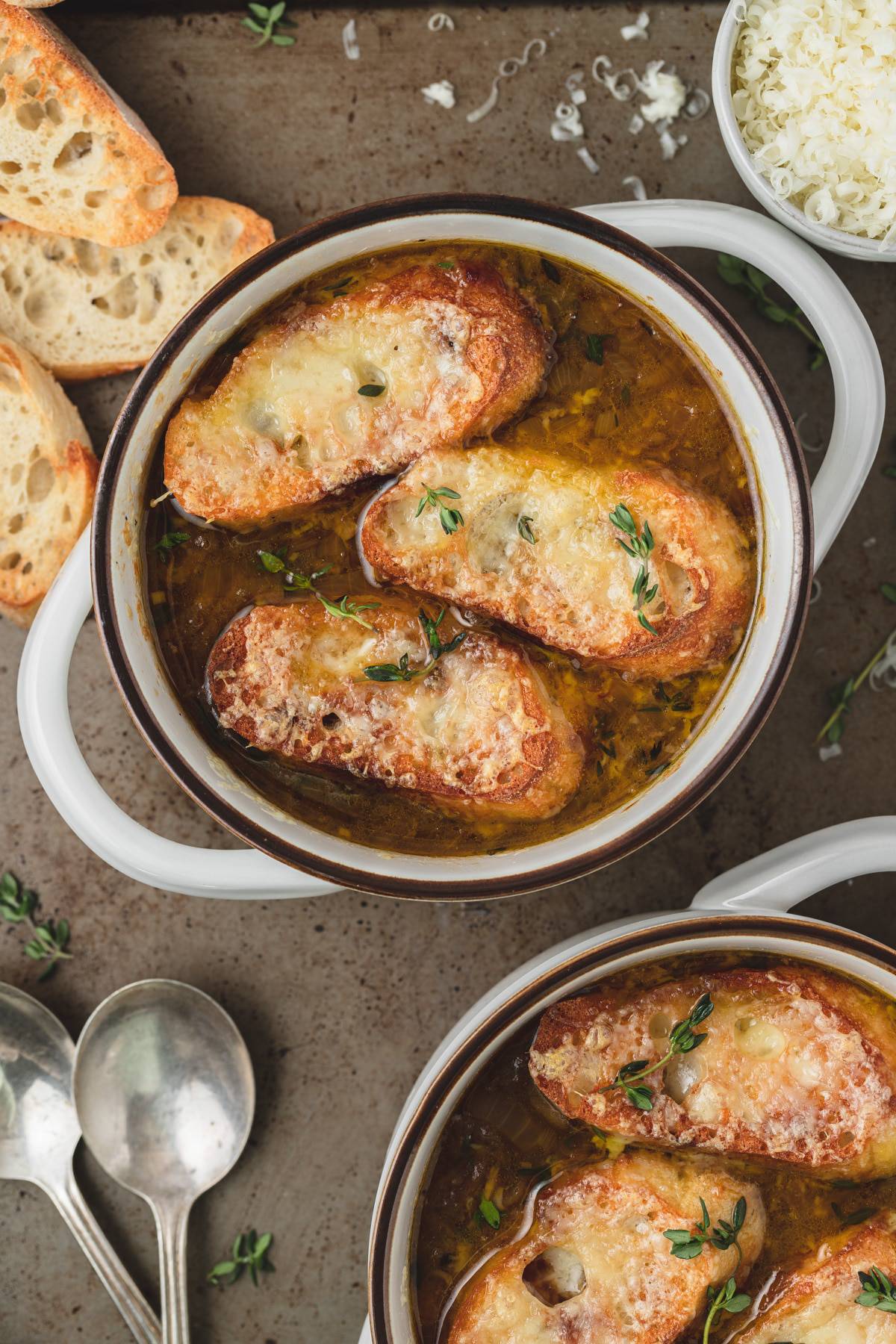 This rich, flavorful, classic French onion soup is easy-to-make with caramelized onions and garlic, vegetable stock, Madeira wine, toasty bread, and melty cheese. It's the perfect cozy winter meal or for a fancy date night at home!

Get the recipe: Classic French Onion Soup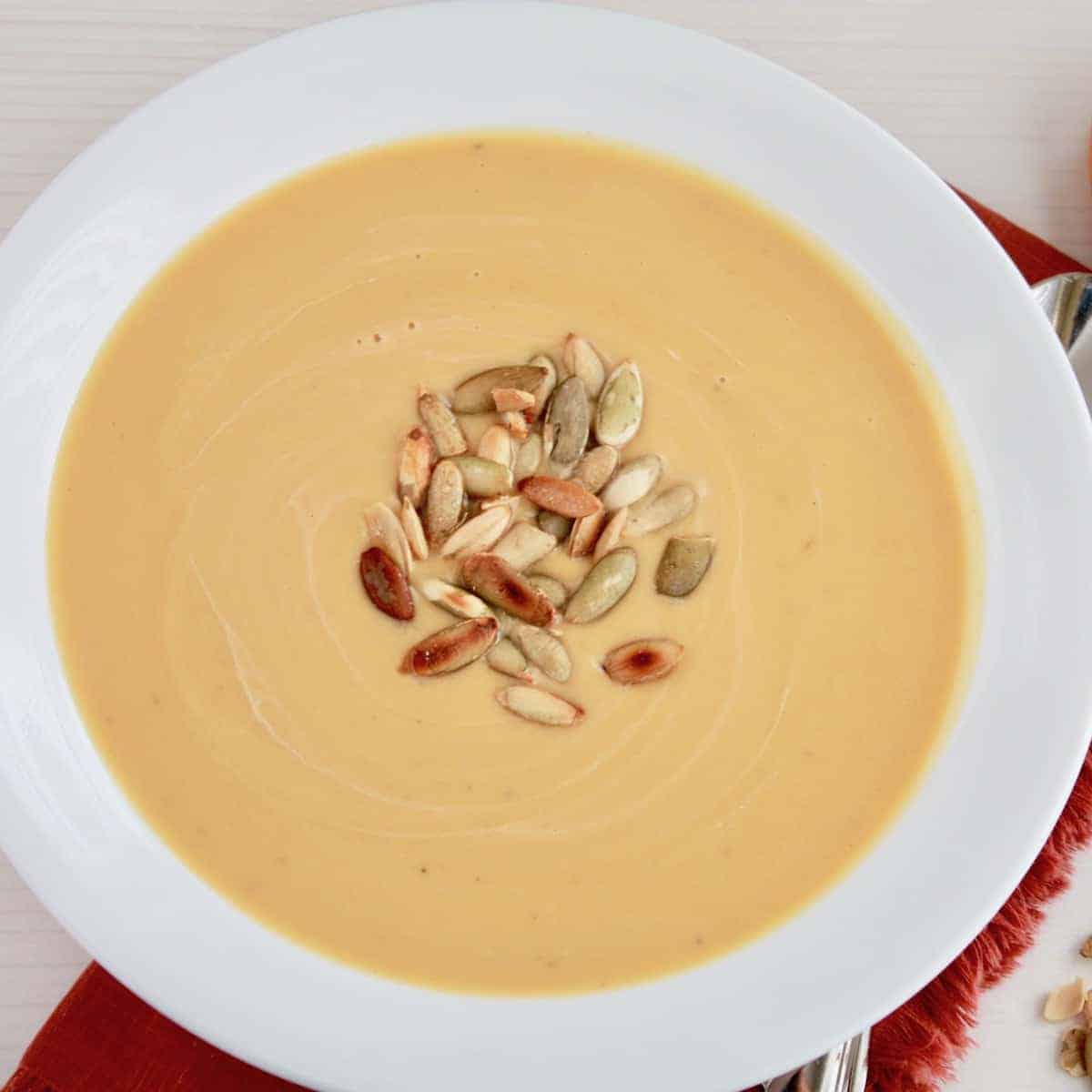 Easy slow cooker butternut squash soup is fall comfort food at its best. It is sweet, creamy, rich, and a tad spicy for the perfect bowl of soup.

Get the recipe: Slow Cooker Butternut Squash Soup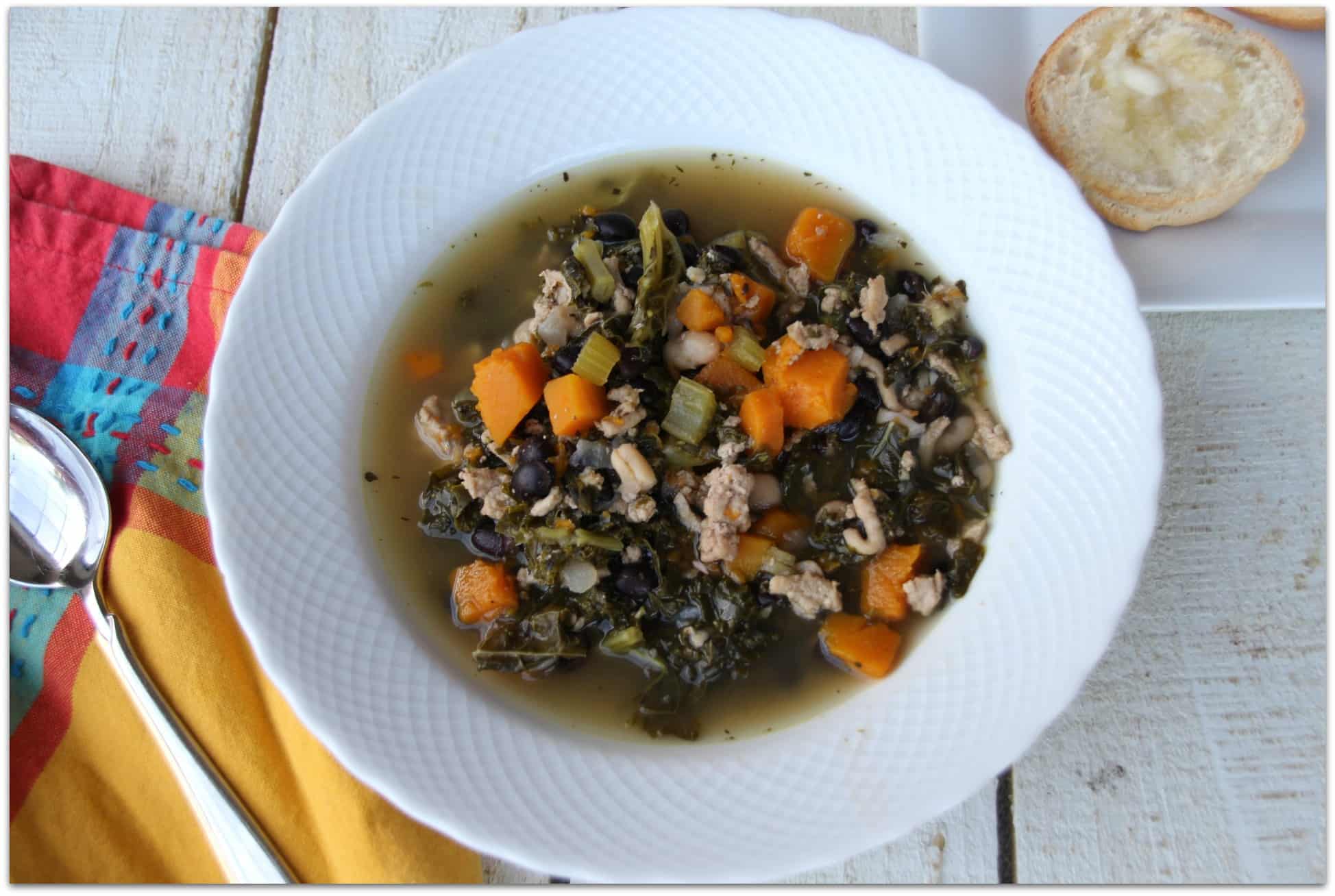 This savory soup is so full of flavor and super healthy! The perfect mid-week easy supper!

Get the recipe: Autumn Harvest Soup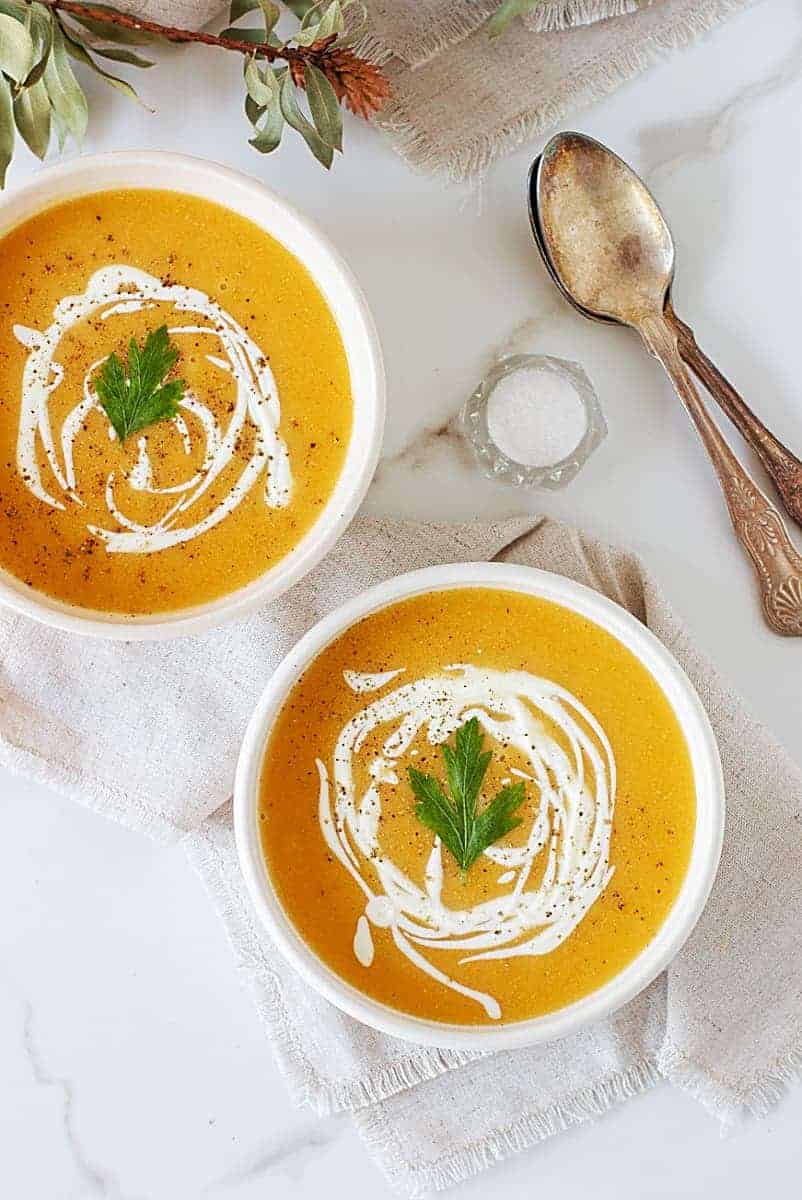 You're three ingredients away from the most wonderful butternut squash lentil soup in the history of ever! It's low carb, vegan, nutritious, and delicious! And ready in 30 minutes.

Get the recipe: Red Lentil Soup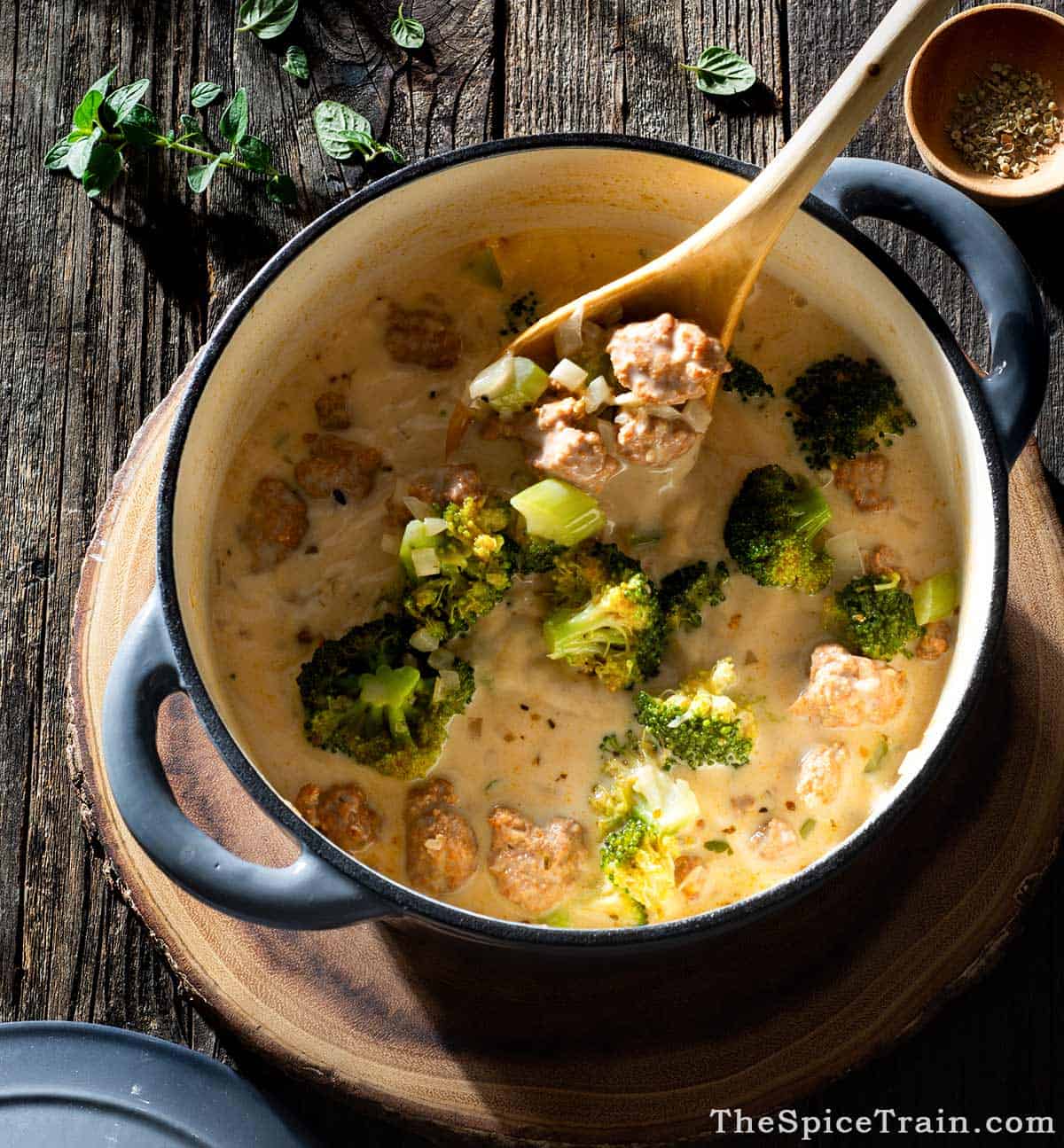 This easy broccoli sausage soup is full of delicious and comforting flavors from smoked hot paprika, Italian sausage, Parmesan, and oregano.

Get the recipe: Broccoli Sausage Soup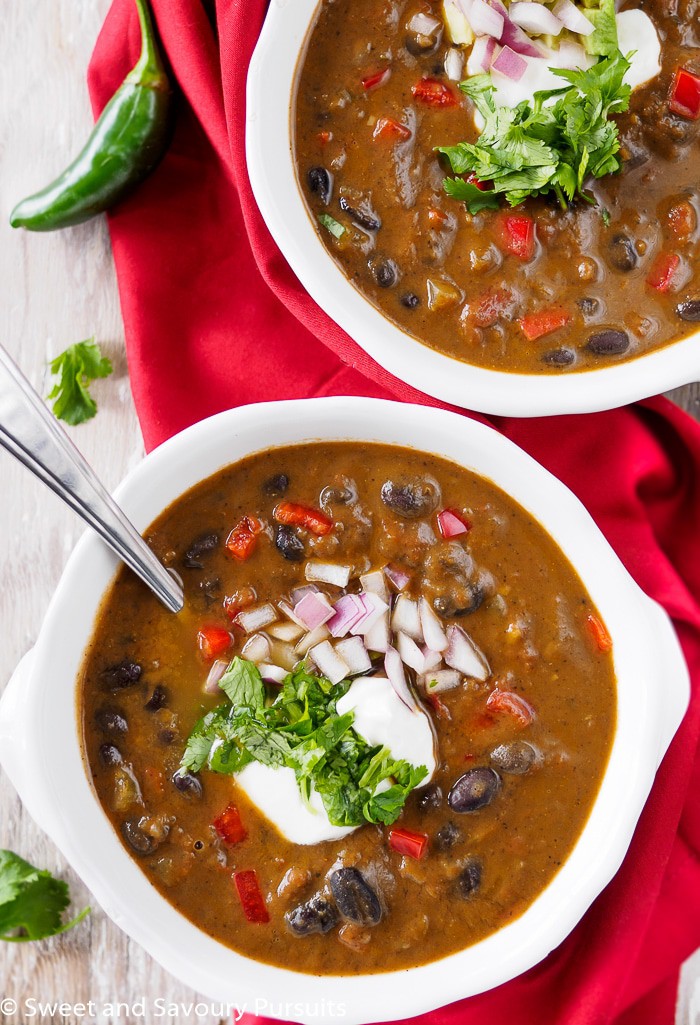 This Easy Black Bean Soup is hearty and healthy. Make it with canned black beans for a simple and quick one-pot meal. You can enjoy the soup chunky or blend it up for a creamy black bean soup!

Get the recipe: Easy Black Bean Soup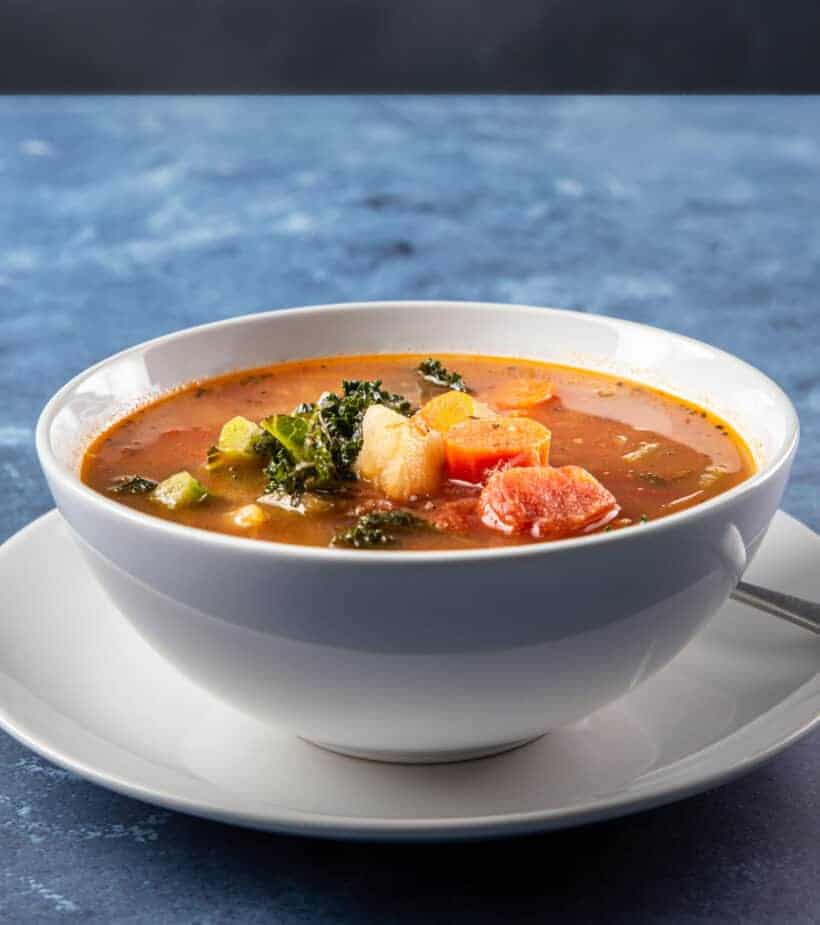 Easy to make this hearty & wholesome Vegetable Soup with healthy ingredients.

Get the recipe: Instant Pot Vegetable Soup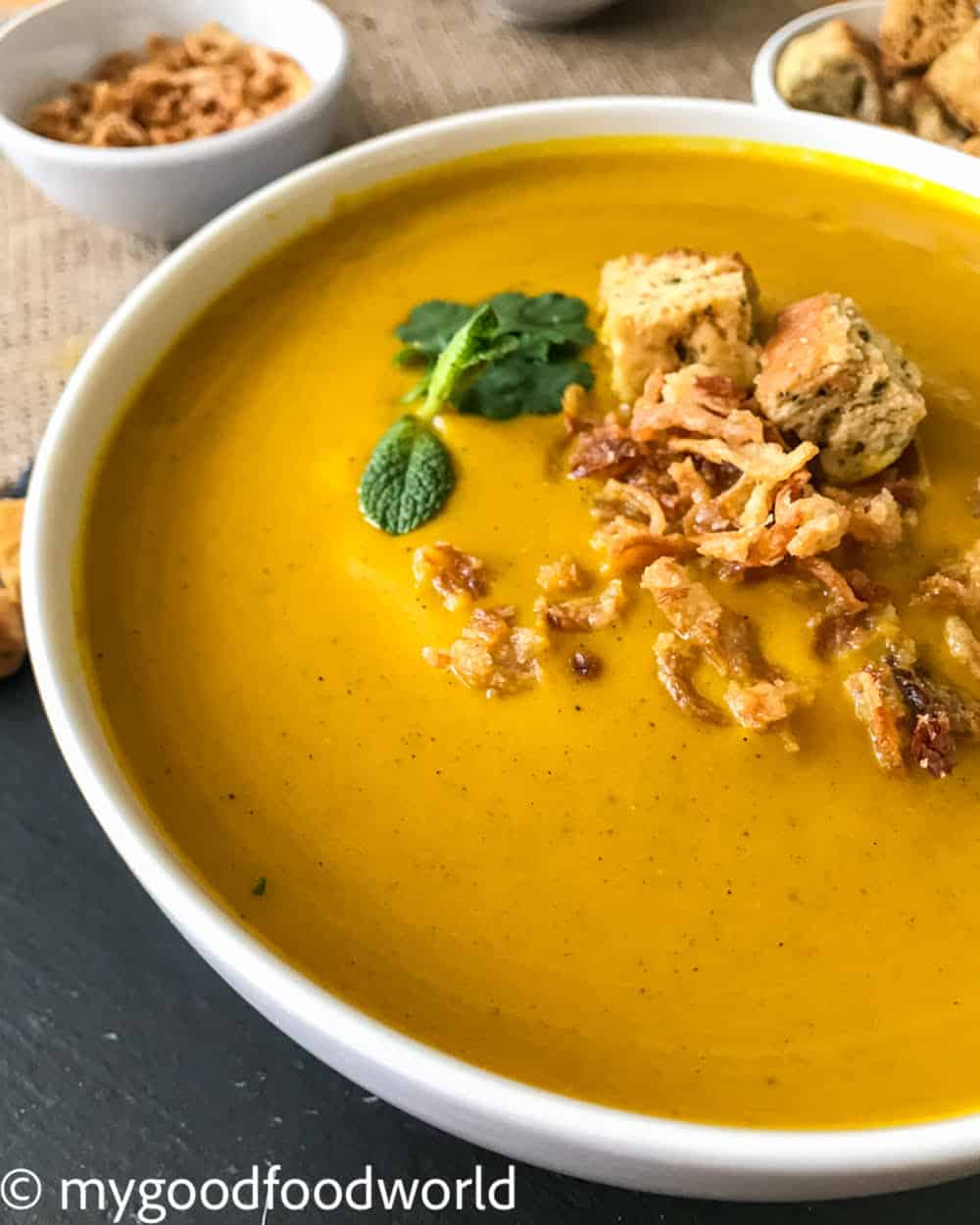 This creamy, delicious soup has the goodness of turmeric and black pepper. Perfect food for a nippy day!

Get the recipe: Turmeric Sweet Potato Black Pepper Soup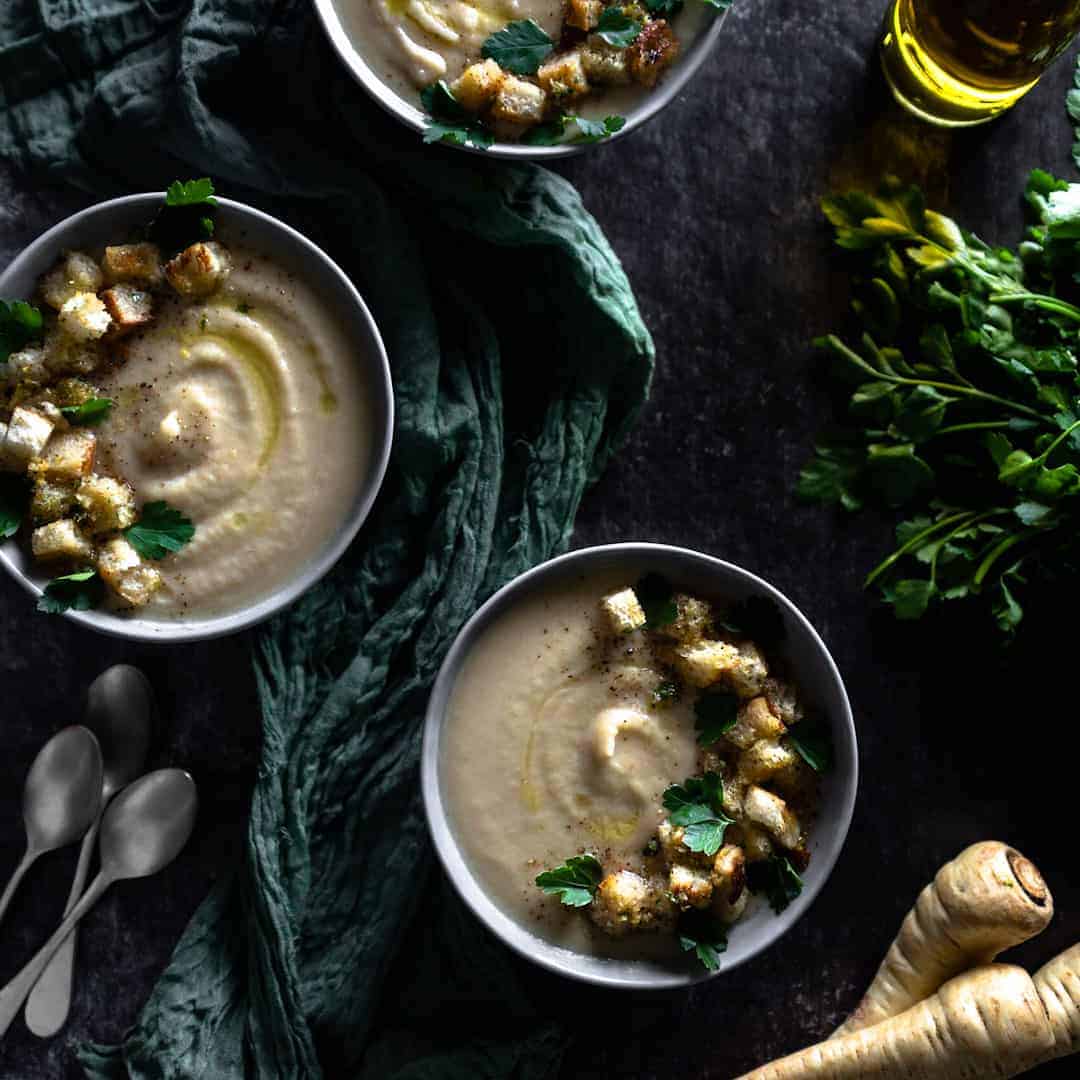 This cozy root vegetable soup is cozy, healthy, delicious, and topped with zesty Gremolata croutons!

Get the recipe: Roasted Parsnip Soup with Gremolata Croutons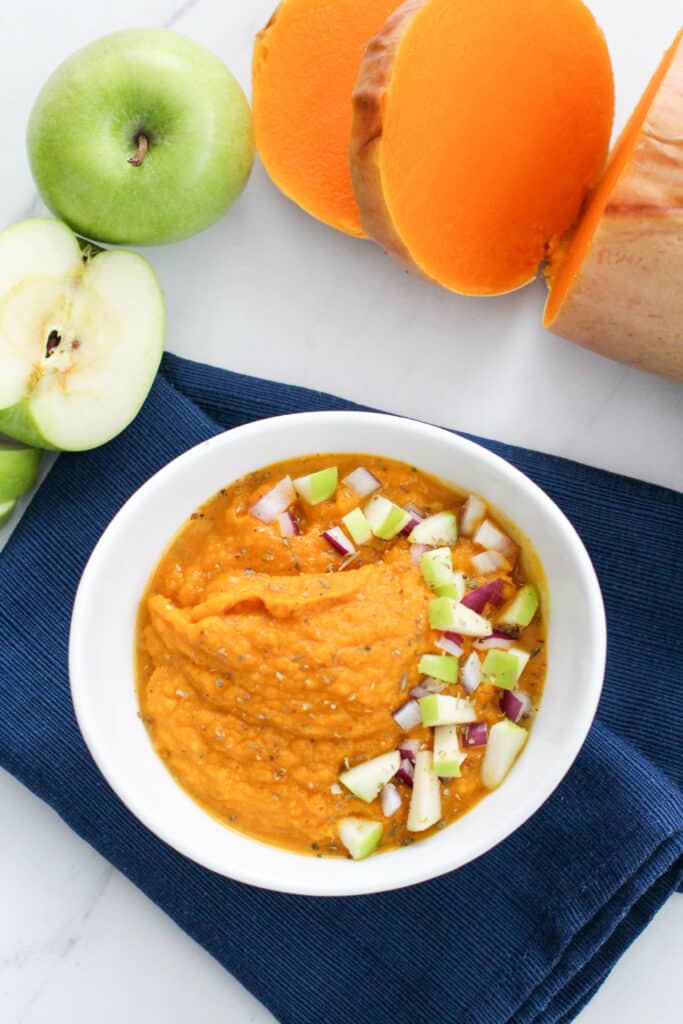 For a wonderful comfort food soup this fall, make this Panera-like winter squash soup!

Get the recipe: Winter Squash Soup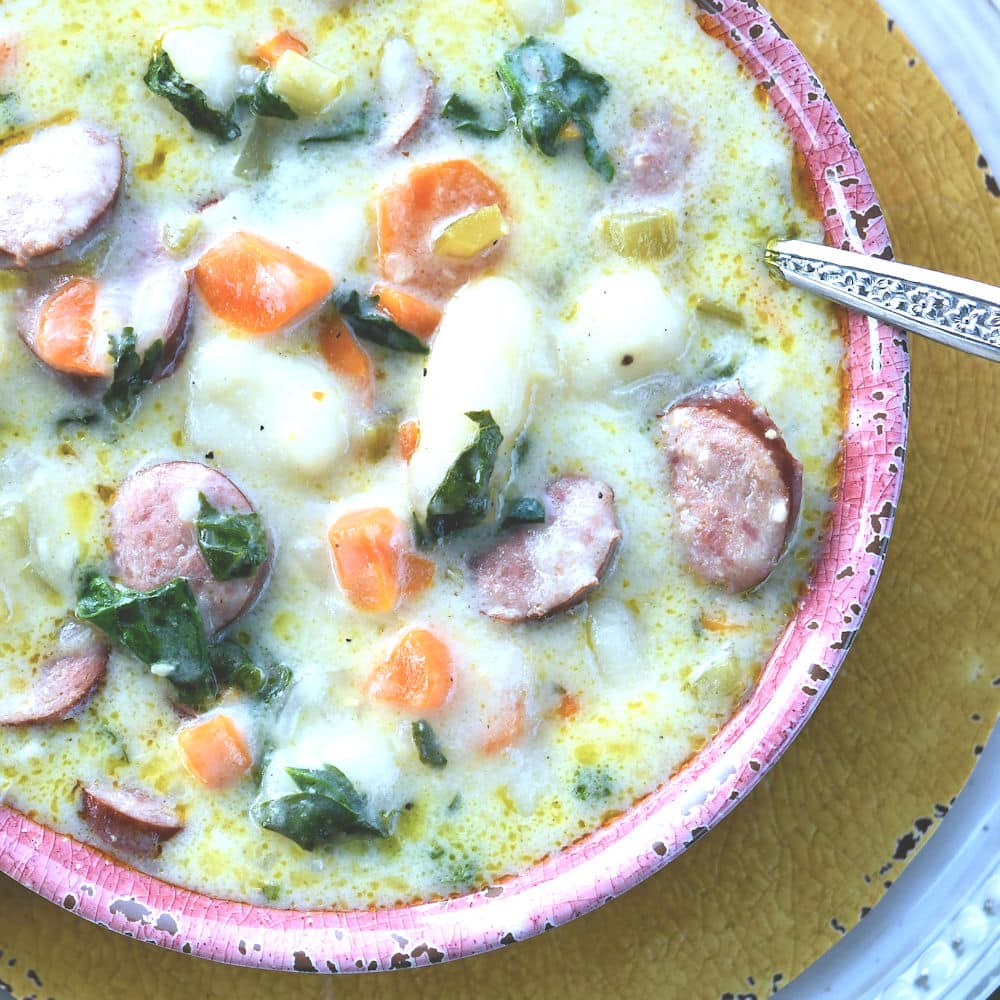 This easy, creamy gnocchi soup recipe combines two delicious things: kielbasa smoked sausage and potato pillows of goodness called gnocchi.

Get the recipe: Creamy Gnocchi Soup
Nothing is better this fall than a warm bowl of garlic bread soup that's creamy and full of flavor. It tastes just like garlic bread!

Get the recipe: Garlic Bread Soup
This Homemade Chicken Soup Recipe is my absolute favorite and is so easy to make from scratch. Made with a homemade broth and filled with onions, carrots, celery, and juicy shredded chicken, stay warm this winter with this beloved chicken soup.

Get the recipe: Homemade Chicken Soup Recipe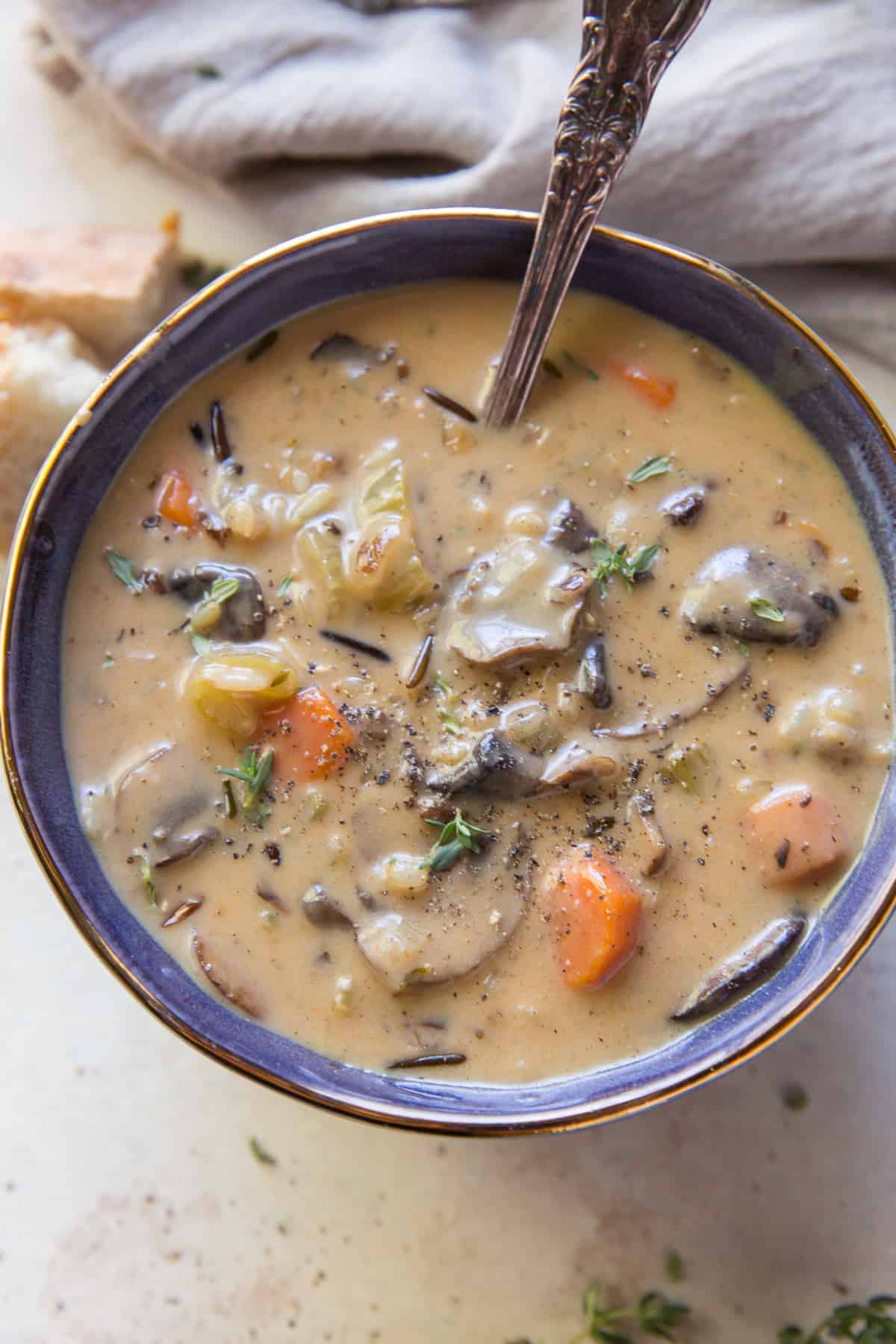 Tender mushrooms and a delicious wild rice blend cook in a creamy, herb-infused broth. This Creamy Mushroom Wild Rice Soup is a hearty, soul-warming soup for a cold fall or winter night.

Get the recipe: Creamy Mushroom Wild Rice Soup