Some links in this post are affiliate links. If you buy from one of our links, we may earn a commission.
If you are looking for some spooky fun Halloween party appetizers, then this recipe duo is perfect for you! Try your hand at these easy and delicious bone breadsticks, and tasty pizza dip with ghost cheese slices. Your guests will surely enjoy these fun Halloween party foods!
The breadsticks are so crispy and flavorful and the dip is perfect to serve with it.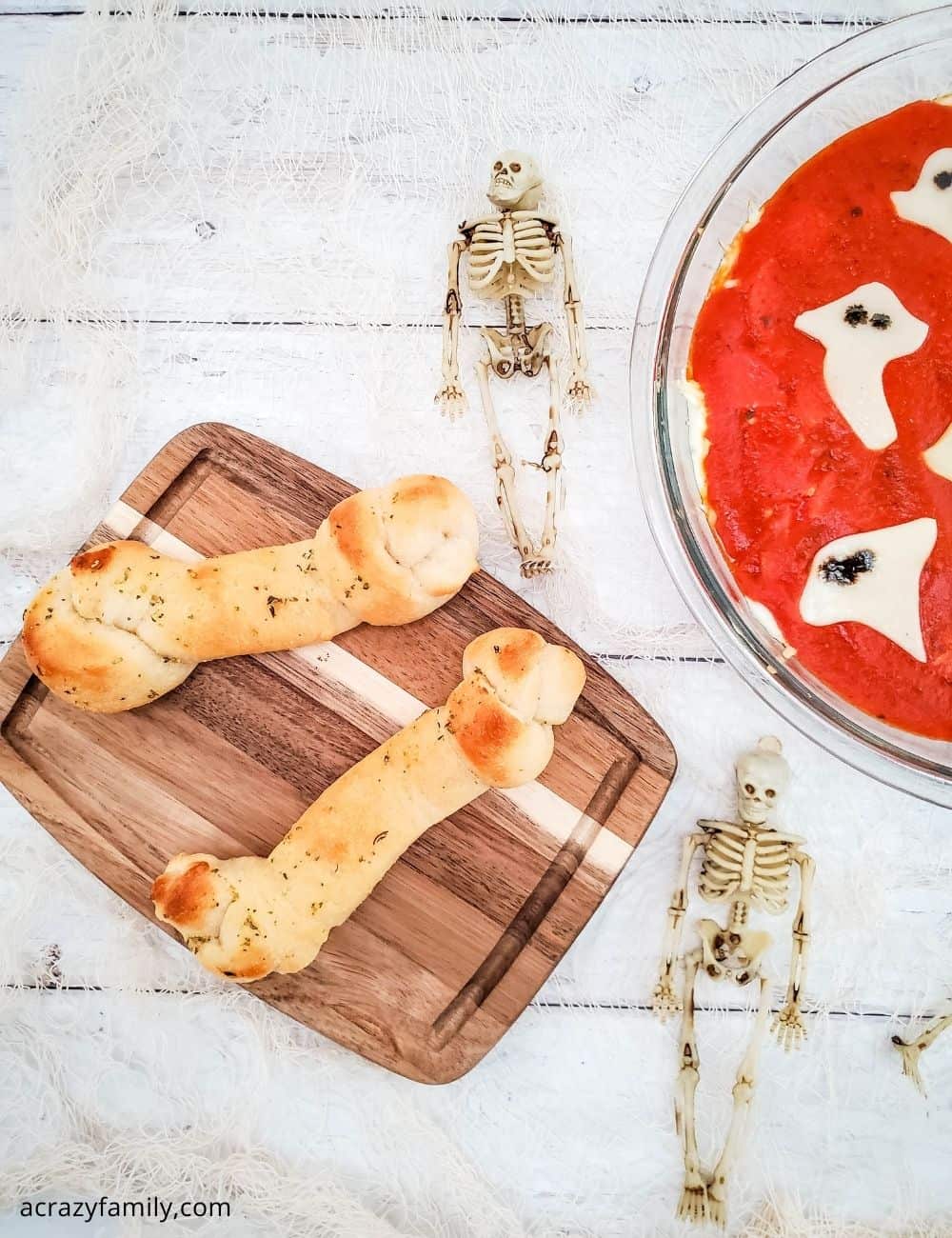 Why You'll Love This Halloween-themed Appetizer
Will impress guests
Fun for kids
And, if you are looking for more appetizer recipes, be sure to check out our delicious nacho cups that are packed with flavor and much easier to eat than traditional nachos.
Or these Teriyaki Chicken Puff Pastry Bites are a flavorful hot appetizer your guests are sure to love and are ready in less than 30 min!
Ingredients For Your Bone Breadsticks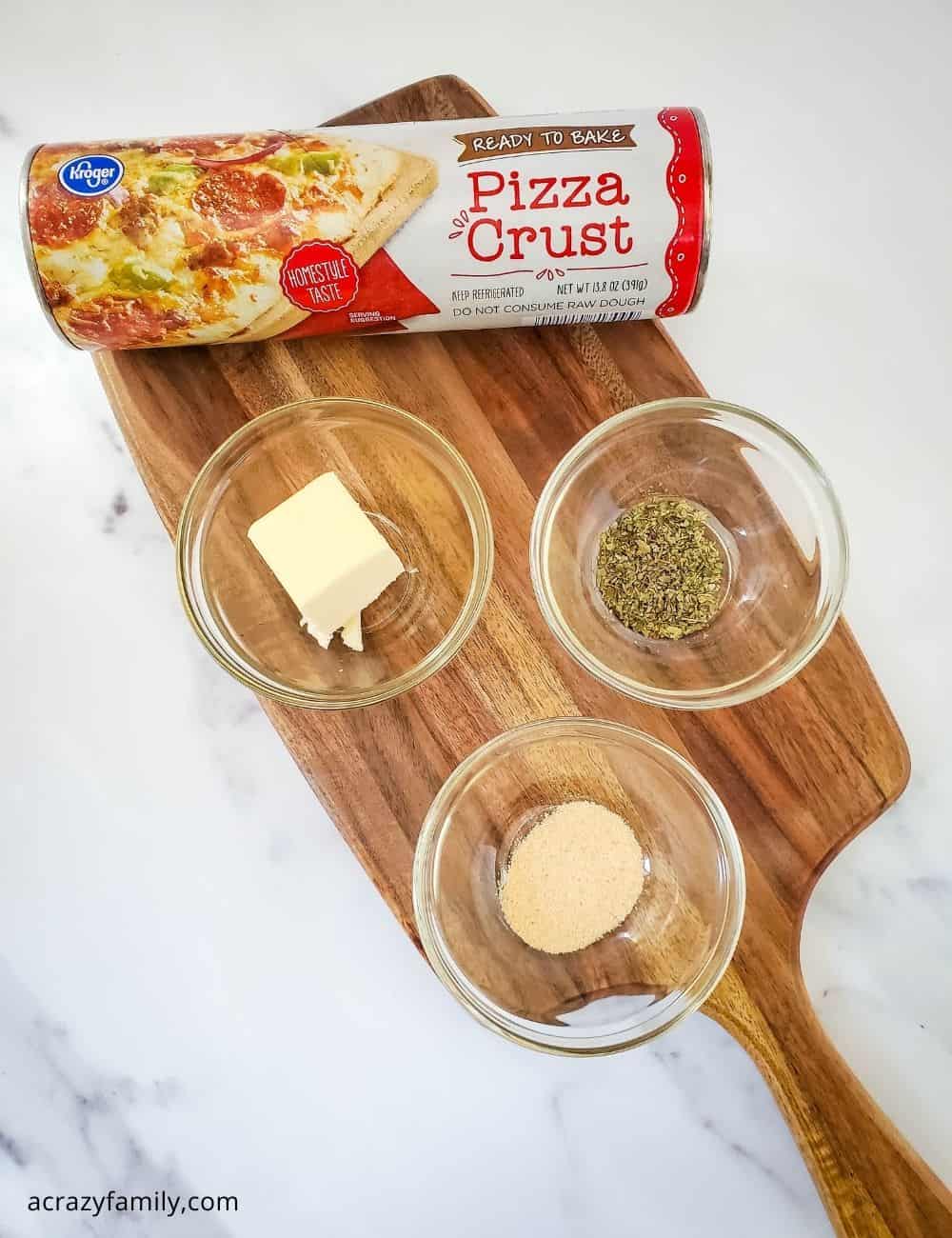 1 roll of ready to bake pizza crust
2 tbsp butter
½ tsp garlic powder
½ tsp italian seasoning
How To Make Bone Breadsticks
Preheat the oven to 425 degrees.
Line a baking sheet with parchment paper.
Unroll the dough and cut it into 8 equal sections.
Take one piece of dough, and wrap the end over, then through, forming a knot. Repeat with the other end, and repeat this step for all of the breadsticks.
Place breadsticks a couple of inches apart on the baking sheet, and bake for 8 minutes.
Melt the butter, then add the garlic and Italian seasoning. Stir well.
Remove breadsticks from the oven, and brush with butter mixture.
Return to oven and bake for an additional 2-5 minutes, until they are golden.
Serve with Ghost Pepperoni Pizza Dip
Ingredients For Your Ghost Pepperoni Pizza Dip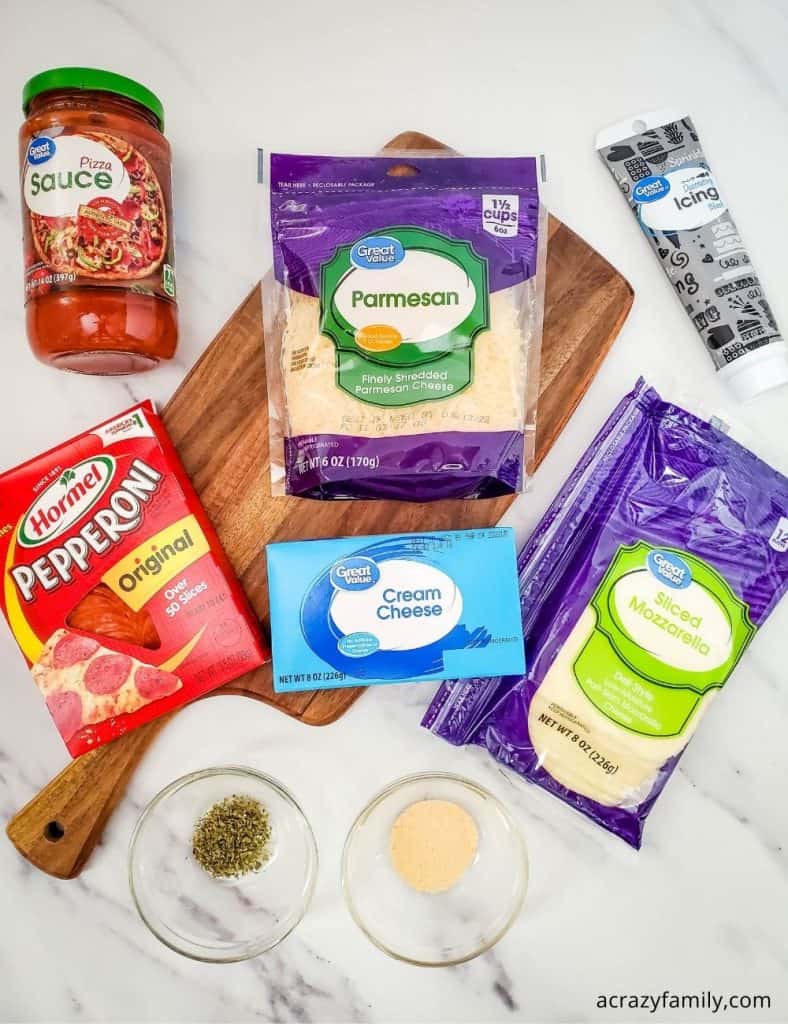 8 oz cream cheese, softened
½ tsp garlic
½ tsp Italian seasoning
½ cup shredded parmesan cheese
½ cup shredded mozzarella cheese
20 pieces of pepperoni
1 cup pizza sauce
4 slices of mozzarella cheese
Black icing
How To Make Ghost Pepperoni Pizza Dip
Preheat the oven to 350 degrees
Mix the cream cheese, garlic, and Italian seasoning together, and spread across the bottom of a pie dish.
Add the parmesan and mozzarella cheese on top. ***For this part, I just shredded ½ cup of the sliced mozzarella, so I didn't use two packages of the same type of cheese.
Cut the pepperoni slices into quarters, and arrange them on top of the cheese.
Spread the sauce across the top.
Using a paring knife, cut two ghost shapes into each slice of cheese, or use a small cookie cutter if you have one. Arrange on top of the sauce.
Use a toothpick to make eyes on the ghosts with the black icing. You can also do this after baking, so it doesn't spread at all.
Place pie plate in the oven, and bake for 10-15 minutes.
Serve warm with bone breadsticks.
Pin it for later!