Creepy & Crawly Bug Punch Mocktail
By: Vickie | Updated: 7th August 2023
Finding fun food and drinks to make for holidays is a great way to celebrate with your kids. And if you're looking for a creepy drink to make for your little ones this Halloween, this fun bug punch is sure to be a hit!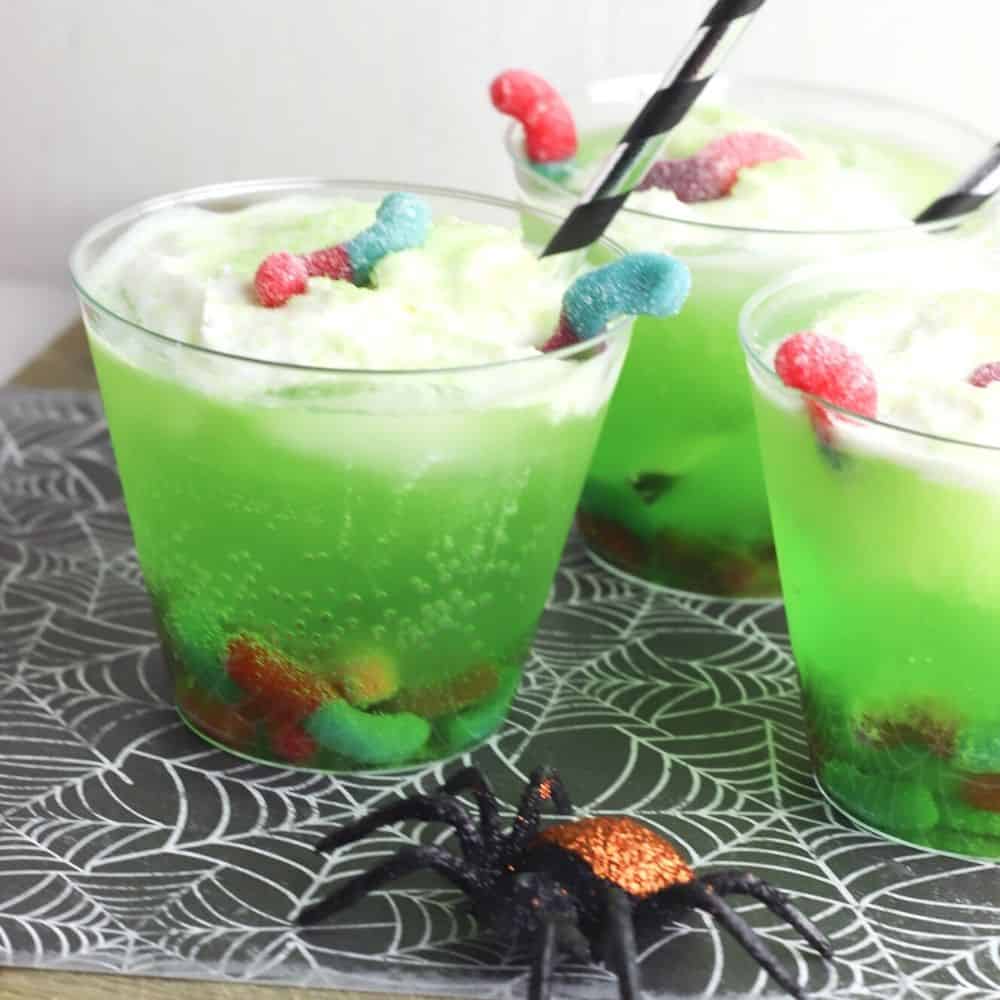 On top of being a deliciously sweet drink that your kids can enjoy, it also comes with gummy candy they can eat when they're done drinking.

But the best part about this cute Halloween drink is that it's fun to watch you make it.

From filling the cup with candy to adding the carbonated soda and watching the candy bubble, there are so many fun aspects about making and drinking this spooky punch!

You may also like these 10 Halloween Pie Ideas For The Perfect Spooky Dinner Party and 13 Tasty & Spooky Halloween Desserts
Ingredients for Bug Punch
With only a handful of simple ingredients, this fun mocktail couldn't be easier to make. To make your own bug punch at home, you'll need:
And that's it! With this list of easy ingredients, you can whip up a fun mocktail for your kids this Halloween in just a few minutes.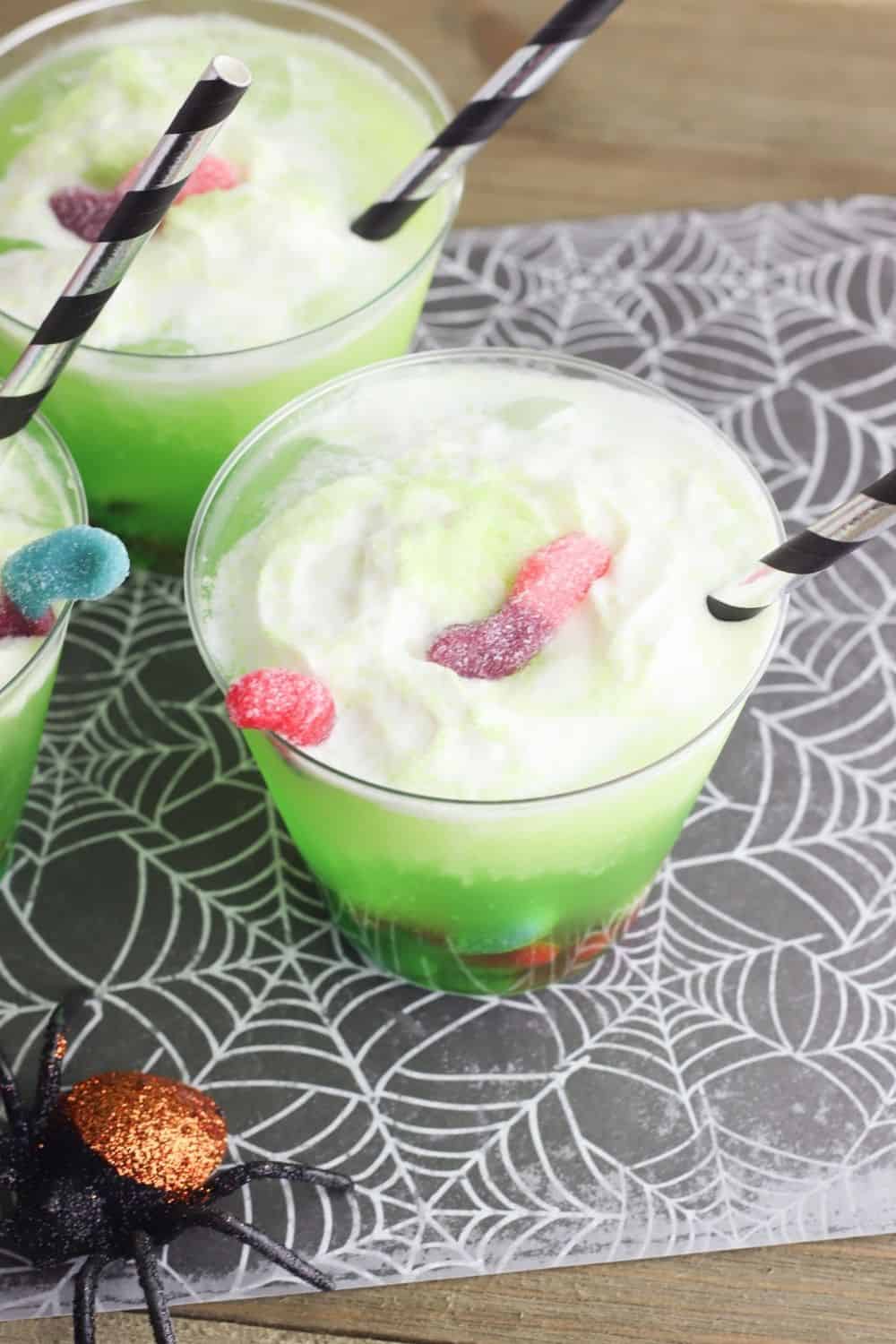 Where to Find Green Punch?
The key to making this drink look so spooky is using a green punch. But you may notice that finding kid-friendly green drinks can be a little bit difficult.
I think green Hawaiian punch is the most widely available green drink option out there. It can be found in the juice aisle of most stores.

But there are a few other options if you can't find the green version of Hawaiian punch at your store:
Lemon-lime Kool-Aid: Some stores may have this flavor in stock, which makes it a great option for your bug punch. Mix up the Kool-Aid according to the package instructions, then add it to your glass along with the lemon-lime soda.
Green Apple Jolly Rancher drink mix: Another option to replace the green Hawaiian punch is the green apple flavor of the Jolly Rancher drink mix. Like the Kool-Aid, you'll need to mix the drink up according to the package instructions before adding it to your bug punch.
Green Gatorade: Lime-flavored Gatorade makes another option for giving your bug punch a green tint. Just use the same amount of Gatorade as Hawaiian punch in the recipe to make the replacement.
Green food coloring: When all else fails, add some food coloring! Double the amount of lemon-lime soda in the recipe and add a couple of drops of green food coloring to the drink. Stir it up until the food coloring is well mixed to give your drink a green tint.
How to Make Bug Punch
This simple recipe is quick and easy to make, which means your kids can get in on the fun!
The first step to making your bug punch is to add the bugs! I found that the sour gummy worms work best because the sugar coating around the outside of the worms causes the drink to fizz when you add the lemon-lime soda to the glass.

This means it's just as fun to watch as it is to drink!

But if you only have plain gummy worms on hand, add them instead. The drink will still look creepy, making it perfect for Halloween.
After adding your gummy worms to the bottom of each glass, top them with some ice. Fill the cup to the top with ice to make sure your drinks are nice and cold.
Then, add your green drink. No matter what type of green drink you plan on using, fill the cup around halfway full of green punch. If you're using an eight-ounce glass, that comes to around four ounces of punch for each drink.
Next, top the drink off with lemon-lime soda. Since this drink uses equal parts punch and soda, you'll need around four ounces of soda per glass to create the drinks.
Now it's time to add some fun decorations to your bug punch. To make this drink look like toxic water, why not add a little bit of toxic foam to the top?
To make the toxic foam, spray a thin layer of whipped cream over the top of the drink and sprinkle a small amount of green sanding sugar over the top of the whipped cream.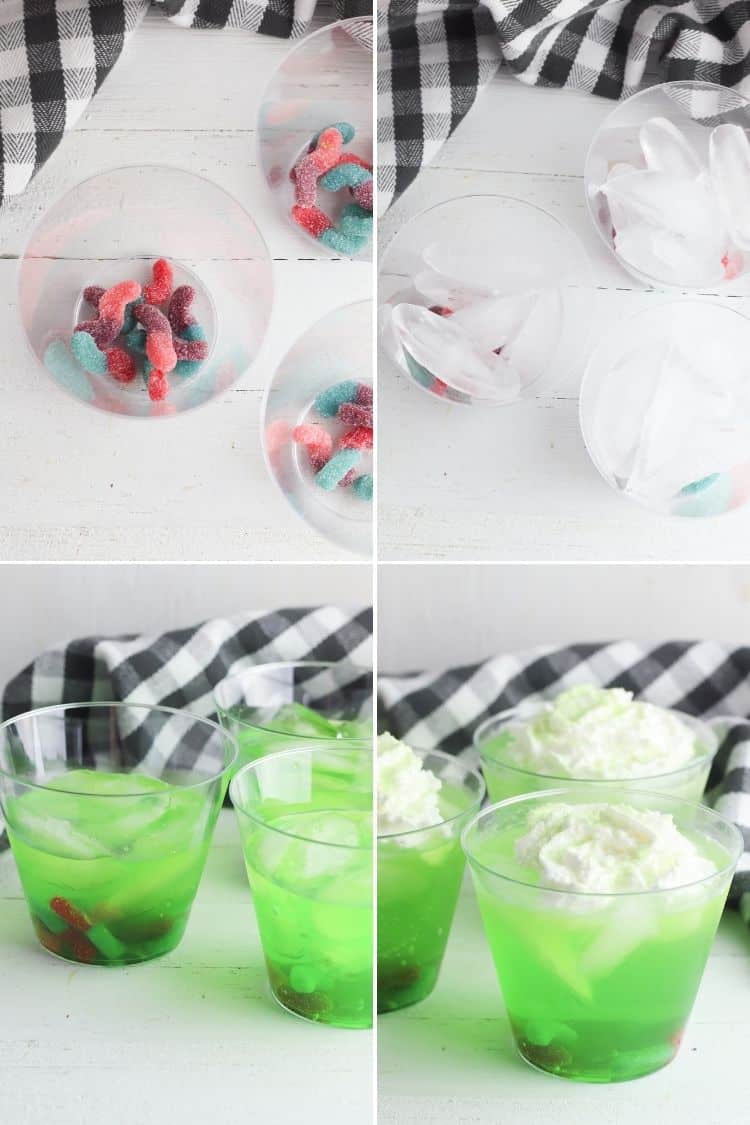 Add the finishing touches to your drink by topping each bug punch with some more bugs.

Adding a couple more wiggly gummy worms to the top or sides of the cup makes it look like the bugs are crawling out of each glass.

How creepy is that?!
When to Serve Bug Punch
You don't have to wait until Halloween to have a little bit of fun making this silly drink! This fun drink is great for so many occasions. Here are some excuses to make your own bug punch:
Halloween parties: Give the kids at the party a spooky drink during your next Halloween get-together.
Halloween at home: Have some fun at home on Halloween by making this cute drink together.
Bug-themed party: Serve this cute drink at your next bug-themed party.
Want More Fun Halloween Recipes?
If you liked this bug punch, you may want to check out these recipes too: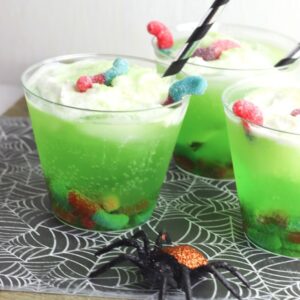 Ingredients
4

ounces

green Hawaiian punch

4

ounces

lemon-lime soda

Sour gummy worms

Whipped cream

Green sanding sugar

Ice
Instructions
Place a few sour gummy worms in the bottom of a glass.

Fill the glass with ice.

Pour the green punch in the glass.

Top with lemon-lime soda.

Top with a small amount of whipped cream and garnish with green sanding sugar and more sour gummy worms.
Nutrition
Calories:
429
kcal
|
Carbohydrates:
106
g
|
Fat:
1
g
|
Saturated Fat:
1
g
|
Cholesterol:
5
mg
|
Sodium:
55
mg
|
Sugar:
76
g
Nutrition information is automatically calculated, is intended to serve as an estimate only, and is provided for informational purposes. The accuracy of nutritional information is not guaranteed.
Click stars to rate now! Or leave a comment below.