Pumpkin Sprinkles Chocolate Spoons
This post and its photos may contain affiliate links. As an Amazon associate, I earn from qualifying purchases.
A perfect treat to stir your hot cocoa or coffee, these chocolate spoons are super simple to make! Make these for yourself, or to add them to a hot cocoa or coffee gift basket. You'll take your hot beverages to a whole new level with these delicious chocolate-covered spoons!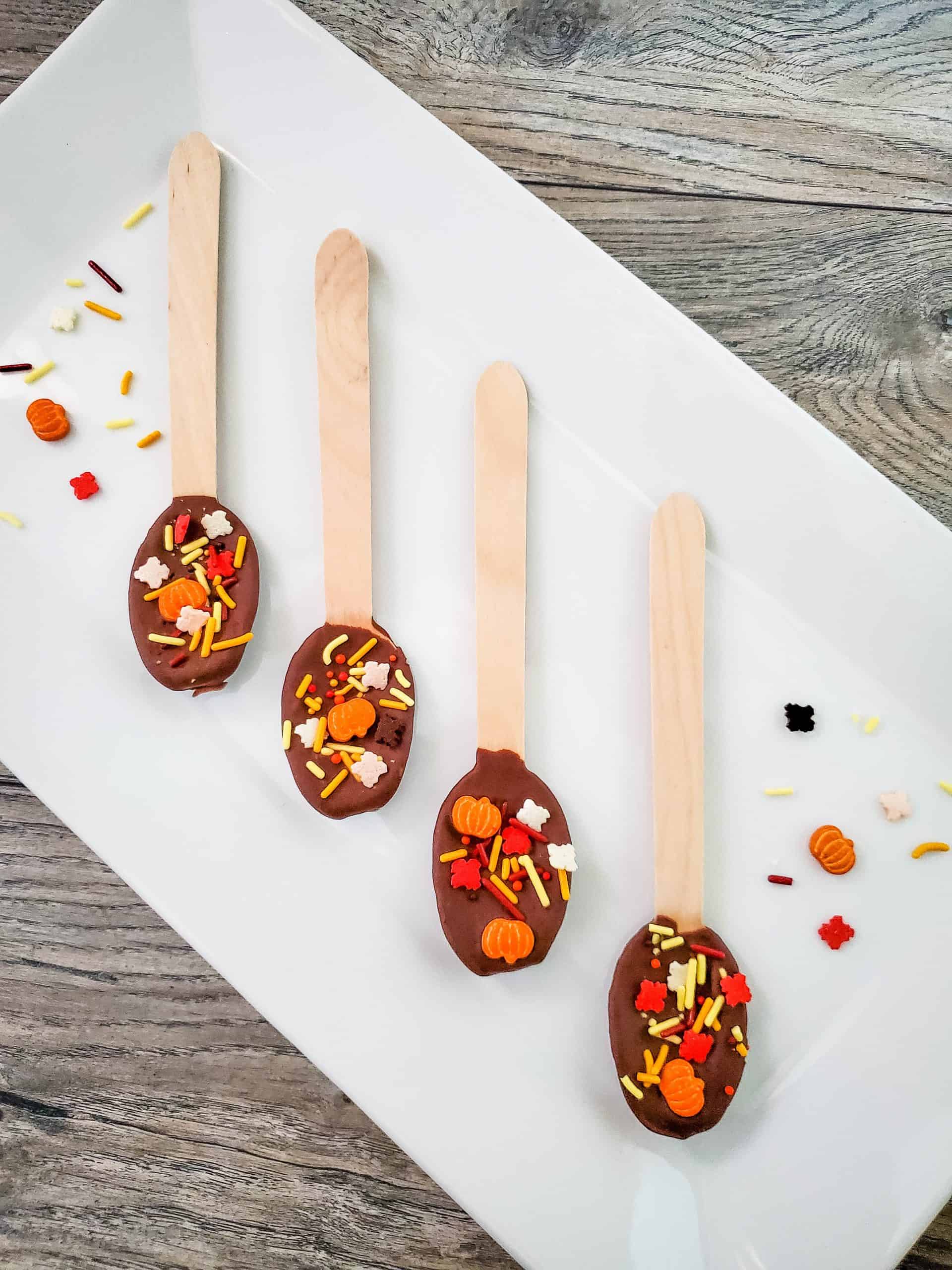 Chocolate is something that many of us enjoy. There is something quite comforting when it comes to that familiar taste of chocolate in your mouth. Whether you enjoy a bar of chocolate, chocolate buttons, or even drinking chocolate, it is a flavor that we can all find joy in.
Chocolate has also been a wonderful option when it comes to gifts. So many people like the idea of gifting a box of chocolates, or even a hamper filled with their favorite treats.
Drinking chocolate has massively grown in popularity these last few years, and making chocolate spoons that can be stirred into warm milk is a great gift of choice in the winter months.
Chocolate spoons look great, but they are also incredibly simple to make. Going to the effort to make them and then wrapping them individually for friends and family will not only make them look part but can be a budget-friendly way of creating a gift for someone you care about.
Pumpkin Sprinkles take these chocolate stirring spoons to the next level.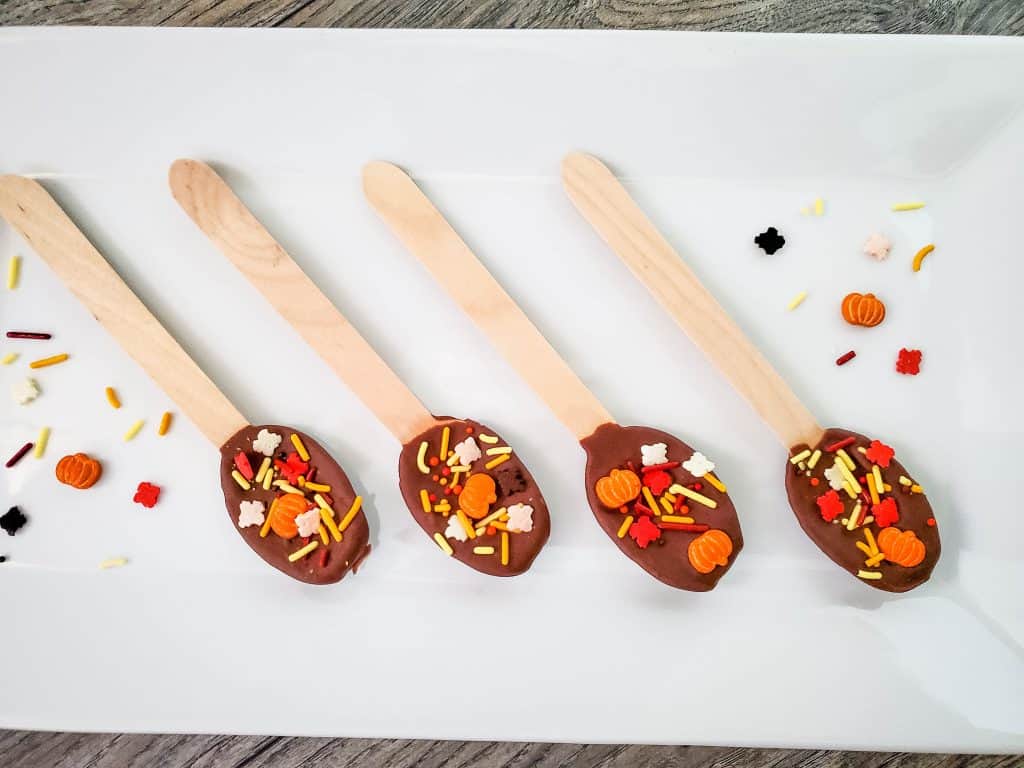 Looking for more yummy choccie treats, check out these next:
Chocolate-Covered Strawberry Truffles
Also a delicious gift idea, with the flavor of your favorite chocolate-covered fruit and the smooth and creamy texture of a truffle.
Easy Nutella Milkshake
Another chocolate drink recipe your whole family will love. Made with only 3 ingredients and totally delicious.
Right then, here is everything you need to know to make your own Fall-inspired chocolate stirring spoons with pumpkin sprinkles.
Pumpkin Sprinkles Chocolate Spoons
Ingredients: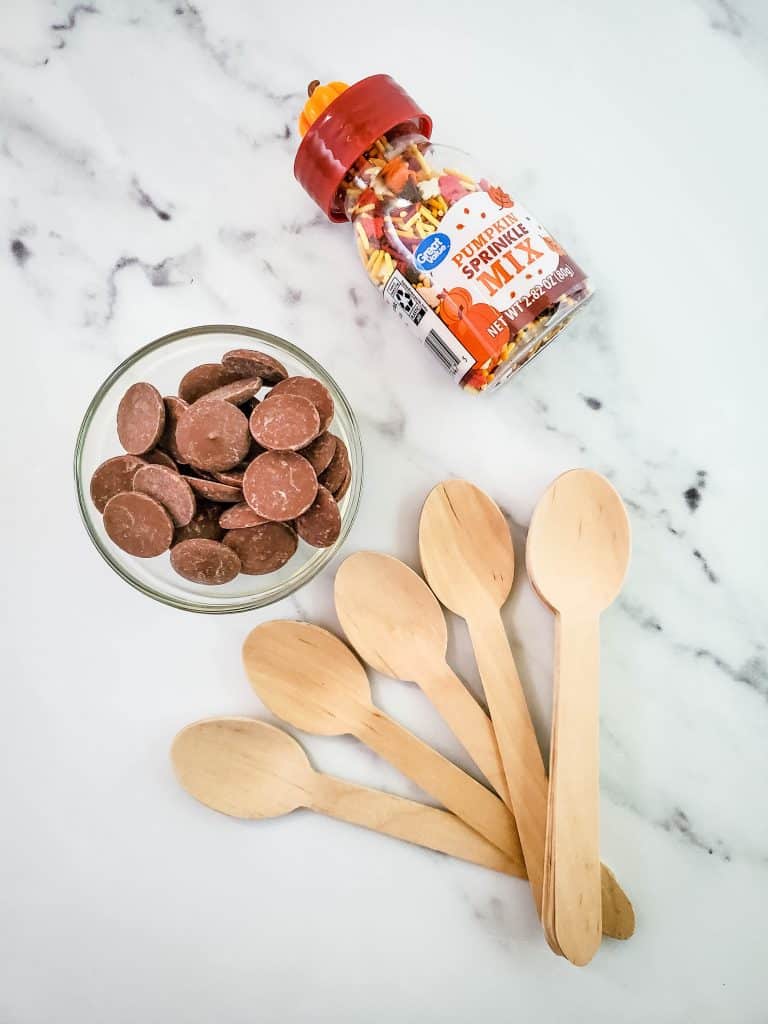 How to Make the Chocolate Stirring Spoons
The first thing you need to do is to take a baking sheet and line it with some parchment paper. This avoids any chocolate sticking to the baking sheet.
Now you will need to melt the chocolate. There are two methods you could try. For speed, you could use the microwave. But if you prefer you can melt the chocolate over a double boiler. Whichever option suits you.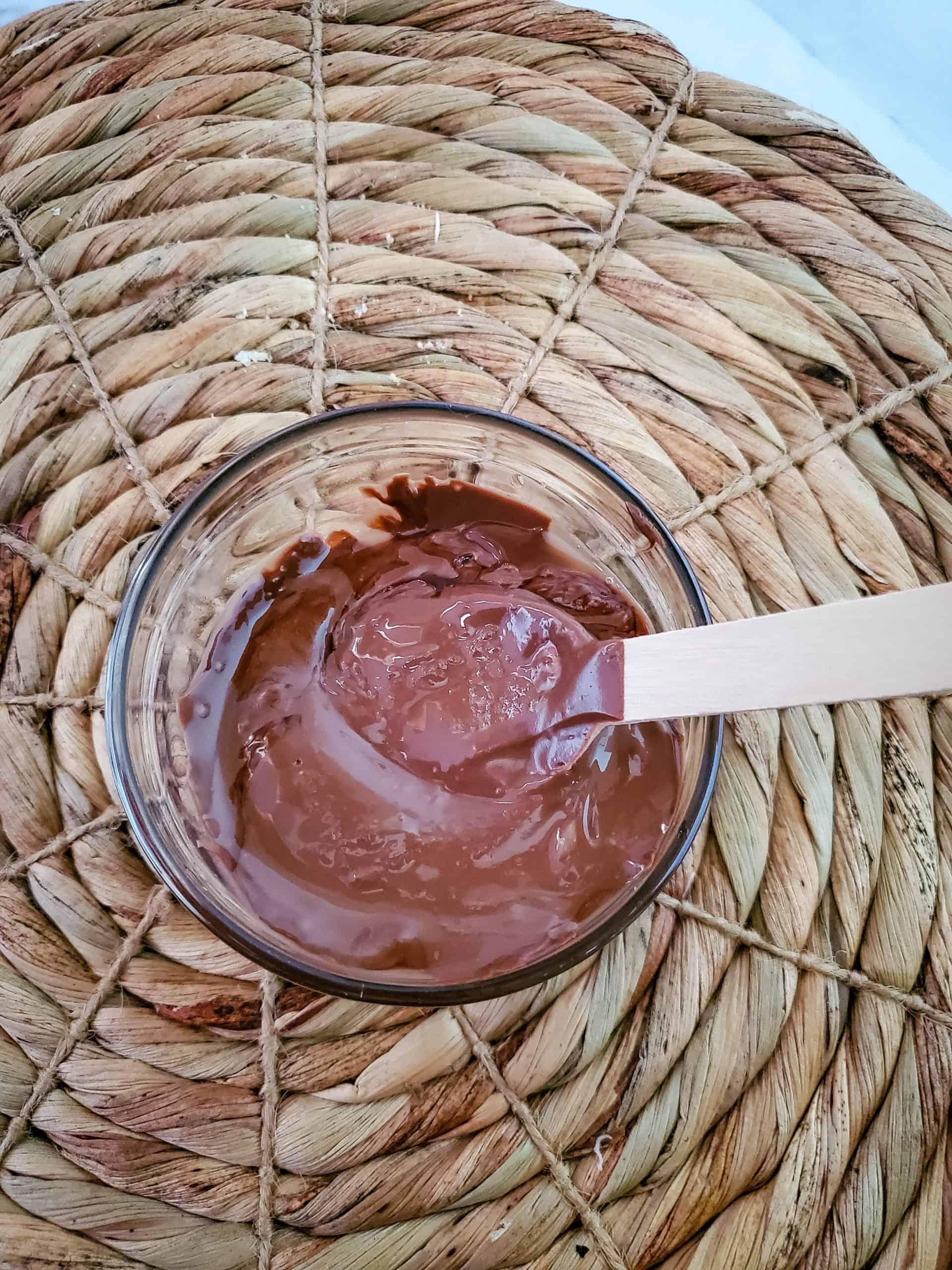 Now for the tricky and messy part. Take a wooden spoon and dip it into the chocolate. Then set the spoon on the parchment paper. Try and space out the spoons a little if possible.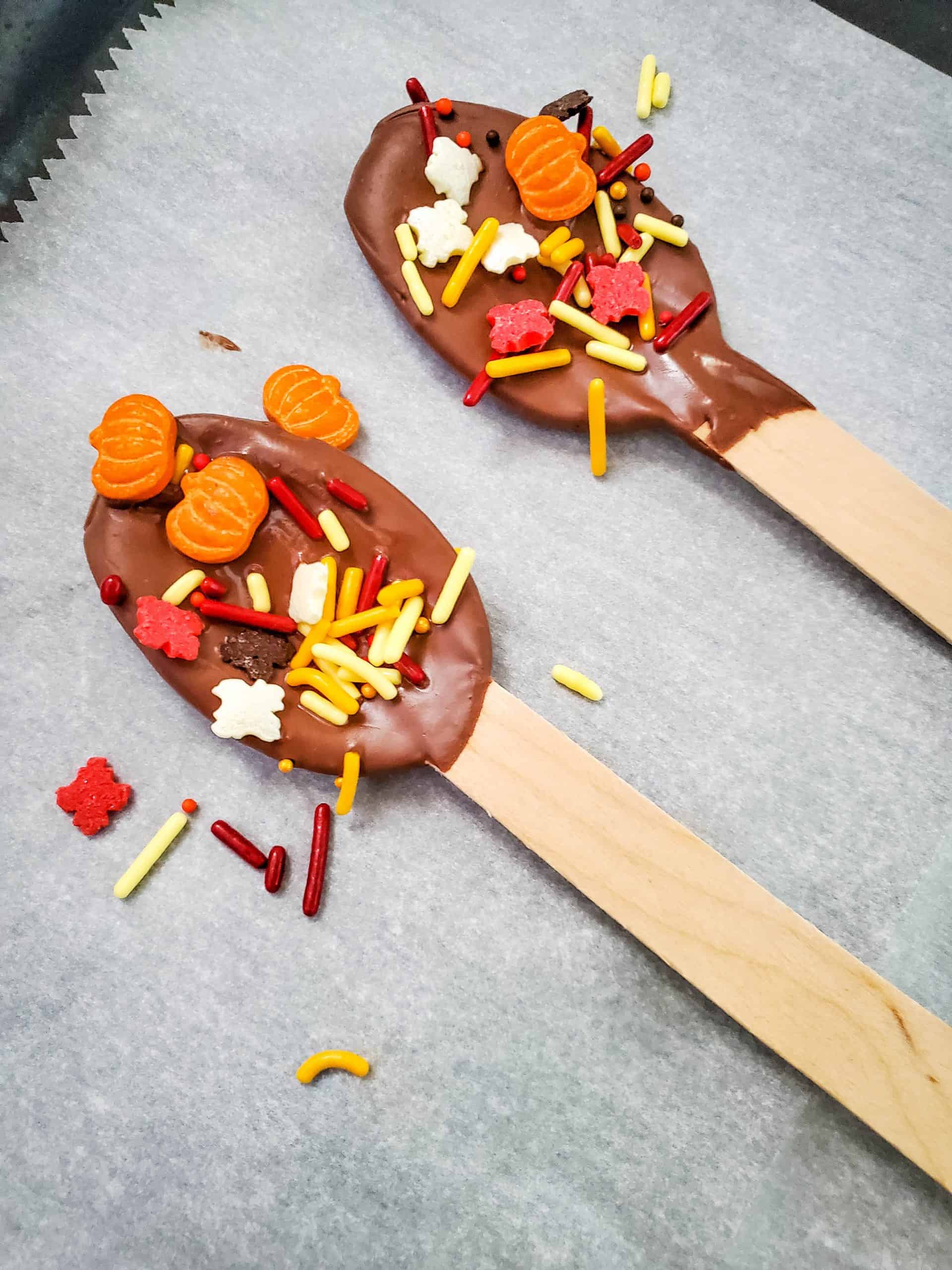 It is time for the final touches. Add the sprinkles on top of the chocolate. Then place the baking sheet in the fridge for the chocolate to set.
Voila! You have your Pumpkin Sprinkles Chocolate Spoons. Enjoy.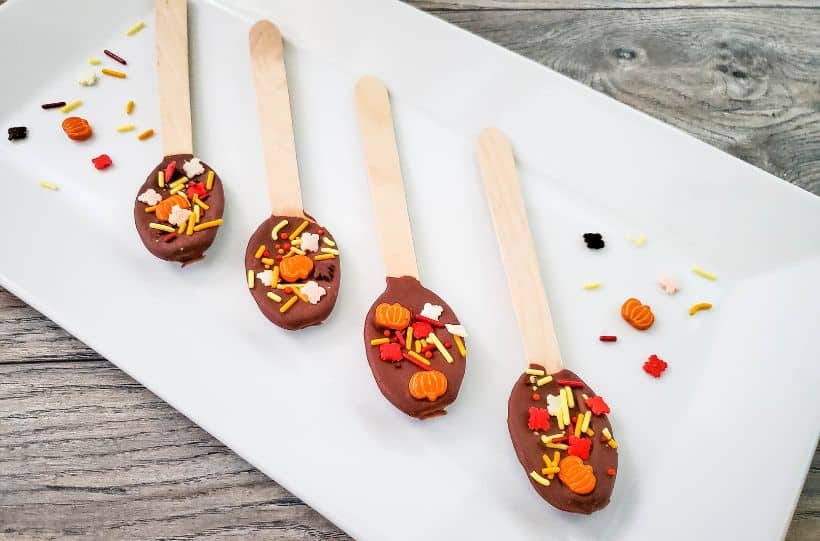 Notes and Tips
Be careful when taking out the chocolate from the microwave or off the double boiler. The bowl you will have used will be piping hot and you could burn yourself.
Ensure that you are careful when working with melted chocolate. You will need to have an element of speed but at the same time, you want to avoid making too much of a mess or burning your hands on the melted chocolate.
If children are helping, make sure they are supervised when using the melted chocolate.
Always give the chocolate spoons time to set to ensure that you can remove them easily off the lining parchment paper.
Variations to try
Add different sprinkles or edible glitter. These chocolate spoons will work well with any theme, so you could look to change up the overall look of them to match the occasion or to suit the person you are gifting them to.
Add mini marshmallows. You could add a few different things to the spoons to give different textures but remember that they will need to melt so avoid anything crumbly like biscuits. Marshmallows will work well.
Use bigger spoons. I have suggested some wooden spoons you could use but don't be afraid to go bigger if you want to. This also gives you greater flexibility to add other ingredients to them.
FAQs
What should I serve with the Pumpkin Sprinkles Chocolate Spoons?
The chocolate spoons will be great accompanied by warm milk. Simply add the Pumpkin Sprinkles Chocolate Spoons to a cup of warmed-up milk and allow the chocolate to melt within it. You could also use them with drinking chocolate, warm porridge, custard, or rice pudding.
Can the Pumpkin Sprinkles Chocolate Spoons be made ahead of time?
Yes, you can make these ahead of time. Chocolate does have a decent shelf life when stored correctly.
How do I store the Pumpkin Sprinkles Chocolate Spoons?
I would suggest storing the Pumpkin Sprinkles Chocolate Spoons in an airtight container in the fridge. This avoids them melting onto each other.
Can you freeze the Pumpkin Sprinkles Chocolate Spoons?
Yes, you can! You can freeze the chocolate spoons. Line them up on a baking sheet to freeze and then add them to a freezer bag so you can take them out as and when you need them.
I hope you enjoy making the Pumpkin Sprinkles Chocolate Spoons.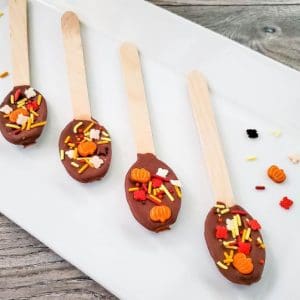 Pumpkin Sprinkles Chocolate Spoons
Ingredients
Chocolate melting wafers

Pumpkin sprinkle mix

Wooden spoons
Instructions
Line a baking sheet with parchment paper.

Melt the chocolate in the microwave or over a double boiler.

Dip the spoons into the chocolate, and set on a parchment paper lined baking sheet.

Add sprinkles on top of chocolate.
Nutrition information is automatically calculated, is intended to serve as an estimate only, and is provided for informational purposes. The accuracy of nutritional information is not guaranteed.
Did you make this recipe? Click stars to rate now! Or leave a comment below.