Cast Iron Skillet Peach Cobbler is the ultimate peach lover's dessert. Every bite you get flavorful peach and tender sweet biscuity topping.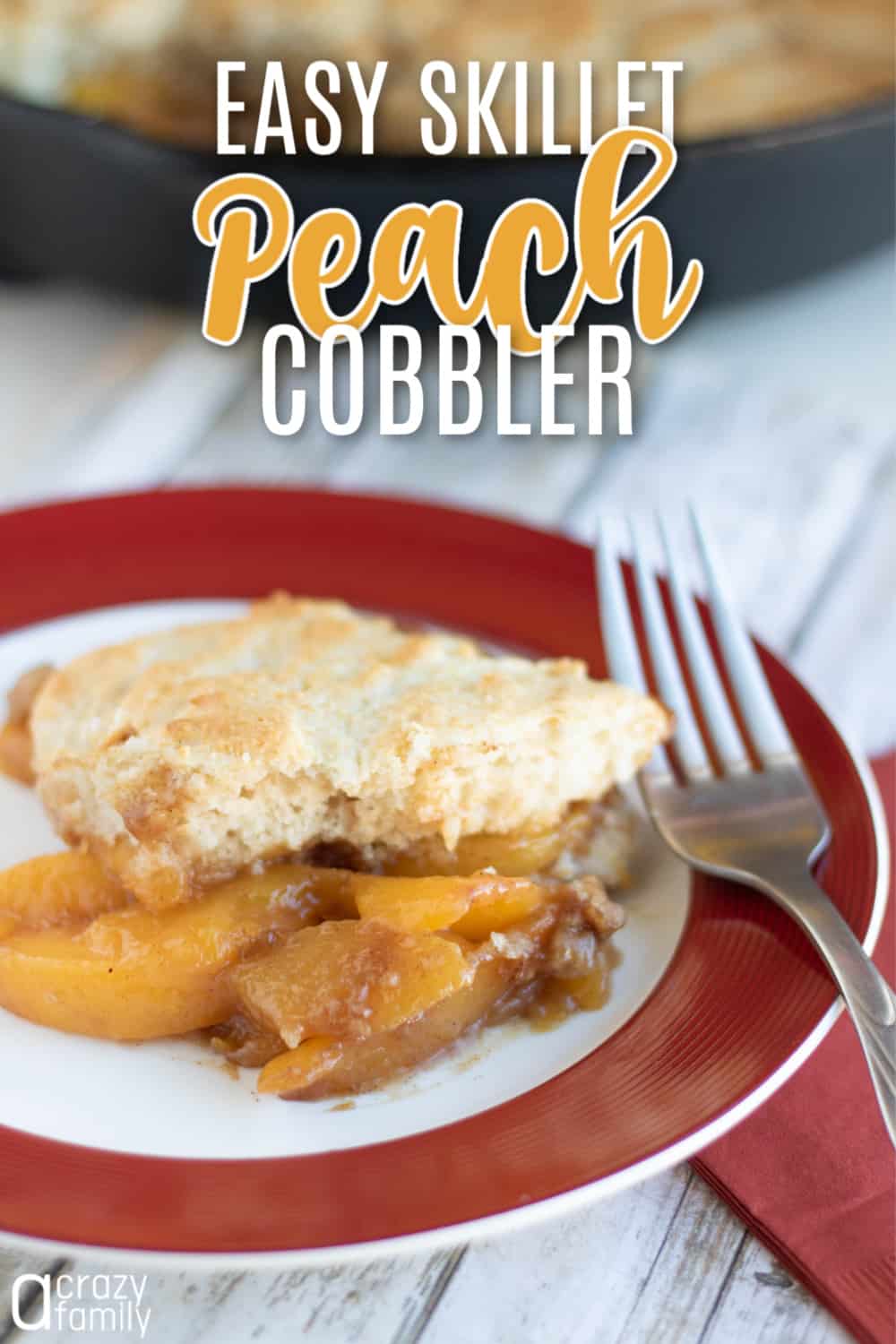 If you are feeling extra lucky add a scoop of vanilla bean ice cream on top! This cast iron peach cobbler is perfect to make all year long.
Cast Iron Skillet Peach Cobbler
There is something special about a cast-iron skillet. It just transforms a dish from good to decadent. This peach cobbler is no exception!
Layers of flavor that melt in your mouth. It's an award-winning recipe in my books!
What Is The Difference Between Cobbler And Crisps
A cobbler and crust are similar but the topping is what sets them apart. A cobbler is generally a flour or biscuit-style topping. While a crisp tends to have oats, nuts, and brown sugar as to what you sprinkle on top.
While both generally feature fruit, the flavor and textures of each dessert will be totally different.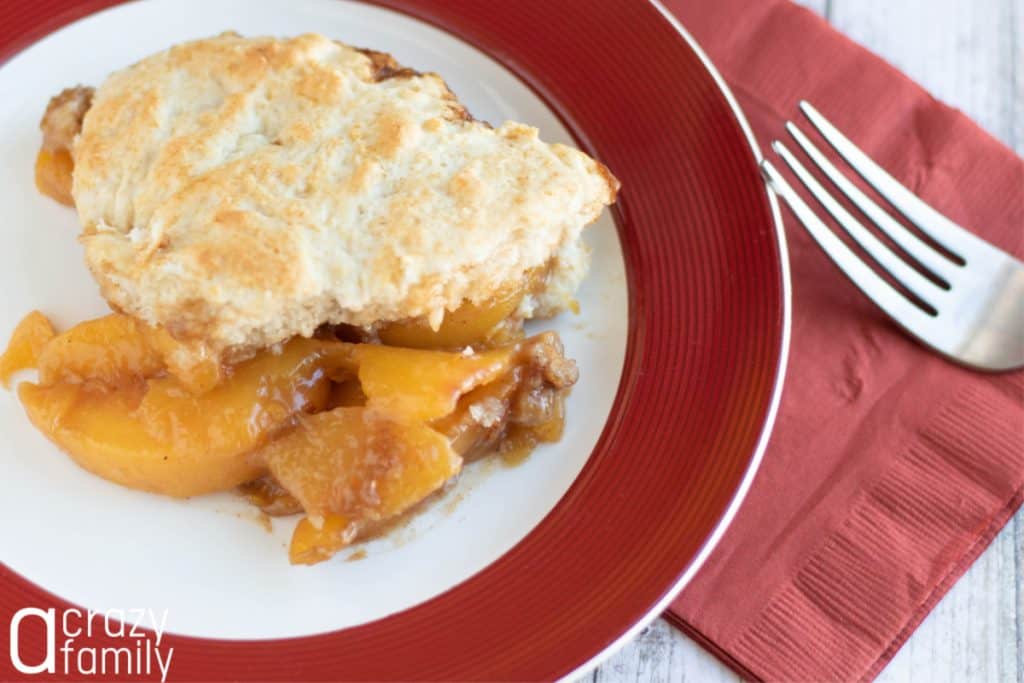 Fresh or Frozen Peaches
You are more than welcome to use fresh or frozen peaches in this recipe. If it is peach season, go ahead and slice up some fresh peaches.
Otherwise frozen will work just as well. All fruits are frozen at their peak. So your peaches will be just as sweet.
Do You Eat Peach Cobbler Warm Or Cold
Peach cobbler can be served fresh or cold. Nothing beats taking a big scoop of cobbler out of your skillet and serving it up warm.
But I normally eat the cobbler cold once I store it after it has fully cooked and cooled. If you prefer to eat warm simply toss in the microwave for a quick reheat for a fresh out of the oven taste.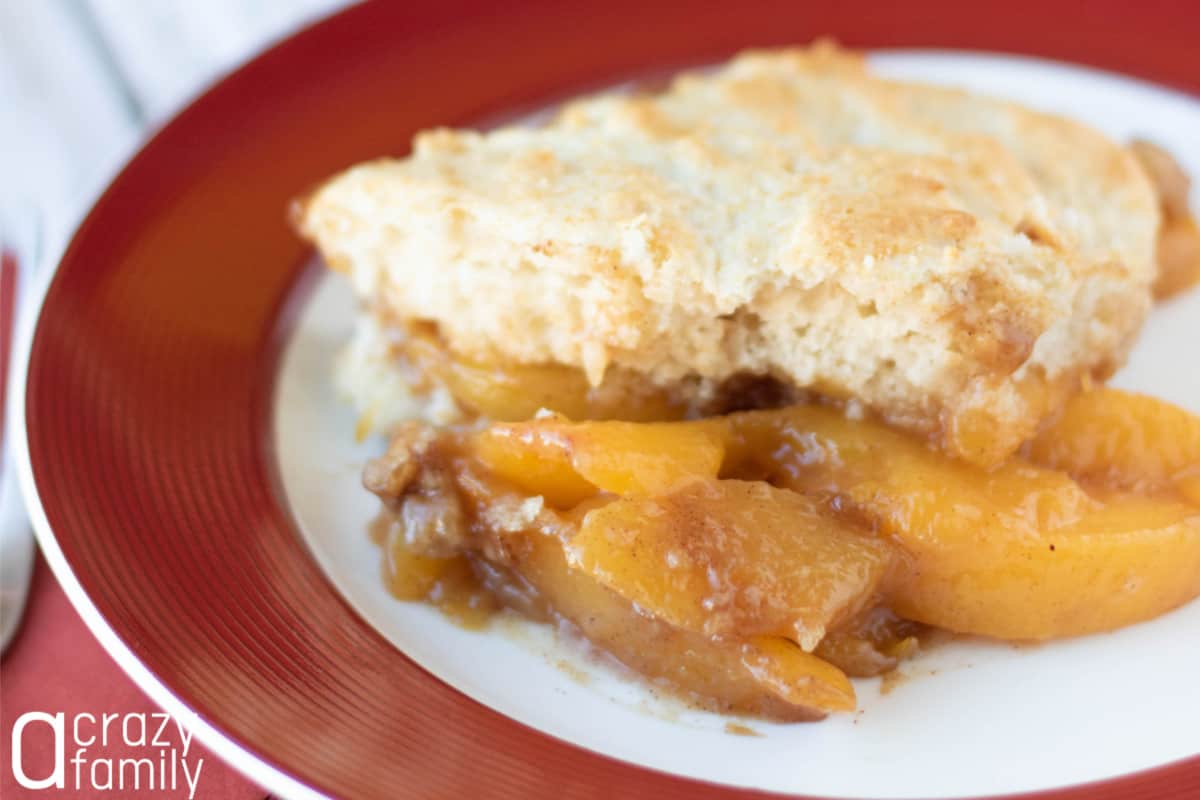 Best Way To Store
Once fully cooked and cooled you can place in an airtight container and place in the fridge.
Leftover skillet cobbler can last up to a week in the fridge when stored properly. Always use your best judgment when eating leftovers.
Can You Freeze Cobbler
Don't plan to eat all your delicious cobbler? Go ahead and place cobbler in a freezer-safe container. Then toss right in the freezer for up to 2-3 months.
When ready to eat you can thaw in the fridge overnight for a slow thaw. Or toss right into the microwave for a quick thaw and reheat.
Or lastly, you can cover with aluminum foil and reheat in the oven for 15-30 minutes. Just heat until it is warmed all the way through.
Interested in More Desserts
Firecracker Popcorn | Sweet and salty collides in this popcorn recipe. Great for those who want a fun midday snack or evening dessert.
Chocolate Crunch | If you are a fan of chocolate and like a crunch, here you go! Unique, crunchy outside, soft center!
Fresh Blackberry Streudel | Grab those summer berries and whip up this light, tender streudel!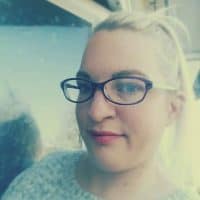 Vickie Louise is the Founder and Editor-in-Chief of A Crazy Family. She is a stay at home mom of a little boy with a big personality. After having her son, she realized how important it is for moms to take care of themselves, physically and mentally. Vickie believes in the power of using social media and her online presence for good and is thrilled to provide you with a space to celebrate all that is awesome (and a little crazy) in the world.