This Firecracker Popcorn has just the right amount of sweet and salty, and with the fun of popping candy! It's a fun — and easy — snack to serve to add some spark to your 4th of July festivities!!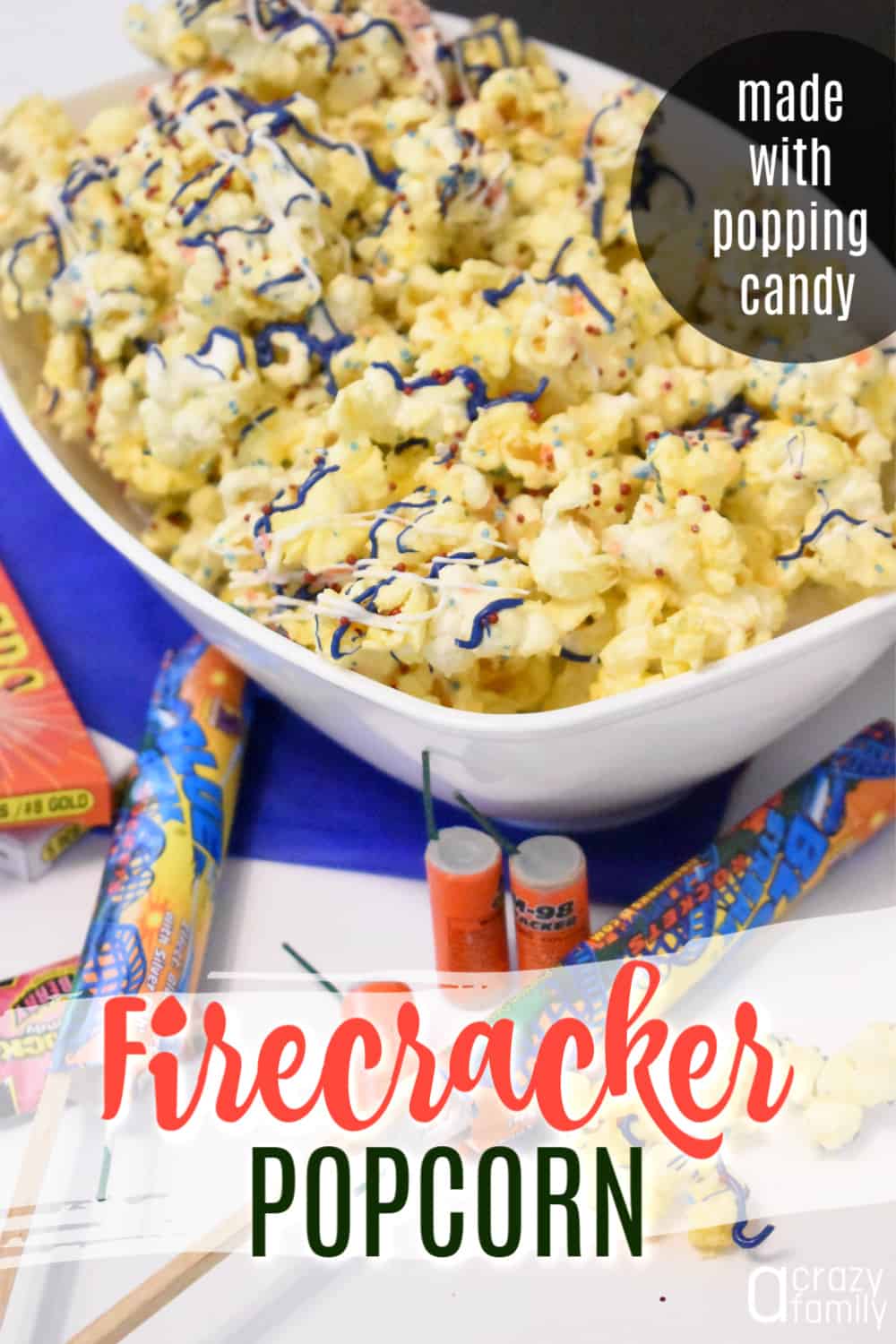 I have to say this is one of our family favorites when it comes to quick and easy delicious festive treats for the 4th of July.
The Pop Rocks add an interesting texture to the popcorn, and the sweetness of the candy melts is a nice contrast to the popcorn!
What You Need To Make Firecracker Popcorn
I used microwave popcorn for mine, but you could easily use air-popped, or traditionally popped popcorn.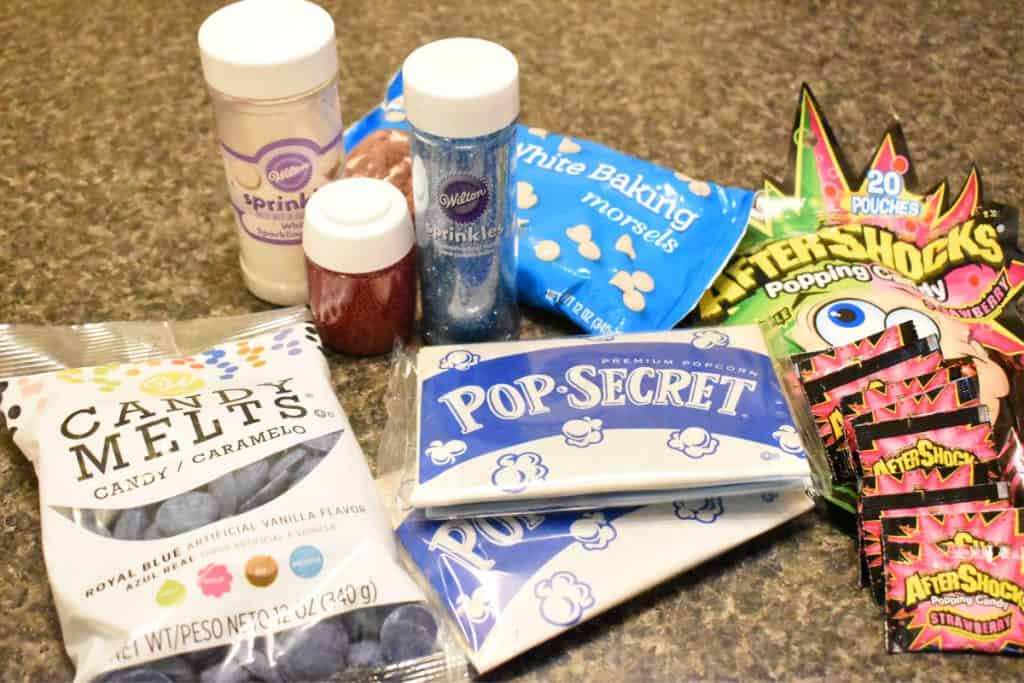 How To Make Firecracker Popcorn
Prepare your work surface by spreading out a large area of wax paper, you'll be spreading your popcorn out on it.
Reserve ½ cup of white chocolate chips and place the rest in the bowl of a double boiler.
Melt over medium/low heat until smooth.
Place your popcorn in a large bowl and pour your melted white chocolate over the popcorn. Stir until all the popcorn is evenly coated.
Spread the popcorn out evenly on your wax paper. While the white chocolate is still sticky sprinkle on about ½ of your popping candy and some of your red and white sprinkles.
Now melt the reserved white chocolate chips until nice and smooth.
Now using a pastry bag, a plastic baggie with the corner cut off, or a chocolate drizzling tool or spoon drizzle the melted white chocolate evenly across your popcorn. Sprinkle on a little bit more of your sprinkles and popping candy.
Next melt your blue candy melts in your double boiler and drizzle it across the popcorn. Sprinkle on your remaining popping candy and a little bit more sprinkles.
Let all of your candy cool before serving.
Serve immediately or keep in an airtight container.
There you have it Perfectly delicious Firecracker Popcorn!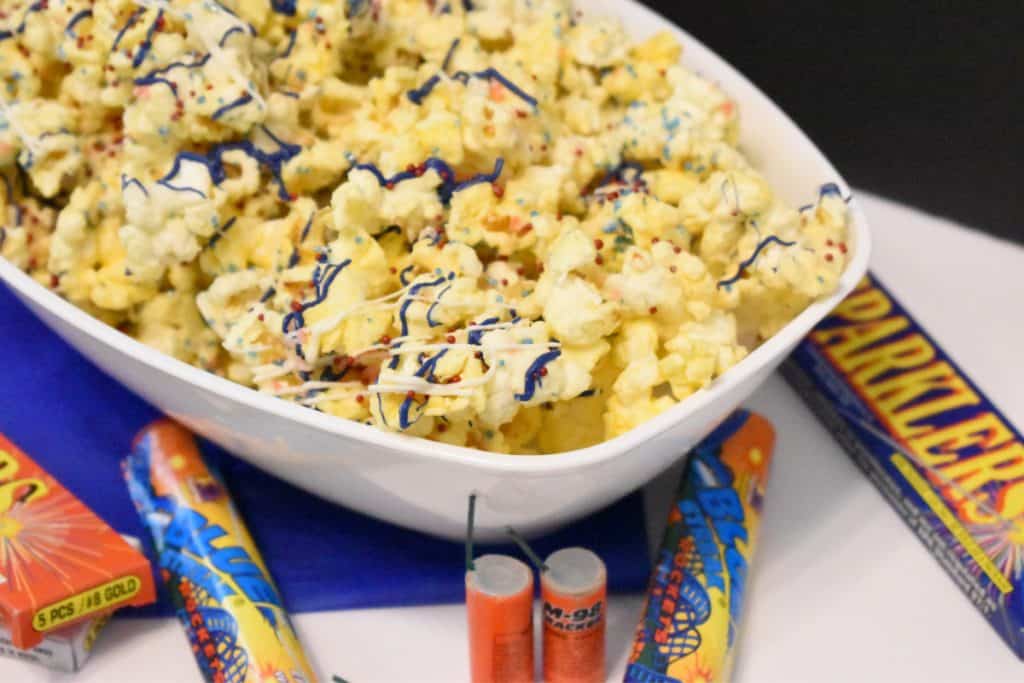 Tips For Firecracker Popcorn
One thing I love about this Firecracker Popcorn recipe is how it is so forgiving! You can cook more or less popcorn. You can add more or less white chocolate, and if you want to add more pop of flavor you can add more Pop Rocks!
More Amazing 4th July Recipes
If you like this recipe, then you will be happy to know I have some other 4th July recipes coming shortly. There will be fruit pizza and a delightful 4th July sugar cookie bars recipe.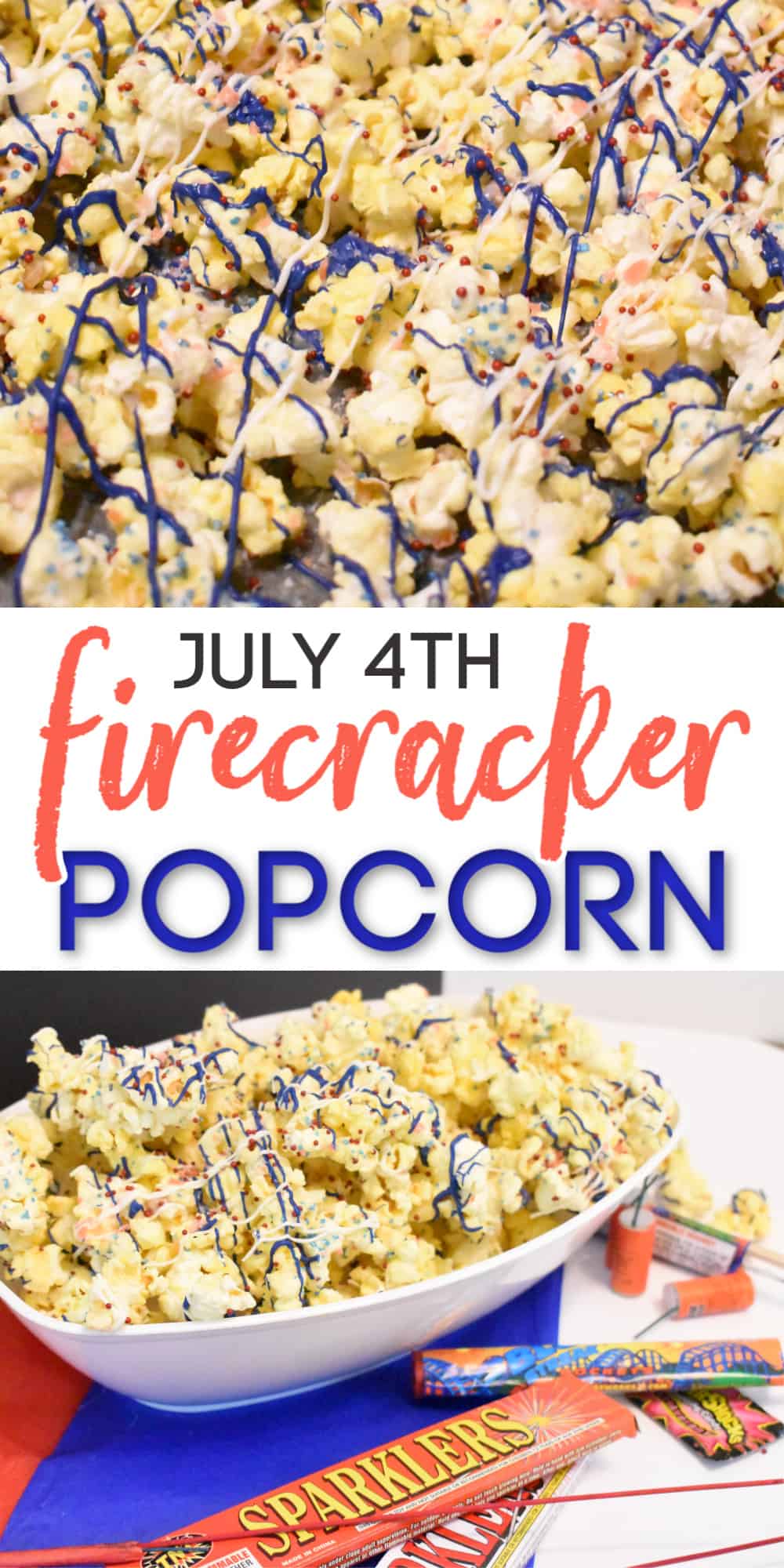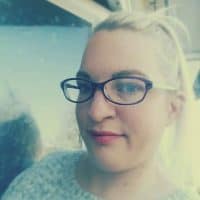 Vickie Louise is the Founder and Editor-in-Chief of A Crazy Family. She is a stay at home mom of a little boy with a big personality. After having her son, she realized how important it is for moms to take care of themselves, physically and mentally. Vickie believes in the power of using social media and her online presence for good and is thrilled to provide you with a space to celebrate all that is awesome (and a little crazy) in the world.