By: Vickie | Updated: 18th August 2023
Summer is fast approaching, and because of this, it often means we start thinking about lighter meals and al fresco dining. BBQs, salads, and healthier options, there is often a change in your eating habits, that is for sure.
But while you might be craving lighter options or snacking more rather than enjoying heavier evening meals, one thing we simply can't have enough of is something to dip things in. Am I right?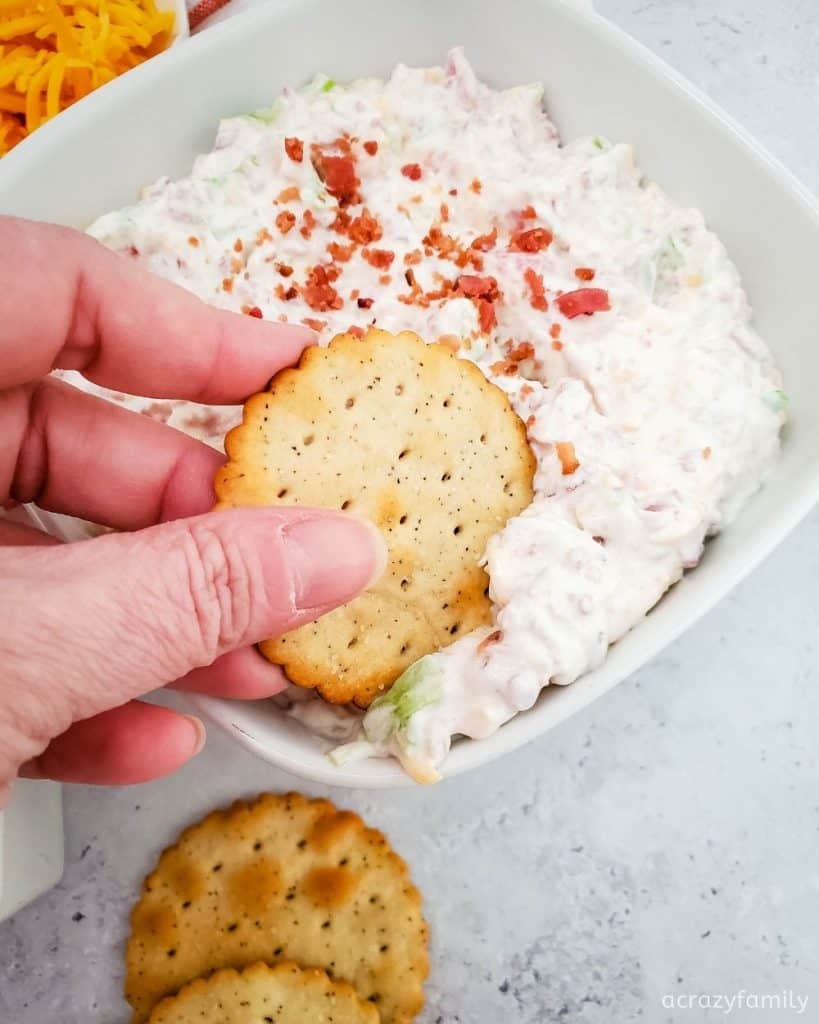 A dip is something that can be eaten with a snack. Think of my Air Fryer Tortilla chips, bread, pretzels, chips, and crackers. It is often a forgotten aspect, but it can transform a dish when served up with something.
A dip can certainly help expand on flavor or, in some cases, calm something down that is hot and spicy. A dip can also be the perfect side offering at a BBQ, with your salad, or even something cooked.
Finding a dip that you love is a little harder. There is so much choice, right? But I have one that is going to knock your socks off.
We all love a BLT. Bacon, lettuce, and tomato on a sandwich is a thing of beauty. But what if I told you that you can get all of the taste and deliciousness of a BLT in a dip?
No, I am not crazy! Follow along to make your own BLT dip. Enjoy!
Ingredients needed to make the BLT Dip
The first thing that you need to do would be to gather all of your ingredients together to create the BLT Dip. You will need: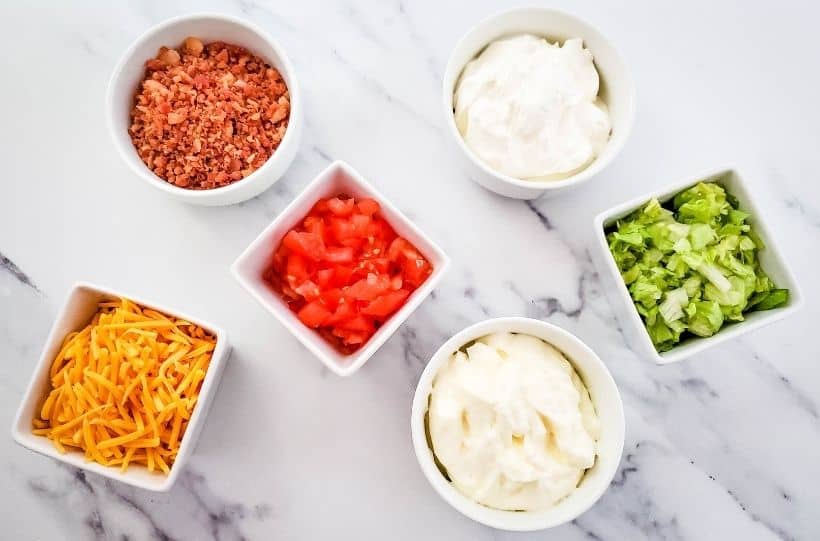 1 cup mayonnaise
1 cup sour cream
¾ cup finely chopped tomato
¾ cup finely chopped lettuce
¾ cup pre-cooked bacon pieces
¾ cup cheddar cheese
How to make the BLT Dip
Now that you have all your ingredients to hand, this is the process to make your BLT Dip. You can double up the quantities if you need more dip.
First of all, take your lettuce and your tomato. The L and T of the BLT Dip. Chop them up into bite-sized chunks. You don't need to be specific here, but small and bite-sized would make it easier for dipping.
Now that those ingredients are prepped, combine all ingredients into a large bowl and stir well until completely combined.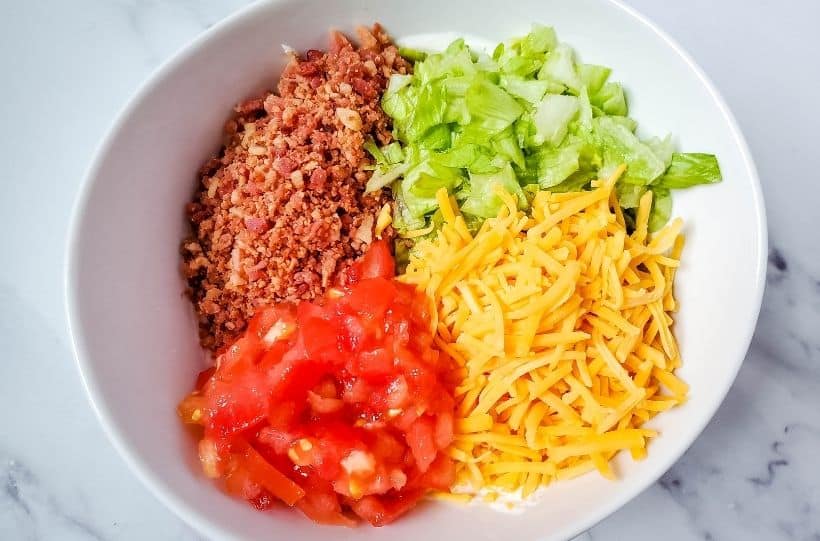 That's it! You can then serve it with whatever you like. Some suggestions include BBQed meat and vegetables, crackers, bread, or pretzels.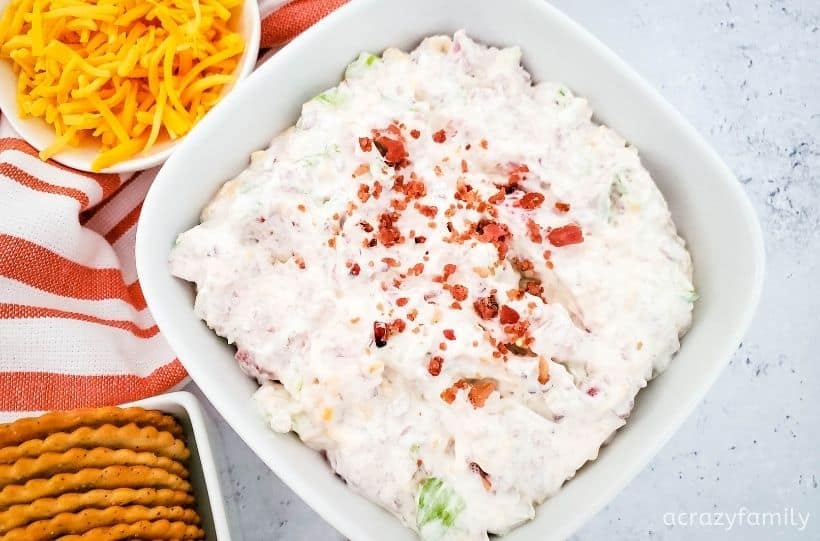 Recipe Notes and tips
While a dip is very self-explanatory to make, I do have a few tips to share.
You can make it ahead of time. Combine the ingredients and then store it in the fridge.
The smaller the chunks of tomato and lettuce, the easier it will be to dip your chosen side or food with it.
If you are not buying pre-cooked bacon pieces, then make sure your bacon has been drained of any excess oil and is completely cooled before adding it to your dip.
You could pat your tomatoes with a paper towel to dry them out a little, but this is a personal preference.
Have a bit extra of the ingredients to scatter on top of the dip before serving it. A scattering of just the bacon pieces or including the lettuce and tomato, will make the dip look visually appealing.
Variations
If you don't want to use sour cream, then you could use plain Greek yogurt instead. Creme Fraiche is also a great alternative.
You could make this Vegan by omitting the bacon or using vegan alternatives to bacon and cheese. Just use vegan mayo instead and double up on the quantities, so you don't need to use the sour cream.
Avocado, salad onions, and chives are all great additions to this dip.
If you don't have any bacon, you could try adding chopped ham to the dip. Make sure you add small pieces. It won't have the same texture, but you may be able to replicate the salty taste.
Does it need cheese? No, but everyone loves cheese in a dip, don't they? You could add a stronger-tasting cheese if you wish. This is all down to personal preference.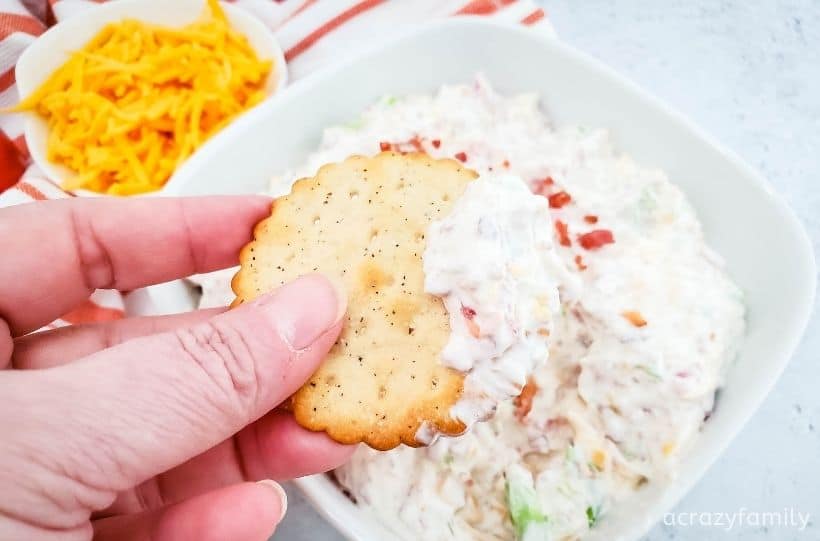 Frequently Asked Questions
What should I serve with the BLT Dip?
This is such a versatile dip and can be used with anything. If you are after a bit of inspiration on what to serve it with, then here are a couple of suggestions:
Chips
Pretzels
Crackers
Bread
BBQd meat and vegetables
With a salad
Baked meals
This is such a versatile dip and would go with any meal.
Can the BLT Dip be made ahead of time?
Yes, you can make the BLT dip ahead of time. Just make sure you store it in the fridge and bring it out before serving. You might want to stir the dip before serving, as some of the ingredients may have settled. You could make it a day ahead if needed.
How do I store the BLT Dip?
You should store the BLT dip in an airtight container and place it in the fridge.
How long with the BLT Dip last?
The BLT dip will last in an airtight container in the fridge for up to three days.
This dip comes together easily, the ingredients work together perfectly, and it will really is the perfect snack or party appetizer. I hope you enjoy making and eating your BLT dip.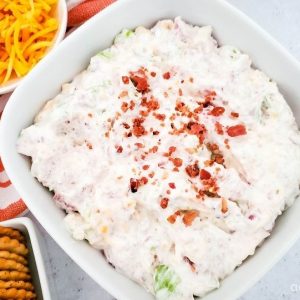 Ingredients
1

cup

mayonnaise

1

cup

sour cream

¾

cup

finely chopped tomato

¾

cup

finely chopped lettuce

¾

cup

bacon pieces

pre-cooked

¾

cup

cheddar cheese
Instructions
Chop the lettuce and tomato.

Combine all ingredients into a large bowl and stir well until completely combined.

Serve with crackers, bread, or pretzels.
Nutrition
Calories:
266
kcal
|
Carbohydrates:
2
g
|
Protein:
7
g
|
Fat:
26
g
|
Saturated Fat:
8
g
|
Trans Fat:
1
g
|
Cholesterol:
44
mg
|
Sodium:
460
mg
|
Potassium:
79
mg
|
Fiber:
1
g
|
Sugar:
1
g
|
Calcium:
87
mg
|
Iron:
1
mg
Nutrition information is automatically calculated, is intended to serve as an estimate only, and is provided for informational purposes. The accuracy of nutritional information is not guaranteed.
Click stars to rate now! Or leave a comment below.