This homemade roasted garlic hummus tastes so much better than anything you buy at the store!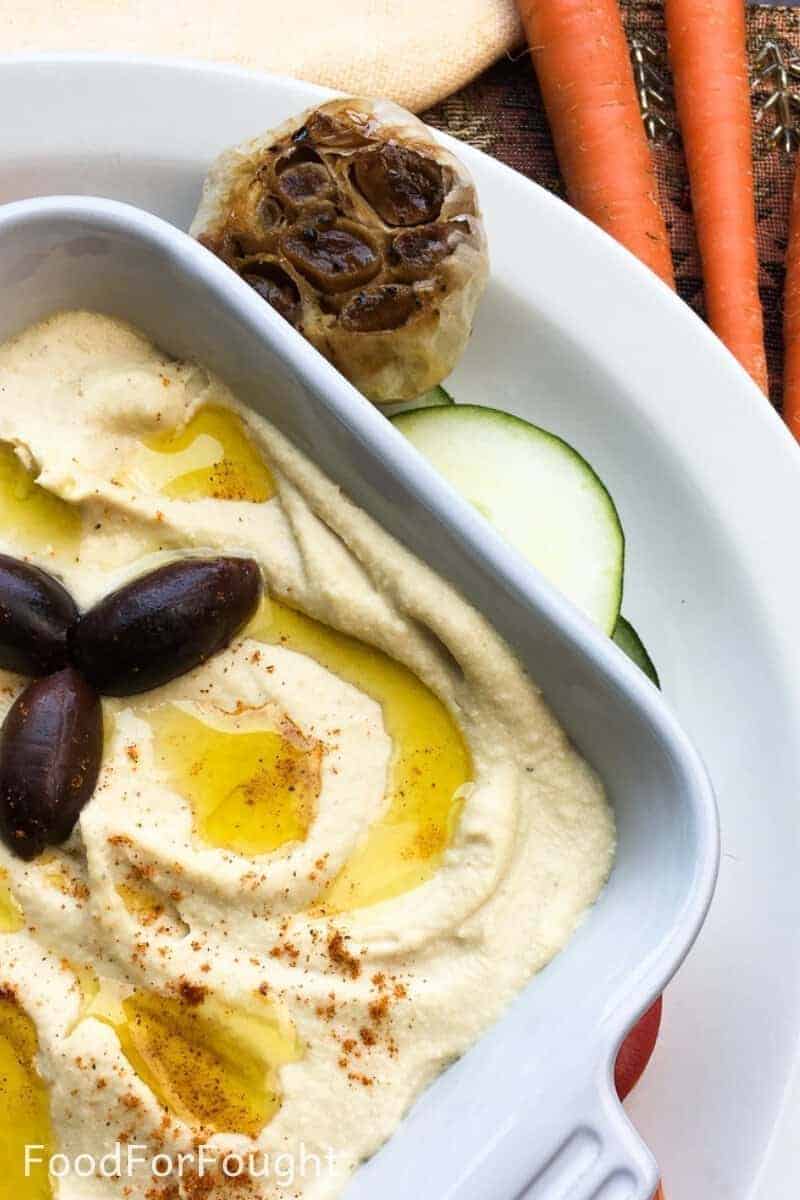 Hummus is one of my son's favorite foods, it was also one of the first foods he tried after years of being fed by gastrostomy.
Now, he just can't get enough of it and he would totally eat it for every meal if I let him. Good thing I know what's in it and how good it really is for his growing body. And this roasted garlic hummus is super delicious and much better than anything you'll ever get at a store!
A Simple, Creamy Hummus recipe
Basically, this Mediterranean staple is just chickpeas mixed with tahini, lemon juice, olive oil, garlic, and salt. But it's very versatile, so you can get creative with adding additional ingredients to change the flavor of your hummus.
Honestly, the ingredients in most commercially-produced hummus are pretty good (and you can find plenty of flavors at the store).
But…buying it is expensive compared to making it! And given how super easy and cheap it is to make, why not try your hand at making homemade garlic hummus yourself?
Plus, it's so flavorful, creamy, and fresh. Seriously, nothing beats a fresh, creamy hummus!
What to Dip in Hummus
Crackers and carrot sticks are great for dipping, but don't limit yourself to the cliché dipping items. Feel free to get creative and make hummus the centerpiece of a platter people can actually get excited about. Think:
Carrots
Celery
Fried asparagus
Bell peppers
Cucumber
Crackers (wheat, veggie)
Rice cakes
Radish slices
Tortilla chips
Pretzels
Pita bread
Sweet potato chips
Broccoli
Crispy endives
Cauliflower
Crunchy sugar snaps
Tomatoes
Zucchini
Eggplant
Tempeh
Yellow squash
Shaved radishes
Fruit (apples, dates, apricots)
How to Make This Easy Roasted Garlic Hummus Recipe
When you make hummus, you need garlic, olive oil, chickpeas, lemon juice, tahini, water, cumin, cayenne pepper (if desired), and salt.
You can either buy or make tahini sauce for your hummus.
Note: You can make this roasted garlic hummus recipe in either a food processor or a blender. However, from my experience, it's a LOT easier to make in a food processor.
To save time, roast the garlic in advance while preparing other roasted vegetables or dishes in the oven. Roasted garlic can be stored in the refrigerator in an airtight container covered in olive oil for up to one week.
Serve your homemade hummus with:
Pita chips Fresh vegetables: Tomatoes, cucumbers, carrots, and/or celery
Kalamata olives
High-quality extra virgin olive oil
Smoked paprika, for garnish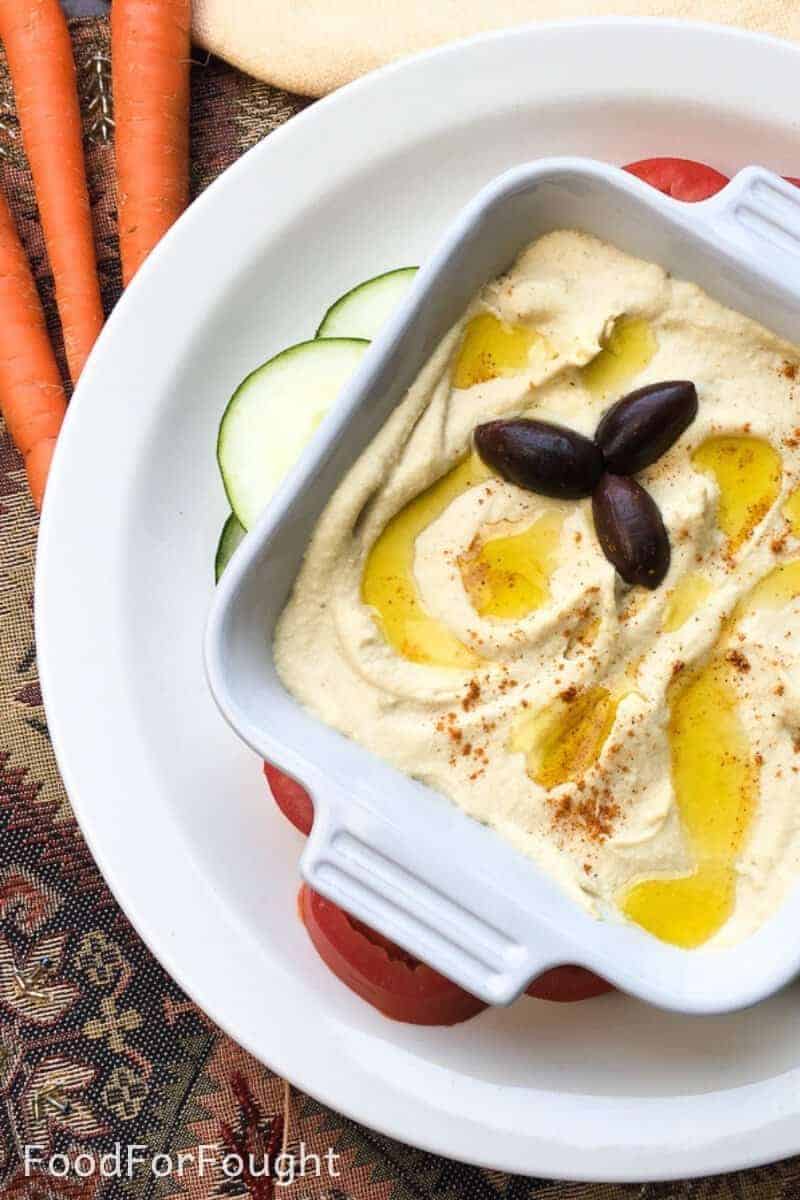 More From A Crazy Family:
Jalapeno Popper Dip | Buffalo Chicken Dip | Cheesy Pepperoni Pizza Sticks | Slow Cooker Party Meatballs | 15 Healthy Snack Ideas Kids Love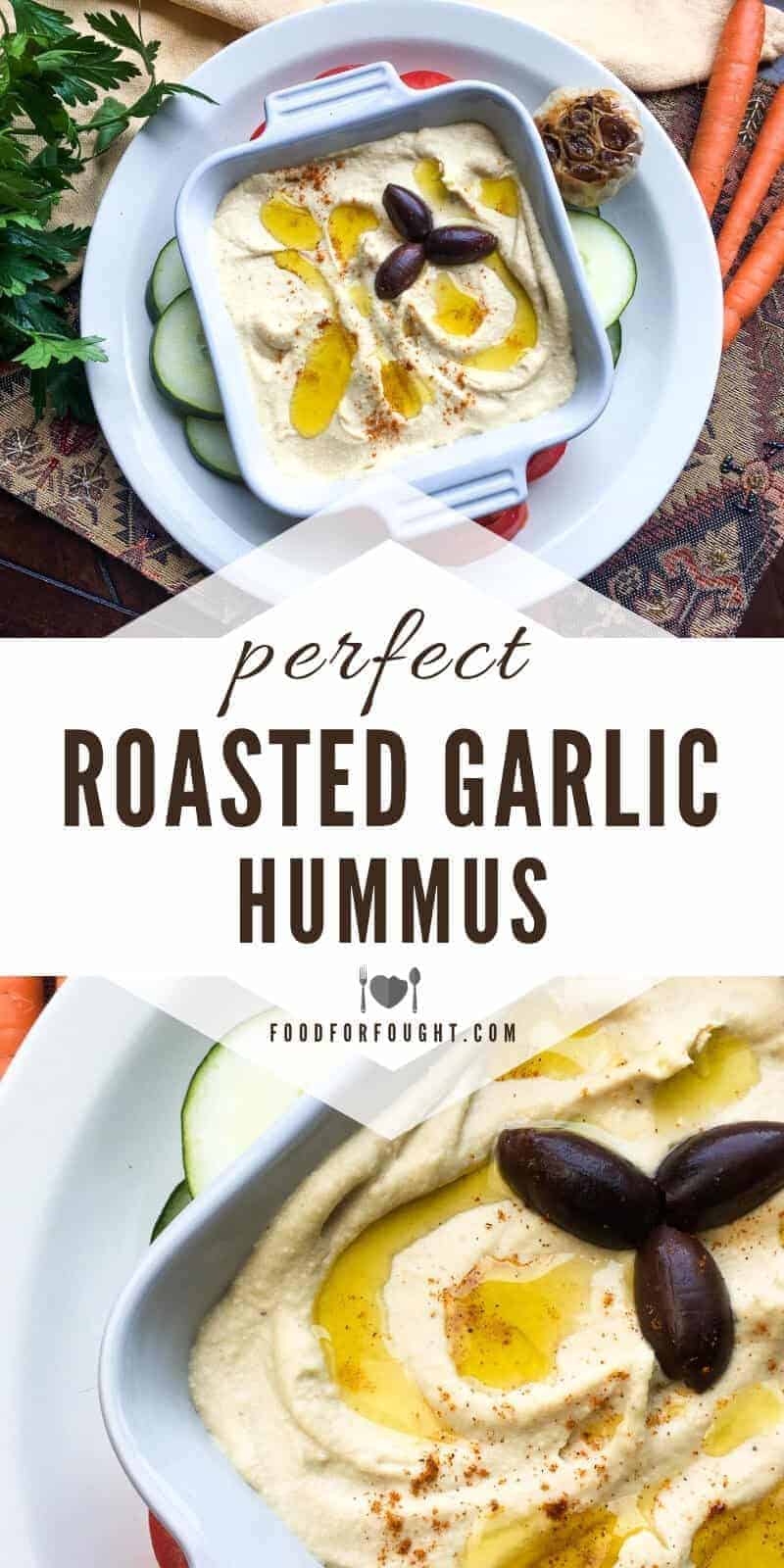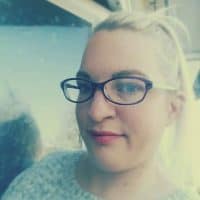 Vickie Louise is the Founder and Editor-in-Chief of A Crazy Family. She is a stay at home mom of a little boy with a big personality. After having her son, she realized how important it is for moms to take care of themselves, physically and mentally. Vickie believes in the power of using social media and her online presence for good and is thrilled to provide you with a space to celebrate all that is awesome (and a little crazy) in the world.