Tasty Roasted Garlic Hummus
This post and its photos may contain affiliate links. As an Amazon associate, I earn from qualifying purchases.
This homemade roasted garlic hummus tastes so much better than anything you buy at the store!
Hummus is one of my son's favorite foods, it was also one of the first foods he tried after years of being fed by gastrostomy.
Now, he just can't get enough of it and he would totally eat it for every meal if I let him. Good thing I know what's in it and how good it really is for his growing body.
And this roasted garlic hummus is super delicious and much better than anything you'll ever get at a store!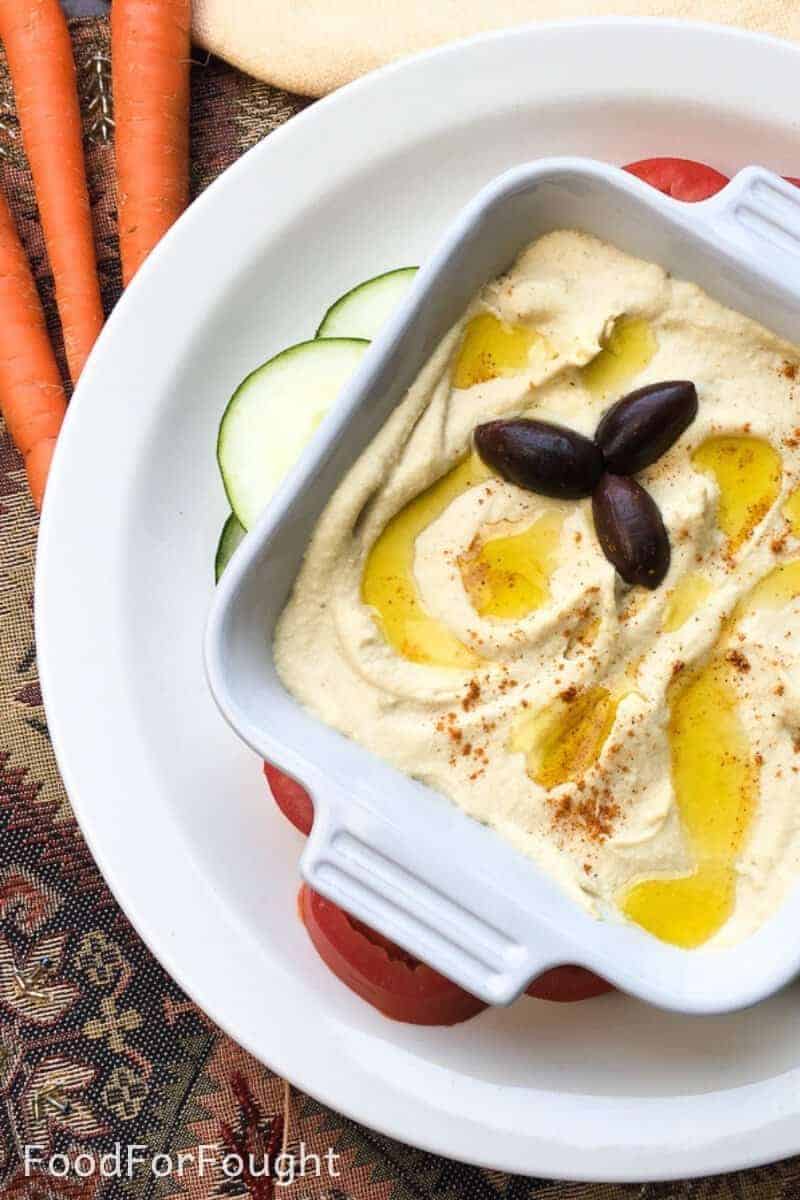 A Simple, Creamy Hummus recipe
Basically, this Mediterranean staple is just chickpeas mixed with tahini, lemon juice, olive oil, garlic, and salt.
But it's very versatile, so you can get creative with adding additional ingredients to change the flavor of your hummus.
Honestly, the ingredients in most commercially-produced hummus are pretty good (and you can find plenty of flavors at the store).
But…buying it is expensive compared to making it! And given how super easy and cheap it is to make, why not try your hand at making homemade garlic hummus yourself?
Plus, it's so flavorful, creamy, and fresh. Seriously, nothing beats fresh, creamy hummus!
What to Dip in Hummus
Crackers and carrot sticks are great for dipping but feel free to get creative and make hummus the centerpiece of a platter people can actually get excited about. Think:
Carrots
Celery
Fried asparagus
Bell peppers
Cucumber
Crackers (wheat, veggie)
Rice cakes
Radish slices
Tortilla chips
Pretzels
Pita bread
Sweet potato chips
Broccoli
Crispy endives
Cauliflower
Crunchy sugar snaps
Tomatoes
Zucchini
Eggplant
Tempeh
Yellow squash
Shaved radishes
Fruit (apples, dates, apricots)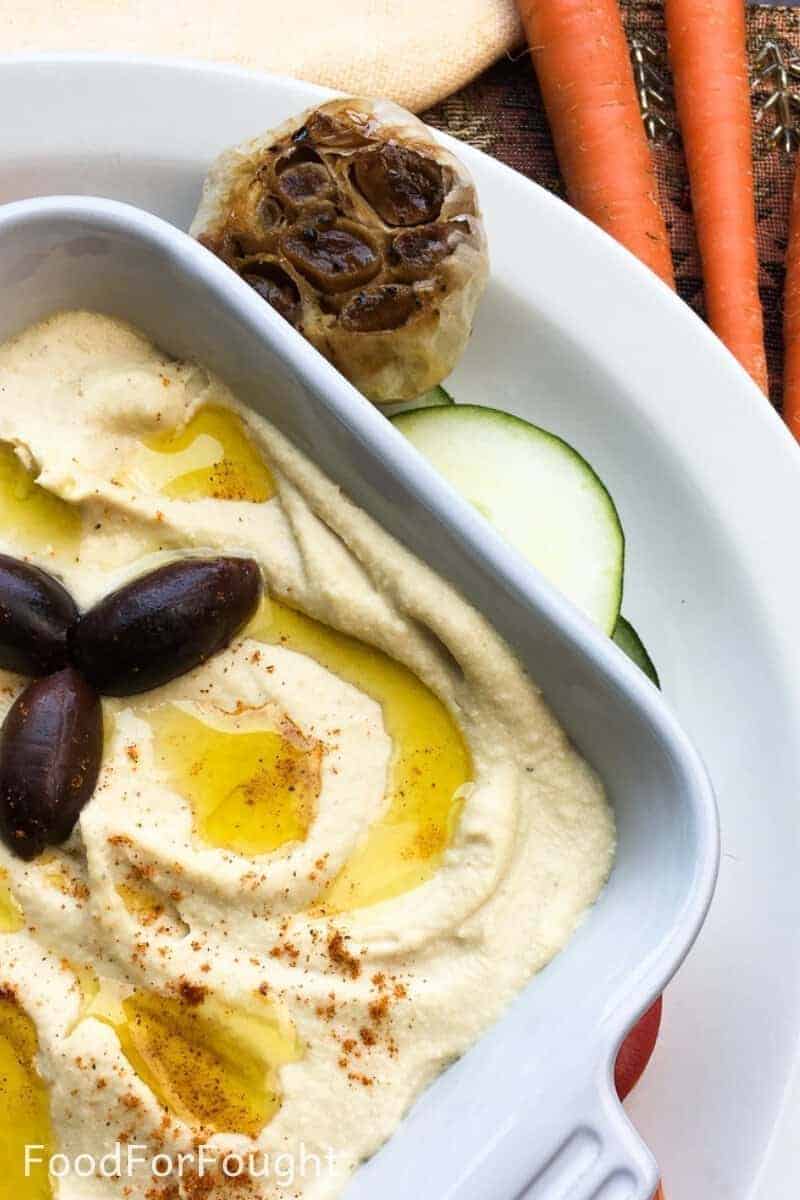 How to Make This Easy Roasted Garlic Hummus Recipe
When you make hummus, you need garlic, olive oil, chickpeas, lemon juice, tahini, water, cumin, cayenne pepper (if desired), and salt.
You can either buy or make tahini sauce for your hummus.
Note: You can make this roasted garlic hummus recipe in either a food processor or a blender. However, from my experience, it's a LOT easier to make in a food processor.
To save time, roast the garlic in advance while preparing other roasted vegetables or dishes in the oven. Roasted garlic can be stored in the refrigerator in an airtight container covered in olive oil for up to one week.
Serve your homemade hummus with:
Pita chips Fresh vegetables: Tomatoes, cucumbers, carrots, and/or celery
Kalamata olives
High-quality extra virgin olive oil
Smoked paprika, for garnish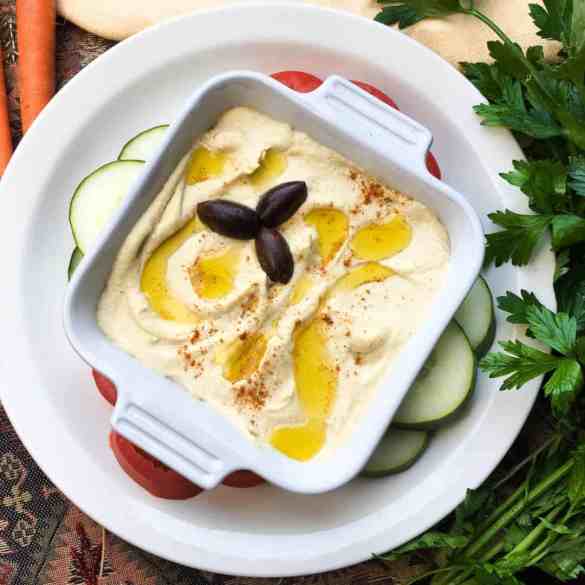 Perfect Roasted Garlic Hummus
Ingredients
1

large head garlic

3

tablespoons

extra virgin olive oil

divided

1

can

15 oz. – 240g chickpeas (garbanzo beans), rinsed and drained

3

tablespoons

fresh lemon juice

1/3

cup

tahini

3

tablespoons

water

1

teaspoon

ground cumin

½

teaspoon

cayenne pepper

A pinch of sea salt

to taste
Instructions
Preheat oven to 400°F.

Cut the top off garlic head and drizzle with a small amount of olive oil. Wrap in aluminum foil and place in preheated oven for 40 minutes. Remove from the oven and set aside to cool for a few minutes.

Add remaining olive oil, chickpeas, lemon juice, tahini, water, ground cumin, and cayenne pepper to a blender or food processor. Once cool, remove roasted garlic cloves from the outer skin and add them to the container.

Season with sea salt, to taste, and blend until smooth. Add more water, if necessary, to achieve desired consistency. Taste and adjust seasonings, as desired.

Transfer to a serving dish and drizzle with extra virgin olive oil and a sprinkle of smoked paprika.

Serve immediately with fresh vegetables and Kalamata olives.
Nutrition information is automatically calculated, is intended to serve as an estimate only, and is provided for informational purposes. The accuracy of nutritional information is not guaranteed.
Did you make this recipe? Click stars to rate now! Or leave a comment below.
Pin for Later!