20 Tasty Dinner Recipes With Five Ingredients Or Less
By: Pages, Places and Plates | Updated: 22nd November 2022
There are so many tasty recipes out there, however many contain loads of ingredients which can make them quite difficult to make! You don't need to compromise taste for simplicity though – you just need to know where to look.
Check out these twenty different recipes with 5 ingredients or less… So yummy, yet also so easy to make!
Chicken Enchilada Casserole
I'll admit I was drooling when I came across this recipe – enchiladas are amazing, but these have just five ingredients! They're so easy to make, plus you can add pretty much anything extra in that you like. A perfect recipe for a busy day!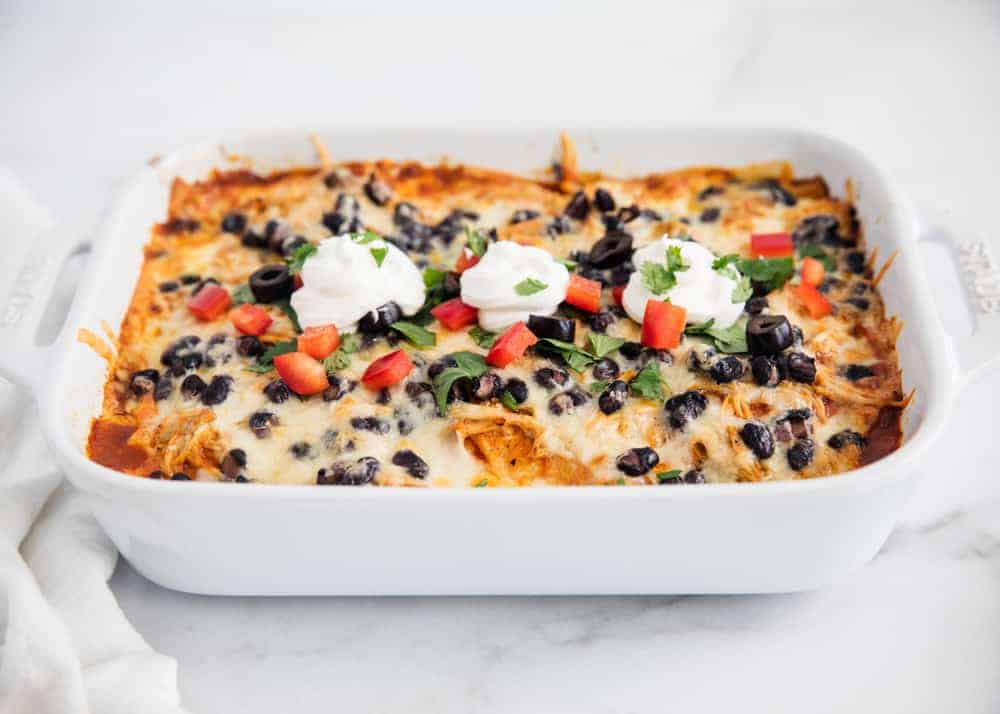 Get the recipe from I Heart Naptime
Beef Taco Ring
This taco ring can work as either an appetiser or a full meal, and it looks so pretty… Almost too good to eat! The beef could easily be substituted for a different filling, and whatever you put in it makes for an easy and exciting dinner.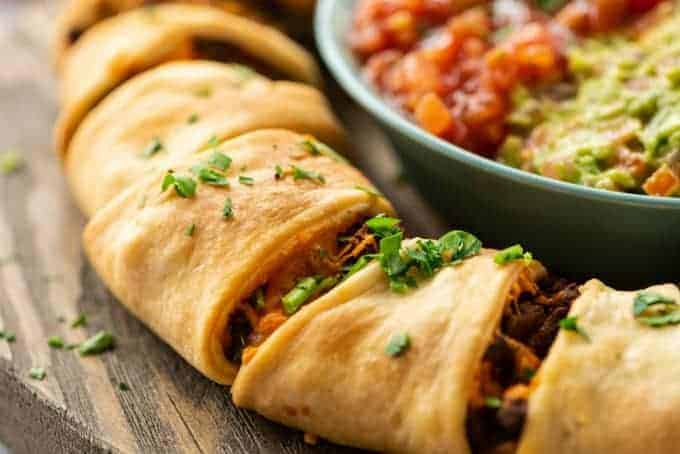 Get the recipe from Princess Pinky Girl
Bacon Pesto Pasta
Pesto is such a go-to ingredient in our household as there are loads of easy recipes you can make with it. This bacon pesto pasta is one of my favourites – just four ingredients in total, plus a gorgeous vegan version as well! (Vegan version contains more ingredients but is still so easy!)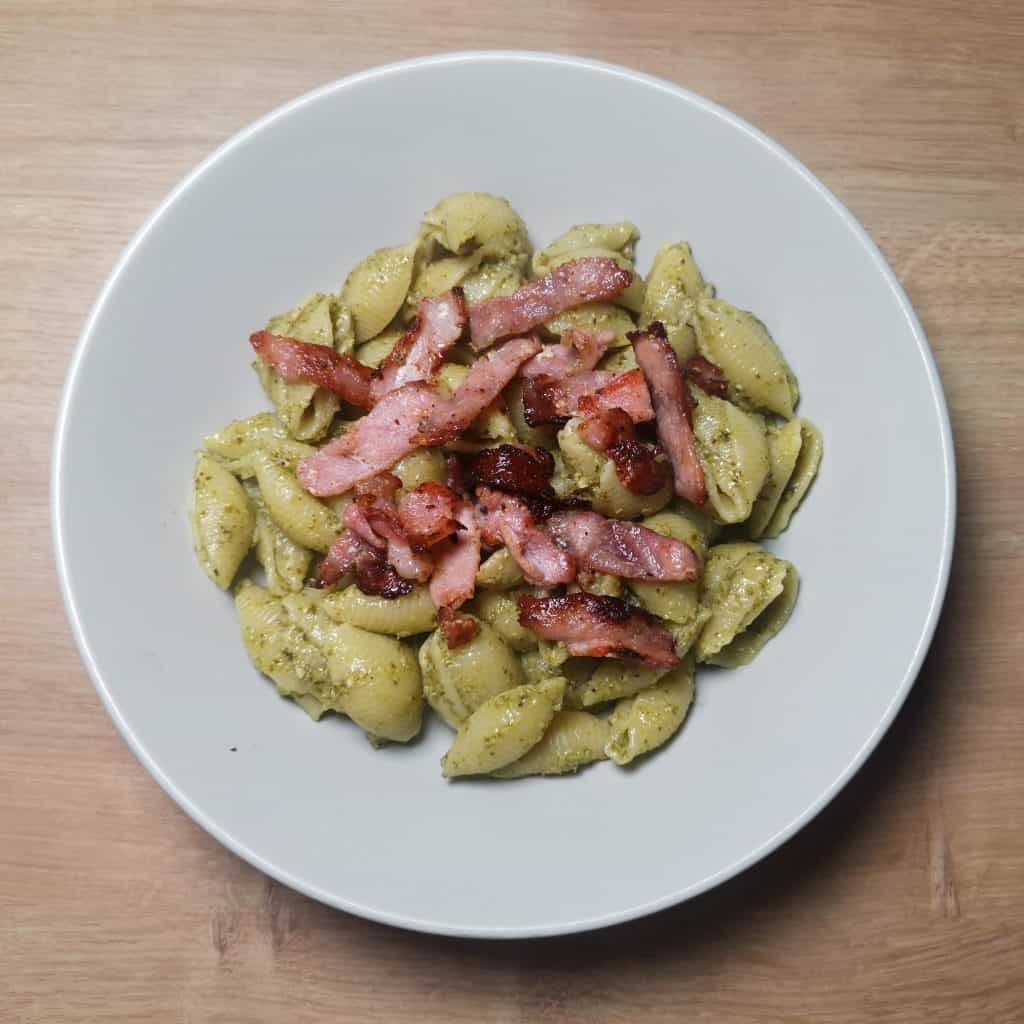 Get the recipe from Pages Places & Plates
Penne With Prosciutto & Parmesan Cream Sauce
I'll never tire of Italian pasta dishes, which are so simple yet flavoursome. It's one of my all-time favourite cuisines for that reason! This five-ingredient penne dish is served in classic Italian style, with minimal fuss yet gorgeous flavour.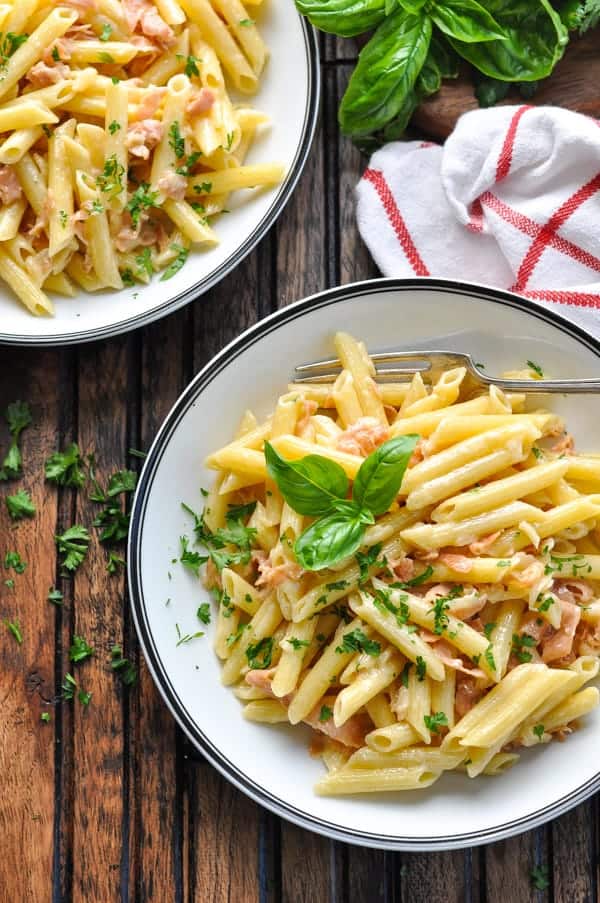 Get the recipe from The Seasoned Mom
Chorizo Salmon
Salmon and chorizo are very different meats but work well together. This recipe from Weight Watchers is so healthy and simple, yet requires as little as four ingredients! Taking just 15 minutes to make, it's the perfect weeknight meal.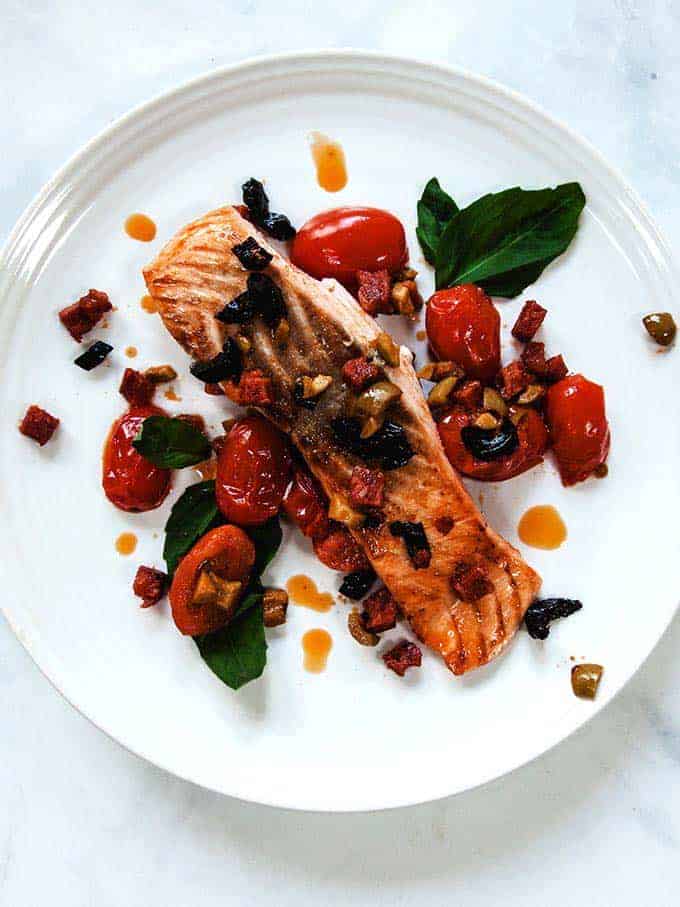 Get the recipe from Pointed Kitchen
Bean Burgers
This has to be the easiest bean burger recipe in existence, and possibly the cheapest! Using just a can of baked beans, an onion, and some flour you can make some really tasty bean burgers in less than two minutes… Who knew!?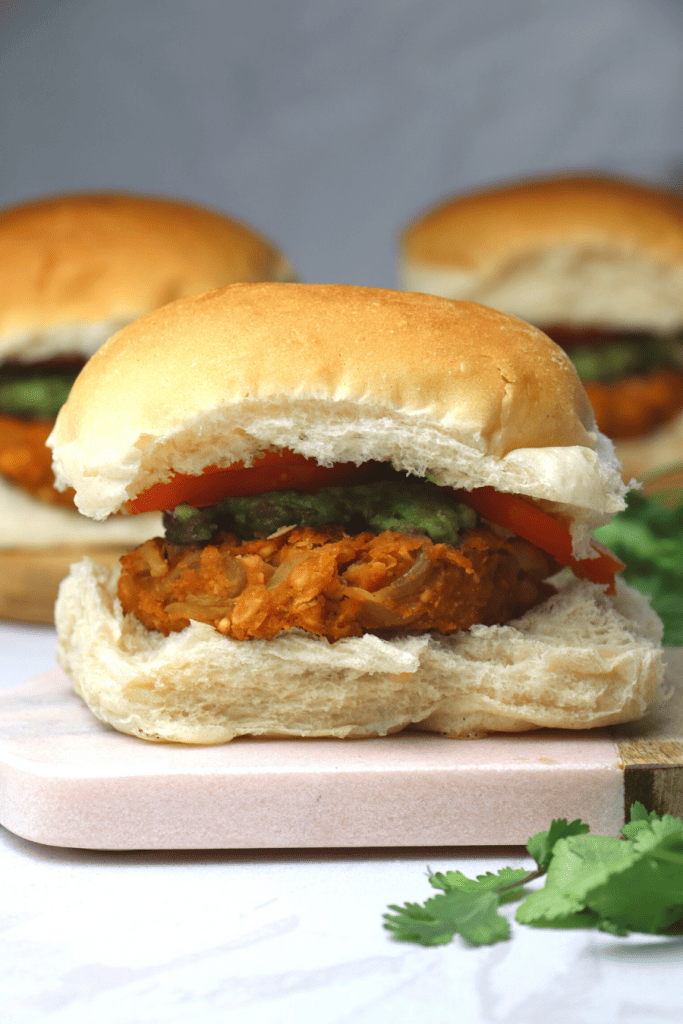 Get the recipe from The Dorky French
Rosemary Chicken
Here's a great recipe for those who avoid certain food groups or have intolerances. This rosemary chicken is gluten-free, low-carb, keto, and grain-free! It's full of flavour, and such good comfort food.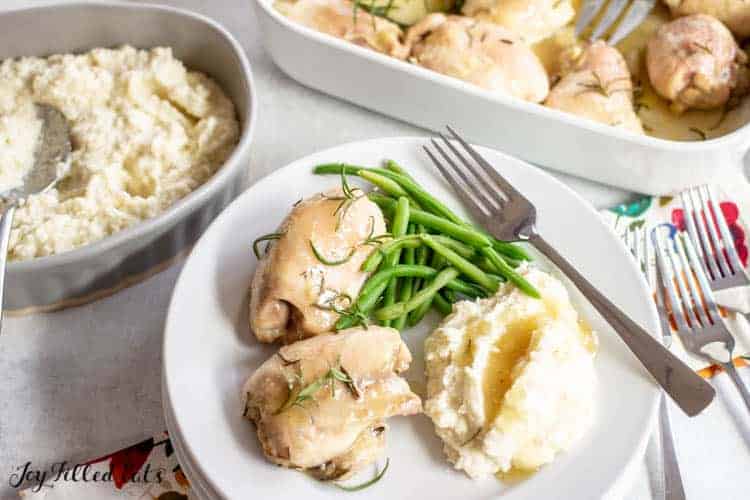 Get the recipe from Joy Filled Eats
Alfredo Fettuccine
Alfredo is one of the best pasta sauces going in my opinion, so this is bound to be good! Another recipe that has 5 ingredients or less but still contains lots of flavour.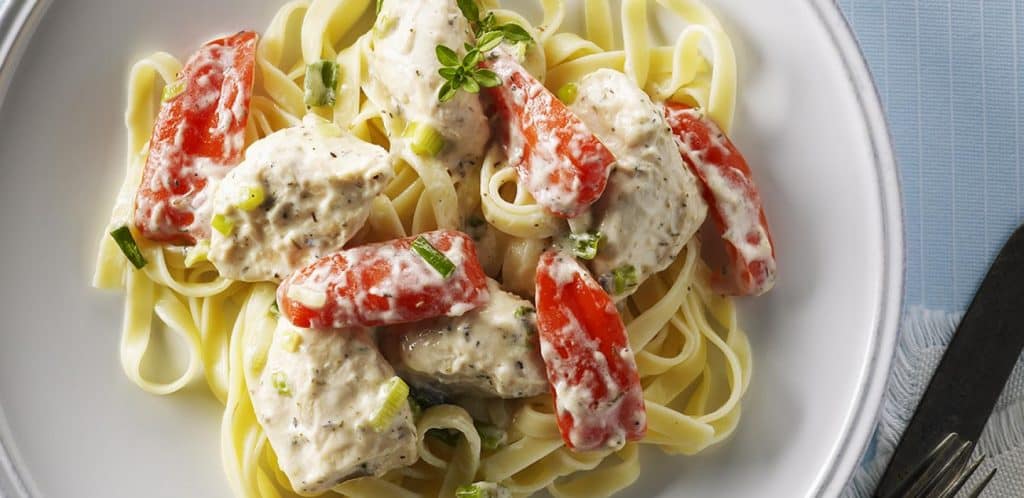 Get the recipe from Chicken.ca
Black Bean & Corn Sheet Pan Fajitas
Here's another great recipe for the vegans, vegetarians, and gluten-free which you just can't go wrong with! This is a really easy taco recipe that contains so much nutrition despite only having five ingredients.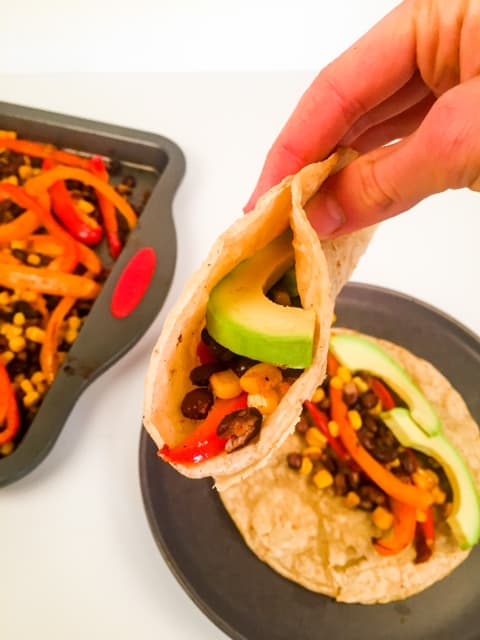 Get the recipe from Plate With Purpose
Orange Chicken
Here's a great way to make orange chicken so much easier to cook. This recipe has four or five ingredients, depending on how you make it, and is a wonderful naughty treat for when you just want something that tastes really good.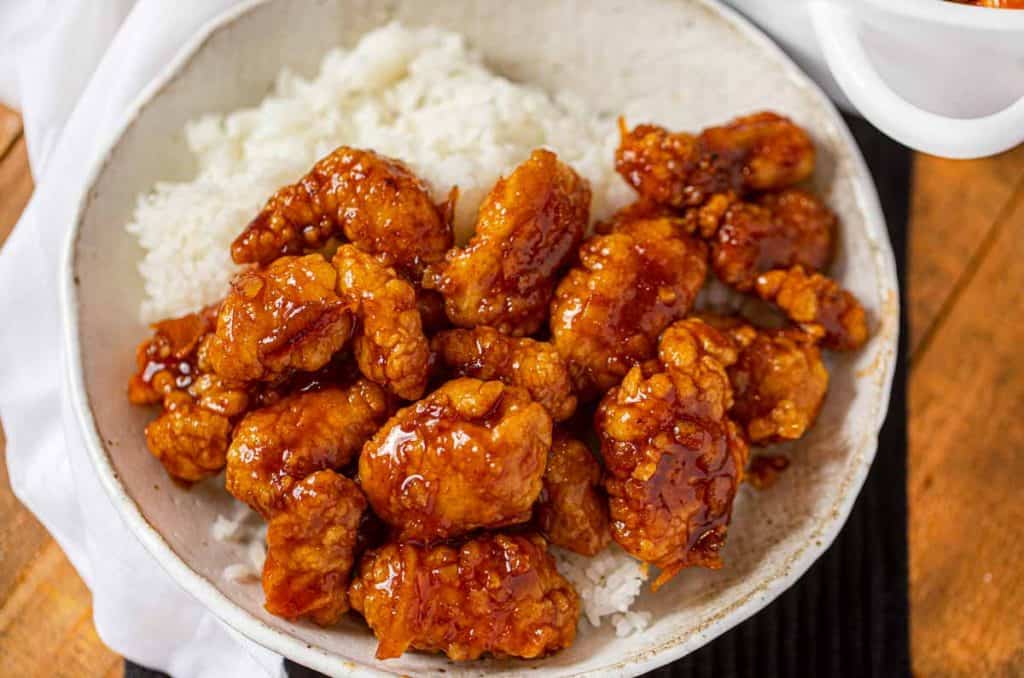 Get the recipe from Dinner Then Dessert
One Pot Sausage, Gnocchi, & Green Beans
If you've got an air fryer in your kitchen then this is a really easy recipe to make. Even if you haven't it's pretty simple! There are a lovely variety of flavours with little effort needed at all.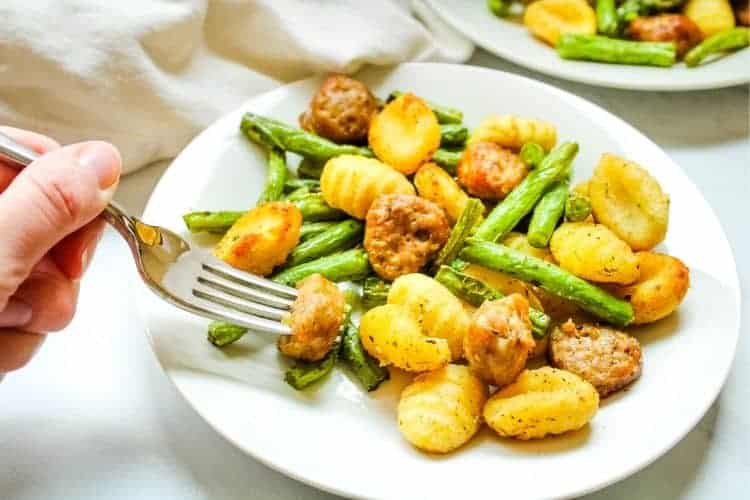 Get the recipe from Everyday Family Cooking
Lemon Chicken With Asparagus
I love making these sorts of dishes. So simple, yet you end up with a meal like something you'd order at a restaurant. This chicken dish has five ingredients and is such a gorgeous meal to have in the evenings. Plus it looks great!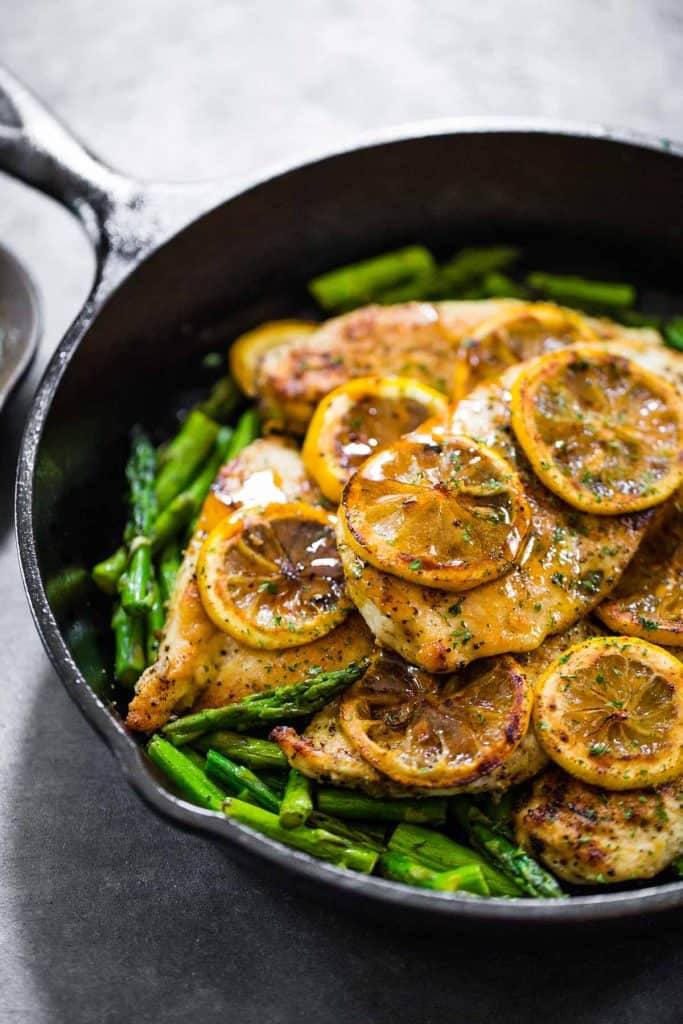 Get the recipe from Pinch of Yum
Baked Tortellini
Baked tortellini is one of those meals you can never go wrong with. This one uses minimal ingredients for maximum flavour, and you can use either jar sauce or your own sauce that you've made in advance. Another great meal that has 5 ingredients or less.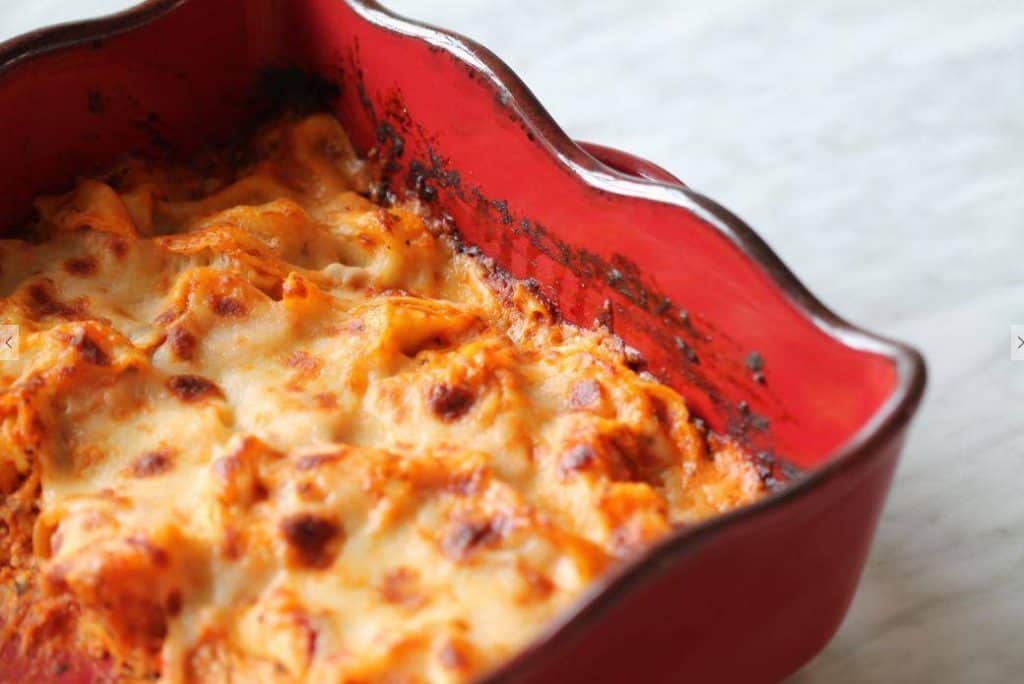 Get the recipe from Passion For Savings
Chicken Pot Pies
Pies are a great dinner option but can sometimes get complicated. These mini chicken pot pies are reduced to as simple as they can get. Plus, it's a recipe that children will love!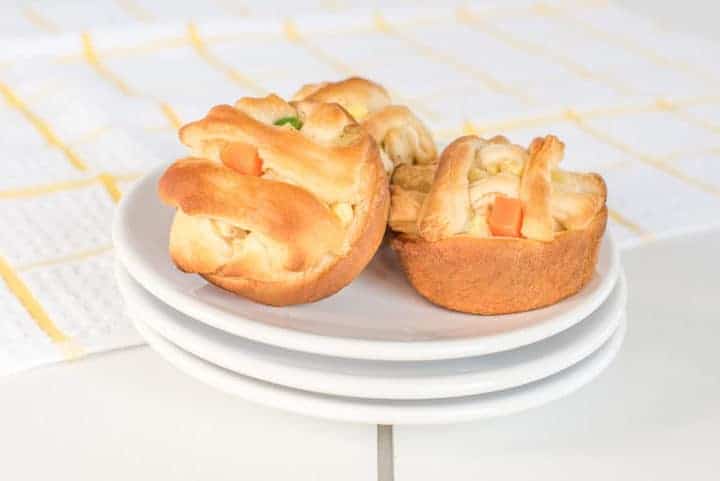 Get the recipe from Easy Toddler Meals
Easy Cheesy Garlic Broccoli Pasta
This is another recipe that's great for kids of all ages. The small amount of ingredients mean that it's not too many flavours for them, but at the same time it still tastes really good.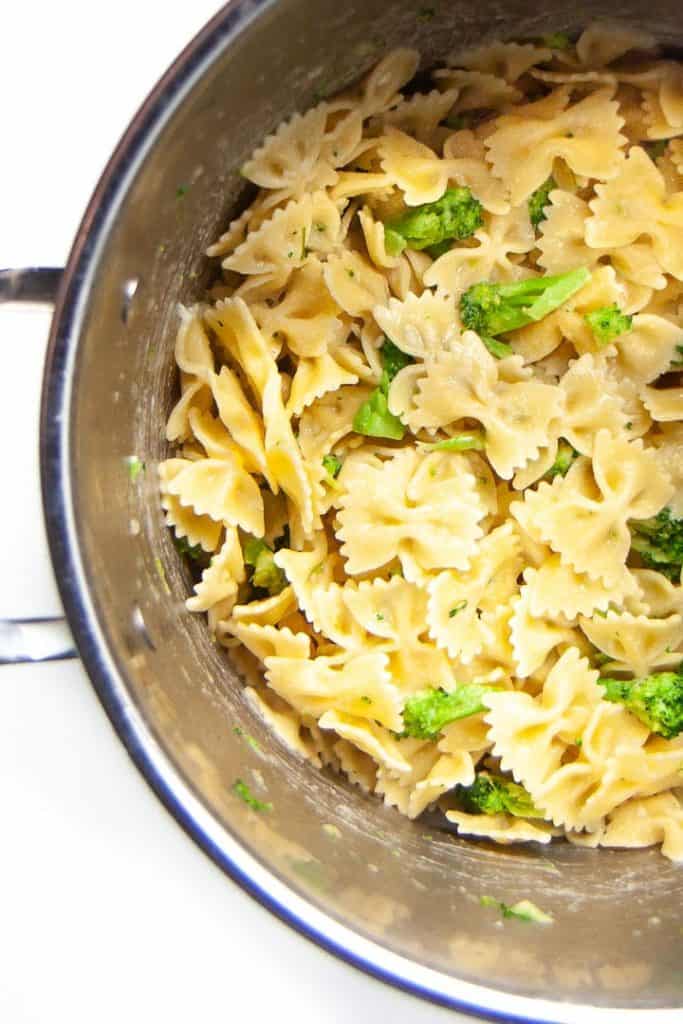 Get the recipe from Baby Foode
Hibachi Chicken Skillet
Here's a gorgeous Asian dish that proves just how easy yet tasty the cuisine be. The dish uses chicken, mushrooms, and broccoli with tamari to create the perfect combination of flavours. Would be lovely served with rice or noodles or even on its own if you're keto.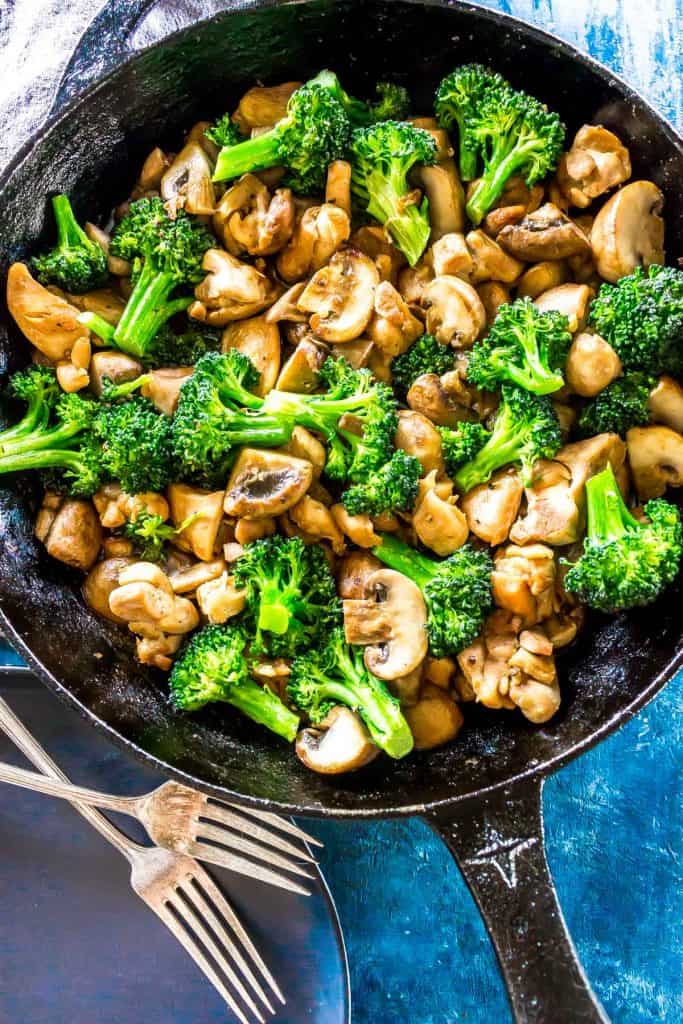 Get the recipe from Cast Iron Keto
Crispy Garlicky Chicken
Jamie Oliver certainly isn't the first chef that comes to mind when I want recipes with few ingredients! This is one of the only ones I've seen from him that contain 5 ingredients or less. This Crispy Garlicky Chicken is straight from his cookbook and has just chicken, bread, garlic, lemon, and salad in it. You can't get much simpler than that!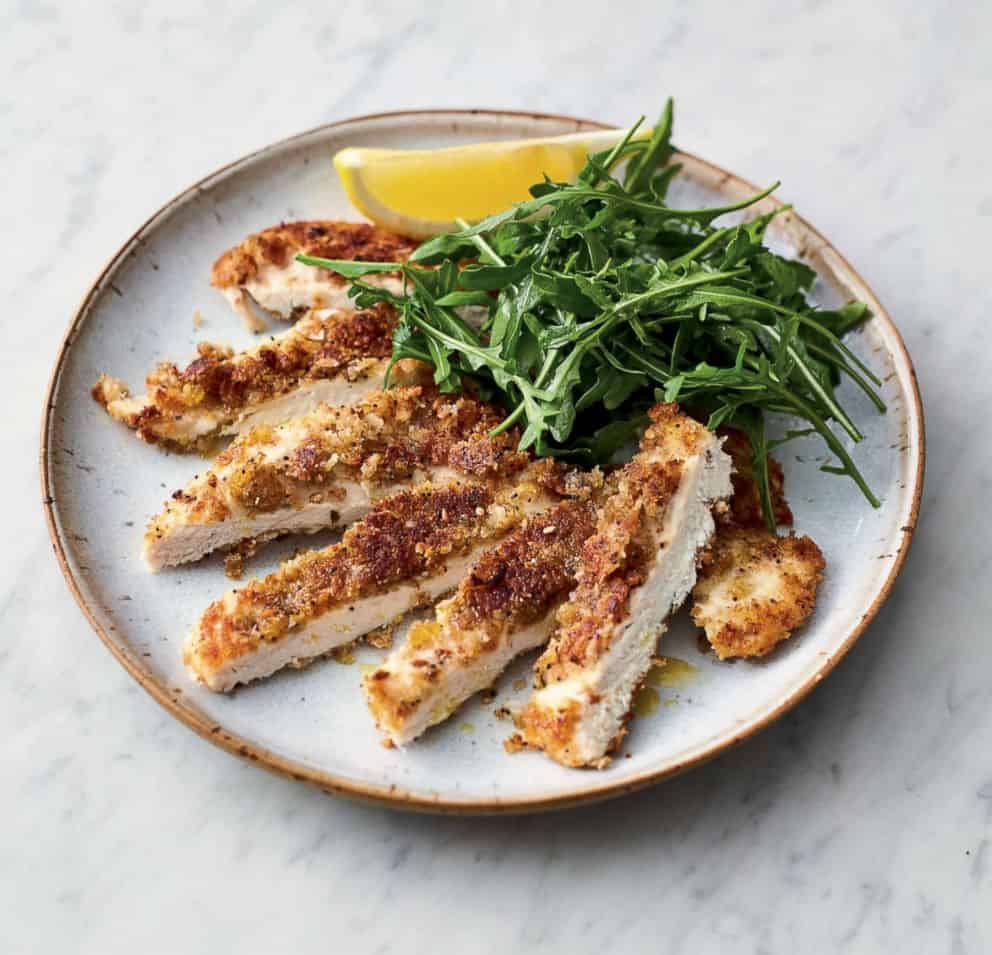 Get the recipe from Good Morning America
High-Protein Instant Pot Chicken Pasta
Instant Pots are the best for easy cooking! They make everything so simple, and you don't need loads of ingredients to get something good out of them. This five-ingredient chicken pasta is a perfect example of that.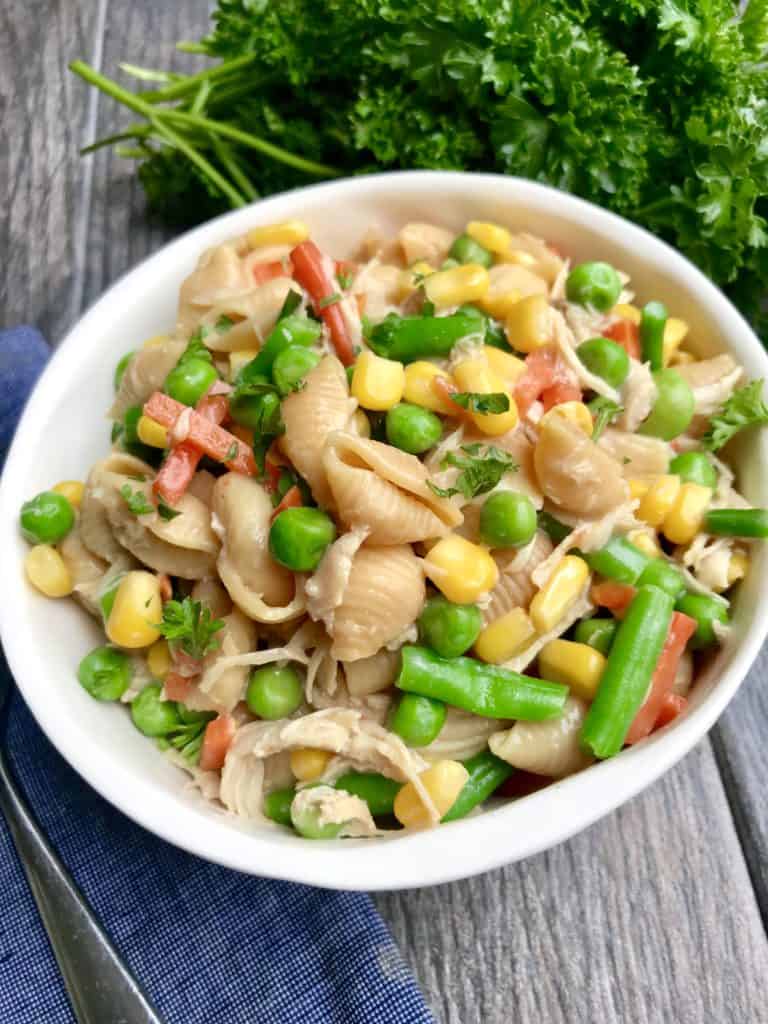 Get the recipe from Carrots 'N' Cake
Sausage & Potatoes Skillet
Sausage, potatoes, and cauliflower come together in this wonderfully easy dish that has just five ingredients and uses only one pan. It can't get much better than that!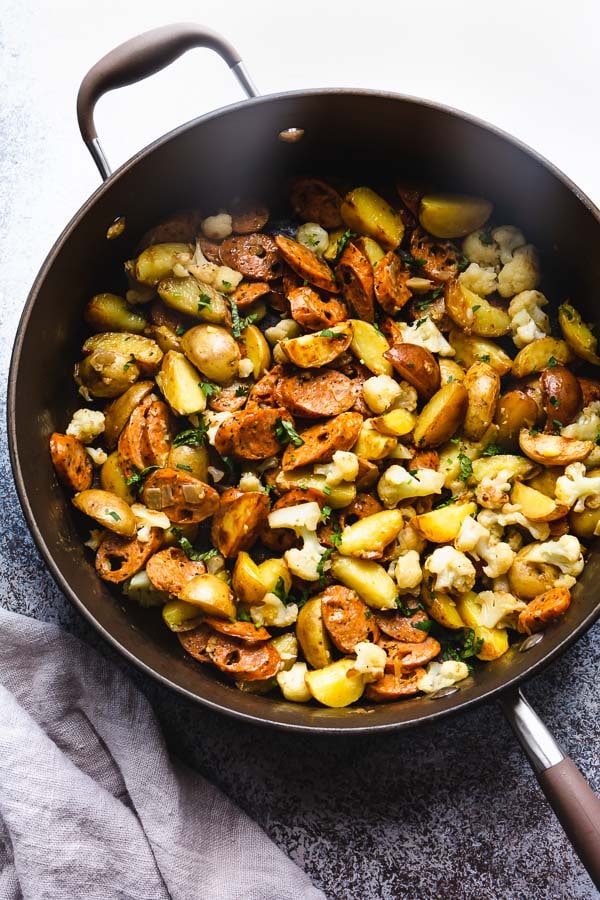 Get the recipe from Busy Cooks
Instant Pot Chili
This is a great recipe for chili con carne! Not only is it super easy because of the lack of ingredients and Instant Pot, but it's also so cheap! The creator has also added a vegetarian version, so most families can enjoy this one.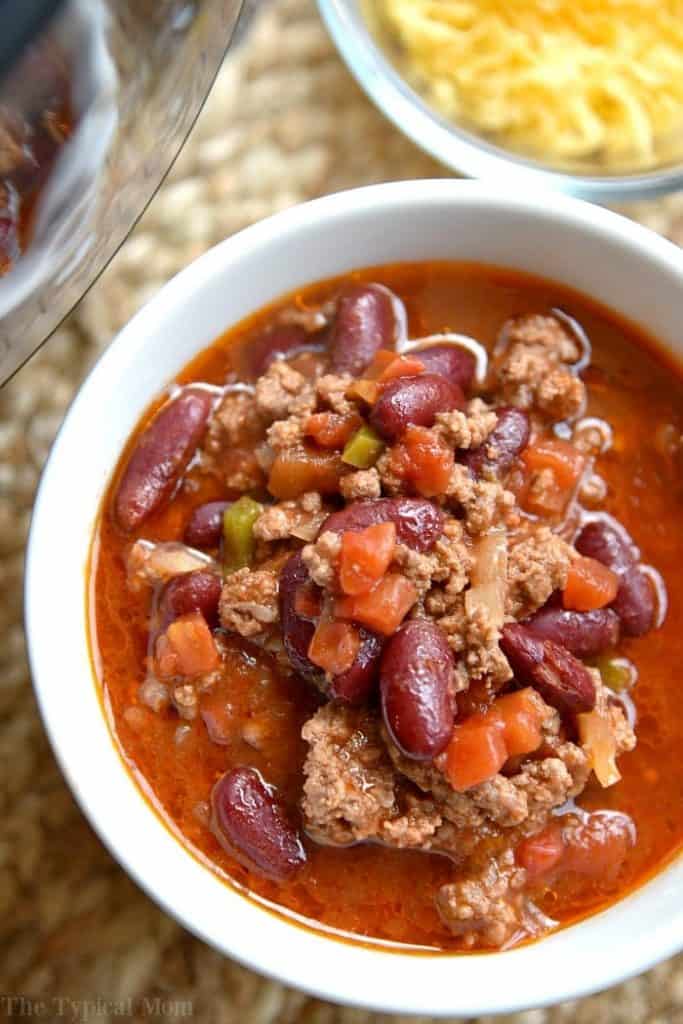 Get the recipe from The Typical Mom
also What are your favourite recipes that contain 5 ingredients or less? Share them in the comments and make sure to like and pin! If you liked this article then you'll also want to check out these 15 easy dinner recipes for busy weeknights, plus this mouthwatering selection of bacon-wrapped recipes.