Bacon, Cheddar and Broccoli Casserole
By: Vickie | Updated: 28th December 2022
If you ask me, the best way to make a recipe go from just okay to home-run is to add bacon. Crispy, savory, all-American bacon.
It is one of the main staples I keep here at home, whether it be in the fridge for a recipe I plan to make soon after purchase or in the freezer just to have on hand when the mood strikes.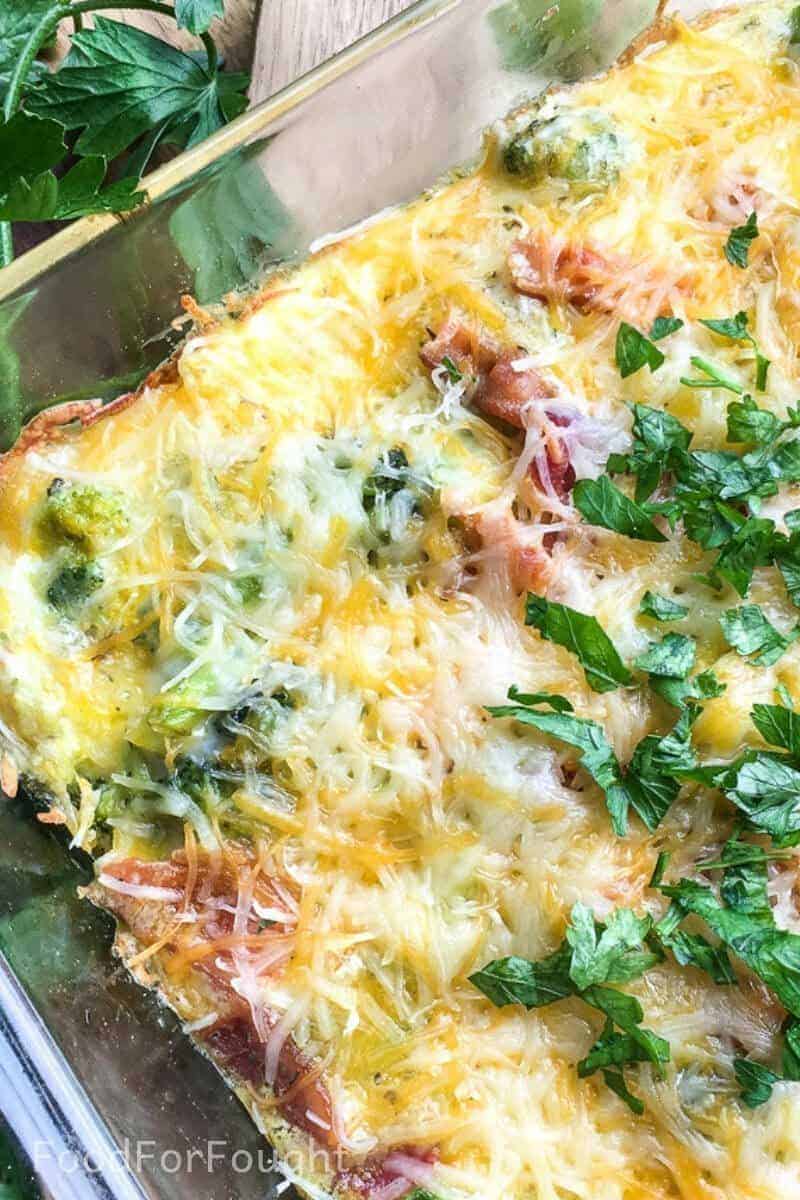 For years I thought bacon was just breakfast food; a companion for eggs, home fries, and toast. Now, I've seen the error of my ways and add it to everything I possibly can.
Of course, it doesn't hurt that now science is claiming that bacon is actually good for you!
We'll skip the science, for now, my readers can google the health properties of a high-fat, low-carb diet if you're curious, and get on with the star of today's recipe: Bacon, Cheddar, and Broccoli Casserole. Even as I type the name, my stomach is rumbling in appreciation. Good thing this recipe is in the lineup for recipe rotation on a regular basis.
While some people like a lot of dramatic flair in their recipes, I tend to prefer a more simplistic approach. After a whirlwind of paying bills, running errands, cleaning the house, editing blog posts, and a plethora of other not-so-fun adult activities, my energy is often on the low side. I just don't have it in me to sequester myself in the kitchen and whip up a gourmet, 5-course meal for my family.
That being said, this particular casserole recipe is the next best thing: it's comfort food, which beats out gourmet every day of the week, in my humble opinion anyway.
It doesn't get much simpler than a casserole made from many staples that most people have on hand already.
WHAT YOU NEED TO MAKE THIS EASY BROCCOLI CASSEROLE THAT TASTES DELICIOUS
Broccoli, bacon, sharp cheddar cheese, heavy cream, eggs, and of course, your basic spices which include onion & garlic powder, a couple of herbs, and a light sprinkle of salt & pepper.
That's it, folks, that handful of ingredients is mixed and baked together to make a filling casserole that will leave your family asking for seconds.
Worried about heavy cream? Well, forget everything you've ever imagined because heavy cream should be your new best friend, second only to bacon.
Not only does heavy cream give everything from coffee to casseroles a richer consistency, but it's also a low-carb option that is far superior in nutritional value to milk. Zero carbs and zero sugar, ladies and gentlemen. You will thank me later after the casserole has filled your home with yummy smells and your tummies with comforting warmth.
School night, during a workweek or for an early Sunday dinner, you'll be pleasantly surprised at how little work is actually put into this casserole. 10 minutes of prep time, 20 minutes to bake and you've got an aromatic, filling dinner that is oven to table-ready in just 30 minutes!
Helpful tip: I would suggest blanching the broccoli before adding it to the casserole prior to baking. This additional step will ensure that the florets are tender rather than crisp and also allows the flavor of the broccoli itself to steep in along with the rest of the ingredients.
Also, don't be afraid to double down on the bacon if that's your thing. Bacon makes everything taste better.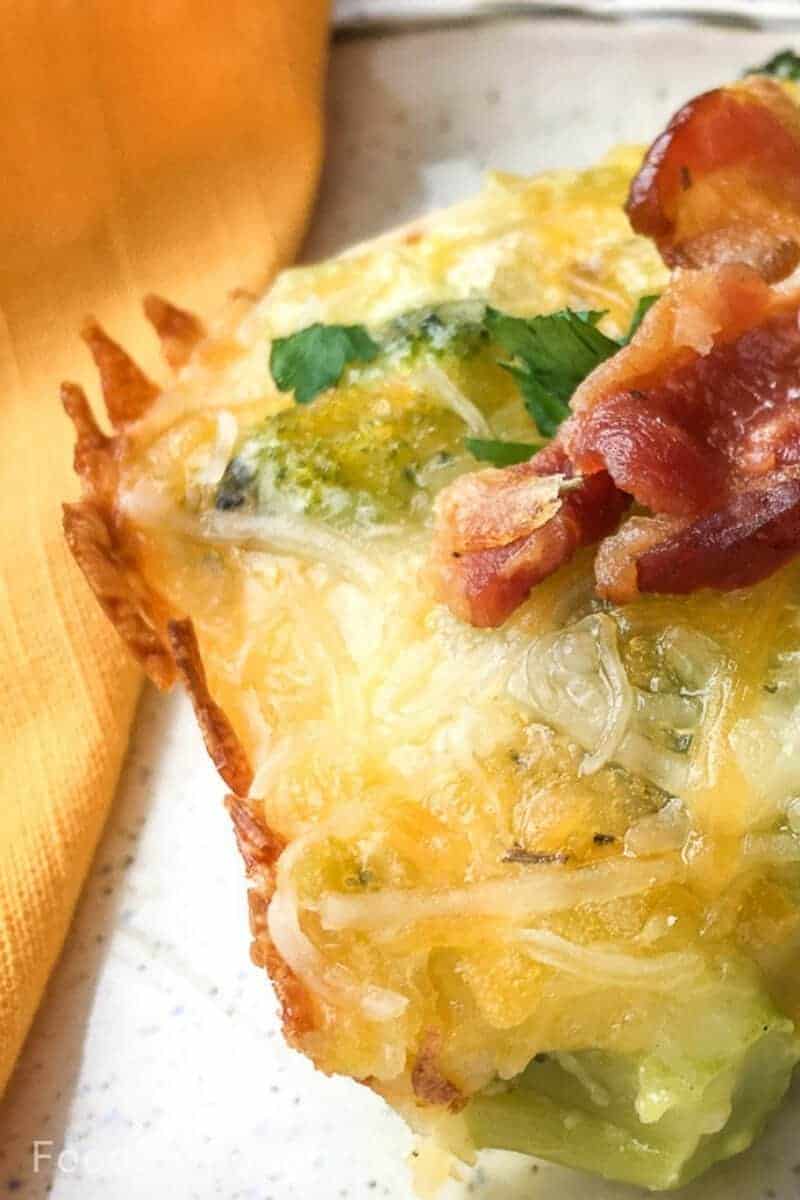 More of our favorite dinner recipes you will love:
Bacon, Cheddar and Broccoli Casserole
Ingredients
Non-stick cooking spray

2

tablespoons

extra virgin olive oil

3

cups

broccoli florets

3

tablespoons

water

1

cup

sharp cheddar or Colby Jack cheese

shredded

6

slices

thick-cut bacon

cooked and crumbled

4

large eggs

½

cup

heavy cream

½

teaspoon

onion powder

½

teaspoon

garlic powder

¼

teaspoon

dried thyme

½

teaspoon

dried oregano

Sea salt and black pepper

to taste

Fresh parsley

for garnish
Instructions
Pre-heat oven to 350°F and spray an 8" x 8" casserole dish with non-stick cooking spray. Set aside.

Heat the olive oil in a large non-stick sauté pan over medium heat. Add the broccoli and water and cook for 2-3 minutes, or just until the broccoli softens slightly and turns bright green.

Remove from heat and transfer broccoli to the prepared casserole dish and spread into a uniform layer. Top with shredded cheese and crumbled bacon and side aside.

Whisk the eggs with the heavy cream, onion powder, garlic powder, thyme, and oregano. Season with salt and black pepper, as desired. Pour the egg mixture over the broccoli, cheddar, and bacon and bake for 15-20 minutes, or until the casserole is set and lightly golden brown on top.

Remove from the oven and let cool for 10 minutes before slicing. Sprinkle with fresh parsley and serve immediately. Enjoy!
Nutrition
Calories:
414
kcal
|
Carbohydrates:
8
g
|
Protein:
21
g
|
Fat:
34
g
|
Saturated Fat:
16
g
|
Trans Fat:
1
g
|
Fiber:
3
g
|
Sugar:
2
g
Nutrition information is automatically calculated, is intended to serve as an estimate only, and is provided for informational purposes. The accuracy of nutritional information is not guaranteed.
Click stars to rate now! Or leave a comment below.