This simple Instant Pot ham and potato chowder is a great way to use leftover ham and warm up on a cold winter evening.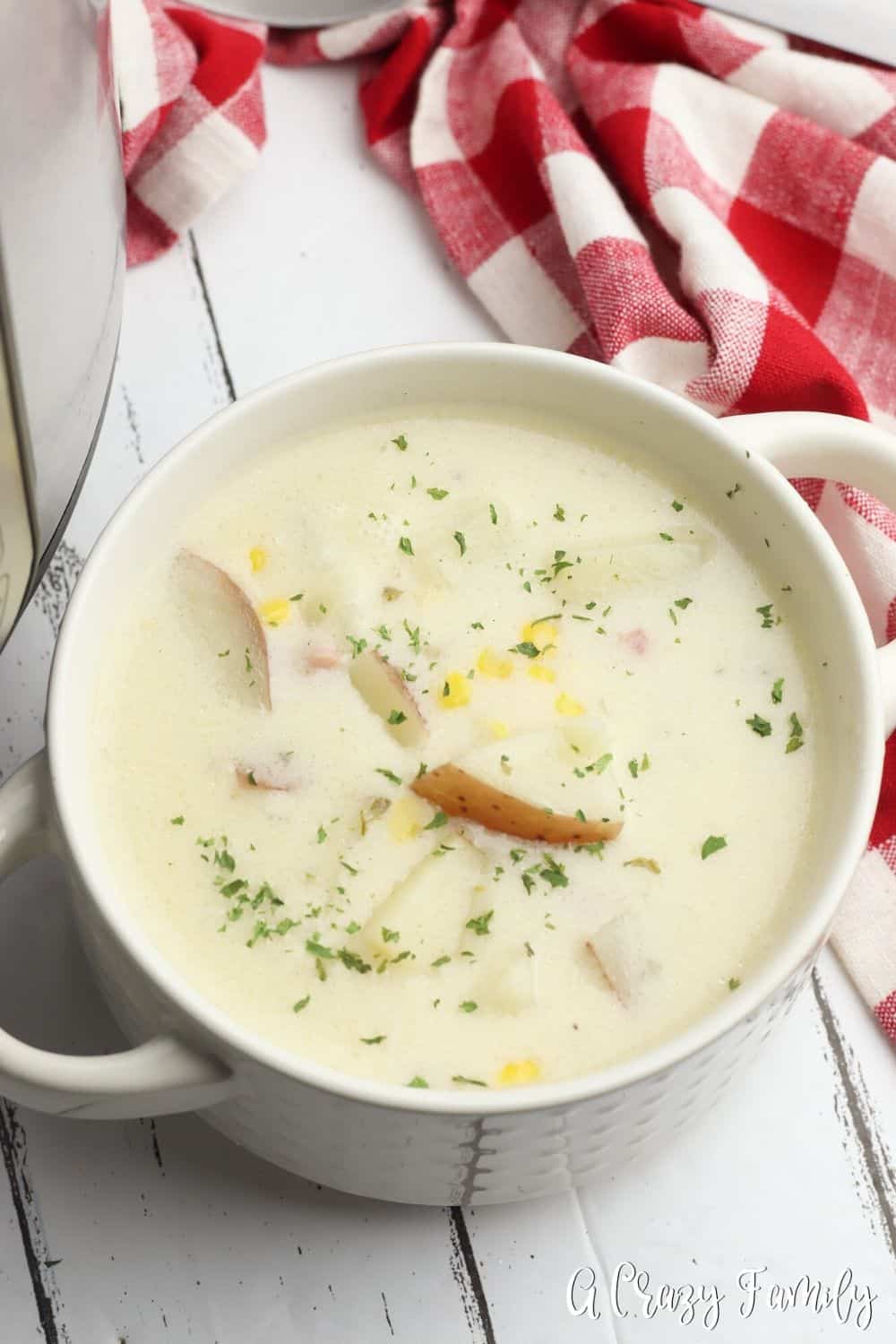 The holidays mean time spent with family and friends enjoying dinner together. And that also means you're sure to have tons of leftovers after the celebration is over.
If you're looking for a delicious way to use up that leftover holiday ham, you're in luck. This simple Instant Pot ham and potato chowder is a great way to use leftover ham and warm up on a cold winter evening.
I love making soups and chowders in my Instant Pot. On top of being so easy to make, they're always cooked perfectly and packed with flavor. And this yummy ham and potato chowder is no exception.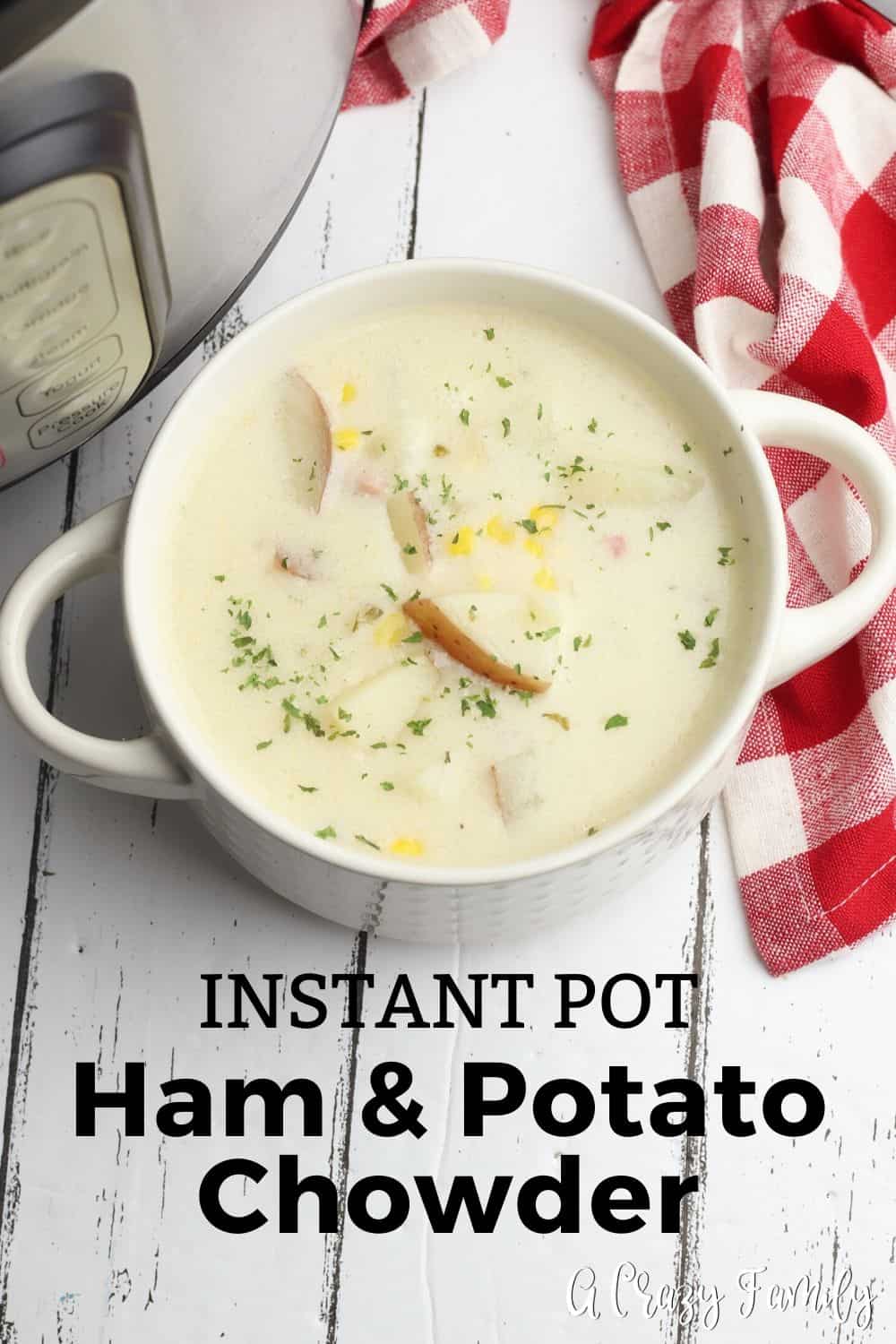 Full printable recipe available at bottom of the post.
WHAT YOU NEED TO MAKE Instant Pot Ham & Potato Chowder
Heavy cream
Red potatoes
Frozen corn
Ham
Oil
Onion
Garlic
Cornstarch
Chicken broth
Parsley
Thyme
Black pepper
HOW TO MAKE Instant Pot Ham and Potato Chowder
The first step to making this Instant Pot chowder is to saute the onions and garlic. Set your Instant Pot to Saute mode and add some oil. When the oil has warmed, add the onion and saute for a few minutes. Then add the garlic and saute for a few minutes more.
After that, it's time to make a roux to thick the chowder as it cooks. While you could use flour to thicken your soup, I prefer using cornstarch. It works just as well as flour and makes the recipe gluten-free, too. So, add the cornstarch and stir until the mixture begins to bubble and brown.
Turn off the Instant pot and add the chicken broth. Take the time to scrape a spatula all along the bottom of the pot to ensure there is nothing burnt on or stuck. Deglazing the pan will help you avoid a "burn" message as your chowder cooks.
After deglazing, season your broth with parsley, thyme, and black pepper. Then, stir in the heavy cream. Finally, add the potatoes, corn, and ham, and stir to combine all the ingredients.
When all the ingredients are incorporated, place the lid on top of the Instant Pot and make sure the vent is sealed. Set the Instant Pot to the Soup mode or set to pressure cook for 30 minutes.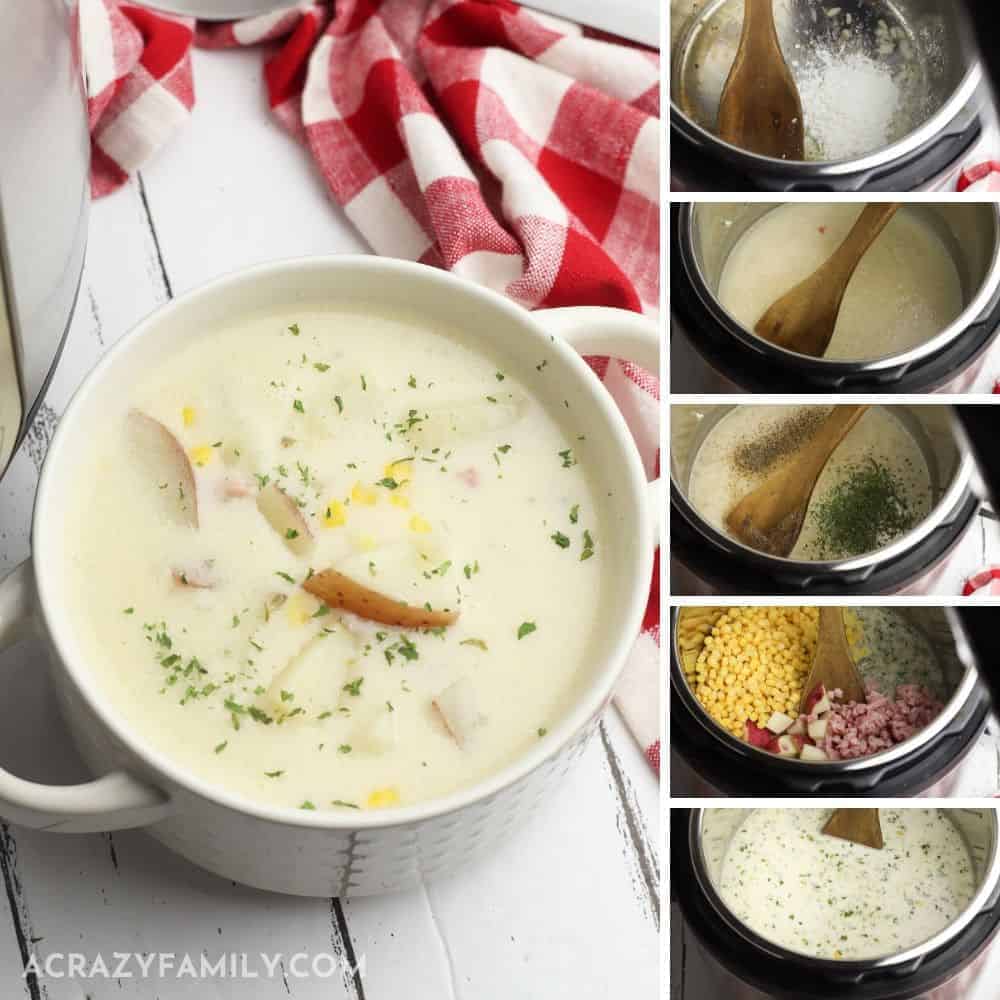 Although this easy soup only takes 30 minutes to cook, it will take some time for the Instant Pot to come to pressure. Since there is so much liquid in the recipe, don't be worried if your Instant Pot hasn't pressurized as quickly as usual.
In addition to taking some time to pressurize, it's also important to give this chowder recipe time to depressurize naturally. While you may be in a hurry to enjoy this delicious soup, don't rush the Instant Pot's release by attempting to do a quick release instead of a natural release at the end of the cooking time. If you do, you'll probably end up with a messy kitchen after the soup's liquid begins spraying out of the Instant Pot's release valve!
More of our favorite instant pot recipes:
Ham and Potato Chowder (FREE PRINTABLE COPY)
If you like this recipe, please rate it! We'd also love to hear your thoughts in the comments below.
PIN OUR Ham and Potato Chowder ON PINTEREST: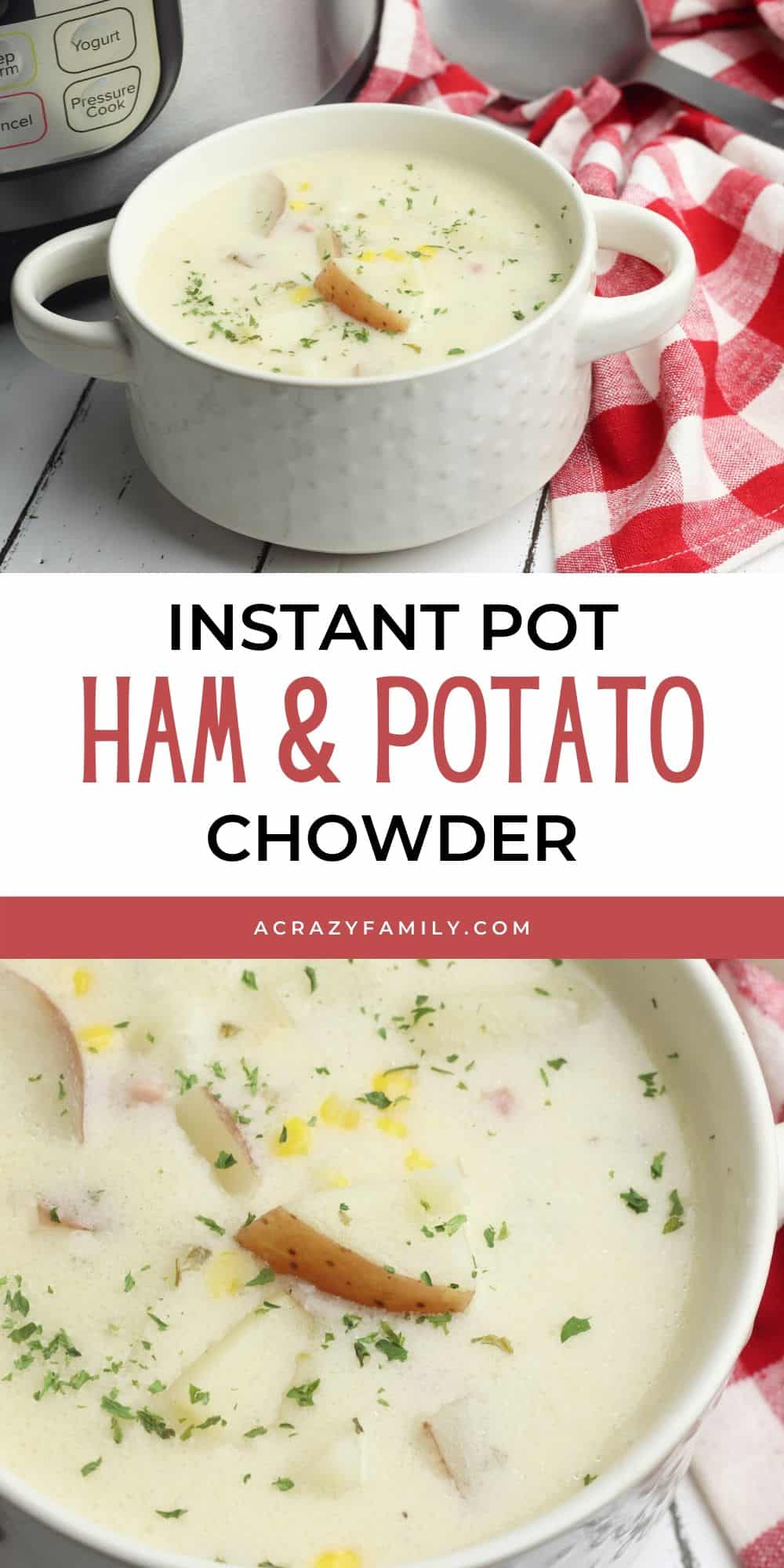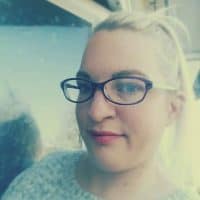 Vickie Louise is the Founder and Editor-in-Chief of A Crazy Family. She is a stay at home mom of a little boy with a big personality. After having her son, she realized how important it is for moms to take care of themselves, physically and mentally. Vickie believes in the power of using social media and her online presence for good and is thrilled to provide you with a space to celebrate all that is awesome (and a little crazy) in the world.