Gluten-Free Strawberry Shortcake
A gluten-free strawberry shortcake is a homemade dessert that is so delicious. A gluten-free shortbread that is topped with fresh berries and a dollop of whipped cream.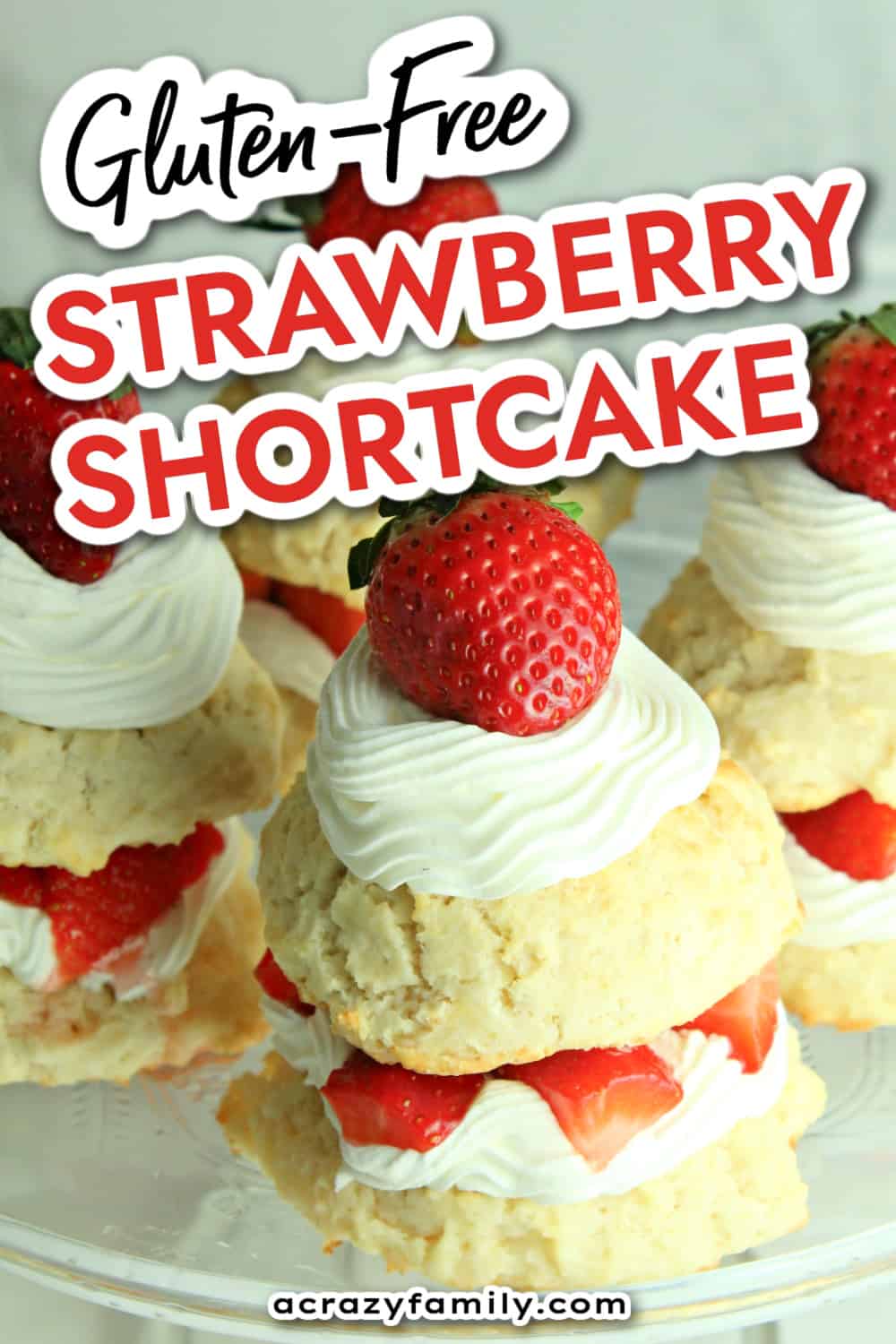 Gluten-Free Strawberry Shortcake
There is something so delicious about a shortcake stacked with fresh strawberries. It's always such a treat!
If you enjoy easy gluten-free recipes, try these! Gluten-free chocolate donuts, or these Belgian waffles.
Main Ingredients
Gluten-Free Flour | I used a gluten-free flour blend. It has a 1:1 ratio of converting. So make sure depending on the brand you buy, you know how to convert.
Whipped Cream | Now I love making homemade whipped cream. But if you want a shortcake reach for stores bought.
Strawberries | Strawberries are going to add such sweetness to this dessert. Pick brightly red and plump strawberries.
Can I Use Other Fruit
Go right ahead and use any fruit or berries you have on hand. Or get creative and do a mix of fruit to top your homemade shortcakes.
Any fruit would work, and you could even thaw frozen fruit if you don't have any fresh fruit on hand.
Another option is reaching for a jam to spread on your shortcake if you don't want fresh fruit.
How to Store
For the leftover shortcakes, you can store them in a cold dry place. For the shortcakes, you can store them on the counter.
Then for the topping, it needs to be stored in the fridge for up to a week.
Then you can assemble your shortcake dessert and serve it up! I tend to eat my shortcakes at room temperature but if you want them to have a fresh-out-of-the-oven taste, toss them in the microwave for a quick reheat.
Can I Double This Recipe
You are more than welcome to double the recipe. This is one recipe I love to make for summer cookouts, birthday party desserts, and more.
Go right ahead and double the recipe if you want. If you don't have room to cook all at once, then batch cook the shortcakes.
Other Topping Ideas
Drizzle with honey
Sprinkle on coconut flakes for more flavor
Drizzle with a chocolate or caramel sauce
Add a dollop of whipped cream
More berries piled on top
Add a few slivered almonds for a crunchy flavor
Etc
Honestly, you can decorate or dress your dessert however you would like. Feel free to play around and top your dessert as you would like.
Can I Freeze Leftover Shortcakes
If you don't plan to eat all your shortcakes right away, you can freeze your leftovers.
Just keep the strawberries and whipped cream separate. Freeze your biscuit shortcakes in an airtight container for up to three months.
Then thaw on the counter or toss in the microwave to warm them up and then assemble with berries and whipped cream.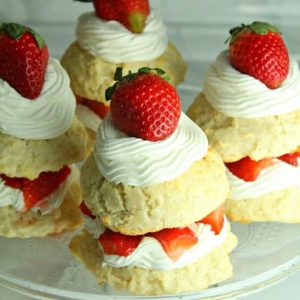 Gluten-Free Strawberry Shortcake
A gluten-free shortbread that is topped with fresh berries and a dollop of whipped cream.
Ingredients
1 ½

cups

gluten-free flour blend

Such as Bob's Red Mill 1-to-1 Baking Flour

1

tablespoon

baking powder

¼

teaspoon

salt

2

tablespoons

sugar

¾

cup

heavy or whipping cream

1

large egg

¼

cup

of milk or cream

for brushing

1

lb

fresh strawberries

rinsed well

¼

cup

sugar

2

tablespoons

lemon juice

whipped cream
Instructions
Preheat the oven to 450°F.

Line a baking sheet with parchment paper and set it aside.

In a large bowl combine the flour, baking powder, salt, and sugar.

In a separate bowl, beat together the cream and egg.

Pour the wet ingredients into the dry ingredients and mix until it comes together as a dough.

Scoop 3 tablespoons of dough into mounds on the prepared baking sheet.

Spray one of your palms or the bottom of a drinking glass with a nonstick spray and gently flatten the mounds slightly.

Brush the tops of the shortcakes with cream, or milk.

Bake the shortcakes for 10 to 12 minutes, until they're risen and slightly browned on the top.

While the shortcakes are baking, cut the strawberries into
quarters, or chop into small pieces and add to a mixing bowl. Pour over the sugar and lemon juice. Toss until the sugar is dissolved and has turned into a syrup coating the strawberries.

Remove the shortcakes from the oven, and cool for a few minutes.

Top half of the shortcakes with whipped cream (dolloped or piped on), and the cut strawberries. Place the other half of the shortcakes on top. Dollop or pipe more whipped cream on and top with a whole strawberry if desired.
Nutrition information is automatically calculated, is intended to serve as an estimate only, and is provided for informational purposes. The accuracy of nutritional information is not guaranteed.
Click stars to rate now! Or leave a comment below.