A gluten-free strawberry shortcake is a homemade dessert that is so delicious. A gluten-free shortbread that is topped with fresh berries and a dollop of whipped cream.
If you enjoy easy gluten-free recipes, try these! Gluten-free chocolate donuts, or these Belgian waffles.
Gluten-Free Strawberry Shortcake
There is something so delicious about a shortcake stacked with fresh strawberries. It's always such a treat!
Main Ingredients
Gluten-Free Flour | I used a gluten-free flour blend. It has a 1:1 ratio of converting. So make sure depending on the brand you buy, you know how to convert.
Whipped Cream | Now I love making homemade whipped cream. But if you want a shortcake reach for stores bought.
Strawberries | Strawberries are going to add such sweetness to this dessert. Pick brightly red and plump strawberries.
Can I Use Other Fruit
Go right ahead and use any fruit or berries you have on hand. Or get creative and do a mix of fruit to top your homemade shortcakes.
Any fruit would work, and you could even thaw frozen fruit if you don't have any fresh fruit on hand.
Another option is reaching for a jam to spread on your shortcake if you don't want fresh fruit.
How to Store
For the leftover shortcakes, you can store in a cold dry place. For the shortcakes, you can store them on the counter.
Then for the topping, it needs to be stored in the fridge for up to a week.
Then you can assemble your shortcake dessert and serve up! I tend to eat my shortcakes at room temperature but if you want it to have a fresh out of the oven taste, toss in the microwave for a quick reheat.
Can I Double This Recipe
You are more than welcome to double the recipe. This is one recipe I love to make for summer cookouts, birthday party desserts, and more.
Go right ahead and double the recipe if you want. If you don't have room to cook all at once, then batch cook the shortcakes.
Other Topping Ideas
Drizzle with honey
Sprinkle on coconut flakes for more flavor
Drizzle with a chocolate or caramel sauce
Add a dollop of whipped cream
More berries piled on top
Add a few slivered almonds for a crunchy flavor
Etc
Honestly, you can decorate or dress your dessert however you would like. Feel free to play around and top your dessert as you would like.
Can I Freeze Leftover Shortcakes
If you don't plan to eat all your shortcakes right away, you can freeze your leftovers.
Just keep the strawberries and whipped cream separate. Freeze your biscuit shortcakes in an airtight container for up to three months.
Then thaw on the counter or toss in the microwave to warm them up and then assemble with berries and whipped cream.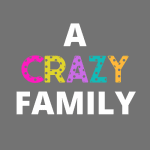 A Crazy Family strives to be the go-to destination for modern, savvy moms. Our aim is to share great tips, good food, recommendations, and helpful info for smart, busy moms just like you!