35 Delicious & Healthy Summer Sandwiches
This post may contain Affiliate Links. Please read our Disclosure Policy for more information.
The weather is warming up, and that means it's time to enjoy some delicious summer sandwiches! From classics to more creative options, there's a sandwich for everyone.
There are endless possibilities when it comes to creating the perfect sandwich, so you'll never get bored of your lunch again. Add a fresh salad, some fruit, or fries to make it a meal.
Plus, all of these recipes are healthy and perfect for summer snacking. So, whether you're at home or on the go, get ready to chow down on some amazing sandwiches!
Related: 50 4th of July Recipes perfect for your patriotic party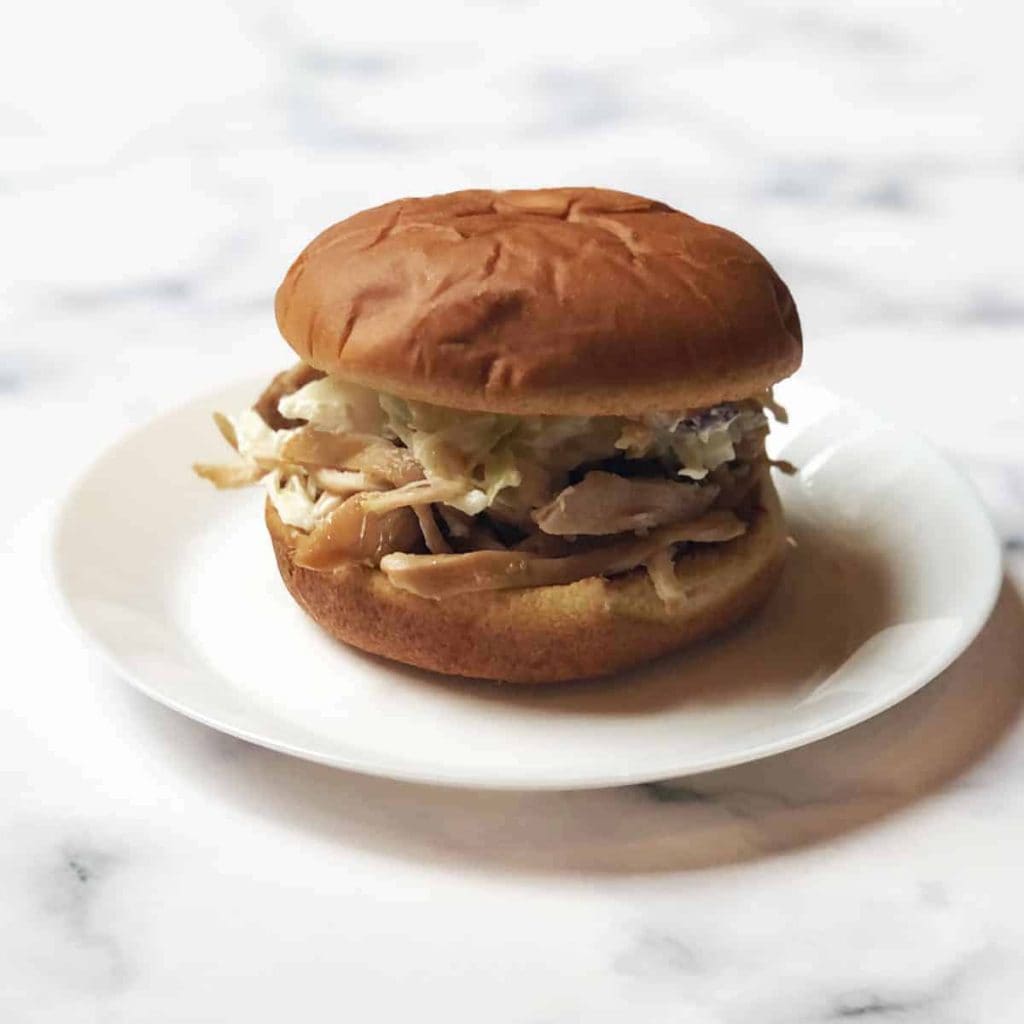 These crockpot Hawaiian chicken sandwiches from Two Pink Peonies are loaded with flavor. They're super easy to make; let your crockpot do all the work with this recipe!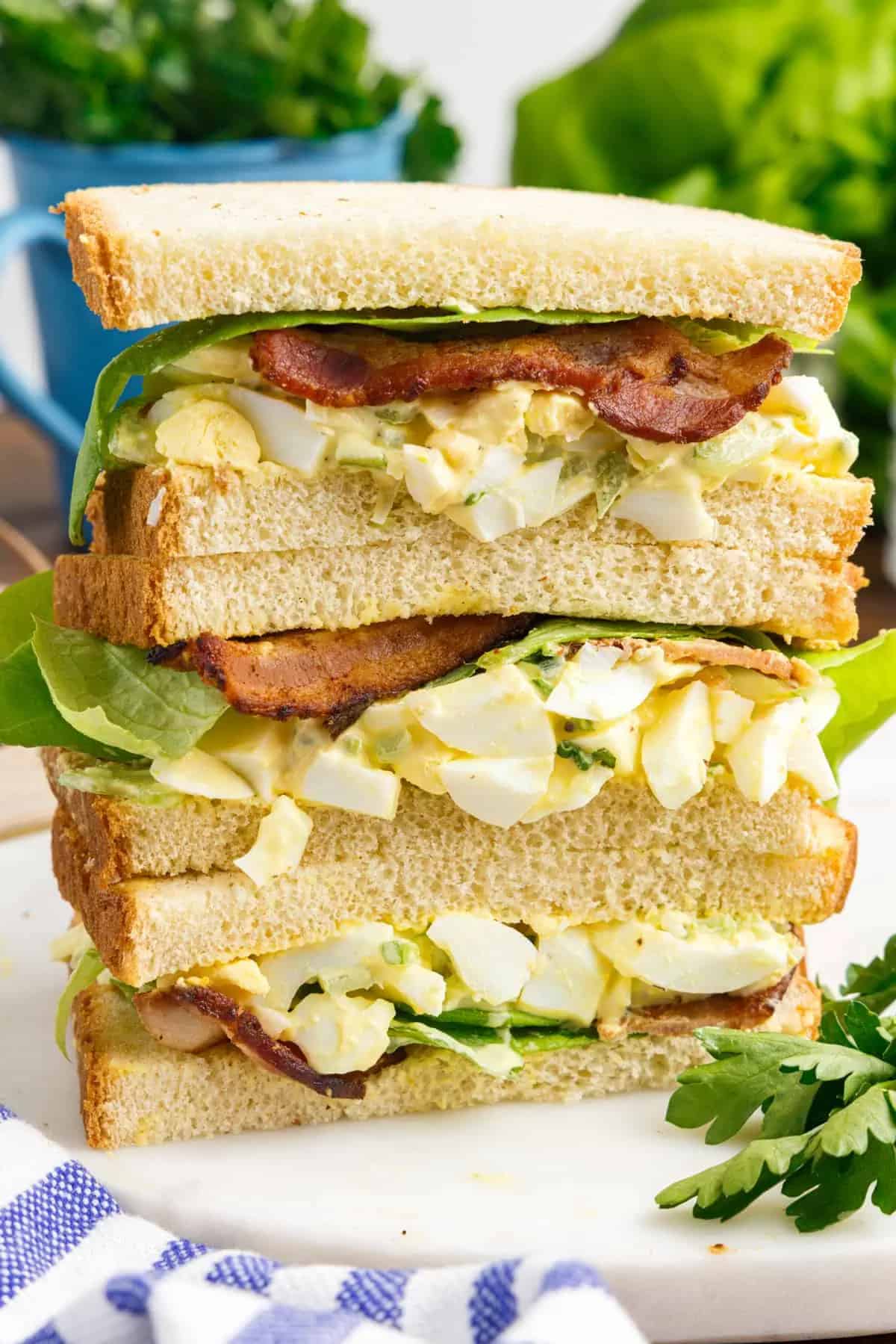 This Egg Salad Sandwich Recipe from Crayons & Cravings combines filling and protein-rich eggs with creamy mayo, tangy mustard, zesty onion, crunchy celery, crispy bacon, and spices for a delicious combination that makes a perfect summer sandwich. Skip the bread and enjoy your egg salad in a lettuce wrap instead to make it even healthier.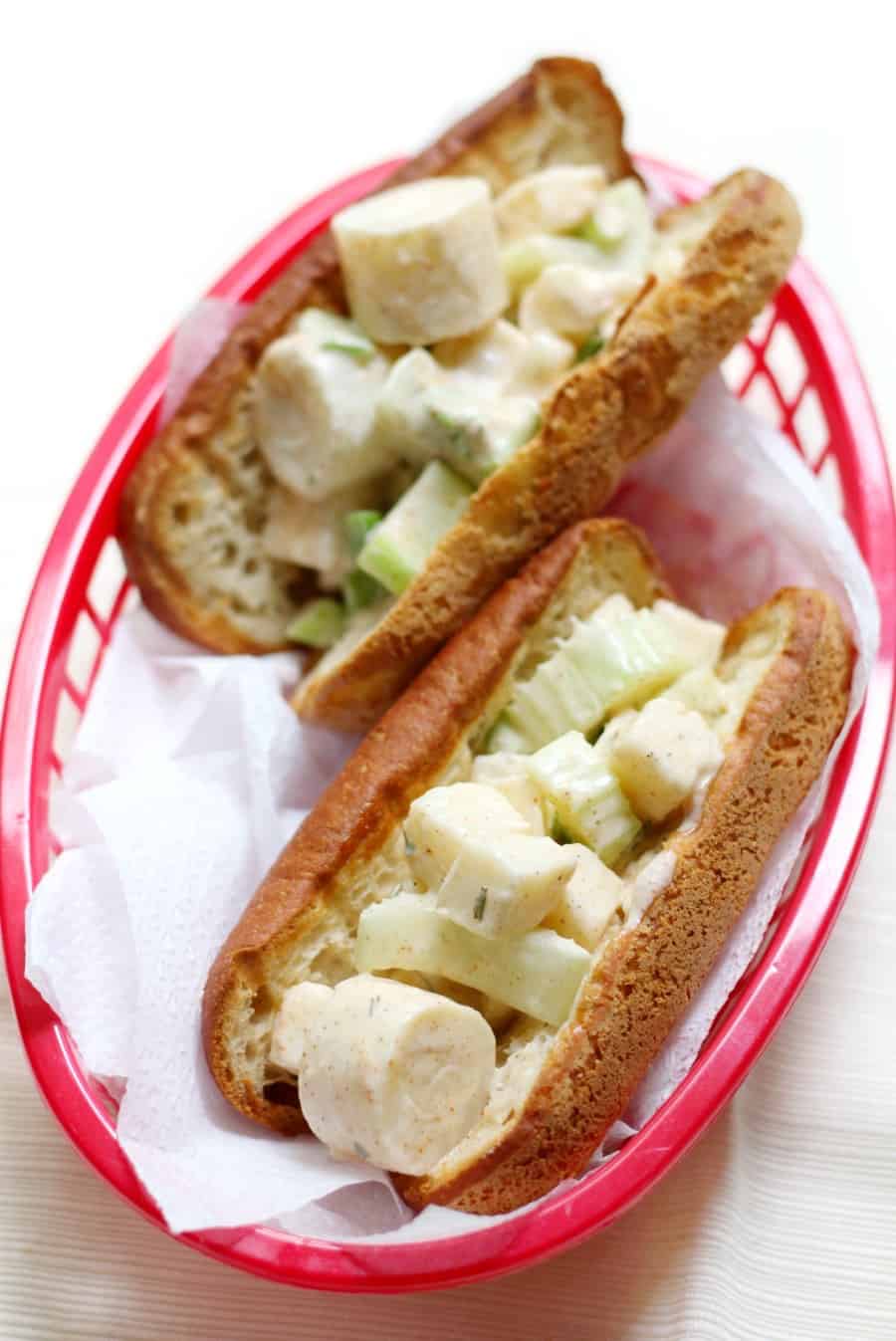 Nothing screams New England summer than a lobster roll! These easy vegan Maine lobster rolls from Strength & Sunshine are gluten-free, allergy-free, meatless, and fit for everyone to enjoy! A simple, healthy, and delicious recipe that redefines this classic fast-food sandwich!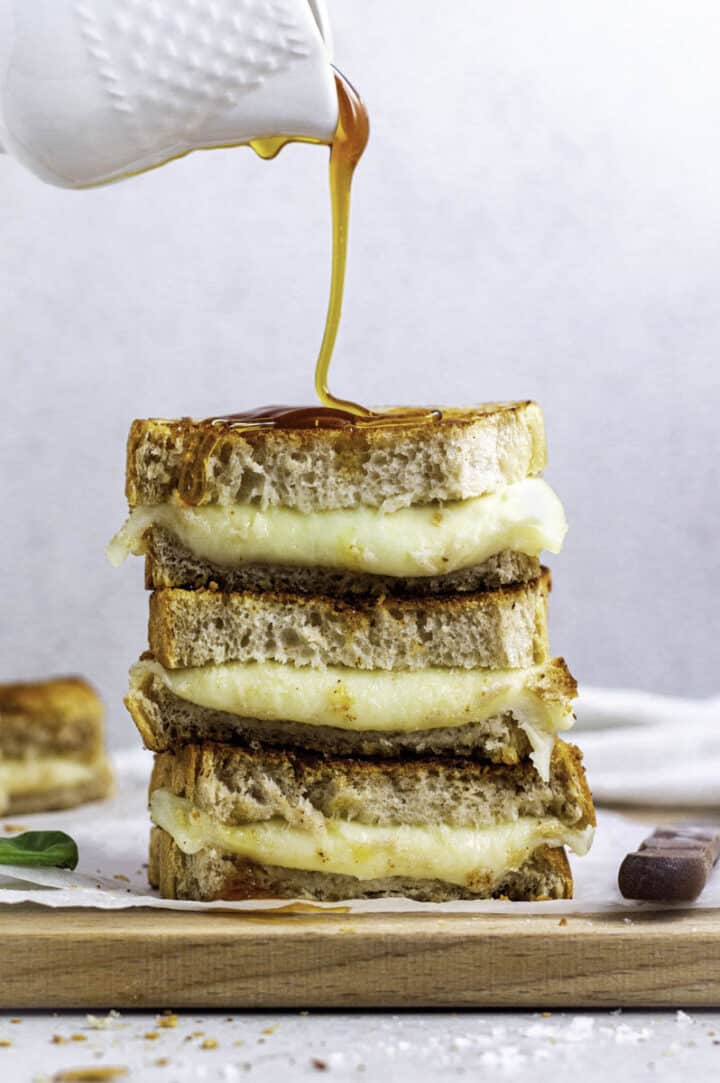 This provolone grilled cheese with honey from Sunglow Kitchen tastes like a gourmet meal but comes together in just 10 minutes! It's cheesy, stretchy, and has just enough sweetness to balance out the salty flavors!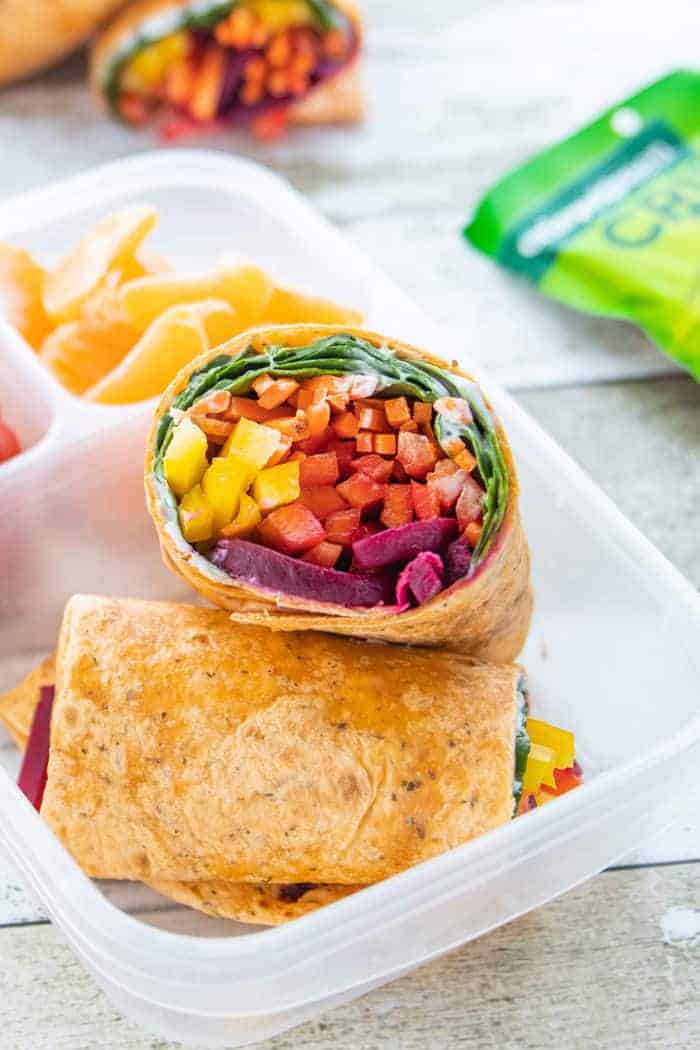 Great for the kids or the adults, these rainbow veggie wraps from Healthy Family Project are great! Easy to make, loaded with the good stuff, and perfect all Summer long.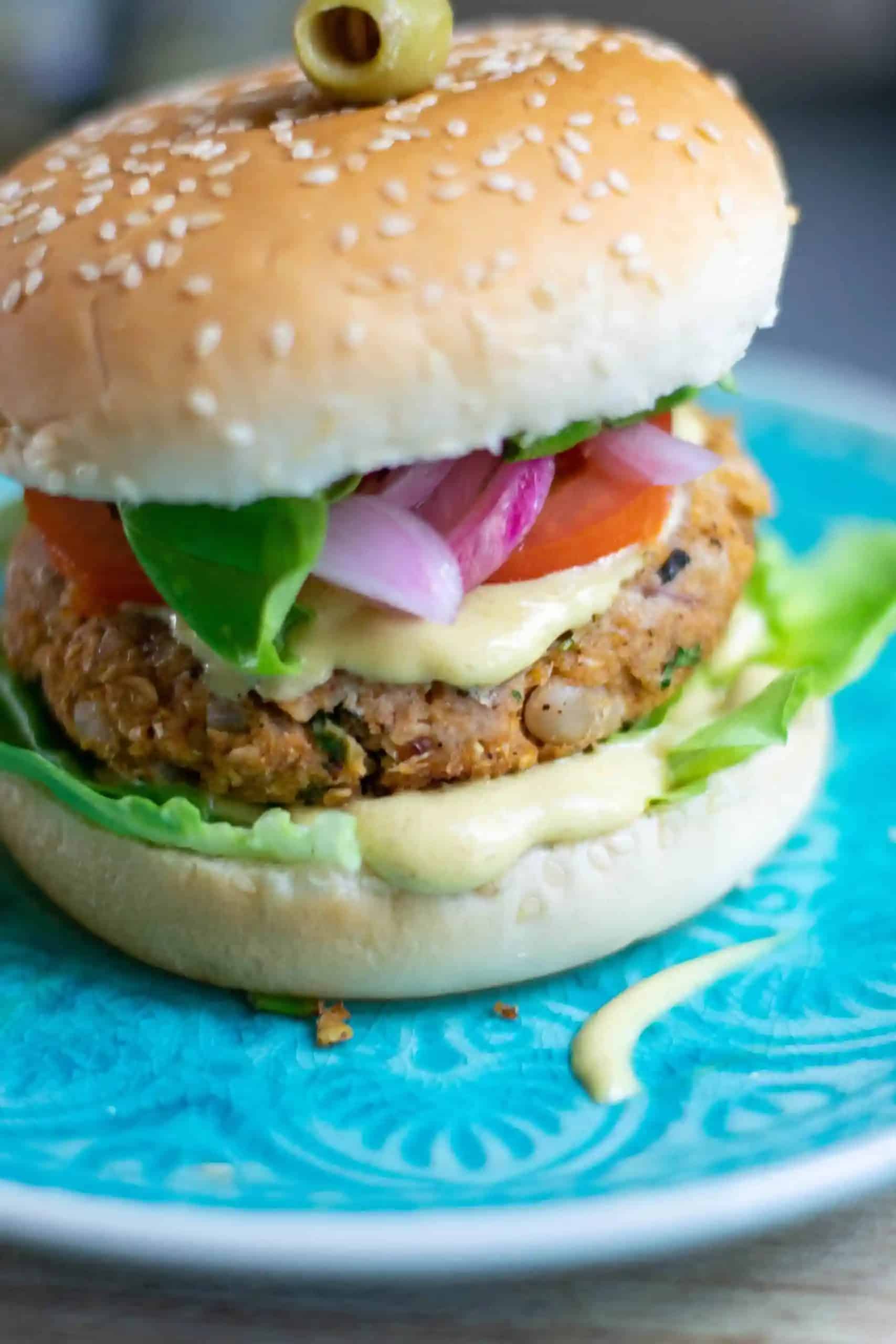 These vegan white bean burgers from Marathons & Motivation are so healthy and delicious! A combination of cannellini beans, oats, pureed tomatoes, herbs, and spices blended together for the perfect plant-based meal. Learn how to make vegan white bean burgers in less than 30 minutes!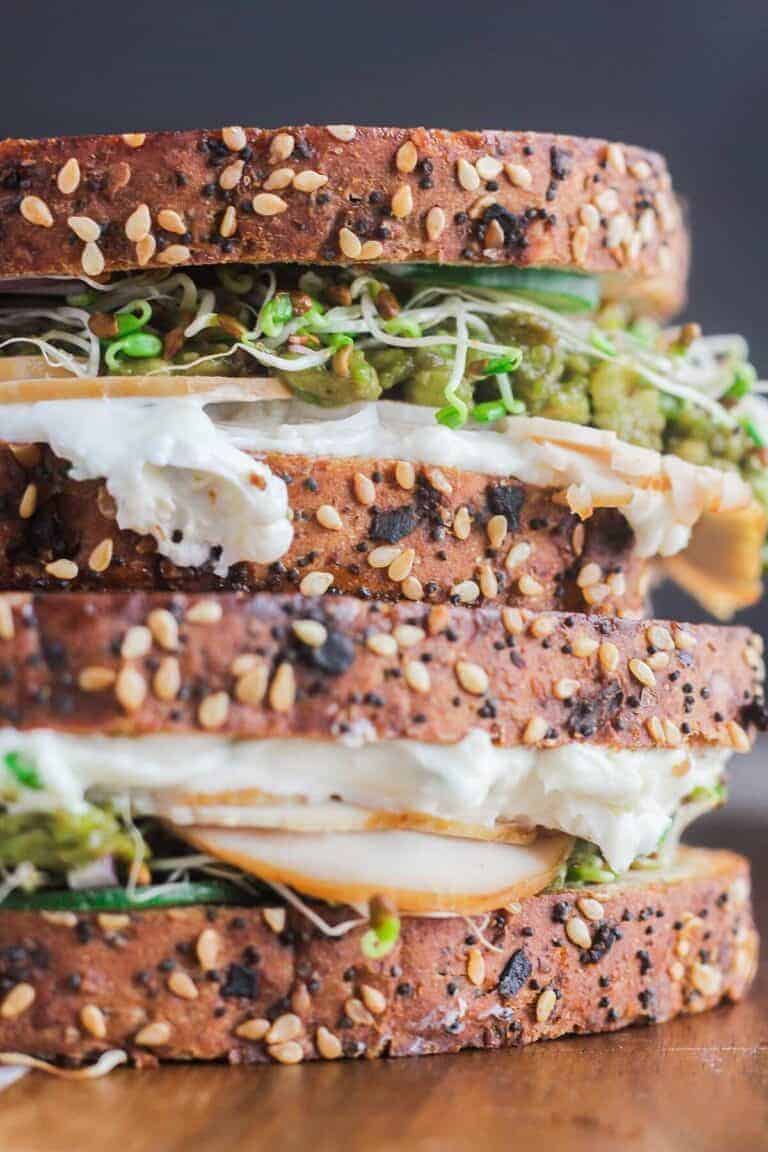 This simple and refreshing turkey avocado sandwich from Tao of Spice is layered with chive cream cheese, mashed avocado, turkey, and plenty of fresh veggies, including sprouts, cucumber, and red onion. Perfect for summer, it's simple to prepare in about 15-minutes.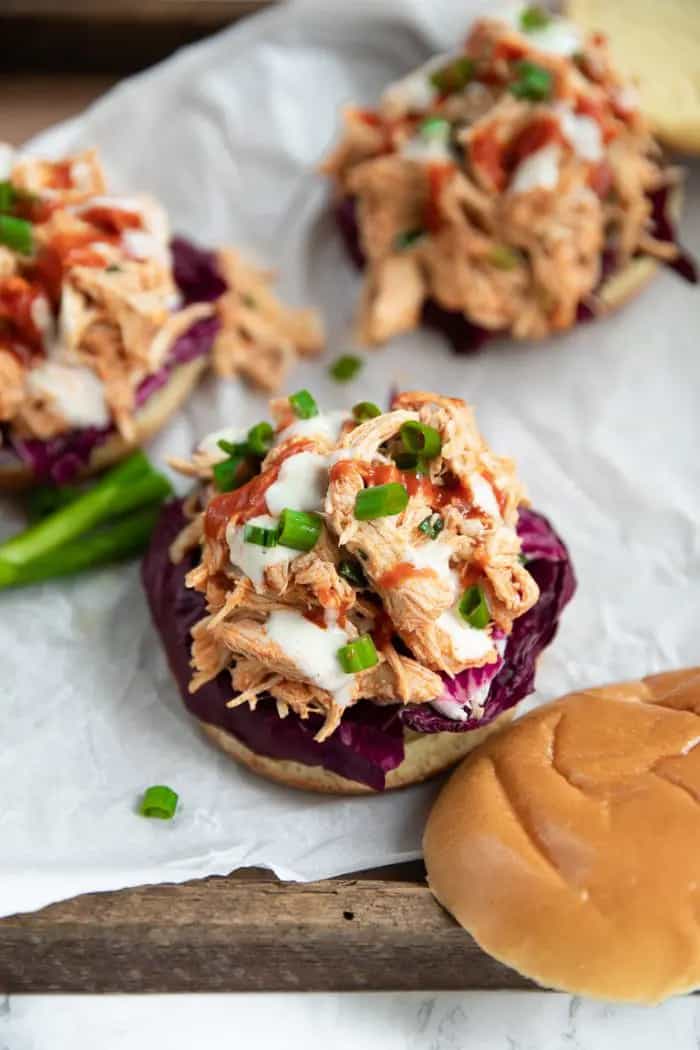 Easy, delicious, and bursting with flavor, these Instant Pot Buffalo Chicken Sandwiches from The Forked Spoon are ready and on the table in less than 30 minutes. Made with just a handful of simple ingredients like chicken breasts, hot sauce, butter, and garlic, the whole family will love this buffalo chicken piled high on a soft bun.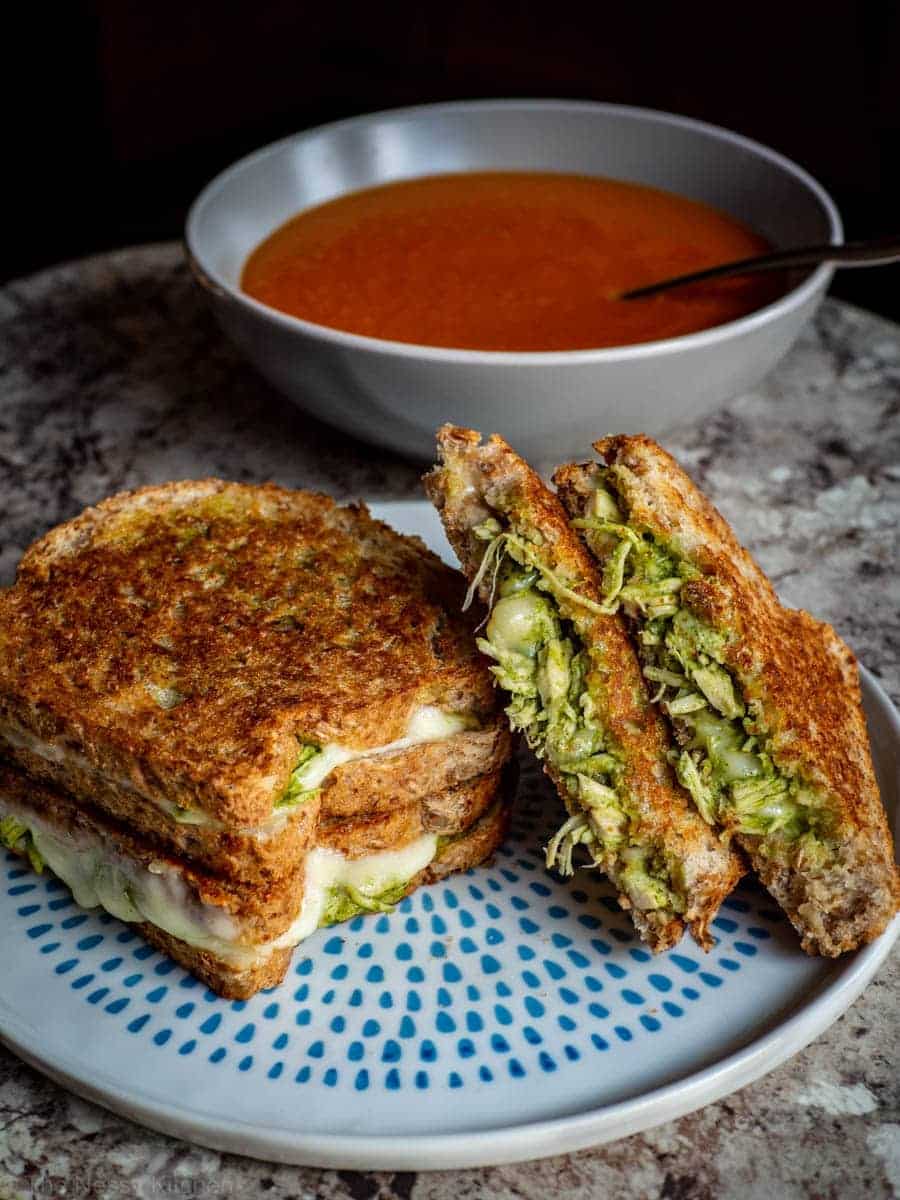 Give your grilled cheese an upgrade with these Chimichurri Chicken Sandwiches by The Nessy Kitchen! Ready in minutes; they are fresh and delicious.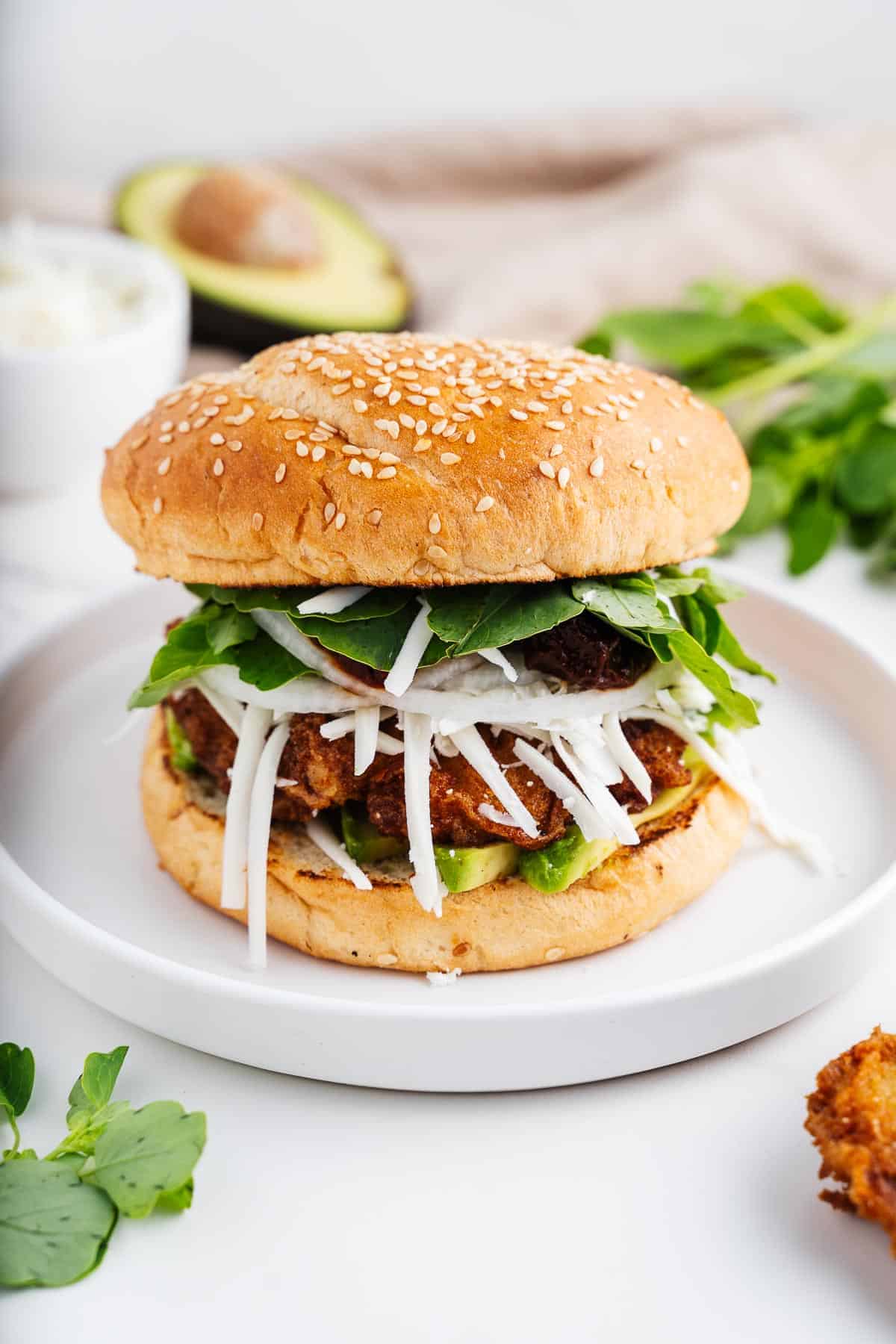 Cemitas poblanas are a special type of Mexican sandwich arising from the state of Puebla. Served on a brioche-like bun, this version from Broke Bank Vegan is loaded with vegan cheese, crispy oyster mushroom milanesa, smoky chipotles, and a unique Mexican herb known as pápalo.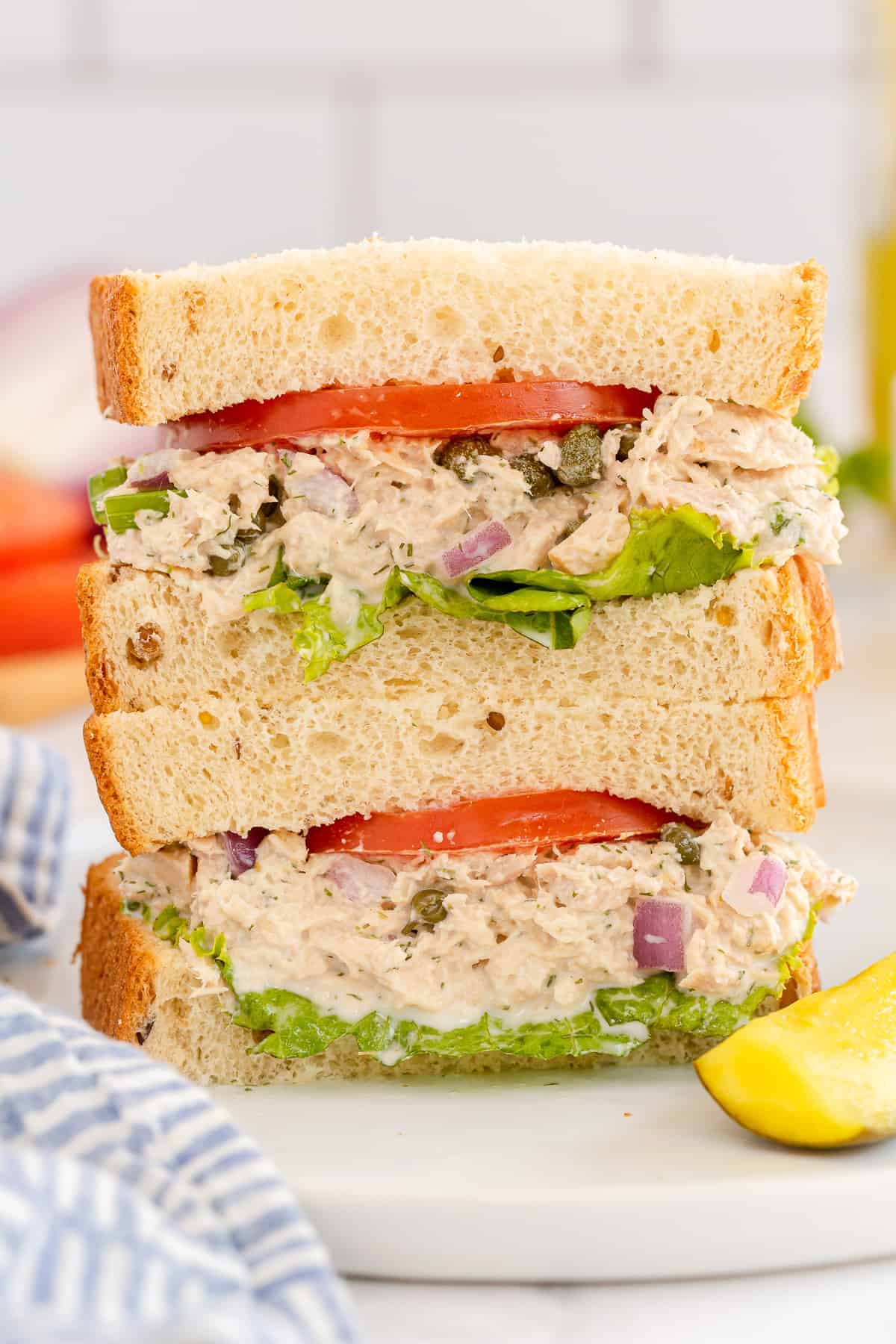 This lightened-up Tuna Salad with Capers and Dill from Wholesome Made Easy is loaded with great flavor with less fat and calories than traditional tuna salad. An easy, make-ahead lunch at home or on the go!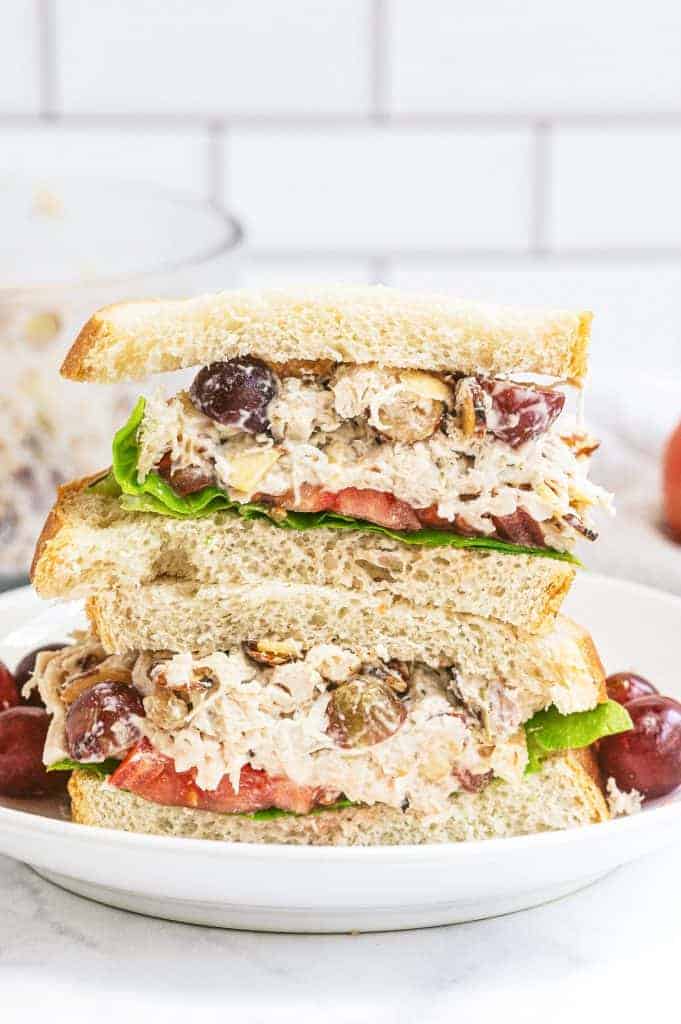 This absolutely delicious chicken salad from Valerie's Kitchen was inspired by the Napa Almond Chicken Salad at Panera. It is easy to make at home and so much like the restaurant version!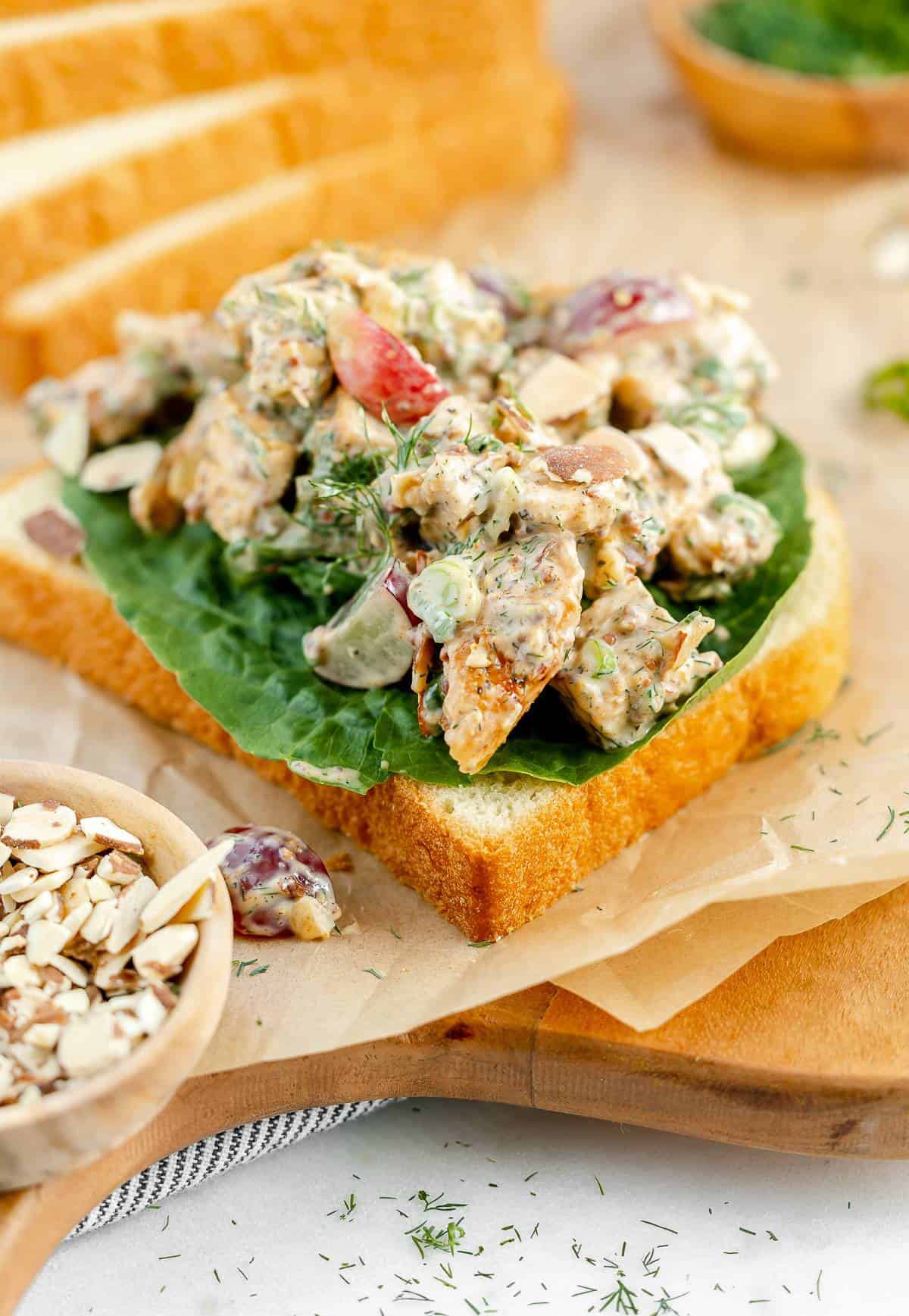 These California chicken salad sandwiches from The Sassy Foodie are packed with a creamy, tangy dressing and the perfect sweet punch of grapes and almonds. Whether you sandwich it between soft, brioche bread, flakey croissants, or use it to top off a quick salad, this chicken salad is anything but boring. Call it the perfect spin on a retro classic!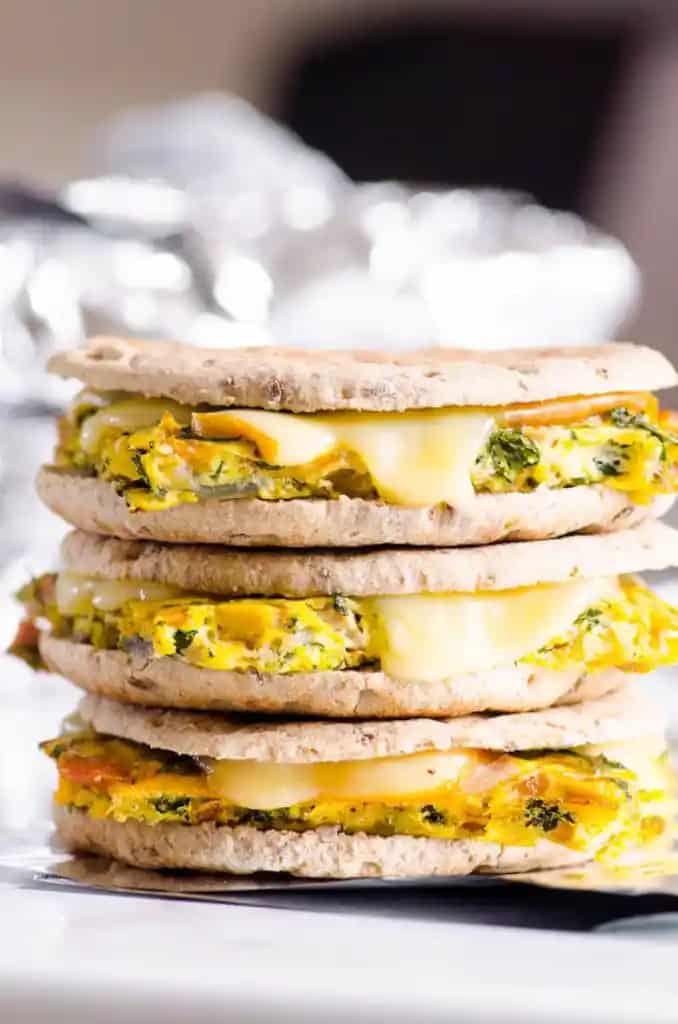 Move aside drive-thru! This Healthy Breakfast Sandwich from I Food Real, with eggs, veggies, and a whole wheat bun, is a better way to jump-start the day. Meal prep dozens at a time, freeze, and reheat for a healthy breakfast any day!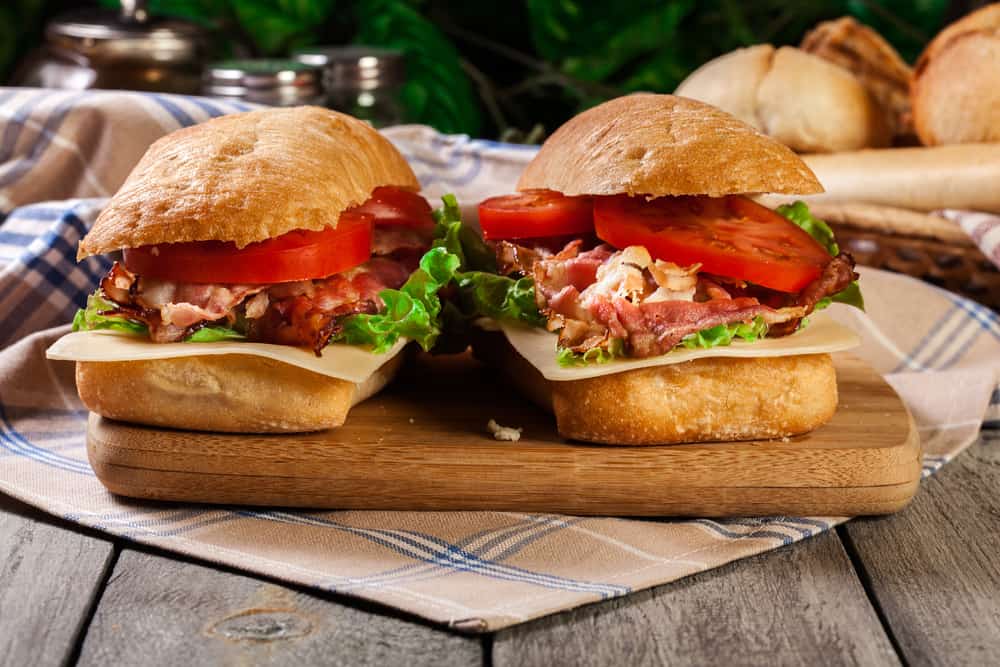 These air fryer sub sandwiches from Cooking School Dropout are the perfect meal, really convenient to make, and are enjoyed by the whole family.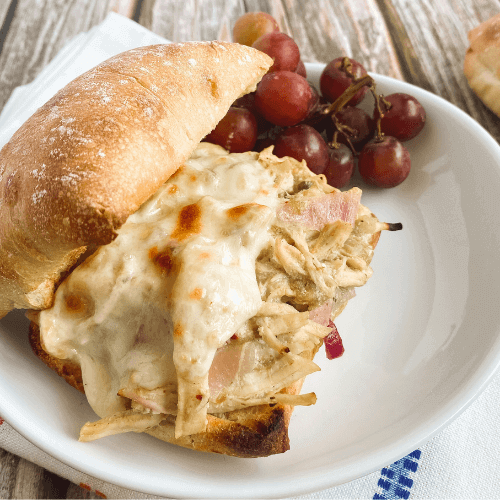 Chicken Suiza sandwiches from Simply Scrumptious are a Mexican Sandwich: tangy, slightly spicy, & very flavorful. Made with lime, honey, green salsa, and greek yogurt.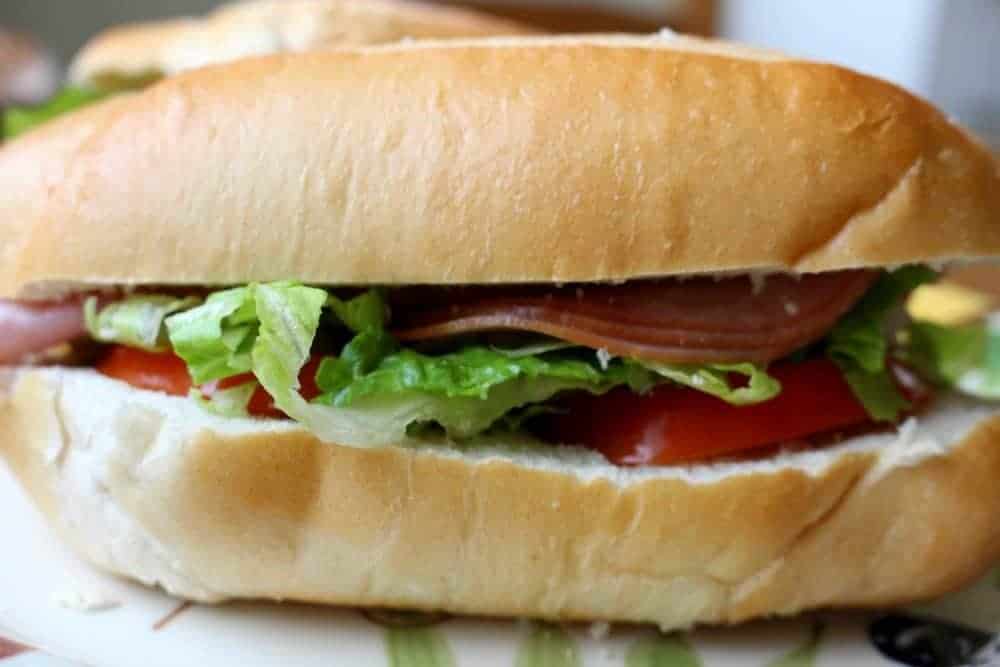 Torta de Jamón from Mama Maggie's Kitchen is an easy-to-make and incredibly delicious Mexican ham sandwich. Ready in minutes and full of flavor.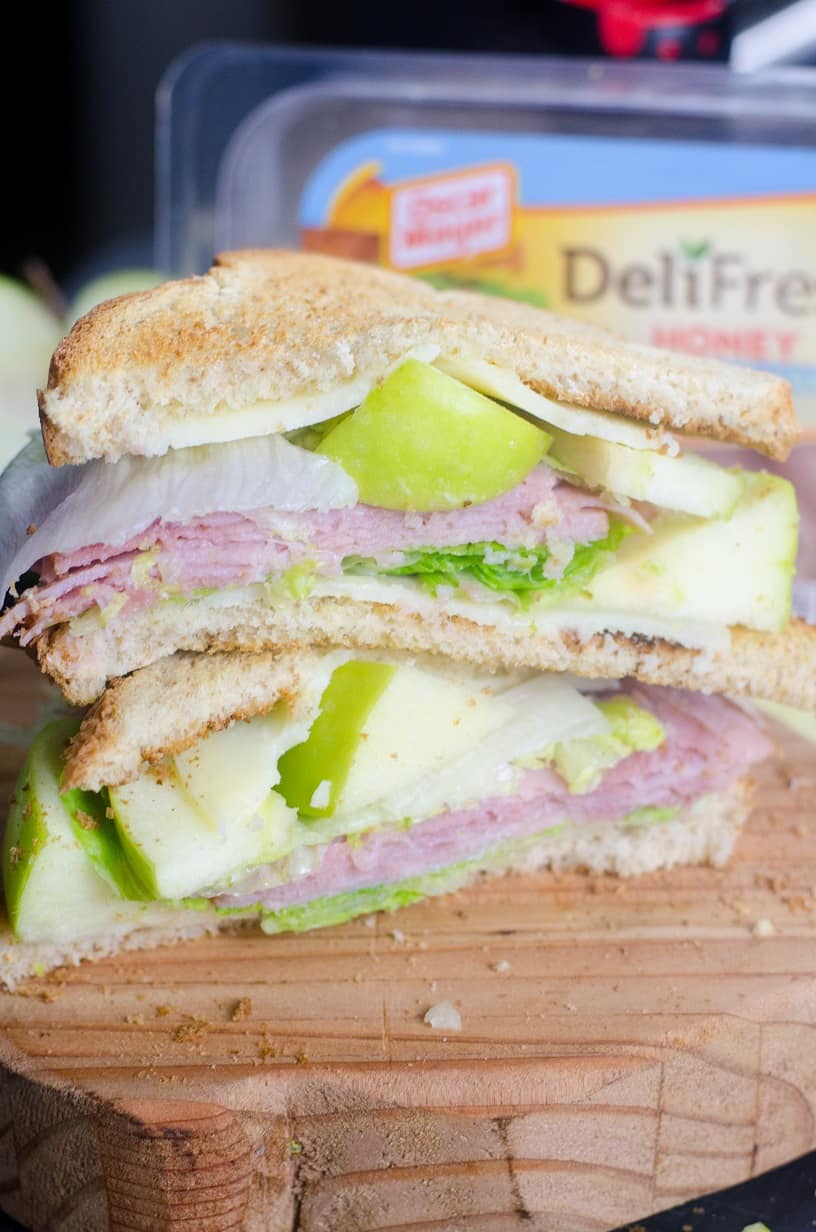 This Washington apple ham sandwich made with Oscar Mayer Deli Fresh ham only takes minutes. Check out how to make it at Two Kids and a Coupon!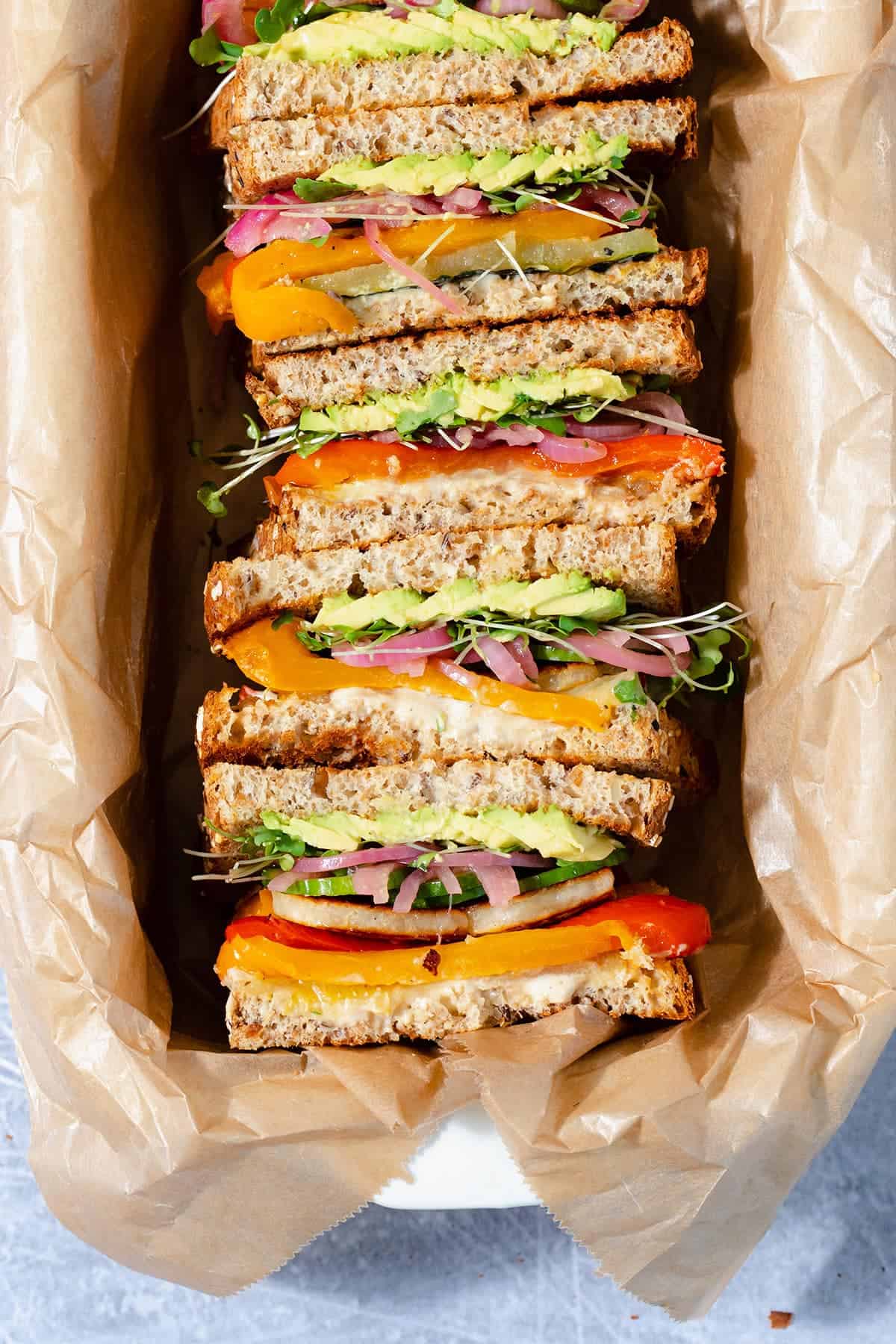 This delicious sandwich from The Healthful Ideas is made with Mediterranean halloumi cheese, roasted vegetables, creamy hummus, avocado, and tangy pickled onions. And it's ready to eat in 30 minutes!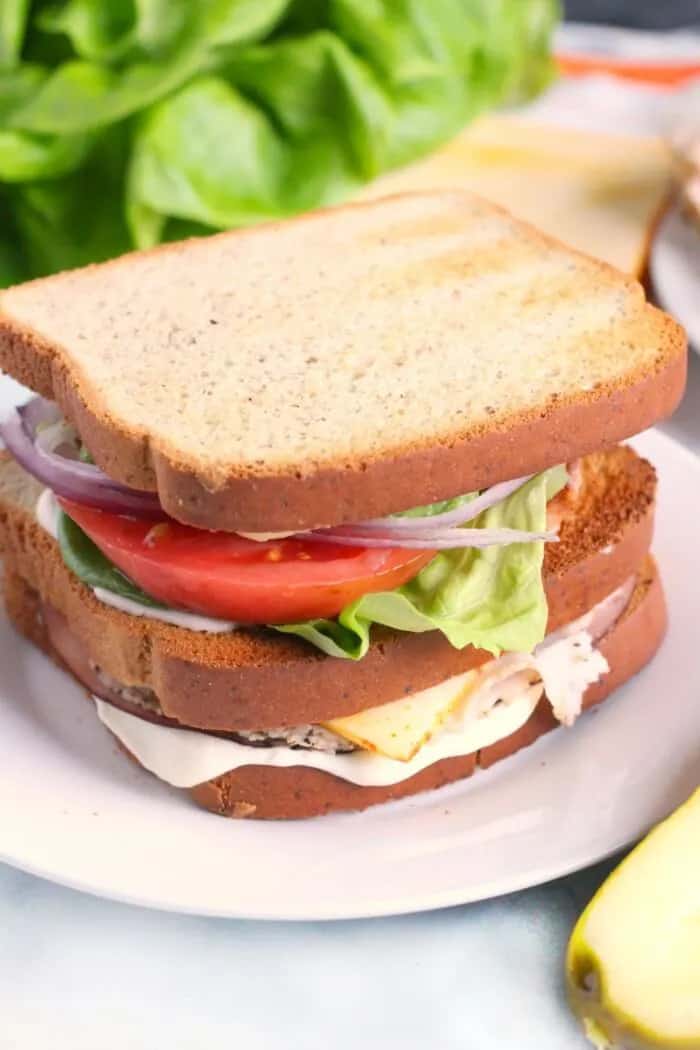 This club sandwich is easy to make, delicious and filling. You'll love this club sandwich from Mama Loves Food for any meal of the day!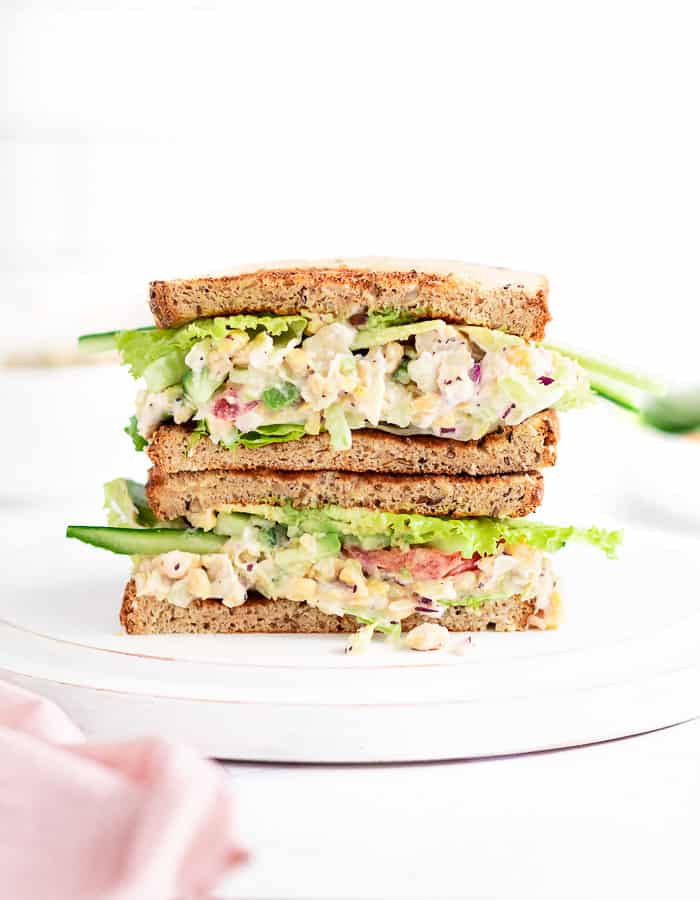 Quick and easy VEGAN chickpea 'tuna' salad recipe from Rachel Steenland for the ultimate plant-based sandwich! Add to sandwiches, salads, or crackers.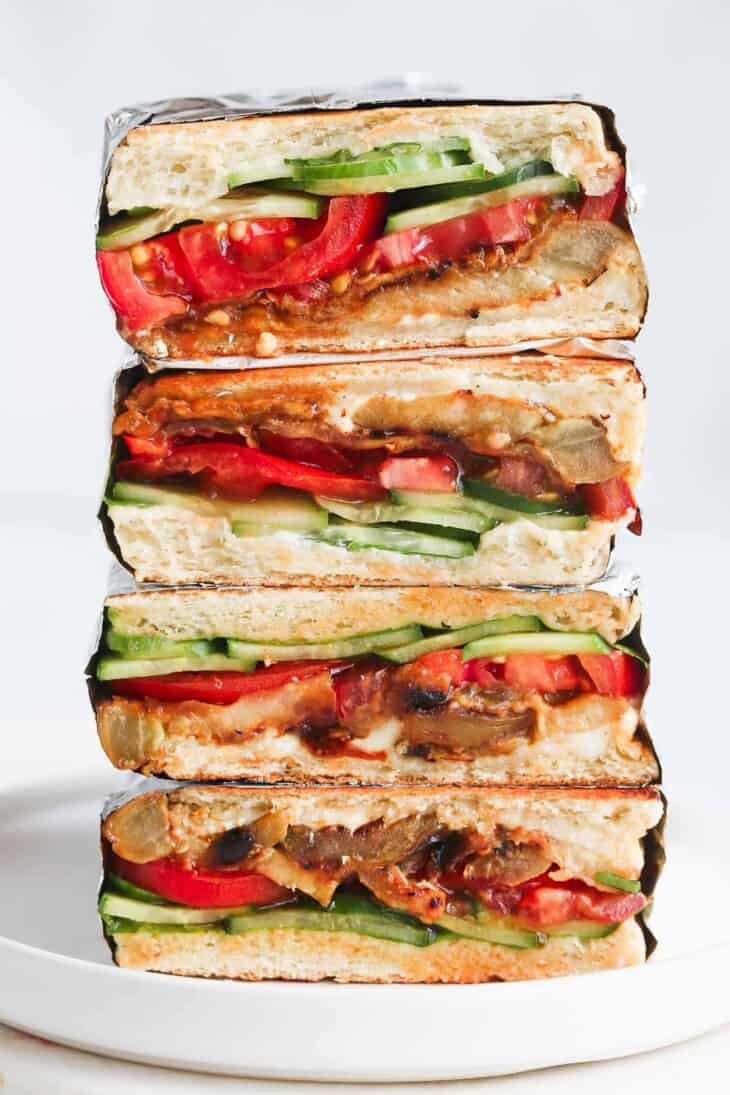 This vegan eggplant sandwich from Little Sunny Kitchen is so delicious that you'll keep making it over and over again. Layers of smoky eggplant and fresh vegetables are packed in panini bread, then toasted till perfection! Ideal for lunchboxes, picnics, and lunches on the go!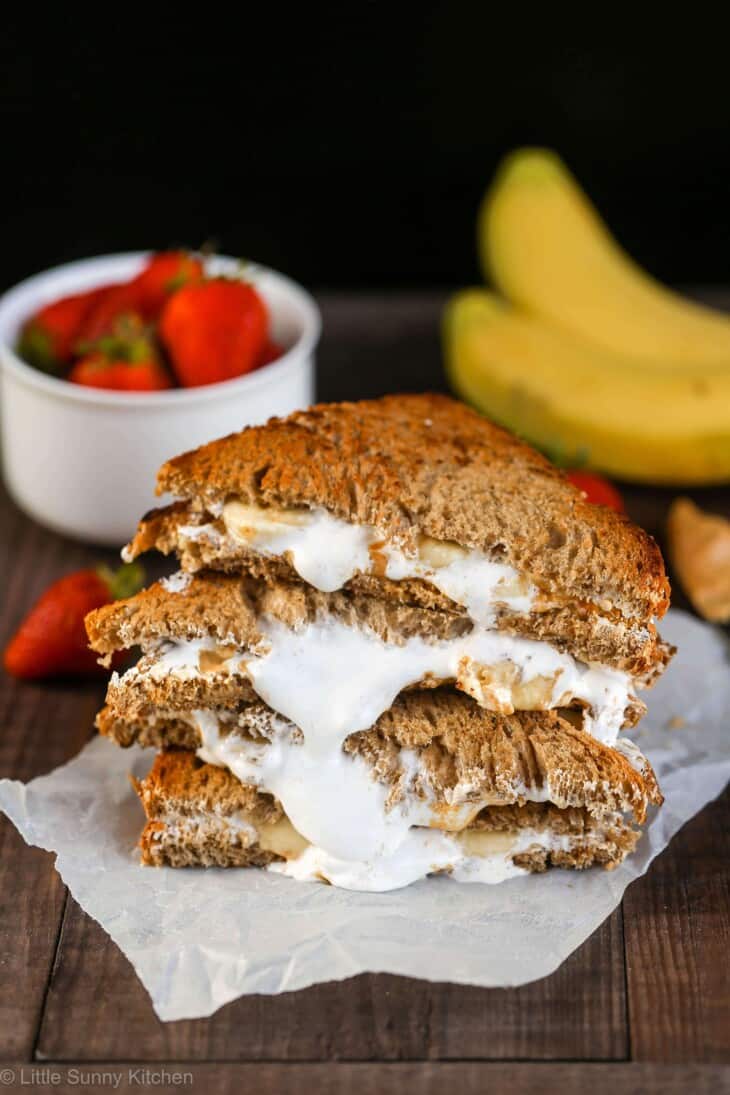 Banana Fluffernutter Sandwich
A grilled melty peanut butter marshmallow sandwich with bananas from Little Sunny Kitchen! Now imagine taking a bite!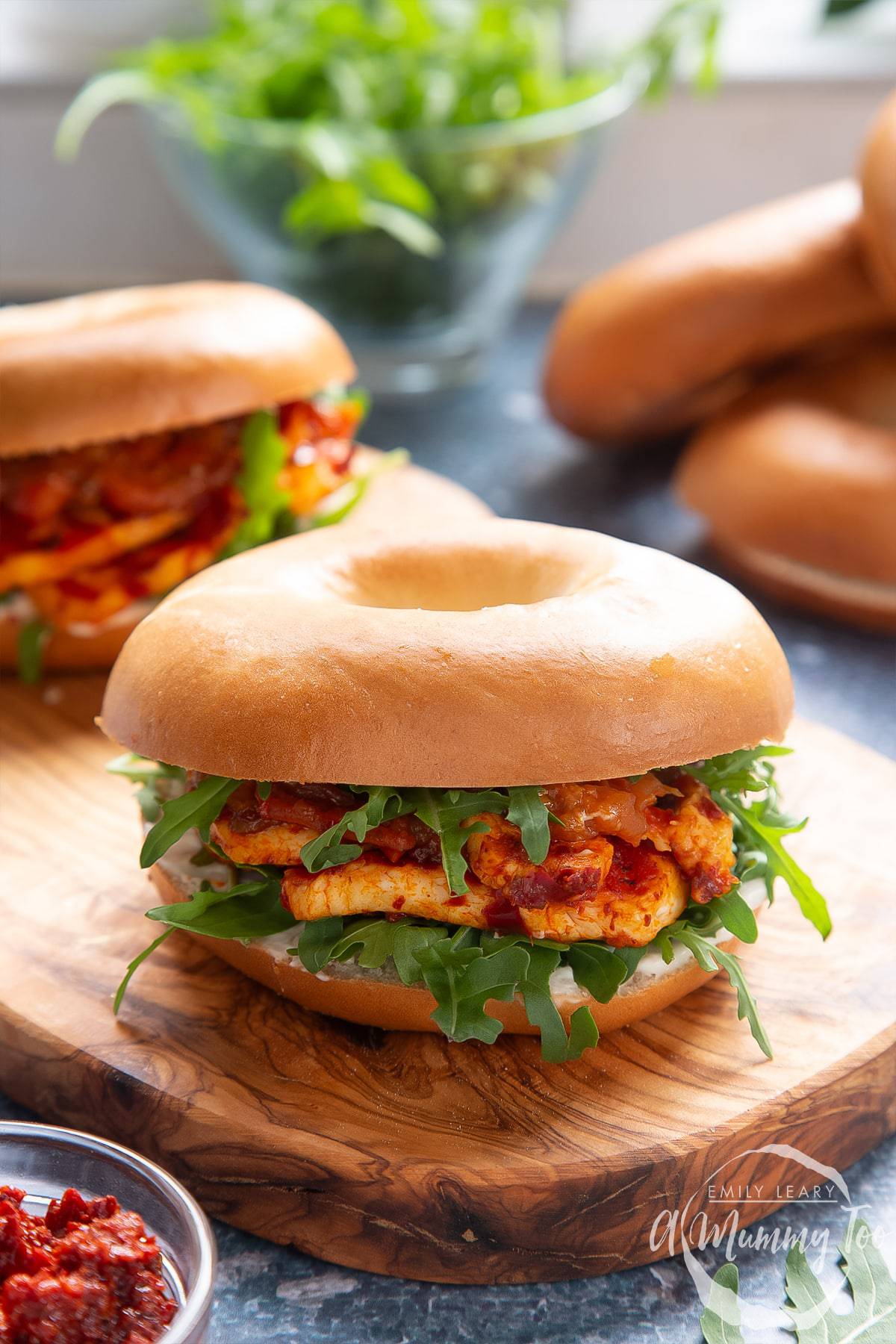 Fiery harissa, salty halloumi, peppery rocket, sweet tomato salsa and creamy mayo: this halloumi bagel from Emily Leary is a sandwich you'll want to eat again and again.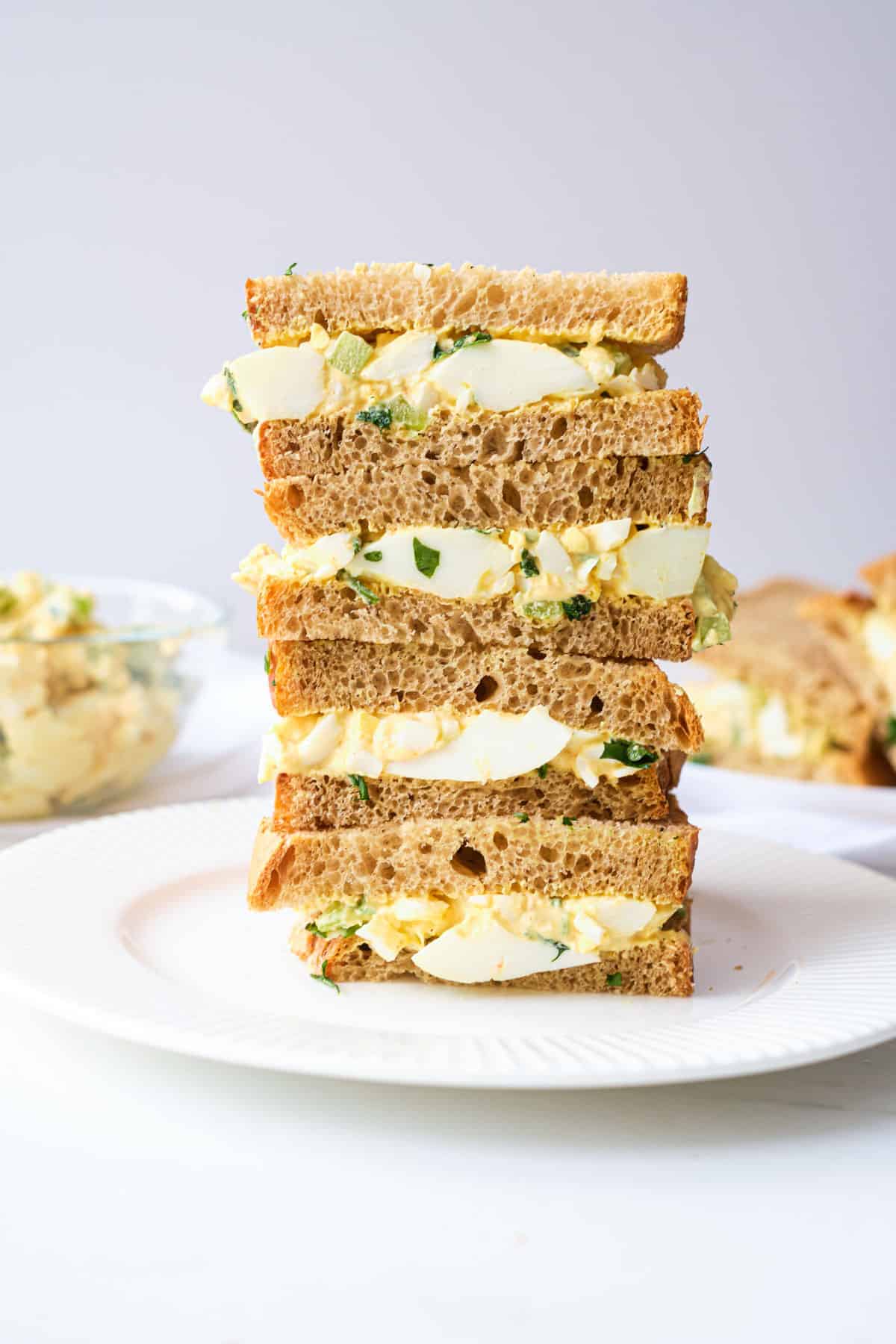 If you are wondering what to do with all of those leftover Easter eggs, this Mexican Egg Salad Sandwich recipe from Budget Delicious is for you! This twist on the classic egg salad sandwich is so flavorful, and it's so easy to make. This is going to be your new favorite lunch.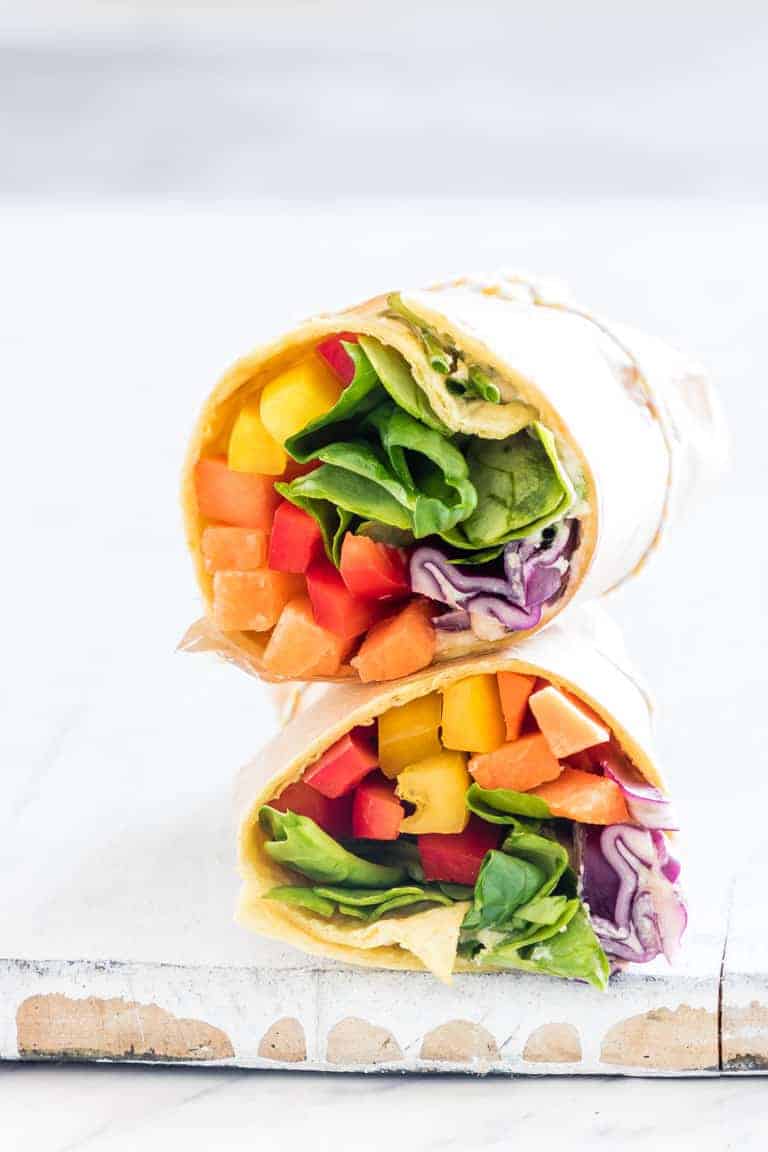 A quick easy crunchy rainbow vegetable tortilla wrap from Recipes from a pantry that can be made with your kids.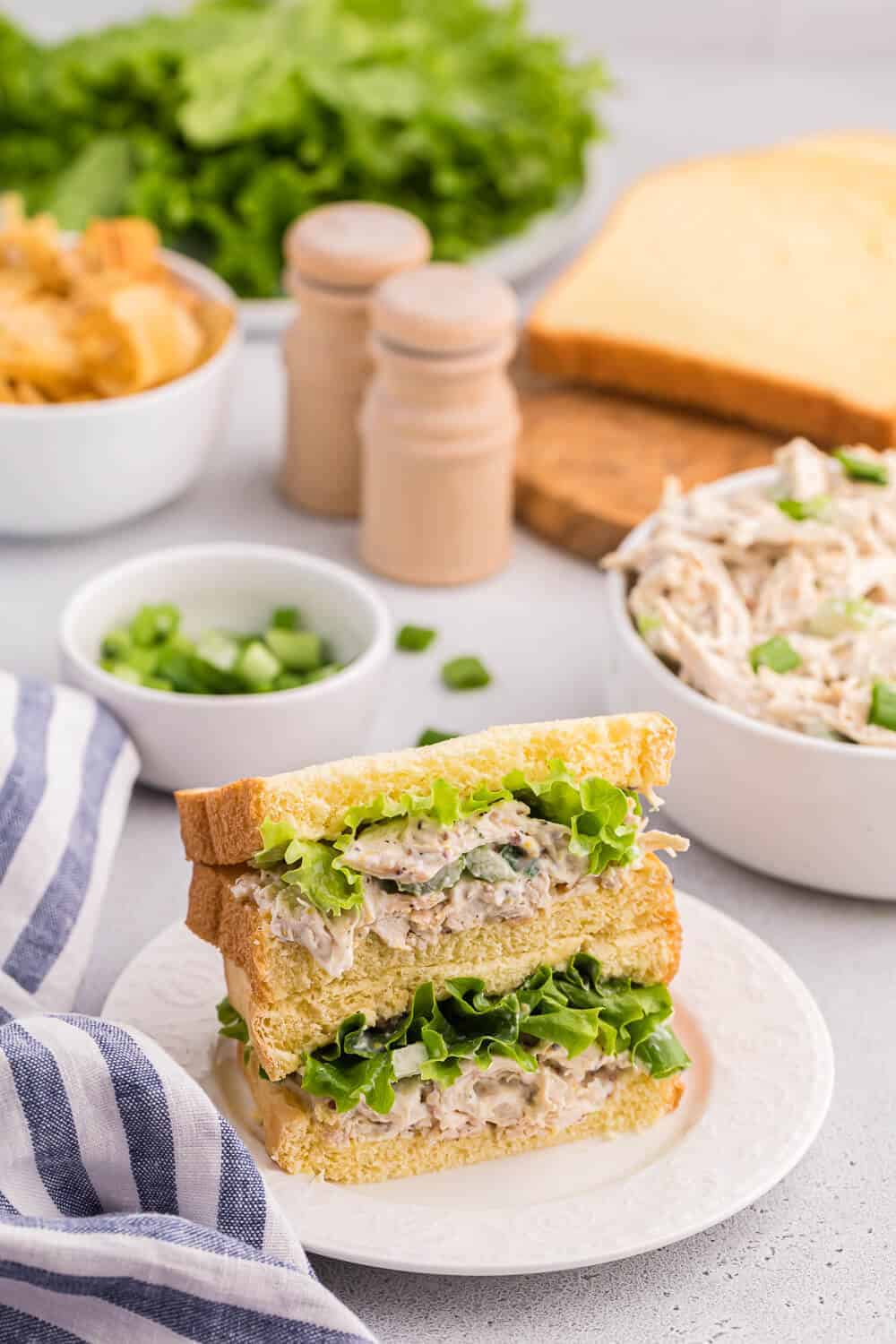 So creamy with a bit of crunch. This made from scratch lunch recipe from Simply Stacie is easy to make and so delicious. Serve as a salad, sandwich or on a wrap.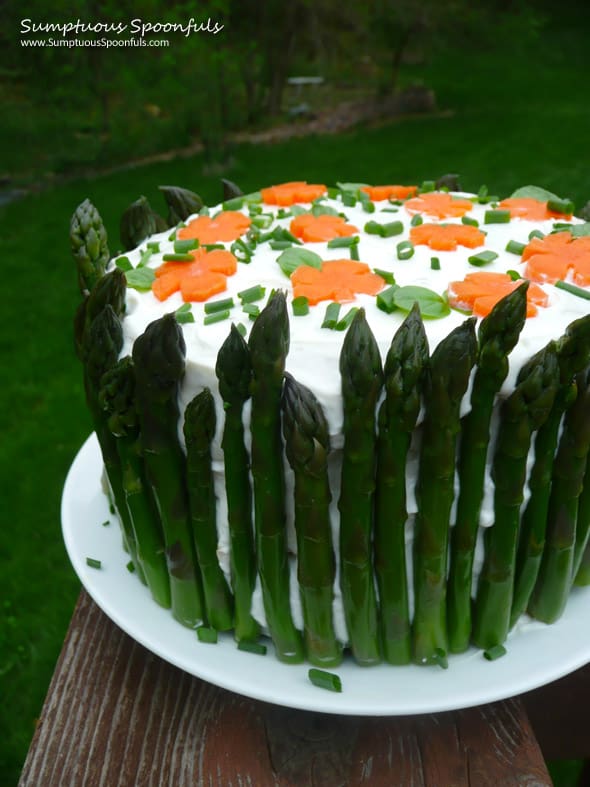 A super fun sandwich that looks like a cake from Sumptuous Spoonfuls… bread makes the "cake layers", egg and salmon salad make the "fillings" and the "frosting" is a mix of light cream cheese and Greek yogurt, decorated with carrot flowers, basil leaves, chive "sprinkles" and asparagus spears.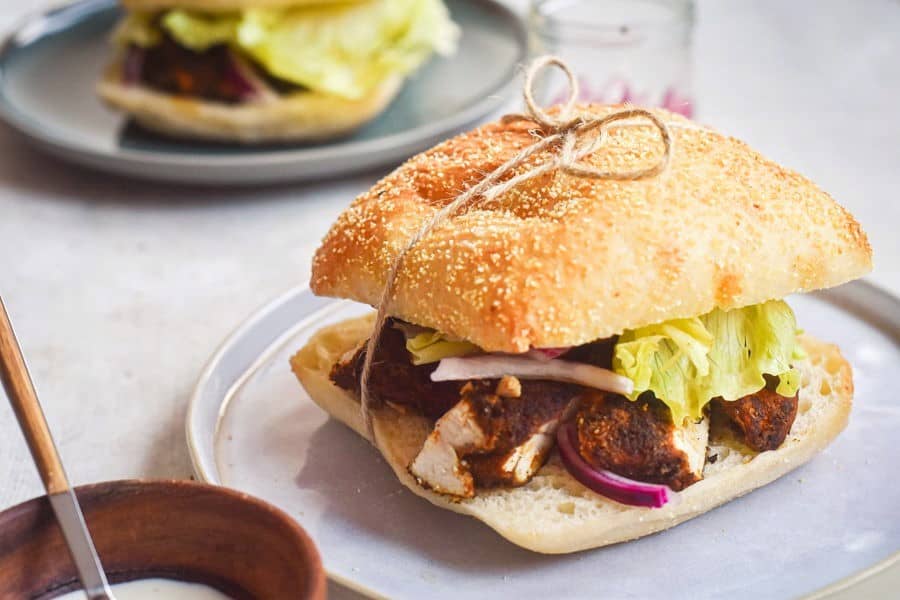 Enjoy the flavors of Cajun cuisine with this blackened chicken ciabatta sandwich recipe from In The Kitch. Juicy chicken filets are covered in delicious blackened spices which pair well with the cool, fresh toppings and creamy sauce.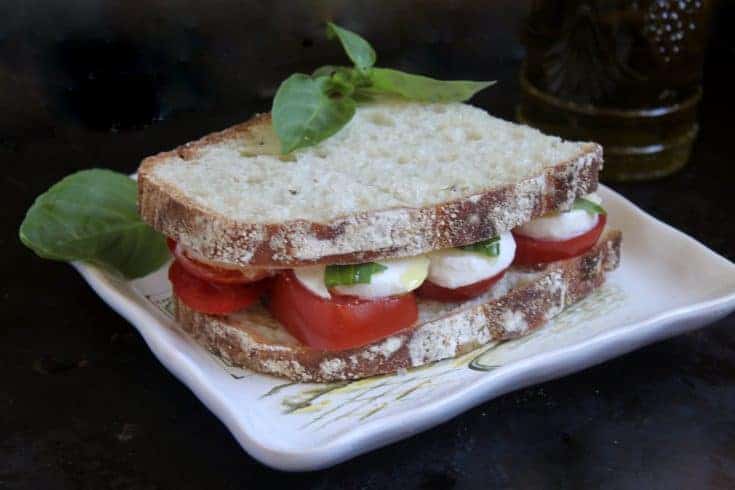 This is truly summer in a sandwich! If you enjoy a Caprese salad, you'll love this twist in a sandwich from Christina's Cucina! Perfect for lunch, picnics and more!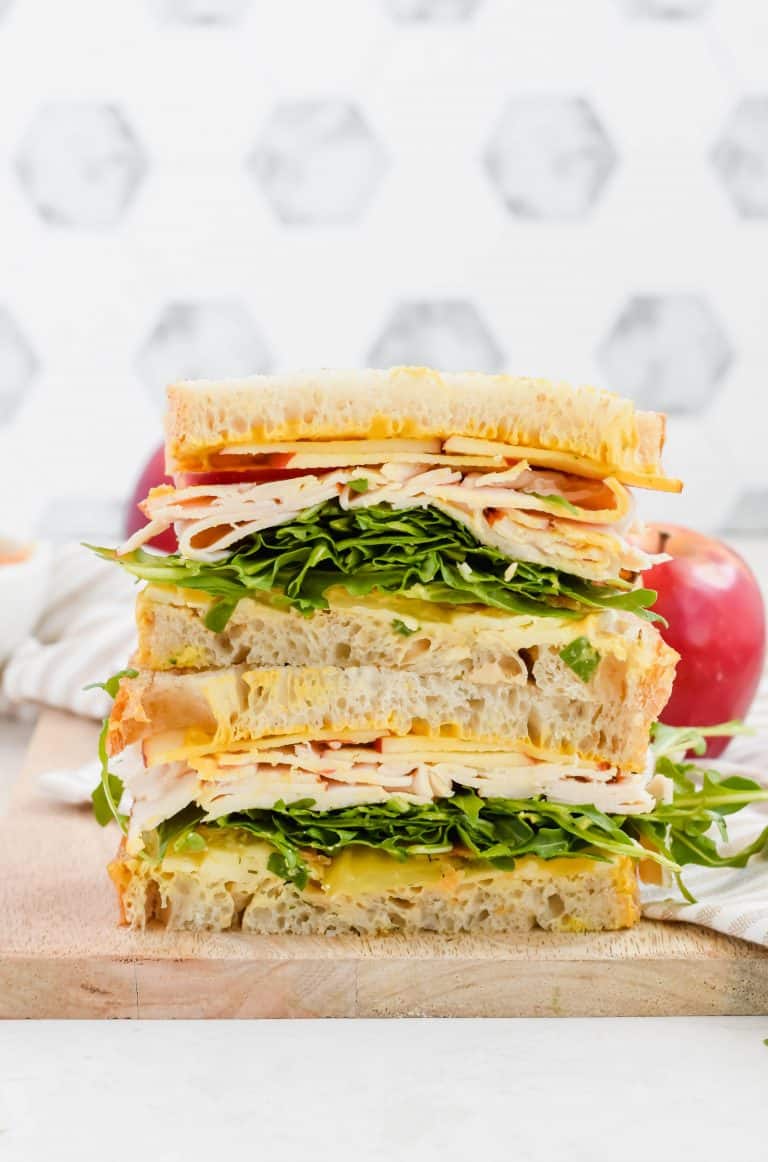 Skip the drive to Panera or Trader Joe's and make your own turkey apple cheddar sandwich with A Paige of Positivity at home! It's perfect to serve with pasta salad or chips.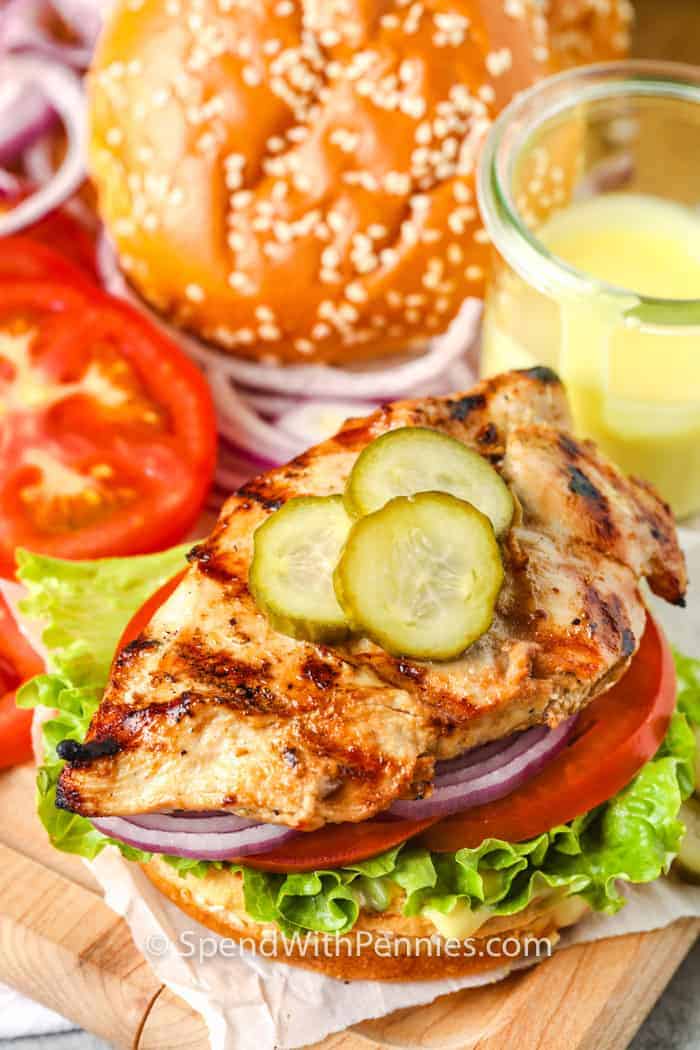 Marinated chicken breasts are grilled to tender perfection and topped with a quick homemade honey mustard sauce and our favorite garden-fresh toppings. This sandwich from Spend with Pennies is a favorite all year long!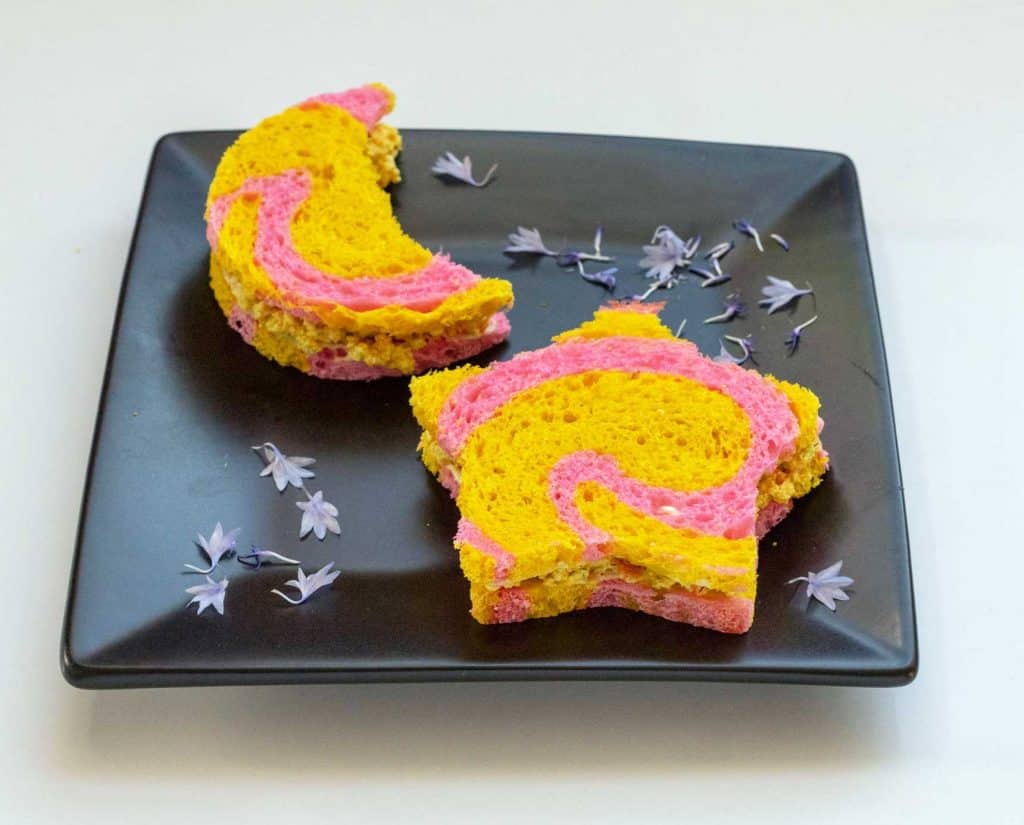 These picnic-ready vegan egg salad tea sandwiches from Vegan Dollhouse can be customized to be any shape and color of bread that matches your potluck or tea party theme.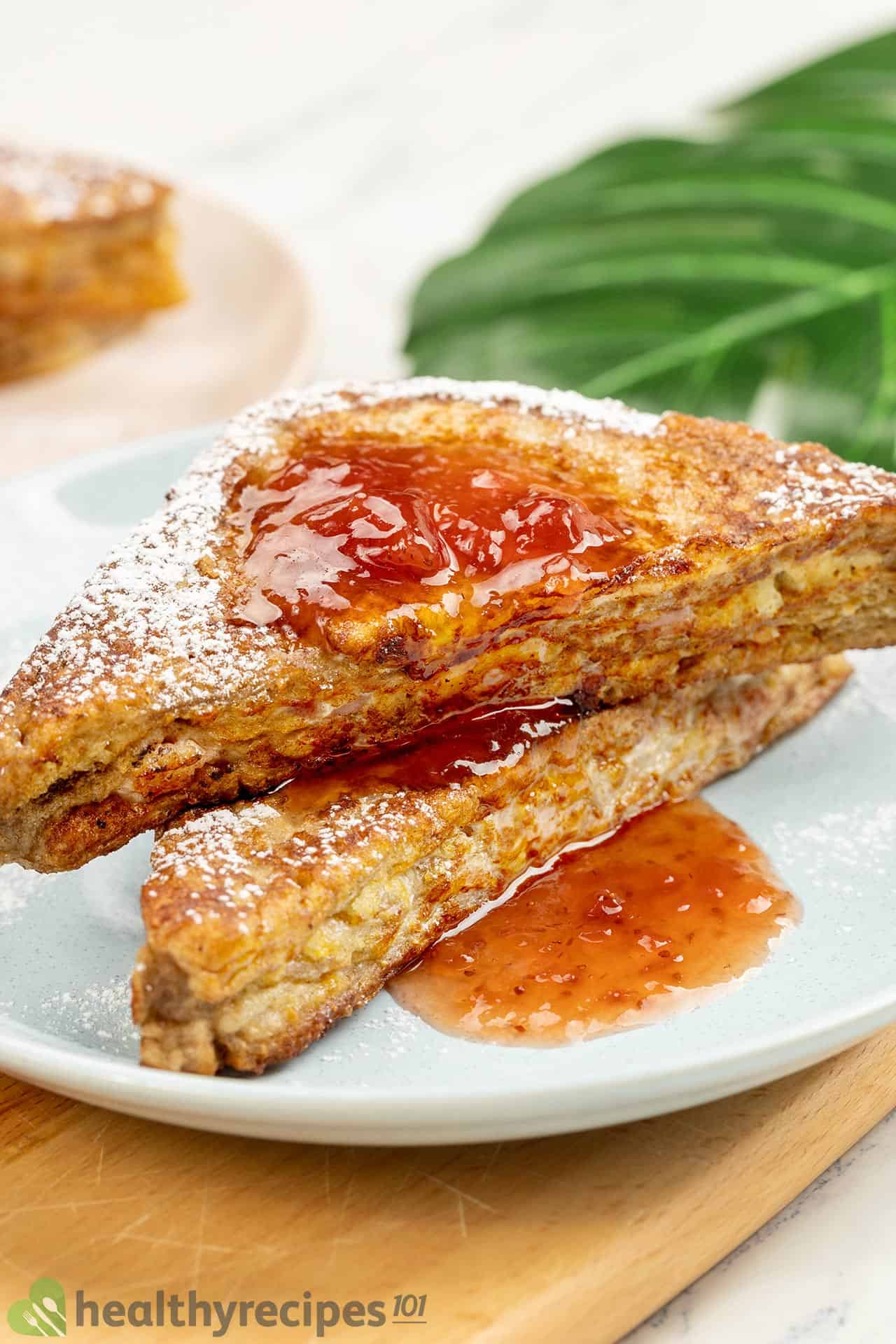 This Monte Cristo Sandwich from Healthy Recipes 101 is just what the doctor ordered for a fun-filled summer outing! It features ham, bacon, and cheese with strawberry jam for a semi-sweet finish everyone will enjoy!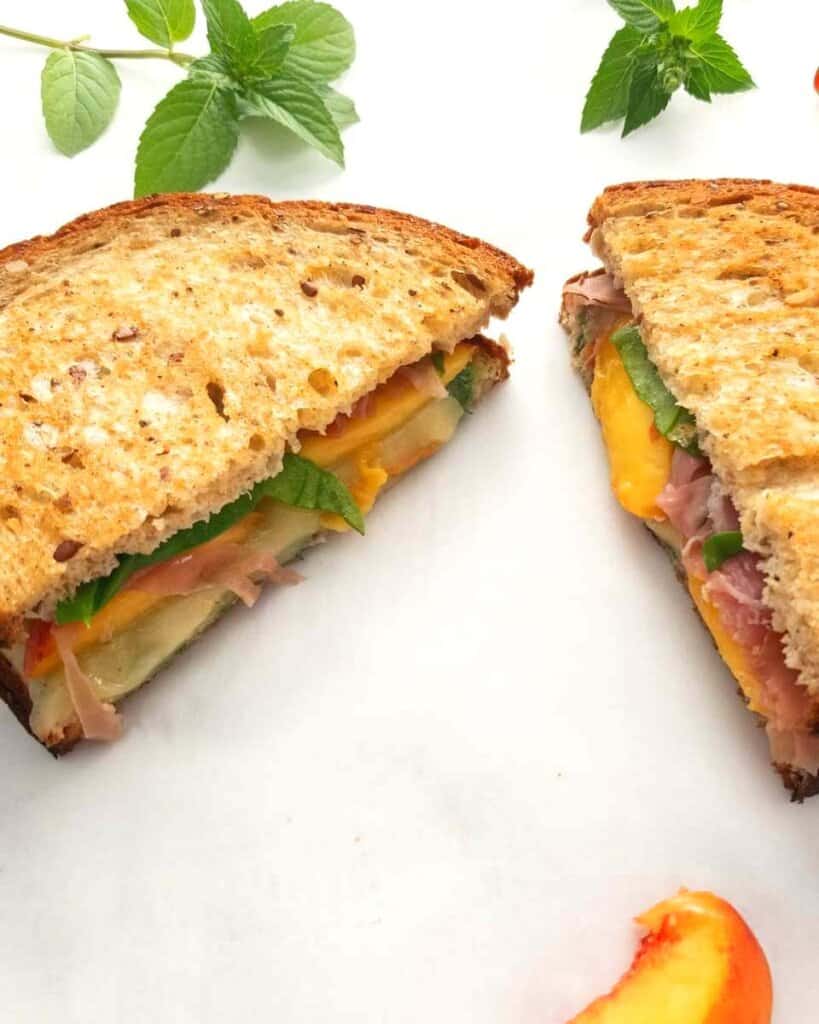 This 'adult' Grilled Cheese with Peach, Spinach, Prosciutto and Mint Pesto from Herbs & Flour is an elevated take on the classic comfort food sandwich!
We hope you are as excited about these summer sandwich recipes as we are. This collection of healthy and delicious summer sandwiches are sure to impress.
We love these simple recipes because they are easy to make and can be customized to fit your taste.
If you're still looking for some summertime food ideas, check out these:
What are your favorite recipes for summer sandwiches? Let us know in the comments below!
Hello, I'm Vickie aka The Crazy Family Mom!

The creator of A Crazy Family and a stay-at-home mom of a little boy with a big personality. I love to share real food recipes, parenting tips & encouragement, fun kids activities, and so much more! Plus, I am thrilled to provide you with a space to celebrate all that is awesome (and a little crazy) in the world.