Recipes with Pepperoni (that aren't pizza)
As a fan of pepperoni, you know it adds the perfect blend of flavor and zip to any dish. And while pizza is obviously one top favorite for using this delicious ingredient, there are so many other recipes that feature pepperoni that can give your dinner routine some variety.
Whether you're looking to make easy appetizers or hearty main dishes, there's no shortage of inspiring ideas here!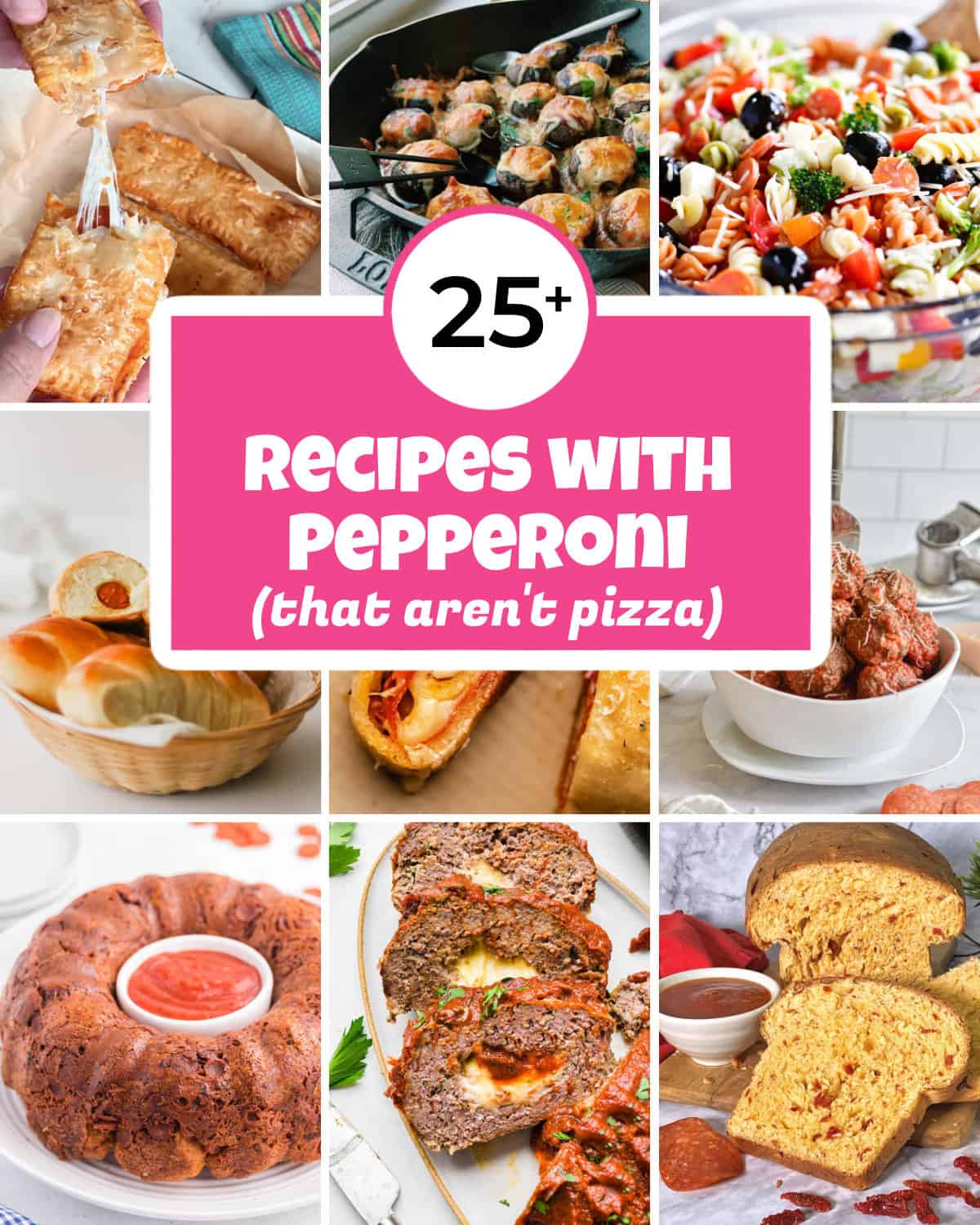 25+ Pepperoni Recipes that aren't pizza
From pepperoni rolls to a pizza casserole, get ready for several mouthwatering meals, all delicious dishes with pepperoni that are anything but pizza.
Why you'll love these recipes
Quick and easy to make.
Perfectly combined with the spicy flavor of pepperoni.
Great for big batches such as family dinners or weekend gatherings.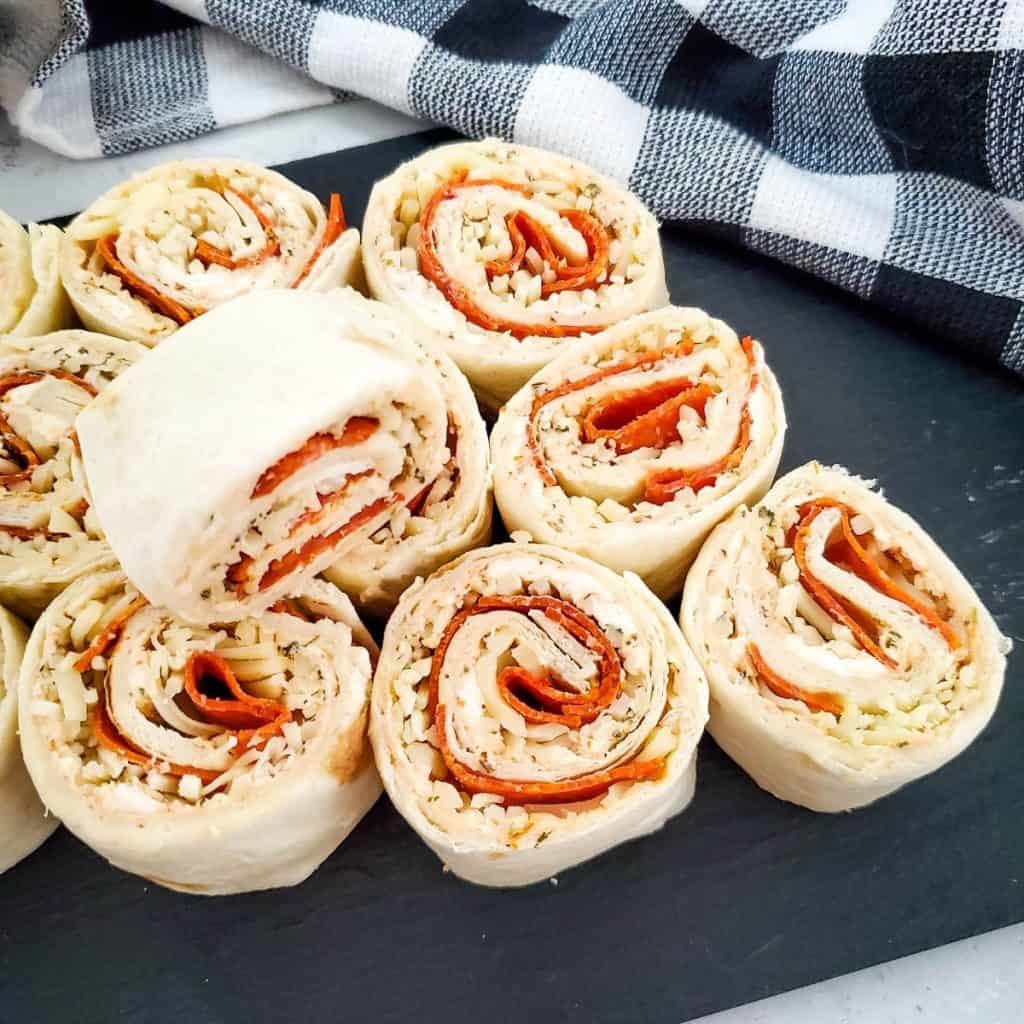 Pepperoni Pizza Pinwheels by A Crazy Family

Delicious pepperoni pizza pinwheels can be enjoyed as a snack, for lunch, or make them for a party appetizer.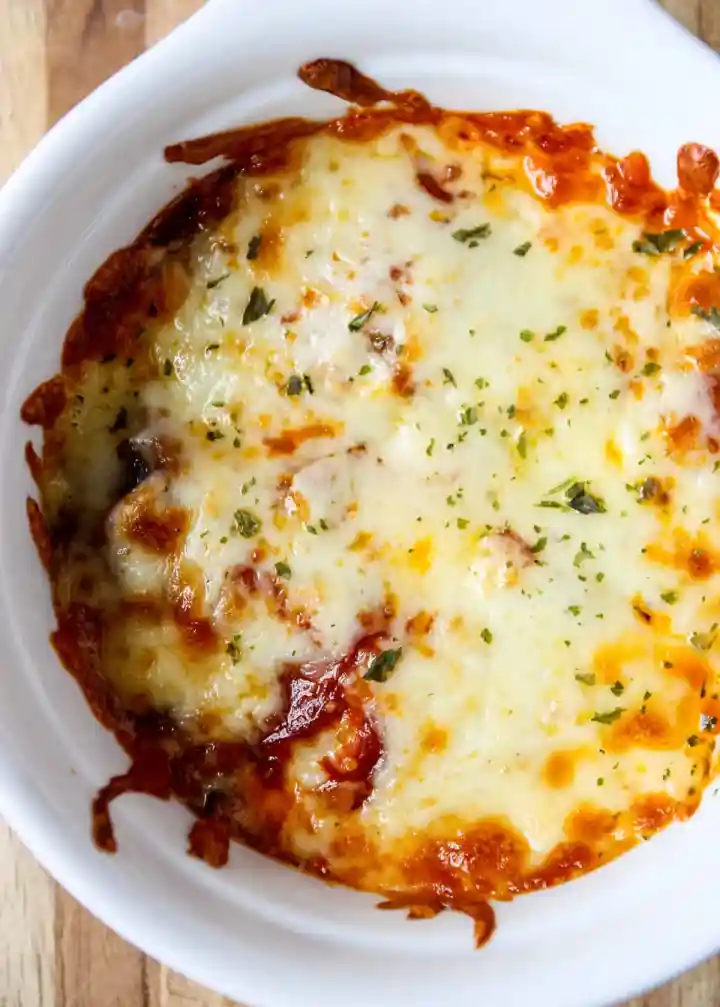 Pizza Bowls by The Food Blog

Pizza bowls are a fun and easy way to enjoy pizza without all the carbs. Use your favorite toppings for a meal that tastes exactly like your favorite pizza!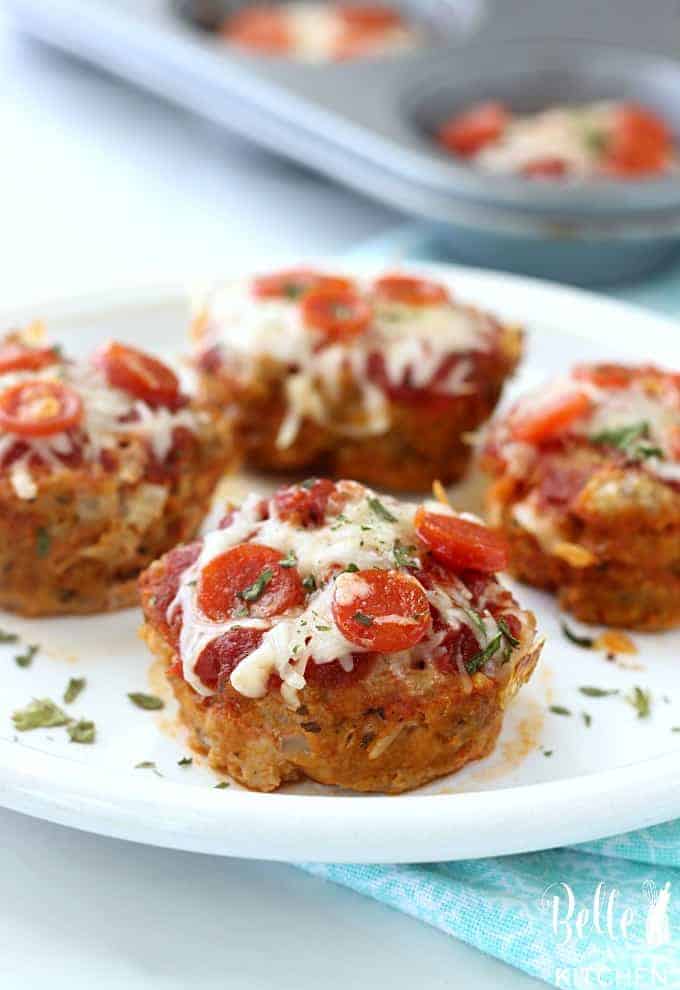 Mini Pizza Meatloaves by Belle of the Kitchen

Make meatloaf night a family favorite by adding loads of pizza flavors into mini meatloaves. You're going to love this mash-up meal.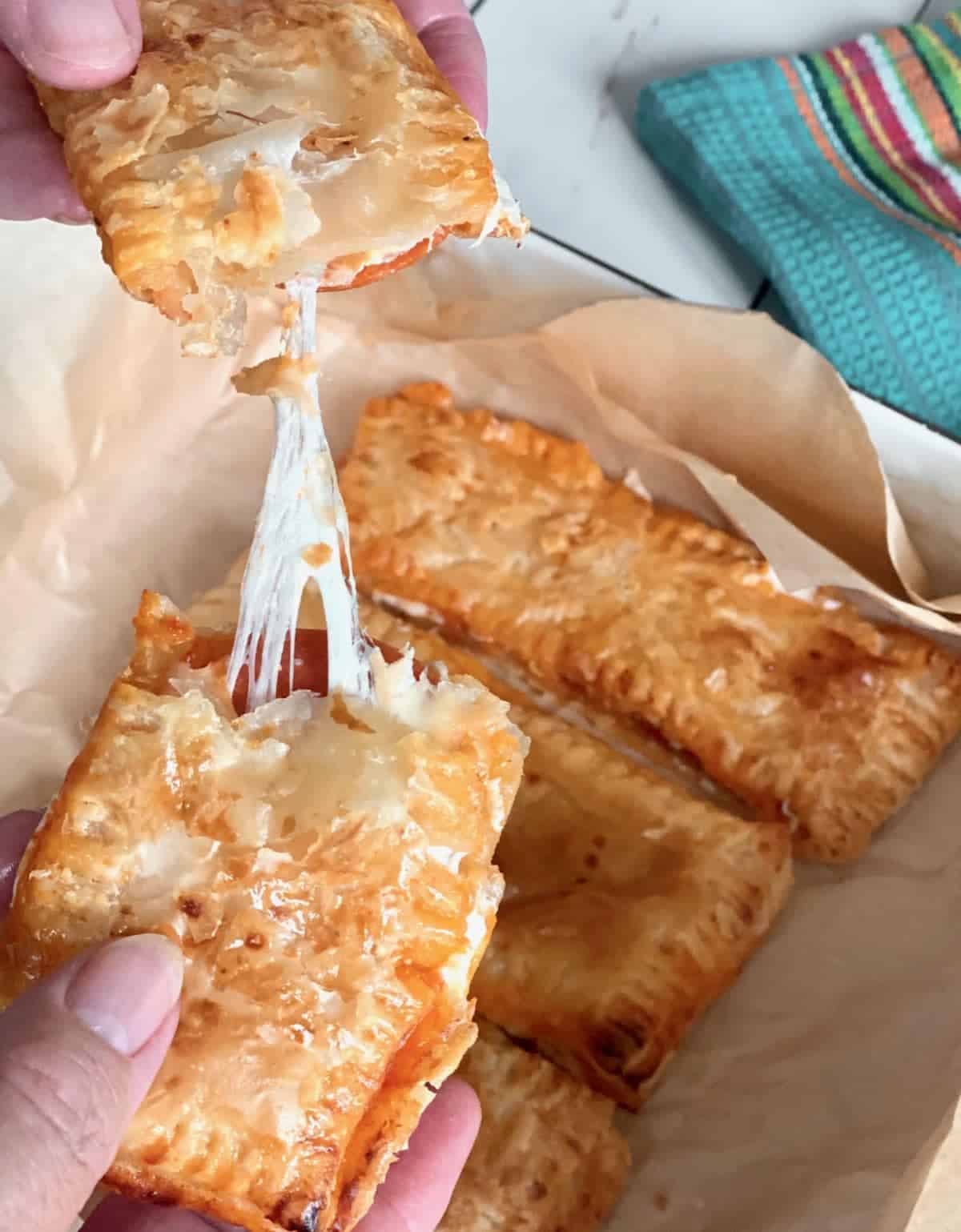 Puff Pastry Pepperoni Pockets by Quiche My Grits

These easy pockets are packed full of pepperoni and cheese! I know you will love the flaky crust that these tasty treats offer.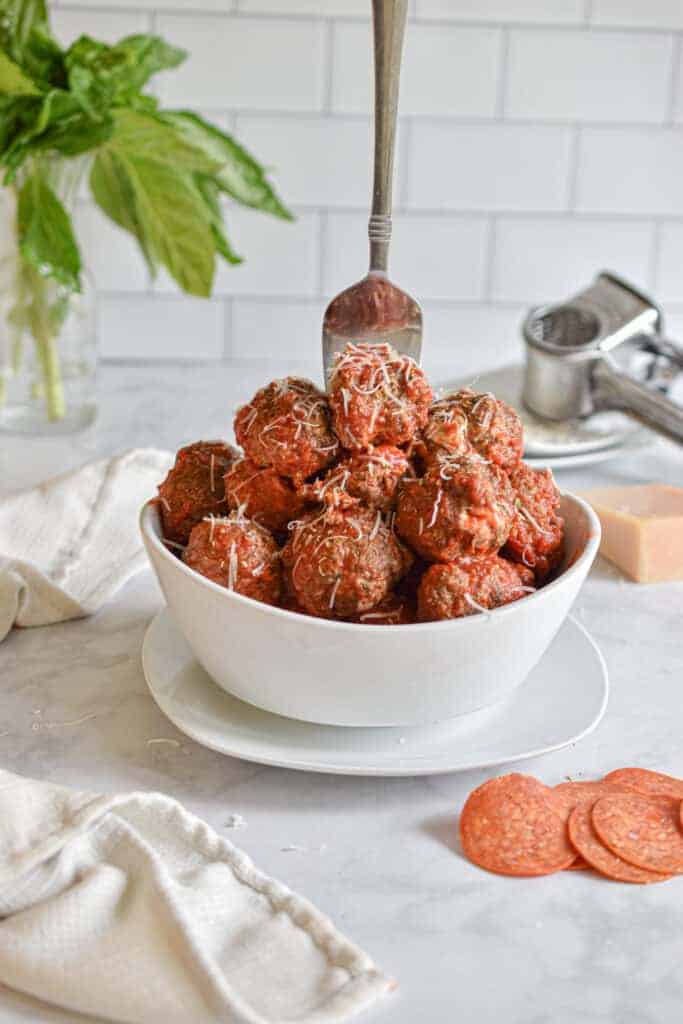 Pepperoni Pizza Meatballs by Lynn's Way of Life

These meatballs make pasta night unforgettable! They are packed with pepperoni flavor, which is so good.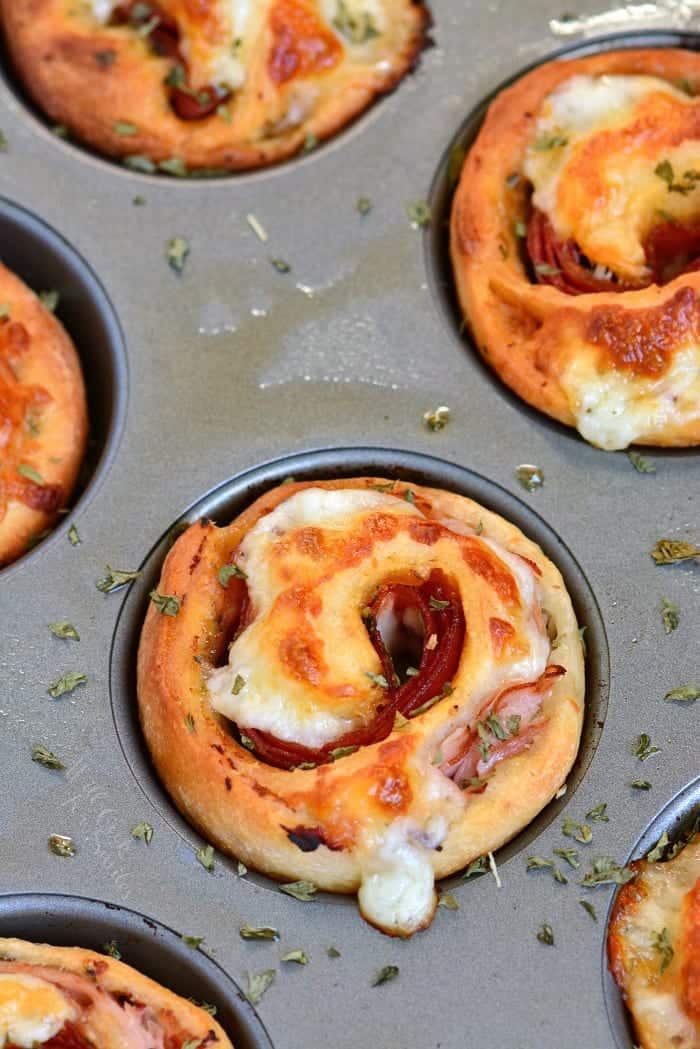 Italian Sub Pinwheels by Will Cook For Smiles

These pinwheels are packed with yummy Italian flavors like pepperoni, cheese, ham, and salami for a really meaty pinwheel that is so satisfying!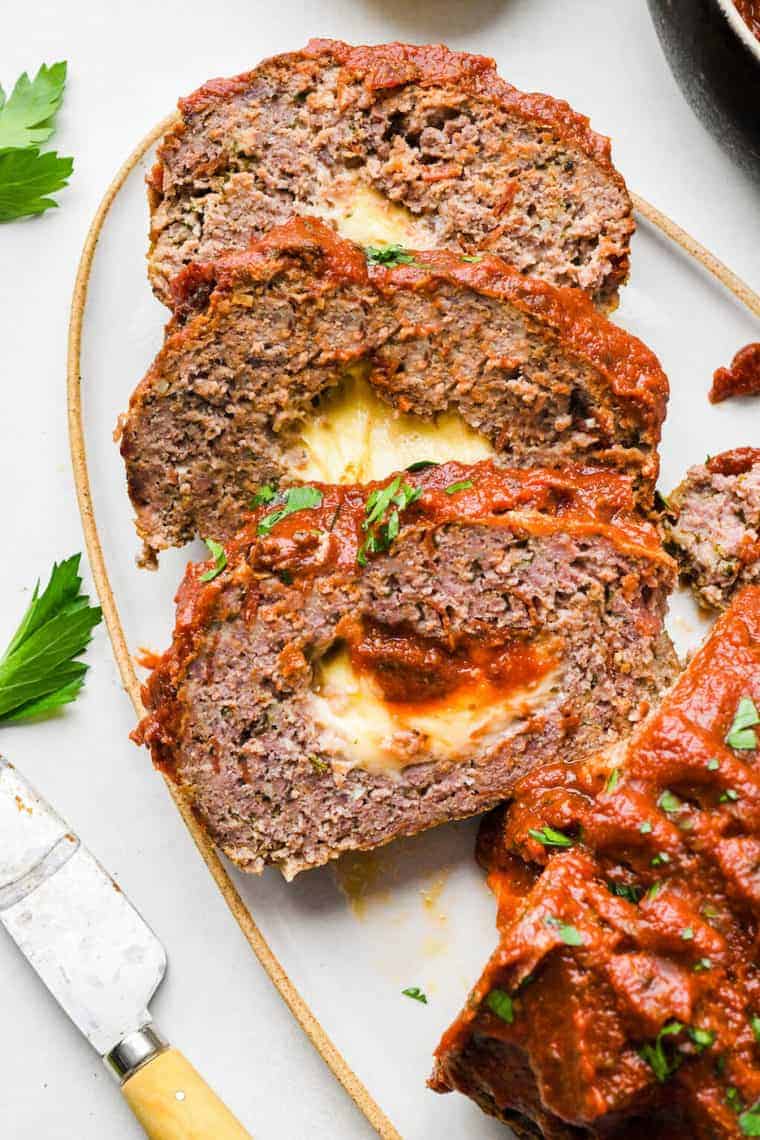 Pizza Meatloaf by Grandbaby Cakes

This is not your mama's meatloaf! It is so cheesy that the whole family will fall in love after the first bite.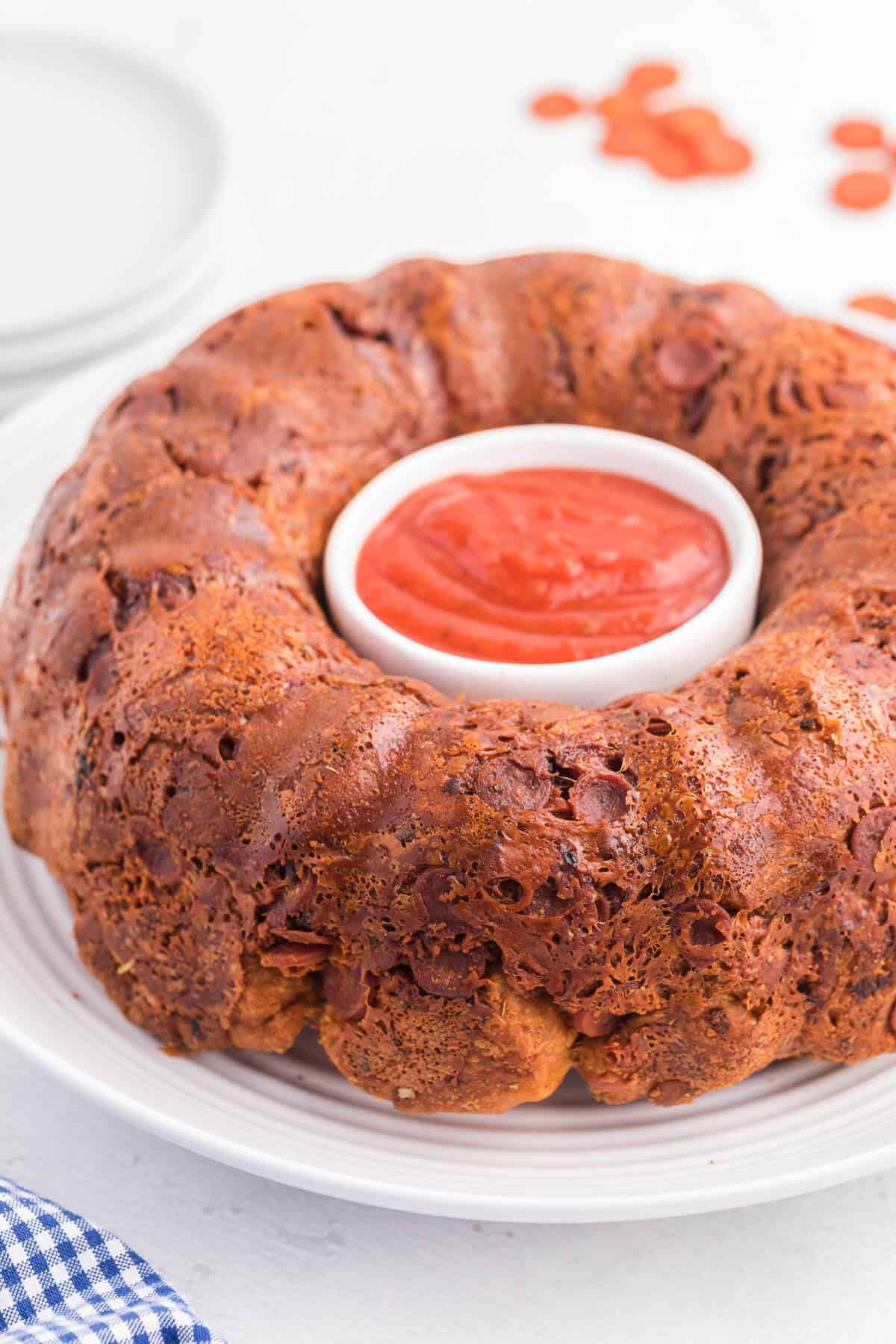 Pizza Monkey Bread by Simply Stacie

This is the best savory monkey bread! It has loads of pepperoni and plenty of cheese. Add your favorite toppings to the mix, and serve with pizza sauce for dipping!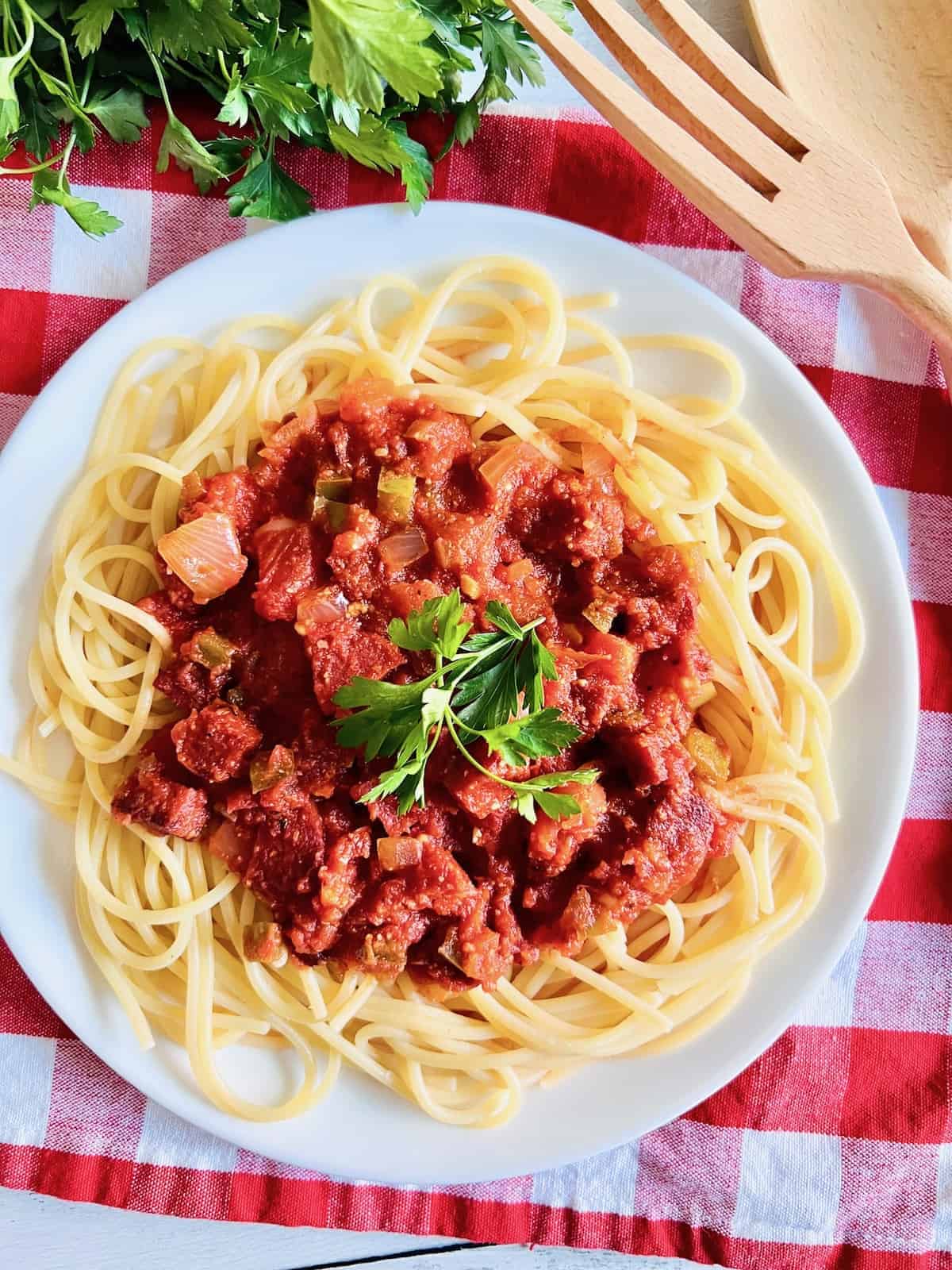 Pepperoni Spaghetti by The Short Order Cook

This spaghetti is packed with pepperoni for a unique twist that the family will love. Move over meatballs! There is a new favorite meat for spaghetti in the house.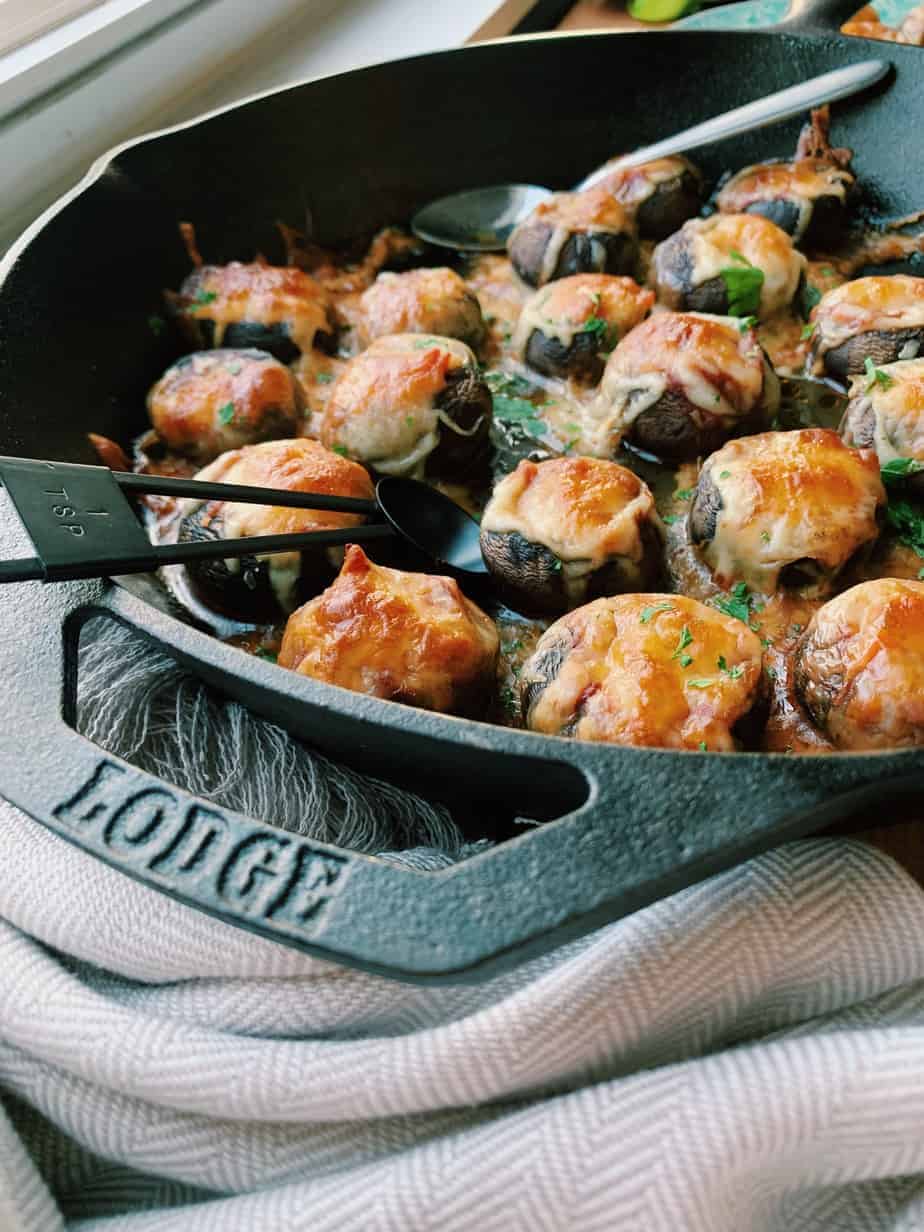 Pizza Stuffed Mushrooms by Season and Thyme

This pizza stuffed mushrooms recipe is sure to be your new favorite thing! This recipe is cheesy, delicious, and not too complicated to make at home.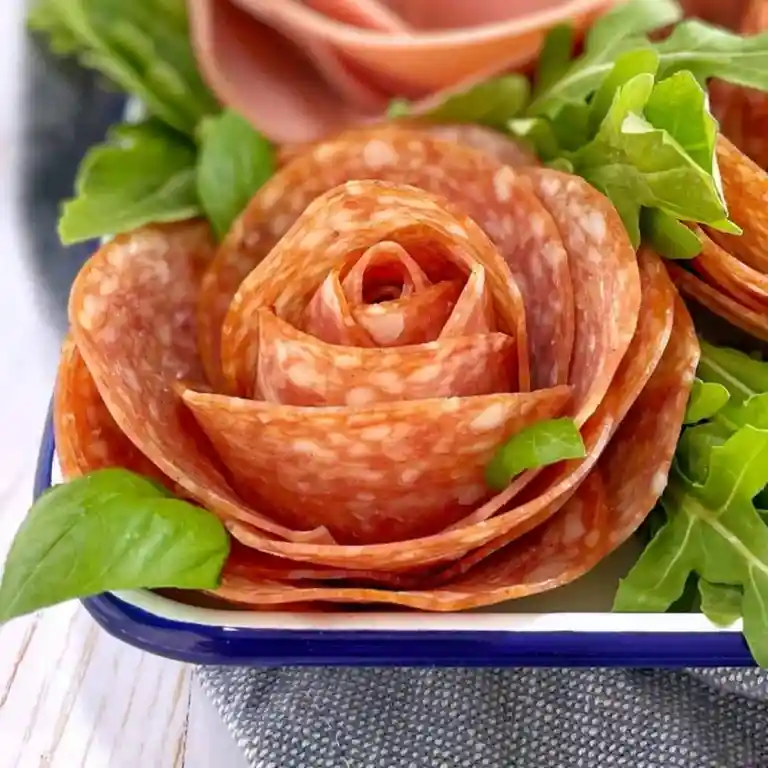 Pepperoni Roses by Chef Not Required

These pepperoni roses are perfect to add to a charcuterie board. They look amazing, but they aren't too hard to make!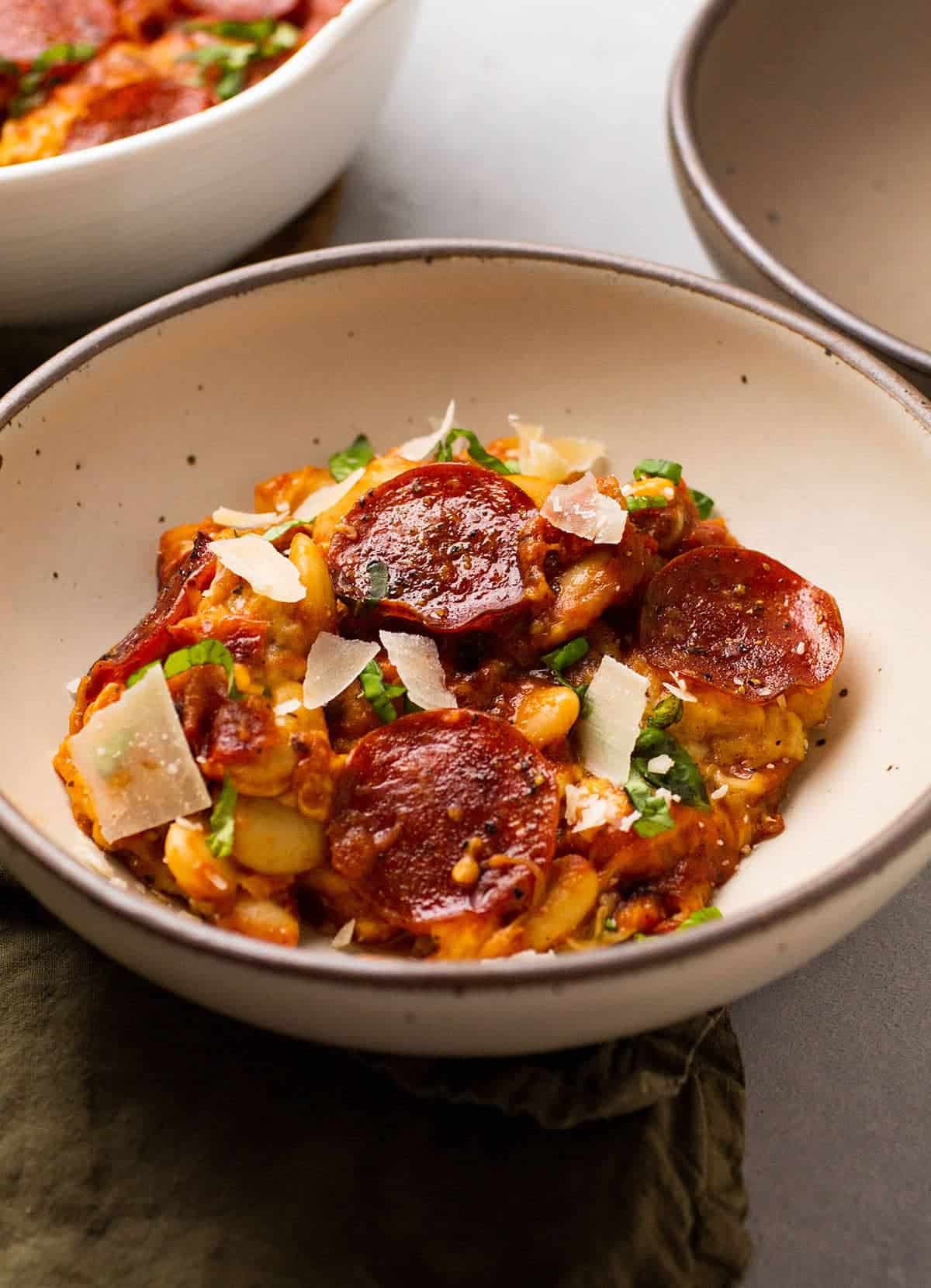 Pizza Baked Butter Beans by Life As a Strawberry

These pizza-baked butter beans are so good. After trying this recipe, your family will cheer for beans!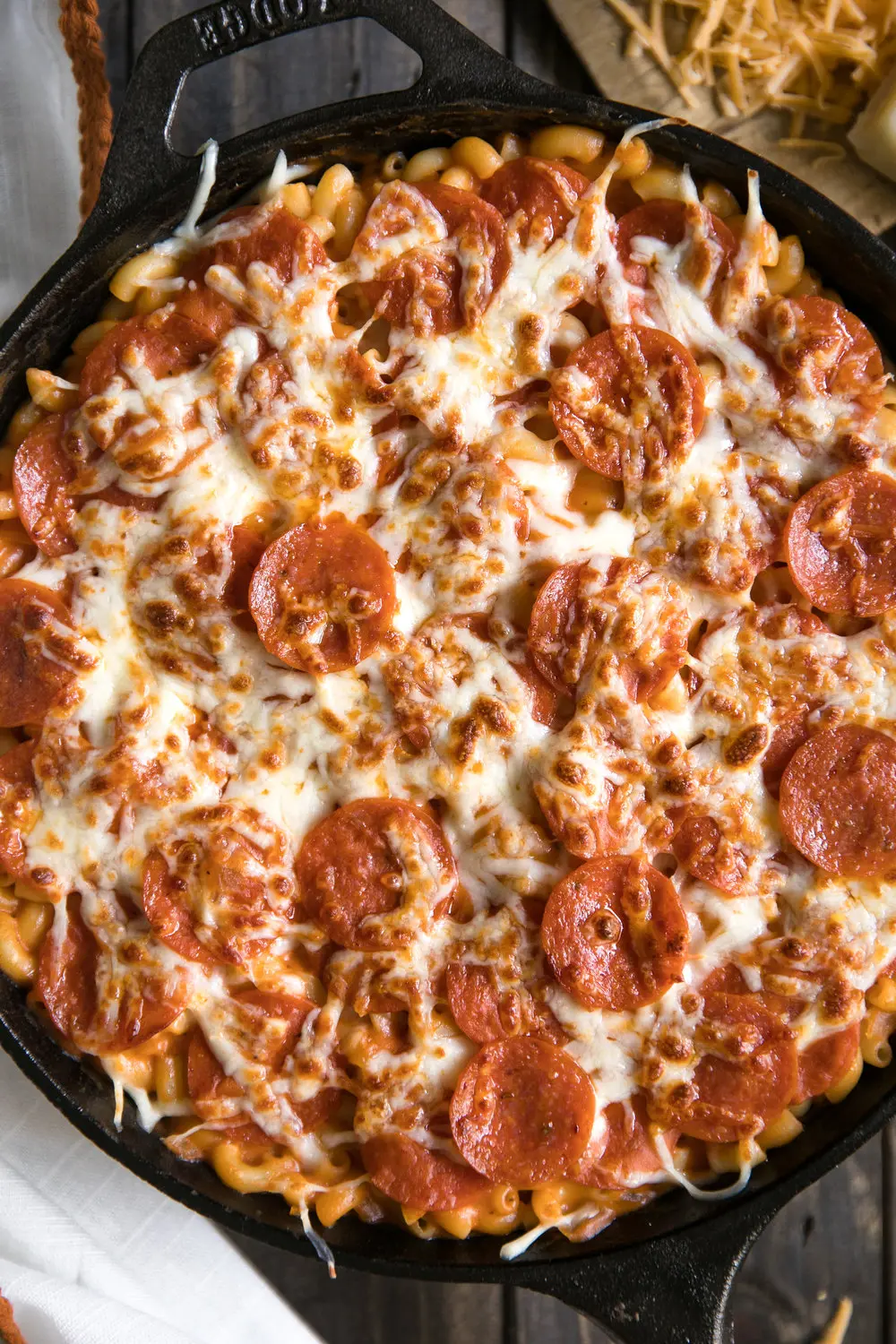 Crack Mac by The Forked Spoon

This mac n cheese is made in a skillet and packs so much pizza flavor into every bite. This is the definition of comfort food.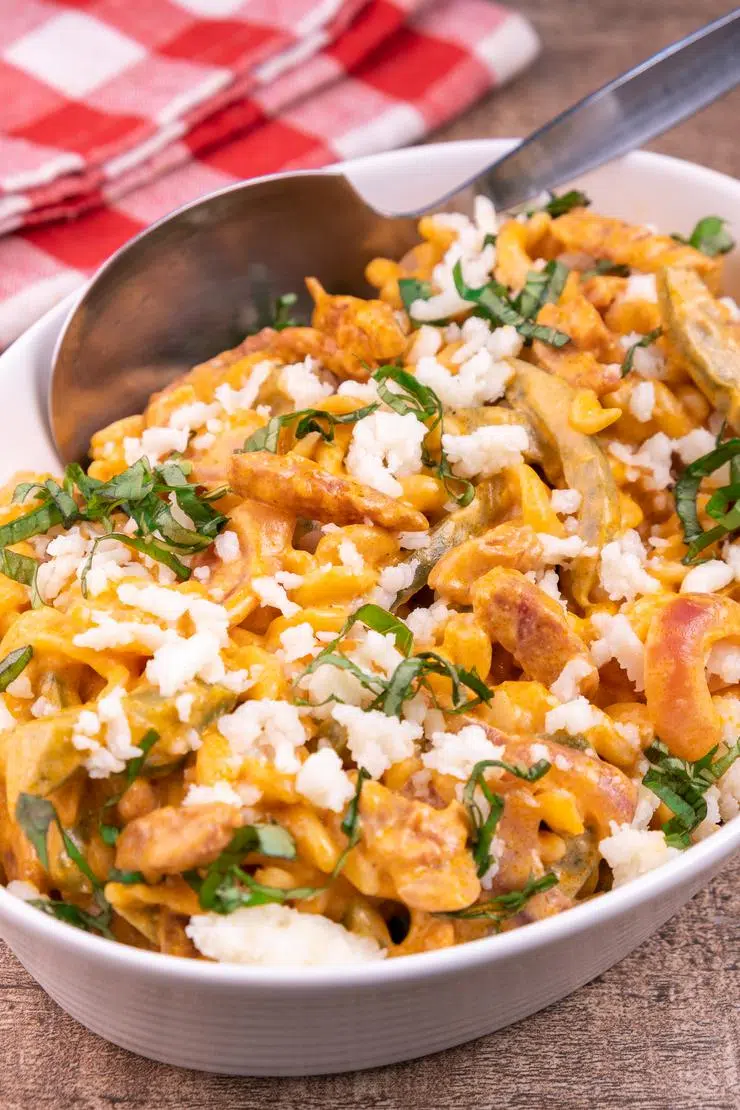 Pepperoni Alfredo Bake by Create Yum

This pasta has creamy alfredo and lots of pepperoni and is sure to please your family when dinner rolls around. Serve with breadsticks and a salad for an easy meal.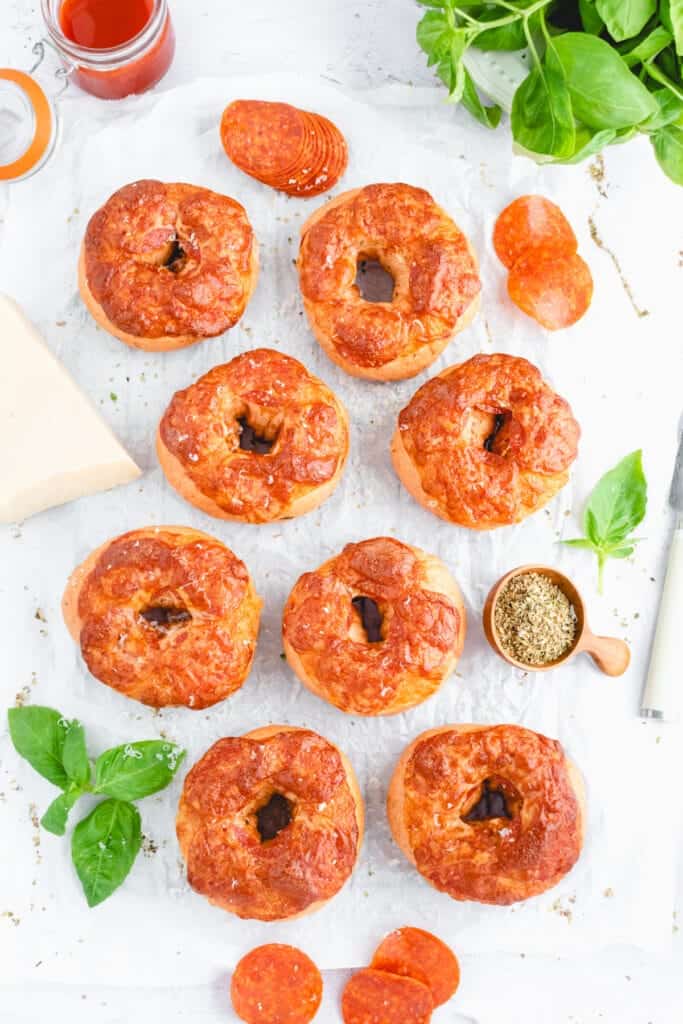 Pizza Bagels by The Practical Kitchen

These pizza bagels are packed with pepperoni and basil flavor for a one-of-a-kind homemade goodie! Will you have these for breakfast or lunch?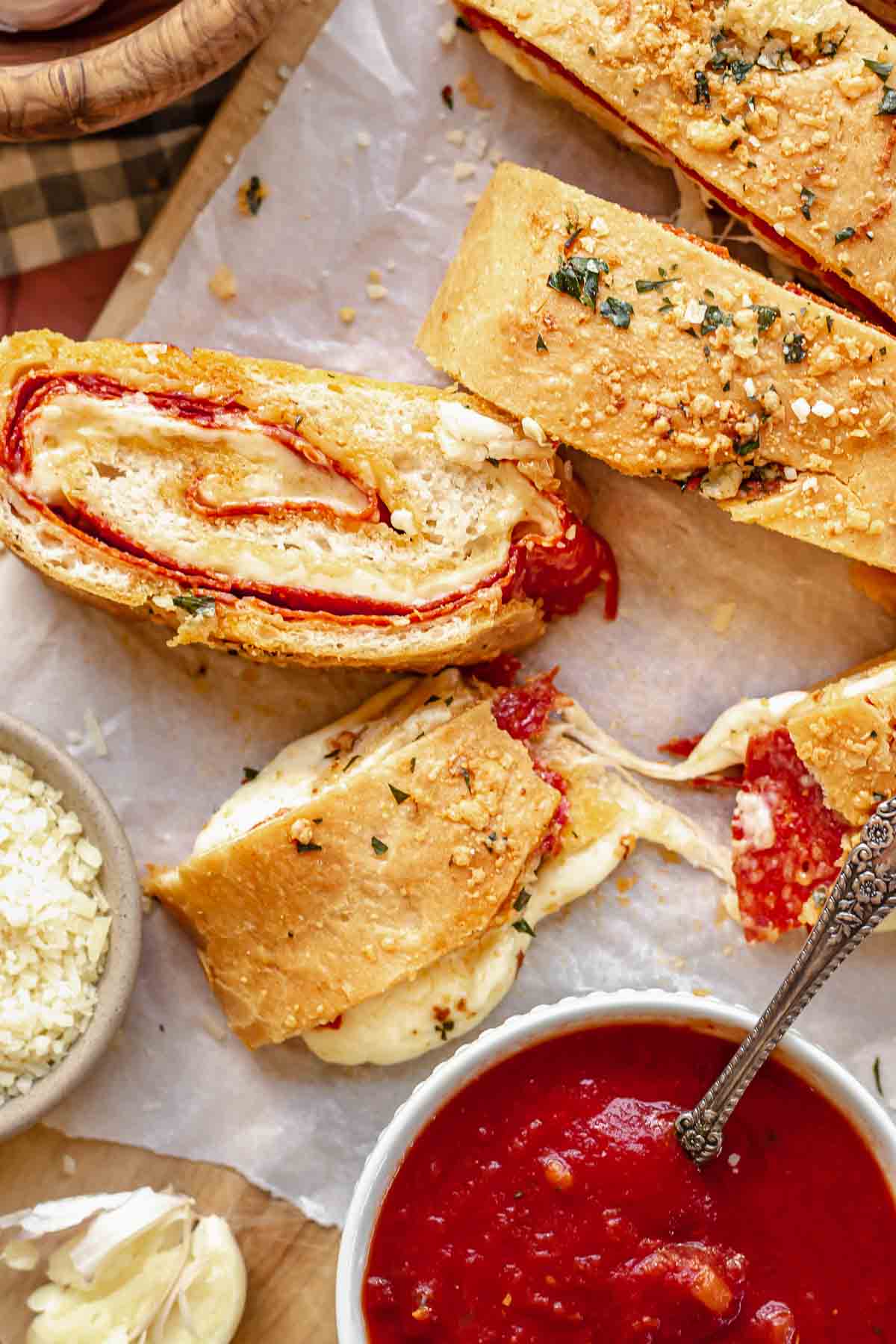 Cheesy Pepperoni Bread by The Cozy Plum

This bread is layered with pepperoni and cheesy for a snack or appetizer that cures your pizza cravings!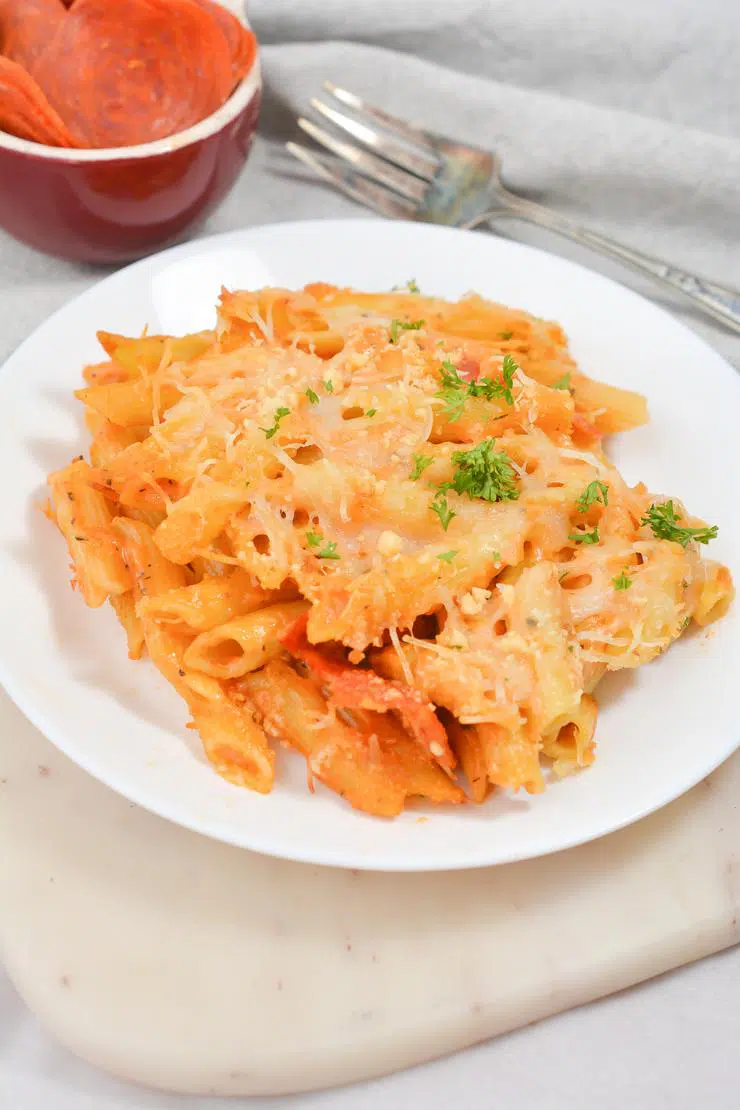 Pizza Mac by Create Yum

This macaroni brings a whole lot of pizza flavor to an easy pasta dinner. This is a really good simple recipe that always hits the spot!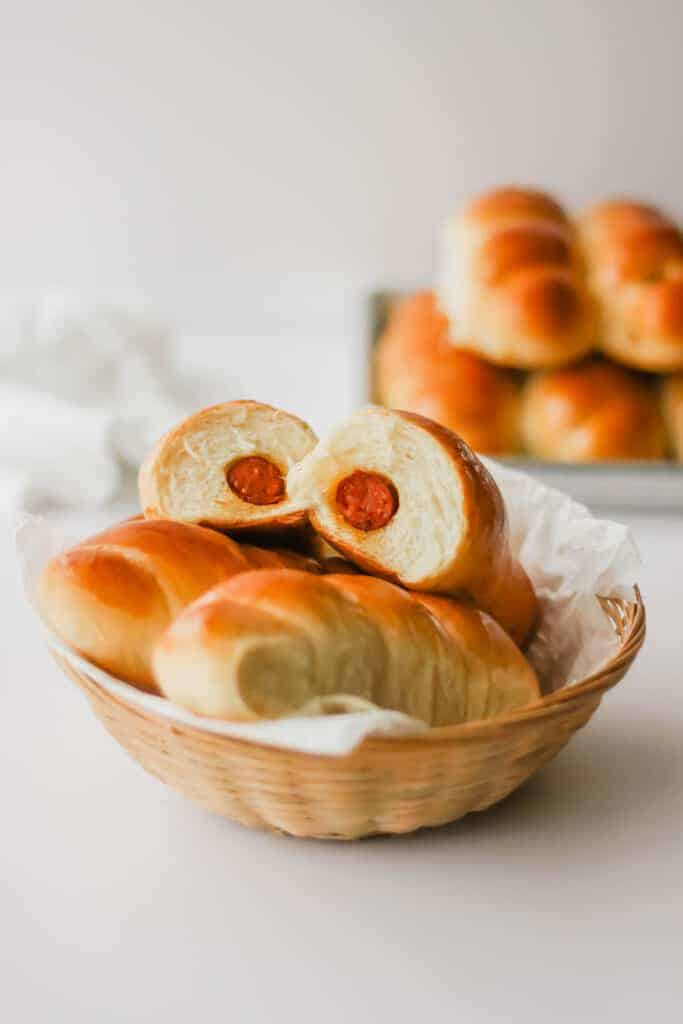 Pepperoni Buns by Sift and Simmer

These buns have a pepperoni center that is so good! They are meaty, soft and taste amazing when dipped in pizza sauce.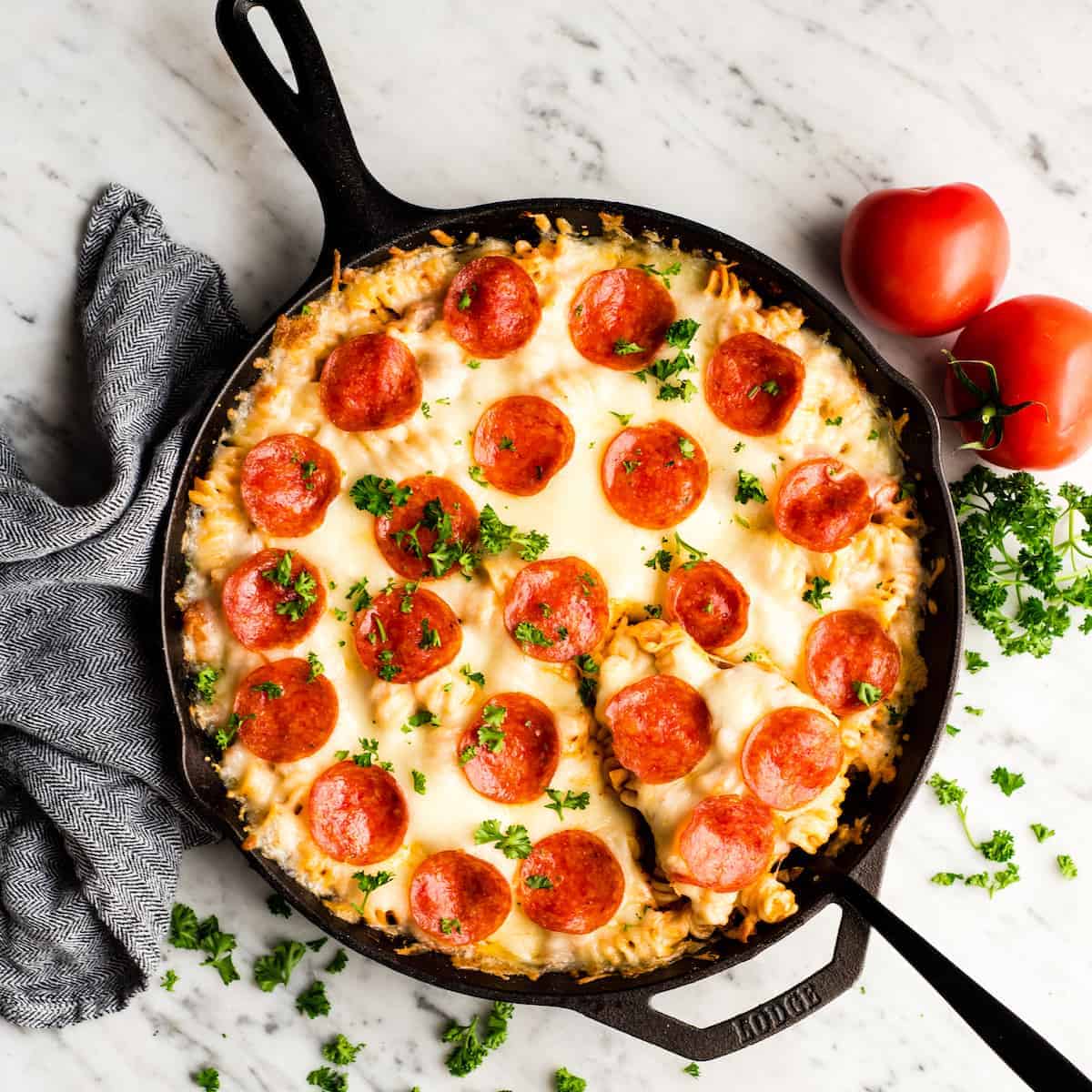 Pizza Casserole by Joy Food Sunshine

This casserole is baked to perfection with a pepperoni and cheese topping that will give it big pizza vibes!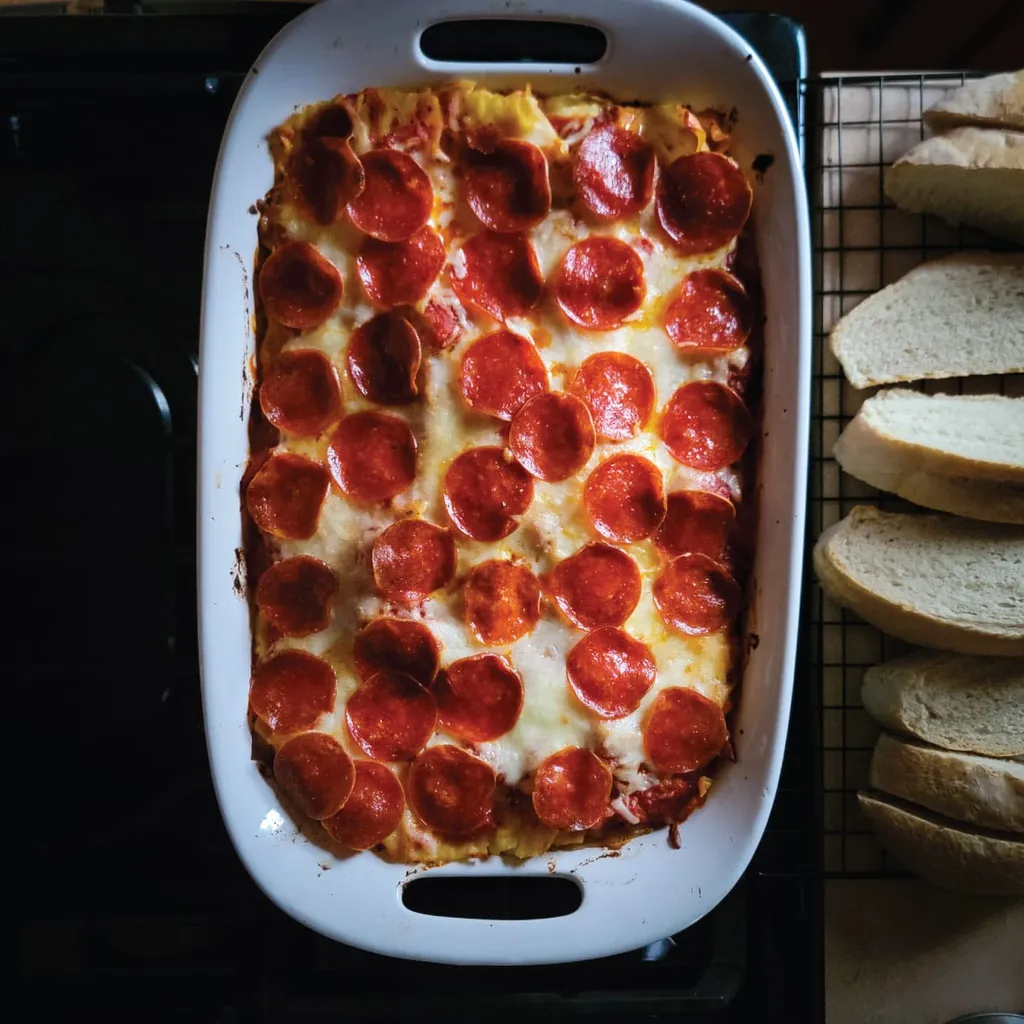 Pizza Lasagna by The Kitchen and Latte

This lasagna is layered with gooey cheese and yummy sauce and has plenty of pepperoni to make the flavor pop!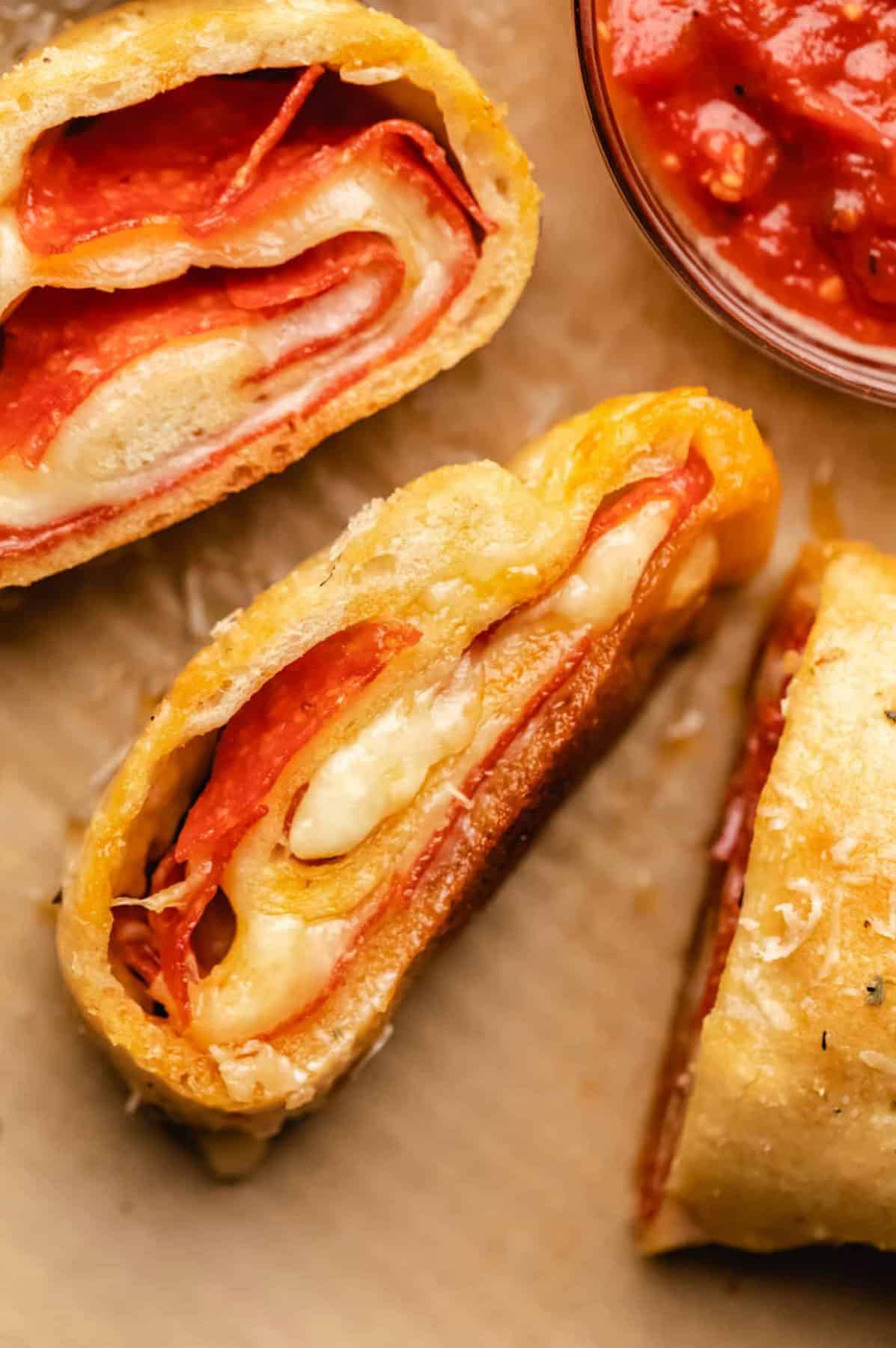 Pepperoni Stomboli by I Heart Eating

This cheesy treat has pizza shop flavors from your home kitchen. These are perfect for a light dinner or an epic lunch!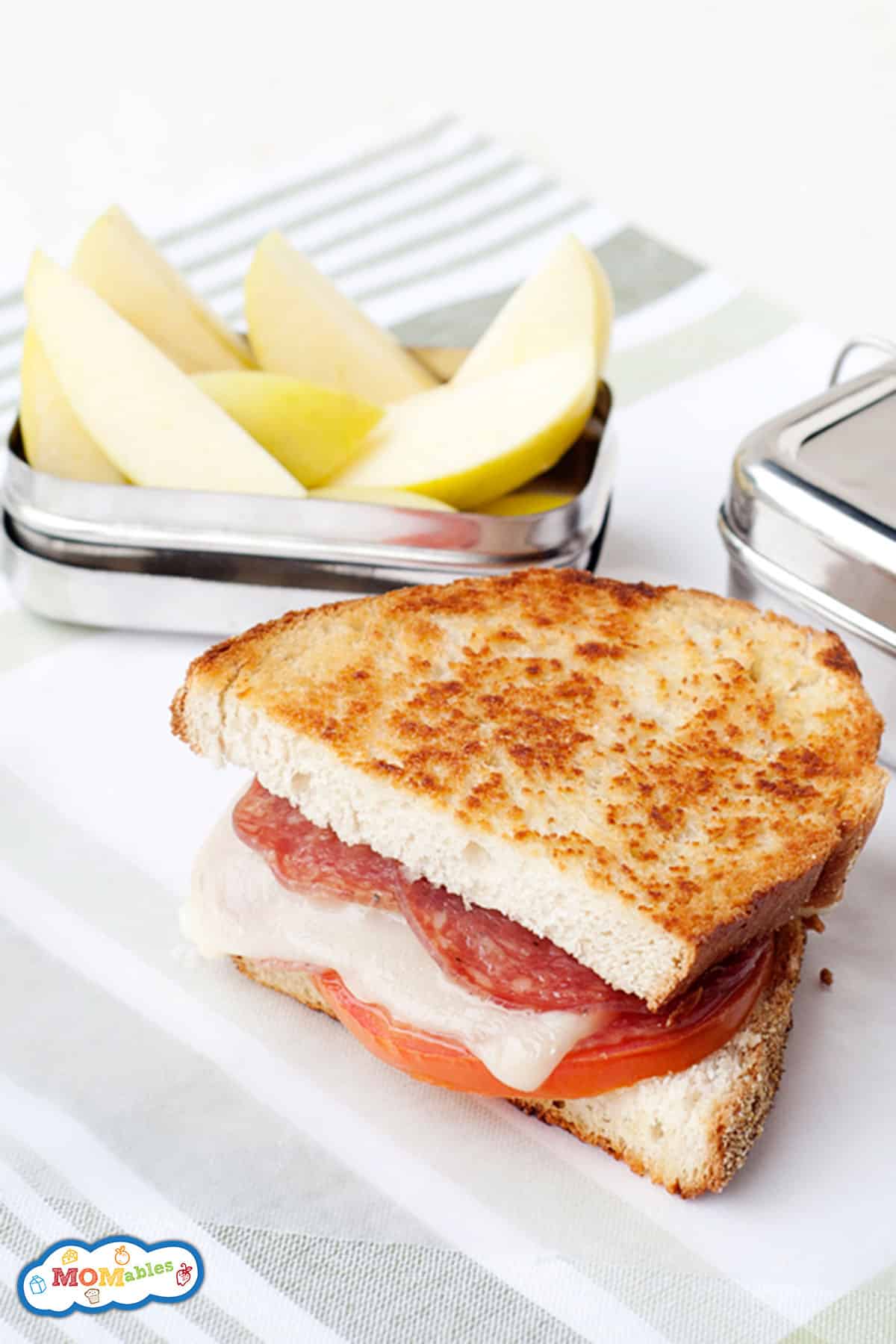 Pepperoni Sandwich by Momables

Cheese, pepperoni, and tomatoes make for the best summer sandwich! Make this for lunch or dinner; either way, you are going to love the way these flavors come together.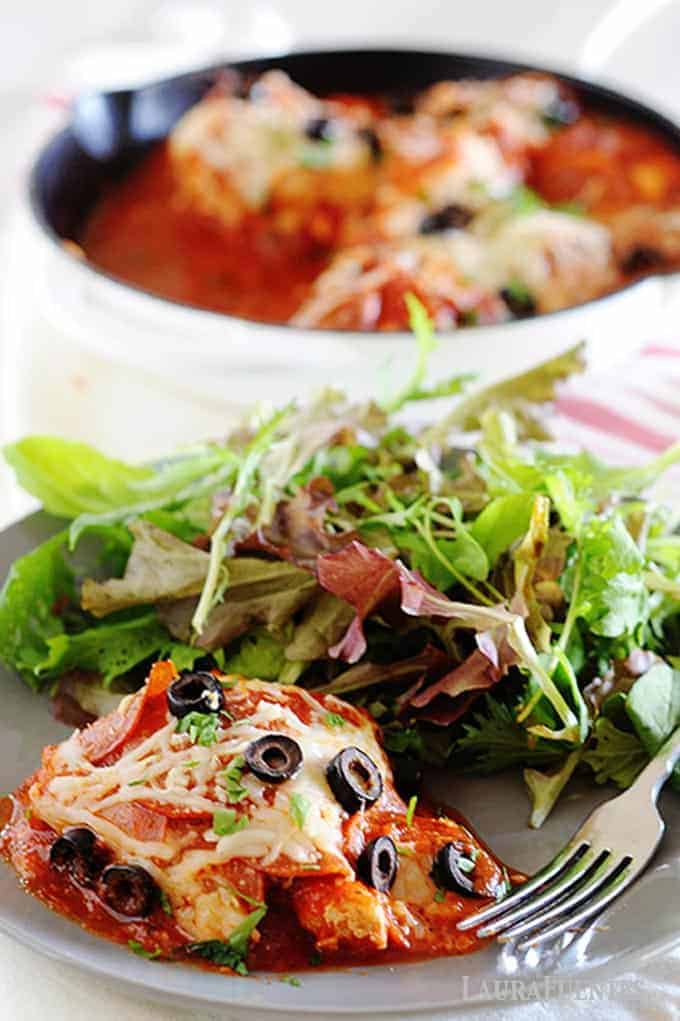 Pepperoni Chicken by Laura Fuentes

This pepperoni chicken has so much flavor! Top with black olives, banana peppers, or whatever you like on your pizza!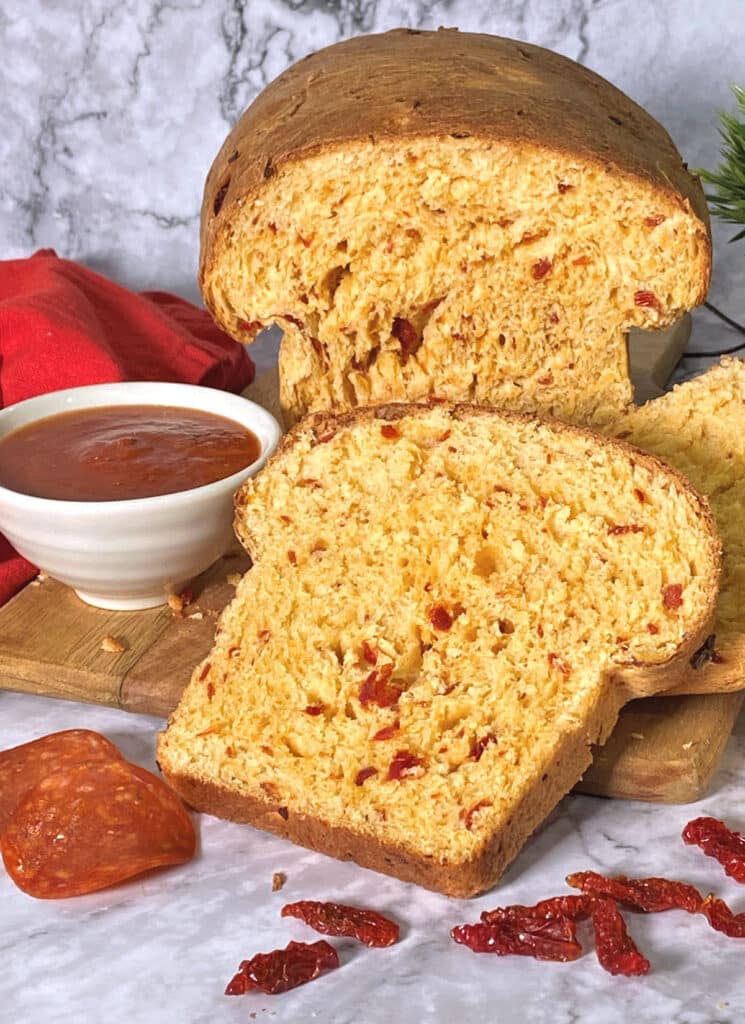 Pepperoni Loaf by 24 Bite

This loaf has so much pepperoni flavor in every bite. This is such a hearty loaf to bake at home. Toast it and dip it into pizza sauce if you like.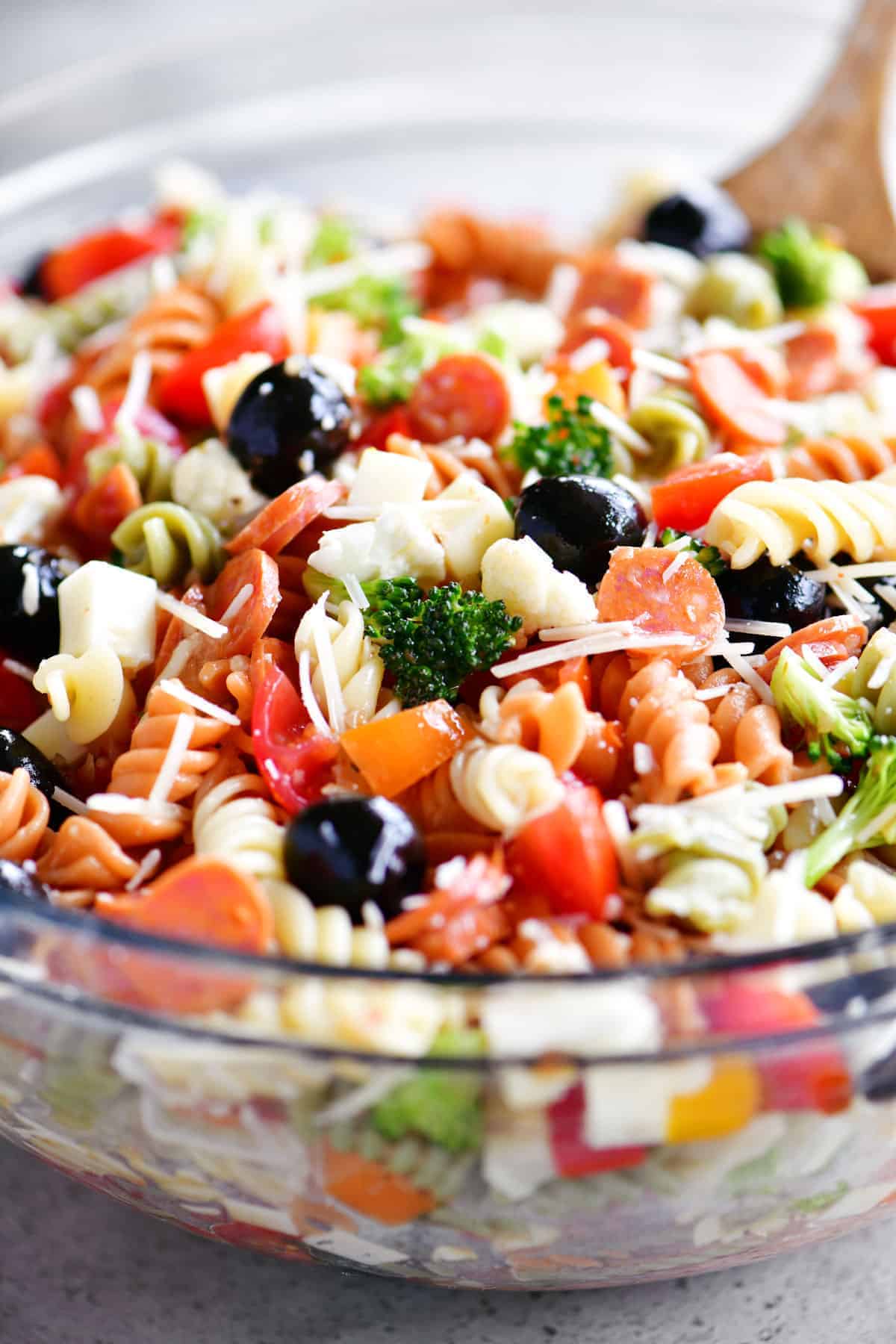 Italian Pasta Salad by The Gunny Sack

This pasta salad is popping with flavors! With pepperoni, veggies, and such a tasty dressing to tie it all together, I know you will love easy pasta salad.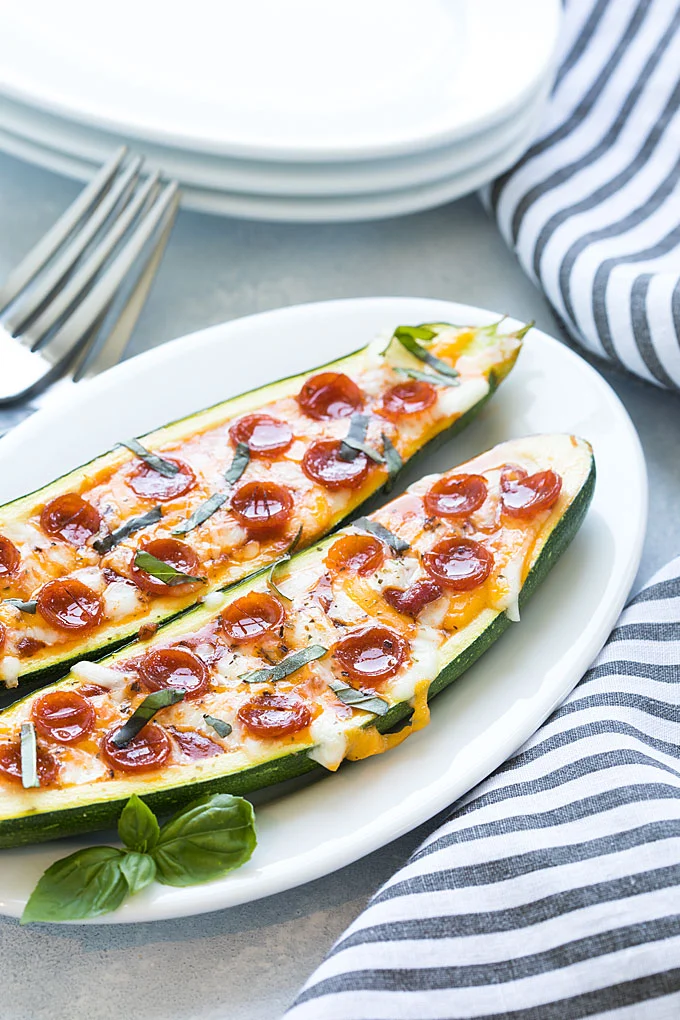 Pepperoni Pizza Zucchini Boats by The Blond Cook

These healthy zucchini boats offer so much pizza flavor in each bite. You won't even miss the crust!
More Fun Recipe Collections
And if you love having themes for some of your favorite types of food, you'll love these other recipe collections: