30+ Easy Air Fryer Appetizer Recipes
Are you ready to spice up your party snacking? Air fryer appetizers are the perfect way to make party snacks that will tantalize the taste buds of any crowd.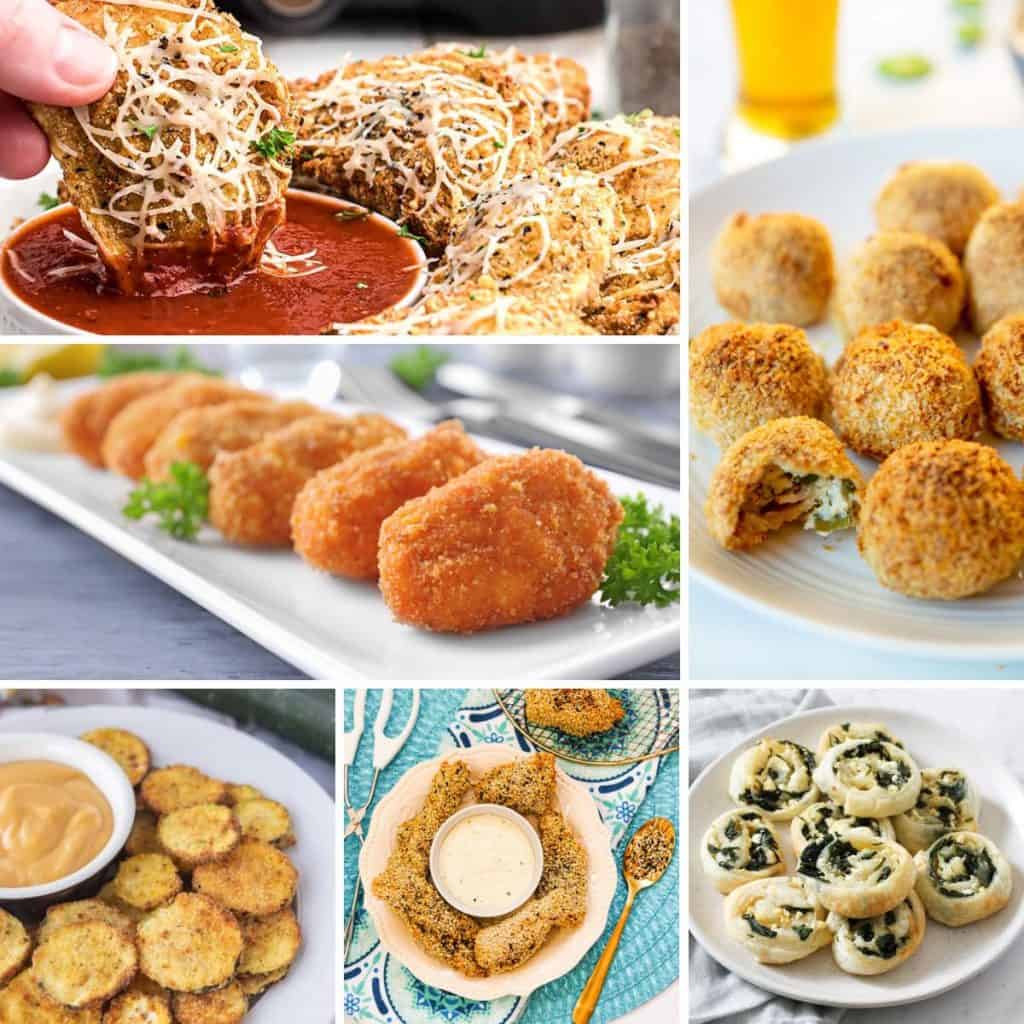 Enjoy Easy Appetizers Using the Air Fryer
Are you tired of spending hours in the kitchen preparing appetizers for your next party? Well, fret no more!
Say goodbye to long hours slaving over a hot stove and hello to delicious snacks that will impress your guests. From crispy, golden onion rings to perfectly seasoned chicken wings, these air fryer appetizers are guaranteed to be a hit
So, let's dive into these quick and delightful recipes that will surely steal the show on any occasion. Get ready to satisfy your cravings and become the ultimate party food hero with these easily customizable, delectable treats.
Whether you are into sweet or savory snacks or like to try something new every once in a while, this list has it all. Be sure to check out all my other air fryer recipes, too!
Tips for Making Amazing Air Fryer Appetizers
Preheat your air fryer before adding the food. This ensures even cooking and helps achieve that crispy texture we all love.
Don't overcrowd the air fryer basket and make sure to leave enough space between pieces of food for hot air to circulate to ensure even cooking. Overcrowding can lead to uneven cooking.
Use parchment paper or a specially designed air fryer liner on the basket to help prevent sticking and make cleanup easier.
Shake the basket or flip your appetizers halfway through the cooking time to ensure that all sides are evenly cooked and crispy.
Always check that your food is cooked thoroughly before serving.
Handy Tools You May Need:
Popular Appetizers That Can Be Air Fried
Mozzarella Sticks – Who doesn't love crispy, gooey mozzarella sticks? Simply bread your cheese of choice and air fry for a healthier alternative to the deep-fried version.
Chicken Wings – Elevate your game day snacks with perfectly seasoned and crispy chicken wings made in the air fryer. Add your favorite dipping sauce for a personalized touch.
Onion Rings – Skip the greasy takeout and make your own onion rings in the air fryer. They'll come out golden and crispy outside while retaining that sweet onion flavor inside.
Jalapeno Poppers – These spicy and cheesy bites are a crowd-pleaser, and now you can make them healthier in your air fryer. Perfect for game nights or any gathering.
Easy Air Fryer Appetizer Recipes
These drool-worthy air fryer appetizers have all the flavor you love without any of the guilt! Any of these air-fryer recipes make the perfect party food for your next gathering or to serve at a dinner party.
The versatility of the air fryer makes it an excellent tool for making quick and delicious appetizers without all the hassle and unhealthy ingredients.
With these easy tips and recipes, you'll be able to impress your guests and save time in the kitchen. So, go ahead and experiment with your favorite appetizers using your air fryer and see just how delicious they can be!
More Easy Air Fryer Recipes
Pin this collection to save and share!