Have you tried making an air fryer grilled cheese yet? This air fryer pepperoni grilled cheese is a simple and easy-loaded grilled cheese sandwich. A seasoned butter bread, cheese, pepperoni, air fried to a crispy texture. Then dip in pizza sauce.
Craving more easy recipes? Check out these 15 easy dinner recipes, slow cooker beef recipes, or teriyaki chicken puff pastries.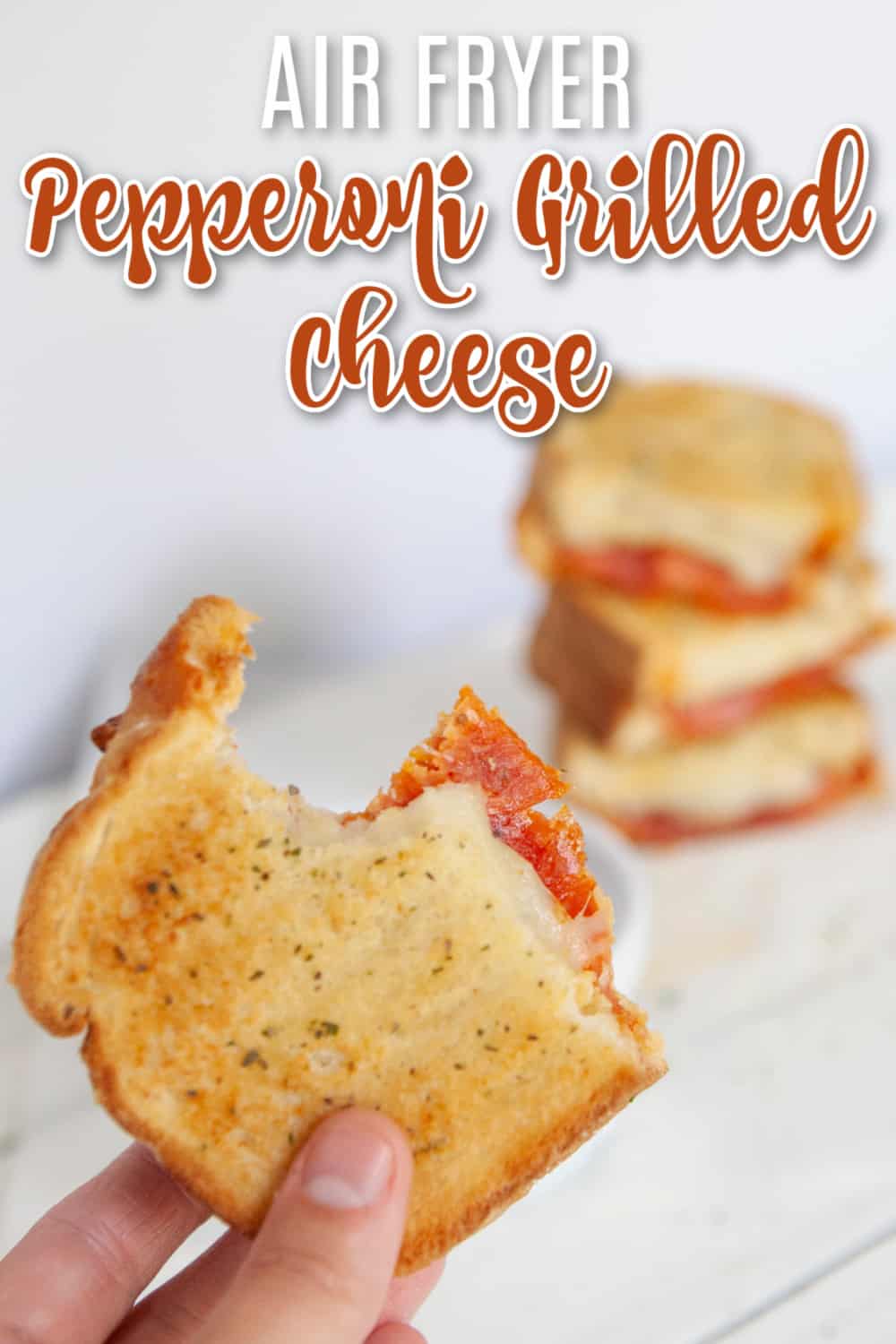 Pepperoni Grilled Cheese
Growing up we always loved grilled cheese. Now as an adult I venture out a bit and try different flavor combinations to elevate the flavors of grilled cheese.
Serve these up for dinner, lunch, or even an after-school snack.
What Is The Best Bread To Use
You can use any style of bread you like. I prefer to use a bit of a thicker piece of bread so it is a great combination between the cheese and pepperoni.
Texas toast, white bread, wheat, whole grain bread. Get creative and use whatever style of bread you want.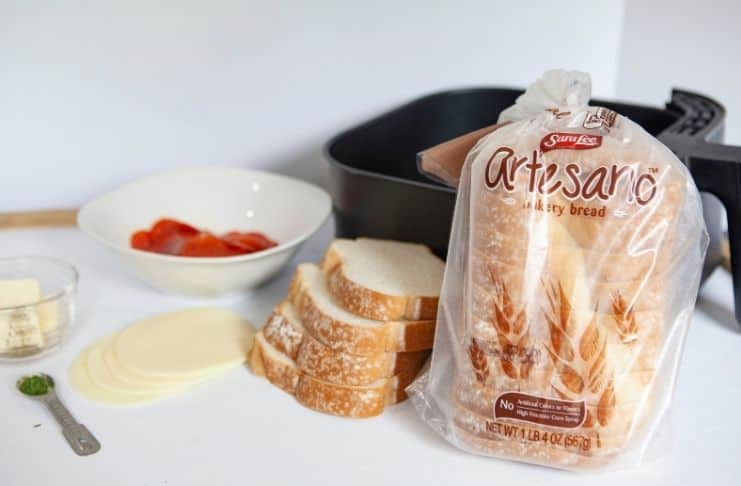 What Cheese Should You Use
Mozzarella or Swiss are both great contenders. I wanted to use a white cheese since this was a pepperoni pizza style sandwich. You could use a cheddar if you prefer. Just use what you have on hand.
I also prefer to use real cheese slices vs the processed cheese. It gives a nice texture to the bread.
Can I Add Veggies Into The Sandwich
If you are looking for a supreme style pizza sandwich, go right ahead and add some sliced veggies. You might saute them for a short bit in a pan with a little oil to help tenderize and soften them.
You will find if you don't saute the veggies they will have a crispy texture when you bite into your sandwich.
You could also add in some Canadian bacon or even salami for added meat to your sandwich.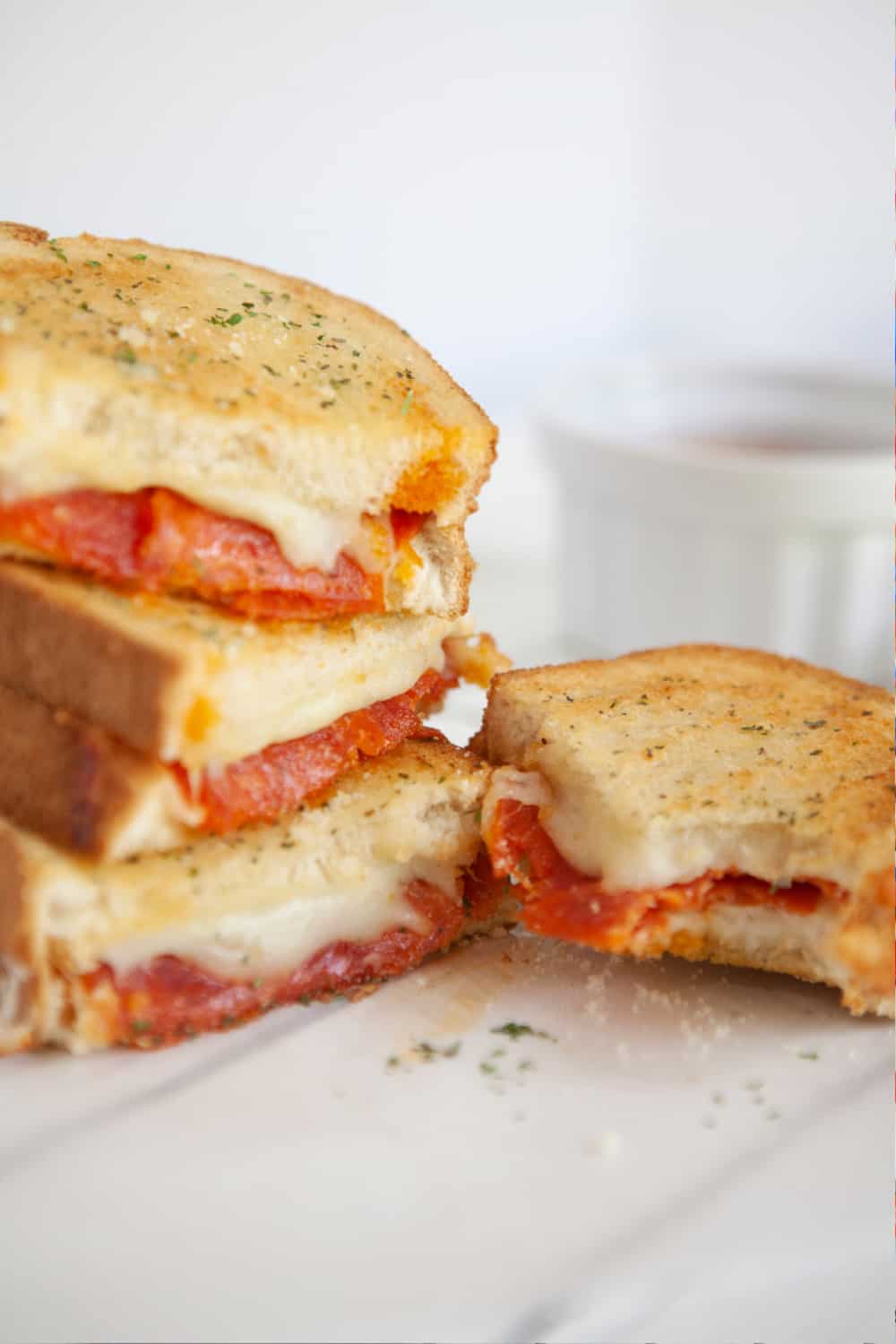 Tips For Making Air Fryer Grilled Cheese
Don't overcrowd your grilled cheese, make sure to leave space between each sandwich.
You can stick a toothpick into your sandwich to prevent the sandwich from coming apart as it air fries.
Some air fryers require you to preheat first, so make sure to check with your air fryer.
Don't overstuff the sandwiches as they will leak out as it melts and cooks.
What To Serve With These Sandwiches
Pair with french fries, crisp veggies, etc. Go right ahead and cook up these sandwiches and serve alone or pair with any or all your favorites. You could even do a salad to go next to it to help lighten up the meal.
Have fun, get creative, and make an adult and kid-approved grilled cheese for dinner tonight. This is an easy starter air fryer recipe as well. No stress, great food, easy method of cooking.
Planning to make this air fryer pepperoni grilled cheese? Click here to save this grilled cheese recipe to your favorite recipe board on Pinterest so you can come back to it again.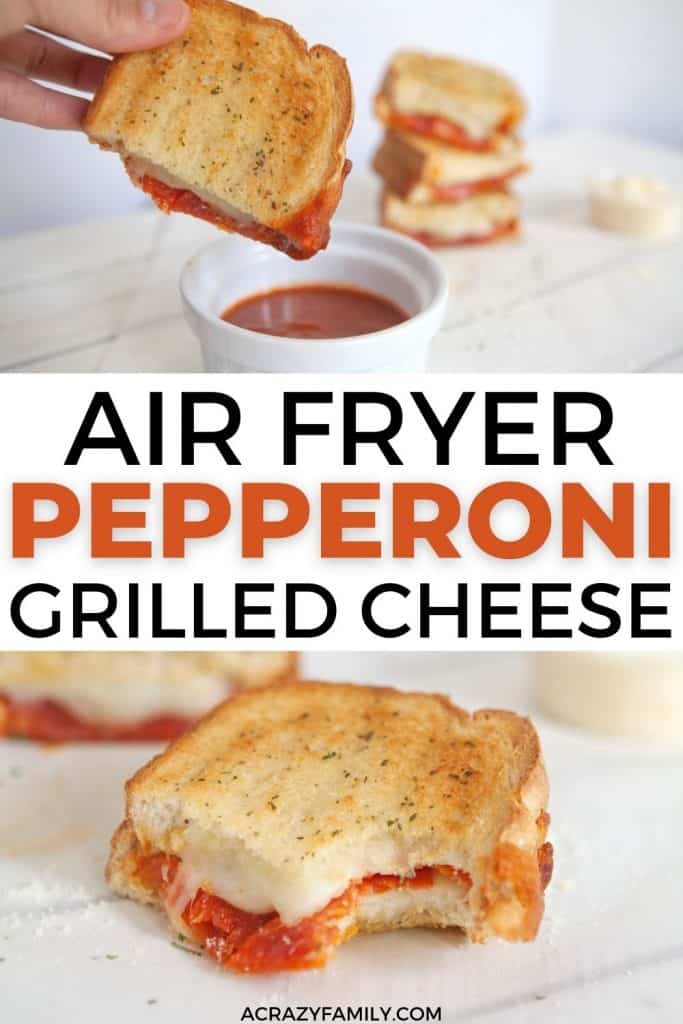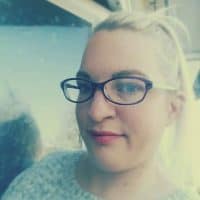 Vickie Louise is the Founder and Editor-in-Chief of A Crazy Family. She is a stay at home mom of a little boy with a big personality. After having her son, she realized how important it is for moms to take care of themselves, physically and mentally. Vickie believes in the power of using social media and her online presence for good and is thrilled to provide you with a space to celebrate all that is awesome (and a little crazy) in the world.