21+ Stylish DIY Coffee Bar Ideas and Stations For Coffee Lovers
This post may contain Affiliate Links. Please read our Disclosure Policy for more information.
Start your day off the best way possible with a cup of coffee made from one of these amazing DIY coffee station ideas! Whether you like an on-the-go option or prefer to take it slow with a french press, something that you do every day should be done in style.
Looking for more home DIY? Check out these: 6 DIY Home Updates That Will Make Your House Safer, 20+ Mind-Blowing DIY Kitchen Organization Hacks, and 15 Decorative DIY Bookends To Spruce Up Your Shelves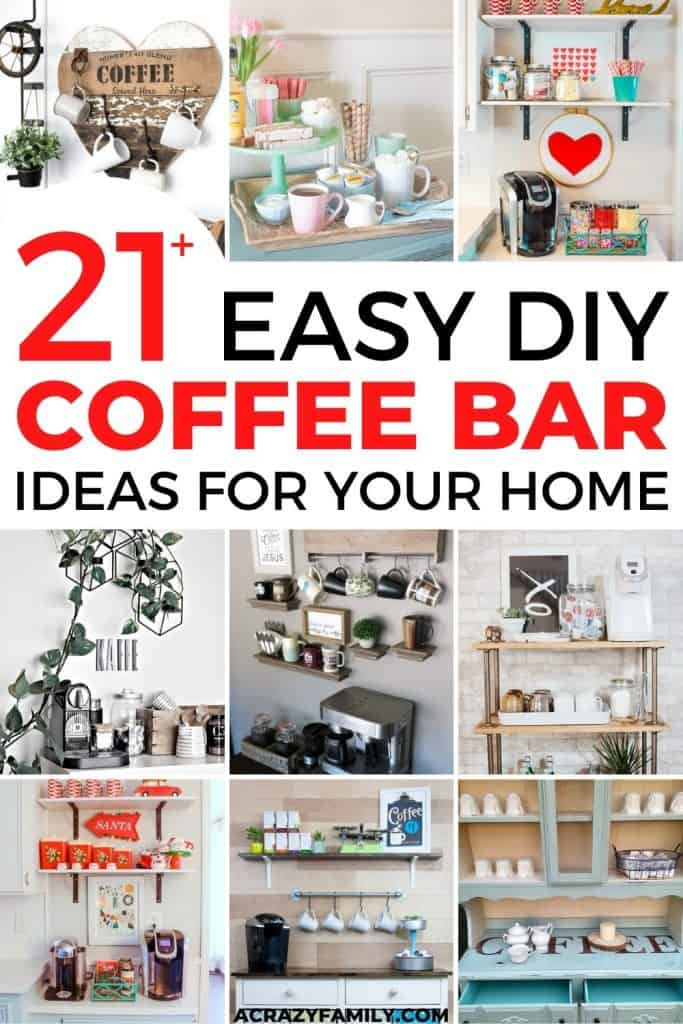 If you are like me, then your day officially doesn't begin until you have enjoyed your first hot cup of joe!
Coffee is a big part of many people's daily lives, so why not go the extra mile and make sure you have your very own coffee bar right in your kitchen?
Whether you prefer the classic farmhouse look to the perfect corner coffee station… no matter your current home decor or style, I'm sure you'll find something here that will spark some creativity.
How to set up your own home coffee station
A DIY coffee bar in your home can help you entertain family, friends, loved ones. It can serve coffee, tea, and all their variations allowing you to focus on having a good time.
Why get something expensive when you can DIY yourself a coffee bar that you are likely to use every single day.
The options when it comes to designing your coffee bar are limitless, and you can tailor anything that fits your needs in terms of space and design.
If you are ready to start on the most useful project you'll ever do, let's get started on your DIY coffee bar options!
Hopefully, you can take some inspiration from these ideas and create your very own coffee station!
In a rush? Click here to pin these DIY Coffee Bars to your favorite DIY or home improvement board on Pinterest
Home Coffee Bar Accessories
When you're putting together your coffee bar, you cannot forget about the accessories.
Think about glass jars or mason jars for storing coffee supplies such as coffee beans and sugar, a serving tray if you're not having a trolley, along with some nice cups and some pretty napkins. You may also want a milk frother and a coffee bean grinder.
Coffee Station Ideas
So, whether you are setting up your home coffee bar on the countertop in your kitchen or on a cart, here are some fabulous ideas to inspire you.
Coffee Bar for K-Cups
With a K-cup holder, two coffee signs, a couple of tiny plants, and the coffee essentials… you can create an insanely cute mini coffee bar just like this one!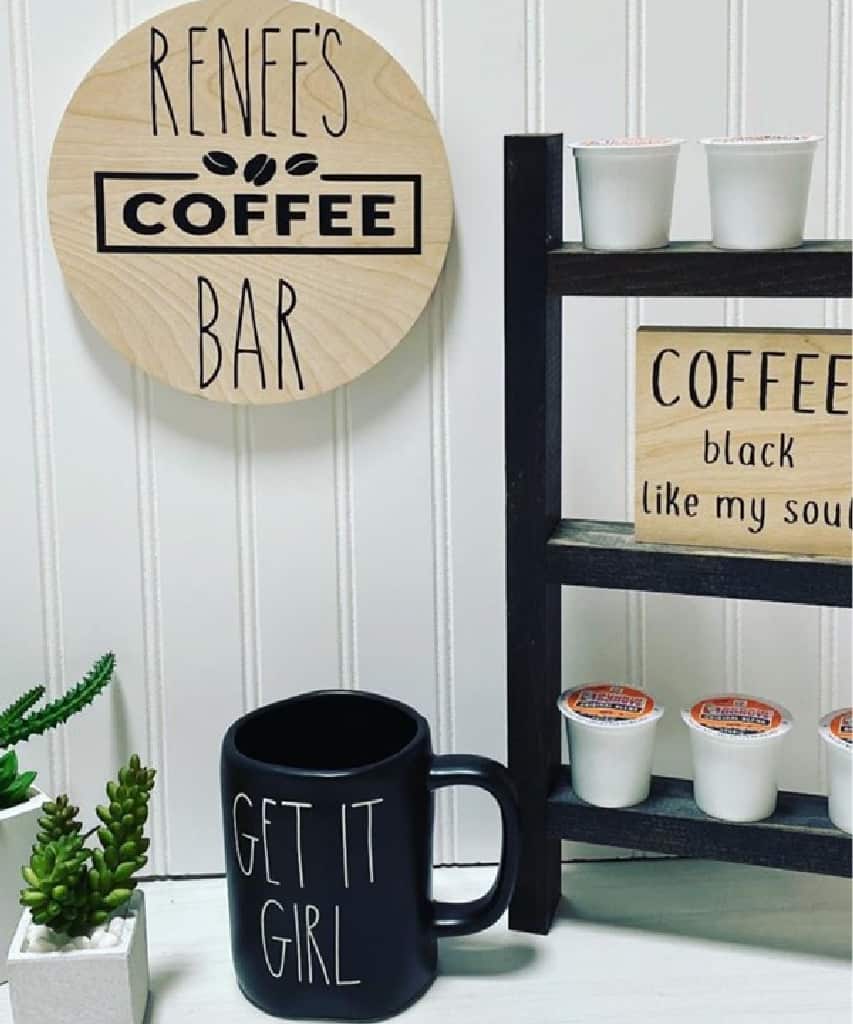 Photo credit: LF Rustics on Instagram
DIY Coffee Bar In Kitchen
If your mantra is "but first coffee", you definitely need a special place for your drink. Having a rustic, country-styled coffee bar like this may actually be a perfect idea. My favorite part is definitely that little coffee cup rack. Such a great idea!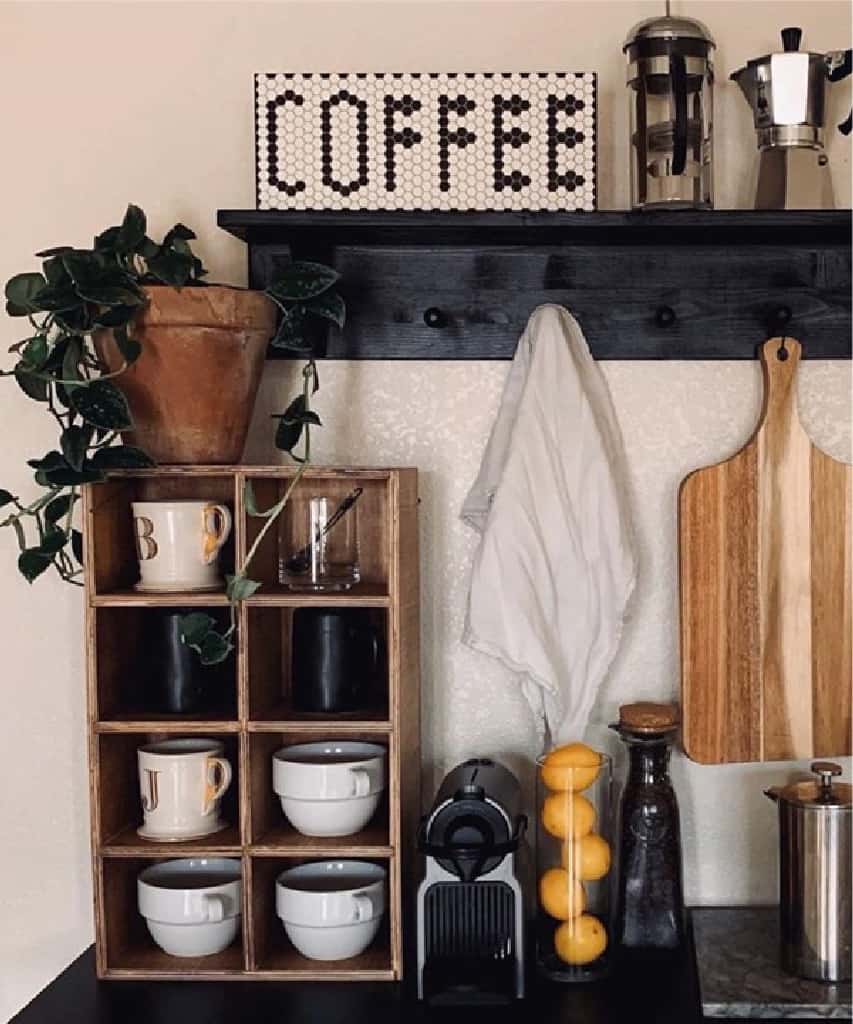 Photo credit: MyModernCraft on Instagram
"Coffee Bar" Server with Shelves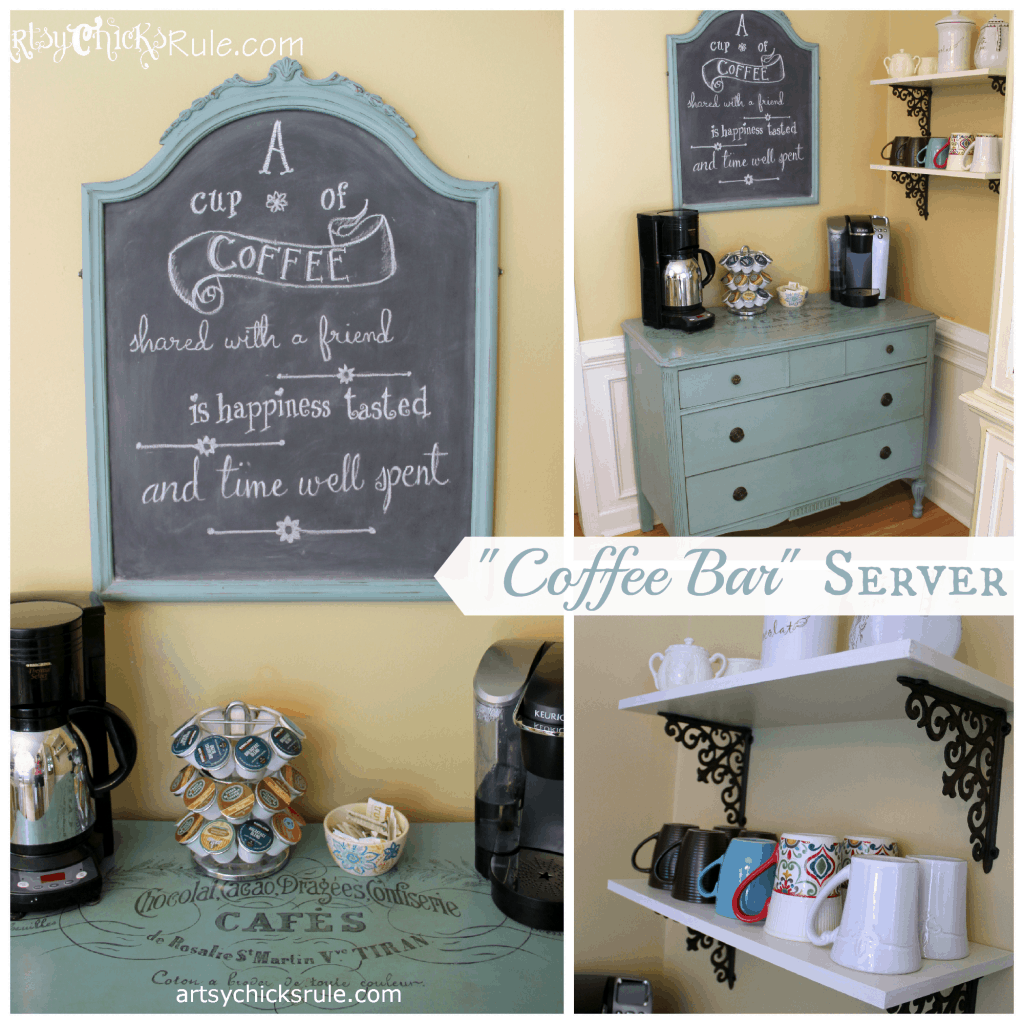 Photo credit: Artsy Chicks Rule
The Ultimate Coffee Station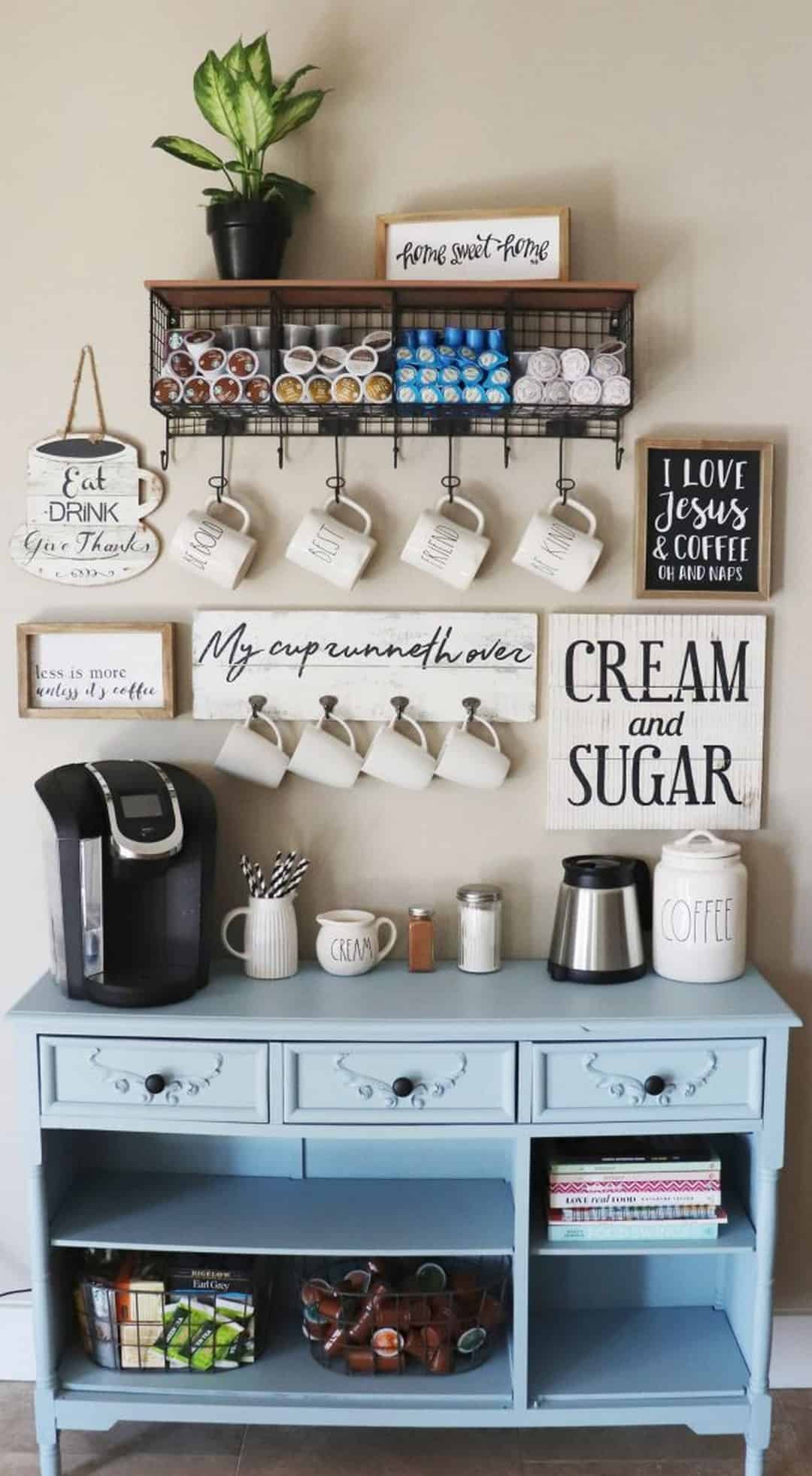 Photo credit: Kitchen Decor Pad
Colorful Spring Coffee Bar
You must admire this spring color scheme, everything is lovely and coordinated, from the food and coffee mix-ins to the cookie straws, sprinkles, pink wafer cookies and pastel marshmallows.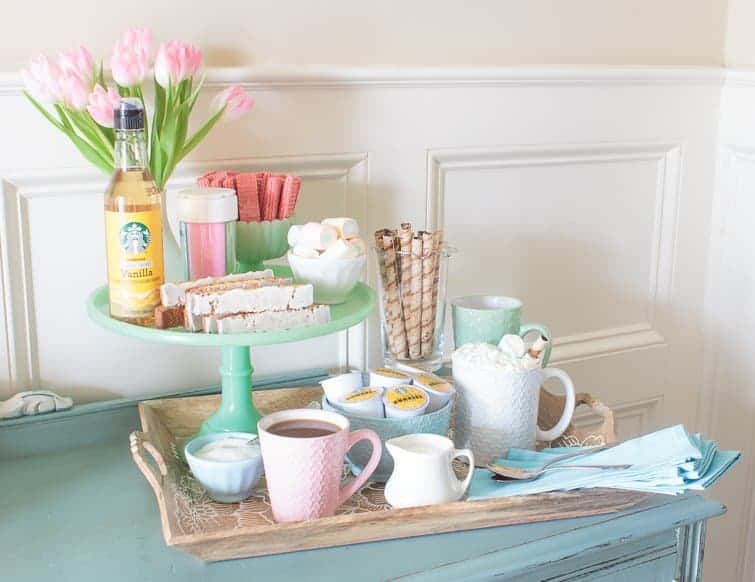 Photo credit: Atta Girl Says
DIY Coffee Bar Cart
A rustic take on the classic bar cart, but styled for use as a coffee cart! Practical too as it can be moved where its needed.
Photo credit: Fresh Mommy Blog
DIY Coffee Station
Photo credit: Making Manzanita
Easy DIY Coffee Bar Station
Photo credit: And Then Home
Farmhouse Lemon Coffee Bar
Photo credit: Savvy Saving Couple
Glass Top Pallet Board Table Coffee Bar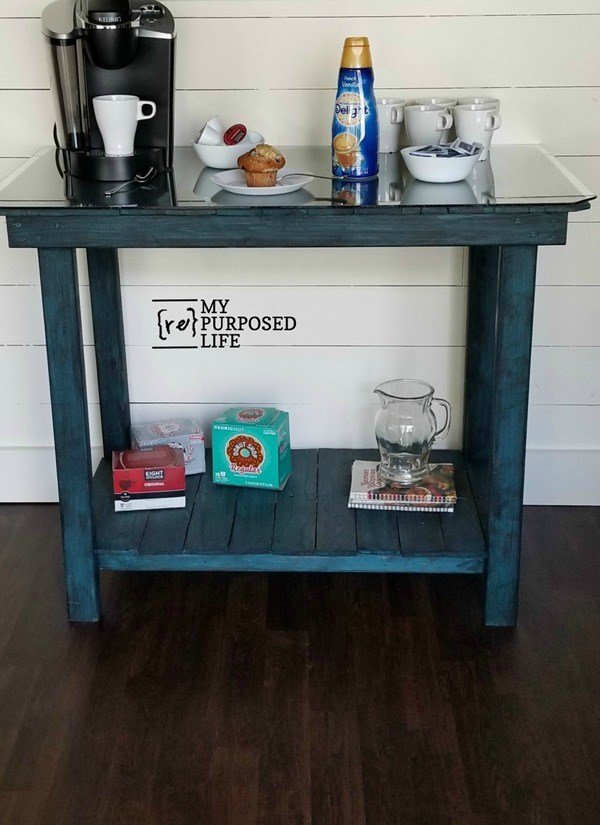 Photo credit: My Repurposed Life
Iced Coffee Bar
Photo credit: I Should Be Mopping The Floor
Industrial Farmhouse Coffee Bar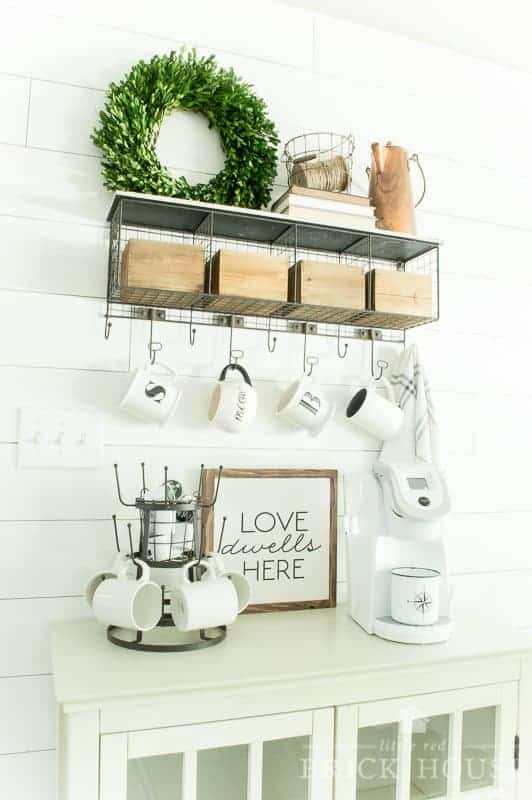 Source: Little Red Brick House
Kahlua Coffee Float Bar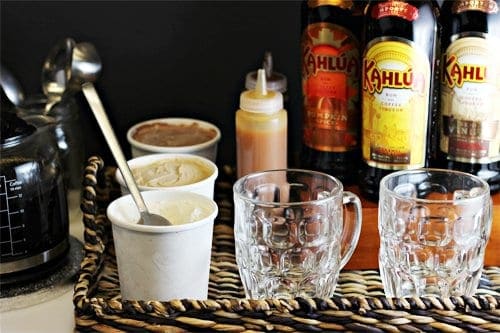 Photo credit: Home Cooking Memories
Navy & Copper DIY Coffee Bar
Photo credit: The House of Wood
Norwegian Coffee Station
Photo credit: Only Deco Love
Organized Coffee Cabinet with Printable Labels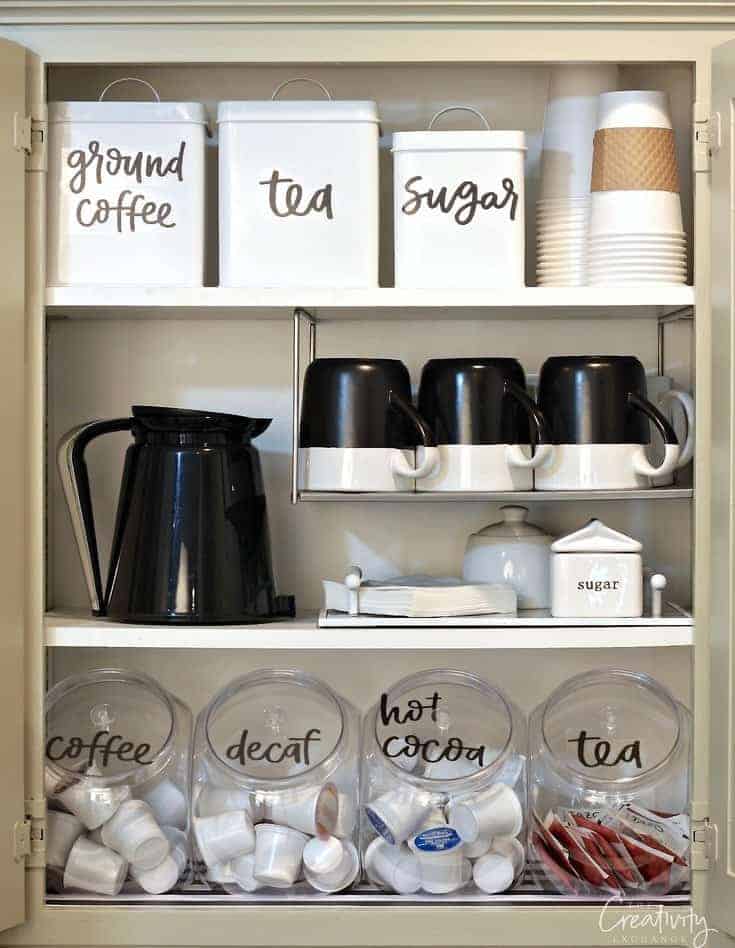 Photo credit: The Creativity Exchange
Outdated Hutch to Coffee Bar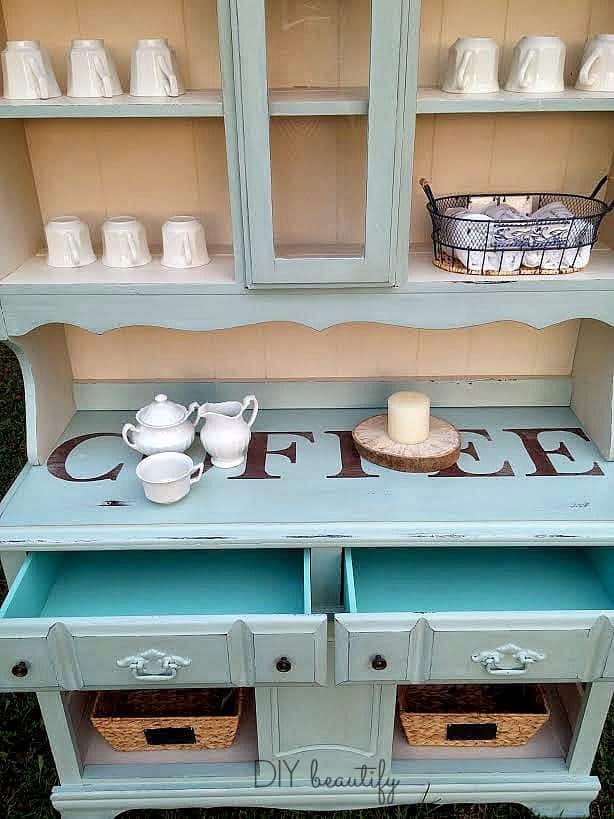 Photo credit: DIY Beautify
Reclaimed Wood Coffee Bar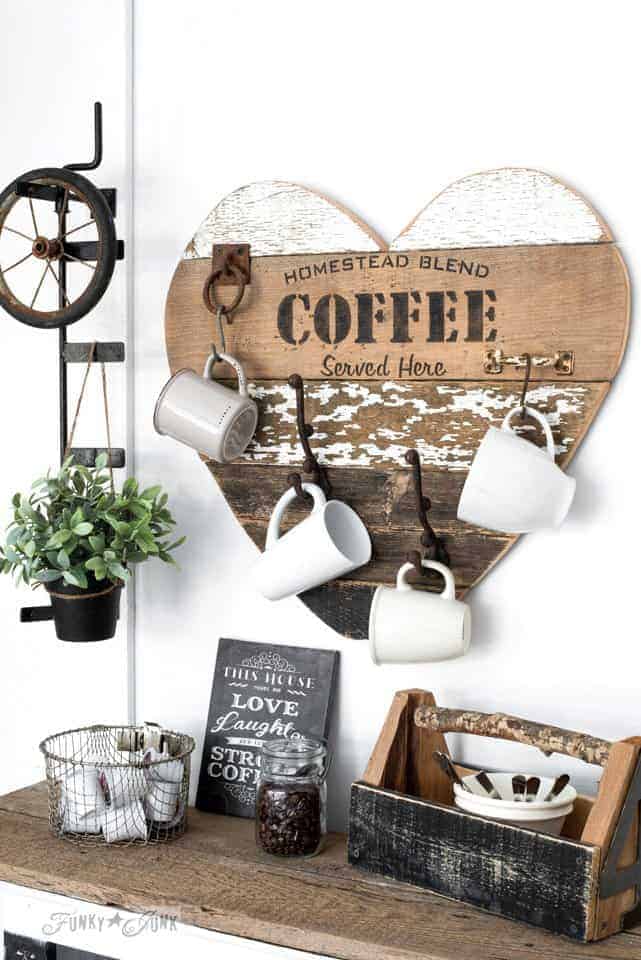 Photo credit: Funky Junk Interiors
Repurposed Buffet Coffee Station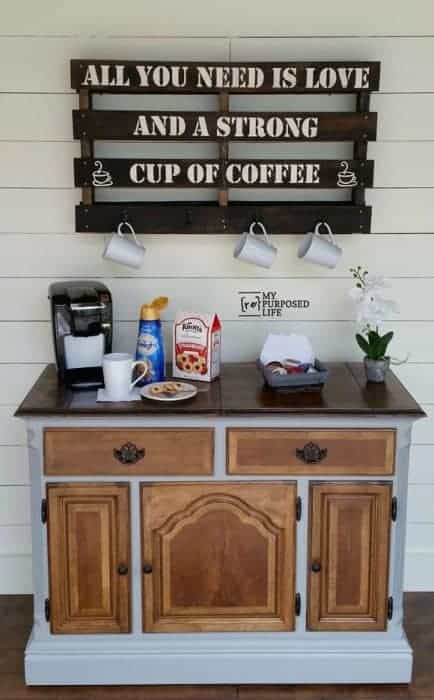 Photo credit: My Repurposed Life
Super Storage Coffee Station
Photo credit: Houseful of Handmade
Valentine's Coffee & Hot Cocoa Bar
Photo credit: I Should Be Mopping The Floor
Vintage Christmas Coffee Bar
Photo credit: I Should Be Mopping The Floor
White Waxed Coffee Bar Makeover
Photo credit: Bless'er House
Ikea Coffee Bar Hack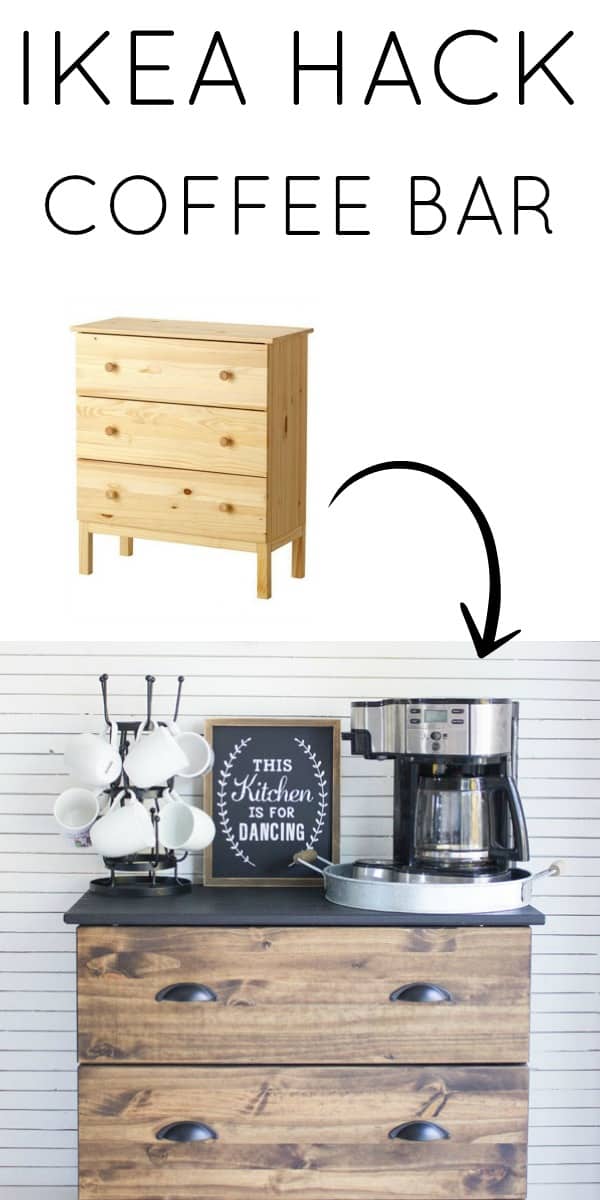 Photo credit: The Inspired Hive
Farmhouse Coffee Corner in a Serving Tray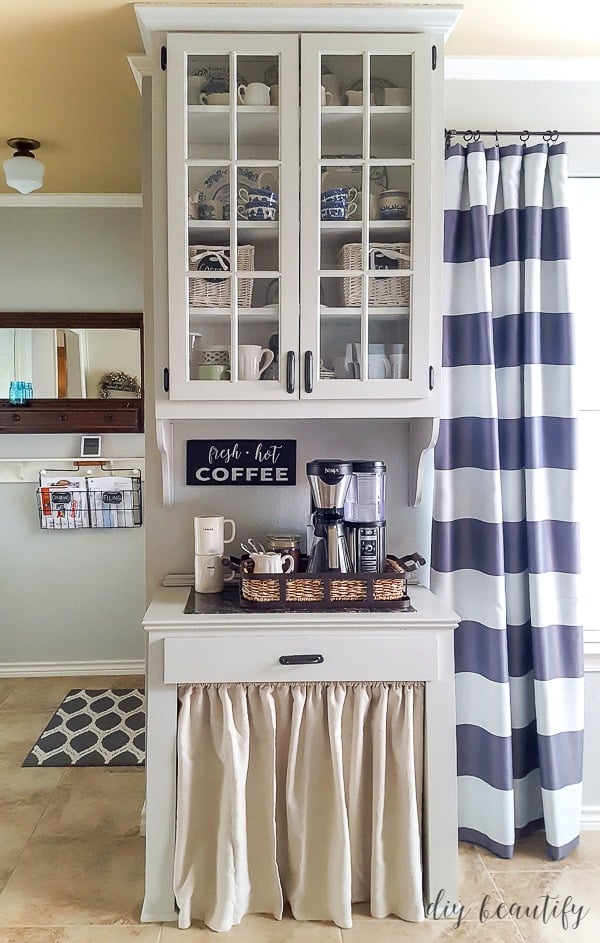 Photo credit: Source
Modern Minimalist Coffee Station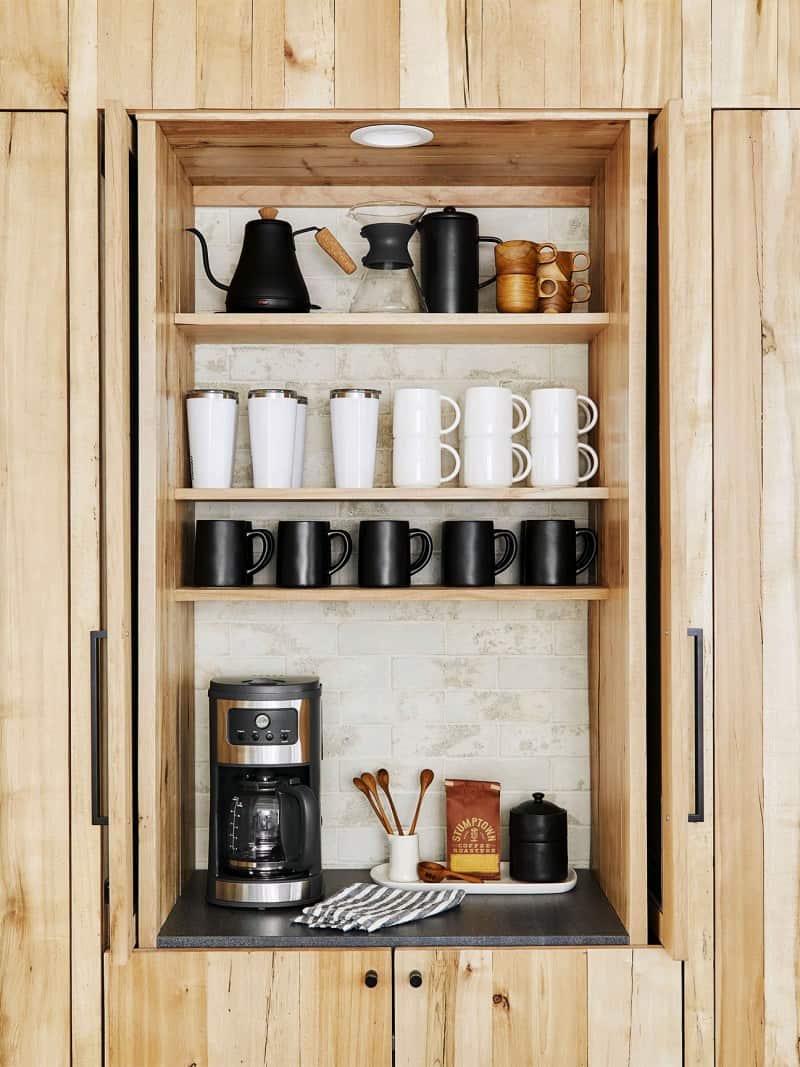 Photo credit: Source
Pegboard Coffee Station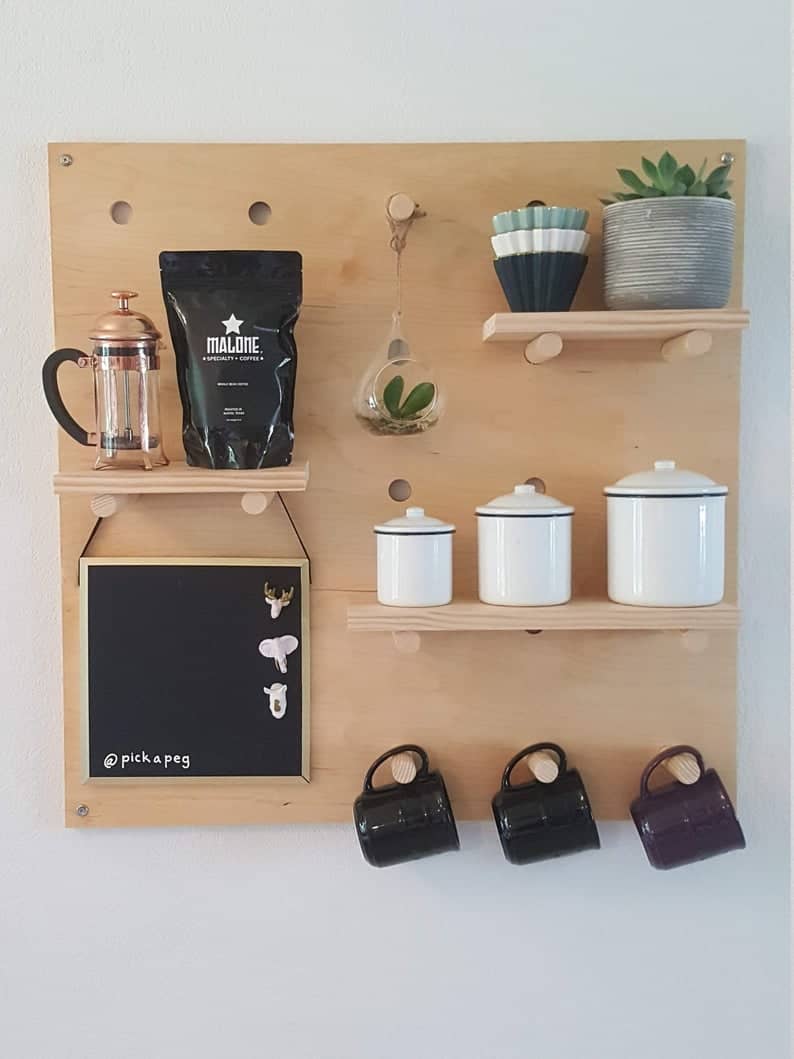 Photo credit: Source
Coffee Corner Decor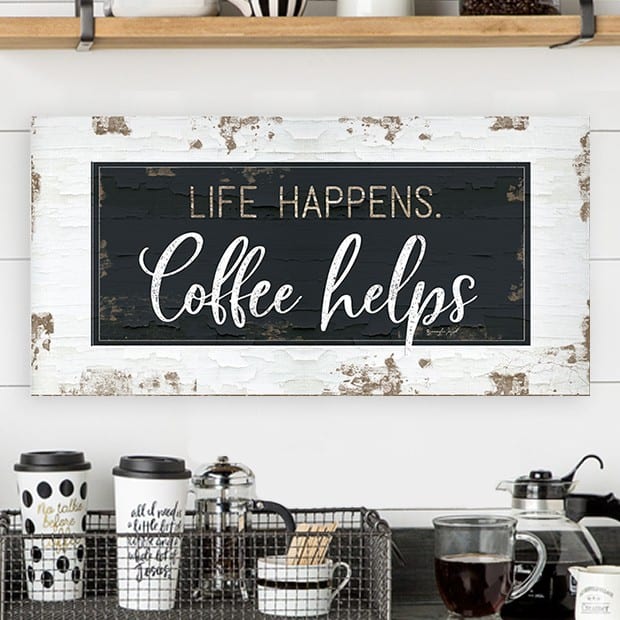 Photo credit: Source
Quirky Coffee Signs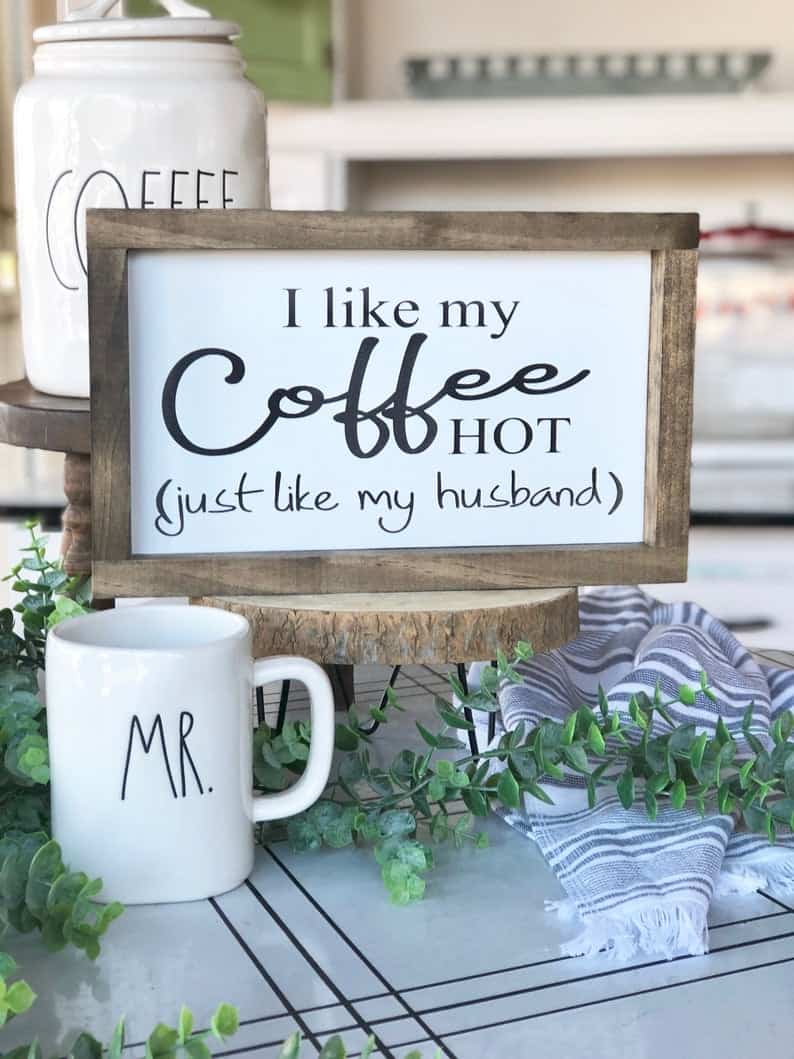 Photo credit: Source
Was there an idea here that has inspired you to create your very own coffee station? Then, you should pin this post to Pinterest for future reference.
Pinning is easy, simply click on the image below and save it to your favorite DIY board. Otherwise, click here to save these DIY coffee station ideas to Pinterest right now.
P.S. If you are a big coffee fan, then check out this article about some of the health benefits of drinking coffee!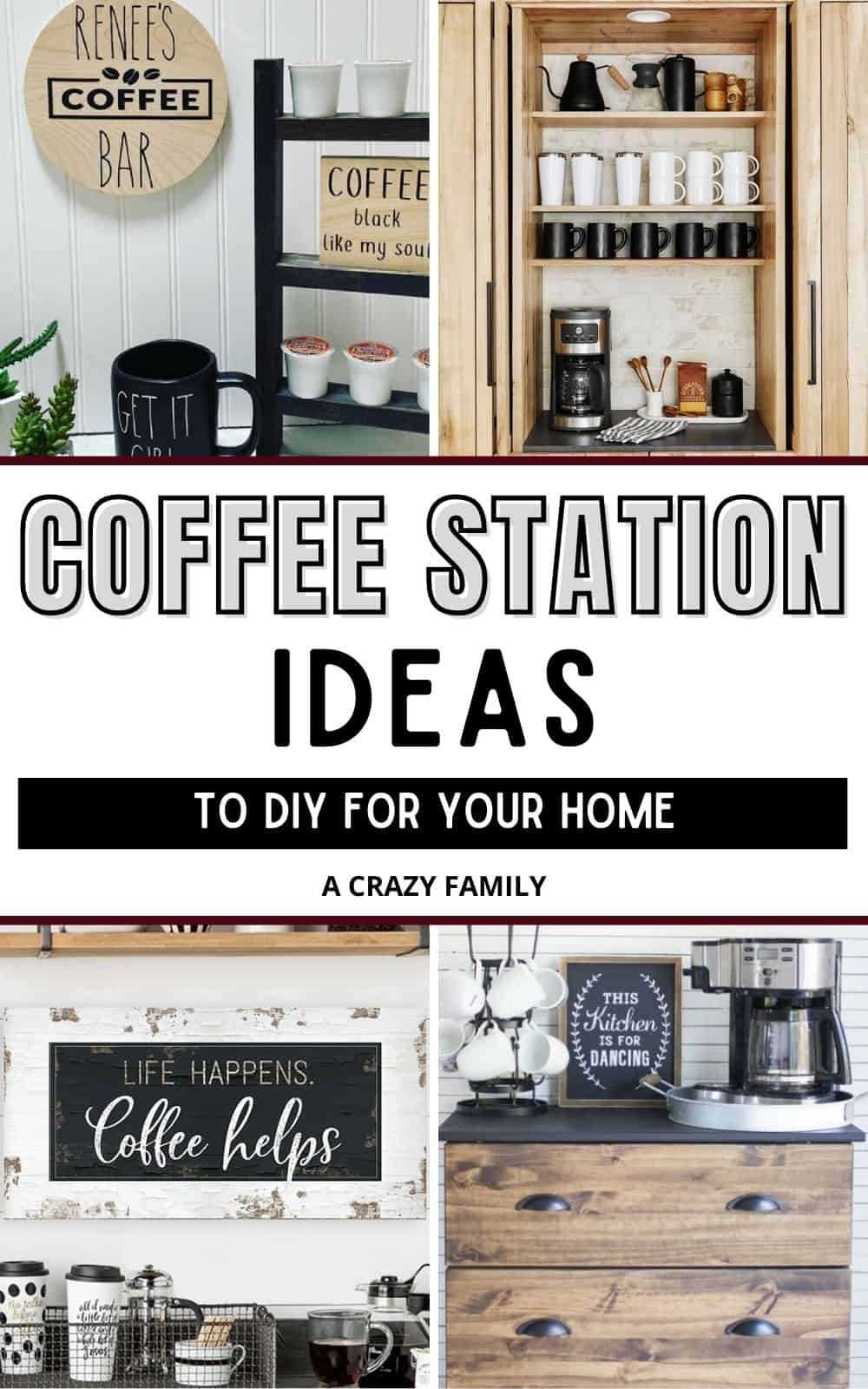 Hello, I'm Vickie aka The Crazy Family Mom!

The creator of A Crazy Family and a stay-at-home mom of a little boy with a big personality. I love to share real food recipes, parenting tips & encouragement, fun kids activities, and so much more! Plus, I am thrilled to provide you with a space to celebrate all that is awesome (and a little crazy) in the world.