5 Annual Household Maintenance Tasks to Take Care of This Spring
By: Vickie | Updated: 16th October 2021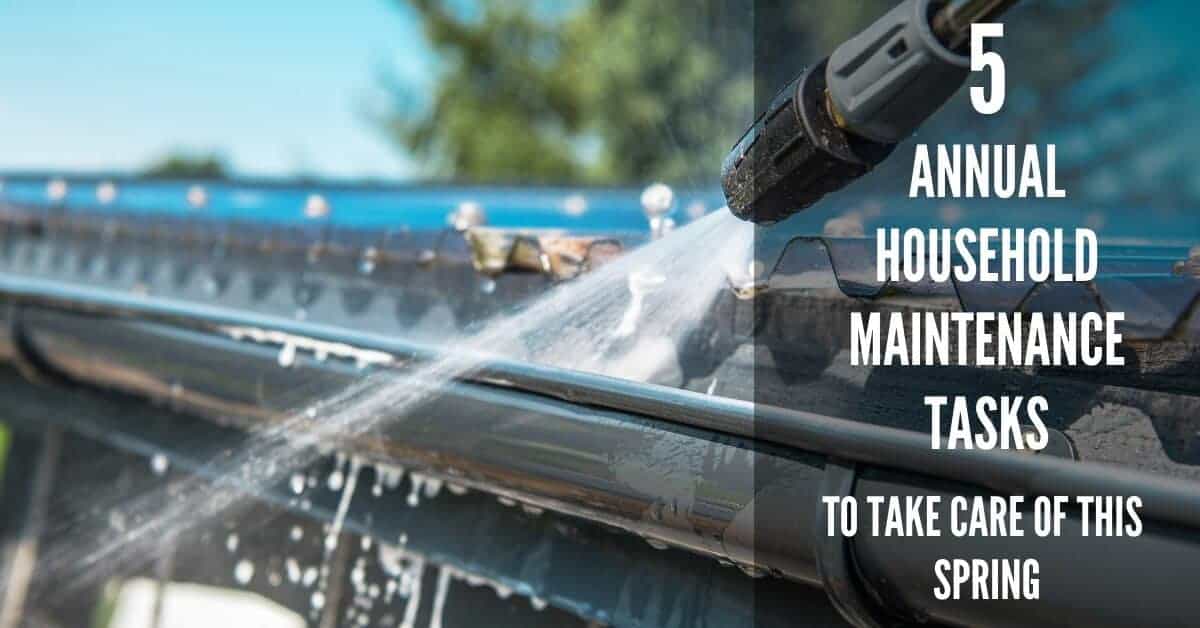 With the weather warming and the days getting longer, spring is a great time to tackle a few home maintenance projects.
In addition to assessing your home for winter damage, the spring will give you a chance to prepare your home and garden for summer fun.
As you're planning your home maintenance to-do list, consider adding these five annual home maintenance tasks to the list.
Clean Your Gutters
Clogged gutters can cause a lot of problems during the rainy spring season, so it's important to keep them clear of debris. If your gutters are clogged, you run the risk of allowing the wood trim at the eaves to rot, which can leave your attic exposed.
As soon as the weather starts to warm and the threat of freezing has passed, head outside to clean the leaves and dirt from your gutters. While you're cleaning, take time to inspect the gutters for cracks and breaks, as well. If you notice a crack, repair it or replace the broken section of gutter.
In addition to clearing your gutters, you should also spend time clearing your downspouts this spring. The downspouts will help divert water from your house so the water doesn't collect around your foundation after a heavy spring rain. For proper water flow, your downspouts also need to be clear of all debris.
Check Your AC
Early spring is the best time to check your air conditioner to make sure everything is working properly. Taking the time to check the AC in the spring will save you the hassle of trying to get a broken air conditioner repaired in the heat of summer.
Start by checking the filter and replacing it if dirt is visible on the filter. You can also help the air conditioner run more efficiently by ensuring the outdoor unit is clean and clear of debris. Next, test your air conditioner by turning it on and allowing it to run for a few hours. If you don't notice the home cooling down or don't feel cold air coming from the vents, it may be time to contact a heating and air conditioning professional.
Clean Your Carpets
You're probably already in the middle of spring cleaning your home, so deep cleaning your carpets may already be on your to-do list. The spring is the perfect time to give your carpets a deep scrubbing because they have probably taken a beating over the course of the winter.
In addition to the fact that your family has been spending more time indoors over the past few months, the winter also brings a lot of additional dirt and wetness into your home. If your family has tracked that dirt and debris onto your carpets, a deep cleaning is probably necessary.
To get your carpets deep cleaned, you can hire a professional to steam clean the carpets. This type of cleaning not only gets out deep-down dirt and debris, but it also helps to sanitize your carpets and remove allergens that are hidden deep inside.
Another option is to rent a carpet cleaner from your local home improvement store. Renting the professional machine and cleaning your carpets yourself will save you a few dollars and allow you to clean the carpets at your own pace.
Refresh Exterior Paint
The mild weather throughout spring is perfect for outdoor painting. One of the best ways to really see if your homes need a new coat of exterior paint is to clean your siding. Using a pressure washer, spray the exterior of your home to remove dirt and debris, then assess the siding. If you notice chips or cracks in the paint, give those areas a refresh. If the exterior of your home needs a facelift, consider repainting during the spring.
And if a full repainting job is too big of a task, you can also update the look of your home by touching up damaged sections of paint on your exterior. If you notice some worn spots around your windows or door, start by scraping off any flaky paint and sanding the area until it's smooth. Then, repaint the area to instantly freshen up the outside of your home.
Replace Screens
When the weather warms up, you're going to want to open your windows and doors to let that spring air inside. Before you start to open those windows, it's a good idea to inspect the screens throughout your home. Screens will let the air flow through your home but keep the bugs outside. But if you have a rip or hole in your screen, you're inviting those little critters to fly right into your home.
This spring, spend a few minutes examining all the screens around your house. If the screens have come completely loose, it's time to replace them. But if you notice a small rip or hole, the screen can easily be repaired. Most home improvement stores have ready-made kits designed to easily help you repair a ripped screen.
Looking for more? Take a look at these…
[catlist categorypage=yes excludeposts=this]