How to Let Go of Things to Live a Clutter-Free Life
By: Vickie | Updated: 9th July 2022
I think a part of all of us would love to live a clutter-free life. But if the nostalgic inside of you is having a hard time letting go of things, decluttering can be a bit of a challenge.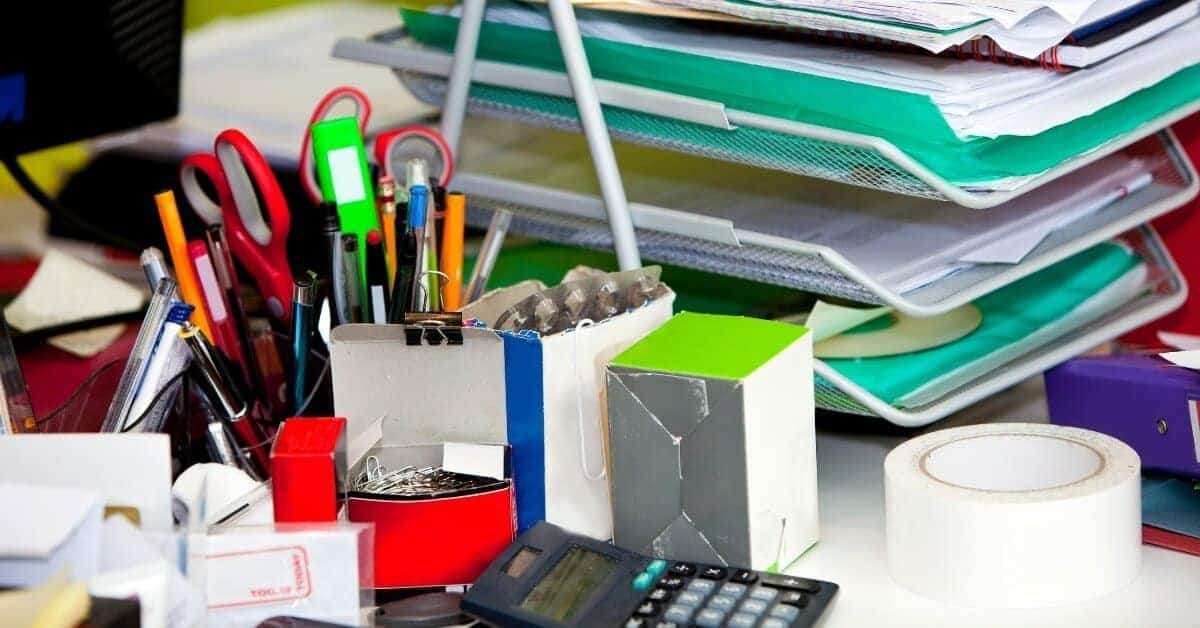 If you're having a difficult time parting with some of your things, know you're not alone. Many of us cling to items in our homes because of the memories attached to them.
Luckily, there are a few simple steps to make letting go of things in your home a little bit simpler, helping you live a clutter-free life from now on.
Ask Yourself Why
Start the decluttering process by asking yourself why you want to reorganize your home.
Are you overwhelmed with the clutter in your house? Do you have a difficult time finding the things you need? Do you need more space in your home?
The answer to your "why" will serve as a motivator when things start to get difficult.
As you work through the clutter in your home, it's also important to ask yourself why again. Why do you want to hang on to these items?
There are a variety of different reasons we give ourselves to keep things we really don't need. Here are some of the most common excuses:
The item has sentimental value.
If the item has a sentiment connected to it but it's not something you really need or use, consider taking a photograph of the item and then donating it.
You think you'll need it in the future.
If the item in question has been stored away and not used in more than a year, you probably won't need it in the future either.
Someone gave it to you.
If you're holding on to a gift you were given, you may feel a tinge of guilt at the thought of getting rid of it. Just remember that that person will still be your friend, even if you throw away a gift they gave to you.
It was expensive.
You may also feel guilty about getting rid of an item you spent a lot of money on. If you're hanging on to something because you believe it has monetary value, consider the value of the space it's taking up in your home, instead.
You can always try to sell the item to retrieve some of your investments and clear out a little bit of clutter in your home at the same time.
The item is attached to some hope or dream.
If you have a box of craft supplies that you've been hoping to use for years, a stack of cookbooks you've never opened, or a pile of jeans you haven't fit into in a while, think about the dreams connected to those items and start to be honest with yourself.
While it may seem like you're giving up on those dreams by getting rid of those items, think instead about the space you can make for the habits and hobbies that are already a part of your life.
Be Thankful
One of the best ways to let go of items throughout your home is to think about how each item has served you.
As you consider whether to keep or throw away each item in your home, consider whether each item in question has served its purpose. If you think you're finished with something, be thankful for how it helped you and move on.
Thanking the items you cherish is a great way to have one last connection to each piece before you pass it along to someone else.
Think About the Next Step
If you're having a difficult time getting rid of items that are still in good condition and can be used, think about where those things can go after you're through with them.
Donating working items is a great way to give things in your home you don't need a new life.
Shelters and food pantries are a great place to donate unwanted household items and clothing. You could also consider donating items to churches or schools, because they may know families in need of household items.
Knowing that your things will get a new purpose after they've left your home may make it easier to get rid of things as you declutter.
Take Your Time
While it may be tempting to try to declutter your entire house in one weekend, taking your time throughout the process is the best way to declutter when you're having a hard time letting go.
Taking things slowly will allow you to spend time with each item as you declutter. And working to declutter your home over time may make it a little easier to let go of items.
You'll be able to see your progress as your home becomes more organized. You will also come to realize that the items you remove from your home aren't missed once they're gone.
Taking the time to declutter your home will also help you avoid the sense of overwhelm that comes when tacking the project all at once.
By tackling your home's organization one small step at a time, you can make the project easier to manage and a little less stressful.
Looking for more? Try these…