Start Your Journal with a Positive Headspace (A Year of Journaling: Week 1)
Welcome to the first post in our "Year of Journaling" Series. Every Monday you will find a new post that relates to journaling and how it can help you.
We shall be covering things such as:
How Journaling Can Help Your Relationships
Preserve Memories With Your Journal
Boost Your Confidence With Your Journal
And so much more…
So be sure to pop back every Monday for your next installment.
---
What resolutions did you make going into this new year?

This weeks journal prompt
---
Start Your Journal with a Positive Headspace
Before you open up your journal and start writing, you might first want to spend a few minutes getting into a mindful state and reflecting on your mood and what is going through your mind at this moment.
This doesn't have to be a practice you do when you intend to journal in the form of a brain dump or stream of consciousness, but it can be really useful for other forms of journaling.
Why should you be in a positive headspace for journaling?
While this isn't necessary every single time, there are definitely some benefits to being in more of a positive mindset as you write in your journal.
Try to be mindful of how you feel right now, and turn your negatives into a positive. Are you feeling a bit stressed about your job? You can think positively that you have a job you love or a job that pays your bills.
Get into a place of acceptance, gratitude, and mindfulness, and that is enough positivity for your journaling.
Find Positivity By Expressing Gratitude
When you are grateful and appreciative of the blessings in your life, it boosts your mood, helps you become happier, and you carry that with you through every facet of your life.
Write down a few things you are grateful for every time you start a journal entry. Even if the rest of what you journal about isn't all positive, you can still get into the right frame of mind from the very beginning with the simple act of writing what you are grateful for.
There are a few ways to express gratitude in your journal, but here are some simple options:
Write down 3 people you are grateful for that day.
Write about 5-10 things or possessions you are grateful for.
Write a list of things or people in your life in general that you are grateful for.
Tips for Becoming More Positive When You Write
Many people use their journals to write about their feelings and thoughts, which sometimes can be on the negative side. You can definitely use your journal for venting, but there are still ways to add some positivity to those journal entries.
For example, if you had a bad day because your car broke down, then you were late to work, and your boss yelled at you for it, see how you can spin it. Maybe when you took your car in for one issue, they found something even more serious that could have caused a major accident.
You just saved yourself from a potentially dangerous situation. Or when you saw how irrational your supervisor was for something you couldn't control, you got the idea that you want a better job or to start your own business.
'Year of Journaling' Printable Journal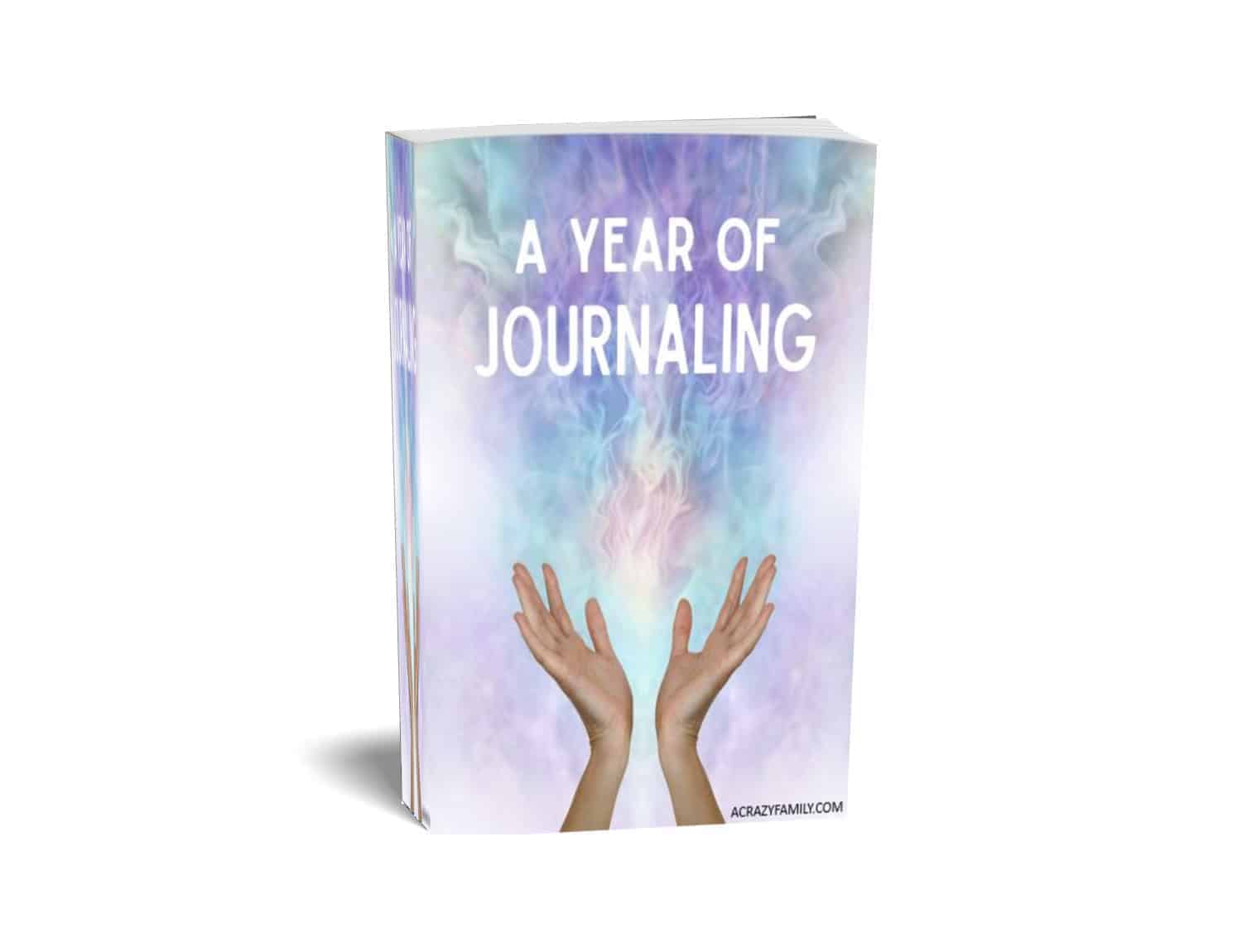 This is the journal for the whole year, with 53 weeks of journaling pages, one for every week of the year.
It has a total of 373 pages, including 7 pages for every week, plus the cover page and the 'This Journal Belongs to…" page.
Every one of our journaling prompts was turned into a journaling page, plus you get a variety of other lined and doodle pages as well.
Journal Pages Include:
Cover Page
"This Journal Belongs To" Page
Journal Prompts Pages (1 for every week)
Lined Pages
Lined Pages with Image Spaces
Doodle Pages
Stream of Consciousness Pages

I would love to hear from you!
Please let me know what you think of journaling and how you journal with a positive headspace in the comments below.
And please remember to come back next Monday for more.
Check out all the Year of Journaling posts