Caramel Apple Cookies are so simple to make and have the delicious taste of caramel apples!
Click to PIN Caramel Apple Cookies!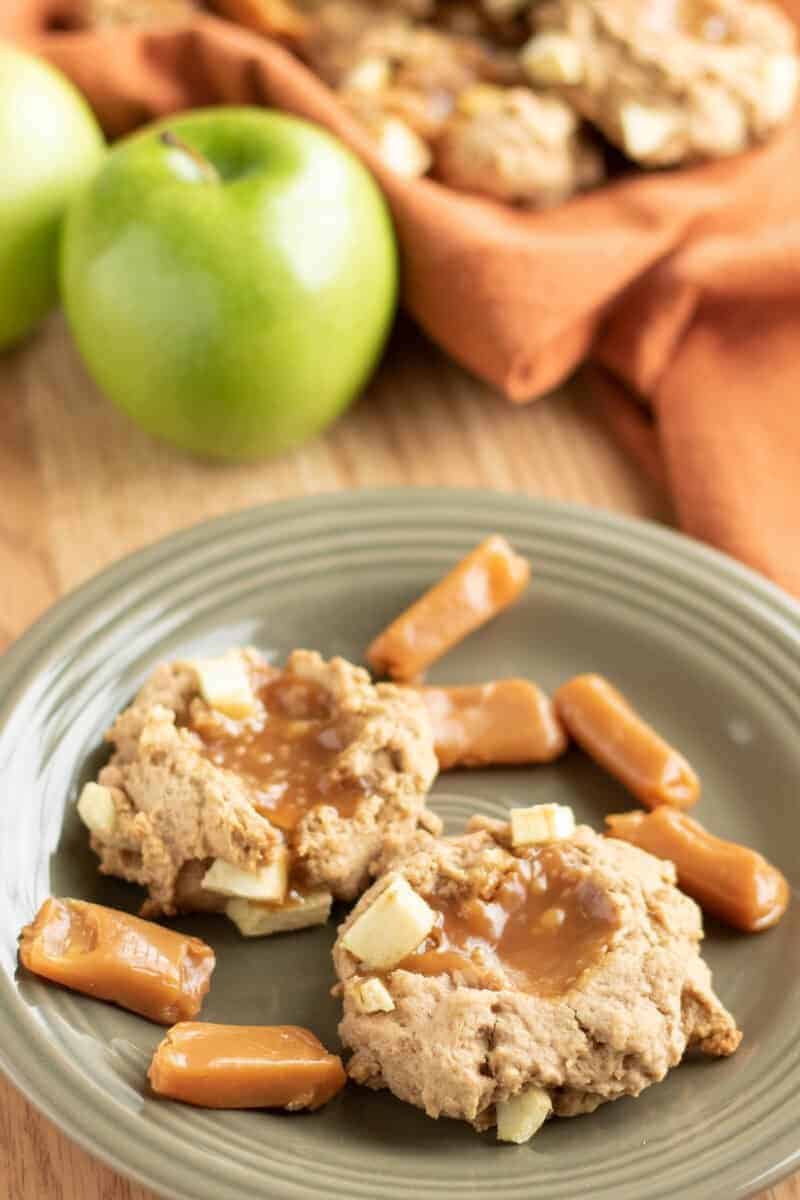 Perfect for Fall, but delicious enough to enjoy at any time of year!
These cookies are…
Easy to make
really addictive
delicious with the warm gooey caramel and apples
WHAT INGREDIENTS ARE NEEDED TO MAKE CARAMEL APPLE COOKIES?
½ cup butter, softened to room temperature
½ cup brown sugar
2 large eggs, room temperature
2 cups flour
1 teaspoon cinnamon
½ teaspoon salt
½ teaspoon baking soda
3/4 cup chopped green apple
12 soft caramels, unwrapped
HOW DO YOU MAKE THESE DELICIOUS COOKIES?
Preheat oven to 350 degrees.
Prepare a baking sheet with grease or parchment paper.
Beat butter and sugar until light and fluffy. Beat in egg until combined.
In a separate bowl, whisk together the flour, cinnamon, salt, and baking soda until well combined.
Add dry flour mixture to sugar mixture, and mix until combined.
Gently fold in apple pieces.
Scoop rounded tablespoons onto a prepared baking sheet.
Place caramel in the middle of each cookie, and gently push down.
Bake for about 10-11 minutes or until just beginning to brown.
Move to a wire rack to cool.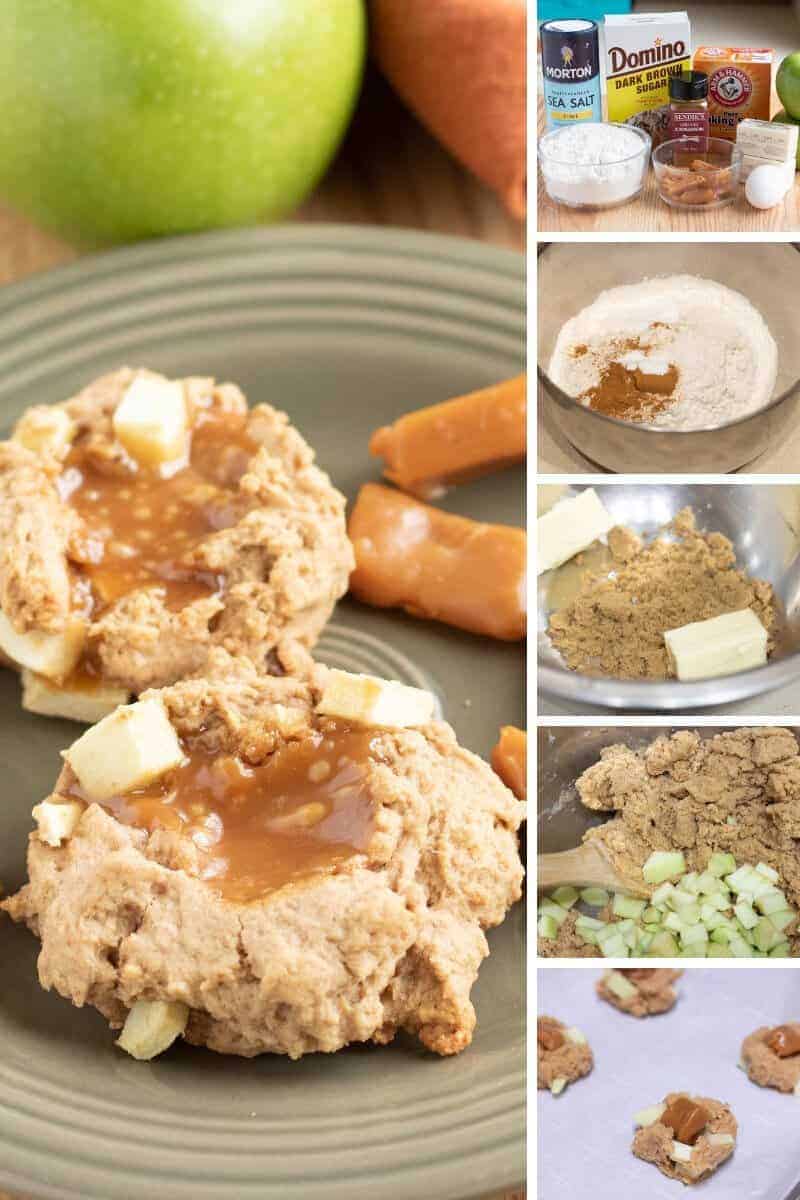 WHAT KIND OF APPLES ARE BEST TO USE?
I highly recommend the Honeycrisp variety. These apples are very crunchy and they hold up well during the baking process. Fuji apples also work really well. Just don't use a soft apple (like Red Delicious) because softer apples tend to get mushier when baked.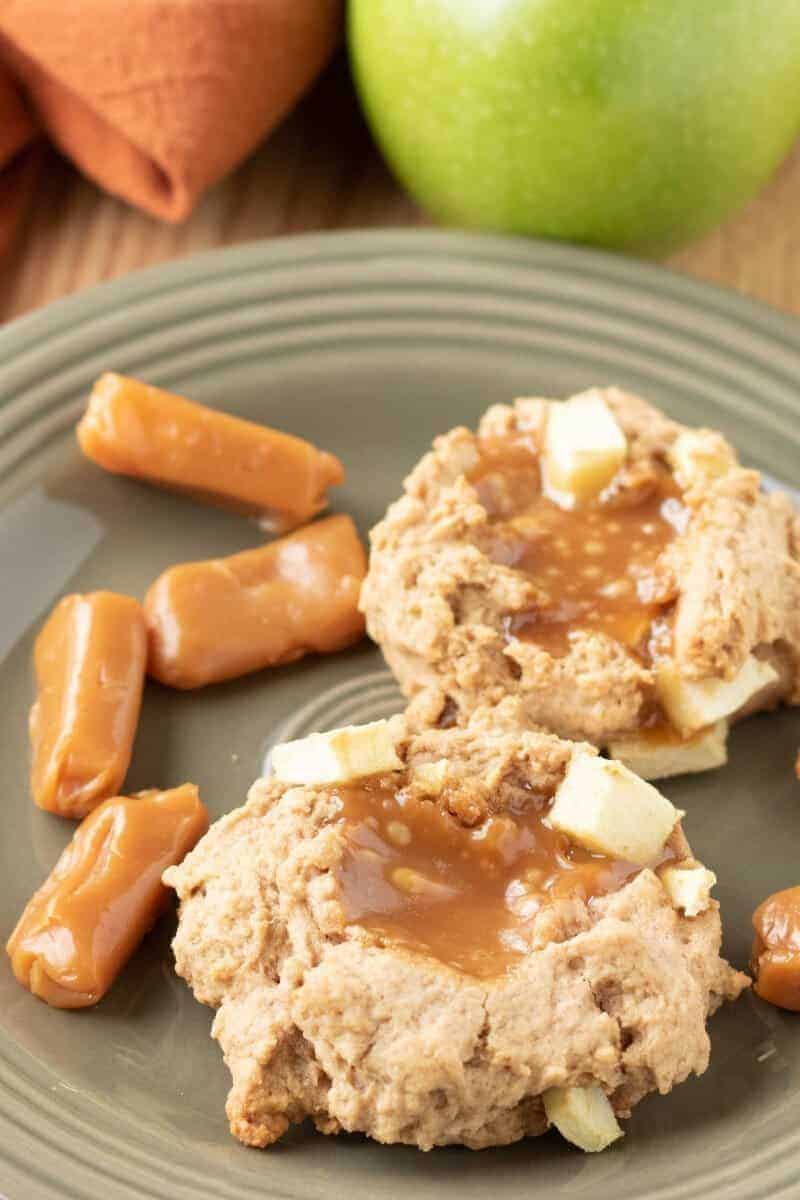 Hello! All photos and content are copyright protected. Please do not use our photos without prior written permission. Thank you!
Nutritional Information?
If you want the nutritional information for a recipe, I recommend entering the recipe into this nutrition analyzer, which will calculate it for you.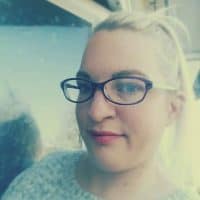 Vickie Louise is the Founder and Editor-in-Chief of A Crazy Family. She is a stay at home mom of a little boy with a big personality. After having her son, she realized how important it is for moms to take care of themselves, physically and mentally. Vickie believes in the power of using social media and her online presence for good and is thrilled to provide you with a space to celebrate all that is awesome (and a little crazy) in the world.