The BEST Romantic Song Lyrics – Love Songs That You'll Want To Share With The One You Love
By: Vickie | Updated: 26th June 2023
If you are struggling with the right words to say to show your loved one exactly how you feel, then romantic song lyrics could be the answer!
Some of the best romantic songs have lyrics that make your heart melt. Every romantic couple has that song, you know the one. The one that makes you instantly think of someone special. The song that sends your heart racing listening to the lyrics. The one that makes you feel closer together, even if you are an ocean apart.
Romantic song lyrics just have a way of saying what is it we want to share with our loved ones using the right words and leaving the right emotions.
If you're in need of a sugar-sweet opening line for your Valentine's love letter or are simply a hopeless romantic looking to indulge yourself, there's bound to be at least one romantic song lyric here that appeals to you.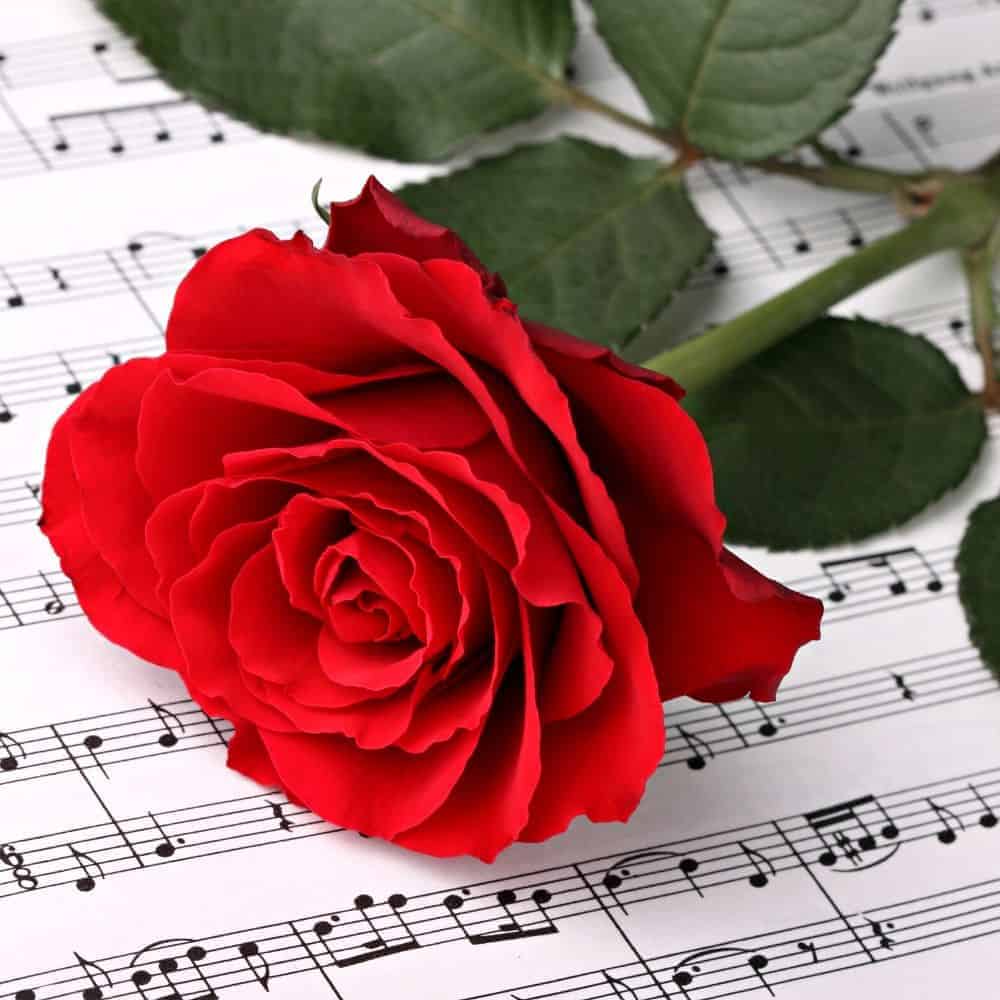 Songs can have such a powerful impact, as they tune into our emotions. For each song we hear on the radio, our body provides an emotional response. Whether that be joy, anger, sadness, or love. Love is the most powerful emotion of all, using romantic songs will instill that feeling in your loved ones too.
Think of a time a romantic song came on the radio. How did it make you feel? Did it lead you to think of anyone in particular?
Romantic songs just have a way of helping us to connect with those we love and care about most in a deep and meaningful way.
For those of you who are still looking for that special song, We've got you covered. Here, we've rounded up some of the BEST romantic song lyrics – from Bruno Mars to Etta James and more…
1. "All of Me" – John Legend
Cause all of me loves all of you
Love your curves and all your edges
All your perfect imperfections.
2. "My Love Is Your Love" – Whitney Houston
If tomorrow is judgment day
And I'm standing on the front line
And the Lord asks me what I did with my life
I will say I spent it with you.
3. "Lucky" – Jason Mraz
I hear you in my dreams
I feel your whisper across the sea
I keep you with me in my heart
You make it easier when life gets hard.
4. "Love On The Brain" – Rihanna
No matter what I do
I'm no good without you
And I can't get enough
Must be love on the brain.
5. "I Won't Give Up" – Jason Mraz
I'm here to stay and make the difference that I can make
Our differences they do a lot to teach us how to use
the tools and gifts we've got yeah we got a lot at stake
6. "My All" – Mariah Carey
I am thinking of you
In my sleepless solitude tonight
If it's wrong to love you
Then my heart just won't let me be right
7. "Your Song" – Elton John
I hope you don't mind,
I hope you don't mind,
that I put into words,
how wonderful life is,
now you're in the world.
8. "You Must Love Me" – Madonna
Deep in my heart I'm concealing
Things that I'm longing to say
Scared to confess what I'm feeling
Frightened you'll slip away
9. "Valentine" – Martina McBride
Even if the sun refused to shine
Even if romance ran out of rhyme
You would still have my heart
until the end of time
You're all I need, my love, my Valentine
10. "At Last" – Etta James
At last
my love has come along
my lonely days are over
and life is like a song
11. "Unchained Melody" – The Righteous Brothers
I've hungered for your touch
a long lonely time
and time goes by so slowly
and time can do so much
are you still mine?
12. "You're The Inspiration" – Chicago
You know our love was meant to be
The kind of love to last forever
And I want you here with me
From tonight until the end of time
13. "It Might Be You" – Stephen Bishop
Something's telling me it might be you
Yeah, it's telling me it must be you
And I'm feeling it'll just be you
All of my life…
14. "For the Longest Time" – Billy Joel
I don't care what consequence it brings
I have been a fool for lesser things
I want you so bad,
I think you ought to know that
I intend to hold you for the longest time
15. "Let Her Go" — Passenger
But dreams come slow and they go so fast.
You see her when you close your eyes.
16. "If I Ain't Got You" — Alicia Keys
Some just want everything.
But everything means nothing.
If I ain't got you, yeah.
17. "All These Years" — Camila Cabello
Cause after all these years.
I still feel everything when you are near.
18. "Us" – James Bay
Tell me how to be in this world.
Tell me how to breathe in and feel no hurt.
Tell me how could I believe in something.
I believe in us.
19. "I Can't Fall In Love Without You" – Zara Larsson
I can't fall in love without you.
20. "It's Gotta Be You" – Isaiah Firebrace
Now my arms are open wide.
They're hanging forever there.
Waiting forever for you.
21. "Beneath Your Beautiful" – Labrinth featuring Emeli Sandé
I wanna see inside.
Would you let me see beneath your beautiful tonight.
22. "Won't Go Home Without You" – Maroon 5
Of all the things I felt but never really shown.
Perhaps the worst is that I ever let you go.
I should not ever let you go.
23. "Ain't No Other Man" – Christina Aguilera
Never thought I'd be alright, no, no, no.
Till you came and changed my life, yeah, yeah, yeah!
24. "My Everything" – Ariana Grande
And it's taken me a lot to say.
And now that you're gone, my heart is missing something.
25. "Bleeding Love" – Leona Lewis
But nothing's greater,
than the rush that comes with your embrace.
26. "Make You Feel My Love" – Adele
When the evening shadows and the stars appear.
And there is no one there to dry your tears.
Oh, I hold you for a million years.
To make you feel my love.
27. "Just the Way You Are" – Bruno Mars
And when you smile. The whole world stops and stares for a while. 'Cause girl you're amazing. Just the way you are.
Easy Valentines Day Decor Ideas
Maintain a Loving and Strong Marriage with Date Nights
21 Delicious Valentines Day Cupcakes
Valentine's Day Rice Krispie Treats