Easy Valentine's Day Decor Ideas
By: Mornings on Macedonia | Updated: 19th October 2021
So like I said in my last post, I love to decorate for every season and holiday, but since Valentine's Day is so short I didn't want to over do it. I thought it would be fun to show you guys how I dressed a few of my spaces up with adding just a few, simple Valentine's Day touches here and there. I hope you enjoy it and I hope it inspires you to add a little pop in your home as well!
---
See Also: For even more Valentine's Day Ideas check out our collection of romantic ideas by clicking here.
---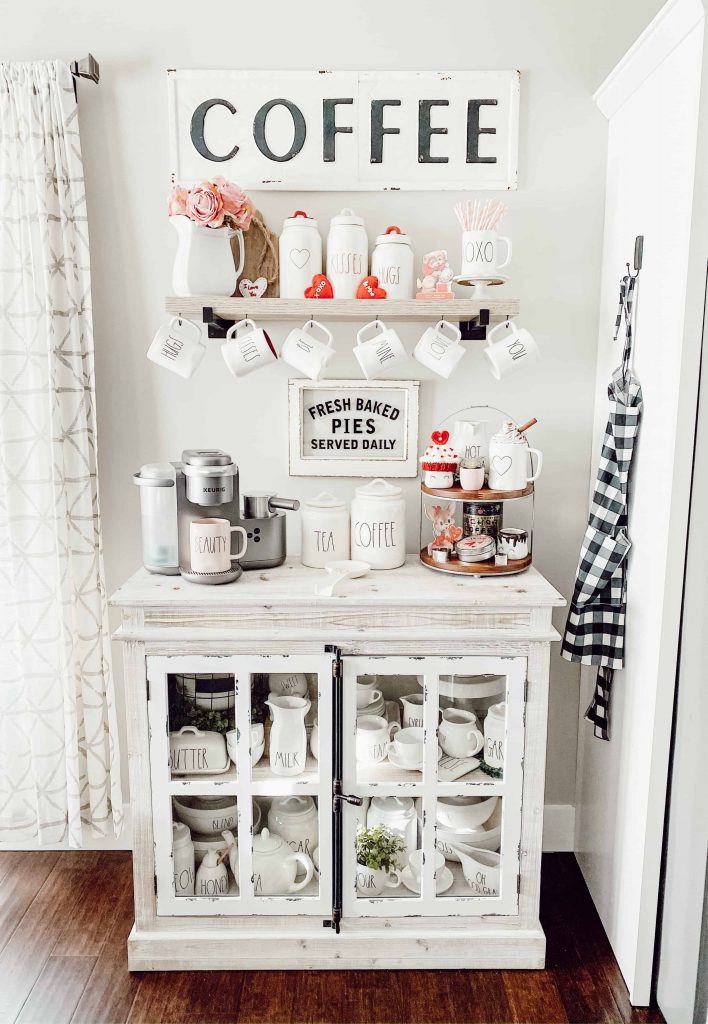 Coffee Bar
My favorite space to decorate for every season is hands down my coffee bar! It is so much fun to switch up and I am the kind of person that gets tired of looking at the same thing over and over again so I like to be able switch my decor up. So this space is perfect for me and it helps me be as creative as I want.
For Valentine's Day, I decided to showcase a few of my Valentine's Rae Dunn mugs and add little touches of pink and red all over. I placed a faux pink bouquet of roses in my Ironstone pitcher as well. I liked the bouquet because it could easily transition into Spring decor too, not just Valentine's Day. I also added those cute little felt hearts that I found from Michael's last year and that adorable vintage inspired valentine from Hobby Lobby as well.
Another cheap and easy thing I like to add are some fun paper straws. I added some pink ones in my mug below and again, this pastel pink color can easily flow into Spring decor too.
I try to be resourceful when picking out my decor and I like for things to be able to last through different seasons and/or holidays.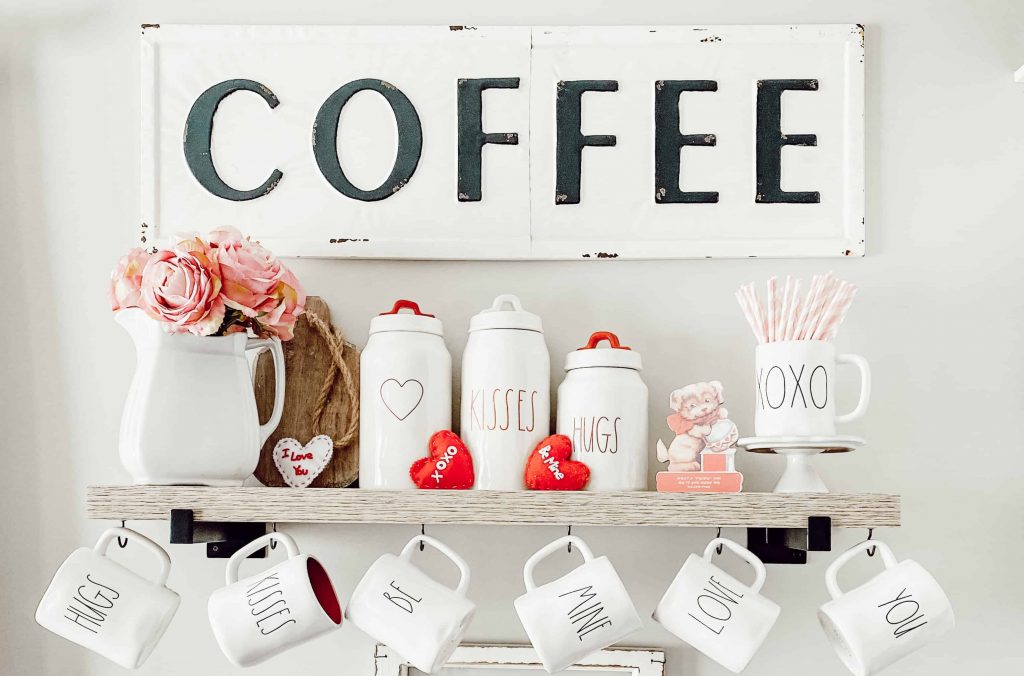 Tiered Trays
Another thing I love to style for every season are my tiered trays! They are also a lot of fun to decorate and I like being able to add little touches of whatever season I want to display to them. I usually find so many goodies at the Target Dollar Spot and they are the perfect size to display on a tiered tray. And plus, they are super cheap so you can't beat that! I usually like their small signs and their faux plants are amazing as well.
I like filling up spaces on the tray with greenery to help it look more full. I also like to display some of my Rae Dunn collection as well. You can see below the two tiered trays I styled for Valentine's Day this year: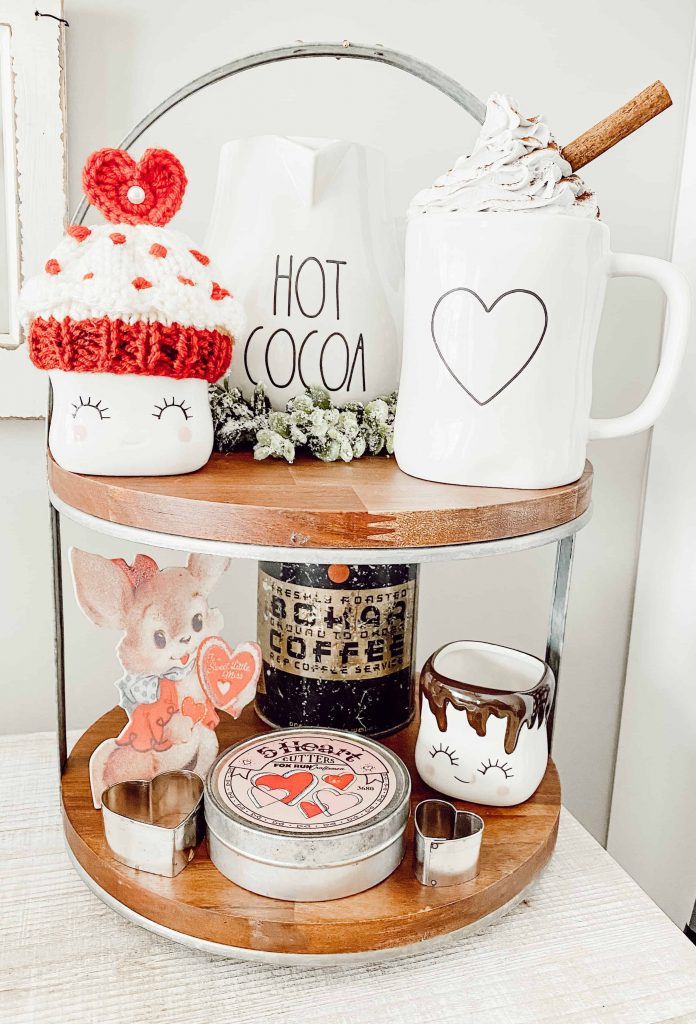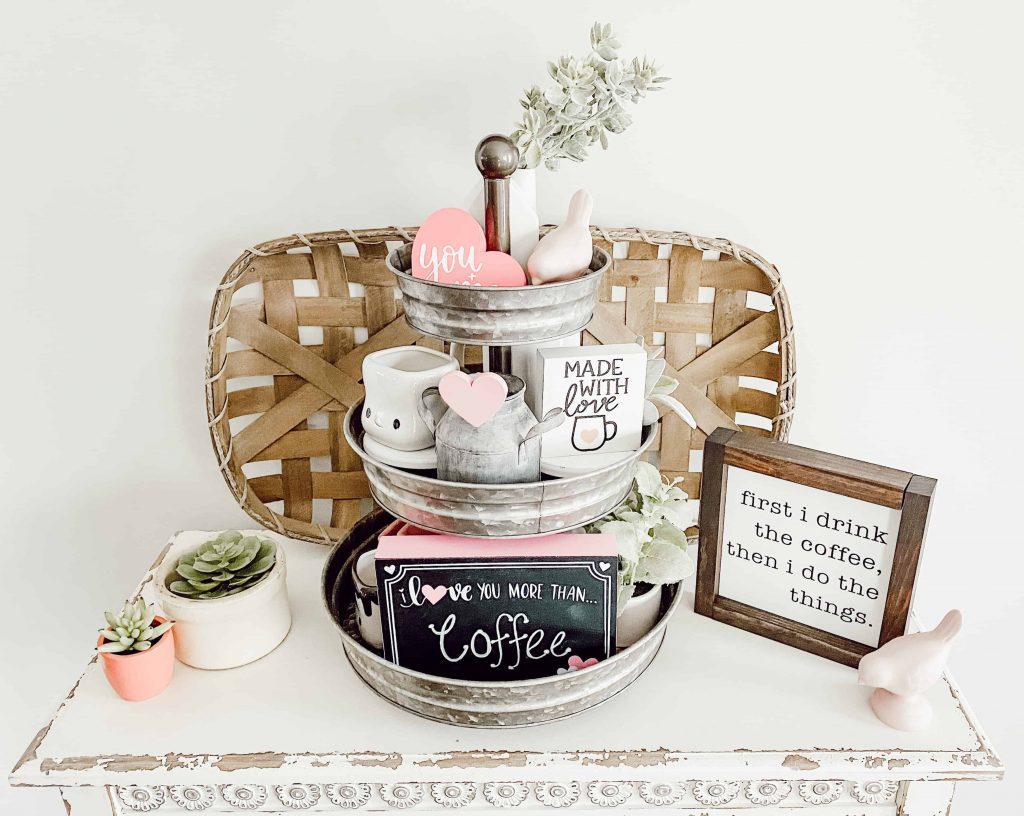 Tablescape
I always enjoy switching up my table decor for every season and this is the first year I have ever done a Valentine's themed tablescape. I am not sure why I have never done one before because I love it! I honestly want to leave it out after Valentine's Day because it just gives me all the cozy, romantic vibes!
If you remember my last post about making a simple paper heart banner, I had some leftover paper hearts already cut out and I decided to use them for my tablescape. I also got some new napkins from the Hearth and Hand collection at Target as well as a new garland to put in my dough bowl too. I am loving the light blush touches it gives to my table. And plus, I plan on using this same tablescape throughout the spring as well, minus the hearts. I think the blush color is very versatile!
I also found some vintage ironstone teacups and saucers and I just love how dainty they are. I thought it would be perfect to showcase for Valentine's Day as well! I shared more in depth on how I styled my table exactly over on my blog, so click here if you want to see all the details!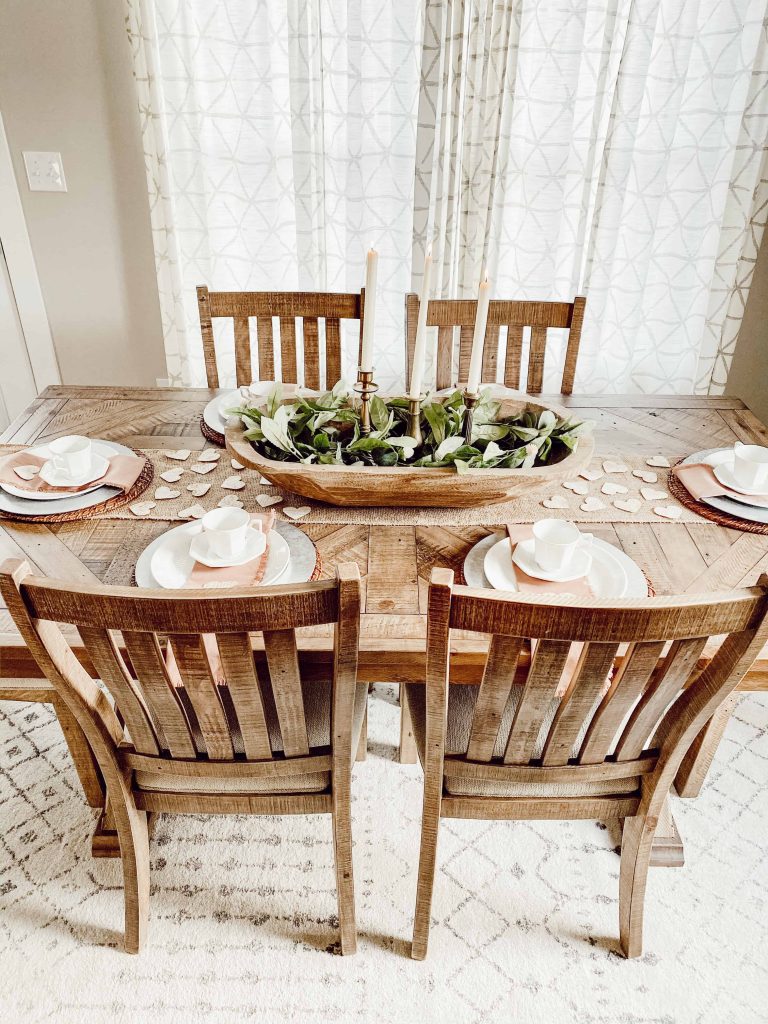 Mug Cubby
I have an unhealthy obsession with coffee mugs so I obviously need several spaces throughout my kitchen and dining room to display them! And this mug cubby is one of my favorites! It fits several of my Rae Dunn mugs in it perfectly and I like being able to have another space besides my coffee bar to display all of my seasonal mugs in.
I also stuck with the Valentine's theme here and I even added some extra little hearts for more of a Valentine's Day touch. These hearts were actually strung together in a banner that I got from the Target Dollar Spot last year, but they broke apart on me. Not wanting to throw these cute little hearts away, I was determined to find a good use for them. Luckily, they had a little clothespin attached to the back so I thought it would be perfect to clip them on my mugs to give them a cute little red and pink pop of color! I also added some greenery here as well to break apart the mugs.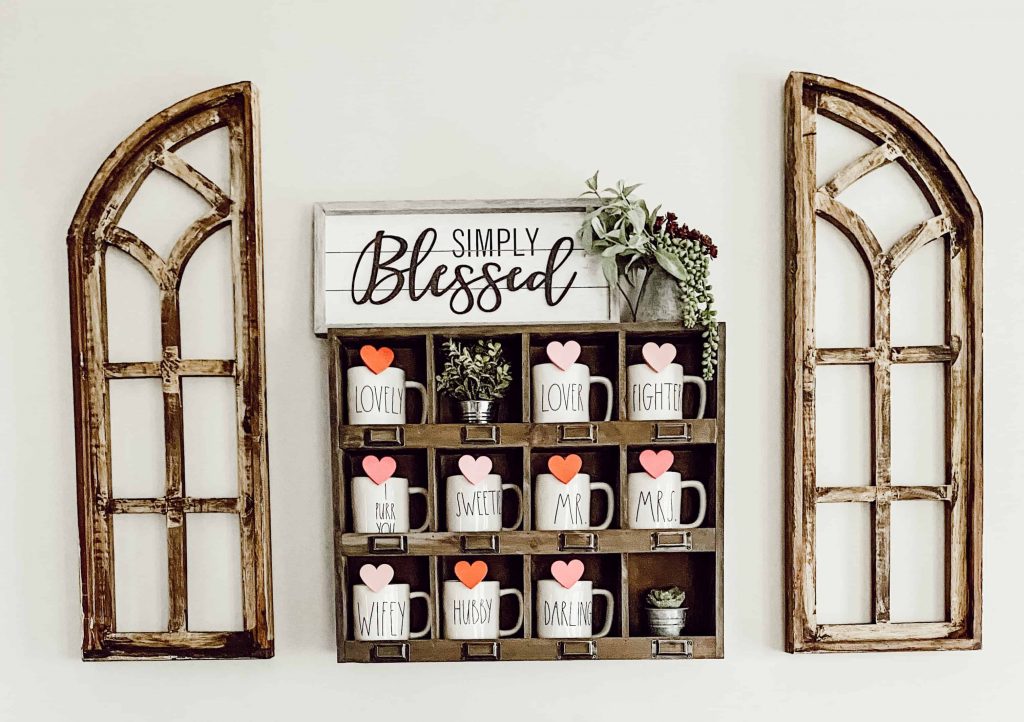 Well, I hope after you see these spaces of mine that I have fixed up for Valentine's Day, that it inspires you to do a little something to your home as well! I mainly just decorated my kitchen and dining room area for Valentine's, but there are so many other ideas that you could do around your home too.
Like a simple little banner hanging across your mantel, or a cute accent pillow in your bedroom. Have a Valentine's themed candle burning in your living room or a blush colored throw draped across your sofa. As you can see the possibilities are endless and you can find so many easy ways to add in a little Valentine's without overdoing it.
Thanks for stopping by and I hope you all have a lovely Valentine's Day this year!