St. Patrick's Day Shamrock Cupcakes
By: Vickie | Updated: 19th May 2023
Celebrating St. Patrick's Day can be so much fun when you have kids at home! And one of our favorite ways to celebrate any holiday is with a fun dessert. If you're looking for a unique way to celebrate the holiday this year, you're going to love these adorable shamrock cupcakes.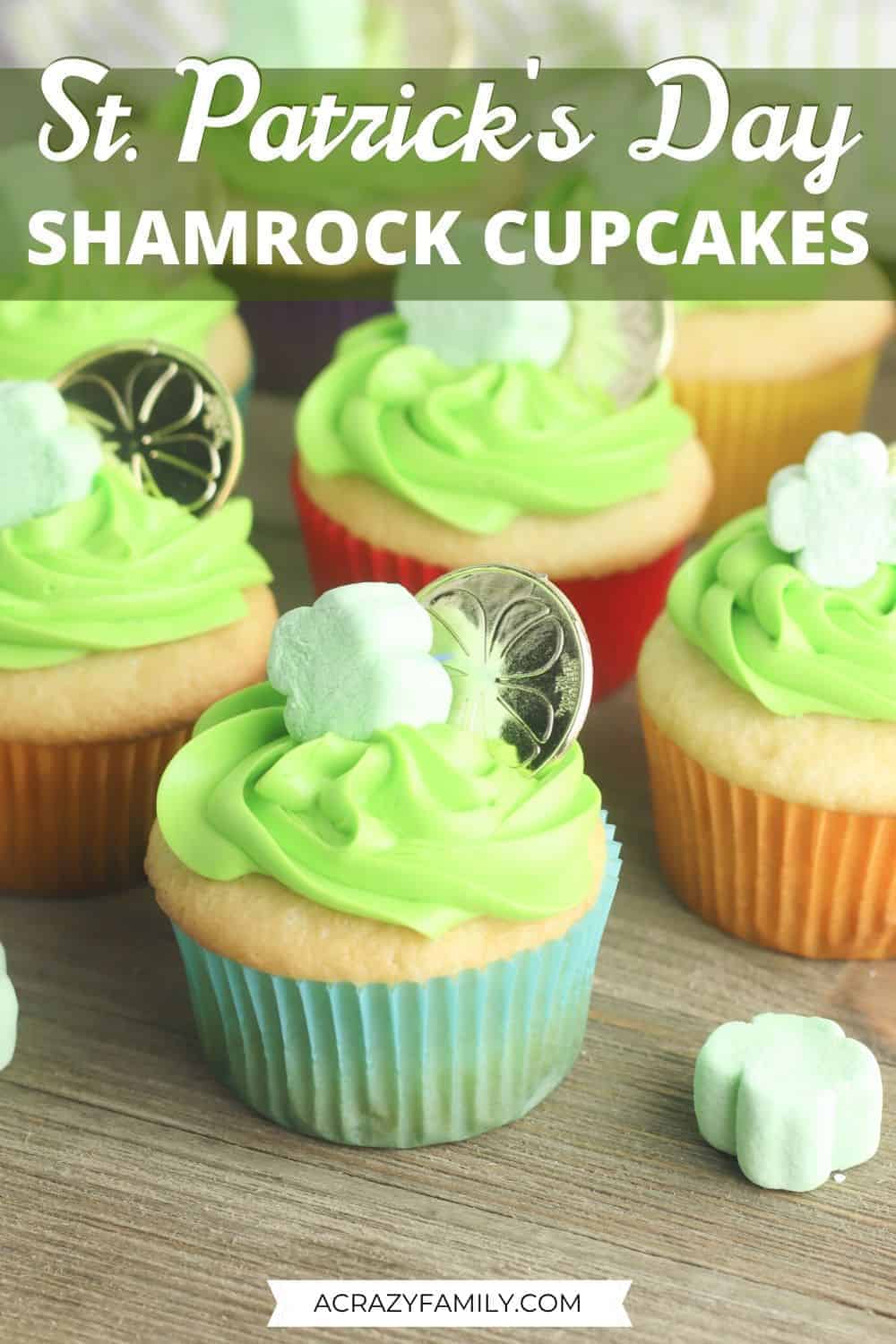 On top of having cute decorations on top, these easy St. Patrick's Day cupcakes also have a fun surprise in the middle.
For even more St. Patrick's Day Ideas check out our collection of ideas by clicking here.
Shamrock Cupcake Ingredients
One of my favorite parts about these cute cupcakes is how easy they are to make.
To put this fun St. Patrick's Day dessert together, you'll need a boxed cake mix, premade icing, green food coloring, chocolate coins, and a bag of Lucky Charms marshmallows.
Those adorable marshmallows are the secret ingredient in these cute St. Patrick's Day cupcakes. And while the marshmallow mix also includes adorable hearts and moon shapes, you're going to use the green shamrocks for your cupcakes.
To make these easy cupcakes, you'll need two shamrock marshmallows per cupcake, which means you'll need a total of 48 shamrock marshmallows.
Where to Find Shamrock Marshmallows
You can find those cute shamrock marshmallows in Lucky Charms marshmallow bags, which are sold in most major superstores (like Target and Wal-Mart) and grocery stores.
They can be found in the baking aisle along with the other traditional marshmallows. You can also purchase your Lucky Charms marshmallows on Amazon.
How to Make St. Patrick's Day Cupcakes
To make these simple cupcakes, start by mixing your cake mix according to the package instructions. Since this recipe uses a simple white cake for the cupcakes, you can use your favorite cake mix or whip up your favorite white cake recipe. Either way, they'll taste amazing!
After mixing the cake batter, prepare a cupcake pan by lining it with cupcake liners. I used a variety of colors of cupcake liners to create a rainbow with my cupcakes, but these cute shamrock cupcakes would also look adorable with green liner or fun St. Patrick's Day cupcake liners.
Fill each cupcake liner 2/3 of the way full of white cake batter. Then, top each cupcake with a shamrock marshmallow. Gently push the marshmallow into the batter, making sure not to cover it with cake batter. Then, place the cupcakes in the oven and bake them according to the package instructions.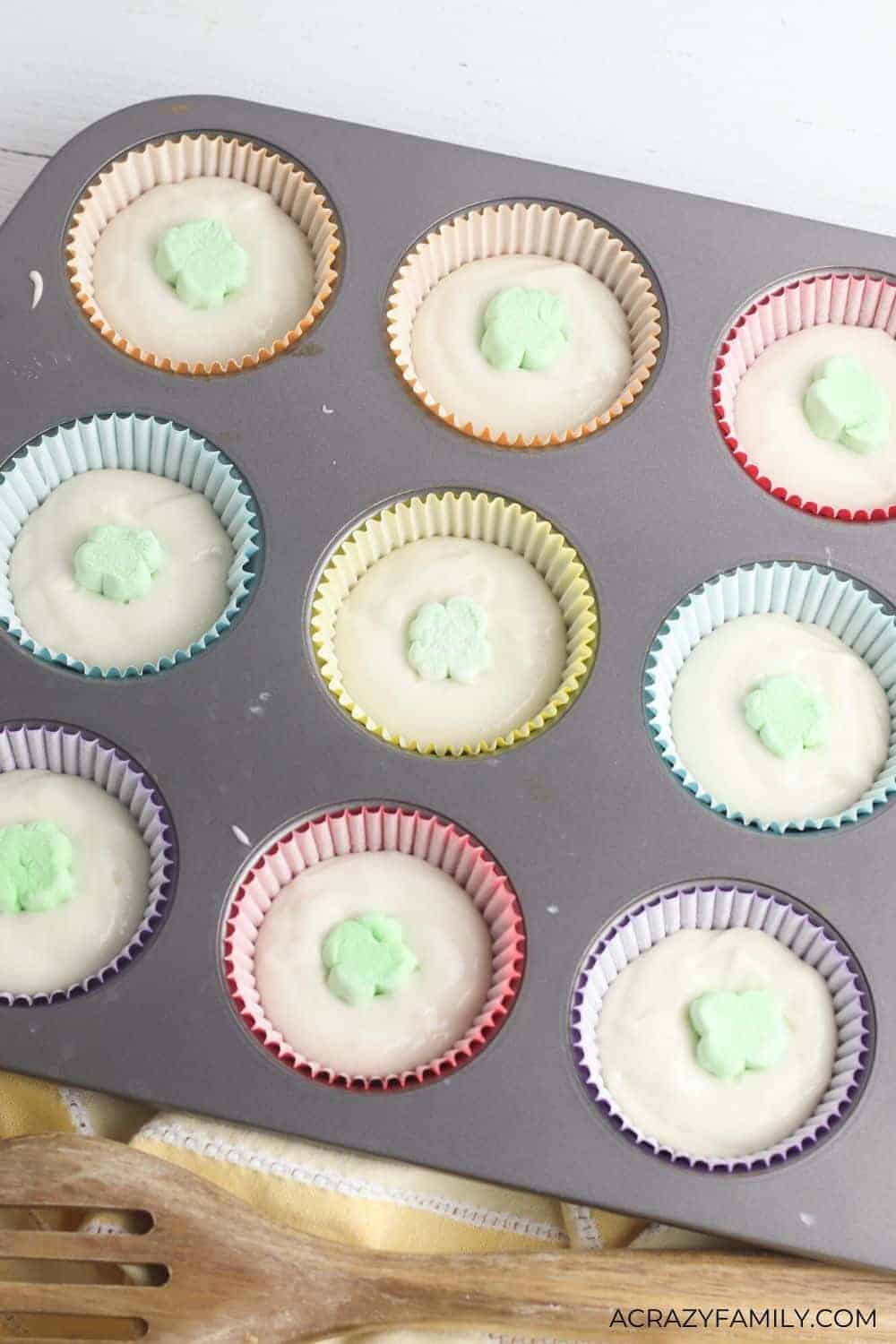 After your cupcakes are finished baking, remove them from the oven and allow them to cool in the pan for a few minutes. When it's safe to touch the pan, place the cupcakes on a wire cooling rack to cool completely before you start decorating.
Decorating the Shamrock Cupcakes
Make sure your cupcakes are cooled completely before you start decorating to prevent the icing from melting off your cupcakes! While your cupcakes are cooling, prepare your icing by mixing green food coloring into your jar of icing.
I have found that using gel food coloring is the best way to tint your icing. It provides a vibrant color without compromising the stability of your icing by adding too much liquid to the frosting.
To make sure your food coloring gets fully mixed into your icing, scoop the premade icing from the jar into a bowl. Add the food coloring a little bit at a time, mixing between additions, until your desired color is reached.
When you're happy with the shade of green of your icing, spoon it into a piping bag and pipe the icing onto the cupcakes. Finish decorating your cupcakes with a chocolate coin on top and another shamrock marshmallow.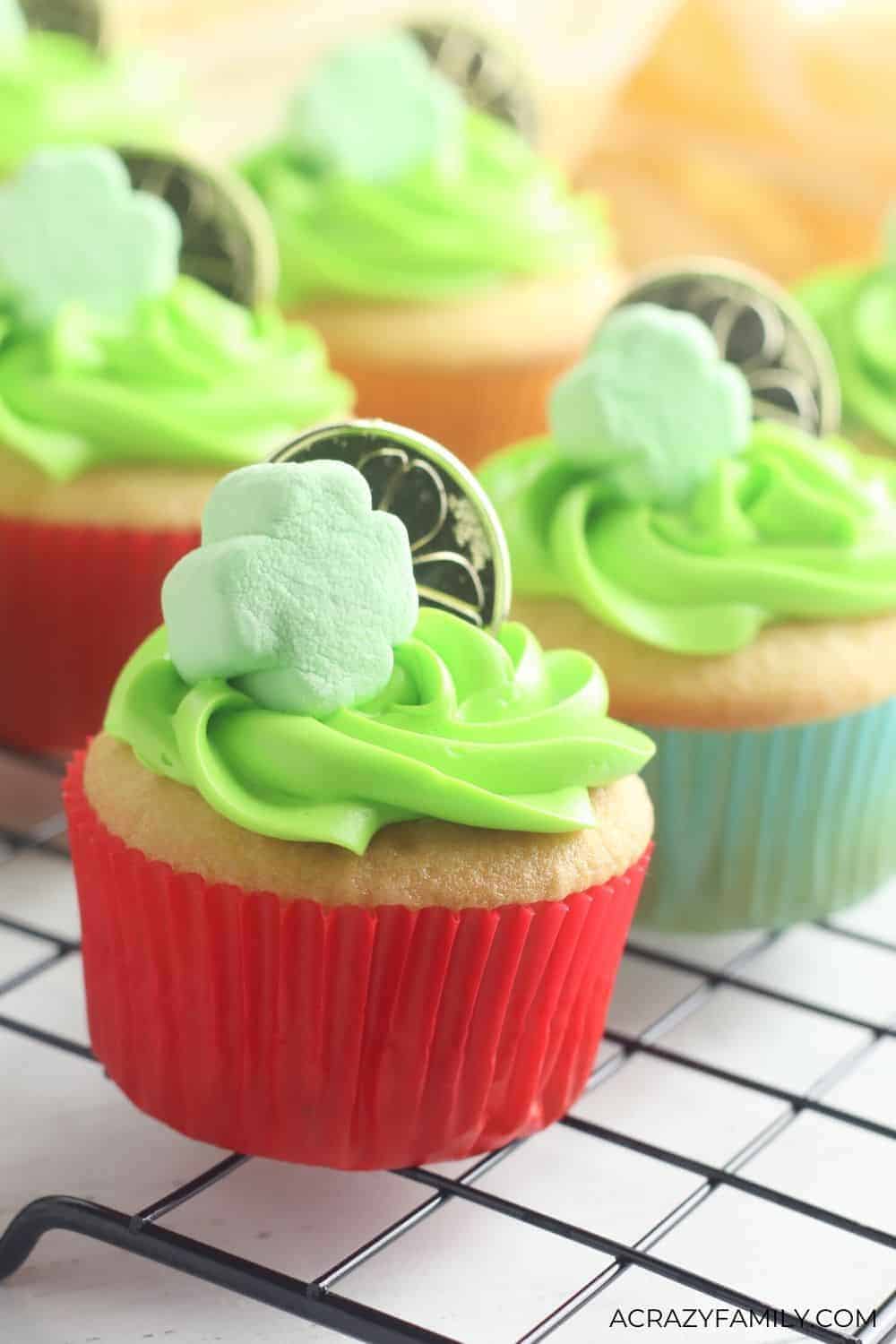 When to Serve Shamrock Cupcakes
You don't really need an excuse to enjoy a good cupcake, but if you're looking for a reason to make this shamrock dessert, I have you covered. Here are some fun reasons to serve these cute shamrock cupcakes:
St. Patrick's Day party. This is the best excuse to make these cupcakes and have a little fun on St. Patrick's day – host a party and serve these as the dessert.
St. Patrick's day dinner. Even if you don't host a party, you'll need a sweet treat to enjoy after you finish your St. Patrick's Day dinner. Why not whip up these cute cupcakes?
After school snack. Make your kids a fun St. Patrick's Day surprise to enjoy after school. They'll love taking a bite of these cute cupcakes and finding a surprise marshmallow inside.
St. Patrick's Day school celebration. Or let them enjoy these cute cupcakes at school with their classmates by volunteering to bring them in for a St. Patrick's Day party at school.
Whatever your reason for enjoying these adorable cupcakes, they're sure to be a big hit!
On top of being a cute way to celebrate St. Patrick's Day, the surprise inside these cute shamrock cupcakes will win over any St. Patrick's Day lover.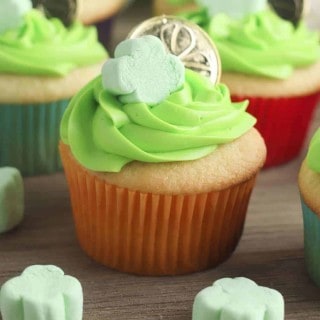 Ingredients
1

box white cake mix

prepared

48

shamrock marshmallows

from Lucky Charms marshmallows

1

jar white icing

Green gel food coloring

24

chocolate coins
Instructions
Prepare cake mix according to package instructions. Line a muffin tin with different colored cupcake wrappers and fill each wrapper 2/3 of the way full of cake batter.

Top each cupcake with one shamrock marshmallow and bake according to package instructions.

Allow cupcakes to cool completely, then prepare the icing by mixing gel food coloring with premade icing. Pipe the icing on top of each cupcake.

Top each cupcake with one chocolate coin and one shamrock marshmallow.
Nutrition information is automatically calculated, is intended to serve as an estimate only, and is provided for informational purposes. The accuracy of nutritional information is not guaranteed.
Click stars to rate now! Or leave a comment below.