Survival Guide for Taking Kids on Road Trips
By: Cassie Howden | Updated: 4th September 2022
Are you hitting the open road with your kids this summer? Here's everything you need to know before you go. From packing essentials to preparing for emergencies, we've got you covered. So buckle up and get ready for some fun family memories!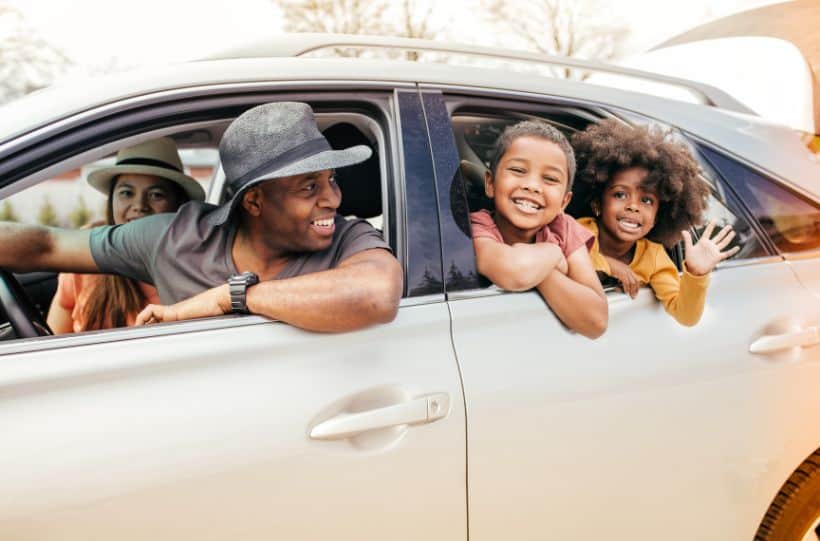 Traveling with kids can be a lot of fun, but long trips in the car with them can be a challenge if you are not prepared.
Fortunately, if you do a little bit of planning and packing before your trip, a road trip with the kids can be quite enjoyable for the whole family. Here is the kid's road trip survival guide with everything you need for a successful trip!
Leave Early or Late
If your children are still on the younger side, you might find that road trips can be made simpler, and shorter (for them anyway) by leaving late in the evening or very early in the morning.
It can be hard to keep younger toddlers and babies entertained in their car seats for long periods of time so the trip can be easier on the parents if they spend a fair amount of your travel time asleep.
Leaving early in the morning is another option for anyone heading out on a road trip with kids. Loading up and heading out before the sun comes up feels like an adventure to kids of all ages, and chances are after a breakfast stop, most will fall asleep for a nap, or be happy to watch a movie or participate in some other vehicle-friendly activity for a while.
Pack Snacks
Hungry kids are not generally happy kids so make sure that you pack a variety of car-friendly snacks for the whole family. Apple slices, carrots, cheese and crackers, yogurt pouches, and fruit all make excellent and healthy car snacks.
A long journey can also be a good time to "treat" the family to goodies they might not have often at home like candy, chips, or cookies. Just make sure that you don't overdo it on too much sugar at one time.
Make sure that you also pack plenty of water, fruit juice, and whatever else your kids like to drink. Having a good supply of snacks in the car can keep you from paying the high prices you will find at convenient stores when you stop to refuel.
Download Movies and Audio Books
If you are planning to use tablets to help the kids pass the time in the car while you are on the road, then it is a good idea to go ahead and download the movies, games, and books that you want for them before you leave home.
This way if you drive through any areas with a spotty cell phone or internet reception your kids can still watch, listen, or play. Consider downloading a movie or two that they haven't seen before in addition to some of their favorites.
Plan Car-Friendly Activities
You don't want your kids to stare at their screens the whole time they are in the car and they would likely get bored with them anyway so plan ahead with some car-friendly activities.
Coloring books, paper crafts, crafts with washi tape, pipe cleaners, and stickers are all easy to make and play with inside the car.
Legos can also be a car-friendly entertainment option and you can learn how to build a Lego travel kit out of a lunchbox online. Traditional travel games for the car like I Spy, the license plate game, Mad Libs, and tic tac toe are also fun ways to pass the miles.
It can be a good idea to let the kids pack an activity bag of items that they select, but it is also a good idea to keep a few surprises up your sleeve in case they get bored or irritable.
Plan Your Stops
You don't have to have a set in stone itinerary but it is a good idea to know approximately where you plan to stop. If there are things that you would like to sightsee along the way, a restaurant you really want to stop in, or approximately when you will need to refuel or take a bathroom break knowing about how far you are from them is helpful.
Pack an Overnight Bag
If your road trip is going to mean spending a night or two in a hotel before reaching your ultimate destination, pack an overnight bag (or two depending on the size of your family) with only the things each person will need for a single night.
Changes of clothes, diapers, personal care items, and daily medications are all you need in this bag. This will mean you don't have to unpack the whole car just to get out what you need for the night.
Have a Car Kit
Make sure that your vehicle has jumper cables, reflectors, a flashlight, emergency blankets, a properly inflated spare tire, and a jack that fits your vehicle.
Hopefully, you won't need any of those items but it is always better to be prepared, especially if you are traveling in an unfamiliar area. You should also pick up some paper maps, GPS navigation is great until you find yourself in an area with spotty coverage.
Find a Park
Kids starting to complain because they are tired of being cooped up inside of the car? Find a park near you with a playground and let them burn off some energy.
There are several free apps available that you can download to help you find a park with a playground in your area. Giving the kids 30 minutes or so to run off some of their energy can make a world of difference in their attitudes when everyone gets back in the car.
First Aid Kit
You don't have to pack everything in the medicine cabinet at home, but it is a good idea to have a first aid kit with items you might need.
Bandages and antibacterial wipes for cuts and scrapes, burn cream, itch cream for bug bites, and age-appropriate medicine for headaches, fever, allergies, and indigestion are all good ideas to pack as well.
Having these items in the car first aid kit before you hit the road can even come in handy once you reach your destination because you won't have to find a pharmacy or pay over-priced hotel gift shop prices for them if you need them. Make sure that you pack all the family's prescription medicines that they need daily as well.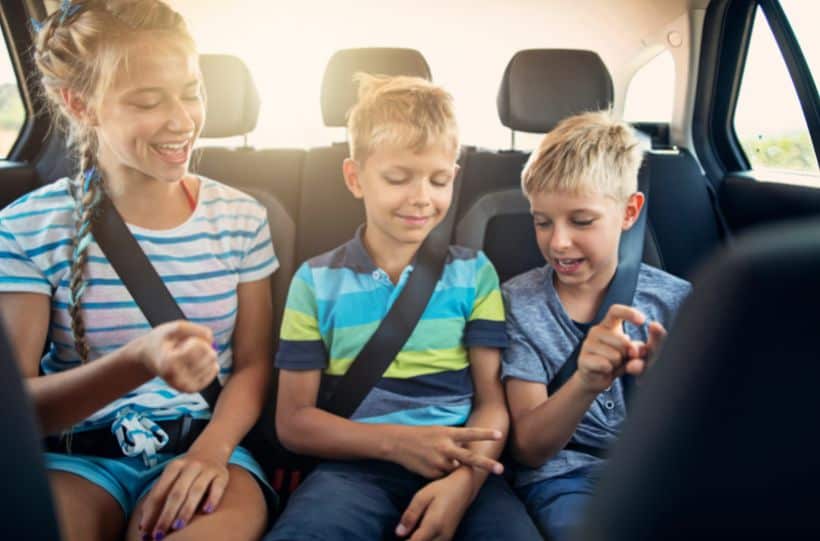 There you have it, everything you need to survive a road trip with kids! Enjoy this opportunity to spend time with your family and make sure that you take plenty of photos and videos along the way.
Kids grow up way too fast and you want to remember your road trip travel adventure with them forever!