17 Gluten-Free Lunch Ideas for Kids
By: Vickie | Updated: 18th November 2022
Here are 17 quick and easy gluten-free lunches for kids that they will love to eat! These simple recipes are great for lunch at home or at school!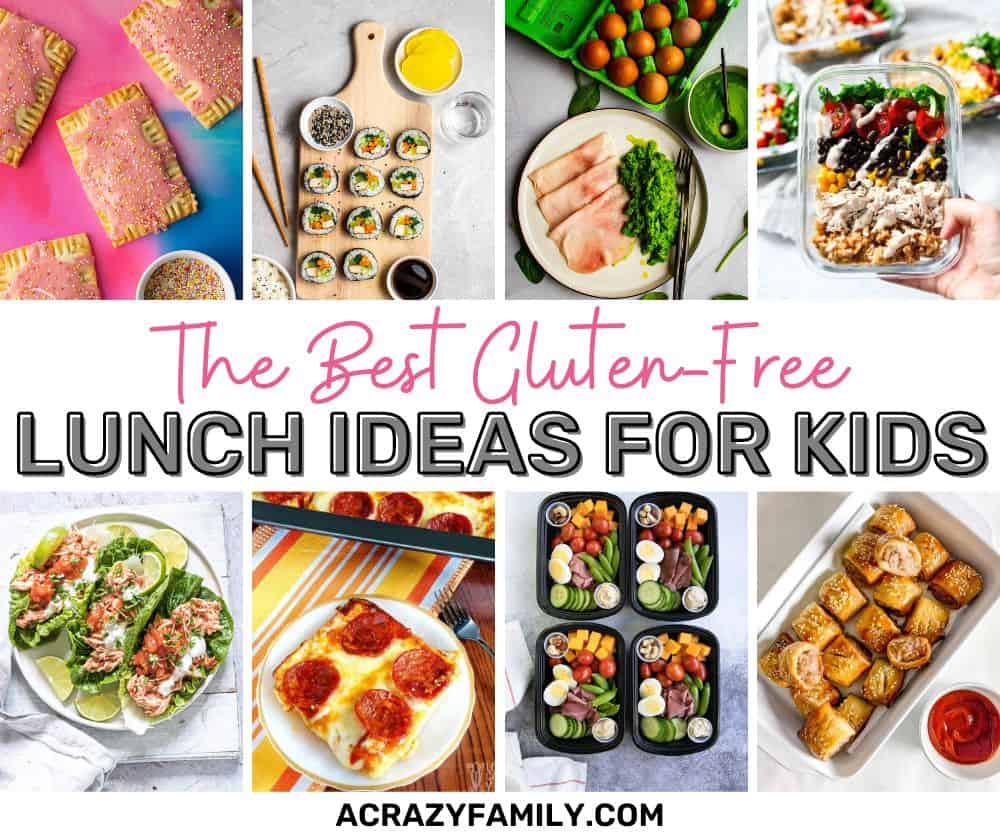 Do you struggle to come up with some gluten-free lunch ideas for kids? Perhaps your kids are especially picky, or they just can never seem to eat anything you give them.

Living a gluten-free lifestyle can be challenging, especially when it comes to feeding kids. But it doesn't have to be difficult! There are lots of great gluten-free lunch ideas that your kids will love.

Gluten-free meals do not have to be complicated. Many of the things kids typically want to eat are already gluten-free anyway! Use any of these 17 gluten-free lunch ideas for kids the next time you don't know what to make.
Need more gluten-free recipes that your family will enjoy?

Eight different gluten-free cinnamon roll recipes to satisfy your craving. Each one is different, so you can try them all out and see which ones you like best.

Try one of these 17 different gluten-free casserole recipes the next time you want a quick dinner, or need a side dish for a potluck.

Ready? Let's get started with the best gluten-free lunch ideas for kids!
The Best Gluten-Free Lunch Ideas for Kids
Here are some easy gluten-free recipes your kids will love to eat! These meals are great at home or at school. From sandwiches and wraps to salads and snacks, there is something for everyone.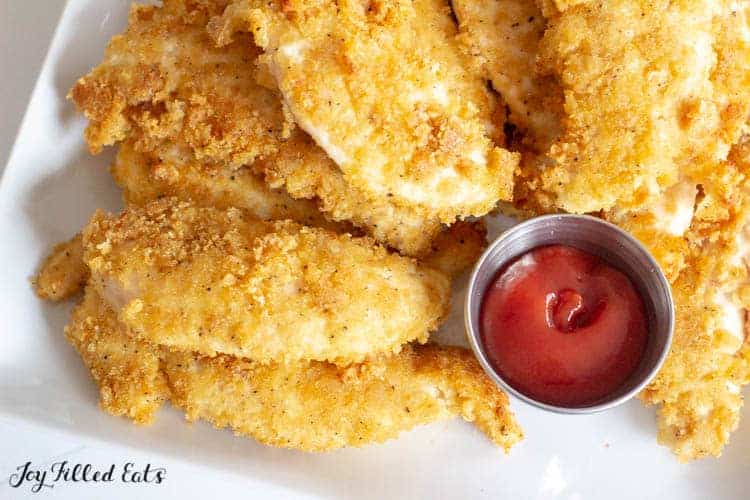 What is it about kids and chicken fingers? These gluten-free Baked Chicken Tenders from Joy Filled Eats are juicy, delicious, and more economical to make than the store-bought version.

Not only are these super delicious, but they are also gluten-free, grain-free, low-carb, and keto-friendly! Everyone in the house will love when you bake these chicken tenders.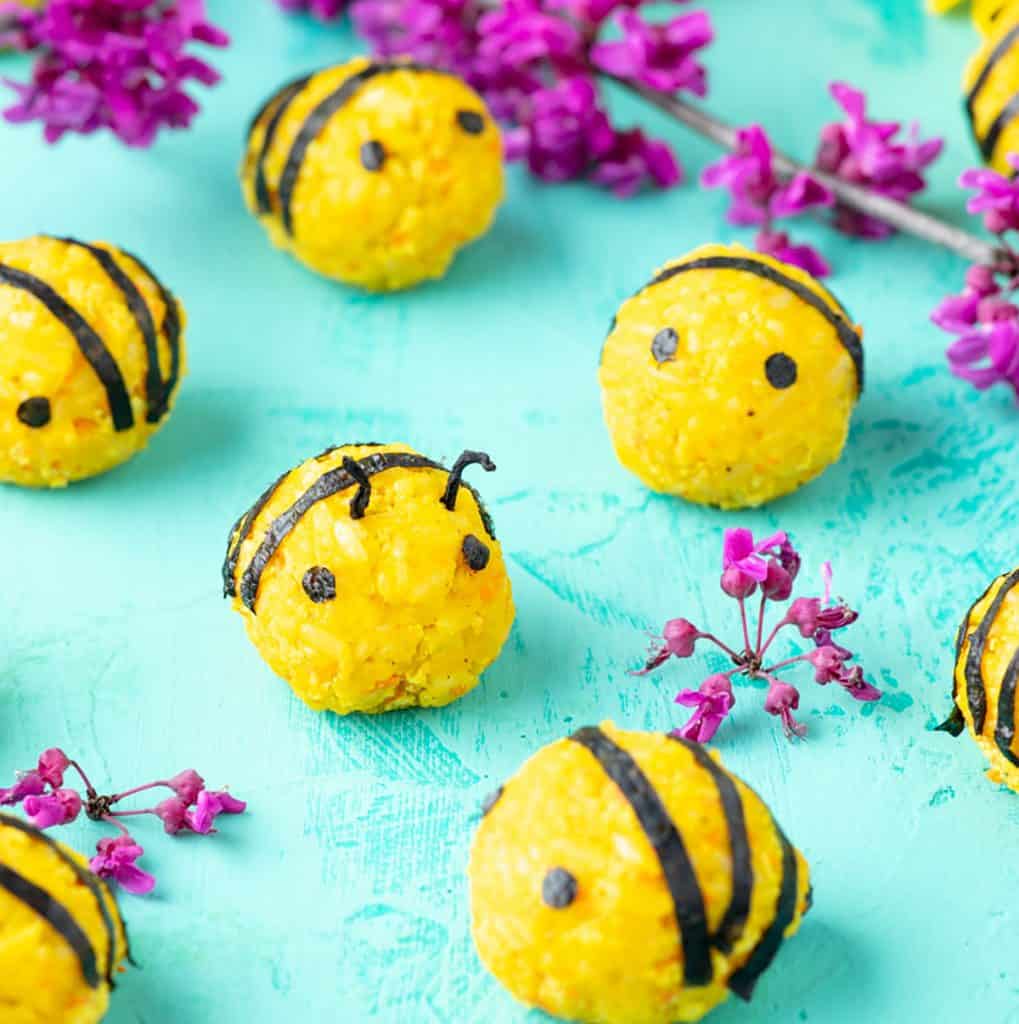 These gluten-free and vegan Korean rice balls (Jumeok-bap) from Vegan Dollhouse, are easy to make. They're an excellent lunch or snack and can be modified to your preference.

This recipe uses rice and vegetables to create a simple and fun lunch for kids. These are super easy to travel with and work great for packed school lunches!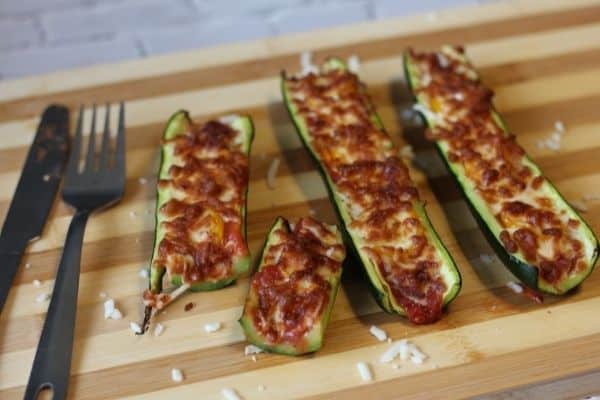 These gluten-free zucchini pizza boats from Easy Flavorful make a perfect lunch for kids. It takes less than 10 minutes to cook and holds really well when in a lunch box.

If your children struggle with eating vegetables, create these zucchini pizza boats! They will learn to love this tasty meal!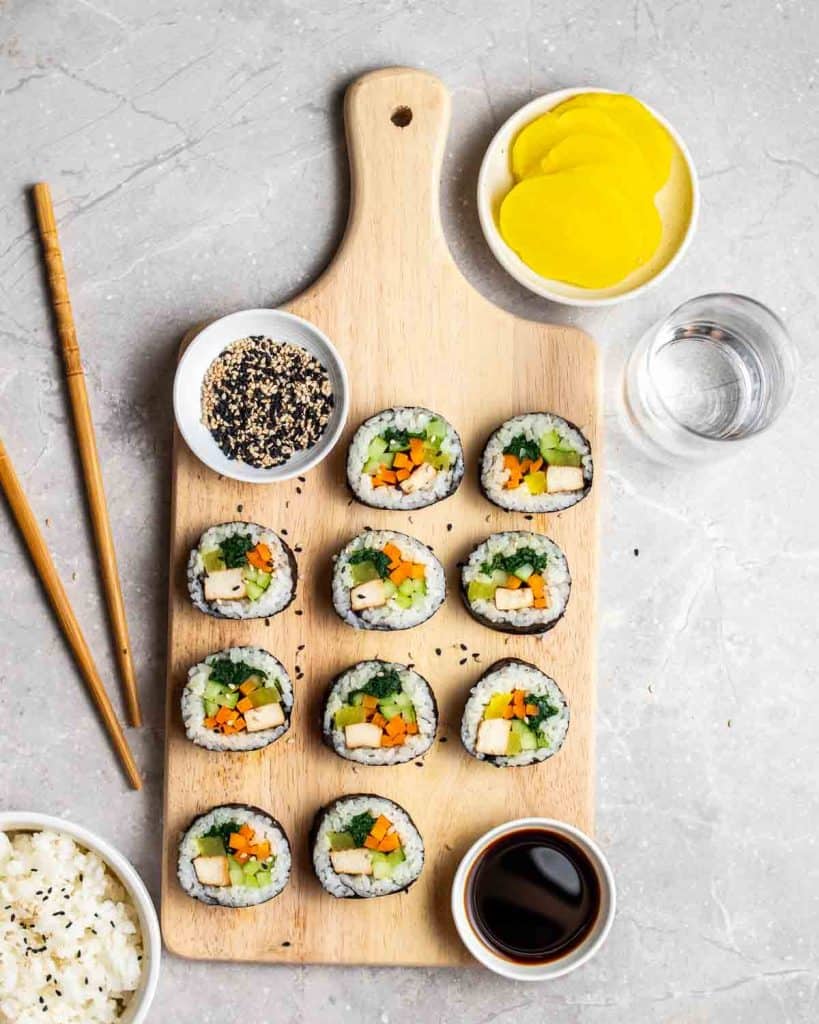 This vegan kimbap by My Plantiful Cooking is filled with crispy tofu and colorful veggies. A delicious lunchbox meal that even picky eaters will love!

Sushi is always a fun dish, but with this recipe, you use tofu instead of raw fish, making it healthier for young children. While it does take a bit longer to make, especially in the beginning, it is worth it!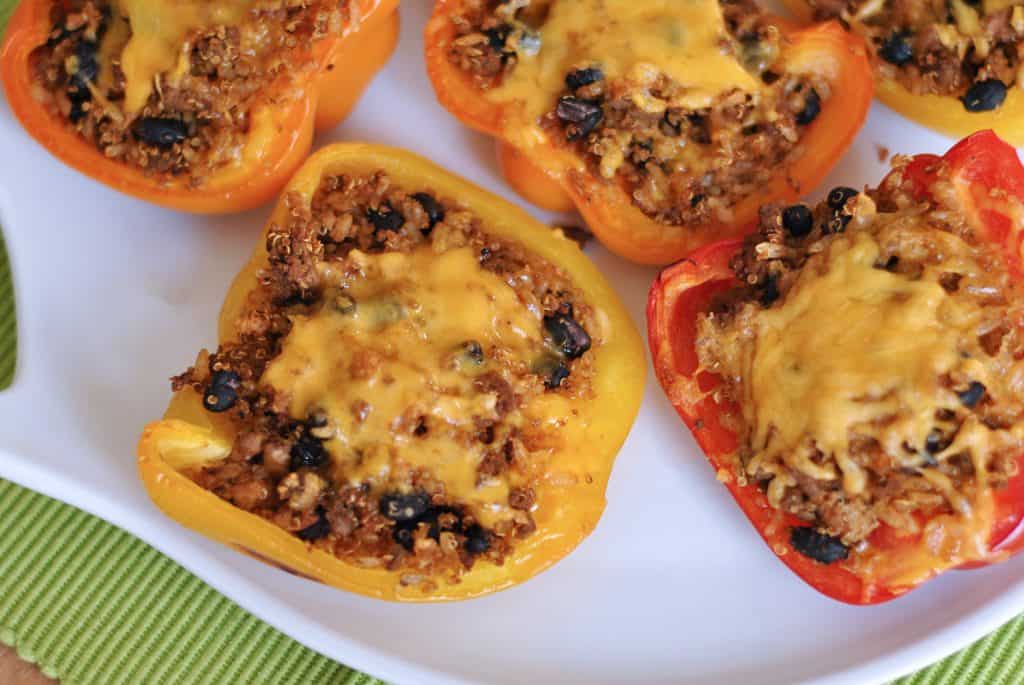 Stuffed peppers are naturally gluten-free and tasty hot or cold. Even better, you only need 15 minutes to prep them.

And these easy Healthy Stuffed Peppers from Clan Kitchen are filled with protein, including ground turkey, quinoa, and beans, and are great for a healthy lunch for your children. Have your children make them alongside you one day for a fun family activity.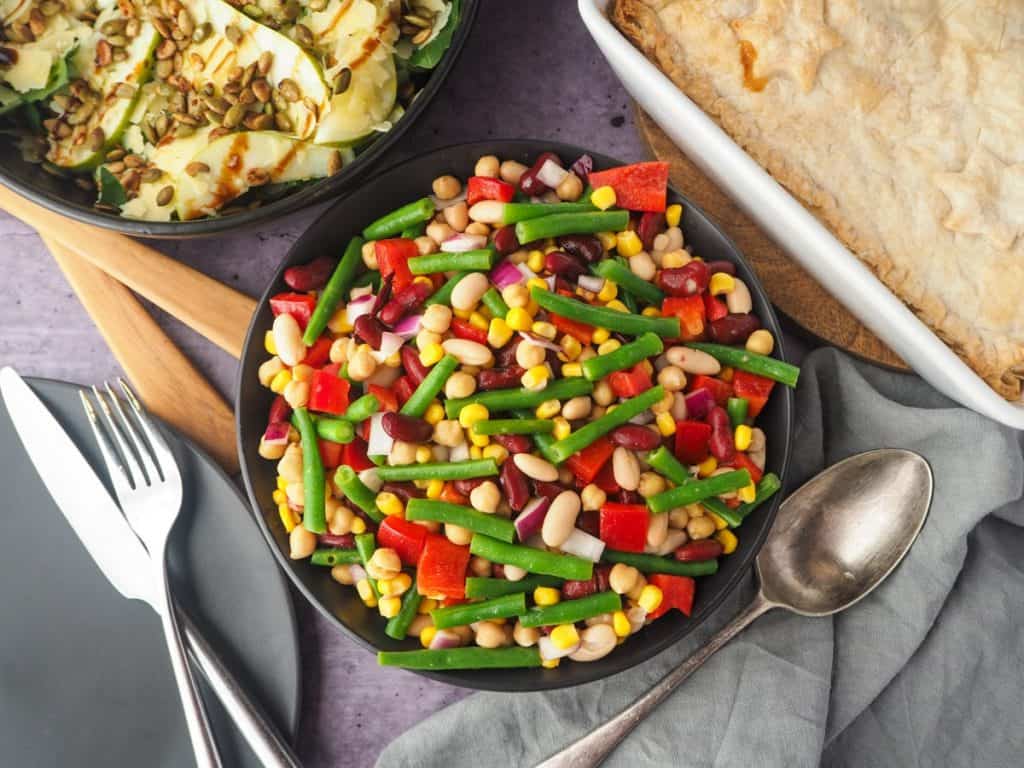 This quick and easy four-bean salad from Aussie Home Cook is simple and delicious. With a tangy vinaigrette, it's perfect for a nice and simple lunch for your kids.

A four-bean salad is a budget-friendly meal that won't take long to create. You can use this as a protein-filled sidedish or on its own for kids!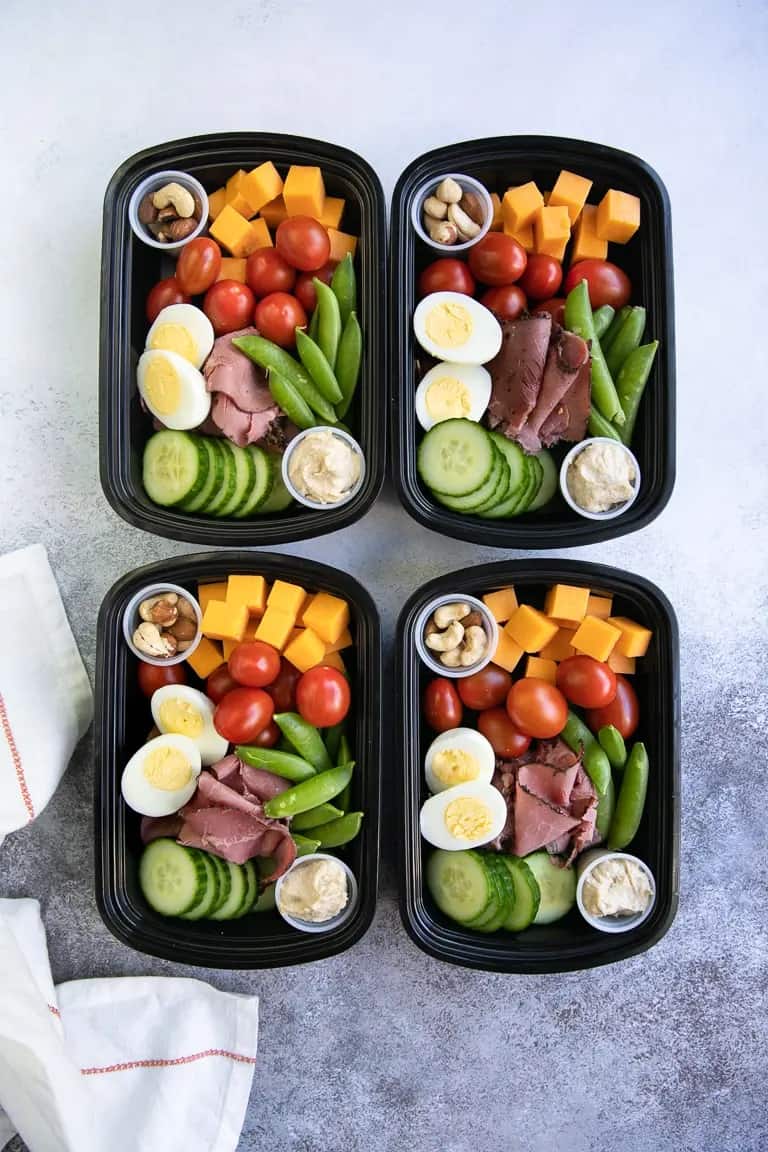 These snack packs are filled with hard-boiled eggs, almonds, hummus, and crunchy veggies. An easy and delicious lunchtime meal-prep solution perfect for any protein lover, these fantastic little protein snack packs from The Forked Spoon are perfect for school lunches for your kiddos.

Your kids can help you meal prep the night before with the snacks they want to eat for the next day. This will help teach your children about the importance of meal prepping and protein in their diet. It's a win-win!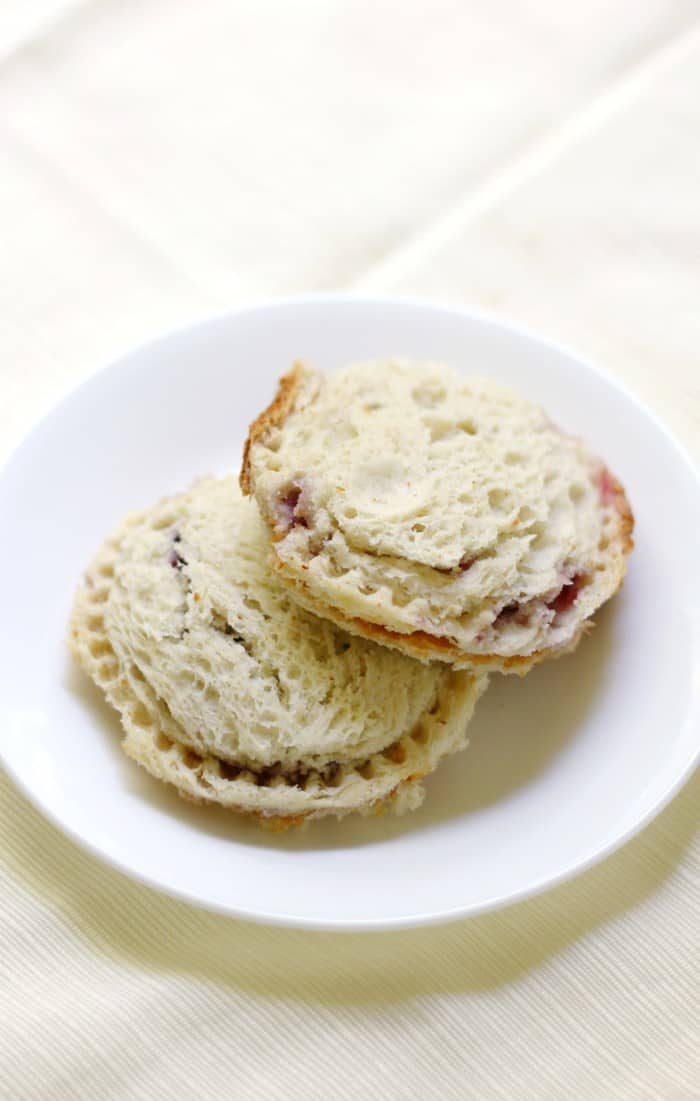 This is the perfect lunch idea for a picky eater. A school-friendly, top food allergy-friendly, vegan, and gluten-free version of the packaged "PBJ crustless pocket" sandwich! This recipe from Strength & Sunshine can be made ahead of time for a quick and easy lunch recipe, or snack for the entire school week!

For some reason, children love eating these over traditional sandwiches. It makes for the perfect quick gluten-free lunch when you are in a rush.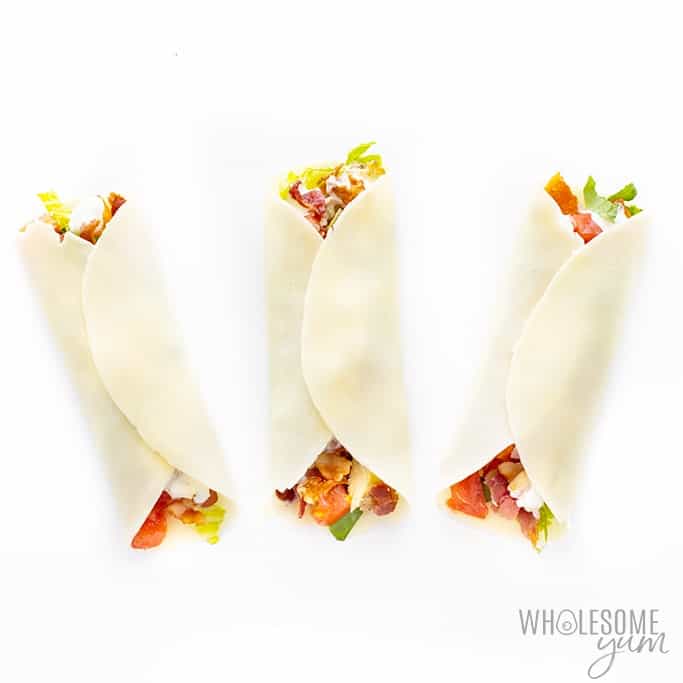 These keto cheese wraps from Wholesome Yum need just 6 ingredients and only take five minutes to make. It's the easiest gluten-free lunch idea for your child!

Not only are they super easy to make, but they are also absolutely delicious! Your kids will be asking for them all the time.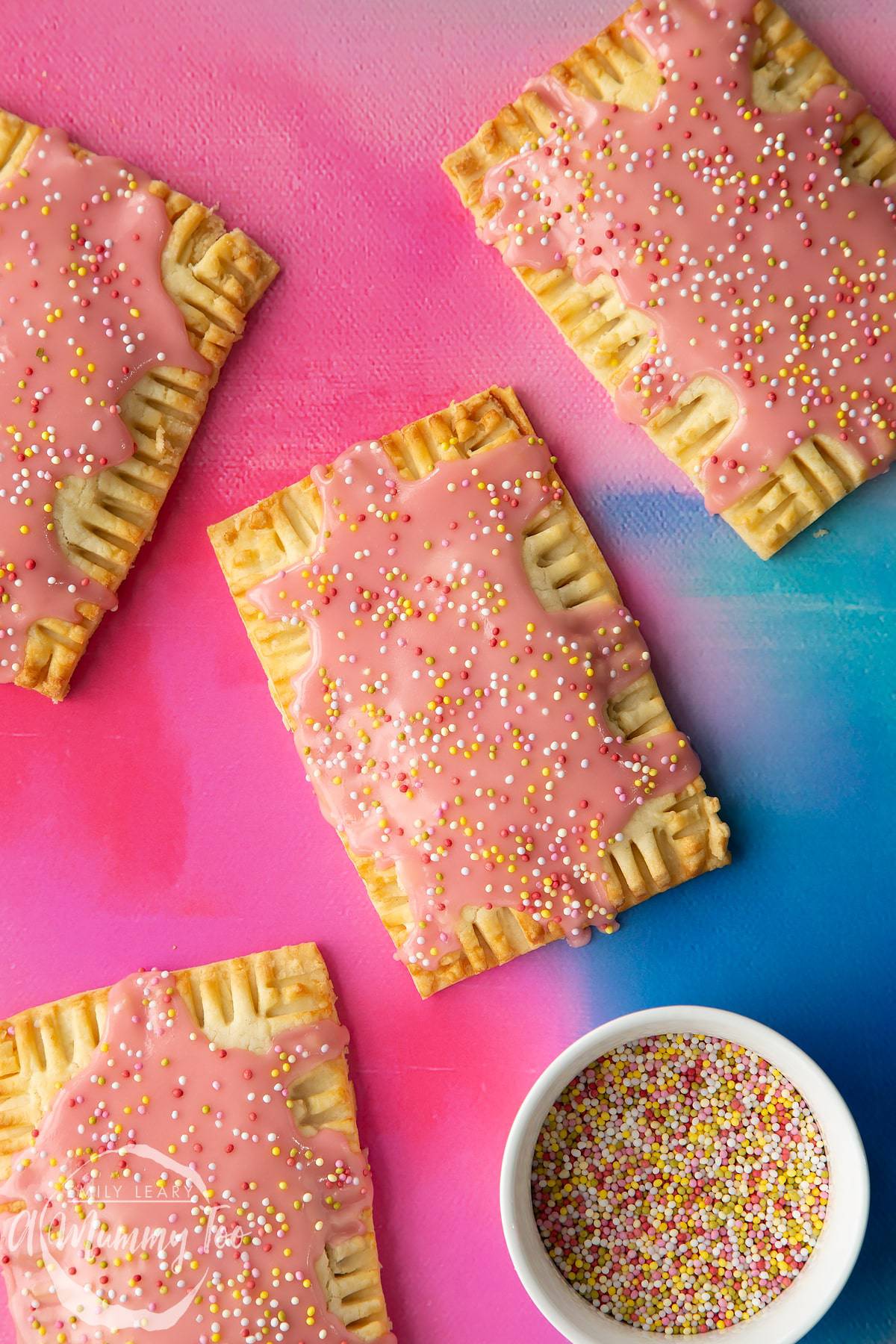 What kid doesn't love pop tarts? Create this fun snack from A Mummy Too to put into your child's lunch box one day to give them a nice, healthier surprise!

This is something you can make with your kids if you want for a fun baking activity in the morning. By the time they are iced and ready to eat, you'll have a delicious lunch all prepared!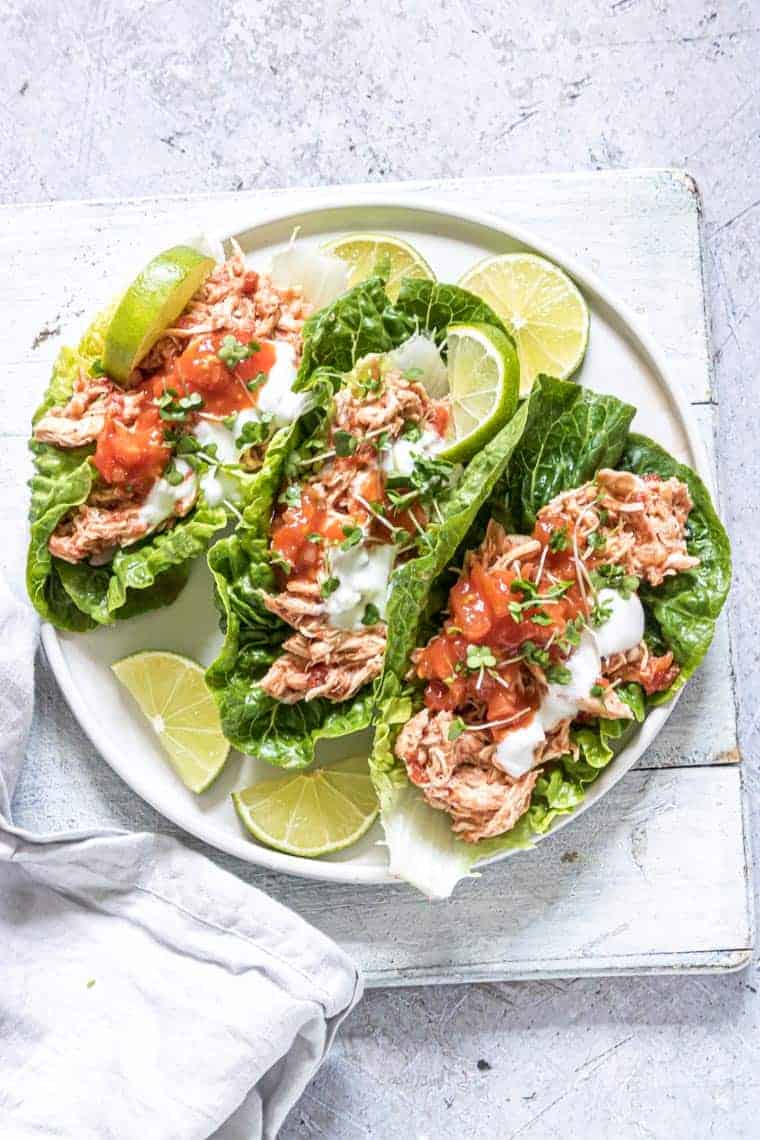 This is another super easy gluten-free lunch idea for your kids that won't take you much time at all. Try this healthy salsa chicken lettuce wrap one day and see what your child thinks!

You will probably already have all the ingredients in your home for this simple recipe from Recipes from a Pantry. Whip it up next time you have a busy day for a quick gluten-free lunch that is tasty and healthy for your children.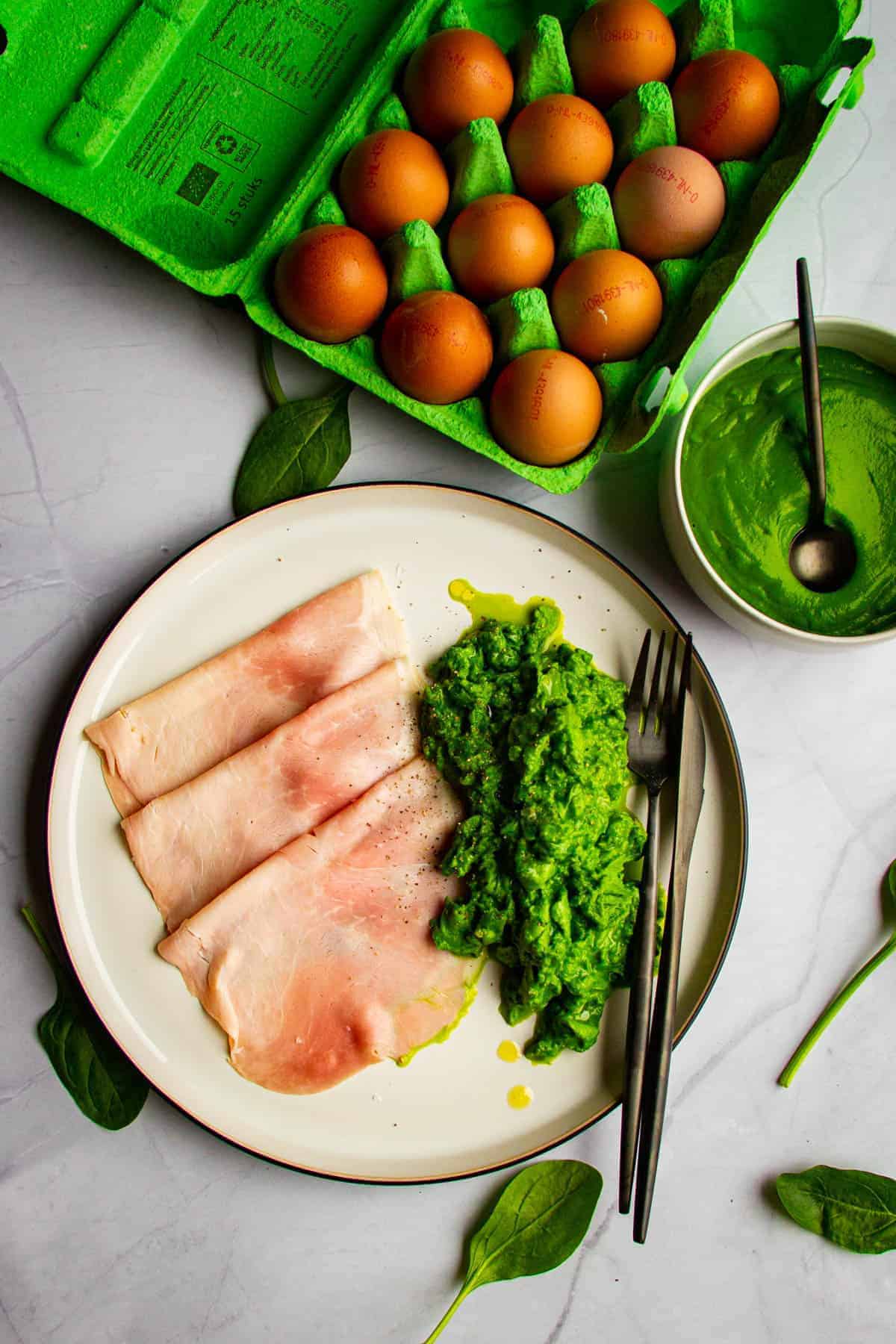 It's green eggs and ham! Perfect for kids that love the Dr. Seuss classic and totally gluten-free.

Try this recipe from Braised & Deglazed out on green eggs and ham day, or just for fun whenever you want. It works great for homeschooled families to read and eat at the same time!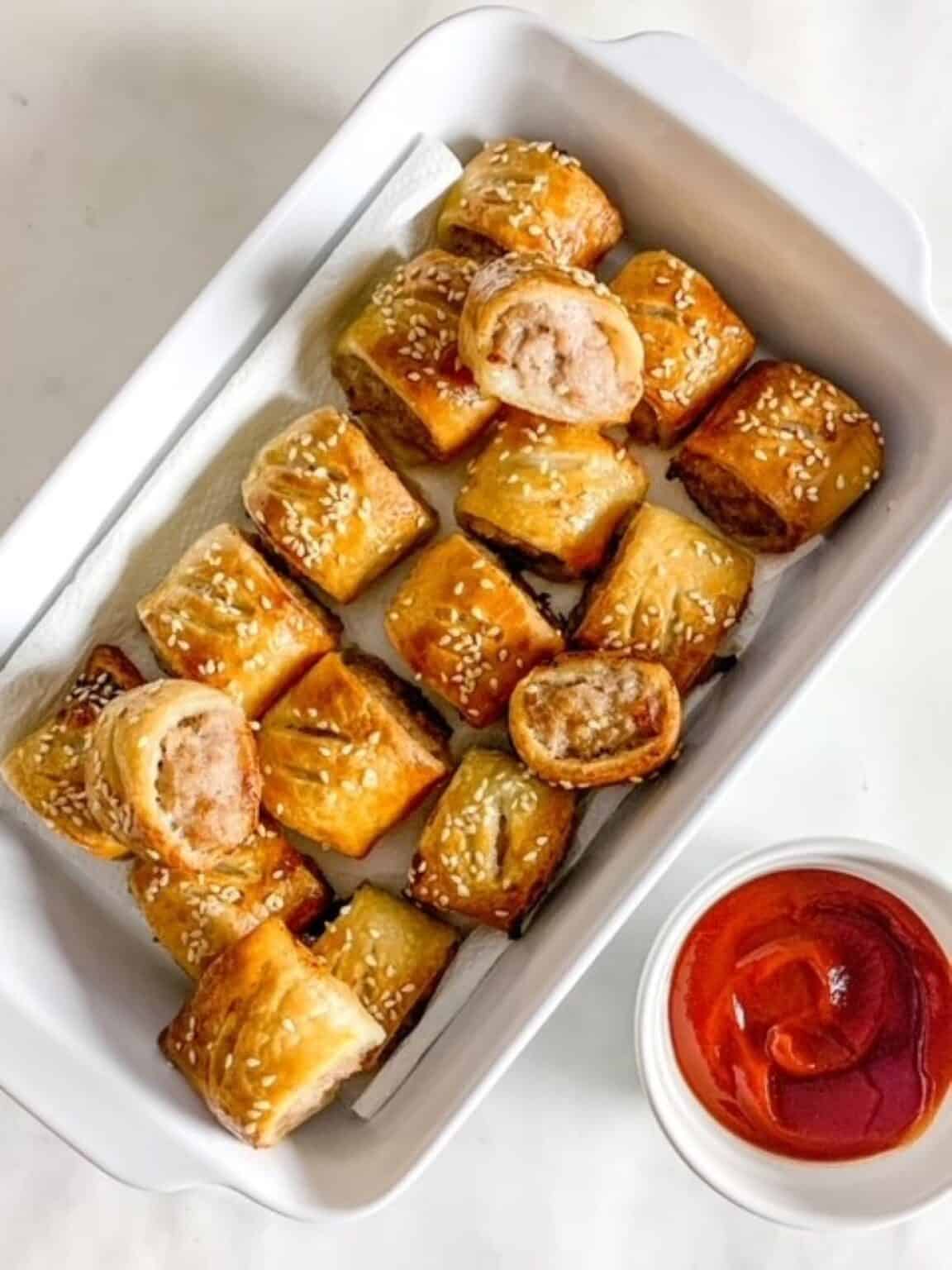 These gluten-free sausage rolls from Gluten-Free Tranquility are made with puff pastry. It is an easy recipe and can be made in advance to be eaten hot or cold.

Sausage rolls are perfect for packing in your child's lunch box one school day. Whether they cool down or stay warm, your child will love them!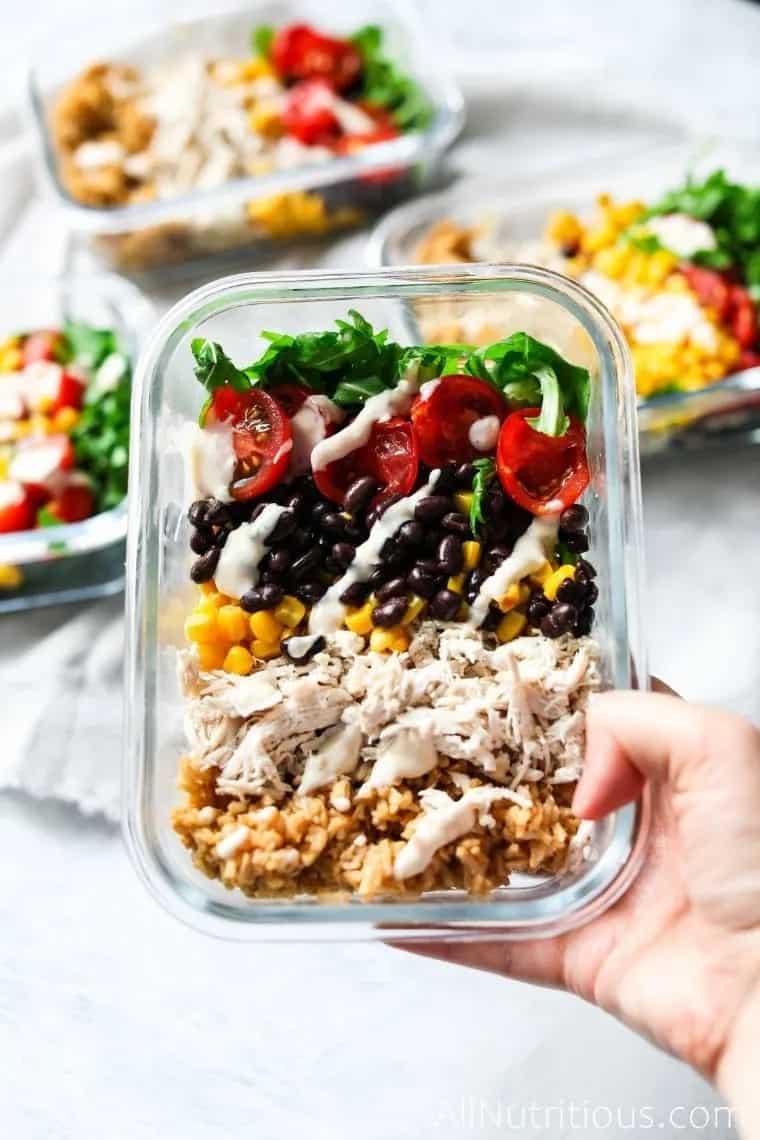 These healthy chicken burrito bowls from All Nutritious are delicious, kid-friendly, and so yummy! They are full of nutrition and refreshing flavors.

Before school, have out all the ingredients on the counter, and your kids can create their own burrito bowl! They will love the independent activity, and it won't require much preparation or time at all!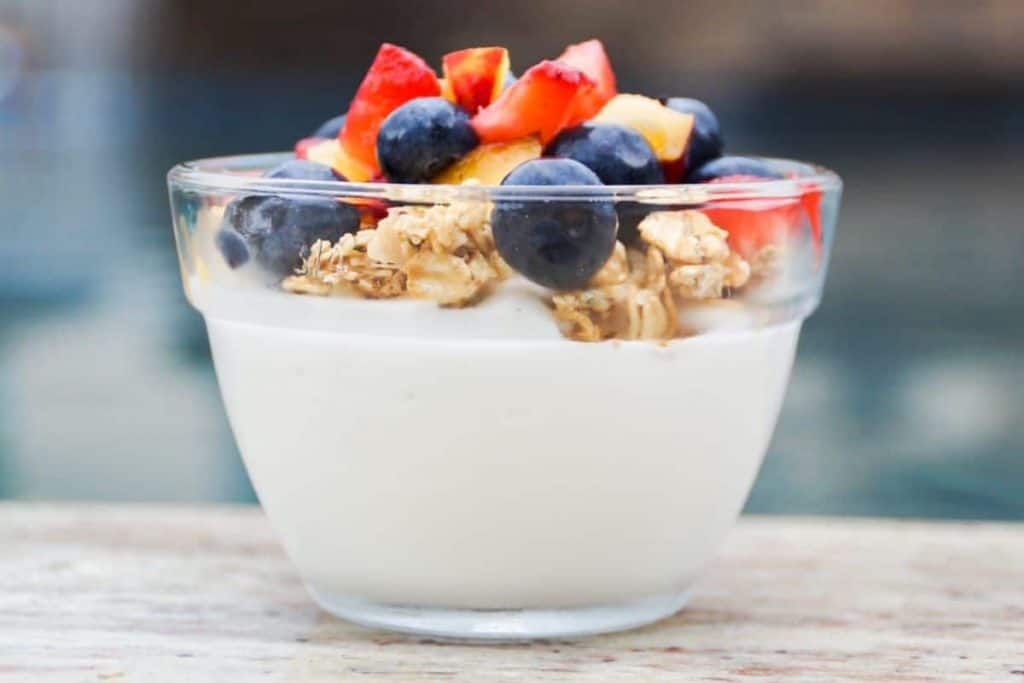 These refreshing fruit and yogurt parfait for kids from Carrots & Cookies are easy, delicious, and nutritious! They make an excellent gluten-free lunch option, whether eating at home or taking it to go.

Your child will love having a fruit parfait every now and then as a special lunch. Prepare the night before, so the fruit is settled and perfect for the next day!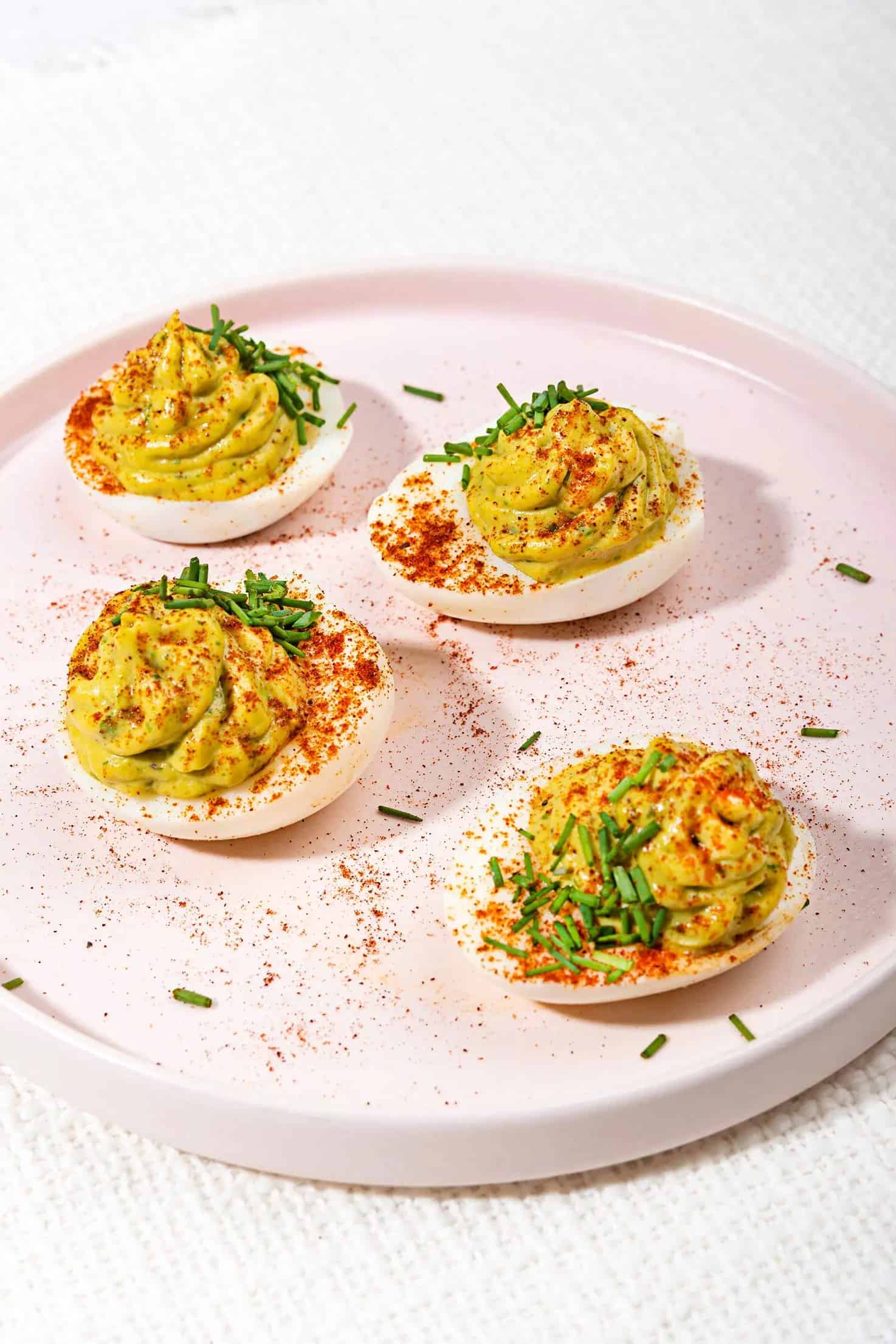 Make these delicious avocado-deviled eggs by Hurry The Food Up for your children for a super easy, healthy lunch! It is a nice and simple yet protein-packed lunch your kids will want over and over again!

Adding avocados to the traditional deviled eggs recipe will help give your child protein and nutrients. These work great for picky eaters!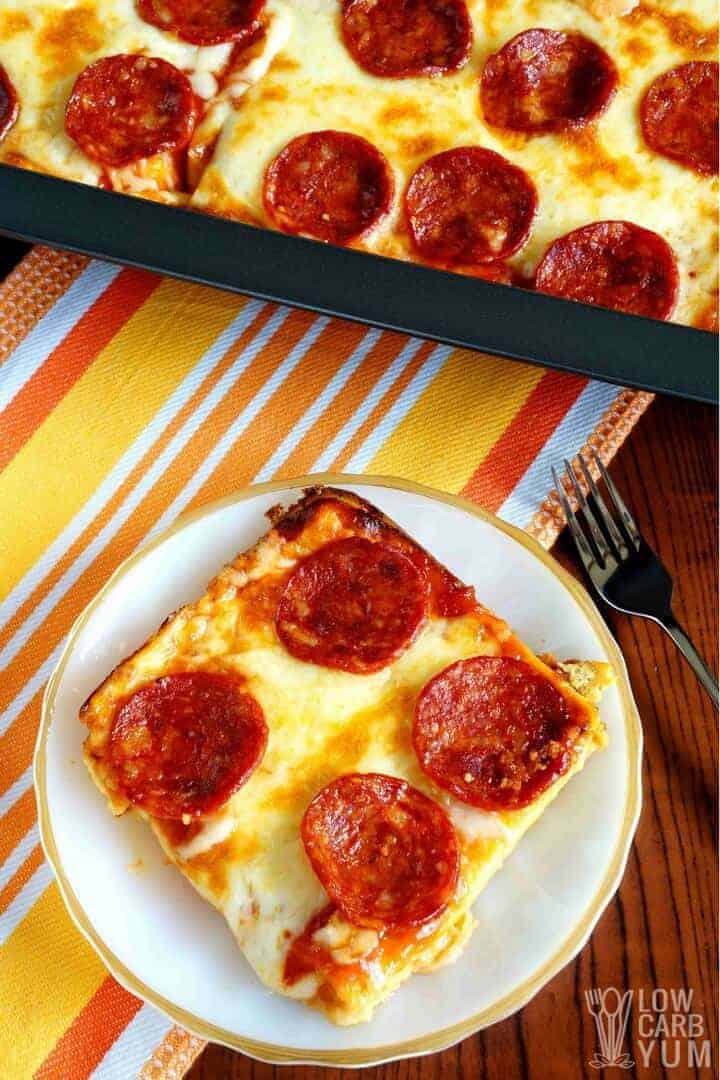 This delicious pizza casserole from Low Carb Yum will be another favorite for your kids. The gluten-free crust uses a simple mix of eggs, cheese, and cream; no special ingredients are needed!

Most children love pizza and want it all the time. With this gluten-free pizza casserole recipe, they can enjoy this delicious meal at home or at school and still stay healthy!