Screen-Free Summer Activities
By: Vickie | Updated: 8th April 2023
There's no need to rely on screens this summer! Here are 11 fun screen-free summer activities that will keep your kids entertained without a television, phone, or computer. From playing in the backyard to going on a bike ride, there's something for everyone here.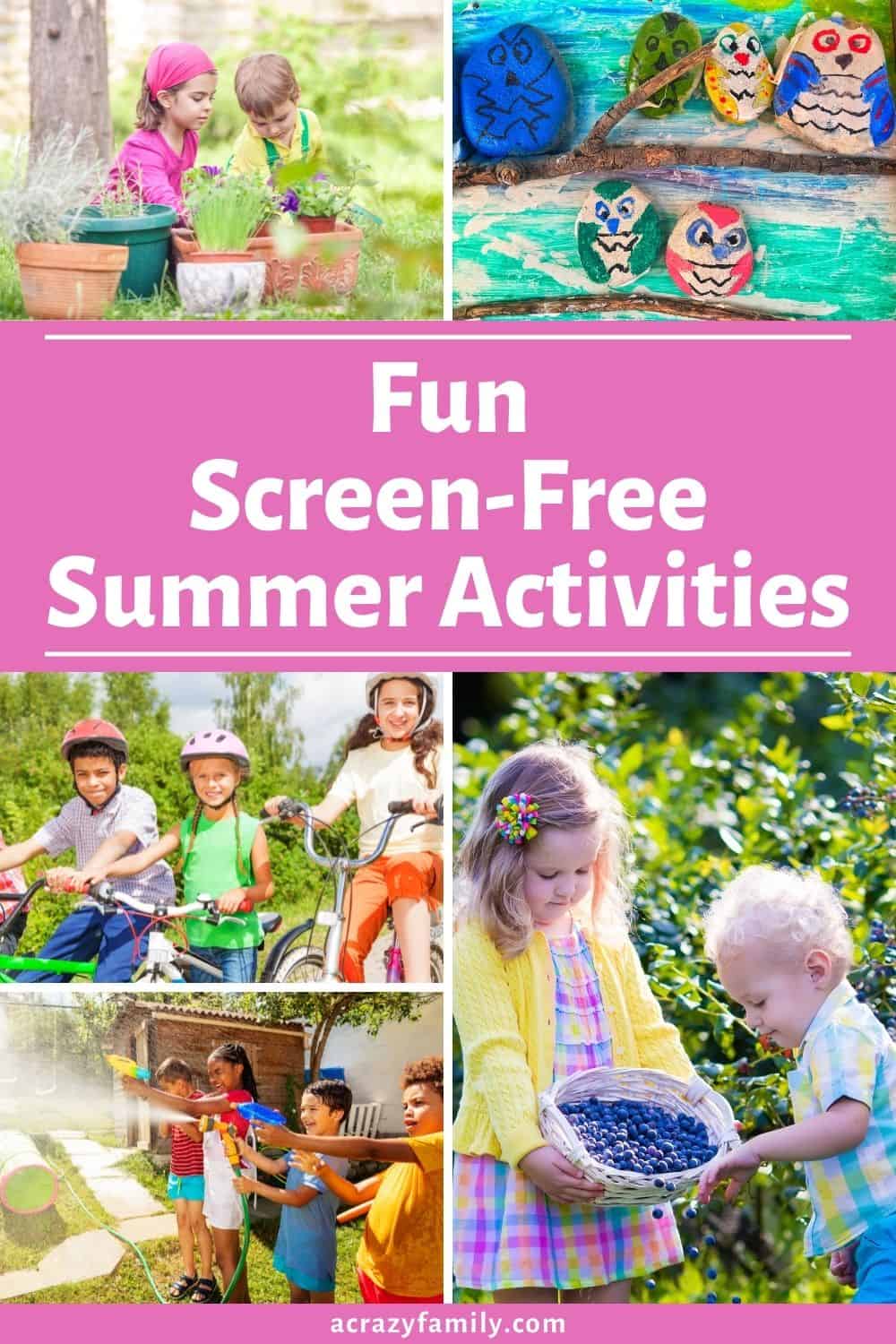 School's out for the summer, and chances are you don't want your kids to spend all of those long summer days staring at a screen.

Fortunately, there are lots of amazing summer activities that don't require a screen at all.

Pull out some of these fun screen-free summer activities for your kids to try, and chances are they might just ask to do some of them again and again.
Looking for more fun ideas to entertain kids this summer?

Keep kids busy this summer with these fun Summer Boredom Busters that will keep their minds active and engaged. And here's a fun and handy list of 15 things to do on a rainy summer day so your kids don't drive you insane!
fun screen-free summer activities
Start a Garden
With the price of fruits and vegetables (and everything else) going up these days, learning how to grow a garden is a valuable skill.
If you have the space in your yard, consider allocating some of it to a summer garden where you and your kids can grow tomatoes, squash, bell peppers, strawberries, and whatever other fruits and vegetables you enjoy eating. You can save at the grocery store and see the results of your hard work.
Berry picking
Depending on where you live, the summertime is the perfect time to head out with a bucket and go berry picking. If there is a berry farm (or several) in your area, you may have the opportunity to pick strawberries, blueberries, raspberries, and even peaches.
Instead of picking a bushel of already-picked fruit at these farms, let your kids enjoy a day of picking out some delicious fresh fruit. Once you get home with your fruit, you can freeze it, make treats with it, prepare it for jelly or jam, or simply eat it and share it with family and friends.
Bike Riding
If your family enjoys getting outdoors and being active together, a family cycling excursion can be a lot of fun.
While you have more daylight and more time on your hands, see if you can't discover some new bike trails that you haven't been down before or visit a park with trails in an area of the community you haven't been to before.
Paint Rocks and Hide them Around Town
If your children enjoy arts and crafts activities, then finding and painting rocks can be a great screen-free way to spend some of their time. They can paint pictures on the rocks or inspirational sayings to brighten the day of whoever finds them.
You can check on community Facebook pages and see if there is a painted rocks group in your town. These groups often keep track of rocks that have been found and offer good locations for them to be discovered by passersby. It can be a real treat for kids to see that the rock they painted has been found!
Splash Park or Community Pool
Heading to a local splash park or community pool is a great screen-free way for your kids to cool off and burn off some excess energy. Splash parks and community pools can be a great place to hang out with school friends or even meet some new ones, and they are usually fairly inexpensive.
Giant Family Coloring Page
Have the whole family get creative together by working on a giant family coloring page throughout the summer.
You can hang the page in a central location of your home with some markers nearby and have the whole family get in on the action. Once your project is complete, you could even frame it and hang it in the family room.
Water Gun/Balloon Fight
It's hot outside, so why not help your kids curb any boredom by letting them have a water gun or water balloon fight outside? It's a fun and refreshing way to cool off, and you are unlikely to hear, "Mom, I'm bored" while they are in the middle of a water gun/balloon fight.
You can pick up some balloons and water guns at your local dollar store if you don't already have some, and the kids can have an epic water battle.
Make sure to leave some towels (in a dry area) before the fight begins, where the kids can dry off before tracking wet grass and mud through your house.
Decorate Lunch Bags for Meals on Wheels
If you are looking for a way to keep your kids busy for a while without being attached to their screens, have them decorate some lunch sacks for Meals on Wheels. All you need are some paper lunch bags, markers or crayons, and maybe some stickers.
How much better will those meals taste if they come in a hand-crafted bag instead of a boring plain one? If Meals on Wheels doesn't operate in your area, you can see if local soup kitchens or even the school lunch program for the summer will accept your decorated bags.
Complete a Lego Challenge
Are you looking for a fun screen-free activity that the whole family can participate in together? Then why not have everyone participate in a Lego challenge at home? You can print Lego challenge ideas that you find online or simply create your own.
The Lego challenge requires you to use Legos to create something like a meal, a castle, or a car using only Legos! It's a great way to get young imaginations flowing and keep those hands and eyes busy…away from the screen.
Volunteer in the Community
The summertime is a great time to look for opportunities to volunteer in your community. This could be something like participating in a stream clean-up day, helping in a community garden, or volunteering to help at a local shelter or food pantry.
Kids are never too young to start teaching them the importance of giving back to their community and helping those who are less fortunate than themselves.
Paper Plane Contest
If you have some scrap paper lying around, then you have everything you need for the kids to set up a paper plane contest. See who can create the most elaborate paper airplane and whose plane flies the fastest or the farthest.
If your kids really enjoy activities like this one, you might consider getting a book about paper crafts to see what other amazing things they can create.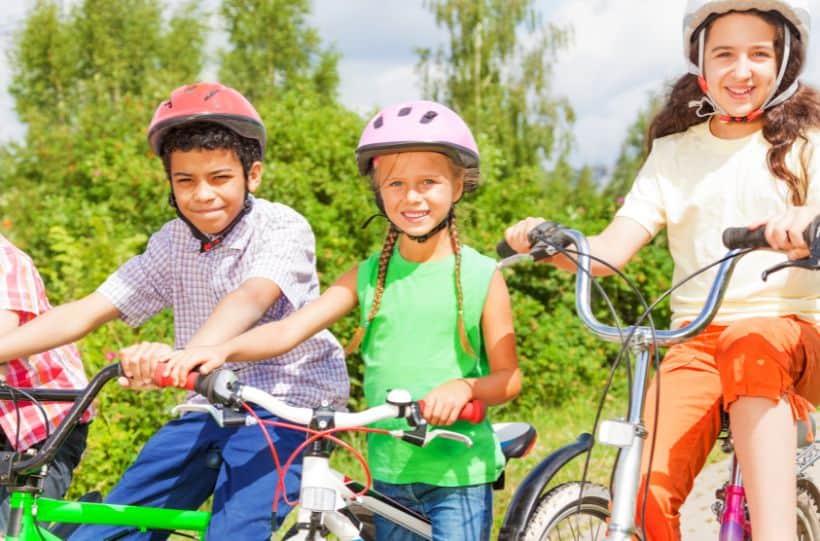 Inevitably, your child will likely spend some of their summer vacation playing video games, on their tablet, or watching television. However, this list of activities should help to show them that they can have fun, even if for short periods of time, without being attached to a screen.
What are some of your kid's favorite screen-free activities?