10 Easy Ways To Create More Interesting Soup Recipes In Fall & Winter
By: Pages, Places and Plates | Updated: 13th April 2023
It's soup season! Soup is one of my favourite things about this time of year – it's so cosy and warming on a miserable day. I eat loads of soup over autumn and winter so one challenge is to keep the variety going.
As great as it is, you don't want to eat the same recipe every day for half a year!
Thankfully, there are some really good ways to make interesting soup recipes and keep the appeal over the colder months. Here are my top 10 tips for making original and tasty soup dishes.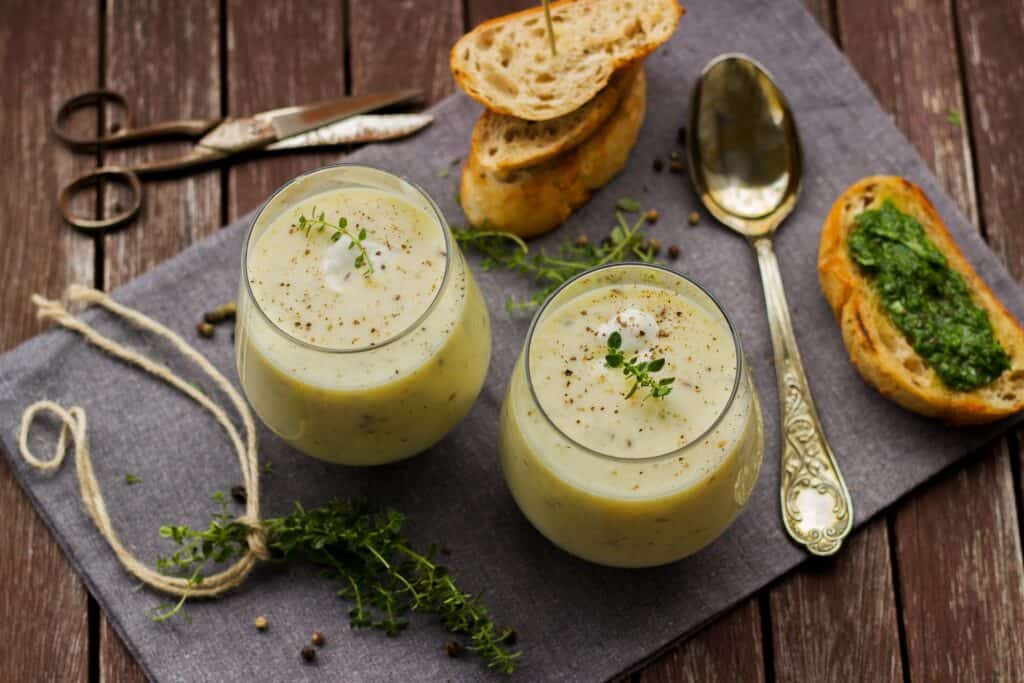 Use homemade stock
Stock is pretty much an essential when it comes to soup. I go through so many Oxo cubes during autumn and winter! As tasty as those convenient little cubes are, they're not actually as flavoursome as you would think.
To really enhance the flavour of your soup recipes, consider using homemade stock instead. It brings a much deeper and balanced flavour to soup, plus it's not really much effort.
Simply boil whatever vegetables and other leftovers you have in water and strain once done. Vegetable cut-offs, meat bones, leftover herbs… You can throw in whatever you like!
Add your favourite spices
I love a good spicy soup, and adding spice to a standard recipe can really help mix it up. One of my favourites is this spicy potato soup by Gary Rhodes – it's the easiest and cheapest soup ever, but that spiciness gives it something extra.
You can really use any spices in your soups, depending on what type it is. Curry powder and other Indian spices are great, but Thai fragrances are beautiful too.
You could add sweeter spices like cinnamon for a Moroccan twist, or perhaps jerk seasoning for something really spicy. Those spices will make your soups extra warming, so perfect for the coldest time of year.
Add cheese rinds
Believe it or not, leftover cheese rinds are a game-changer when it comes to interesting soup recipes. You don't eat them, but rather you place them in the soup as it's simmering away to enhance flavour. You can use many different rinds, but Parmesan is one that's often recommended.
It's perfectly fine to use either fresh or frozen rinds for this. All you need to do is wash the rinds and then add them to the soup mixture once it's ready to simmer. Remember to take them out at the end though!
Mix up how you blend it
How do you finish your soup? I tend to fully blend mine with a dash of cream at the end as I love a thick, hearty soup.
However, you can vary this – some soups, like Minestrone, work best with no blending whatsoever. Or you can slightly blend – enough to thicken it slightly but not remove any vegetable/meat chunks.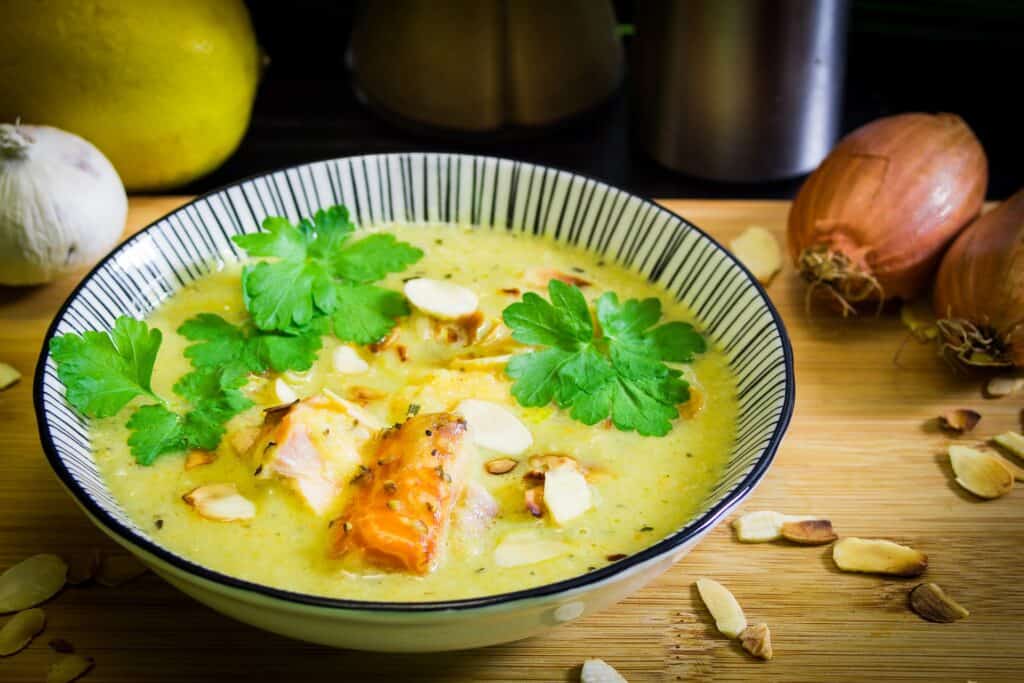 Thicken with a non-dairy option
Dairy like cream or milk is great in soup, but adding a non-dairy option instead can add something a little different. Non-dairy milks and creams, for example, can make the soup healthier. That's totally justification for eating even more!
Other substitutes, like coconut milk (great with Asian flavours) and even soaked cashew nuts work just as well at making soup thick and creamy whilst also giving it an edge.
Add pasta or grains
Meat and vegetables are usually the main events when it comes to soup. But why stop there? Carbohydrates like pasta and grains make an excellent soup recipe feature. Croutons are a popular one, which can be bought or made at home. Pasta and orzo are also lovely in soup – Minestrone is one example, but they can really be added to anything.
Another good one is rice, which can be blended with the rest of the soup at the end to make the soup thicker.
Or you can even try less common grains such as quinoa or barley. Some of the most interesting soup recipes contain more unusual ingredients so get creative!
Mix in some pulses
Lentils, chickpeas, beans… These are all wonderful in soup. You'll find lots of vegan soups including these and for a good reason – they're super high in protein and make an excellent meat replacement.
Like with vegetables, they can be blended or left as they are.
I'll often add a can of beans into a vegetable soup just to make it a bit different. Butter beans are one of my favourites, but you can really use any beans you like!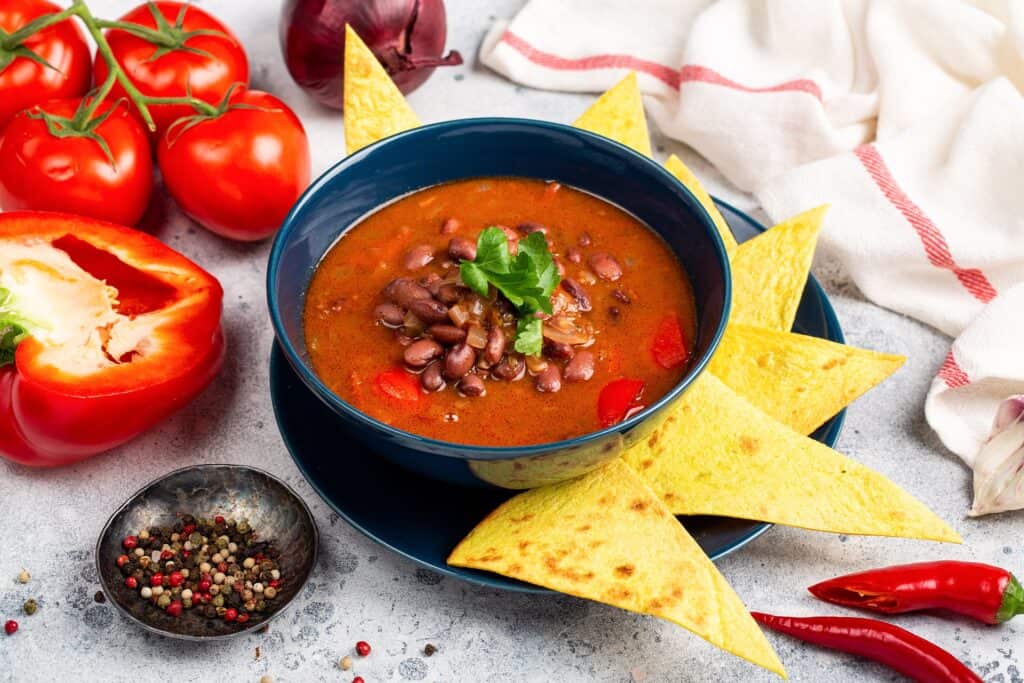 Add a dash of something acidic
When was the last time you really experimented with flavour in a soup recipe? It's easy to get hung up on the standard options – creamy, meaty, or a bit spicy. Acidic flavours really lend something to many soup recipes though.
There are lots of acidic flavours you can add to create really interesting soup recipes.
Lemon and lime are really good for Asian or spicy soups. Wine, balsamic vinegar, and red or white wine vinegar go perfectly with soups that contain meat. Experiment with it – you might just discover the perfect combination.
Use fruit as well as vegetables
Hear me out – I'm not suggesting you throw a load of grapes or banana slices into your soups! Fruit can actually make a great addition to soup.
Remember that tomatoes, one of the most popular soup flavours, are fruit!
Aside from tomatoes, there are a few great ones to use… Apple, for example, works perfectly with parsnip. Orange really complements carrot. And pears can add a lovely sweetness to a butternut squash soup.
Top it off with a garnish
And finally, remember that the garnish can really make the meal. Don't just serve some crusty rolls on the side and be done with it – finish off your soup with an extra burst of flavour.
Croutons, mentioned previously, can be a good finishing touch, as can fresh herbs sprinkled on top. You could add a dash of cream like they do in restaurants, or a sprinkling of nuts and seeds. Even grated cheese works great with some recipes.
Garnishes add a nice twist plus they make soup look that much prettier – perfect for your next Instagram post!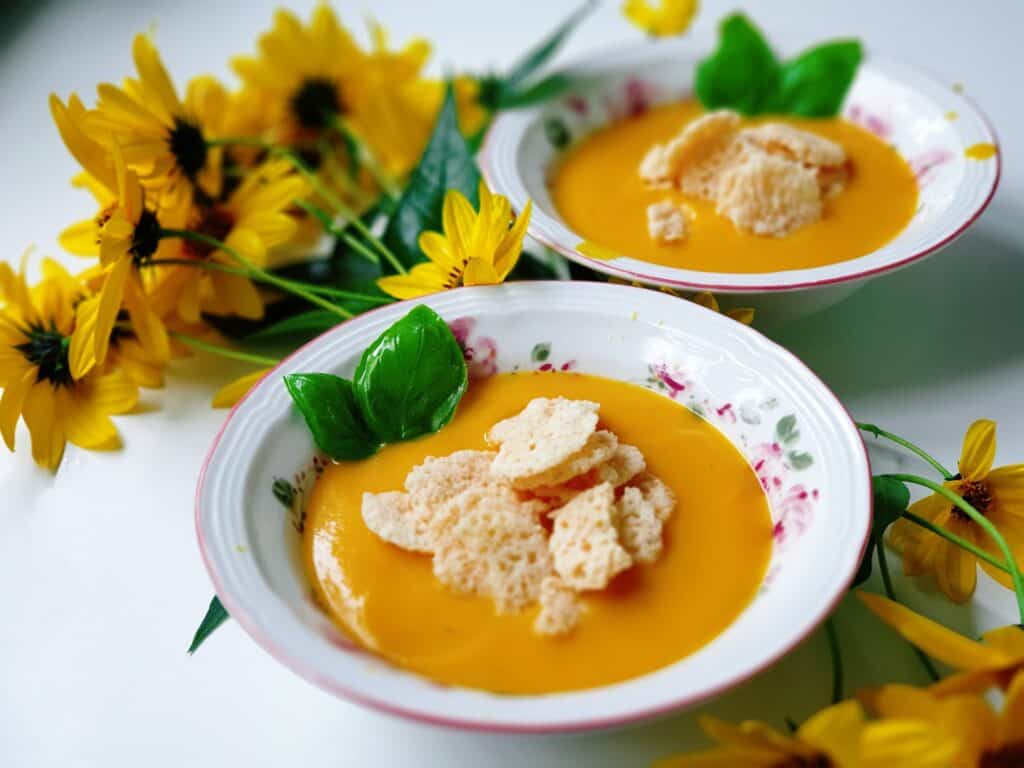 What are the most interesting soup recipes you've tried before? Share below, and don't forget to like and pin if you enjoyed this article! Now you know how to add some excitement to your soups, you'll want to check out these healthy soups that even the kids will love.