15 Awesome Hacks To Level Up Your Slow-Cooking Game
This post may contain Affiliate Links. Please read our Disclosure Policy for more information.
You can just set it and forget it, but these hacks are going to take your crockpot skills to another level.
The weather has been warming up recently and made me think of summer. I definitely appreciate my slow cooker in the summer months, I mean who wants to slave over the stove for dinner when it's hot out (not me). Plus it won't make the entire kitchen hot, so you can still enjoy hot food without heating up the whole house.
And the second reason I love my slow cooker is that you can set it up in the morning and have a hot meal waiting for you when you get home at night. Lifesaver.
Heres my tips on getting to grips with using your slow cooker and some brilliant cooking hacks and tricks to perfect slow-cooked meals every time.
Getting Started
If you already have a slow cooker, try to find the instructions that go with it. Read it from cover to cover. Make sure you know the capacity of the cooker – that is, how many cups it holds.
If you are in the market for one, read the reviews online. Check the capacity. If you have a large family, buy the largest one. Also, consider buying the largest one if you would like to batch cook make-and-freeze meals. Eat one meal fresh and pack up the rest into the freezer, so you will always have healthy homemade food on hand.
Finding a Place to Put It
Some slow cookers can be really large. If you don't have a lot of counter space, consider putting it in an accessible corner or in the dining room. If you have to haul it in and out of the cabinet all the time, chances are you're not going to get as much use out of it as you could.
15 Cooking Hacks To Level Up Your Slow-Cooking Game
These slow-cooker hacks are a must if you want to save time, clean up faster, and make your food taste absolutely amazing.

1. Don't open the lid once you have started the cooking process
Unless you're adding ingredients or the directions call for you to give your food a quick stir, avoid lifting the lid.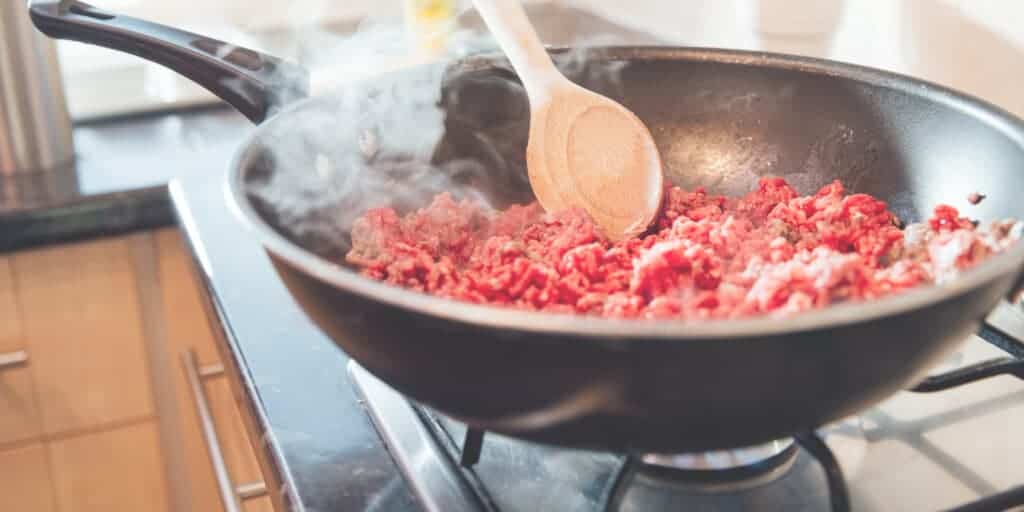 2. Always brown your meat before cooking in the slow cooker
This seals in flavor. Don't discard the bits in the bottom of the pan. Add a splash of red wine, stir and scrape to loosen, and add to the slow cooker.
3. Get rid of stubborn stains easily with white vinegar + baking soda.
Instructions here.
4. Eliminate Clean Up
Use a liner while cooking and save yourself all that scrubbing later.
Shop it here
.

5. Learn how to convert your favorite oven recipes for the slow cooker.
Get more info from Planning with Kids.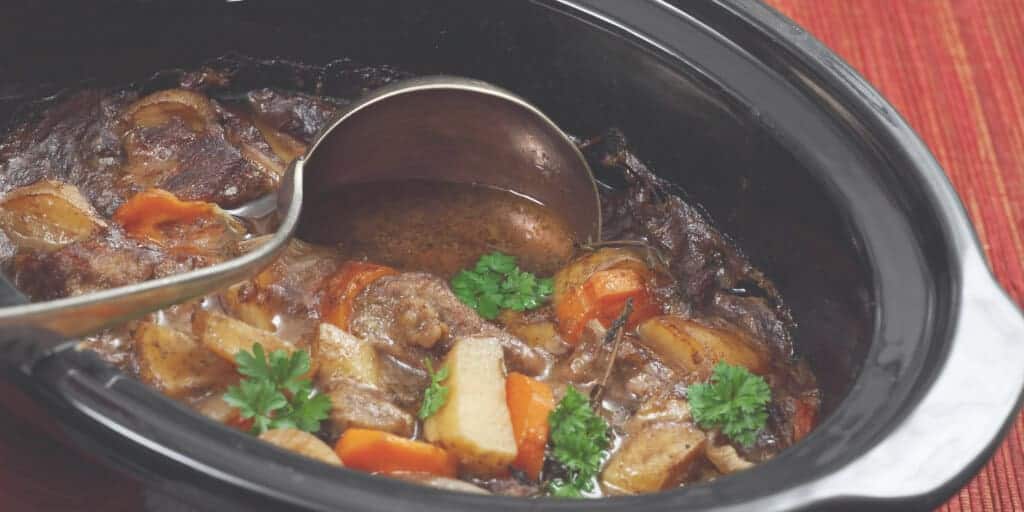 6. Only Fill Your Slow Cooker Up Two-Thirds Full
Your meat needs room to cook, so only fill your slow cooker up fill between one-half and two-thirds full.
7. Follow the recipe carefully
Don't try to get creative when first starting out. Follow the recipe exactly as written and make notes. You need to have the right balance of solids and liquids and don't want to burn anything.
8. Dredge the meat before browning if you want a thicker sauce
Flouring the meat, browning, and adding everything to the slow cooker will make the sauce thicker, for creamier soups and stews.
9. Aim for your optimal temperature
Food needs to be cooked above 140 degrees F in order to kill bacteria. If you have tried to cook on the warm setting or the slow cooker has been unplugged, do not eat it. Discard and explore other options.
10. Don't use frozen food
Loading a slow cooker with icy ingredients will keep food in the danger zone where bacteria can flourish (40 to 140 degrees F). So make sure your meat and vegetables are fully thawed before turning the cooker on. The exception is prepackaged slow-cooker meals sold in the freezer case; these are fine to use as long as you follow the package's directions.
11. Trim all fat
This will prevent your liquid from becoming a greasy mess. Remove poultry skin as well, for the same reason.
12. Cut pieces evenly
Try to keep all cut-up meat and vegetables roughly the same size so you don't get any hard or chewy bits.
13. Add dairy last
If you are going to add sour cream, milk, cheese or yogurt to the recipe, stir them in during the last 15 minutes of cooking so they don't break down and curdle or ooze.
14. Make Lasagna
Just layer uncooked lasagna noodles with fillings and let your slow-cooker do all the work.
Get the recipe from Kristine's Kitchen.
15.

Make Brownies
There's nothing like coming home after a long day to the scent of deliciously freshly baked brownies.
Get the recipe from Spicy Southern Kitchen.
For more slow cooker recipes, tips, and tricks — get yourself a copy of Adventures in Slow Cooking: 120 Recipes for People Who Love Food
.

Follow these tips and you will soon have mastered the art of cooking with a slow cooker.
Read this next
[catlist categorypage=yes excludeposts=this]
15 Awesome Hacks To Level Up Your Slow-Cooking Game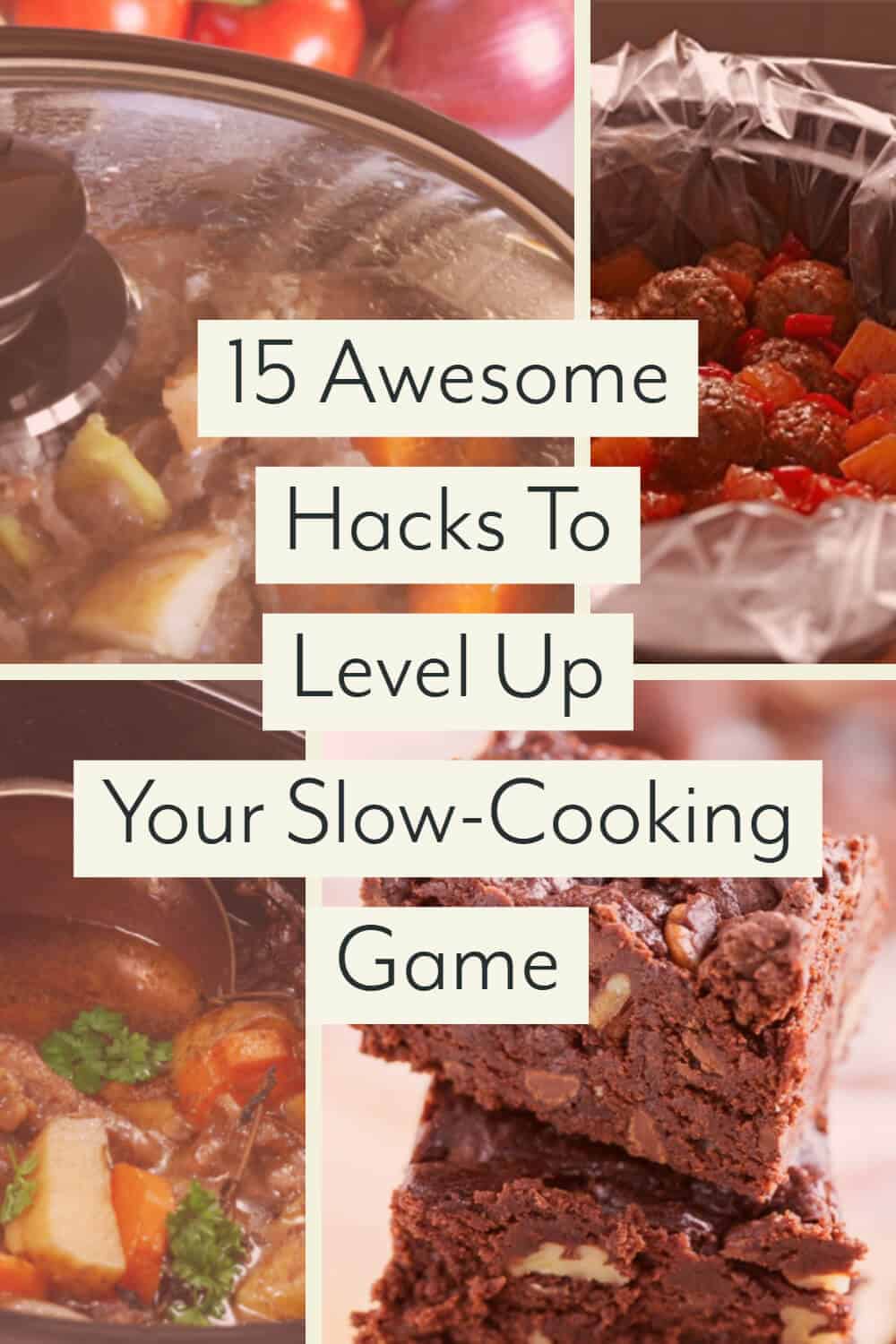 Created by Vickie aka The Crazy Family Mom

Vickie is the creator of A Crazy Family. She is a stay-at-home mom of a little boy with a big personality. She loves to share real food recipes, parenting tips & encouragement, fun kids activities, and so much more! Plus she is thrilled to provide you with a space to celebrate all that is awesome (and a little crazy) in the world.