8 Easy Low Carb Food Swaps For Healthier Meals
By: Pages, Places and Plates | Updated: 15th October 2021
Carbs… They're a glorious food group. Sometimes there's nothing better than filling your face with carb-laden meals. Potato, pasta, rice, bread…
There's just something so comforting about them! They're not always so great for your health when eaten in excess though.
Too many carbs can lead to issues – especially where sugar is concerned. Whilst it's not always a good idea to totally eliminate them from your diet long-term, incorporating some low carb food swaps into your meal plan can make a world of difference to your health, from your weight to your energy levels.
If you want to cut down on the carbs then it doesn't mean your diet will be miserable! In fact, it's really easy to create comforting, filling meals without them. To get you started, here are eight great low carb food swaps that you can try out.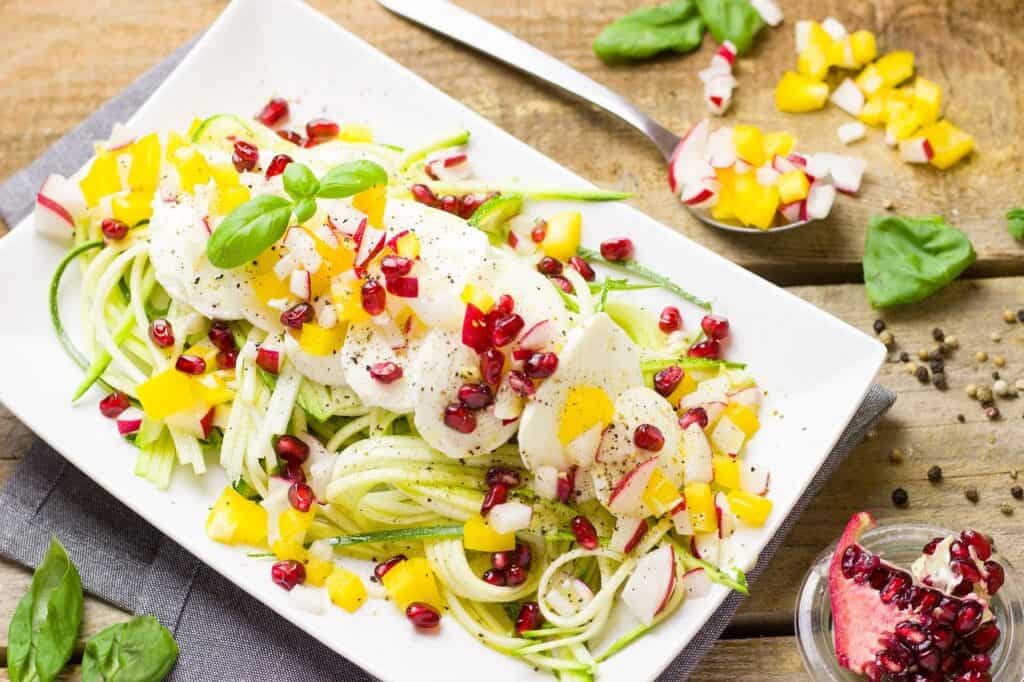 Swap pasta for "zoodles"
Heard of zoodles before? If you haven't they're essentially pasta made from zucchini (zucchini noodles = zoodles). It's so easy to overdo the pasta portions (guilty as charged) so zoodles offer a healthy solution.
To make zoodles you'll need to get yourself a spiraliser, which can be picked up pretty cheap online. You can also use them to make pasta from other vegetables, among other things, so are well worth the investment!
Swap rice for cauliflower rice
Rice, like pasta, is another carb that's so easy to gorge on. I always get the portion sizes wrong and end up with loads of it! But that's where cauliflower rice comes in, which solves the issue.
Make cauliflower rice by blitzing cauliflower chunks in the food processor until it resembles rice. A powerful food processor is better for this, such as my Kenwood Compact Food Processor which I use pretty much daily. It's a great alternative, plus it's full of fibre which is great for your diet. You can use it for anything – curries, chilli, stroganoff, and more!
Swap pancakes for banana pancakes
Believe it or not, you don't actually need flour to make pancakes. If you love banana then it's well worth trying a banana pancake recipe instead. They're really easy to make – simply mash one ripe banana with two eggs. That's all there is to it! The trick to making them perfect is to really mash the banana, and make them small when frying.
You can top them with anything you like – my favourite is melted homemade peanut butter (just add a bit of hot water to thin the spread) with honey or maple syrup for that perfect flavour combo.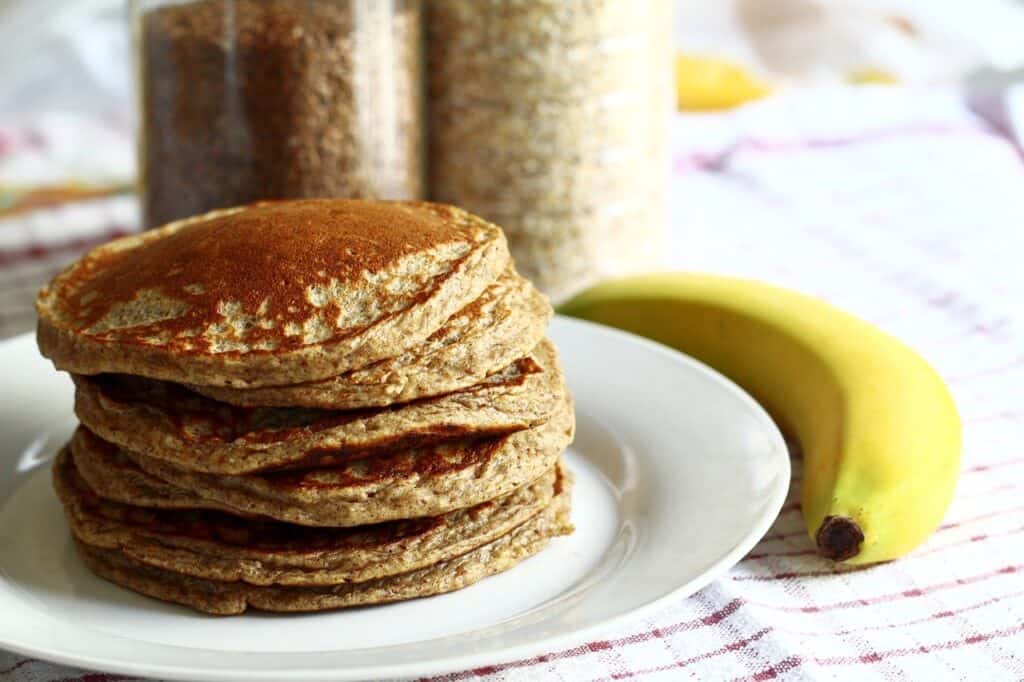 Swap tortilla wraps for lettuce wraps
Lettuce wraps were one of the first low carb food swaps I tried and I loved them! They don't sound like a filling replacement for tortilla wraps but they actually work really well. They can be used for fajitas and other traditional wrap-based meals, but you can really add any fillings you like to them. Chicken, bacon, cheese, and Caesar salad dressing is great, and I personally love a bolognese lettuce wrap.
One thing to note is that they can get a little messy. Try to use a sturdy lettuce leaf, such as Iceberg or Romaine, to lessen this issue.
Swap white flour for chickpea flour
If you need a low-carb alternative to white flour then there are loads of good options out there. Coconut flour is great, plus you can also use hazelnut flour or even almond meal.
My favourite one to use is chickpea flour because it works out so cheap if you make it yourself! You can buy it too, but if you're on a budget and own a food processor you can easily make by processing dried chickpeas, which you can buy for a good price in bulk. It's not only low-carb but also a great source of protein and fibre!
Swap normal fries for sweet potato fries
Everyone loves fries, but they're certainly not the healthiest option! Thankfully there is a low carb food swap option for them, so no need to banish them forever. Sweet potato is what I'm talking about!
The vegetable has lower levels of carbs than regular potato, plus it's super nutritious. Sweet potato fries have a slightly sweet flavour to them which is lovely, but they go with everything you'd usually dip your normal fries in. Garlic mayo is a must, and so is rosemary seasoning!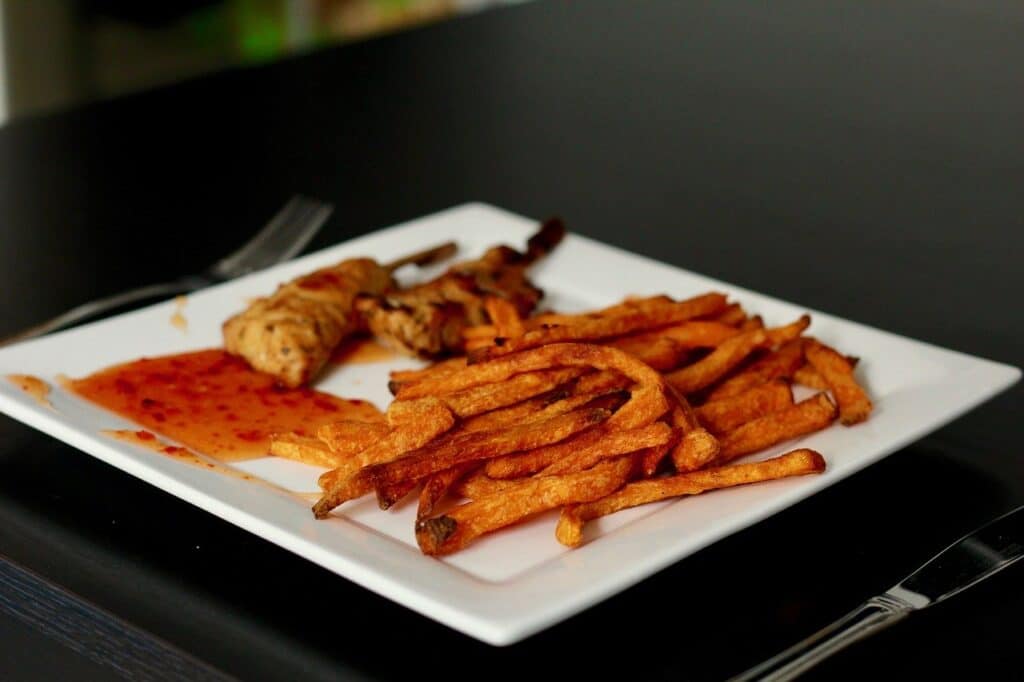 Swap burger buns for portabello mushroom buns
If you eat burgers a lot then you might be considering cutting down on the burger buns, which are typically a carb fest. You don't need to ditch a bun entirely though, as you can replace it with a low-carb option instead.
There are several options, from beefsteak tomato slices to buns made from cauliflower, but the best one I've tried is the portabello mushroom bun. Mushrooms bring such a gorgeous flavour to burgers, plus they're sturdy enough to keep it in place. To make them, simply season and grill two caps per burger.
Swap lasagne with pasta sheets for aubergine slices
Lasagne is the ultimate comfort food. All those carbs and cheese – it's perfect, right? If you're on a low-carb diet then you don't need to give it up, as those lasagne sheets are easily replaceable. Rejoice!
Aubergine slices makes a really great alternative to pasta sheets. All you need to do is slice an aubergine into rounds and then layer the lasagne as you would normally. Aubergine is really absorbent so it retains all of those wonderful Italian flavours, making it absolutely divine. Try it out!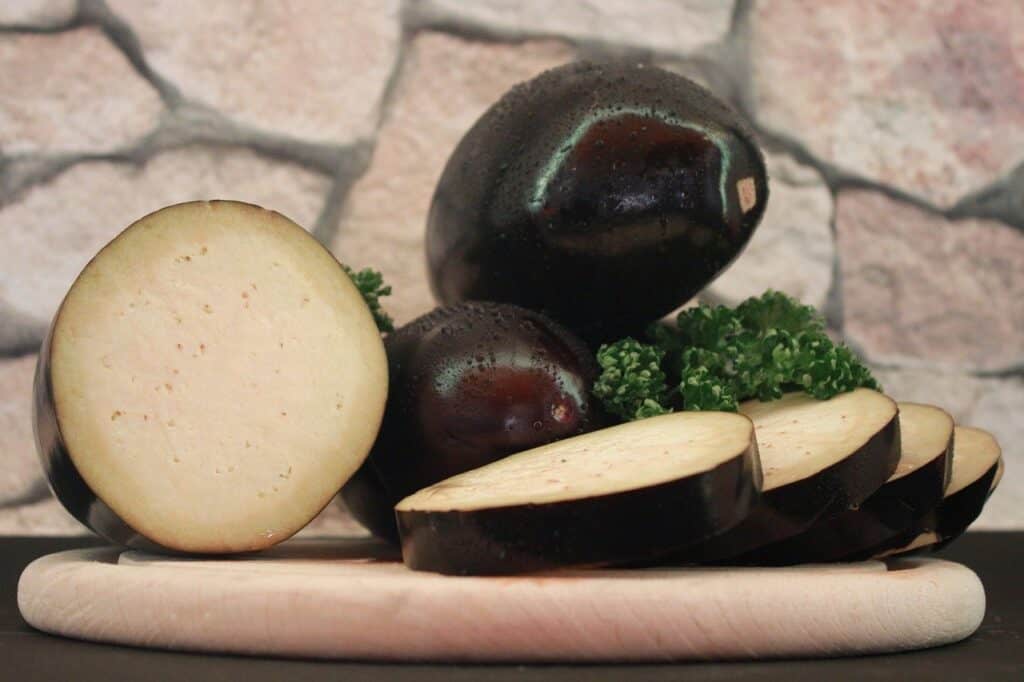 Talk point? Make sure to like and pin if you enjoyed this article, and don't forget to share your favourite low carb food swaps below! For further low carb and keto inspiration, check out these 21 easy keto snack recipes.