What Fruits Are In Season?
This post and its photos may contain affiliate links. As an Amazon associate, I earn from qualifying purchases.
Today, we have access to an amazing variety of fruits year-round, but this does not mean that all fruits are in season year-round.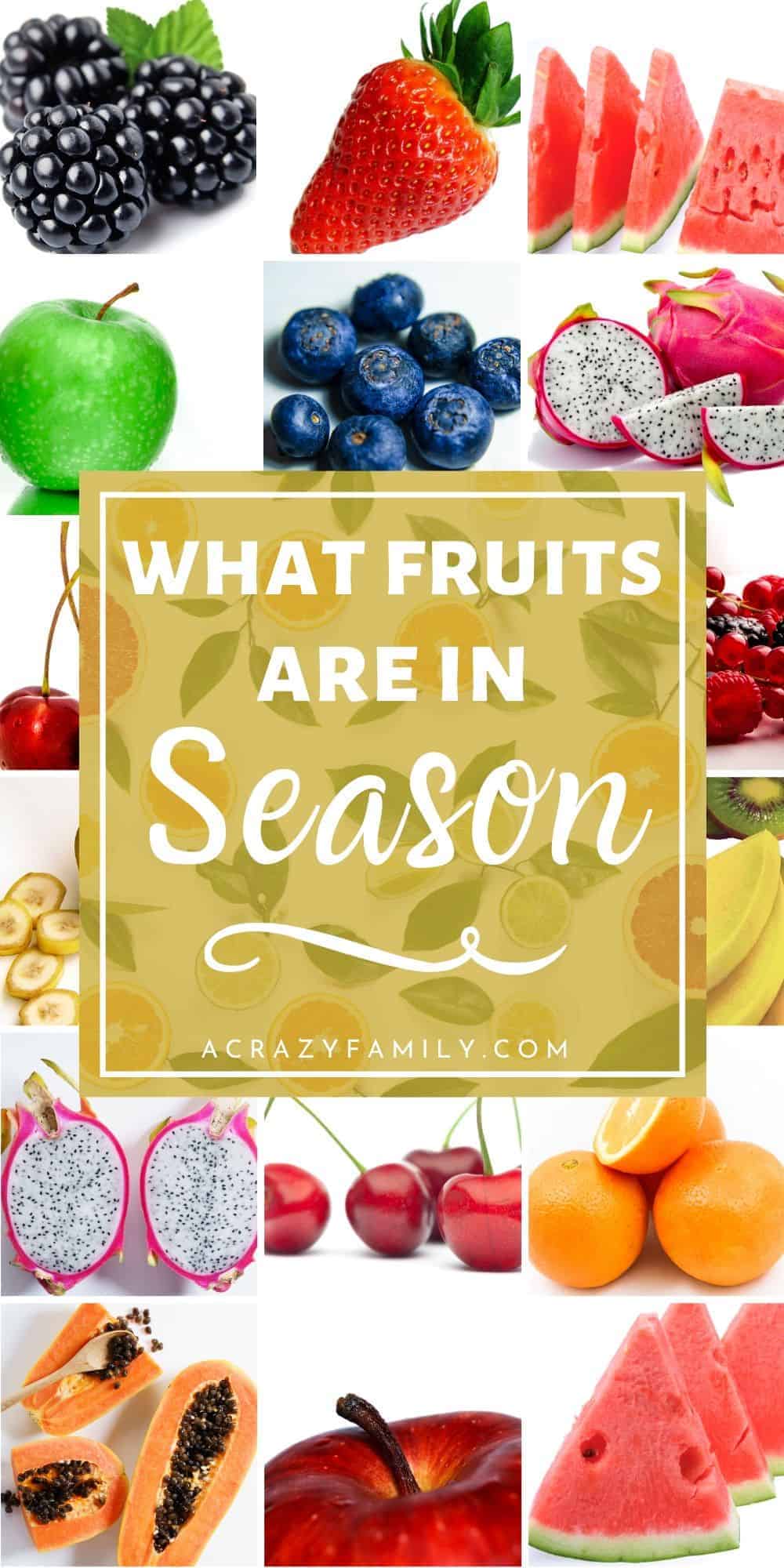 There are many benefits to buying fruits that are in season: better taste, cheaper cost, and adding variety to your diet.
TASTE THE DIFFERENCE
When fruits are in season, they have more nutrients and are full of flavor.
However, when the fruit is not in season, it must be shipped in from around the world or grown in a heated greenhouse. These methods produce fruit that is not full of flavor and is not as nutritional.
The best fruit you can eat is one that is locally grown. Create your own beautiful garden, or find a Farmers' Market.
MONEY SAVING
If the taste alone does not make you shop seasonally, the savings definitely will. This is one of the many ways you can save money on groceries.
If you want to go all out on saving money on your food, knowing what's in season tells you when is best to buy what produce.
FRUITS IN SEASON BY MONTH
Avocados
Bananas,
Blood Oranges,
Clementines,
Coconuts,
Dates,
Grapefruits,
Kiwi,
Kumquats,
Lemons,
Mandarins,
Oranges,
Papayas
Persimmon,
Pomegranate
Tangerines
Avocados
Bananas,
Blood Oranges,
Clementines,
Coconuts,
Grapefruits,
Kiwi
Kumquats,
Persimmon,
Pineapple,
Pomegranate
Avocados
Bananas,
Blood Oranges,
Coconuts
Grapefruits
Kumquats,
Mandarins
Persimmons
Pineapple
Strawberries
Avocados
Bananas,
Cherries
Coconuts
Kumquats
Loquats
Orange
Persimmons
Pineapple
Strawberries
Apricots
Avocados,
Bananas
Boysenberries
Cherries
Limes
Loquats
Lychees
Mangos
Peaches,
Persimmons
Plums,
Pineapple
Strawberries
Apricots
Avocados,
Blackberries
Blueberries
Boysenberries,
Cherries,
Elderberries
Figs
Grapes,
Limes
Mangos,
Melons,
Mulberries
Peaches,
Plums,
Pineapple,
Raspberries
Strawberries
Watermelons
Apricots
Avocados,
Blackberries
Blueberries
Boysenberries
Currants
Cherries
Dragonfruit
Elderberries
Figs
Grapes,
Limes
Mangos,
Melons,
Mulberries
Peaches,
Plums
Raspberries
Strawberries
Watermelons
Apples,
Asian Pears
Avocados,
Blackberries,
Currants
Dragonfruit
Elderberries
Figs,
Grapes
Mango,
Melons,
Peaches,
Pears,
Plums,
Raspberries
Strawberries
Watermelon
Apples,
Avocados,
Blackberries
Cranberries,
Currants
Dates,
Dragonfruit
Elderberries
Figs,
Grapes,
Kiwis
Mangos
Melons,
Passionfruit
Peaches,
Pears,
Plums,
Pomegranate,
Quinces
Watermelon
Apples,
Coconut,
Cranberries,
Dates,
Figs,
Grapes,
Guavas
Melons,
Pomegranate,
Pears,
Plums
Quinces
Raspberries
Strawberries
Coconut,
Cranberries,
Dates,
Grapefruits
Guavas,
Kiwi,
Pears,
Persimmon,
Pomegranate
Quinces
Raspberries
Strawberries
Coconut,
Cranberries,
Dates,
Guava,
Kiwi,
Lemons
Pears,
Pomegranate