Ways to Decorate Your Home for Valentine's Day
This post and its photos may contain affiliate links. As an Amazon associate, I earn from qualifying purchases.
Valentine's Day is quickly approaching, and stores are filling up with seasonal decorations.
We often associate Valentine's Day with reds, pinks, hearts, and other romantic symbols. Adding some Valentine's Day décor to a room can brighten it up for the entire month.
Some people are cautious when decorating their home for Valentine's Day, and it's easy to see why once you browse your local dollar store. Most Valentine's Day decorations look tacky, and they're covered in glitter that will never truly go away.
Thankfully, you don't need to stick to these items to decorate your home for this February celebration.
Invite romantic vibes into your home with these creative decorating tips!
The BEST Ways to Decorate Your Home for Valentine's Day!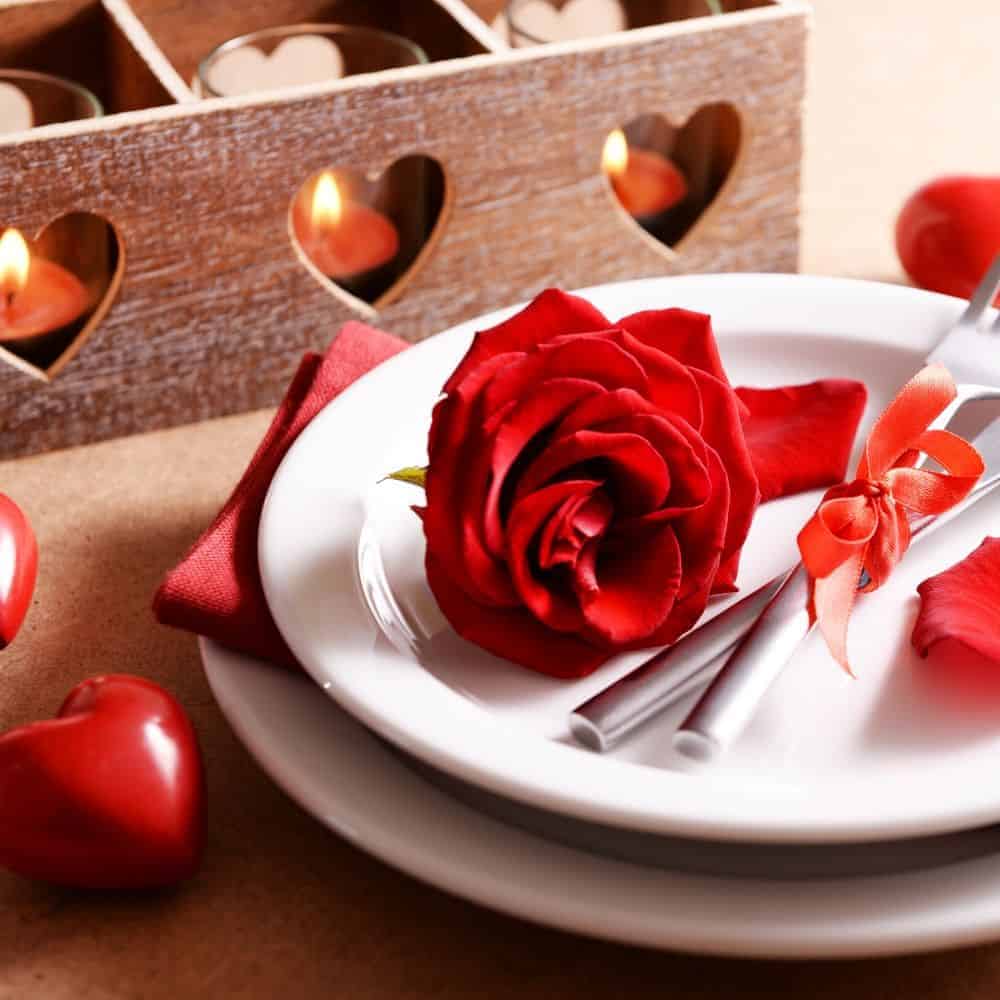 *Please note that this article contains affiliate links. You can read my full disclosure at the bottom of the page*
1. Hershey's Kisses Centerpiece
Hershey's Kisses are a popular treat in February – after all, "kisses" is in the name! Fill a bowl with these chocolate candies as a subtle nod to Valentine's Day. Choose a bowl that works well with the room's existing décor. If silver fits well with the rest of the room, you can opt for a clear bowl, too.
If you want your candy bowl to stand out more, buy your Hershey's Kisses with a different wrapper. You can find milk chocolate Kisses with pink, red, or gold wrappers.
You can also get Hershey's Hugs with a striped wrapper, dark chocolate Kisses with a purple wrapper, or caramel Kisses with a bronze wrapper. Other than the Hugs and Valentine's Day Kisses, you'll have better luck finding these varieties online.
2. Add Some Roses
If you don't already own a flower vase, buy one to fill with roses. Real roses can be expensive, especially around Valentine's Day.
For the purpose of decorating your home, there's no shame in buying fake flowers! While you can find roses in other colors, red and pink roses are traditionally associated with Valentine's Day.
If you're concerned about those colors clashing with the rest of the room, you can't go wrong with white roses.
3. Use Themed Wall Art
Add some art to your walls to invite Valentine's Day into your home. Whether you choose to make your décor bold or subtle, you can incorporate wall art into your home without making it look tacky. Try an abstract oil painting to add some subtle romantic hues into your room. You can also find canvas art with roses on it and Valentine's Day-themed pieces.
If you'd rather not add Valentine's Day colors to your home, look for heart-shaped metal wall art. Large art pieces look great above beds and living room couches, and you can use smaller pieces for your kitchen or bathroom.
4. Put a Wreath on Your Door
Wreaths aren't just for Christmas! You can find tasteful Valentine's Day wreaths online, at department stores, and at craft stores. In home décor stores, you can find rose wreaths in the wedding décor section. Red, pink, or white wreaths will fill guests with Valentine's Day cheer before they even enter your home!
If you're feeling creative, paint the wood on this unfinished piece. You can also make a wreath out of pom-poms, felt, or deco mesh.
5. Hang Your Child's Artwork
Kids love Valentine's Day – they get to exchange notes in school, eat candy, and do fun holiday activities. Ask them to draw or paint some pictures that remind them of Valentine's Day. Frame the drawings before hanging them on the wall or setting them on a table.
You can also display any of their art projects from school. Valentine's Day is all about love, and proudly showing off your child's artwork shows everyone how much you love them!
6. M&M's Centerpiece
M&M's come in more colors than what you'll find in the standard packages! On the official M&M's website, you can buy bulk candies in every color they make. Fill mason jars, bowls, or clean wine bottles with festive colored M&M's.
If you have many containers to fill, buy each color individually. If you're only filling a small bowl, grab the Valentine's Day mix online or at your favorite grocery store.
Before you fill any glass containers, decorate them! Try adding metallic or glittery paint, chalkboard decals, or ribbons to your candy holders.
7. Fill Your Home with Candles
Use colorful candles to bring festive colors and scents into a room. Find pleasant-smelling 3-wick candles at department stores, along with some votives to place in holders and smaller spaces.
Look for floral and sweet scents, but be mindful of your family's sensory sensitivities. If the scent may be too strong, you don't have to light the candle!
If you want to get creative, try decorating a mason jar to use as a votive holder. Use glitter paint, a tissue and mod podge collage, or acrylic paint to make your jars stand out.
8. Make Flowery Monogram Letters
Most craft stores sell single-letter monograms to paint and decorate. Grab one for the letter of your last initial, along with fake flowers, yarn, paint, and fabric. Decorate your monogram however you want – you can even combine decorating techniques to make the perfect piece to hang in your entryway!
The Internet is filled with inspiration for this DIY project, like this ombre yarn letter and this floral piece.
9. Add Festive Pillows
Decorative throw pillows can bring Valentine's Day cheer into your living room or bedroom. Find patterned pillows at any department store, home décor store, and even the dollar store.
Amazon has plenty of options to fit different room styles, from rustic to modern. You can even find pillowcases that look like they're covered with roses!
If you're buying Valentine's Day pillows online, keep in mind that many listings only include the pillowcase. If you don't have a pillow to put the case on, grab a 12×12 inch or 18×18 inch pillow insert before you check out.
Anyone can decorate their home for Valentine's Day, regardless of your budget or level of creativity.
Whether you want to make everything yourself or buy it all, these decorating tips can add festivity to your favorite spaces. Skip the cheaply-made dollar store lawn signs and opt for something that ties your room together!
I would love to hear from you!
Please let me know what you think of these Ways to Decorate Your Home for Valentine's Day in the comments below.
More Valentine's Day Ideas:
Chocolate Covered Strawberry Truffles
Popsicle Stick Valentine Picture Frame